Original AfreecaTV Post: https://bj.afreecatv.com/afgsl/post/82678868

AfreecaTV have announced the schedule and format for the 2022 Global StarCraft II League Tour. 2022 will introduce huge changes to GSL Code S, with the classic tournament adopting a 20-player format that includes a round-robin group stage. Also, only two Super Tournaments will be held, down from three in 2021.

The overall prize money has stayed almost exactly the same at $430,000 compared to 2021's $430,800. Full details for GSL 2022 have not been announced, but going by currently available information, it seems that the number of Code S broadcast days and matches will remain roughly the same as 2021.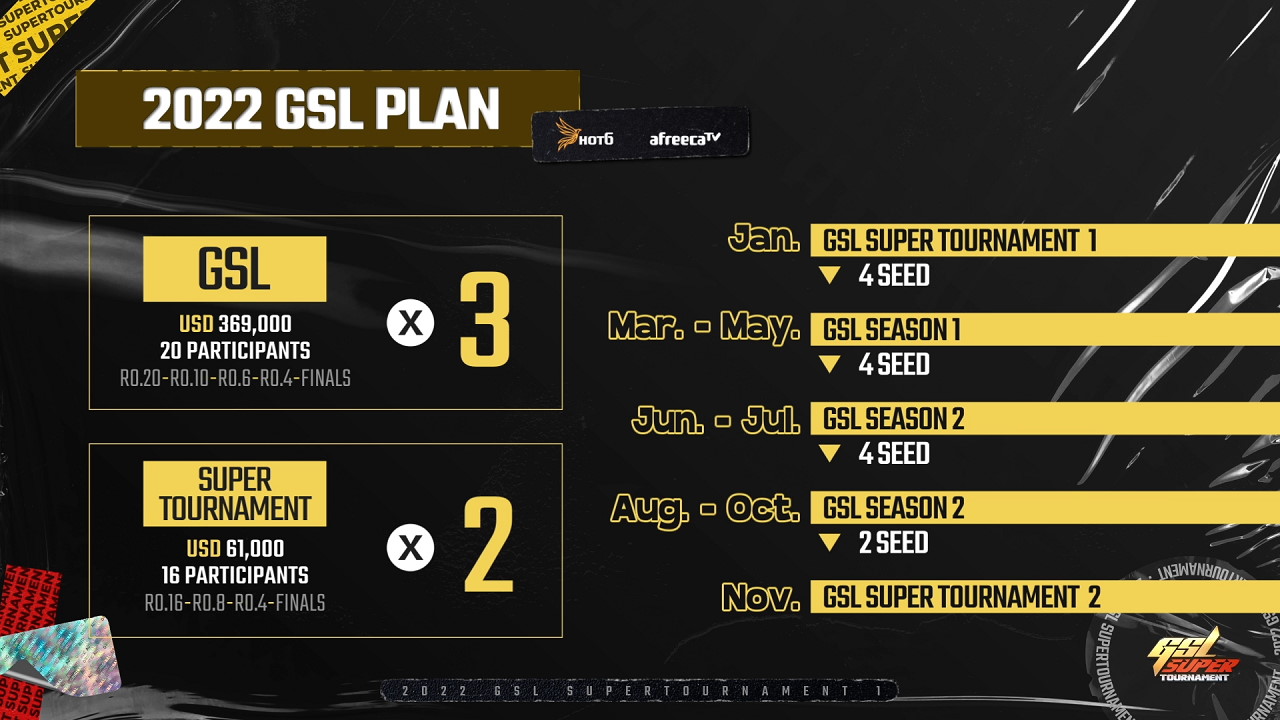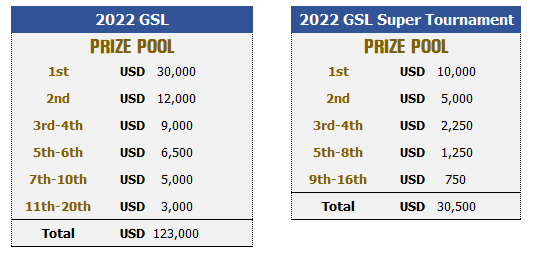 The distribution of ESL Pro Tour Korea points will be announced at a later date.

Schedule:
Match days: Monday and Thursday at 09:30 GMT (+00:00)

2022 GSL Season 1: March 21 - May 5

2022 GSL Season 2: June 6 - July 21

2022 GSL Season 3: August 22 - October 13

2022 GSL Super Tournament Season 1: January 17-27

2022 GSL Super Tournament Season 2: November 28 - December 8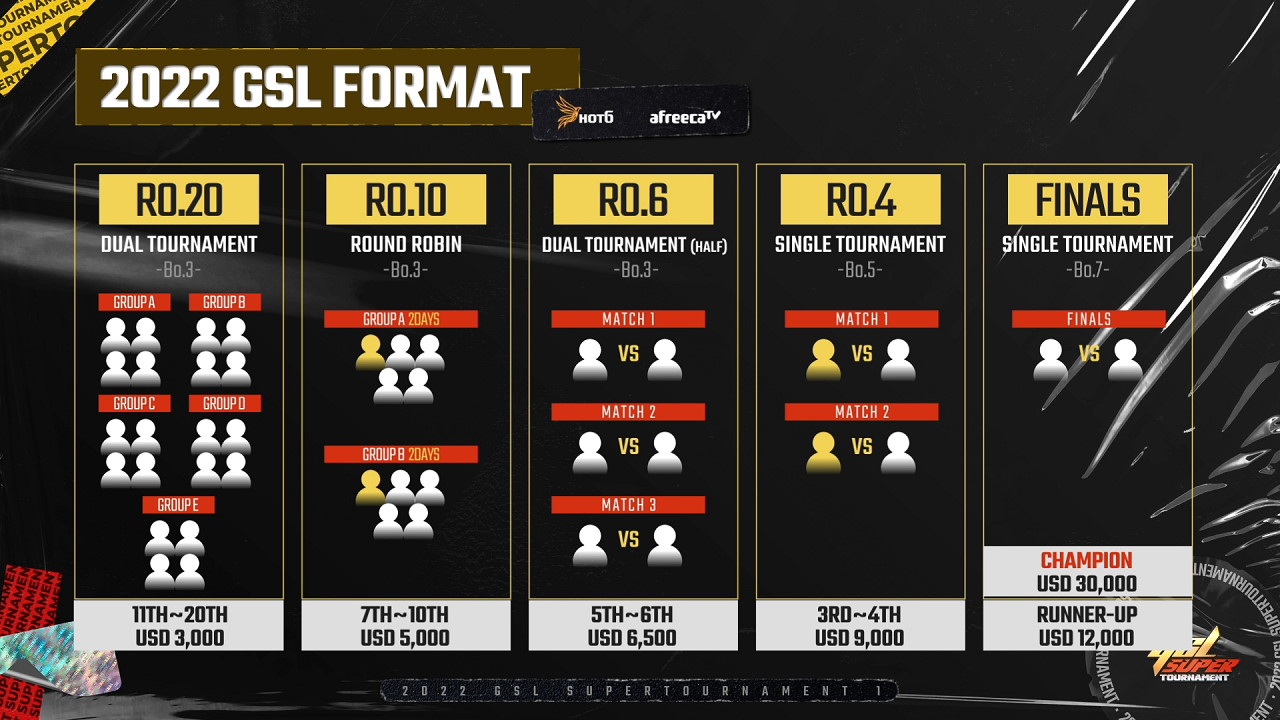 GSL Code S features the most drastic changes ever in the history of the tournament. Code A has been removed once more, and the GSL will begin in the Code S round-of-20.

Round-of-20: 5 standard GSL-style groups; top 2 players from each group advance (10 players total).

Round-of-10: Players are divided into 2 groups of 5 players each, with each group playing a full round robin (best-of-3 matches). A 5-player round-robin requires 10 matches to complete, so it appears that each group will be played out over 2 days with 5 matches per day.

The 1st place players from each group move directly to the semifinals (RO4). The 2nd and 3rd place players from each group move on to the newly created Round-of-6. The 4th and 5th place players from each group are eliminated.

Round-of-6: This can be thought of as a 'half' GSL-style group that skips the two initial matches. Match 1 is effectively the winners' match, Match 2 is the losers' match, and Match 3 is the elimination/decider match.

Match 1 - Group A 2nd place vs Group B 2nd place: Winner advances to the RO4, loser gets a second chance in match 3.

Match 2: Group A 3rd place vs Group B 3rd place: Winner advances to match 3, loser is eliminated.

Match 3: Match 1 loser vs Match 2 winner: Winner advances to the RO4, loser is eliminated.

Round-of-4: Semifinal matches have been reduced from best-of-7 to best-of-5. It is yet unknown if this means that the entire RO4 is consolidated to one broadcast day.

Grand Finals: Remains the same as a best-of-seven.