The kings are dead... long live the (former) kings!

StarCraft II's youth movement was put on pause in the final three winter regionals, with former champions returning to reclaim their crowns. Serral finally toppled Clem to stand tall in Europe once more, Scarlett took down her nemesis Neeb in North America, while veteran Protoss Cyan prevented TIME from winning eight straight in China.

DHM Winter will conclude with the all-region Season Finals, which will be held on November 9-15.



---
Europe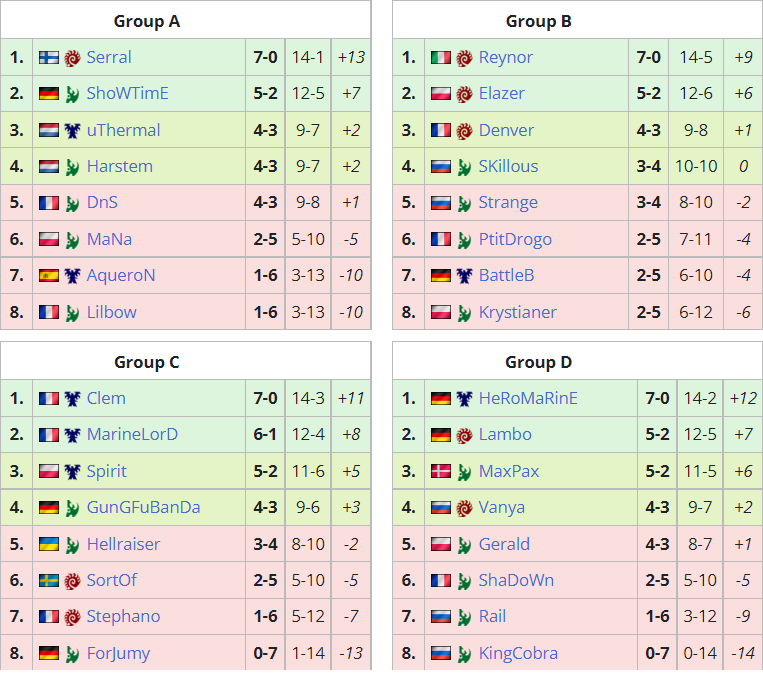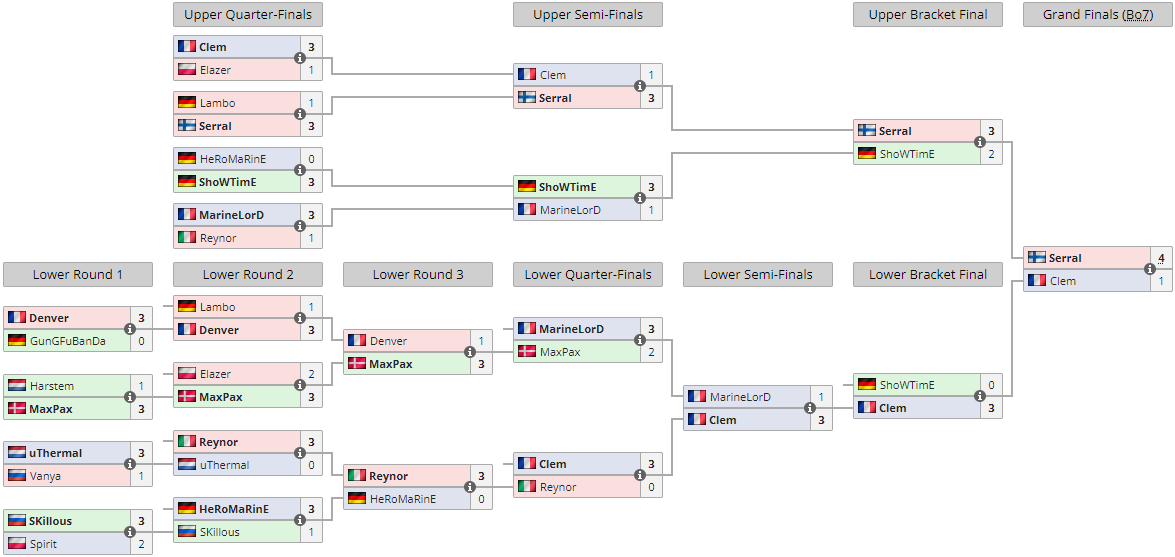 Serral brought Clem's three season reign atop of Eurooppa to an end, defeating the French Terran in 4-1 in the grand finals of the DHM Winter Europe regional. Surprisingly, the victory marked the Finnish Phenom's first time winning the European regional in six seasons of DreamHack Masters, despite him having won three of the pan-regional Season Finals in the same period (Serral later said he has less trouble against Korean foes than Reynor and Clem).

Clem had played a significant part in Serral's regional struggles, eliminating him in two prior DHM Europe tournaments. For nearly a year, the Liquid ace seemed to be an unbeatable foe for Serral, not only bouncing him from EU events but major internationals such as IEM Katowice as well. This season, however, Serral finally overcame his bête noire, defeating Clem convincingly in both the upper-bracket semifinal (3-1) and the grand finals (4-1 with a one-map upper-bracket advantage).

Despite the scorelines, Clem was hardly the victim of one-sided domination—the first three games of the grand finals featured some of the finest, most action-packed TvZ we've seen all year, with Serral coming out with a 3-1 (2+1 with his winner's bracket advantage) lead when the dust settled. Serral then closed the victory out with a well-timed cheese on the fifth map of Oxide, Nydusing his way to the final GG.

Roach-play featured heavily in Serral's victories, seemingly giving him the defensive backbone needed to counter Clem's unparalleled offensive speed. Amusingly enough, Serral was ambivalent about the usefulness of Roaches in his winners' interview, while still admitting they can make defense easier and also slow down Terran multi-tasking by forcing Tank productions instead of Mines. In any case, Serral's victory wasn't as simple as figuring out a 'new' unit composition—he won with more standard Ling-Bane compositions as well, dictating the tempo and finding backdoor opportunities that Clem rarely leaves open.

In retrospect, one might have seen the fall of the once-transcendent TvZ prodigy coming. In the weeks leading up to DHM Europe, Clem had given up a 0-3 loss to Rogue in ASUS ROG Fall and a 0-2 loss to DongRaeGu in the World Team League—perhaps it was inevitable that the top European Zergs would topple him as well. In his interview, Serral declined to say he had "figured out" anything specific about Clem—simply saying he had played well and mixed up his strategies better this time around.

Europe also featured some shake-ups further down the medal stand, with top four regularsHeroMarine and Reynor finding their spots taken by ShoWTimE and MarineLorD.

Having already proved his underdog chops in the previous season by defeating Clem 3-2 in the upper bracket, MarineLorD became an agent of chaos once more by defeating Reynor in his initial playoff match. This sent Reynor down to the lower bracket for an early elimination match against Clem, where the French Terran came out victorious.

While ShoWTimE was somewhat fortunate to earn a top three spot without having to beat any of Clem-Serral-Reynor power trio, he still gave a great account of himself by defeating HeroMarine and also giving Serral his closest series in a 2-3 semifinal match. After several underwhelming seasons after the transition from WCS to EPT, Die Mauer will finally get a chance to represent Europe in the combined DHM Winter Finals.


---
North America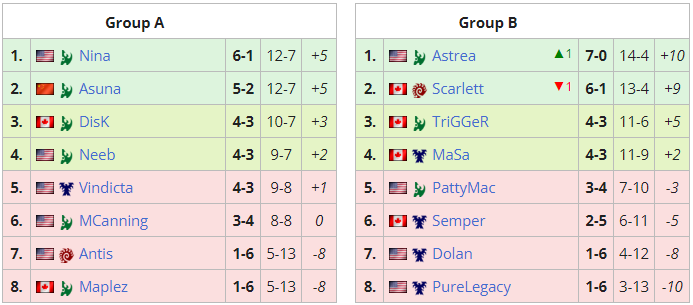 North American also welcomed a familiar-yet-new champion, as Scarlett took down her regional rival Neeb to claim the championship for the first time since the Fall 2020 season.

Fortunately—or unfortunately for certain masochists—the 4-2 grand finals didn't feature any of the duo's marathon PvZ matches that have become a familiar sight in DHM North America. Instead, mid-game combat ended up being the key to the series, with Scarlett able to notch the three wins needed to clinch her finals victory with an upper bracket advantage. After the finals, Scarlett seemed to be perplexed by Neeb's overly safe approach, declining to go for the extremely aggressive or greedy openers he's proved to be proficient at.

2020's NA breakout star Astrea finished third place in the region, unable to overcome the two traditional powers of the scene, while Nina took her customary 4th place spot.

While Scarlett's victory over Neeb in the finals was a minor upset, the biggest surprise of the NA regional actually came in the group stages where Neeb was almost eliminated. The American Protoss gave up shocking losses to Vindicta, DisK, and Maplez, and only barely clinched the fourth place spot in his group by the difference of one map victory (he was tied 4-3 in series with Vindicta, but had a +2 map differential compare to Vindica's +1). Though Neeb went on a roaring rampage of redemption through the lower-bracket of the playoffs, he was unable to bound the final hurdle of Scarlett in the end.


---
China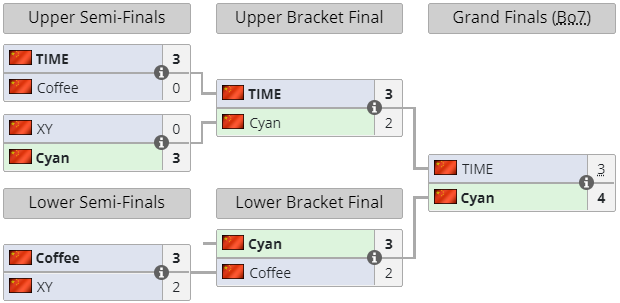 The Chinese regional delivered the most unexpected result of not just this season, but perhaps all six EPT seasons combined. On the verge of winning his eighth straight Chinese title, regional despot TIME ended up ceding a stupefying reverse-sweep to Cyan in the grand finals.

Cyan had put up great fights against TIME in both the group stage and upper bracket (despite losing both times), but got off to a dreadful start when they clashed for all the marbles in the grand finals. He started off by losing to TIME in a macro game on Beckett, followed by a deflating loss to a mine-drop on Jagannatha. But despite being down 0-3, Cyan kept his cool to manufacture a miracle.

As in the case of Clem, TIME's downfall could have been foreseeable in hindsight. Late-game TvP was the one area of relative difficulty for TIME when facing his regional peers (including his previous two matches against Cyan), with successful early-game harassment or tank-pushes being crucial to his victories. While Cyan wasn't exactly favored against TIME in drawn out macro games, they were still his best chance to win, and he played excellently to seize that small chance. Game after game, he found ways to patiently survive until the late-game—or even take the lead early with his own strikes—despite facing the spectre of imminent defeat. After shutting down a desperate game-seven tank push from TIME, Cyan finally emerged as the new EPT China champion.

Though the GGG Protoss had won a couple of regional championships in the pre-TIME era, he was one of the many veterans swept aside after TIME came to power. While there's a good chance that TIME comes back stronger than ever, for now, fans can hope for a more competitive Chinese region in 2022.