World Team League - 2021 Summer Season
by: TheOneAboveU and Wax
Somehow we're already at the end of the Regular Season for WTL 2021 Summer and what a blast it's been. We've seen ace matches and upsets, heroes rising and falling, streaks established and broken—one more week of play is all that remains before we go into the playoffs.
While four of the playoff team are locked in, Shopify Rebellion and Team Liquid are still vying for the fifth and final spot after the Dutch team scored a huge upset against KaiZi Gaming in Week 10. The odds are in favor of the Rebels, who merely need to win over clear underdogs Team GP to secure the final playoff spot, but with how crazy this race has been throughout the season, we can't exactly be sure of anything.
Also, the WTL has saved some its best matches for last, as the top four teams will face off against each other in battles that will decide their all-important playoff seeding. The eternal struggle between the Chinese arch-rivals Dragon Phoenix Gaming and KaiZi Gaming continues, with DPG looking to lock in their direct seed to the grand finals with a victory. Meanwhile, the two Korean titans will clash as well, as Team NV looks to potentially reclaim the #1 spot by taking down the Afreeca Freecs. These matches could completely shake up the order amongst the top four teams, and thus impact the playoff picture greatly.
Catch the WTL 2021 Summer Season on the streams of Wardi and CreightonOlsen every Friday, Saturday and Sunday at 11:00 GMT (+00:00)!
Week 10 Recap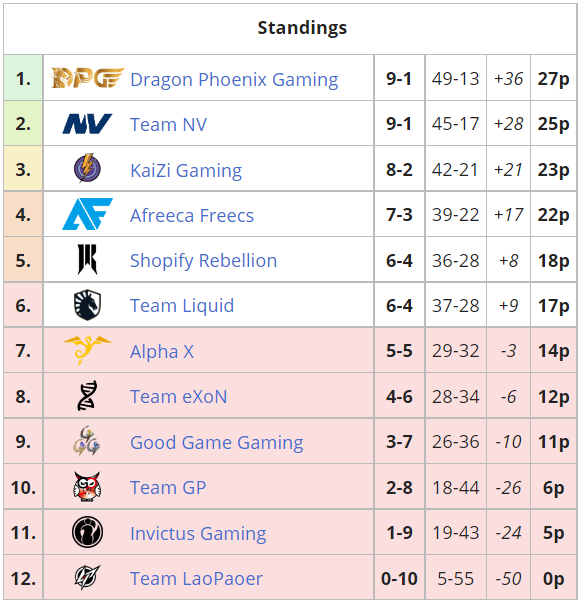 Top 5 teams qualify for the playoffs.
Points are awarded as follows:

3 points for a victory in a series that does not require an ace match

2 points for a victory in a series that requires an ace-match

1 point for a loss in a series that requires an ace-match

0 points for a loss in a series that does not require an ace match

Invictus Gaming 2 - 4

Team eXoN
Watch VOD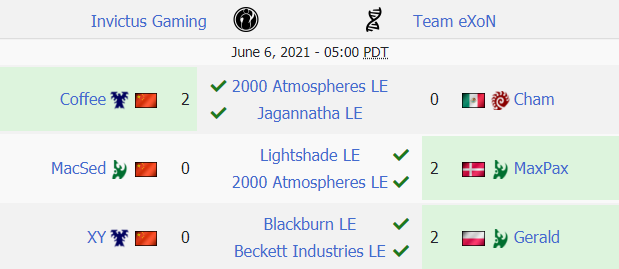 Invictus Gaming delivered a bit of an early shock to fans of Team eXoN in the form of
iG.Coffee
, who took down
eXoN.Cham
in a drawn-out macro game on the first map, grinding down the Mexican's Ultralisk-Ling-Bane swarm with very solid Bio-Tank play in the late game. The Chinese Terran kept the pressure on his opponent very well throughout the match, using all the tools of his faction's arsenal early on before switching over to steady drop play with his Bio units, using these methods with great success to keep Cham busy and his own expansions safe. With the Zerg still reeling from his unexpected defeat on the first map, Coffee pulled off a clever coup by going for a Hellbat-Marine push on Cham's map pick, overwhelming the Zerg early on and securing a lead for Invictus.
Bringing things back for his team,
eXoN.MaxPax
simply overpowered
iG.MacSed
on the first map, taking an early economic advantage and using the additional income to build a superior army. His active Blink Stalker force kept MacSed on his toes and further hampered his unit production with some power cuts and snipes until the Dane was able to simply steamroll his opponent with a massive attack. The second map didn't start any better for the Chinese player, who lost his initial Oracle to the perfect Phoenix counter from MaxPax. Things got worse when he attempted a strong two-base attack with Archons, Stalkers and Zealots, but had the air knocked out of his offensive when after his Warp Prism was sniped. That took the pressure off the Dane, who was able to scrap together a solid enough defense force to take the game.
The situation now strongly turned against Invictus as
iG.XY
had to contend with
eXoN.Gerald
in his weakest match-up. Attempting a Marine-Tank push with Bunker support, the Chinese player's army was greeted by Disruptor shots and lost two artillery pieces to the first salvo. Having to deal with less tank fire, Gerald broke the containment easily and took control over the map, expanding rapidly and harassing XY's economy, eventually overwhelming the struggling Terran. Adept-Void Ray-Oracle pressure from a proxy Stargate secured the Polish Protoss an early lead in the second game and XY had to concede as his counter attack fizzled out under the fire of Stalkers.

Afreeca Freecs 4 - 2

Team GP
Watch VOD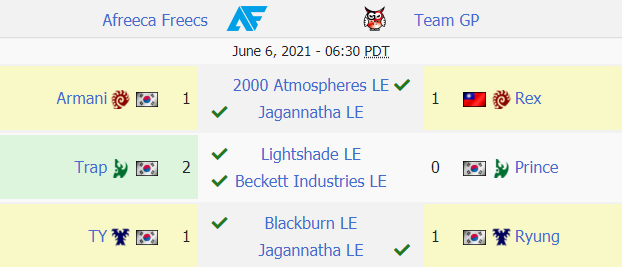 As in the previous series, the underdogs managed to draw first blood as
GP.Rex
successfully executed a Drone-pull all-in, getting up Spine Crawlers in
AF.Armani
's main base and whittling down his defenses. Not to be outdone, the Korean avenged himself with a different early attack as he sent a Drone towards Rex' main and natural to grow a Spine Crawler at each site to support his Zergling rush. The Crawler in the main fell quickly when Rex discovered it, but the Crawler at the natural gave Armani just enough firepower to finish Rex off and equalize the series.
Adept and Blink Stalker backstabs dominated the first map between
AF.Trap
and
GP.Prince
with the Afreeca Protoss repeatedly getting better harassment done than his opponent, which eventually resulted in him forcing Prince into a desperate move to balance the scales. The attack proved disastrous as Trap held with a large part of his army surviving, which drove the GP Protoss to surrender. Prince tried to scare Trap with a Cannon Rush on the next map, but the veteran denied the cheese easily and countered with a proxy Stargate-Shield Battery siege against his opponent's main base, which eventually broke through Prince's defenses and brought Afreeca to match point.
GP.Ryung
inflicted some strong initial damage on
AF.TY
with his proxy Marauder rush, but the two-time GSL champion eventually held the attack off and stabilized his position. Deciding to go for Mech against Ryung's Bio-Tank, TY made an early play for air superiority and grabbed the Raven advantage, which together with his Thors helped him maintain dominance in the skies. Very slowly TY managed to gain some key victories and finally wear his opponent down after about 20 minutes of stand-offs and sporadic battles, securing the win for the Afreeca Freecs. Gaining an early advantage via Reaper rush in game two, Ryung did not let TY off the hook as easily—helped by TY going Marine-Tank this time as well. Hiding a large force of Marines and Medivacs on the outskirts of the map, the GP Terran went for the backstab as his opponent marched out towards his own bases, leading to an instant concession by the Afreeca player as the prepared Marines showed up at his natural.

Team LP 2 - 4

Alpha X
Watch VOD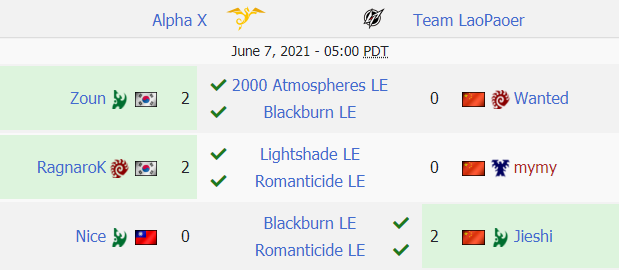 Team LP were able to earn moral victory #3 of the season, with LP.Jieshi helping the beleaguered squad avoid a complete shutout at the hands of Alpha X. In contrast, it ended up being a rather demoralizing victory for the Golden Dragons, with Shopify and TL's later wins confirming Alpha X's elimination from playoff contention.
The series began rather predictably with
αX.Zoun
taking down
LP.Wanted
by a 2-0 scoreline. Game one saw Wanted try to catch Zoun off-guard with a Drone-drill assisted Speedling all-in, but Zoun put an end to such predictable chicanery with a well-placed Pylon wall. After conceding defeat and moving on to game two, Wanted got a chance to play a longer macro game. However, he didn't fare much better, as he allocated too many resources to anti-ground units against Zoun's air-heavy force. Zoun took the 2-0, and passed the baton off to
αX.RagnaroK
.
The Alpha X Zerg got off to a running start, ruining
LP.mymy's
Reaper-expansion with a clever pool-first strategy. RagnaroK's Zerglings deftly sidestepped the initial Reaper to arrive in an empty Terran base where they wreaked havoc. Mymy had enough fight left in him for a single desperation attack, but GG'd out after it failed. Somehow, RagnaroK managed to pull off the same tactic in game two (this time with a slightly different gas-pool build), sneaking his Zerglings past mymy's Reaper to deal heavy early damage. The game briefly got interesting when RagnaroK went for a wasteful Speedling attack that failed to finish mymy off, giving the Team LP Terran a window to launch a meaningful Marine-Tank counterattack. However, mymy couldn't capitalize on the opportunity, tapping out to a flood of defending Ling-Bane.
Despite going down 0-4 off the bat, Team LP were able to avoid a 0-6 loss thanks to one of the weirdest and most incomprehensible counter-relationships in StarCraft II.
LP.Jieshi
headed into his match with
αX.Nice
holding a 12-5 head-to-head match record, which he
improved to 13-5
with a clean win. Jieshi had Nice in the palm of his hand from start to finish in game one, countering Nice's Oracle with Phoenixes, getting Immortals far ahead of his opponent's Blink-Stalkers, and finally assembling a powerful late-game army to seal the victory. Game two went to Jieshi in similarly one-sided fashion, with his 3-Gate pressure severely punishing Nice's risky Stargate-expansion.

Team NV 2 - 4

Dragon Phoenix Gaming
Watch VOD
Team NV's undefeated run has finally come to an end, with the newcomers tasting defeat at the hands of Dragon Phoenix Gaming in a battle of superteams. With the victory, not only did DPG wrest the #1 spot away from Team NV, but also preserved their status as the only undefeated regular season team in SCBOY teamleague history (earned in the
Spring 2020 season
).
DPG.Rogue
was unfazed by former teammate
NV.sOs'
trickery on the opening map, deflecting an 8-gate mid-game attack with aplomb and comfortably transitioning into late-game tech. In a throwback to 2019, it was the Protoss player who was left desperately trying to catch-up to the Zerg player's late-game tech before tapping out. The second game allowed Rogue to show off his creativity, using a Nydus-Queen 'timing' to set up a switch to mass Mutalisks. Everything went as planned for Rogue, with sOs GG'ing out against a swell of flyers he hadn't expected.
Rogue's 2-0 ended up being the pivotal result of the series, with the rest of the matches ending in 1-1 ties.
NV.Bunny
recovered a point for his team by taking down
DPG.Zest
with an unusual 1-base Thor-Marine all-in, aided by some tragic rallying point selection from his opponent. However, Zest managed to put DPG up 3-1 in the second game, completely nullifying Bunny's fast 3-Barracks strategy with Blink-Stalker micro and steamrolling his way to victory.
NV.Maru
briefly kept his side's chances alive in his first game against
DPG.Cure
, countering his opponent's Rax-Fact-CC build with Marauders from a proxy-Barracks. Cure tried to play the game out after taking heavy early damage, but called it quits once a Cloaked Banshee arrived to add to his pain. No worries for Cure, as he would attain both victory for his team and sweet vengeance for himself in game two. This time around, Cure got the build-order edge by going for 2-Rax proxy Reapers against Maru's repeat proxy-Marauder strategy, and forced the GG out of Maru after a short and one-sided base trade. Still, this meant that not only Team NV's undefeated streak came to an end during this series as Cure's win streak was halted by his former teammate after 15 victories in a row.
While DPG have secured the #1 spot now, they've hardly locked it down as they will face KaiZi gaming in the final week of the season. Meanwhile, Team NV might snatch the seed back—IF they can take down Afreeca Freecs in another blockbuster match.

Shopify Rebellion 5 - 1

Good Game Gaming
Watch VOD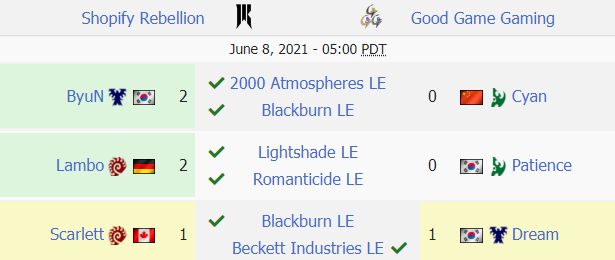 Shopify Rebellion's playoff destiny lay entirely in their hands headed into week 10, and they took the first step toward locking in their spot with a convincing win against Good Game Gaming.
Shopify.ByuN
took care of business as expected against
GGG.Cyan
, starting game one with a damaging mine drop in his opponent's mineral line. In contrast, Cyan's 3-gate Robo strategy couldn't do anything to ByuN, basically leaving him waiting to get trampled by ByuN's Marine-Tank-Raven push. Game two went much better for Cyan to start, as he secured the gold base on Blackburn to set himself up for a proper macro duel. However, he fell apart against a triple-prong harassment maneuver from ByuN, losing a considerable number of precious Probes. Cyan tried to find similar holes in ByuN's defenses with mass Zealot-Stalker, but couldn't achieve much on that front. Eventually, Cyan was left facing a huge bio army without any splash damage, which ended in disastrous fashion.
GGG.Patience
made things weird in game one against
Shopify.Lambo
, opening up with an Oracle and transitioning to triple Stargate. It's not quite clear what he was going for with this strategy as he rarely had all three Stargates operational at once. In any case, Lambo opted to go for a Queen-Roach-Ravager bust in conjunction with a hit-squad Mutalisks. Despite having 3-Stargate Phoenix production available to him, Patience just didn't have enough troops to put out multiple fires at once, and ended up taking a ton of Probe damage. Lambo stepped on the gas, and turned GGG.Patience into G.Patience with a follow-up Corruptor-Roach-Baneling attack. Undaunted, Patience kept things weird in game two, and was almost rewarded as a result. Despite Lambo taking cautionary measures and cranking out a ton of early game Roaches, Patience's 2-base Adept attack somehow managed to kill the Zerg's third base regardless. Patience's follow-up strategy was "keep attacking," but it didn't pay off as a bloodied and weary Lambo managed to survive until he had Lurkers on the battlefield. A base trade was Patience's one last chance at turning the tide, but Lambo didn't let victory slip through his grasp.
With the series already decided in Shopify's favor, that left the final match between
Shopify.Scarlett
and
GGG.Dream
as a figurative freeroll. Scarlett added win number five to Shopify's tally, overpowering Dream's Marine-heavy composition with Roach Ravager. Then, in perhaps fitting fashion for a series long since decided, Scarlett quickly folded out of the final map after getting caught off guard by Cloaked Banshees without a spot of detection.

Team Liquid 5 - 1

KaiZi Gaming
Watch VOD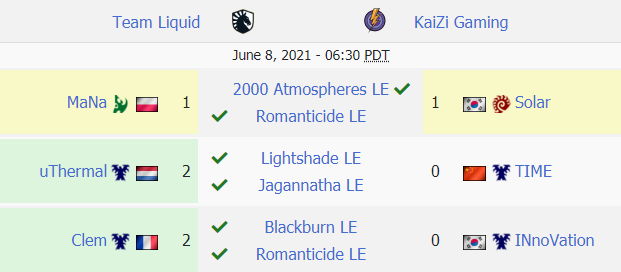 TL looked like they were toast after losing to Shopify in controversial fashion last week, but an improbable and impressive win over KaiZi Gaming keeps their playoff hopes alive until the final fixture. It could very well be vain hope like it was for Alpha X and GGG in previous weeks, since Liquid still need Shopify to self-destruct against Team GP in their final match. Still, if this Liquid vs KaiZi matchup taught us anything, it's that you can't take any result for granted.
It all started off with [b]Liquid`MaNa breaking
KZ.Solar's
12-0 ZvP streak in WTL with a 1-1 tie. While it went somewhat under the radar, MaNa's PvZ form had been superb in 2021, with an 80%+ match win-rate (albeit, against mostly domestic competition). MaNa got tricky in the first game, bringing out a Tempest rush build to set up his transition into a more conventional air army. While MaNa did manage to annoy Solar some, it wasn't enough to really hinder him from establishing a strong economy and taking control of the map. Solar got into late-game on perfectly acceptable terms, having BL-Corruptor backed by spellcasters, with plenty of income to boot. Things got a bit dicey for Solar when he got a lax about his army control, allowing MaNa to exploit the immobility of Brood Lords to pick off some expansions and units. However, Solar's significant bank let him get a mulligan on that mistake, and play out the late game in a more methodical manner. Ultimately, Solar was able to prevent MaNa from taking more than five bases, and wore down the golden armada with his economy.
The second game saw MaNa choose a more standard approach, going straight into Voids and his end game composition. Solar planned to fight back with the same Brood Lord-Corruptor-spellcaster force from the previous game, but this time, MaNa assembled his aerial force much more quickly and was able to apply real pressure to Solar. While Solar pulled off some impressive holds against MaNa's Carrier-Void Ray-Templar force, eventually it was MaNa's turn to prevail with superior resources.
After a long and exciting series between Solar and MaNa, we had a change of pace as
Liquid`uThermal
took down
KZ.TIME
in a quick and efficient 2-0. uThermal successfully pulled off a cheeky proxy Barracks right inside TIME's natural on the first map, and the combination of Marauders and Hellions was enough to give him a quick win. The second game on Jagannatha seemed like it might go long as both players secured three bases, with uThermal even preparing a mech-switch on top of that. Amusingly enough, uThermal managed to seal his victory before could even start cranking out Factory units
en masse
, with his expeditionary force of Marines, Tanks, and three Ravens able to kill TIME straight up (In short: Ravens good, no Ravens bad).
Liquid`Clem
needed to take just one map off
KZ.INnoVation
to bring it home for TL, and he did so in short order with a two Barracks Reaper strategy in game one. INnoVation played a more standard Rax-Factory expansion build, but got too reckless in taking skirmishes with his Reaper-Hellion defenders against Clem's pure Reapers. As is often the case in the early game, a single poor fight for INnoVation snowballed rapidly out of control, with Clem able to force a fast GG. For good measure, Clem took the final game as well, as his early Reaper-Hellion 'poke' turned into a game-ending attack.
Weekly MVP Award: DPG.Rogue
Keeping his team in contention for the all-important direct seed into the Grand Finals,

Rogue
did Dragon Phoenix Gaming a great service this week by securing their victory over Team NV, breaking their undefeated streak. Though the Zerg did not do this all by himself, his initial 2-0 over NV.sOs proved to be the result tilting the scales in favour of the Chinese team with the rest of the matches ending in draws. How valuable a victory this will be in the end won't be clear until we have the results of Week 11, but for the moment Rogue is the man, who sent his team into the finals—and
history
has shown that is there, where he is at his strongest.
This week's honourable mentions go to, well, essentially all of Team Liquid: Liquid'MaNa, Liquid'uThermal and Liquid'Clem delivered an awesome result in a real team effort against KaiZi Gaming, which not many whould have thought possible. Because of this, the fight for the last remaining playoff spot will only be decided in the final week of the Regular Season—how great is that? We also want to give AF.Trap a shoutout, as he saved the Afreeca Freecs from an embarassing loss of points against Team GP.
Weekly MVPs

Week 10: DPG.Rogue

Week 9: Shopify.ByuN

Week 8: GGG.Patience

Week 7: αX.RagnaroK

Week 6: AF.Trap

Week 5: DPG.Cure

Week 4: NV.Maru

Week 3: Shopify.Lambo

Week 2: Liquid`Clem

Week 1: NV.Creator
Week 11 Preview
[
Friday, Jun 11 12:00pm GMT (GMT+00:00) Matches

Invictus Gaming vs.

Alpha X


XY
< Jagannatha >


RagnaroK


Coffee
< Romanticide >


Nice


MacSed
< Oxide >


Zoun
Ace:
< Lightshade >
Despite ending up near the bottom of the standing table, Invictus Gaming definitely made an impact this season. Their fantastic performance against Team Liquid in Week 8 ended up having huge implications for the playoff race—the point the Chinese team stole by forcing an ace match might have ended Liquid's playoff hopes.
iG.XY
has been the team's best performer so far and scored some very unlikely victories indeed, once again he's up against
tough odds
facing the opposing club's most solid member in
αX.RagnaroK
. Though all the stats point towards an easy victory for the Korean, history provides a ready example for why the Zerg should still tread carefully: XY took a map against him in their last meeting, which happened to be in the previous season of this very league (Alpha X won 5-1 back then, RagnaroK being the only one to drop a map).
Meeting next are
iG.Coffee
and
αX.Nice
, two players who share the grand feat of having upset Liquid'Clem this season. The Protoss player maintains a very slight advantage in all the relevant
stats
and has not lost a series to this opponent since 2017. Nice usually doesn't feel compelled to all-in players of equal or lesser standing, so we might be in for a more standard bout than his cheese-riddled series against KZ.INnoVation, for example. Nice's PvT remains his most successful match-up for the moment, with Coffee registering an upwards trend in his TvP as of recent with Bunker pushes featuring prominently. If nothing else, this should be a fun duel with Nice firmly in the driver's seat and Coffee doing his best to dislodge him.
Should things somehow spiral towards a catastrophe for the Golden Dragons, they can still rely on
αX.Zoun
to take down
iG.MacSed
and save them from a disaster to end the season on. Both Protoss players were outshone by teammates this season and perhaps even underperformed a bit compared to expectations. In the direct duel, the Korean Protoss surely holds
all the advantages
with his fantastic PvP, though he goes up against the Chinese player's best match-up. With both players looking to end the season on a high note and look for some redemption in the process, we can be sure there won't be any quarters given in this battle.
Prediction:
Invictus Gaming 1-
5 Alpha X

Team Liquid vs.

Team eXoN


MaNa
< Jagannatha >


MaxPax


Harstem
< Romanticide >


Gerald


uThermal
< Oxide >


SpeCial
Ace:
< Lightshade >
Team Liquid have a tough nut to crack in Team eXoN, which will be competing under this name for the last time on Friday before completely changing to PSISTORM Gaming. The notable absence of ace player Liquid'Clem may well be a sign of their capitulation in the playoff race, with the Frenchman perhaps focusing entirely on TSL7. Indeed, the situation looks quite dire with Shopify facing a much less dangerous opponent.
Speaking of dangerous foes,
Liquid'MaNa
clashes with
eXoN.MaxPax
in the opening bout of the series. The Polish Protoss has actually
dominated
the rising talent from Denmark up to this point in the year, winning six out of eight series with the map record of 11-8 being a good bit closer than the difference in series won. The personal history is the only stat in favor of MaNa with MaxPax packing a terrifying recent win rate in PvP above 75%. Winning mirror match-ups against the odds is kind of MaNa's thing, however, and what the personal data between the two opponents does show, is that the Polish player has great knowledge about how MaxPax likes to approach the match-up, which can be an invaluable advantage in PvP—critical enough, even, to overcome dire odds.
Liquid'Harstem
and
eXoN.Gerald
clash on pretty
even terms
with the Dutch Protoss maintaining a very slight lead due to their previous personal battles this year (3-2 in series, 8-7 in maps). Overall, they seem to have found an equal amount of success in the mirror match-up as of late going by their similar win rates, though the Captain looked much less stable in PvP when he had to show it in WTL, going 0-4 so far against his colleagues. Gerald's 3-3 is not impressive by any measure either, but it sure looks better than his opponent's numbers. Their personal match history shows how swingy the results between the pair can be from one week to the next—the only thing that's safe to conclude is that these two have each other's numbers and no clear favorite can be determined.
The Terran brethren have dodged each other so far in 2021, being rather rare opponents for how long their careers have been going on.
Liquid'uThermal
can stride into this duel with confidence, as he's defeated
eXoN.SpeCial
the last four occasions they met including all of their clashes in the previous year. Current
numbers
, however, do look much more promising for the Mexican, who's been in a beastly form and is getting all the good Korean TvT practice one can wish for (well, as long as he sorts out that staying-in-Korea piece of business). That said, this has not been visible in WTL so far. SpeCial is 2-6 in TvTs in the league, while uThermal stands at 3-3 in the mirror match-up including a strong win over KZ.TIME in the previous week, which showed the kind of lightning quick strategies he likes to use so very well. One factor playing a role in this series could be focus—for SpeCial, it sometimes feels like he's not bringing his A-game to the WTL, while the Liquid players all seem to fight tooth and nail whenever they are fielded. There is also the interesting possibility of an ace match in this series—will Liquid call up Clem for duty in this case, or try to power through without the Frenchman?
Prediction: Team Liquid 4
-3 Team eXoN
Saturday, Jun 12 12:00pm GMT (GMT+00:00) Matches

Team NV vs.

Afreeca Freecs


DongRaeGu
< Jagannatha >


Armani


Maru
< Romanticide >


Trap


Bunny
< Oxide >


TY
Ace:
< Lightshade >
Wounded Korean juggernauts clash on Saturday, both seeking to upgrade their positions going into the playoffs. In the opening bout, two former teammates collide as
NV.DongRaeGu
is sent out to defeat his old colleague
AF.Armani
. Once upon a time they were both part of the Korean server Zerg cabal when they fought together under the Afreeca banner. Now they meet as foes. The Afreeca loyalist clearly is in the much better form than DRG, sporting a
strong record
in the mirror match-up and a slight lead in personal stats in 2021 (1-1 in series, 3-2 in maps). Armani had some problems dealing with a cheeky GP.Rex in the previous week, but his ZvZ in WTL has been pretty stable otherwise. The chance of a map-split here is still a lot higher than a clean sweep in favor of the Afreeca player—and NV wouldn't send out DRG if he wasn't confident in delivering a good result.
Speaking of former teammates clashing,
NV.Maru
and
AF.Trap
come to blows in the second match of the day. Their last meetings happened in high-profile matches with the Terran winning the Code S semis and the Protoss the Super Tournament semis, with both series going to the final map. Historically, these two have been incredibly evenly matched as well, as their perfectly equal
32-32 map record
shows. The big worry for Afreeca fans will be Trap's also perfect, but in not such a great way, 50% PvT win rate in recent times, which is overshadowed big time by Maru's mighty TvP stats (>70%). At the time of writing, these two players are so close in strength that their Aligulac rating is within two points of each other. This duel is going to be decided by daily form more than anything else if there's to be a clear victor, far more likely is a map-split to occur.
These
AF.TY
matches in the latter half of the season have been incredibly weird to write about, and this one is not any different. Plain and simple, his poor results make us suspect he's not entirely focused on SC2 lately, which would be quite understandable with his military service drawing ever nearer. At the same time, it's quite frustrating to watch. Anyways, last week's performance actually looked a lot better with TY grinding down GP.Ryung's resistance in the first game with Mech play despite a rocky start for him, so perhaps he'll also attempt to make the best out of the duel with
NV.Bunny
. Aligulac can't exactly add any potential external circumstances (which are admittedly speculative) into its
prognosis
, thus it's giving an advantage to the Afreeca Terran. Practically, we should really consider NV's versatile Terran to go into this as the favorite, as his 5-1 TvT record in WTL so far has shown that he's a strong force in the mirror match-up and this is supported by solid stats outside of the league as well. Still, TY has proved himself to be a dangerous opponent even at this point when he puts his mind to it and Bunny should not be overconfident—even this old-man-form of TY can win maps and might be enough to force the ace match against Team NV, which would likely see an expansion to the series between Maru and Trap. Not something any fan would say 'no' to.
Prediction: Team NV 4
-3 Afreeca Freecs

Shopify Rebellion vs.

Team GP


ByuN
< Jagannatha >


Prince


Lambo
< Romanticide >


Rex


Scarlett
< Oxide >


Ryung
Ace:
< Lightshade >
Only the underdogs from Team GP stand between the Shopify Rebellion and the final playoff spot, which the Rebels should be able to secure with solid performances from the roster.
Shopify.ByuN
is
heavily favored
over
GP.Prince
to secure an early 2-0 lead for the Rebellion, so far sporting a clean 7-0 map score over the Protoss player in previous meetings. While Prince could always try to throw the match into chaos, which might enable him to come out with an advantage, a player of ByuN's caliber and experience is hard to surprise without bringing anything truly new to the table at this point.
Fresh off his incredible DreamHack Masters Europe run,
Shopify.Lambo
will likely hold the key to seal the deal on Shopify's playoff participation against
GP.Rex
, a player he's
never faced off against
so far. The GP player's ZvZ performances so far have been quite dangerous for his opponents thanks to his daring build order choices: Rex clearly favors early aggression and all-ins in the mirror match-up. Lambo should prepare accordingly and play it safe—his opponent likely won't have a chance in a longer game without gaining some sort of critical advantage through aggression first.
In a blast from the past
Shopify.Scarlett
and
GP.Ryung
bring up the rear, meeting for the first time since 2016. The Korean has actually amassed a slightly better record this season than his Canadian opponent (9-12 to 8-12), making this a pretty even showdown in the team league's context and outside of it: the
stats
do suggest Scarlett has the edge, but Ryung seems to feel confident enough in TvZ when not faced with the absolute top players of the race, a position which Scarlett likely can't claim at the moment, to post a pretty good recent record in the match-up. Then again, the Canadian has found ways again and again to secure points for her team even in the face of bad odds, so actually going into a match as the favorite for once should be a nice breeze of fresh air for her.
Prediction: Shopify Rebellion 5
-1 Team GP
Sunday, Jun 13 12:00pm GMT (GMT+00:00) Matches

Good Game Gaming vs.

Team LP


Cyan
< Jagannatha >


JieShi


Patience
< Romanticide >


Wanted


Dream
< Oxide >


Alka
Ace:
< Lightshade >
Good Game Gaming have been thwarted in their playoff ambitions, so all they can hope for against Team LP is to secure a clean win to end the Regular Season on a positive note and look towards the future. On paper, the closest game between these two teams starts us off with
GGG.Cyan
facing
LP.JieShi
, who in a way usurped Cyan's position as the challenger of KZ.TIME in the recent Chinese DreamHack Masters. During this surprisingly strong run, the LP Protoss even defeated his GGG counterpart 2-0, continuing
a trend from 2020
, which saw JieShi achieve a string of victories over Cyan. It's hard to believe, but JieShi may actually have the advantage going into this duel.
Naturally, the rest of his team can't attain a similar position:
LP.Wanted
has actually played a pretty solid season under the given circumstances and it would be nice if he could crown it with an upset against
GGG.Patience
. It's unlikely that the Korean will be sentimental fighting his former team mate, so we have to take the
stats
at face value and predict him to be the heavy favorite in this match.
Even more mismatched is our last pairing:
GGG.Dream
is given an overwhelming
99,63% chance
by Aligulac to defeat
LP.Alka
in a Bo3, which does sound about right—the Chinese player's chances to take one map at least are a bit better with close to seven percent. Needless to say he's got his work cut out for him here and should possibly think about bringing something crazy to the table. Creating chaos is almost certainly his only shot at bridging the skill gap between him and his opponent.
Prediction: Good Game Gaming 5
-1 Team LP

KaiZi Gaming vs.

Dragon Phoenix Gaming


TIME
< Jagannatha >


Dark


INnoVation
< Romanticide >


Rogue


Solar
< Oxide >


Zest
Ace:
< Lightshade >
For fans following a SCBOY team league for the first time with WTL this might look like a mere top match, but there is a bit of history to it, which makes it quite the spicy duel whenever it happens. Once upon a time the owners of both teams wanted to found a team together, but couldn't quite come to an agreement acceptable to both sides about which players to hire. So, naturally, they split up and two different teams backed by their personal wealth sprung up, which henceforth began to dominate the SCBOY team leagues and became arch-rivals. DPG has mostly come out on top so far, winning two tournament finals against KaiZi and also sweeping them with a 6-0 score in the showmatch to kick off the first season of WTL, but the other duels have usually been quite evenly matched.
While not regarded as a benchmark for great ZvT at the moment,
DPG.Dark
has still bested
KZ.TIME
in two clashes this year without dropping a map and amassed a pretty solid winrate of
just under 70%
in the match-up recently. TIME as well seems to be in a bit of a downwards trend right now, but he still forced map-splits against Korean Zergs αX.RagnaroK and AF.Armani in the last couple of weeks, which are not shabby results at all. Repeating such a map-split scenario against the former world champion may prove critical in the overall series as this is the only match-up with a clear underdog. As the other match-ups are pretty evenly matched and should statistically become map-splits, this opening bout could already be decisive—if things go according to the numbers, Dark should secure a 2-0 here and thus likely the win for his team, but if TIME can defy the odds and force a draw, the series is completely opened up.
Falling to the onslaught of Liquid'Clem last week,
KZ.INnoVation
is faced with a different beast in
DPG.Rogue
this time around. The Machine is actually on a bit of a win streak against the Zerg player, having come out victorious in the last five series they played with
a map score of 11-3
. Taking all their series from the current year, this becomes a 6-1 (14-7) record. Clearly, INnoVation's style is pretty effective against the way Rogue wants to play ZvT in regular online tournaments. Here's the thing to keep in mind: Rogue does not need to win this series in the traditional sense, because in theory Dark has already created a lead for the team. He needs merely to take a map and if we look back at the stats that's perfectly in line with what has happened this year—seven series, seven map wins. With a probability of close to 50% of a Bo3 between these two players going to a third map according to our friends at Aligulac, we must concur with these stats and predict a 1-1 in this TvZ.
The situation looks very similar indeed for
KZ.Solar
vs.
DPG.Zest
. If you paid attention to some of the weekly cup results, you'll know that these two players are almost always present in the last couple of rounds, so they've been in very solid form recently—something the
stats
underline. They've also been staples of their teams' WTL campaigns with Solar maintaining a fearsome ZvP win streak up to last week, when this was broken by a fierce Liquid'MaNa. That might certainly provide inspiration for Zest, who in the current year is 7-7 against Solar in series with a map score of 29-28 in the Zerg's favor—that's one heck of an even match-up! With so many games between them in this year alone, we can be sure they know the ins and outs of their foe's playstyle and may even have a mindgame or two up their sleeves, which developed out of their repeated clashes. As with the previous match, Aligulac suggests the probability of a 1-1 occurring in a Bo3 between them is close to 50%, making a map-split the most likely scenario for their duel in WTL.
Prediction:
KaiZi Gaming 2-
4 Dragon Phoenix Gaming
---
Credits and acknowledgements
Written by:
TheOneAboveU
and Wax
Stats: Aligulac.com & Liquipedia
Images: SCBoy