DreamHack Masters: Winter
Serral wins the Season Finals
Finland's
Serral
triumphed 4-2 over
Stats
in the grand finals of DreamHack Masters Winter, winning his first major title in nearly four months. For Serral fans, those four months might have felt four years, with Reynor and Clem rising to contend for the European throne while Serral fell to the wayside. Now, with Serral's victory in the Winter Finals, and Clem's earlier championship run in the European regional, the three-way race at the top of the European scene seems like it has reached its most competitive point yet.
While the bracket worked out so that Serral faced neither Reynor nor Clem in his Winter Finals run, the upcoming tournaments of
ASUS ROG Online
(Nov 27-29) and
TeamLiquid Starleague 6
(Dec 5-20) presents him with opportunities to take them on head-to-head before the year is out.
Curiously enough, Serral's return to power may have only been the third most interesting storyline of the tournament. Stats fighting through the bracket and earning a finals match against frequent foe Serral was no surprise—despite his growing inconsistency, Stats' GSL games had shown that his peak-level skill was still championship-tier. The truly shocking thing was how poorly all the other Korean players performed. Reigning Code S champion TY went out in the quarterfinals, swept by the USA's Neeb. Code S runner-up Maru couldn't even make it out of the group stage, losing to Clem and Armani (who was eliminated in turn by Clem). INnoVation and Trap were also victims of shocking group stage upsets.
That brings us to the other major theme of the tournament: the remarkable success of North American players, coming at the cost of the GSL's finest. While NA only had two season finals representatives in the form of Neeb and Astrea, both players made a huge impact on the tournament. Neeb defeated Clem and Armani in the group stage, and then swept TY to earn a top four finish. Astrea eliminated Trap in the group stages, and took Stats to a full five-game series in the quarterfinals before bowing out.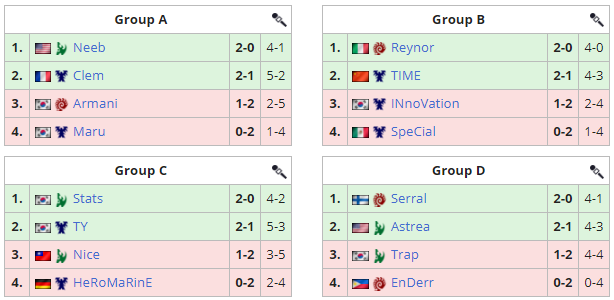 Have we reached a period of unprecedented parity in competitive StarCraft II? Or was the Winter Finals simply the outlier among outliers, a fluke to never be repeated? Again, with ASUS ROG Online and TeamLiquid Starleague 6 coming up in the next few weeks, we may soon get some answers.
Grand Finals: Serral 4 - 2 Stats
Game 1 - Deathaura:
The state of late-game PvZ has been a heated topic of debate as of late, and this limited one-game sample supported the side of 'Protoss OP.' The first half of this game was a quiet, most passive build-up, with neither player able to hamper each other's economy or growth. The second half of the game saw the end-game Protoss composition of Carriers + support face off against the Zerg's Corruptors and assorted spellcaster support. While such situations often lead to lengthy stalemates, Stats brought the game to a relatively quick end by burning his way through Zerg territory, fighting efficiently against the opposing Swarm, and eventually extracting the GG from Serral's hands.
Game 2- Jagannatha:
Game two looked like it might be decided early, as Stats' micro mistake saw him lose his initial Oracle to Queens before it could do any damage. We've seen Serral slowly but surely snowball his way to victory off of smaller advantages—however, Stats skillfully played his way into an even mid-game, credibly threatening Serral with Glaive-Adepts and preventing the Zerg economy from getting out of control.
It seemed like Stats had gotten out of the early/mid-game on even terms with the Zerg, and would be free to make a transition to Carriers and try to take a late-game win once again. However, Serral wasn't about to sit back and let that happen. Combining a devastating Baneling drop with a frontal Hydralisk-Baneling attack, Serral shattered Stats' defenses just as he was trying to transition to Carriers, bringing the game to a jarring conclusion.
Game 3 - Pillars of Gold:
Stats brought out the recently trending 3-Stargate Void Ray opener, and he ended up being able to show how well it performs against Spire tech. Despite catching whiff of the Void Rays, Serral decided to go for Mutalisks anyway—but only got seven kills Probe before Phoenixes rendered them useless. Serral then pumped out Corruptors to counter the Void Rays, but all his investment in air left him with a very weak ground force.
The Zest-style (or should it be credited to someone else?) Void Ray opener aims to make a rapid transition to a strong ground army after the initial group of Void Rays, and Stats soon had a ground army that was far scarier than Serral's hastily produced Roaches and Ravagers. Stats didn't let this advantage go to waste, and battered Serral with his superior ground forces to take his second win of the series.
Game 4 - Lightshade:
Serral opened with a Pool-first build to start, which Stats scouted and held off without too much trouble. Both players macroed up after that, and looked to be on relatively even footing as they headed to another potential late-game battle. However, Serral once again found a window to kill off Stats before he could transition to Carriers, striking with another Hydralisk-Baneling army at max supply. Stats' "Shield of Aiur" reputation failed him in this instance, with his army getting caught defending in an awkward position where his Templars were barely able to get off any useful storms. Stats saw his forces get crushed, and he conceded the tying GG of the series.
Game 5 - Oxide:
Stats brought out another Oracle opener, and once again failed to do much early game damage to Serral's economy. Nonetheless, Stats managed to set himself on three bases without much of a deficit, and aimed to go for a Blink-Stalker + Colossus composition. Interestingly enough, Serral had said in a prior interview that he finds this composition to be easy to face, and he eventually backed his words up.
But Serral had to navigate a crisis first, as his Roach-Ravager-Bane swarm fared poorly against Stats' initial major attack at +2 attack timing. While Serral survived the attack, the initiative had definitely gone over to Stats, who looked to mass more troops and finish Serral off with a second blow. However, Serral completely turned things around when Stats looked to attack with +3 attack upgrades, executing a devastating Zergling flank while fighting with Roaches and Ravagers at the front. This totally broke the high-tech core of the Protoss, and Serral was able finish Stats off not long after.
Game 6 - Submarine:
Serral went for another Pool-first build on a short-distance map, and Stats once again held off the early Zerglings without much trouble. Stats then turned the tables on Serral and got aggressive himself, using Adepts to keep Serral contained on two bases for quite some time. Stats looked to keep the pressure up, transitioning into Glaive-Adepts and following up with Disruptor drops. Serral handled all of this calmly, ceding ground where needed but ultimately setting himself up on a reasonable economy. As for Stats himself, he was content to go up to four bases behind all this pressure, once again assembling a Stalker-Colossus army.
The game came to an abrupt end when Serral looked to attack Stats' warping fourth with Roach-Ravager-Baneling. While Stats' army looked like it was big enough to handle the attack, Stats' Force Field placement was less-than-perfect, allowing Banelings to squeeze through and get some huge detonations. With the Zerg Swarm trampling over the Protoss army, Stats had no choice but to concede the final GG.
---