Gold Series Team Championship:
2020 Fall Season
by: TheOneAboveU
Going into the final week of the Regular Season of GTC 2020 Fall, our five playoffs teams have been determined. The order in which they will enter the final portion of the competition, however, is not yet set. #1 team Dragon Phoenix Gaming faces Jin Air Green Wings in the final week's top match and may yet lose their top position—and the direct ticket to the Grand Finals—to KaiZi Gaming in case Jin Air inflict DPG's first ever GTC loss on them.
The Green Wings have a tentative grip on the third place spot, but Alpha X are in hot pursuit and could still overtake them in the last week of the Regular Season. The Golden Dragons, in turn, could still drop down to fifth place with Brave Star Gaming profiting. Though they are eliminated from playoff contention, Team LP, Invictus Gaming and Team GP can still act as spoilers for the top five organizations, contributing to a potentially very chaotic final week.
Week 6 Recap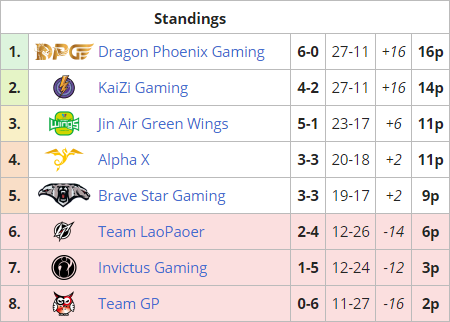 Points are awarded as follows:

3 points for a 'normal' victory in a series that does not require an ace match

2 points for a victory in a series that requires an ace-match

1 point for a loss in a series that requires an ace-match

0 points for a loss in a series that does not require an ace match
Brave Star Gaming 2 - 4 KaiZi Gaming
Watch VOD
The odds were definitely in favor of KaiZi Gaming going into this one, and
KZ.Solar
proved to be the backbone of his team once more with a solid performance against
BSG.Cyan
. The Korean comfortably managed to handle his opponent's Void Ray-build on Ice and Chrome, still finding time and space to sneak Zerglings into the Protoss base for critical counter attacks before ending the game with a Roach-Ravager push. The same composition proved victorious on Ever Dream, this time after defending Cyan's Adept aggression.
KZ.TIME
showed off his skills against
BSG.Dream
, taking a map off of BSG's ace player and setting KaiZi up for the win later on in the series. The Korean Terran started with the aggression on Pillars of Gold, attacking with his first handful of Marines, Medivac and Siege Tank, but was easily deflected by his Chinese opponent. His second attack hit a much better timing, enabling him to sack TIME's as yet unprotected third and take the economy lead, which gave him enough momentum to finish the game a bit later. TIME's spirit was not broken, though. He fell for some deception from Dream on Submarine, with the BSG ace hiding his production at the back of his main base. Despite TIME wasting money on early defense, he still came back and established early air dominance, allowing him to put pressure on Dream relatively safely, leading to a long containment of Dream's natural by a line of tanks. The BSG Terran eventually broke out, but by then the KaiZi player had taken a solid lead in the economy. A doom drop turned things around once more, Dream heavily damaging TIME's natural, but the Korean lost a lot of his army and feared retaliation, slowing the growth of his economy. The Chinese Terran took his time, re-establishing his economy while keeping to reinforce his army, which still had a massive size advantage over Dream's, who could not resist the final push a few minutes later.
TIME did his job, setting up
KZ.INnoVation
for an easy victory over
BSG.Scarlett
, who—playing from Canada—faced sheer insurmountable odds against the Machine. Despite the disadvantageous circumstances, she managed to pull off a fantastic macro game on Eternal Empire, deflecting all of INnoVation's aggression while transitioning into a Ling-Bane-Hydra composition, adding Lurkers and Vipers in the later stages of the game. The Machine tried to push into Zerg territory again and again, but was routed every time, with Scarlett taking out vast numbers of Terran units. Ultimately, though, despite dominating large chunks of the game, Scarlett lost it all in a single bad fight on her side of the map, INnoVation having cleverly maneuvered close to the Zerg natural from an unexpected path and taking an advantageous position. A proxy 2-Rax killed the Zerg natural on the next map, Scarlett giving it up without a fight to preserve units. Despite the early setback, a longer game developed with INnoVation going for Mech and Scarlett pressuring him relentlessly, landing several big blows and resetting the Korean's critical unit count. INnoVation never really got to go on the offensive, and Scarlett eventually broke INnoVation with continued attacks to earn a surprising map-split (though the series was already decided).
Dragon Phoenix Gaming 4 - 2 Invictus Gaming
Watch VOD
DPG.PartinG
served
iG.MacSed
a rich cheese platter for their initial meeting, playing a proxy Robo and a hidden Twilight Council all in the same game. MacSed responded to being contained by building a hidden base in the south of Ice and Chrome. He never got to reap the benefits from the move, though, as PartinG simply finished the game with a massive attack as MacSed moved to set up his third base in his natural. Eternal Empire also went the DPG player's way, his initial Stasis Ward harassment setting MacSed back, giving PartinG all the advantage he needed for a decisive Gateway push a bit later.
Following his Korean teammate's choice of flavor,
DPG.Firefly
opened with a proxy Stargate against
iG.Coffee
, not managing to get all too much done with it. Coffee responded with Widow Mine harassment, which didn't kill all too much, but cost Firefly a disastrous amount of mining time. Playing a Phoenix-Adept composition, the Firefly was overwhelmed by Coffee's Marine-Tank push at his third base. Oracles and Widow Mines were the harassment choices on Deathaura as well, but Firefly got a lot more done this time, securing a lead while teching to Blink. Defending Coffee's follow-up Liberator and drops, Firefly finally saw his chance for a decisive push with Blink Stalkers and Chargelots, surrounding and crushing Coffee's forces on the ground in front of the Terran's natural.
As expected,
iG.XY
tried something funky against
DPG.Cure
in their initial match, opting for Cyclone-Liberator pressure on Eternal Empire, and actually coming very close to killing Cure's third base. Cure's forces managed to show up just in time, though, saving the expansion. From there, Cure took the initiative, taking apart XY's Mech composition bit by bit with a mobile Bio-Raven force in a textbook display of how to counter a defensive Mech player. To his credit, XY was not discouraged, playing a straight-up Bio-Tank game on Ice and Chrome. Being the more active player on the map at first, he kept Cure busy while being a bit greedier in the economy game. Eventually, XY transitioned into Battlecruisers, which arrived just in time to turn the tide in a potentially decisive push by Cure. XY very smartly had already invested heavily into air upgrades, giving him an additional advantage. Dominating the skies, the Chinese Terran crushed his opponent in a massive battle, and finding Cure's Starports, which had been built at some forward bases, cut that critical production. Cure fought on for a few minutes, but XY was firmly in control during that time, knowing exactly he had this one in the bag—a fantastic performance for him, showing once again his great strategic understanding of the match-up.
Team GP 3 - 4 Team LP
Watch VOD
Underdog audacity met veteran experience in the opening match between
GP.Prince
and
LP.Hurricane
, with Prince choosing an Adept-based opener while Hurricane went for Stalkers. While the initial aggression went nowhere, the two players traded third bases a bit later on, as the LP player choose Disruptors and Colossi to add to his firepower, while Prince opted for Archons and Phoenixes. Prince came very close to breaking Hurricane with this army, but eventually the push was held after a drawn-out battle and the Hurricane drove his counterattack right into Prince's heart. Hurricane hid a Stargate on Ever Dream in game two, but didn't get too much done. Both players went for Blink and quick third bases afterwards, and also teched up to Dark Shrines. Hurricane diverged here, going for Disruptor tech once again. This would prove
decisive
, as he landed
massive shots
on the opposing army since Prince did not have any response to them.
We also got to see one of
GP.Bomber
's unfortunately rare successes these days, with the veteran Terran taking two solid wins over
LP.Jieshi
, who could just not repeat the solid performance he showed against KZ.INnoVation one week earlier. On Pillars of Gold, a massive drop and a subsequent two-pronged attack secured Bomber's win, and on Ever Dream he got the better of Jieshi in a worker-killing contest between Dark Templars and Widow Mines. Bomber once again hesitated for a long time while having a huge lead, but eventually used his army advantage to win the match.
This left Team GP in an awkward position with much pressure on
GP.GogojOey
, who was a huge underdog against
LP.Patience
. But somehow, when these two meet, Joey pulls off some magic. Starting by defending against Patience's Adept-Void Ray pressure, he transitioned into Mutas even though there was a Stargate on the map, keeping the Protoss busy with them but not achieving any critical damage. It did, however, buy him a lot of time to build up a massive Ling-Bane-Roach-Ravager swarm, to which Corrupters were added to counter Patience's Colossi, which absolutely crushed the Protoss army as it moved onto the map. GogojOey for once did not neglect his Drone count, enabling him to keep up with his opponent in the longer game, eventually overwhelming Patience after 20 minutes of back and forth action on Eternal Empire, forcing at least an ace match in a big upset. He could not quite perform a full-on miracle by clinching the series win, as Patience struck back on Ice and Chrome with Adept-Phoenix, countering the Zerg's Muta build.
Prince and Hurricane were chosen as aces, playing a third map on that day. Prince inflicted some Probe losses with a proxied Oracle, but Hurricane countered with Adepts and equalized the economy once again. Both players continued to suffer heavily from each other's Adept harassment while teching to Blink. Hurricane saw no reason to diverge from his winning ways in the earlier games, relying on Disruptors once more, his opponent having the same idea this time. Hurricane, though, clearly showed that he is the better shot in such a duel, ending Prince's and Team GP's hopes with a spectacular series of hits.
Jin Air Green Wings 4 - 3 Alpha X
Watch VOD
The week's highlight match did not disappoint, as Jin Air and Alpha X went the entire distance in their Best of 7. Things started rather poorly for the Golden Dragons, however, with
JAGW.Rogue
pulverizing
αX.RagnaroK
's Nydus-attack on Ice and Chrome with Mutalisks. The flyers also played a prominent role in the next match, but this time on RagnaroK's side and not successfully, as they were not able to do for the Alpha X players what they had done for the Jin Air Zerg. Rogue flooded his opponent's natural with Zerglings and Roaches, killing swarms of Drones while the Mutas tried their best to clean up. Transitioning into Hydras behind the aggression, Rogue forced RagnaroK out just a bit later.
While RagnaroK was not able to deliver an early point for his team,
αX.Nice
made more than up for it with a very solid PvZ performance against his countryman
JAGW.Rex
, totally fulfilling his role as the favorite between the two Taiwanese players in the GTC. Pillars of Gold was a rather one-sided stomp in favor of the Protoss, whose Gateway-Robo army could not be resisted by anything Rex was able to field. A longer game on Ice and Chrome saw Nice essentially use a mass Immortal-High Templar army for a good amount of time, supplementing this hard hitting force with Zealot runbys and Oracle harassment, which continually caused damage on Rex' side of the map. The Zerg eventually got to Lurkers, forcing Nice to switch composition as well, who decided to go for Carriers. Though Nice did not always take the most optimal fights against the Lurker army, his consistent harassment combined with pressure from his main army ultimately wore down Rex.
It was up to
JAGW.Trap
and
αX.Zoun
now to decide their team's fates, and the Alpha X player made a fantastic call on Eternal Empire by hiding a Dark Shrine, forcing an unprepared Trap to give up the first map without being able to really do anything about it by sniping the Robo Facility being built at the natural base. Smelling blood in the water, Zoun went for a Cannon Rush and proxy Gateways on Ever Dream, but Trap managed to snipe both Probes on front duty during the battle, crippling Zoun's ability to secure high ground vision. Eventually stemming the rush and depowering Zoun's offensive buildings, Trap counterattacked to force the ace match.
Trap, who already carried his team over an ace match bump in the first week of the Regular Season, there faced RagnaroK, who was a bit of an odd choice for this one, as another PvP may have provided better odds than a match against perhaps the best PvZ player in the world at the moment. RagnaroK opened with a Hatchery block to delay Trap's expansion, and in turn the Protoss inflicted some heavy damage on his Drone lines with Adepts and Oracles. Getting to Lurkers as quickly as possible, the Zerg probably thought himself safe from any attacks by Trap, but the Jin Air player hit a deadly timing with his Immortal-Archon-Chargelot force, overwhelming the as yet small count of Lurkers and their support troops. This was the fourth ace victory for Jin Air this season and the second ace loss for Alpha X at the same time, the Golden Dragons once again coming so close to felling a strong team, but not being able to close the series out.
Weekly MVP Award: LP.Hurricane
After suffering a disastrous loss against KZ.TIME during his debut for Team LP,

Hurricane
came back with full strength in Week 6 to secure the win for his team with a very solid 3-0 performance against GP.Prince. Had Team LP signed Hurricane just a few weeks earlier, they may well have been in playoff contention at this point, as the Protoss player has already proved his value after two weeks of playtime.
Notable mentions go out to
BSG.Scarlett
for her fantastic performance against the Machine despite bad conditions, to
iG.XY
for going 1-1 against a foreign favorite for three matches in a row, and to
GP.GogojOey
for securing the ace match against Team LP in an unexpected performance.
Week 7 Preview: Final week of the regular season
Brave Star Gaming should be able to get a solid start in this one, with
BSG.Dream
taking on
GP.Prince
in the opening match. TL.net's Spring Season MVP more or less fulfilled the high expectations his team had for him so far, consistently bringing home the victories he's supposed to and steering the ship towards the playoffs. Prince's resume in his debut season doesn't look as good, but the Protoss has shown his ability to make an upset happen right from the start of the season, so if he can find some consistency, he might become a vital asset for Team GP going forward. It is, however, unlikely this transformation is going to happen in this match, the Terran being a huge favorite despite
dropping a series to Prince
earlier this year. This is GTC, though, and Dream does rarely make mistakes in this environment.
A bit of a toss-up awaits us in the second match, as
BSG.Cyan
meets a
GP.Bomber
, who almost looked solid in the previous week against LP.Jieshi, but still displayed some glaring issues which might well come back to bite him against this opponent. While Bomber is active with the odd Widow Mine drop, he mostly stays in his base and passively waits until he thinks he's got enough units to pull off some two-pronged doom drop or a simple push—which might work against Jieshi, but Cyan is much more of an experienced macro Protoss and won't let passivity like that be unpunished. Leading 3-2 so far this year over the Korean, the Chinese player has what it takes to secure this series, though perhaps is
recent lull in PvT
form may come in handy for Bomber. In any case, a map-split scenario seems like the most probable outcome here.
That leaves us with the first ever official match between
BSG.Scarlett
and
GP.GogojOey
, two players, who pulled off some big—but ultimately rather meaningless—upsets in the previous week. After what Scarlett pulled off against KZ.INnoVation, we may need to reassess how much the ping from Canada to Asia is actually hindering her (even if that win came after KaiZi had already clinched the win at 4-1). Then, ZvZ is a bit different than ZvT, with early Ling-Baneling shenanigans often being decided in the blink of an eye. The Canadian Zerg also had it a bit rough in the
mirror match-up recently
while GogojOey maintains a solid win rate in the match-up (though the quality of his opponents is a bit lower than what Scarlett faces in the same timeframe). There is definitely potential here for the Zerg from Hong Kong to secure another map, be it in an early Ling-Baneling attack, in Roach-Ravager chess or a Mutaslisk game, but with how Scarlett comported herself in the previous week, her status as the favorite should hold up.
Prediction: Brave Star Gaming 4-2 Team GP
There's some mixed luck for the Golden Dragons as they face Team LP in their final match. On one hand, Alpha X is fortunate to play a Team LP that has literally nothing to play for but pride, as Team LP is already out of the playoffs and can't even earn any more prize money. On the other hand, Alpha X are unlucky to face the stronger version of Team LP with Hurricane on the roster, whereas most of the other playoff teams got "free" wins against the Hurricane-less Team LP roster earlier in the season.
Ultimately, of course, this will all be decided on the battlefield, where
αX.RagnaroK
first clashes with
LP.Hurricane
. RagnaroK has clearly been underperforming this season, with his less heralded teammates putting up better records than him. However, with his recent run through the
first Korean King of Battles qualifier
, perhaps RagnaroK has found some much needed confidence in his abilities again, which would do wonders for Alpha X's remaining GTC campaign. In their only meeting this year back in January, RagnaroK bested Hurricane 2-1, historically the Protoss has a slight advantage, but in terms of
recent form
the Alpha X player is definitely ahead. On paper, he's the favorite to take both maps here, but Hurricane has shown in the past that he is not to be underestimated in these team competitions.
Talking about recent strong runs from Alpha X players,
αX.Nice
delivered a stellar performance in the
North American qualifier
for King of Battles, cutting through some heavy weight competition to secure a spot for himself at the tournament. It sure seems like things are coming together nicely for the Golden Dragons, their players gaining form as the playoffs come closer. Is that going to be enough to conquer the PvP machine
LP.Patience
, though? The two players met seven this year, with the Korean winning six of the series with a combined
score of 14-6
against the Protoss from Taiwan. PvP has consistently been Patience's strength throughout the year, but his dominant form in the match-up has definitely lapsed as of recent. Nice himself is not the most solid player in the mirror match-up, but with how much he's been improving this year while Patience seemingly is losing his chaotic touch of genius, the Taiwanese player does have a shot at splitting maps here.
If Alpha X weren't so good with preparation, this first ever official match between
αX.Zoun
and
LP.Jieshi
could be an extremely worrisome affair for them. But as it stands, they'll give Zoun a scouting report that tells him the probability of facing proxy builds and Dark Templars in this series is acutely higher than usual in the mirror match-up. While Jieshi has very much diversified his play this season, which is going to do him favors in the long term, being a sneaky cheese lord is definitely still his shtick—and, honestly, it still works from time to time (just ask JAGW.Rogue), so more power to him. Now, Zoun himself, as we experienced in the previous week, is not an innocent lamb himself: If there's an easy win to be had, he's going to pull out the weirdest and cheesiest stuff possible. It's going to be interesting how he deals with being the
clear favorite
in this one. Is he still going to play like against JAGW.Trap last week, going for full-on aggression, or is he going to play it safe and aim to simply not die to anything weird, confident in his advantage in a longer game?
Prediction: Alpha X 4-2 Team LP
It's been an exciting season for the XYFANS out there,
iG.XY
forcing map-splits against three non-Chinese players in strong performances so far—can he make it a fourth against
KZ.Solar
, the second-strongest performer of the Regular Season up to this point? As always, the
odds look terrible
for him on paper: a 1-10 historical record, his Korean opponent boasting recent win rates over 60% in general and in the specific match-up they're about to face off in. The memes and the potential excitement make one wish for another 1-1 here, but Solar has been almost without mistake this season, a relentless force of destruction. After his elimination from GSL, he might concentrate even more on GTC, so the deck is more stacked against XY than ever before.
The odds for
iG.Coffee
are just marginally better against
KZ.INnoVation
than they are for XY against Solar in the next
uphill battle
for the Chinese squad. Leaving aside his two losses in ace matches, the Machine is 11-1 this season, leading the individual ranking with the most wins. While we can fault INnoVation for being not very clutch up until now, his performance in the regular matches has been stellar and he's doing his job by farming win after win each week (the map loss to BSG.Scarlett this week being the first dirty stain on his white vest). Coffee hasn't played a TvT all season long, so perhaps he's got some dangerous build up his sleeve with which to surprise his opponent, but we all know the Machine is very hard to catch off-guard.
Looking at the statistics for the season,
KZ.TIME
only sits on a 6-6 record, which is very unimpressive compared to his two team mates. However, those numbers become much more impressive when you realize that TIME so far has only played Korean opponents. No other player from the region has been able to beat Korean players so consistently. Facing a Chinese adversary in
iG.MacSed
for the first time this season, the Terran completely changes his role from a challenger to the absolute dominator of his region. What players like Serral and Reynor are to most European players (a sure ticket to elimination), TIME has been to Chinese players for a long period now. Sure, there are upsets from time to time (MacSed himself achieving some earlier in the year), but overall the KaiZi player is unstoppable in regional duels. His record against the Protoss this year is 5-2 in series, 12-5 in maps, with a 9-1 record in September alone, so while TIME may have been vulnerable earlier in the year, he's clearly
in control
at this point. We've seen MacSed put up some good fights this season and taking a map is not at all impossible, but surely TIME will welcome the opportunity to secure a positive win rate at the end of the Regular Season for himself. KaiZi Gaming are not very good at winning championships, but there is no club better at bullying the low-ranking teams, so Invictus Gaming look very unlikely to end their season on a happy note.
Prediction: KaiZi Gaming 6-0 Invictus Gaming
It's always a risk for organizers to schedule such a highlight match like Dragon Phoenix Gaming versus Jin Air Green Wings at the end of the season, since it might well have been possible that there could be zero stakes involved at this point. SCBoy are either lucky or geniuses, however, since this duel does indeed have critical influence on the playoff seeding. DPG are fighting to protect their #1 spot and direct ticket to the finals, while JAGW are trying to avoid having to run the entire playoffs gauntlet from the lowest rung on the ladder.
DPG.PartinG
and
JAGW.Rogue
will start us off in a high caliber PvZ duel.
In 2020
, Rogue leads 4-3 in series over the Protoss, being on a three series win streak at the moment, while PartinG still retains a 10-9 map advantage over the Zerg. Long term followers of the GTC may remember the clash between PartinG and Rogue in the
Grand Finals of CTC 2019 Season 2
, during which PartinG managed to stop the Zerg's absolutely ridiculous streak of victories, but ultimately couldn't turn things in favor of his team Pixel 1. We have exciting players, we have cool historical context, we have pretty even odds for a map-split—that kind of sets Rogue up to ruin things by stomping his opponent, doesn't it? It certainly hasn't been the best season so far for either of the players, but with win rates over 70% for both of them in the match-up they're playing we can be sure these know what they're doing.
Speaking of history, during the same finals in 2019,
DPG.Firefly
(back then PartinG's colleague on Pixel 1), found a way into many fan's hearts by managing to pull off a monumental upset against the player he will be facing for the first time since then:
JAGW.Maru
. The Terran makes his first regular appearance this season, showcasing that Jin Air really don't want to lose here, and is immediately confronted with a specter from his past. Obviously, all the statistics
massively favor
Maru—how could they not? PvT is Firefly's weakest match-up and we've seen in the previous week how much he struggled against iG.Coffee. In a long game, Maru will take the Chinese Protoss apart like he was a real firefly and the Terran some psychopathic kid tearing up insects out of sadistic pleasure. Sure, a cheese will be predictable, but if it's a good one it might still hit a critical timing. Firefly's only option is to get really creative, or reveal that he has actually become a great PvT-maestro and has so far hidden that fact for a moment like this. Most likely, however, things will get dicey for DPG here.
This could put
JAGW.Rex
into the position of potentially closing out the series against
DPG.Dark
, which would be the crowning achievement of his career so far. Naturally, the
odds
are about the same as for Firefly to win against Maru, so we could essentially just repeat the paragraph from above. Only, Rex has never before taken a map off of Dark. All of the four wins Rex was able to achieve this season come from ZvZs, so clearly this is the one match-up where he can pull off the big upsets, but it surely would take a huge mistake or misread from the DPG player to fall victim to his Taiwanese opponent here. Also, who doesn't want to see an ace match between Dark and Maru to close out the Regular Season in
style
?
Prediction: Dragon Phoenix Gaming 4-3 Jin Air Green Wings
---
Credits and acknowledgements
Written by:
TheOneAboveU
Editor: Wax
Stats: Aligulac.com & Liquipedia
Images: Netease