2020 GSL Code S Season 2 - Round of 16
by Orlok
What a weird turn of events this round of sixteen has been! Amid a torrent of unexpected outcomes, hope for returnees has reached a new peak. All three players to finish first in their groups so far—DongRaeGu, PartinG, and Dream—are players who returned to StarCraft II after long hiatuses (two due to military service; one to try his hand at other competitions). The coming playoffs promises to be a breath of fresh air breezing above Korean SC2's 'stagnant water' (the Korean community term for a stagnant scene), something that seemed impossible just a few months ago.
However, one last group remains before the playoffs, and this group is the epitome of conventional. All participants here are strong, veteran players who have stuck with SC2 for several years straight—no result here would count as a surprise.
Group D Preview: Cure, Stats, Zest, Rogue
Start time: Saturday, Jul 25 4:30am GMT (GMT+00:00)
Out of all players to have played SC2, few have toed the fine line between good and great quite like 2020
Cure
. It's still hard to rate him as a player. His
online win percentages
have been beyond good at times, and though online performance is not a 100% predictor of offline success, we had reason to believe he'd eventually break out in major competitions as well.
This prediction was half fulfilled when he made the finals of Code S last season, taking out INnoVation 4-3 in the semis. However, his actual grand finals performance left a lot wanting, as he was quickly and easily demolished by TY in a 4-0 sweep. It was quite disappointing, especially considering the gutsy, clutch outing he had against INnoVation. On any given day, Cure could look like a cold-blooded killer or someone hard-stuck in the group stages—it all averages out to Cure being a pretty good player.
Headed into this tough group, Cure had the advantage of having the best recent form. A Code S finals sweep doesn't detract from how meaningful it was to get there in the first place. Cure being Cure, has spent plenty of time in online tournaments and has raked in wins like nobody's business (though he's cooled down ever so slightly the 2nd quarter). His 0-3 loss to Serral in the
DH Summer Finals RO4 was unfortunate
but it was preceded by a magnificent 3-2 win over Maru in the quarterfinals. With Stats and Zest looking very shaky and inconsistent, Cure should feel comfortable about his chances of getting out of this tough group.
Stats
comes into this group with more than a little to prove. We often talk about giving the benefit of the doubt to players who have hit championship heights in the past, acknowledging the fact that such talent might be rekindled at a moment's notice. However, Stats had been mired mediocrity for long enough now that he's not a championship caliber player anymore. It hasn't quite been a calendar year since his last championship run at
ASUS ROG Assembly Summer 2019
, but it seems safe to say that the expiration date on that preservative halo has passed. His dry stretch in Code S has lasted even longer, as it's been two years since his last quarterfinals appearance in the GSL. While he's actually done quite well in 'weekender' style tournaments in that time, one can't help but be concerned about his Code S woes. While the rebooting of the AfreecaTV Freecs team seems to have given its members some new mojo, it doesn't seem to have helped Stats much at all. To make a case for Stats, you have to look into his
absolutely bonkers online stats in July
, and interpret that as a sign of his renewed focus and passion.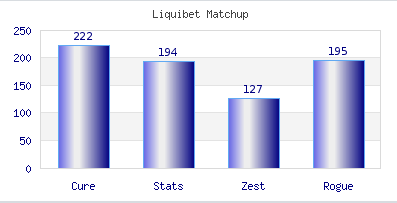 TL.net Liquibet picks at the time of publishing
.
Zest
is Zest, not always the best, but good enough to be a pest, we must attest. While Cure might average out to being very good, the data points on the Zest-skill chart are so erratically spaced out that no one has any idea how good he is (Dear should sue for gimmick infringement).
It wasn't that long ago that Zest beat the Finnish Phenom Serral in the semifinals of
IEM Katowice
, but no matter how hard you look, it's hard to identify a player of that level when you see him play now. He seems stuck in the middle much like Stats—good enough to consistently have a satisfying slice of the prize-pool pie, but not good enough to make the big bucks. Yet again, we're left to wonder if Zest will "turn it on" and show us championship caliber play. His most recent results don't paint a pretty picture—he just barely qualified for Code S thanks to a shallow qualifier roster and very forgiving format. In the RO24, he barely defeated SpeCial and Zoun, and used his winners' interview to flagellate himself for his poor play. Maybe there's a silver lining to be found. Zest seemed genuinely embarrassed at how much his skill-level had lapsed, so he could be motivated to give his fans a better showing in the RO16. Like Stats and Rogue, he has very impressive achievements in his past—even if he punches 20% below that weight, he could make it through to the playoffs.
Rogue
rounds out this group, and like everyone else here, he has the potential for greatness. His championship run at
IEM Katowice 2020
earned him a hefty payday and the distinct honor being the only back-to-back IEM World Champion in StarCraft II. At that moment, he was undoubtedly the best player in StarCraft II—then, he threw all that momentum away by going into another post-championship slump. Just as it happened after he won BlizzCon 2017, he was eliminated in the first round of the very next Code S tournament (due to Scarlett cheese both times, amusingly enough).
The last time around, that embarrassment lit a fire beneath his behind, and he ended up winning IEM Katowice right after. Since there's no event with a $100k first place prize anywhere in the near future, Rogue will have to make due with winning this season of GSL Code S if he wants to redeem himself. He's had an easy path so far, taking out two returnees in Super and Taeja in the RO24. His recent elimination in the group stages of the
Douyu Cup
wasn't encouraging—while he did beat Serral in a semi-meaningful match (Serral was playing only for seeding), his losses to PartinG, Zest, and Armani stick out even more prominently. The case for Rogue is that his 2020 peak was the highest among these four players, and thus he has a short path back to championship contention.
Predictions
Everyone here has success and fame to their name, but none of these players currently stand out as someone who's red hot. Then again, with all the upsets in this RO16, it's hard to point to anyone as an odds on favorite to win.
Cure 2
-1 Stats
Zest 0-
2 RogueCure 2
-1 Rogue
Stats 1-
2 ZestRogue 2
-1 Zest
Cure and Rogue advance.
---