Gold Series Team Championship: 2020 Spring Season
by TheOneAboveU
We look ahead to a pivotal week in the Gold Series Team Championship where #1 DPG take on #2 Alpha-X at the top of the table. On the opposite end of the rankings, this might be the week where we see some team names turn red if they can't secure the points to stay in the playoff race.
Week 6 Recap
Underdogs TSG scored their second victory of the season in an ace-match against Team GP, while favorites Alpha X avoided a near upset at the hands of Invictus Gaming in another full-length series. NeXT finalists KaiZi Gaming and Dragon Phoenix Gaming went on to dispatch their opponents with ease, essentially continuing business as usual. But with Invictus Gaming stealing a point from Alpha X, some pressure is lifted from DPG in protecting their first place spot, while KaiZi are in range to overtake the surprise team of the season.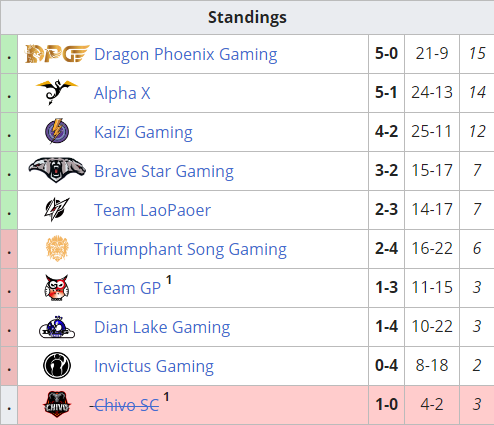 Points are awarded as follows:

3 points for a 'normal' victory in a series that does not require an ace match

2 points for a victory in a series that requires an ace-match

1 point for a loss in a series that requires an ace-match

0 points for a loss in a series that does not require an ace match
Triumphant Song Gaming 4 - 3 Team GP
Watch VOD
A depleted TSG squad seized the opportunity to take home their second victory of the season, as they got the favorable match-ups needed to set up a three-win, hard-carry performance from their ace Solar.
As expected,
TSG.Solar
made pretty short work out of
GP.Bomber
, with the first map ending after Solar deflected a Hellbat-Marauder push from the Terran and killed 19 SCVs with his counter-attack. The second game on Golden Wall, though longer, proved to be equally one-sided as Bomber stayed way too passive for most the game. When he finally moved out, his army—mainly consisting of Marines with very few Tanks—was easily massacred by Solar's swarm. Honestly, it was a poor showing from the veteran Terran compared to some of his prior games in the GTC and GSL.
Solar had put two wins on the scoreboard—that left TSG needing just one win from their Chinese players to give Solar a chance to play again in the ace match.
TSG.Cloudy
was the one who ended up getting it done against
GP.GogojOey
, though he definitely kept his teammates in suspense. GP's Zerg player was able to take the first map with a Queen-Roach-Ravager push from three bases, which Cloudy couldn't defend against after losing some of his Oracles due to control mistakes. GogojOey went for a similar play on the next map, once again getting aggressive from three bases, but this time Cloudy was better prepared, using DT's to both defend and get harassment done on the opponent's side of the map. JOey had one desperate gambit left in Mutalisks, but by the time the flyers were sent to harass, Zealot-Archon-Immortal armies were already dismantling jOey's own bases. The Mutas were ordered back to defend their home, but were disintegrated by the Archons: Cloudy had fulfilled his mission and already forced the ace match at minimum.
And that was important, because it seemed quite unlikely that
TSG.Star
was going to close the series out against
GP.Super
(who had taken a map off of KZ.INnoVation the week prior). And indeed, the two games were quite brutal for the young Chinese player: on Purity and Industry, one Adept and one Stalker essentially won the game for Super as he was able to delay Star's low-ground expansion for a significant amount of time. Though Star tried his luck with some drop play and a belated SCV pull, he got nothing done against Super's Blink Stalkers. Super's single proxy Gate did equal damage in the second game, the Stalker delaying the CC, cancelling a Bunker, and killing five SCVs. Again, Star tried to find salvation in a drop, but was deflected and at the same time run over at home.
For our ace match, there really was only one realistic option for each side to send out, so Solar and Super clashed to decide the series. Super opened with a Glaive build, but Solar defended it easily by staying on 45 Drones, pumping out Speedlings for a while, taking zero damage to his economy from the aggression—a defense, he recently mentioned, that DRG had figured out. The Protoss tried really hard to be annoying with his Warp Prism, but Solar remained cool and did not make any mistakes. Taking one favorable engagement after the other, the Zerg whittled down his opponent with Ling-Bane-Ravager, later adding Corrupters as a response to Super's Colossi. This was the Solar of old, looking nigh on unbeatable in ZvP and absolutely reliable for his team.
KaiZi Gaming 6 - 0 SYF
Watch VOD
Whenever KaiZi Gaming are bringing out their triple Terran line-up, they mean business—they don't simply want to win, they want to crush their opponents. It happened at NeXT during the playoffs, and it happened again to poor SYF here at GTC.
At least things started out in exciting fashion, thanks to
KZ.TIME
's unconventional Ghost rush on the first map (more on that below!), which caught
SYF.SortOf
by surprise and without a prepared counter. The second game between the two became an epic macro game after TIME's proxy 2-Rax was discovered and cancelled. The Swedish Zerg tried to brute force TIME out of the game with a Roach-Ravager push from three bases, but TIME survived the onslaught—though he had to sacrifice a good amount of SCVs to do so. Both players expanded and further advanced in tech, resulting in a proper stand-off of late game armies. TIME, however, slowly got the upper hand, securing the entire bottom side of Zen while starving SortOf of bases on the upper side with Bio runbys. SortOf crashed into TIME's defenses several times—while the first attack was still alright for him, they became progressively less effective until the Zerg finally had to concede after running out of steam. A fantastic game and another 2-0 for TIME.
Our next series went pretty much as expected.
KZ.INnoVation
went a combined 3-2 against DPG.Dark last weekend at NeXT, so despite
SYF.EF
being known to take a map off of top Koreans from time to time, the Chinese Zerg was as massive an underdog as possible. And it showed during the games, with the Machine simply having the better mechanics. Without much happening in some phases of the games, INnoVation just jumped ahead in supply by building more stuff faster—a jarring display of skill disparity. Inno even won the second game after an aborted proxy 2-Rax, during which both SCVs died without finishing a Barracks. Inno finally has a positive record this season!
As the cherry on top of this already complete victory,
KZ.Bunny
dominated
SYF.DynaMite
in two disappointingly short TvT games. On Purity and Industry, both players went for early drop play as expected, but Bunny's Hellion drop proved much more effective than DynaMite's drop, which flew right into Marines and a Cyclone and was thus a catastrophic failure. The second map ended even quicker due to one crucial mistake on DynaMite's side: as two opposing Reapers met on the map, Bunny got off the first shot, leading DynaMite to run away and throw a grenade to cover his retreat. However, the grenade propelled Bunny's Reaper forwards, which enabled him to get the killing blow on DynaMite's Reaper. Having an in-construction Reactor blocking his production of units, DynaMite's lost five SCVs to Bunny's hero Reaper and just conceded the game. It was a crushing loss for SYF, whose season had looked promising at the start.
Dragon Phoenix Gaming 4 - 2 Team LP
Watch VOD
It was business as usual for Dragon Phoenix Gaming who took home a victory against Team LP, even if it wasn't in the most dominant fashion.
Our opening PvP between
DPG.Firefly
and
LP.Patience
might be regarded as one of the better matches of the series, with the Chinese Protoss showing once again that he has absolutely no fear of any Korean player. Game 1 opened up with a proxy Stargate from Patience and a hidden Twilight Council for Firefly, with an Oracle and Blink coming respectively. Firefly got the better of the exchange, taking no damage from the Oracle, expanding earlier, and then even intercepting the Oracle on the map. Getting aggressive with his Blink Stalkers, Firefly destroyed Patience's natural expansion. Though Patience fought back with Adept and DT harassment, the Chinese remained ahead in workers. The only advantage the LP player had was his massive Immortal count, and Firefly made the only move that would have possibly let him throw the game: he mistakenly blinked his Stalker army right into Patience's Immortals—a true Patience blink, ironically—and just died. So, what could've been an easy 2-0 became a 1-1 instead, with Firefly taking the early lead in game two but not throwing the game this time around. His Stalker aggression caught three of Patience's Stalkers, and he got ahead in the expansion race. He then caught Patience's Oracle as well, setting himself up to finish Patience off with a massive Blink Stalker attack.
There isn't much to say about
DPG.PartinG
vs.
LP.Impact
, since the combined game time of their two maps was about five minutes: PartinG died to a Speedling flood on the first map, and delivered a textbook hold of Impact's Banelingbust on the second map—the Zerg apparently wanted to deny PartinG any chance of being aggressive himself, and so chose to be the one to pull the trigger two times.
Being 2-2 at this point might not have been the optimal result, but with
DPG.Cure
against
LP.Jieshi
still to come, DPG probably felt secure. They had every reason to do so, as Cure two times showed perfect defensive actions against the variety of cheese Jieshi tried to serve him. Proxy DTs in Game 1 didn't do much, while Cure's own Hellion-Marine aggression killed ten Probes. Jieshi tried the MaxPax on the second map, but was completely shut down, with Cure being able to hold his low ground expansion and set up a Bunker while merely losing a single SCV. Jieshi had a Robo and a Twilight Council hidden at a different location as well, and while his DTs did a bit more damage this time, it wasn't enough to make his Gateway push work.
Alpha X 4 - 3 Invictus Gaming
Watch VOD
Invictus Gaming forced their second ace match of the season, and they did so once more against a team that was heavily favored against them in Alpha X. While iG couldn't close the series out, they managed to steal another point and dealt Alpha X a slight blow in their quest to take the #1 spot.
Had it not been for
αX.Astrea
, this could have easily become a massive upset, but the American Protoss showcased some very solid PvP against his opponents on the day.
iG.Jim
continued right where he left off last week by playing proxy Stargate in game one. This move was mirrored by Astrea, and Jim ended up getting the better of the Oracle exchanges. Despite this, Astrea recovered and built up a stronger economy, while Jim committed to aggression past the point of no return. Jim's follow-up ground attack, intended to kill Astrea off, sputtered out against Astrea's much bigger army on defense. Jim went for the same build on the second map, but this time Astrea intercepted the Oracle without taking any damage. Staying active on the map with his Blink Stalkers against Jim's Immortal-based army, Astrea successfully delayed an attack by sniping Jim's Warp Prism, which bought him crucial time for his Disruptors to come out. In the semi-basetrade that ensued, the Disruptors were the difference in defending at home while counter-attacking forces gutted Jim's bases on the other side of the map.
Our second pairing delivered basically the kind of game we were expecting to see from them:
αX.Zoun
trusted in his Robo-Phoenix playstyle, and
iG.Coffee
played a Tank-heavy Bio-style, trying to kill off his opponent with a decisive push. In Game 1 this did not work out at all, with Phoenixes lifting all of Coffee's Siege Tanks and the rest of the Protoss army massacring his Bio. The easy victory may have made Zoun overconfident, though, because he made some serious miscalls on the second map, allowing Coffee to get his team back into the series. The Terran killed twelve Probes with a Hellion-Marauder attack, but lost 13 of his own SCVs during the counterattack. Resolving to end the game before Zoun could overpower him again, Coffee pressed ahead with more Bio-Tank attacks. Zoun went out to meet him on the map, misjudging the firepower of the Terran forces and losing a lot of his important units in what amounted to a draw between them. Pulling the space construction boys, as he likes to do in this match-up, Coffee quickly came back with another army. With a greatly reduced Phoenix count, Zoun found himself unable to contest the Siege Tanks this time around and GG'd out to Coffee's continued push.
It was on
αX.BreakingGG
now to secure the series for Alpha X, or on
iG.MacSed
to force the ace match. MacSed made quick work out of the Zerg in Game 1, blocked the Zerg's natural with a Cybercore and then destroying him with an Immortal-Sentry attack. MacSed then went for a mass Oracle build in game 2, which kept him very safe against BKGG's Zergling aggression and kept the Drone count in check. That enabled him to end the game with an unconventional Blink Stalker-Sentry-Oracle push, taking out a weak Ling-Bane army that didn't even have Centrifugal Hooks.
Feeling the momentum, MacSed was made the ace of Invictus Gaming, while Astrea came out for Alpha X. The American Protoss played a relatively quick expansion and got away with it easily, as MacSed himself was playing it safe. Astrea finally got aggressive with his initial Stalker-Sentry force, but Blink kicking in for MacSed forced him to recall to the safety of home. Astrea furthered his economic advantage by sneaking Adepts into MacSed's base to kill a handful of probes. At this point, the only advantage MacSed had was upgrades while Astrea had a larger army. Astrea used this numbers advantage to set up a perfect, game-ending maneuver: his Warp Prism delivered Archons and Zealots into MacSed's main, forcing MacSed to withdraw units from his expansions. Astrea then pulled the trigger on his main attack at the front, extracting the GG from MacSed.
Weekly MVP Award: αX.Astrea
Taking a 2-0 in his regular match and then winning the ace match to keep Alpha-X on DPG's heels,

Astrea
was one of the top performers of the week. He's been the most stable, reliable player on Alpha X's roster, and he's now jumped ahead to #1 in the GTC's win rankings at 11-2 (overtaking BSG.Dream's 10-1).All together, he's one of the break out players of the GTC, and more than deserving of our week 6 MVP award!
An honorable mention goes out to
TSG.Solar
, who also won three matches to secure TSG a much needed victory. Also deserving the spotlight is
iG.Coffee
, for once again punching above his weight class and helping Invictus Gaming steal some points against a stronger opponent.
Spotlight Game of the Week: KZ.TIME's Ghost Rush vs. SYF.SortOf
Everyone was quite puzzled when a Ghost Academy showed up in

TIME
's production tab at the 2:49 minute mark in his TvZ against SortOf. It seemed like the Chinese Terran had something special prepared for the Swede on Ever Dream, and it proved to be not only an entertaining build, but also a quite deadly one. He continually produced Hellions out of his Factory, and Ghosts out of Barracks, while also getting one Medivac, moving out at around 4:20 with the first Ghost and all the Hellions he had built up to this point. The Medivac coming out at around 4:40 picked up the second Ghost and boosted to the front.

SortOf
had scouted the strange build with a speedy Overlord and readied a Spine Crawler and additional Zerglings—with the benefit of hindsight, he might have wanted to go for Roaches instead. SortOf had the right idea, trying to intercept the first Ghost with Speedlings, but TIME's Hellions guarded the trooper like watch dogs and successfully defended the assassination attempt. At around 4:50 TIME arrived at SortOf's third base with a force of six Hellions, one Reaper, and one Ghost. The Ghost wasted no time in sniping down Queens, with the other Terran units standing by as bodyguards.
The first Ghost was taken down, but it had already done its job by Sniping two queens. A Liberator and second Ghost soon arrived, accompanied by additional Hellions, reinforcing TIME's unorthodox slow-push. Two more snipes killed two more Queens, allowing the Hellions to tackle the remaining Zerglings and Queens head on. TIME effectively halted mining at SortOf's third base, all while he expanded and prepared to transition into regular bio back at home.
This snowballing allowed TIME to move out with his game-ending force of Marines and Tanks at 8:20. At that point, SortOf had lost 112 units costing 4050 resources (amongs them nine Queens), while TIME had lost a mere seven units worth 1075 resources. There was absolutely no creep spread guarding the Zerg's third base, or pretty much anywhere else. The GG came at 9:05.
All in all, it was an incredibly entertaining and creative game from TIME, whose impeccable execution really showed off the strengths of the strategy.
On a final note, this build also featured heavily in TIME's run at the last TSL5 qualifier. RagnaroK defended the opener, while Armani
fell victim to it
).
Week 7 Preview
With several key matches happening this week, we might be able to start filling in some names in green and red on Liquipedia. DPG vs Alpha X is the marquee match, as they face off in a direct duel for the #1 spot. BSG and LP will battle for the fourth place spot, with a solid buffer of points against the pursuing teams. Team GP and SYF will fight for a chance to still be in striking distance to the top group.
After losing the ace match against TSG last week, Team GP definitely face pressure to catch up to the top group if they want to have any chance at partaking in the playoff race. SYF could technically also still catch up, but they have one more series played than TGP, so there's very little margin for error. That said, while TGP go into this as the favorites, SYF have a chance landing another upset if they can rediscover some of that magic from weeks 1 and 2.
Our starting match looks pretty good for Team GP, with
GP.Super
going up against
SYF.EF
, who apparently has recovered from the absolute beating at the hands of KZ.INnoVation last week. This Zerg is honestly still a bit of a mystery: last week he looked like an absolute amateur compared to the Machine, and yet three days later EF took a map off of Zest at a KungFu Cup, continuing his streak of surprising map wins against top Koreans. So far, he couldn't repeat this feat in GTC. But if he could, that would help out SYF immensely. Naturally, we cannot count on it happening, and so Super, who has handily beaten EF at a TSL5 qualifier only two weeks ago, must be our pick
to take both maps
.
It's
the other way around
in the second match.
GP.GogojOey
has mostly tried to score wins with cheeses so far, only one or two times feeling confident to play out a standard macro game (one of them did happen to be on Golden Wall...). The cheeses have been responsible for his map wins thus far. As for his ZvT, he tried a Nydus build against KZ.TIME on Golden Wall two weeks ago, but was shut down ruthlessly by the Terran, who knew exactly what to expect. If
SYF.DynaMite
has done his homework he should also be on the lookout for something like this. If he isn't completely caught off his guard by anything, he should be able to take two maps for SYF here.
If I were to judge our third match-up between
GP.Bomber
and
SYF.SortOf
by last week's performances alone, I'd actually favor the Swedish Zerg here since Bomber really looked rather out of his depth against TSG.Solar. SortOf, on the other hand, put up a very good fight against TIME. Their personal history, however, has Bomber
leading a one-sided 6-0 record
in matches between them this year, so it seems that the Korean's Marine-heavy pressure style matches up well against SortOf. I really think anything is possible here, with either player being able to win a 2-0. An ace match doesn't look outside the realm of possibility for this series—in that case, Super vs. DynaMite would be our best bet, with Super being the slight favorite.
Prediction: Team GP 4
-3 SYF
Being equal in points, Brave Star Gaming and Team LP are direct rivals in the playoff race. Though they're both above the cutoff line at the moment, one slip-up would put them back in danger. This is the opportunity to create a bit of a buffer zone between themselves and the group of pursuers behind them.
Welcome to another fun week of 'PvP with
LP.Patience
', where we try to figure if there is a method behind Patience's madness, or if he just makes s*** up as he goes. Last week, DPG.Firefly almost 2-0'd him, had he not pulled a classic Patience blink into Patience's Immortals, so the Korean was able to snatch victory from the jaws of defeat despite being outplayed in basically every way. We'll see what
BSG.Cyan
can do. He not only has pretty solid PvP stats himself, but in two previous team leagues
managed to split maps
with Patience. Continuing this success in the Bo2 format seems possible, though we must still count Patience as the favorite.
The
BSG.Dream
hype train has noticeably slowed down as of late, with the Terran finding less and less success in the big weeklies, not advancing further in Code S, and missing the qualification to TSL5. GTC is his last remaining bastion of continuous success. Despite the recent setbacks, it's likely he will be able to reclaim his #1 spot in the individual win rankings with two victories over
LP.Jieshi
here. Jieshi tried his absolute hardest last week to have any impact whatsoever against DPG.Cure, finding ways to somehow hurt the Terran, but Cure repelled attempt after attempt. Dream's
11-1 record
against Jieshi suggests that he is very well equipped to handle the Chinese Protoss, so this should be a rather safe round of points for BSG.
Likely the deciding match-up of the series,
BSG.Hurricane
vs.
LP.Impact
is a bit of a question mark. Last week's series against DPG.PartinG showed us a hyper-aggressive Impact, trying to get to PartinG before PartinG got to him. We don't know if he judges Hurricane to be as great a danger, and thus will react the same way to him. The BSG Protoss has been in decent PvZ form lately, and should probably be considered a favorite in any longer game, so perhaps Impact will show the same aggression this week. The Zerg has
recently
been neither very good against early Protoss pressure, nor has he shown great aptitude in macro games, so early attacks seem like his best bet. If Hurricane prepares accordingly, this should go his and his team's way, with a map split perhaps already being enough to secure the win by that point.
Prediction: Brave Star Gaming 4
-2 Team LP
Invictus Gaming got a moral victory last week by forcing Alpha X to an ace match, but it's probably back to more pain and suffering this week as they clash against KaiZi Gaming. The question here isn't whether or not KaiZi Gaming will win—it's if they can achieve their third 6-0 victory this season.
While
KZ.Bunny
hasn't been fielded a lot so far, whenever he came out, he's got the job done in a very clean and efficient manner. With his GSL group containing two Protoss players, including the tricky DPG.PartinG, Bunny will surely be in top shape in the match-up, and will be prepared for anything
iG.Jim
throws at him. We've only seen PvPs of the Chinese player so far—those haven't been overly impressive whatsoever when they went longer, so I find it very unlikely he has any chance against Bunny in a macro game. No, he will have to try something daring, and it will be up to Bunny to identify it. This should be a solid start for KaiZi.
iG.XY
is back after a few weeks of break (and us only seeing his name represented by all the 'XYFANS' clan members) and he will have quite the challenge to face in
KZ.INnoVation
. Now, XY has shown some very nice games against Korean Terrans in GTC so far—most notably against DPG.Cure, where the intelligence of his strategies were betrayed by his less-than-perfect execution. While intelligent play is a very important aspect in TvT, mechanics are too, and in this regard he will be severely outmatched by the Machine. That he comes out on Golden Wall suggests that he might have something new up his sleeve, but it has to be a pretty deadly build if it's supposed to kill the recently super-powered INnoVation. An upset by XY would border on
being a miracle
.
The best shot for Invictus Gaming to salvage any maps is the very last match, in which
iG.Coffee
finally faces a non-Korean player in
KZ.Nice
. After TIME's addition to the KaiZi roster, we thought Nice's appearances would become more limited, so it's a pleasant surprise to see him fielded again. The Protoss has had some very good runs recently in TSL5 qualifiers, ESL Open Cups, and other weekly events—even though he didn't actually win any of them, he appeared to be in decent form. Coffee's TvP is something we've seen a lot of so far, and it's heavily reliant on two base Bio-Tank pushes, which can easily be supported by SCV pulls. Nice is probably
confident
in a macro game against Coffee—the problem is getting there in the first place. Perhaps Nice can borrow some shenanigans from a certain Taiwanese countryman to get ahead of the curve?
Prediction: KaiZi Gaming 5
-1 Invictus Gaming
I remember being a bit upset that the big match between Dragon Phoenix Gaming and KaiZi was picked as the season opener, leaving us with precious few big-ticket matches until the playoffs. Well, I was mistaken. DPG finally face the hounds who have been snapping at their heels all season long in Alpha X. DPG are definitely the favorites to win, but Alpha X have made their living by punishing those who would dare underestimate them.
Steamrolling through his Code S group in almost record time,
DPG.Cure
continues his streak of success this year and will be in high spirits going into this match against
αX.Zoun
. The Alpha X Protoss, who really likes the Phoenix-Robo style in PvT, didn't exactly earn himself any glory last week against iG.Coffee, severely misjudging his hand and losing a game, forcing his team into a dangerous ace match. If he plays with the same lack of caution against Cure, it's not going to go well for him. Though, taking risks is perhaps the only way to get any positive result here, because historically Zoun has never matched up well against Cure,
being down 1 to 17 in maps
. Preparation seems to be Alpha X's strength in this league so far, so with Cure having played a ridiculous amount of streamed games this year (including a BO5 against Astrea), Zoun might be able to find the weakness he needs to exploit.
The all-Chinese match between
DPG.Firefly
and
αX.BreakingGG
takes place at a crucial juncture in this series. On paper, the Firefly should be the favorite, coming off a string of good PvZ performances at NeXT Spring where he beat Koreans such as TSG.Solar and LP.Impact. It has been his
best match-up historically and recently
, and BKGG actually also
lost a series
to the DPG player at a TSL5 qualifier two weeks ago, as well as a closer series back in March. For whichever reason, Firefly has been lackluster in GTC compared to NeXT, making more mistakes and throwing won games away through rather silly mistakes, so there is definitely a shot here for BKGG to take at least one map. He isn't one of the best performing Chinese players in the league without reason, somehow most of the time managing to steal a map away from his opponents. If Cure versus Zoun is the 2-0 everyone expects, BKGG taking a map here would be critical to Alpha X's survival.
Fittingly, the man who
told us in a recent interview
that he would love to beat DPG this season got the toughest assignment of them all:
αX.Astrea
will face the juggernaut that is
DPG.Dark
. The American Protoss told us that he is confident of taking a map off the best of the best Korea has to offer, and this is the right time and opportunity to back that claim up when it counts most. Dark is famous for his disdainful attitude towards foreigners, which is warranted by some historic winning streaks against non-Koreans. This attitude has also led to some hilarious upsets, when he didn't take his opponents seriously enough. Alpha X's American Protoss hero fits that category perfectly—Dark probably glanced over his name when he got the line-ups, chuckled for a second, and went about his normal business. And therein lies Astrea's greatest hope: if Dark isn't giving this match 100% of his attention, the Alpha X-factor of serious preparation could lead to an unbelievable upset. Or, if you're not one for hopes and dreams, you could subject yourself to the cold and hard reality of the
Aligulac statistics
which massively favor Dark (who, by the way, is on a 20 map win streak against Protoss since his last ZvP loss to Zest back in March).
Prediction: Dragon Phoenix Gaming 4
-2 Alpha X
---
Credits and acknowledgements
Written by:
TheOneAboveU
Editor: Wax
Stats: Aligulac.com & Liquipedia
Images: Netease