Gold Series Team Championship: 2020 Spring Season
by TheOneAboveU
While there was more team drama in the Gold Series Team Championship, the actual match results were rather predictable and stable in week 4. As we pass the halfway point and head into week 5, we're getting a feel for how strong these teams actually are. Sure, everyone expected DPG and KaiZi to be good, but the other teams have delivered some surprises. We'll see if the balance of power shifts in week 5. Also, Scarlett makes her GTC return in week 5, giving North American fans another player to cheer for.
News update: Dian Lake Gaming disbands, players continue to compete as team SYF
Unfortunately, there was more turbulence regarding the teams participating in the tournament. It has now been confirmed that Dian Lake Gaming, one of the new teams to play this season, has been disbanded. According to

SortOf
(Tweet
1
,
2
,
3
) the team owner neglected to pay his players any of the promised salaries and then broke off any communications with the players and the tournament organizers. SortOf,

DynaMite
, and

EF
have decided to keep playing the rest of the season out under the team moniker
SYF
, which is a combination of the player names (
S
ortof d
Y
namite e
F
). We want to wish them good luck on the remainder of their run, and hope they all can find new teams quickly.
Week 4 Recap
Stability returns! We actually had a week without any huge upsets, which could be good or bad depending on what teams you're cheering for. For now, there are three teams that stand out above the rest. DPG (4-0) tower over the rest of the field at #1, followed by the surprise team of the season in Alpha X (3-1). KaiZi Gaming, who we originally thought to be the greatest rivals for DPG, are merely 2-2. But does anyone
seriously
think KaiZi are in danger of missing the playoffs, or finishing the regular season below 3rd place?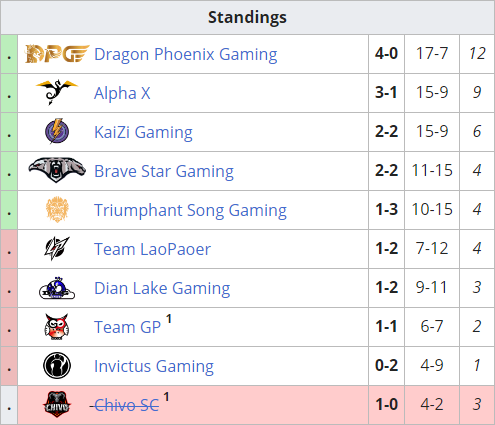 Triumphant Song Gaming 1 - 5 KaiZi Gaming
Watch VOD
Unfortunately for the TY-less TSG, they could not create a miracle and fell victim to a much superior roster from KaiZi Gaming. The only silver lining for them is that they've now faced the two strongest teams in a row (DPG and KZ), and they'll have a much easier time filling up the win column in the remaining half of the season.
KZ.TIME
delivered a solid performance to christen his debut performance for KaiZi, taking both maps against
TSG.Star
. The first game was actually reasonably close, with Star being able to withstand TIME's pressure and pull off some successful counters before falling to TIME's superior air force. The second map ended rather quickly and one-sidedly: TIME prepared very well and blind countered Star's 2-Rax proxy Reaper with his own double barracks Reaper opener, his barracks even blocking the Reaper cliff on Eternal Empire.
As always,
TSG.Solar
was the only hope for TSG to take home some points.
KZ.INnoVation
tried to be cheeky in the first game, hiding his blue flame Hellion push from Solar. Solar didn't scout it directly, but gathered enough contextual information to ready himself and hold off the attack. Solar strengthened his position further by catching some Hellbats mid-transformation, blowing them apart with Banelings and deflecting Inno's drops. Just as it seemed like Solar would cruise to victory, INnoVation complicated things by annihilating 20 Drones with mine drops, and blowing up several of Solar's Mutas with defensive mines. But, in the end, Solar did enough to keep his lead, and INnoVation never got his parade-push style off the ground. Moving on to the second map, INnoVation opted for a more macro-oriented plan. He showed us how game one
should
have gone from his perspective, parade-pushing Solar to death after a 3 CC opener.
With only one map on the board for his team,
TSG.Cloudy
needed a miracle 2-0 against
KZ.Dear
to force an ace match. Unfortunately for Cloudy, Dear was actually awake this week and remembered how to control units. Dear denied Cloudy's proxy Stargate on the first map and was able to ride the advantage out to a relatively easy victory with an Immortal push. The second map was a bit longer, with Dear confidently expanding and keeping control of the game, essentially pulling Cloudy apart with two Immortals and a Warp Prism. The Chinese Protoss forced out some Disruptors, which dissuaded Dear from an unwise attack, but as soon as a number of Phoenixes was available to him, the Korean Protoss pushed to victory. A solid and expected win for KaiZi Gaming, which stabilizes their win-rate at 50% after a rocky start.
Dragon Phoenix Gaming 4 - 2 Brave Star Gaming
Watch VOD
No huge surprises were to be had in our second showdown of the week as Dragon Phoenix Gaming continued their streak of domination against Brave Star Gaming. BSG still gave a good account of themselves, however, resisting as best as they could.
Possibly the biggest surprise of the day was how well
BSG.Cyan
held up against
DPG.Cure
on the first map of the series, even if his efforts were ultimately in vain. Things didn't start super well for the Protoss, who, despite scouting Cure's aggressive Marine-Hellion opener, lost eleven Probes to the attack. His counter, though, made up for it, as his Gateway force killed ten SCVs and denied mining at Cure's natural expansion for a good amount of time. Deflecting Cure's next drop perfectly, Cyan took a lead in economy and tech, while Cure was trying everything in his power to get some favorable trades with his bio. Cyan furthered his lead—his 3/3 upgrades were well on their way by the time Cure finished his Armory—but missed his golden opportunity to outright kill Cure (albeit it's tough to close out on Purity and Industry). Eventually, DPG's Terran ace bought time for his own late game composition to come online. When Cyan finally decided to commit to a massive battle, he ran into a well-fortified position and took heavy losses, while Cure cleared bases on the other side. Having turned the tables, Cure stayed very active and won the next big battle, taking the game. The second map was another long one, but started off much better for Cure after some good skirmishes. Already enjoying a big advantage entering the late game, Cure mopped up Cyan's bases and army to take the 2-0. Honestly, though, it was Cyan's best showing all season long, with a real opportunity to win on the first map.
The rest of the series was pretty straight-forward.
BSG.Dream
showed his superior experience in stressful situations against
DPG.Firefly
on the first map, when the Protoss had taken over the Terran natural and killed many of his workers with his Adept pressure. Dream had the multi-tasking to defend at home while also wreaking havoc with Widow Mine drops. Eventually Dream put together a force to push out with, against which Firefly had no answer. Both players opted for more standard openers on the second map, and Firefly managed to deflect Dream's early harassment this time. However, Dream then managed to get a big advantage by killing off Firefly's Forge with a drop, denying +1 attack 0.9 seconds before completion. This pattern would continue for the rest of the game as Dream pulled the Protoss apart piece by piece with his drop play, leading to a base trade scenario which the Terran easily won.
I'll keep the recap of
DPG.Dark
against
BSG.Hurricane
short, because there wasn't much to it. The games looked like the games between the reigning world champion and someone on a lower level
should
look like. Dark dominated the Protoss in both games, winning off the back of pure Ling/Baneling play, deflecting every attack perfectly and hitting home with the counters, before surrounding and annihilating Hurricane's main armies a bit later in the game. It was a slaughter.
Alpha X 4 - 2 Team GP
Watch VOD
I love watching a good plan come to fruition, and Alpha X had an effective one as outlined in our last preview: 'sacrifice'
αX.BreakingGG
to GP's best player
GP.Super
and give the other Alpha X better chances in their matches. Obviously, it's hard to plan this since both teams submit their entries blind, but this time everything worked out perfectly for Alpha-X and allowed them to rise to 2nd place.
BreakingGG, or BKGG as I like to call him, has the most map wins among the Chinese players so far. He may not always look amazing in the games he plays, but he sure leaves a strong impression. Both players went macro on the first map, with BKGG deflecting all of Super's harassment very well but also being incredibly wasteful with his own harassment (losing drop Overlords full of units to Stalkers, suiciding way too many units to kill a Nexus, etc). Still, once he got Lurkers, BKGG just needed a little time to put himself in an okay late-game position. However, he botched his defensive engagement when Super came to apply the finishing blow, losing the game. Perhaps, though, that was part of the plan, for BKGG had the next map pick as the loser and chose Ever Dream. And on Ever Dream it's very hard for Protoss players to re-wall against some Zerg attacks, say for example a Speedling flood. And so BKGG got himself 16 Probe kills with an early attack, which he followed up with a Roach-Ravager attack to finish Super off. This was the perfect start for Alpha X!
With another team victory within reach,
αX.Astrea
proved once more that his team could rely on him to deliver. Both he and
GP.GogojOey
were very content with playing a macro game on the first map, harassment being largely ineffective as both paid great attention to their defenses. The first big fight of the game ended up being quite chaotic, as Astrea bungled his micro and disintegrated his own Archons with Disruptor shots. He survived this moment of crisis, though, and managed to stabilize. As both players continued to skirmish all around the map, Astrea gained more and more of an advantage with his harassment by sending wave after wave of Zealots into the Zerg bases. Eventually, GogojOey transitioned into Brood Lords, but was scouted and had his Greater Spire picked off. With not enough air support to handle Astrea's Tempests, GogojOey was forced to GG out. On the second map, the Zerg player aimed for early aggression, but Astrea saw it coming miles away: his quick Dark Templar tech put an end to any ambition of a Roach-Ravager attack, leaving the Zerg stuck on a bad economy. When the attack eventually did come in, Astrea had a much better army and crushed it.
That left
αX.Zoun
only needing to win a single map win over
GP.Bomber
to secure another Alpha X victory. Bomber tried some early game shenanigans, placing a proxy barracks and a bunker behind Zoun's natural expansion, but didn't get all too much done with it. The Protoss countered with some Blink Stalker play, for which Bomber had prepared bunkers at home, but he still lost a Siege Tank and took other damage when Zoun found a blind spot to jump into Bomber's main base. Being delayed further by Adept harassment, Bomber's two-base-push was greeted by Psi-Storms as he marched out of his base, his entire army being massacred in seconds. Zoun needed one win, and he got it with ease. Bomber did at least recover a map-point for GP, succeeding with a two-base-push, but the series was already lost.
Team LP 4 - 2 SYF (formerly Dian Lake)
Watch VOD
Team LP finally got their first win, taking down the squad formerly known as Dian Lake Gaming. It sure was a difficult path to victory, and could've easily ended up being decided by an ace match. But for once, Lady Fortune was on LP's side.
Because, honestly,
LP.Patience
was on the verge of dropping another map to an underdog Chinese player, with
SYF.EF
missing a big opportunity to close the first map out. The Zerg had perfectly scouted Patience's DT tech and took minimal damage, and countered with a massive Roach-Ravager attack that sent Patience's army into a full rout. Only, he forgot to bring one of his Overseers for the counter-attack so Patience was able to cheat death by warping in a few DT's. Still, EF had double Patience's army supply, and the Protoss player's second base, containing the vital Robotics Facility, was wide open to him. Had he gone in there, he could have halted Immortal production. Instead, he postured and skirmished with Patience's army, letting one, two, then three additional Immortals come out before deciding to commit to an all-out attack. Patience had the superior army by then and snowballed to a win, as EF's Swarm Hosts came too late to change the situation. Having stumbled into free comeback win, Patience took game two as well by countering EF's Roach-Ravager aggression with Dark Templars. While EF's Roach-Ravager army was at the front, he lost his bases, tech, and economy to the invisible warriors.
Dark Templars were truly popular that day, and
LP.Jieshi
also made heavy use of them against
SYF.DynaMite
. The Protoss player had a similar experience to EF last week, where he basically had a win against a Korean opponent in his hands before throwing it away. So, seeing him actually close a game out this week was quite enjoyable. He had to wait until the second map, though, as the first one went the way of the Terran, despite the success of his initial DT warp-in, which killed 14 SCVs. DynaMite had his answer ready in the form of deadly Marine drops, which tore Jieshi apart of the course of the game. Repeatedly losing his gold base, the Protoss finally had to tap out, as DynaMite's two-pronged attacks destroyed his main base and his main army. Jieshi handled DynaMite's aggression much better on the second map, shutting down a tank move-out and deflecting any harassment, while getting all the splash damage options a Protoss heart could ever desire. Essentially winning every big scale engagement the two fought, Jieshi found himself in a commanding position, splitting his troops perfectly to handle DynaMite's drops. Having decisively defeated two such desperation drops, Jieshi counterattacked with a massive supply lead behind him, and overwhelmed the Terran. A big win for him and LP!
With
LP.Impact
only requiring one map to secure the series, the pressure was high on
SYF.SortOf
to salvage anything from the series. The Swede handled it pretty well in game, easily holding his own in the traditional Ling-Baneling skirmishing phase of ZvZ. Having successfully deceived Impact into believing he was safe to drone up, SortOf hit a crisp timing with +1 Carapace and a massive amount of Roach-Ravager, which rendered Impact's +1 Melee Attack useless and overran him. Having kept his team's hopes alive, SortOf gambled it all on a 12 Pool Drone-Pull on the second map. At first it looked like he would be successful, as Impact was forced evacuated his main base. But Impact had too many Drones left, and a steady stream of income from his natural allowed him to set up Spine Crawlers. The Spines, in addition to his steadily growing Ling count, enabled him to win back his main base and crush SortOf's all-in. Probably the closest game of this kind I've yet seen, and with everything on the line for SYF you couldn't really beat the drama of it.
Weekly MVP Award: αX.BreakingGG
In a week without ace matches and two series that were decided by even contributions from the team, it was difficult to choose the most valuable player. For which cog in a well-oiled machine is truly more important than the others, when they're all codependent on each other for success? With that in mind,

BreakingGG
to me seems like the best candidate this week. It would have been reasonable to expect him simply roll over and die against Super, a player who is far superior in terms of experience and competitive credentials. But BreakingGG far exceeded expectations by delivering a critical map win, which eventually led to a victory for Alpha X. And he did so with such a cunning snipe build—it truly felt like the old Proleague days.
Our honorable mentions of the week go to the other two Alpha X players,
αX.Astrea
and
αX.Zoun
, for their reliability. Also,
LP.Jieshi
gets a shoutout, as he overcame a favored opponent to provide a critical victory for his team.
Interview with αX.Astrea: "I feel like I can probably take one game out of two vs. anyone in Korea with a little bit of luck and good preparation."GTC was really the Alpha X show this week, so I thought I'd go all-in and talk to Astrea, their American Protoss player, about competing in such a big team league. Thanks to both Astrea and αX.sushi for giving me a bit of their precious time. Hope you enjoy!

TL.net: Hello Astrea, first off, congratulations on Alpha X's great start into the season. Did you expect to be this successful, considering the tough competition in the league?

Astrea: No, considering how difficult the competition is I didn't expect us to be as successful as we have been this far. I'm really happy we've managed to do this well so far.

TL.net: Do you know more about how Alpha X ended up participating in the league? You're the only the Western team to do so, after Chivo unfortunately had to give up.

Astrea: I'm not sure if our manager was always planning on participating or not, but since I was living in Korea anyways and since we've been growing for quite a while as a team I think it made sense to try and participate in the league.

TL.net: With a 6-2 score you're actually the most successful Protoss player in the league right now, and a top 4 scorer overall. How does it feel playing in a big team league compared with an individual league, especially with the Bo2 format for the matches? Do you enjoy the format? Any special challenges or things you need to consider because of it?

Astrea: So far it's been quite nice playing in a team league... I feel more motivated to give it my all and it's nice to feel like I'm playing a team match for a change. The format definitely favors the weaker player in any given match up, because they just need to get one win out of two to think of it as a victory, and let the team do the rest of the work, not to mention the map pick advantage if you lose map 1. For this reason, I think I was able to go 1-1 vs both BSG.Dream and TY [on TSG at the time], even though they are probably better than me right now. I like the format for this reason, because I feel like I can probably take one game out of two vs. anyone in Korea with a little bit of luck and good preparation.

TL.net: You have an American player, a Korean player, and a Chinese player - how does your communication work? How do you choose who plays which map every week? Do you have a coach supporting you with choosing strategies and scouting the opponents?

Astrea: We have people on our team to translate between English, Korean, and Chinese, though I also do know a little bit of Korean so I can talk to Zoun a little... It's quite nice that we actually roomed together in Katowice, so it feels more like we're a team. As far as who gets what map, me and Zoun decide what maps we like and then leave BreakingGG to have whatever's left, haha. As far as coaching, I've come up with all the strategies I've wanted to use so far, although someone on the team usually finds a bunch of VODs for me to watch of my opponent... I think we have someone helping out BreakingGG with his strategies.

TL.net: Thank you for answering my questions, and good luck to you and your team mates for the rest of your run! This is where you shout out your sponsors and give some fighting words to the other teams in the GTC.

Astrea: Huge shout out to sushi our manager and also my parents for letting me live in Korea instead of working a 9 to 5... DPG better watch out, because I want nothing more than to take down the best team in the league.

Week 5 PreviewWith the playoff race heating up and the number one team DPG taking a break, this is likely to be a pivotal week for many teams. It's make-or-break week in the Gold Series Team Championship!

Triumphant Song Gaming (1-3) vs. Brave Star Gaming (2-2) [April 27th]
Star < Zen > Dream
Cloudy < Eternal Empire > Scarlett
Solar < Ever Dream > Cyan
Ace: < Nightshade >

While TSG are falling further and further downwards through the rankings, BSG are very much in contention for a spot in the playoffs—reaching the top 4 in NeXT Spring shows that on a good day they can actually beat nominally stronger teams. With the addition of BSG.Scarlett, who is eligible to play as of this week, BSG now also have a solid Zerg option which strengthens their roster for the rest of the season.

We begin with a TvT featuring TSG.Star for the second week in a row, his opponent this time being BSG.Dream, who's looking to keep his spot as the player with the most map wins. While Star did keep up with KZ.TIME for most of their first map last week, he was ultimately outclassed as the more established Terran steered the game in whatever direction he wanted without Star getting much of a say in it. It's more than likely that this situation will repeat against Dream, a Korean Terran of many years of competitive experience, who is also on a bit of an upswing at the moment. Perhaps Star is aiming for a cheese on the second map like he tried against TIME, hoping he's not notable enough for Dream to look up his recent games.

With manager/player TSG.Cloudy facing Scarlett in her GTC debut for Brave Star Gaming, it sure looks like BSG are going for a quick 4-0 victory here. The historical record between the two is incredibly one-sided, Scarlett dropping merely one single map to the Protoss player out of 20 played. It is noteworthy that this one loss was their latest match from the middle of 2019, being played in the NeXT 2019 Spring team tournament, so there is some precedent for Cloudy bringing home a point against the Canadian Zerg. But Cloudy was in semi-retirement in the meantime, and Scarlett is arguably in much better form now than a year ago, having already qualified for the Ro16 in GSL Code S. She is definitely the heavy favorite to take the 2-0 here, and to help BSG take an important victory.

So, unfortunately, TSG.Solar will most likely only get to do some cosmetic work against BSG.Cyan, making the end result a bit prettier, but not changing its nature. If Star or Cloudy do take a map, Solar would of course be in prime position to force an ace match here—and then, who knows what could happen? Now, Cyan isn't a push-over, despite his 0-8 score so far. He did suffer his share of bad luck, but also delivered some good games. On a good day, Cyan can take a map off Solar, like he did at NeXT Autumn last year, but those haven't been numerous lately in his GTC appearances.

Prediction: Triumphant Song Gaming 2-4 Brave Star Gaming


KaiZi Gaming (2-2) vs. Team GP (1-1) [April 27th]
TIME < Zen > GogojOey
Dear < Eternal Empire > Bomber
INnoVation < Ever Dream > Super
Ace: < Nightshade >

KaiZi Gaming have the opportunity to score a win with a very large point margin here, while Team GP face a difficult uphill battle in their third match of the season that might well set their playoff ambitions back by a lot.

There should be no doubt that KZ.TIME will be the favorite over GP.GogojOey, as indeed all KaiZi players will be in this position against their opponents. The undisputed top player in Chinese StarCraft 2 comes to this match right off of very good performances at NeXT Spring and KungFu Cup #14 and this is on a bit of a roll at the moment. GogojOey did show himself to be a feisty opponent so far, and is just as likely to cheese as he is to go for a macro game. But you could say the same thing of TIME, so it's hard to predict what kind of strategies will come out (also, it's TIME's first TvZ in the GTC). Still, TIME seems to be the safe pick to win, and as long he doesn't underestimate Joey, he'll likely take two maps here.

It's funny that the match-ups panned out this way, but KZ.Dear and GP.Bomber will face each other in a duel that could've happened in their very recent GSL Code S group. They avoided each other in the end, so we get our "what-if" question answered. That said, it's probably not going to be a pleasant alternate reality for Bomber, who faced destruction in his GSL group and will likely do the same here against Dear (who only narrowly lost a weird PvT series against a meching TY in GSL). Bomber showed his aggressive TvP style last week against αX.Zoun and was shut down hard one time, while winning narrowly on the second map. If Dear is ready for this and is not asleep, I'll give him very good odds on crushing Bomber. Coincidentally, so does Aligulac.

With KZ.INnoVation being a bit lackluster so far this season, so this match against GP.Super might well be the closest one in this series. It's just unlucky that GP are likely going to be down 0-4 at this point, and some hilarious upset by Super would be without much consequence anyways. These two have a weird thing going on between them where one of them dominates the other for an entire year, so this being their first match in 2020 is going to be a fool-proof indicator who's going to win any other games they might play. Super's best match-up statistically at the moment is his PvT, but those stats are heavily informed by matches against less experienced, younger players, while INnoVation has been in monstrous form lately, crushing Code S Protoss players left and right. He was upset by BSG.Hurricane in the ace match during KaiZi's series against BSG at NeXT Spring, so maybe Super can find some inspiration there. With a bit of luck, he will preserve GP's dignity and take a map to deny KaiZi another 6-0 win, but I wouldn't bet on a happy ending.

Prediction: KaiZi Gaming 5-1 Team GP


Alpha X (3-1) vs. SYF (1-2) [April 28th]
Zoun < Zen > DynaMite
Astrea < Eternal Empire > :z. SortOf
BreakingGG < Ever Dream > EF
Ace: < Nightshade >

Tuesday's matches are likely going to be a bit closer this week than the ones on Monday, and with Alpha X fighting SYF, we have a very interesting one to open the day: while Alpha X have earned the role as favorites, SYF always punch a bit above their weight class.

A lot will hinge on our first duel between αX.Zoun and SYF.DynaMite, the two Koreans trying to break through into the ranks of Code S regulars. They've been integral parts of their teams so far this season, though Zoun has shown himself to be a bit more reliable up to this point. These two actually have an extensive match history, mostly thanks to the Alpha X events they've played in. This April alone saw three series between them with Zoun winning two of them 4-1 and 2-1 respectively, while DynaMite took home a 5-4 victory in one. So the Protoss clearly has the historical lead, which gets even bigger, counting their earlier clashes. Taking into account Zoun's higher reliability so far, I would declare him a very slight favorite to take both maps here, but I think we should most likely expect a clear map split here: DynaMite has shown some weaknesses in his play against LP.Jieshi last week, and likewise was Zoun overrun by one of GP.Bomber's weird Marine-Tank pushes, so both players have something to take inspiration from. If one were to take a 2-0 here, though, it would be a major advantage for their teams going into the next games.

Our next match is quite unusual for the GTC, since neither a Chinese nor Korean player has any part in it. In fact, the two opponents are actually living and practicing together, despite being on different teams: America's αX.Astrea takes on his Swedish-housemate SYF.SortOf. We can't really know the dynamic between them in practice, and how much know-how they share exactly, but it's probably reasonable to assume that they know more about each other than the average player. Astrea so far has shown a clear preference for macro games, while SortOf has been pretty aggressive overall in his series, not being afraid to gamble his team's fate on the most all-in moves. Statistically, they are pretty much dead even this year, with Astrea leading 8-7 in maps in 2020, though SortOf recently had the upper hand whenever they met. This very much looks like another map split.

Which would mean that our Chinese players αX.BreakingGG and SYF.EF will have a very important role in this series. Now, I won't presume to predict what is going to happen here in this Chinese ZvZ duel. I might as well play Russian roulette. I can only report that Aligulac estimates this to be a very even match-up, with both players having exactly the same recent form in the mirror match-up. They even had somewhat similar opponents in this time frame. Both have victories over GP.GogojOey and Silky, and both lost series to TRUE and TSG.Solar. EF, however, took more maps against the Koreans, so perhaps that's an indicator for slightly favoring him.

Really, though, I think this might well come to the ace match, and there any match-up is possible: a rematch between the two Koreans, between the two housemates, or any combination of the two, since SYF have shown that they can send out both DynaMite and SortOf in this situation. This is going to be a fun one! I think Alpha X is ultimately going to take it, since they've been more successful and solid so far, and they didn't go through the nerve-wrecking tumult of having their team disappear into thin air.

Prediciton: Alpha X 4-3 SYF


Invictus Gaming (0-2) vs. Team LP (1-2) [April 28th]
Coffee < Zen > Impact
MacSed < Eternal Empire > Patience
Jim < Ever Dream > Jieshi
Ace: < Nightshade >

If there is one team with two Korean players Invictus Gaming can upset, it's Team LP. This is iG's opportunity to make a big impact on the playoff race, even if they likely won't be able to really contend in it themselves.

In a rematch from an earlier CTC season, we will see iG.Coffee go up against LP.Impact. Coffee has delivered a victory against the Korean Zerg before when Impact was actually in a much better form, so I would not count out Coffee winning a map here in this season either. Impact still is the favorite to take the 2-0, as he did recently against KZ.TIME in KungFu Cup #14, and as we all know, TIME is the one to judge everyone else on when it comes to Chinese Terrans. So, if he can beat TIME, he can definitely beat Coffee. But it sure would be great to actually get the two map wins, because the rest of the series consists of PvP's—and if we can make sweeping, generalizing statements about SC2, it's that PvP is highly variable.

iG.MacSed and LP.Patience haven't met since 2016, so this one is match four years in the making. Now, I said PvP was prone to upsets, because of the absolutely unstable and wonky state of the match-up, but ironically, Patience—as unreliable and unstable as the match-up itself—has actually excelled in PvP recently, fortifying it as his most successful match-up. I'm not sure if there's some deeper philosophical comment to make here, such as Patience thriving on the chaos, or simply his bad decision making not mattering as much, when all it takes to win a game quickly is build a Robo at the right spot. MacSed has only played one series so far this season, and that was a solid PvP victory over BSG.Cyan. There is also a map win over Zest from this month, which might be notable. Patience has the ability to make a series look close even when he's the clear favorite, so let's see what he brings to the drama table this week. He should win this one, and on paper this should be a 4-0 LP victory at this point, but Invictus Gaming have been fighting like lions all season, and I expect them to put up heavy resistance here as well.

In the third match iG are sending another very familiar player from their extensive line-up to make his seasonal debut: iG.Jim was at one point meant to be what KZ.TIME is now. A young Chinese player, who is renowned and feared on the international stage. But after some initial success, Jim just fell off and returned to obscurity, not even dominating in the Chinese scene anymore. He's showing up in some weekly tournaments again nowadays, but one is hard-pressed to find him among the top positions. He is facing LP.Jieshi, who just last week played the best matches of his team league career. The LP Protoss is one of the CTC/GTC success stories: a player, who has shown visible improvement compared to the very first season of the league. PvP is his best match-up at the moment, and wins over players like KZ.Nice and DPG.Firefly are certainly encouraging. I'd estimate him to be a favorite here to secure both maps for his team, but again—PvP is a path to many results one might consider to be unnatural.

Prediction: Invictus Gaming 2-4 Team LP



---



Credits and acknowledgements
Written by:
TheOneAboveU
Editor: Wax
Stats: Aligulac.com & Liquipedia
Images: Netease