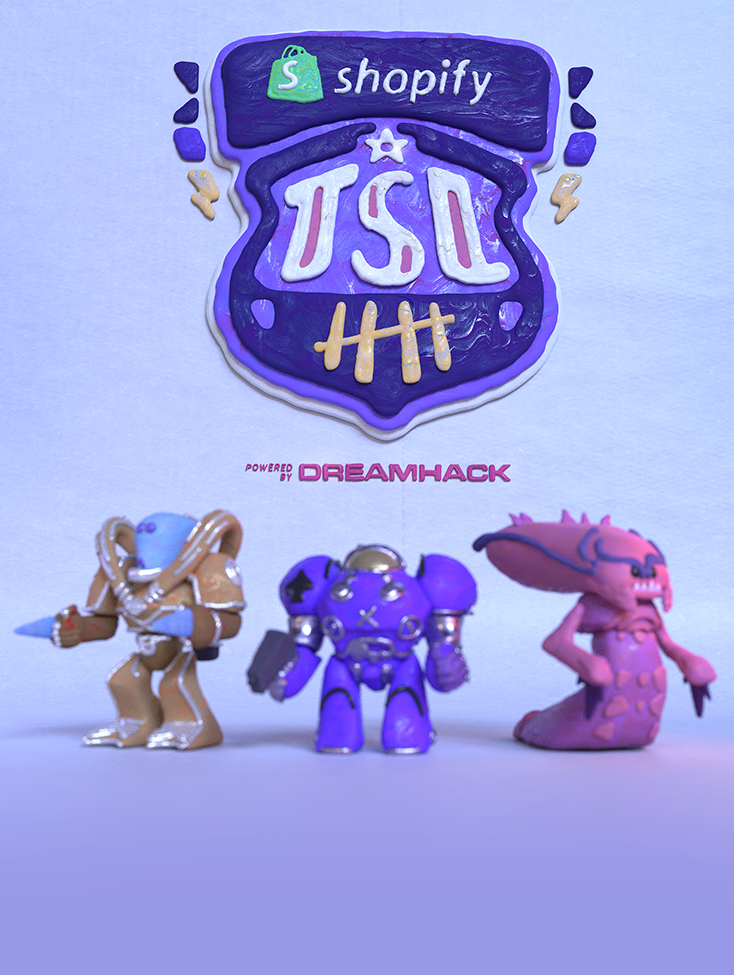 Shopify TSL 5 Talent
With the main event of the Team Liquid Starleague 5 just around the corner, it's about time we announce the talent that will be accompanying you through the event. We hope you're as excited for them as we are!
Commentators
Kevin "RotterdaM" van der Kooi
RotterdaM needs little introduction at this point. He has been around the StarCraft II scene since the beta days and began casting the game for ESL in 2010. Fast forward ten years and he's now a full time caster, streamer for Team QLASH — and player. To be honest, we were not completely sure whether RotterdaM would even have the chance to cast as he's quickly becoming the first success story in the long-anticipated experiment of turning casters into high level players, rather than the other way around, and participated in all European and North American qualifiers. While it would have been very exciting to see him qualify and compete, we're also not too unhappy that he will be casting TSL5 instead.
Jessica "ZombieGrub" Chernega
ZombieGrub, by comparison to ancient RotterdaM, almost seems a new face to big StarCraft II events, but she too should be counted among the veteran casters by now. Originally making her name co-casting for BaseTradeTV as early as 2013, ZG's first appearance on a Premier Tournament panel came in 2017 at WCS Montreal, followed quickly by a gig at the biggest event of the year at the Global Finals. She has been a mainstay at Premier Tournaments ever since, but also regularly casts online tournaments — such as our qualifiers! We're very happy to have ZombieGrub with us for the main event of TSL5 as well.
Jonathon "Wardi" Ward
If you've followed the various competitions StarCraft II has to offer, you're pretty much guaranteed to have run into Wardi's stream. Listing the amount of online qualifiers and tournaments he both casts and organizes himself would have you staring at this page for multiple hours, so we'll skip that part. Wardi cast every single one of the TSL5 qualifiers, resulting in full-day streaming sessions more than once. But, deservedly so, Wardi has recently made the step up to Premier Tournaments as well, jumping in as a replacement for Mr.Bitter at IEM Katowice and delivering a splendid performance. We hope this positive trend continues for Wardi and are glad to be part of it by welcoming him to our casting crew for TSL5!
Special Guest
Sean "Day[9]" Plott
Yes, you read that right. The legendary Day[9] is returning to cast some matches of TSL5 as our guest caster. Before turning to game development and focusing on content across various games, Day[9] was one of the first names on the list of most big StarCraft II tournaments, and hosted the popular Day[9] Daily series that covered close to all aspects of StarCraft one could think of — from mechanics, to build orders, to simple messing around. Sean has been part of every single Team Liquid Starleague and we couldn't be more excited to continue that legacy.

Day[9] will join us on the 17th of May, the second day of play on the first weekend. Get your calendars out, you don't want to miss this.