Gold Series Team Championship: Spring Season
Week 1 Recap & Week 2 Preview
by TheOneAboveU
The first week of GTC delivered everyone we want in a team league: An epic clash between aces Dark and INnoVation (
VOD
), a ballsy ace match performance, a completely unexpected upset by newcomers Dian Lake over Triumphant Song, and a handful of outright weird games.
All three new teams debuting in the league were able to claim their first wins, suggesting the level of competition is going to stay fierce despite the departure of some notable names from last season. It's time to move on to week two, where we look forward to more great matches from star players and surprising grit from the underdogs.
Week 1 Recap: Upsets and Killer Clashes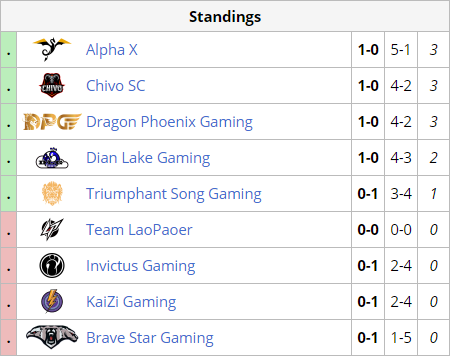 KaiZi Gaming 2 - 4 Dragon Phoenix Gaming
Watch VOD
The clash of the league's two titans developed along expected lines, with Dragon Phoenix Gaming coming out ahead and securing their position as the tournament favourites.
KZ.Dear
and
DPG.Cure
started us off with a macro game, which looked very even until Dear went ahead with a seemingly crazy attack, sacrificing an army to destroy the Terran's third base. That turned the game into a semi-basetrade, with Dear coming out ahead with far superior crisis management. Not willing to deal with something like that again, Cure played a three-rax proxy build with reapers in game two. Dear scouted it out, but lost anyway after his incorrect guess of marines made him unable to hold against reapers.
The most anticipated match of the week, a true battle of giants, started off rather disappointing. DPG.Dark played a roach-ravager all-in that killed KZ.INnoVation far too easily. They did, however, pay us back for this lackluster first map by bringing out the fireworks for the second one,
which is already one of the top matches of the entire season
in my mind. Both clashed in a straight-up macro game after INnoVations cloaked banshee opener, with Dark fielding a ling-bling-ravager army until he could push to hive tech. Dark's ability to seamlessly switch between various techs in dangerous situations really shined, especially since INnoVation was putting relentless pressure on him with his bio play. Whenever Dark pushed the Terran back and was ready for a counter-attack, the Machine was back with what seemed like two more units for each one that had been vanquished (like a hydra re-growing its heads). But as the game continued, Dark slowly but surely took control, and was finally able to strike at INnoVation's economy while defending at the same time. That was the killer move that broke the Machine's parade pushes once and for all.
With DPG on match point, it was on KZ.Nice to bring his team back for an ace match, while DPG.Firefly merely had to win a map to secure victory. Nice was the favorite on paper, but Firefly showed some of that cheesy killer instinct from last season's playoffs. He built a proxy-robo on the upper half of Golden Wall, and executed a very clean push with an immortal, warp prism, and lots of gateway units. That was enough to bring the series home for DPG, though Nice did get another point on the board for his team to conclude the match.
Brave Star Gaming 1 - 5 Alpha X
Watch VOD
The second match of the tournament ended up to be quite lopsided, with Alpha X delivering an impressive debut series against an underwhelming Brave Star Gaming squad.
αX.Astrea
struck the first blow, absolutely dominating
BSG.Dream
in a macro game, securing full control of the map and using this advantage to build up an overwhelming economical advantage that Dream had to tap out to. Dream reversed his defeat on the second map, getting some damage done with widow mines while his own worker line again suffered heavily from Astrea's steady zealot warp-ins. This time, however, Dream had big enough of an army for his economy disadvantage not to matter, hammering Astrea with attacks until he GG'd out.
The PvP between the veteran
BSG.Hurricane
and young upstart
αX.Zoun
can only be described as a bit of a humiliation for Hurricane: in the first game Zoun got some damage done with an oracle, and then won with a simple attack when Hurricane unwisely expanded. Things started out better on the second map, with Hurricane getting his expansion up earlier than Zoun and holding off a push, but Zoun came back a few minutes later with a much bigger army, somehow out-producing his opponent by a critical margin. Zoun broke though, putting Alpha X at match point.
Similar to the last match in the KZ vs. DPG series, the player on match point opted for an aggressive strategy to secure the win for his team. For
αX.BreakingGG
, the weapon of choice was a strong zergling-ravager attack after taking the gold base. Having already anticipated
BSG.Cyan's
counter to this action—the common immortal-warp prism pressure from behind the gold minerals, the Alpha X player also cleared the mineral blocker in his base to access the south side of the map, driving back Cyan easily. The ling-ravager attack followed, which destroyed Cyan and clinched the victory for Alpha X (Cyan's poor micro didn't do him any favors). Already having won, BreakingGG opted to play a more normal game on the second map, which somehow led to a quite enjoyable bloodbath between the two lesser known players. Both of them smashed each other in their virtual faces until their resources ran out, culminating in a desperate, final engagement where BreakingGG was able to come out on top.
Chivo SC 4 - 2 Invictus Gaming
Watch VOD
Chivo showed a solid performance in their first match, bringing home an expected first victory against Invictus Gaming.
Chivo.SpeCial
started the series off by reading
iG.XiGua
like a book, holding the Zerg's aggressive builds on both maps and then snowballing his advantage with relative ease.
The second duel of the day, despite the 2-0 result, was the best of the series.
Chivo.RagnaroK
played his strong standard ZvT, and
iG.Coffee
tried to take him on straight-up on both maps—no tricks, no cheeses. And he put up quite a good fight, showing the same impressive gameplay that had given him victory over LP.Impact last season. The Chinese Terran was very active in both games, and came very close to doing critical damage on the first map, but RagnaroK always retained enough control to stay ahead. On the other hand, Coffee showed an iron defense himself, playing really safe and not taking much damage at all from counterattacks. The emergence of lurkers and their destruction of Coffee's armies ended both games, giving RagnaroK a solid victory, but Coffee really impressed. If he can continue to play like this he'll definitely be one of Invictus Gaming's key players, and any lesser Zerg should be worried about him.
The last series, mattering mostly for map score, honor, and morale, was a bit of a weird one. The game on Golden Wall saw
iG.XY
play a triple CC build with
Chivo.TooDming
being kind of stunned and having no idea how to counter this. A ling flood almost got massive damage done, but was ultimately repelled, and the Zerg simply died to a counterattack from XY. The second map was basically won for the Zerg, as he destroyed XY's natural—the Terran once again played very greedily—but somehow was unable to close the game out. What ensued then was a slow and agonizing death animation of TooDming, who simply couldn't find a way to kill XY's mech-BC force off, who himself had no idea how to give his opponent the coup de grace. Eventually, with a fleet of BCs ravaging his main base, TooDming saw the light at the end of the tunnel and entered it. Not a glorious performance for either of the players, but it granted important points for Invictus Gaming nonetheless.
Triumphant Song Gaming 3 - 4 Dian Lake Gaming
Watch VOD
Probably the coolest series of the week included our first ace match of the season, with former CTC champions TSG being successfully challenged by new arrivals DLG. Things actually started out quite will for the league veterans, as their manager
TSG.Cloudy
was able to overcome his former team mate
DLG.EF
in a back and forth macro game, which looked very even for most of the game, until Cloudy was able to catch EF's army off guard at a critical moment. But EF showed that he know his former managers tricks on the second map, perfectly preparing for the adept pressure Cloudy was trying to bring to bear, deflecting the attack, and performing a deadly counter.
You'd think match number two would be a lopsided affair, with
TSG.Solar
meeting
DLG.SortOf,
but the Swede showed zero respect (or immense respect, depending on your POV) to his Korean opponent and played the infamous drone-zergling rush, hitting an unsuspecting Solar and securing a very easy victory. Solar was able to take revenge on the second map, which turned out to be more of a standard roach-ravager chess game. Solar proved himself to be the better strategist, pulling SortOf out of a critical position so that his special force of burrowed roaches could do enough economic damage to secure a win. It was certainly a result DLG was willing to take, because a 2-2 score at this stage of the series was far better than what they could have expected.
Putting
TSG.TY
against
DLG.DynaMite
sounded like a pretty good deal for Triumphant Song Gaming, but the underdog DynaMite quickly showed his former team that predictions are made to be upended. DynaMite looked much sharper than TY throughout the series, being a step ahead in expansions and important upgrades, despite both players' builds mirroring each other. The DLG player got more damage done, delaying TY's third CC so much that the TSG Terran went for an all-out attack, on DynaMite's bases, forcing a base trade he simply could not win. DLG, against all odds, were on match point. Their second game started in similar manner, with DynaMite looking quicker and fresher, but this time TY was able to turn things in his favor with good harassment and force DynaMite into a scrappy attack that failed. Transferring his economic advantage into air superiority eventually proved critical, as the game ended in another base trade of sorts, with TY coming out as victor largely thanks to his liberators and vikings.
For the ace match, DLG made the best choice they could make, and sent out DynaMite again, likely anticipating Solar, as TY looked a bit shaky in his matches. The DLG Terran had prepared a classic for Solar, playing a three rax proxy build that the TSG Zerg seems to be a magnet for. The attack squarely hit its mark, securing DLG an impressive debut victory they can be proud of. This is the kind of dramatic upset we're all here for!
Weekly MVP Award: DLG.DynaMite
How could we not name our first ace match winner to be the week's MVP, despite some serious competition for this week's award in the form of DPG.Dark and AX.Zoun?

DynaMite
secured Dian Lake Gaming's debut victory with his daring and well thought out proxy rax build against TSG.Solar, who would've been the huge favorite to win in any kind of macro game (one merely needs to look at his recent series against DPG.Cure in GSL Super Tournament to confirm this). But DynaMite not only brought in the deciding victory, he also forced the ace match in the first place with his very impressive performance against TSG.TY, running circles around the veteran Proleague player several times.
If DynaMite can keep his gameplay and preparation on this kind of level, he may lead DLG to more surprising triumphs over the course of the tournament. And what else would be a better sign of a really good Korean Terran coming into his own here, than that player going for a proxy rax build in the deciding game? It doesn't get more
Korean Terran
than that. Watch out, because this DynaMite finally learned to bang.
Chinese Player Spotlight: AX.BreakingGG
If you were unfamiliar with

BreakingGG
before this week, you're probably not alone. He's one of these Chinese players who's pretty solid within his scene, but just can't break through domestic competition to compete at WCS Circuit events. But one of the great things about the GTC and the CTC has always been the greater spotlight it gives to those very players.
BreakingGG has been around for some time, starting to play competitively during Heart of the Swarm, but failed to make and deep runs at first, being stuck in WCS Challenger in 2016. Only in 2018 was he able to finally break the mold and secure a spot at WCS Austin together with TIME, but unfortunately due to being unable to secure his visa for the United States he had to give up his spot. Despite solid placements in all the remaining WCS qualifiers throughout 2018 and 2019, this was the only time he could secure a spot in the main event—his one big chance to show himself to wider world had been tragically taken away.
Despite not being able to secure a permanent spot among the elite of Chinese competition and thus failing to qualify for more WCS events, BreakingGG was able to make some good impressions elsewhere, with some very interesting online results that really speak to his abilities—they're just not as prominent as the achievements of someone like TIME. Since the end of 2019 BreakingGG consistently beat TRUE online, and took maps off Super, Patience, Hurricane, Dream, and TY over the course of many tournaments. He's still waiting for that big win to happen, that would really put him on everyone's radar, but with how BGG has developed, the GTC may well be event in which this victory is going to happen. His solid disposal of Cyan during the opening week shows what a valuable asset he is to Alpha X in their run, and it really seems that they made a very fortunate signing with this Zerg player.
Transfer News: TIME joins KaiZi Gaming
With former CTC participants
Newbee disbanding their StarCraft 2 division
, the two former CTC players

TIME
and

Scarlett
are free agents and valuable assets to have for any team in the GTC. KaiZi Gaming have now acted quickly and
picked up the Terran player TIME
, widely recognized as the best player China has to offer at the moment. Though his record in the last season of CTC was not great—in fact his peer iG.Coffee proved the more effective Chinese Terran over the course of the season—his individual league results say he has the
potential
to make KaiZi the title favorites. TIME is already the second former Newbee player to transfer over to KaiZi, with

Dear
making the move before the season started.
This leaves Scarlett as the most prominent free agent to be available to teams of the league. Rules of the league dictate that new pick-ups will have to wait a bit before they can be fielded, so TIME will only started playing on Week 4 of the GTC.
Week 2 Previews
With Chivo SC going into a break for this week, CTC Season 1 runner-ups Team LP make their seasonal debut and immediately run into humbled championship contenders KaiZi Gaming. Meanwhile, the wounded former champions from TSG meet a triumphant Alpha X squad, which surprisingly leads the rankings going into this week. Chinese fan favorites of Invictus Gaming face the now solidly established titans of the league from Dragon Phoenix Gaming. For our last series, ace match winners Dian Lake Gaming take on Brave Star Gaming, who have to recover from their grievous loss at the hands of Alpha X.
Triumphant Song Gaming vs. Alpha X (March 30th)


Solar
< Simulacrum >


Zoun


TY
< Purity and Industry >


Astrea


Star
< Ever Dream >


BreakingGG
Ace < Zen > Ace
Last week, we gave the former champions from TSG a large advantage against their new challenger from DLG only to be surprised by their defeat in the ace match. This week, TSG face the next newcomer to the league in Alpha X, who have shown an impressive performance against BSG to take the prime position in the rankings going into Week 2. Though one cannot help but estimate TSG to be the favourites due to their overwhelming star power, with the lesson from last week in mind there is definitely a way to victory for Alpha X—but it's neither likely nor easy.
It's pretty clear that TSG are hoping to secure a quick and decisive win here, having gotten two statistically very favorable matches up front. TSG.Solar and αX.Zoun clashed just this month in the Alpha X Series of show matches, where the Zerg clearly demonstrated his superiority with a
clean 5-0 victory
. Solar appeared vulnerable to cheese in the other match-ups last week, but he's always been particularly resilient in ZvP, having started out his Proleague career as a specialist against Protoss. Zoun has earned himself some notable victories over RagnaroK and soO recently, so by no means is it going to be impossible for him to defeat Solar here—especially if the TSG players are as sloppy as last week. But I'd say his chances to get some score on the board for his team here are worse than against BSG.Hurricane last week.
Statistics are also Alpha X's enemy in the second match, where TSG.TY will meet αX.Astrea. The two players only ever matched up against each other two times, both series happening this month, and both times TY took home solid 2-0 victories. However, we cannot simply forget about what happened last week: TY seemed rusty and was simply overpowered at times by the energetic DLG.DynaMite, while Astrea dominated BSG.Dream during their first game against each other. Though I would still consider TY the favourite to win these two maps, I'd not be surprised if Astrea manages to at least get one point here.
And maybe that one point is all they are going to need to at least force an ace match, at which point anything can happen, as last week's events should prove. TSG.Star is a young player, just 15 years old, and has just started his career. He has not much experience to speak of, with most of his tournament experience coming from this league's pre-season event, where the Terran went 0-10 in maps in his group. As fate would have it, he
did meet
αX.BreakingGG recently, though, and actually fought him for an entire Bo5, losing 2-3 in the end after being up 2-1 and at match point during the series. So, who knows, if TSG are at match point when Star comes out, their rookie might well have it in him to close the series out—BreakingGG's
weakest match-up
is his ZvT after all. The Zerg might find it hard to actually get a 2-0 here, especially if he's under pressure. The conditions look right for TSG to come back from their initial defeat, but their stars will have to start pulling their weight for that to happen.
Prediction: Triumphant Song Gaming 4
- 2 Alpha X
Invictus Gaming vs. Dragon Phoenix Gaming (March 30th)


iAsonu
< Simulacrum >


Firefly


XY
< Purity and Industry >


Cure


Coffee
< Ever Dream >


PartinG
Ace < Zen > Ace
Invictus Gaming are bringing the big guns, while DPG are kindly not bringing their super-weapon out this week, having replaced DPG.Dark with DPG.PartinG. A player like PartinG being a downgrade demonstrates how monstrously strong Dragon Phoenix Gaming truly are. The line-up changes aside, it should be clear who we're picking to win, though iG may salvage some maps.
Being widely recognized as the second best Chinese player after KZ.TIME, iG.iAsonu is his team's greatest weapon in this league. However, the Zerg has been inactive since January, his last official match being a close 3-4 loss to TIME in the
GPC Grand Finals
, and many fans had speculated beforehand that we may not even see iAsonu in this season of GTC at all. But perhaps last week's defeat brought the Zerg out earlier than anticipated, in the hopes of being able to snipe one of the Korean players and facilitate an upset. If so, DPG thwarted this attempt at sapping their morale. DPG.Firefly already performed according to plan last week, and will surely have prepared another special treat for iAsonu. And honestly, he'll need to try something, because over the course of the years iAsonu hasn't even
dropped a single map
to the Protoss player yet. The Zerg veteran may give his team a running start into this series.
The question is, could iG.XY really further such an advantage and bring iG closer to victory? It's unlikely, to say the least. Though he has never met DPG.Cure on the field of battle before, we can say that the Korean will be the overwhelming favorite to sweep his Chinese foe away cleanly here. Our friends over at Aligulac give XY a
staggeringly low 1.56% chance
to take a map off of Cure, despite being a very solid TvT player overall. But if last week has shown anything, then that XY lacks the killer instinct you need to possess to go up against a Korean Terran in a mirror match-up.
In fact, the chances for iG.Coffee to take a map against DPG.PartinG are higher than XY's against Cure. I'd have loved to see Coffee go up against Dark after his match against Chivo.RagnaroK last season, but we'll have to make due with a showcase of his TvP (which is his all-time
best match-up
). We can assume that Coffee has ample practice against weird cheese builds, being acquainted with the Chinese version of the Great Book of Protoss Bullshit. The problem is, PartinG is a co-author of this book, is always working on research for a new edition, and can execute all those builds with much greater speed and precision than any of his Chinese counterparts. As impressive as his TvZ was, Coffee is probably not prepared for whatever PartinG has in store—so unless the Protoss defeats himself, this is not going to be a happy ending for Invictus Gaming. I also wish this game would happen offline, simply because PartinG bombarding Coffee with a handful of coffee beans after having defeated him is a pretty funny image.
Prediction:
Invictus Gaming 2 -
4 Dragon Phoenix Gaming
Team LP vs. KaiZi Gaming (March 31st)


Patience
< Simulacrum >


INnoVation


Jieshi
< Purity and Industry >


Nice


Impact
< Ever Dream >


Dear
Ace < Zen > Ace
Being the first team to receive a "bye" week, Team LP are ready to finally make their entrance to the GTC in Week 2, immediately facing a true powerhouse in KaiZi Gaming. Though KaiZi have lost against fellow tournament powerouses DPG last week, they remain a level above the rest of the competition when it comes to the sheer force of their roster. LP could have certainly done with an easier match to mark their return to team competition.
Opening up the series will be LP.Patience and KZ.INnoVation in a PvT. Patience was a less than reliable asset during the last season and belonged to the bottom tier of Korean players in the rankings. Not much can be inferred from Inno's defeat at the hands of Dark last week—if we were to discount anyone losing to the DPG Zerg, our list of progamers would shrink rapidly—and the Terran is otherwise enjoying a fairly solid form in the TvP match-up, including a recent 2-0 victory over Patience. In fact, looking at their
history
, INnoVation mostly had the better of their encounters ever since 2018, with win streaks of the Terran being interspersed with the odd Patience victory. With INnoVation hopefully being driven to redeem his 0-2 score from last week, he'll play some solid and careful games, trying to watch out for the shenanigans Patience will surely be up to. Though a map split here wouldn't be out of the world of possibility, I fully expect INnoVation to stay solid here and bring home two points—he's supposed to be a strong team league player after all.
If there is a thing more enigmatic and chaotic than regular PvP it's Chinese and Taiwanese PvP. Add in an irregular map like Purity and Industry, and boy you've got a stew going. LP.Jieshi commands a very dangerous but volatile PvP, at least going by some of his impressive past wins—your brand of chaos must be pretty good to take maps of people like Trap and Zest. Standing against him is KZ.Nice, who had has penchant for standard play exploited by Firefly last week. It seems to me that we're up for a repeat of last week's dynamic, with Jieshi being the aggressor and Nice trying to play things safe. We'll see if he scouts more thoroughly this time, or gives up and becomes a part of the PvP BS-fiesta.
To close the series out we'll get to see LP.Impact, our
regular season MVP
from last season, take on his rival for this award, KZ.Dear. Both players carried their respective teams on their shoulders last season, but only Impact made the playoffs. The majority of the recent series between these two players have happened
in connection
in Chinese team competitions, making this very much a league rivalry. Dear can boast better PvZ form than Impact, and he was also was the victor of their last clash. However, Impact got the better of Dear in the three matches before that, which all ended in a 2-1 for the Zerg. These two always play some very close series, and I'd fully expect them to tie this one. If it comes to an ace match between these two teams, we could probably expect Impact for LP, while KaiZi will likely decide on the spot depending on who feels better on the day between Inno and Dear.
Prediction:
Team LP 2 -
4 KaiZi Gaming
Dian Lake Gaming vs. Brave Star Gaming (March 31st)


SortOf
< Simulacrum >


Cyan


EF
< Purity and Industry >


Dream


DynaMite
< Ever Dream >


Hurricane
Ace < Zen > Ace
Having pulled of a fantastic coup against TSG, Dian Lake Gaming must feel pretty good going into the match against Brave Star Gaming. And looking at the match-ups, continuing their win streak here against the CTC veterans is entirely in the cards, though it's hard to call anyone the the outright favorite.
Everyone on DLG did their part in defeating TSG last week, but DLG.SortOf certainly showed some cunning and courage with his drone pull against Solar—exactly the attributes you need when when going in as the underdog. His approach might have to change a bit for this next match, however, as against BSG.Cyan it is much more likely that he'll be at the receiving end of some sort of aggression. Having already faced and defeated Cyan
two times
this year, I assume the Swedish Zerg knows exactly how to handle his Chinese opponent, and more study material is available in the form of last week's matches between Cyan and BGG. Though by no means a done deal, he should be able to put DLG in a good position here.
A comfortable lead would be welcome to DLG.EF, who has the thankless job of having to confront the opposing team's best player in BSG.Dream. While the Terran looked shaky in his first game against Astrea last week, he found his footing on the second map and performed much better there—and it is that form which I expect to see against EF here. The Chinese Zerg was able to take a map off INnoVation not too long ago, so Dream certainly shouldn't underestimate him, but his own 2-0 win over EF during the pre-season event will likely be the best indicator for how this match is going to go.
In the end, the clash of last week's ace match hero DLG.DynaMite and BSG.Hurricane will likely decide who will come out victorious from this series, as it looks unlikely that either team is going to be able to force a decision before this series. Clearly, DynaMite with his dashing performance last week has all the good vibes on his side, while Hurricane, who's play looked surprisingly ineffective, slow, and clumsy has something to prove to his teammates. This match will be a good indicator of what we can expect from the Protoss player in the coming weeks: are we stuck with Hurricane from Week 1—as tame as light breathing—or do we get to see the category 5 that made the top 4 of Code S? On paper, neither of the two are likely to be that comfortable here: TvP is DynaMite's weakest match-up
historically
and at the moment, and Hurricane has
recently struggled
as well. Their last duel in an IEM Katowice qualifier went well for Hurricane, who won it 2-0. Hurricane seems to be the favorite on paper, but that was the case last week as well. With morale probably being higher on DynaMite's side, I very much believe in a tie series here.
And who knows, perhaps DynaMite can then win another ace match, showing more of that crisp TvT of his against Dream. After last week I'll not count DLG out any more, but for the sake of consistent predictions, I'll align myself with the statistics and go with BSG. This is the closest match of the week, and will likely be decided by everyone's condition on the day.
Prediction:
Dian Lake Gaming 3 -
4 Brave Star Gaming
---
Credits and acknowledgements
Written by:
TheOneAboveU
Editor: Wax
Stats: Aligulac.com & Liquipedia
Images: Netease