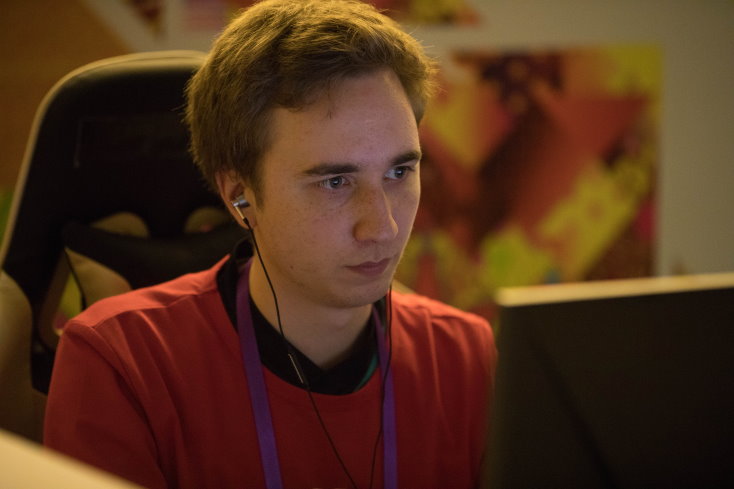 Photo: WESG
Once upon a time, a TL.net writer got tired of interviewing Serral and getting the same professional and polite responses every time. The solution? Interview someone who has strong opinions and is willing to stick to them.
That's right, we're back with another chat with

Lambo
, he of
Korean-Zergs-don't-play-ZvZ-optimally
fame (as it turns out, he was right that year).
Jokes aside, with
IEM Katowice 2020
right around the corner, we'll be putting out a handful of interviews with pros to discuss the new ESL Pro Tour, find out who to keep an eye on headed into IEM, and help us ease our way back into full-blown professional StarCraft II.
And if such a player was also okay with giving us their brutally honest opinions on how the ZvZ's went at BlizzCon 2019? Well, that's all the better.
*This interview has been edited and condensed.
---
What makes the ESL Pro Tour an improvement over WCS.
Wax: All the pros seem really happy about the new ESL Pro Tour. But from a fan perspective, it looks basically the same as the old WCS Circuit. What are the big improvements from a pro perspective?
Lambo:
One of the changes that I really like is that they changed the regional qualification spot distribution a little bit. I didn't really mind that Europe had the same number of seeded spots as North America, even though we were stronger. But what I really didn't like was that they used to give out WCS points for Challenger/regional qualifiers, because those WCS points actually mattered quite often and it was a big advantage [for certain regions].
Wax: Right, like Has in 2018 when he won three of the Taiwanese Challenger tournaments [Note: 600 of his 2490 Circuit points that year].
It also helps with seeding and stuff, so that's just something I'm very happy about.
And I think that bringing back the Go4SC2 weeklies and giving them ESL Pro tour points is also really, really cool. I think with the new points distribution, it might actually make a difference. I believe HeroMarine already got like 40 points purely from playing the European Server Cup—he won three and got second twice. I think in the end, if you wait one year, I think these points will add up.
Very often in the last system, a few points made the difference. In 2018 I might not have made the [Global Finals cutoff] when I missed a Challenger when I was in Korea. If Reynor had won WCS Montreal, I would have lost eighth place to Nerchio by just a few points
[*Note: 25 points exactly]
. So I do believe it matters, the points.
What's better about ESL running the system instead of Blizzard?
I mean, the worst part of Blizzard, the way they handled the WCS Circuit was that they announced everything super late. Before, it was basically impossible to plan a year. You couldn't plan any vacations because they would announce Challenger way too late, that kind of stuff. I can now ask Apollo when the qualifiers are, and he's probably going to have an answer for me, you know? I absolutely could ask [Blizzard people] before, but they usually wouldn't have an answer until very late.
---
Current design patch: One of the best metas for Terran vs Zerg?
How's StarCraft II looking, now that we've seen the game play out a bit on the new patch and new maps?
I think the new patch is pretty nice. It's definitely better than before. Obviously Zerg is worse than before, but we're still doing fine. The map pool in general, it didn't change too much. We still have a lot of very big maps, a lot of maps that are pretty good for Zerg.
In general, it's just way better that the late game is more even, because you can't just sit back and do nothing and then win even though you're mining less than your opponent. So that kind of playstyle which was really toxic for the game because it was boring to watch, it got nerfed a lot. Now if you actually have an advantage as the other races, they can take map control and they will win with decent late game engagements, as it should be.
Another big change would be that in general, mech got a lot better, so now mech is actually viable. There is basically one extra playstyle in the game, which is always fun to watch, right?
Any thoughts on Protoss going mass-air again, since it's a composition that's been toxic in the past?
I think Skytoss is a lot better—if you go in with an advantage you can finish the game quite often with just Carriers. I think there's also a style where you get a couple of Tempests and try to be active on the map—you have a big ground army underneath the Tempests and try to split up and engage at multiple places, maybe trying to snipe Brood Lords. So there's different styles that Protoss can play. I think if you actually go to super maxed-out armies where Zerg also has a million spores, I still think the Zerg army is better, but it's very hard to get there.
So how does this current meta rate historically?
I think it's pretty good, and I think this is maybe the best one in TvZ? Because mech is so strong and Zerg actually needs to do stuff against mech. Which means there is no massive army ... like, there are a lot of different tech switches Zerg can do—there is Swarm Host multi-prong, just getting a lot of drones, trying to trade with Blinding Cloud armies, tech switching to Brood Lords and back into Ultras, and stuff like that.
And then I think bio is also very, very strong. Then we have Lurkers, which is an extra style for Zerg against Bio—even though that's mostly timing based, since once Liberators and Ghosts are out it becomes pretty bad. But I think ZvT is probably the most versatile it has been for a while.
Things have been stable, but Clem is a 'newcomer' to look out for ahead of IEM Katowice.
Who are the best Circuit players headed into Katowice? Is it just the same old guys who are good right now in the foreign scene?
I think it's mostly the same. The eight BlizzCon players from last year—although I have no idea how good TIME is right now. And then I would say it's the next couple of... it's Drogo, me, [etc.] And then there's one new guy that—I mean he's not really that new, but it's

Clem
. He got a lot better during the last few months. So I think he can be one of the top dogs now as well.
As good as SpeCial, HeroMarine, and TIME?
I think Clem is already as good as them, pretty much. I'm not sure if he's worse in Terran vs Terran, but I feel like all these top Terrans, they just beat one another, and sometimes they lose super hard. For example Special, I think he just beat Gabe and Clem 2-0 from Korea to Europe, which is pretty insane, in the IEM qualifier.
But as a Zerg, in Terran vs Zerg at the very least, they're at a similar level. I would even say Clem is a little bit better.
How about someone a bit less known? Someone who hasn't had a chance to shine in Nation Wars or a high profile tournament like Clem.
Outside of the normal people, not really. I will say maybe Soul—he always can play on the highest level, but that's not something new. He was always able to beat the best players, and then sometimes he just loses against the clowns. I'm not sure what to make of it, honestly. At some point, he could make a deep run. He can beat a Stats, as he did at Katowice a while ago, and then he could lose against PAPI, a random Polish player.
---
So, what happened in all those crazy BlizzCon ZvZ's?
Let's go back a bit and talk about BlizzCon and Zerg vs. Zerg. From the progamer point of view, what happened in that ridiculous Reynor comeback that eliminated Serral from the semis?
Actually, I made an analysis video and put it on Youtube. Basically, I think people overestimated Serral's position that game. That game was on a knife's edge where if Serral finds one more opening, the game will end. But if he doesn't, and Reynor stabilizes, he's actually in a shitty position.
I heard Ultras were actually the theoretically correct tech for Serral in those kinds of situations, despite the general reaction.
It is, for sure. I think in this game as well. The one mistake he made was not adding Vipers at all. I think that was a poor decision. He also had bunch of Ultras stuck in his natural during a really important part of the game.
It's very, very difficult as a Muta player to transition to Lurkers yourself, because you're going to be behind in upgrades and all your army is going to be useless. Because nothing synergizes with your Lurkers. You actually need Lurkers, and Hydras, and Vipers. So for your unused ling-bane-muta you need to throw it all away, which is really hard against mass Spores, Lurkers, and Parasitic Bombs.
Basically, his position wasn't actually that good. If he wanted to go Lurker, he needed to do that earlier into the game.

Dark implied in an interview with Korean media that he could tell Reynor was shook or just not mentally right in the finals.
I think in general, most of the players that were there were performing worse than usual. I think it might have something to do with going to Korea and then next week going to LA to play. I think both Serral and Reynor played worse than they usually do.
Even in the other matches, there were some uncharacteristic mistakes from a lot of different players. I think it might have to do with jet lag. And it was a very long day, since it was all played in one day.
I would agree with Dark. I'm not trying to make excuses, I'm just saying everyone played a little bit bad. I think very often, in general, people are going to play worse than at their full potential. But this was even a bit lower than I would expect.
How was Dark's Zerg vs Zerg? You've been a noted critic of Korean Zerg vs Zerg in the past.
I can't really remember all the games, but I don't think I was like.... I think he still played it a little bit like a clown?
I think one of the series before BlizzCon, it was a typical Korean ZvZ for me, which...
Dark vs soO in the group stage.
Like, I wasn't too impressed with their strategic decisions. It doesn't mean ... when I say this, I don't mean they're bad in ZvZ and I can beat them, because this is usually what people take away from this, for some reason. He obviously played better than Reynor.
They basically just play incorrect StarCraft very often, in ZvZ. For example, if you ling-bane all-in, that should never work at a higher level. This is not something where you can say
"hey my micro is better than my opponent, I will out-micro him."
That doesn't actually work. It's up to your opponent if you win or not. It's just up to your opponent if they make mistakes—that's just what they go for very often.
Still, that finals was pretty one-sided.
I can't really remember, it's already a couple months ago... I don't think there was a single normal Roach vs Roach game, which is usually what I see as a standard game. And then late game would be Hydra-Viper vs Hydra-Viper.
It was definitely very one-sided. Dark got decently far ahead in a lot of the games. I can't remember what he did to get so far ahead. I remember one of the games he would start randomly making lings at a certain juncture, and just attack. These are the kind of moves that I really don't respect.
Because they shouldn't work?
Because they shouldn't work, exactly. Your opponent can have way more Drones and still defend it. All the aggressive stuff, you can defend with a similar amount of Banelings, and then you have defenders advantage and Queens. So even if you don't make the lings, you can just make them later than your opponent—which means you already will have mined more—so you can just make way less and still defend, because Queens and Banelings are amazing defensively.
Maybe it's like one of those 'great Terran' things going all the way back to Brood War, where you feel like the proxy 2-rax is just a coinflip, but certain players succeed so often you figure they must know something we don't.
I don't think it's a coinflip, I don't think it has anything to do with luck. He just does stuff that's shit
*laughs*.
It's straight up... he basically just hopes for his opponent's mistake. Obviously he has amazing execution and good macro behind it. That's why it works. But I don't think has anything to do with luck. I don't think his ZvZ was that solid as well. I believe he got destroyed by Rogue at some point before that, and he lost to Elazer in GSL vs the World. Those kinds of things don't
always
work.
I think you're making a pretty tough sell though, given how convincingly Dark won the BlizzCon finals.
I mean you're making me try to sell it in the one series where one guy played much better than the other one. And I'm talking about how it is
stylistically
. You're giving me a hard time just because of this one series. You can name me this one example, and I can show you Serral vs soO, which was also at BlizzCon. Which was exactly the same, where one guy just owned the other. Obviously it has much to do with which player is playing better.
I'm usually not arguing about how good the person is, that's where I think people get me wrong most of the time. I'm just saying the strategies are mostly not... not OPTIMAL. That's the thing I said in the last interview with you? And then people started showing my win-rates against Korean Zergs, which has nothing to do with my statement
*laughs*.
Well, it's gonna happen again.
Fantastic, looking forward to it.
I think also one of the things that helped, in this case, is that this map pool—and right now, in general—is that Mutas are really good. I don't think that Mutas are actually a clown playstyle, I think Mutas are very legit. It's just bad against certain all-ins, you can't hold against certain all-ins. But for example, it's just an example that it's good, and I see it as a legit way of playing. I just think most of the Roach all-ins, the pre-Lair ones, are not good. And then the other things, just randomly attacking with ling-bane and super over-committing, not playing standard builds properly and starting +1 attack upgrades at 250+ gas most of the time—those are the things I don't respect.
But I know that Dark can also play legit ZvZ. I think if he would play it more often, he would be even scarier.
---
Progamer mindsets are a tricky thing...
How was 2019 for you?
My last year was pretty bad. It started out pretty good—I got like top eight WESG and I qualified for Katowice, I got top five in WCS EU: Winter. But then the three Circuit championships were really bad for me. And honestly, I feel like I lost a lot of motivation.
Because before my goal was to make it to BlizzCon. Making it to BlizzCon again was my goal last year, but I didn't want it as much as the year before. Because the year before, I wanted to prove myself, I wanted to be one of the best eight. But to go into the next year and ask yourself "Okay, I guess let's be somewhere around the top again," it doesn't really seem like... that big of a motivation, right? And I didn't really have hope to beat out Serral, which is the big one. I basically didn't have hopes of winning tournaments, and then I just hoped to be somewhere around the top, so that didn't do it for me. So overall, the last year went pretty poorly for me.
To be successful, you need to give yourself unrealistically high goals?
I'm not sure if it's that way for everyone, but for me, myself, I think I need to aim higher. That's just for me, that's how I motivate myself.
So that's something you're changing this year.
Yeah, and then also, a little bit of how I view the game, I will mix up my strategies a bit more. Last year I was just, against players I thought were worse than me especially, I would just play the same, purely reactive, super legit builds. And I got abused that way, so I think I'll get back to mixing it up a little bit more.
This question is kind of going back a long way, but how did it feel to get a map win with Swarm Hosts against TY at the 2018 Global Finals?
Not happy at all, not even a bit. I was extremely frustrated—I had never lost to a Marauder Hellion all-in, but I lost an earlier map because my Queens got baited out by a Viking. So I was pretty.... I was not happy. I don't care about map wins. I don't care about how I look in the game.
For example, Elazer sometimes tells me, "Well at least I got a good game in there." Like if he's down 0-2 vs Serral, I'd bet you that he'd play a standard macro game, and then he'll show for 20 minutes he's still a top level player that can keep up with Serral. But in the end, he's going to lose out. But if I'm down 0-2, and the series was only 10 minutes because I all-in'd Serral once and it didn't work, and Serral all-in'd me and completely owned me, if an all-in gave me the best chance in the third game, I would still show that all-in.
I also don't really care if I lose 2-3 or 0-3. Actually, 2-3 I like a little bit less, because I'm someone that—and this is one of the things I gotta fix—that thinks
"what if I didn't make this one stupid mis-call?"
One of the things that annoyed me a lot, was when I lost 2-3 against Serral at Montreal, where I threw the fifth game. That kind of stuff.
---
Wow, what an uplifting note to end on.
Alright, let's wrap up. Any final comments or shoutouts?
Thanks for doing the interview. Shoutouts to QLASH, as always.
---
You can follow Lambo and Team QLASH on Twitter at @LamboSC2 and @TeamQLASH.