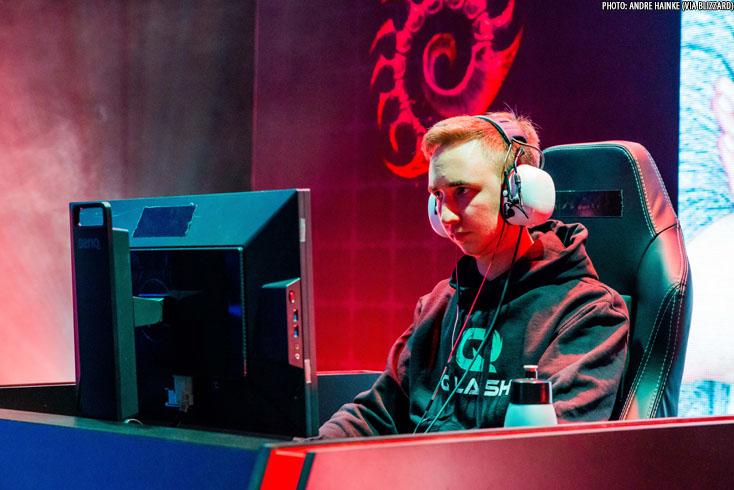 Korean training isn't all that it's cut out to be? Serral is the #1 favorite to win BlizzCon? Korean Zergs don't know how to play ZvZ correctly?
Lambo
might be headed to the
2018 WCS Global Finals
as the last place seed from the WCS Circuit, but he's not going to shy away from speaking his mind. The German Zerg from
Team QLASH
talked to TL.net about how he arrived at his Global Finals opportunity and shared some stories from the 2018 Circuit.
*This interview has been edited and condensed.
---
Wax: How were you feeling at the end of 2017 as you prepared to take on another year of WCS?
Lambo: I was pretty motivated because I ended the year pretty terribly last year. Pretty much the worst point ever in my career was the end of last year after I failed to qualify for WESG
[note: Lambo ended up participating at WESG after Majestic forfeited his spot.]
But my team, and a lot of friends actually helped me get up and told me I'm good, I just need to keep playing and I just need to perform better.
Right after WESG, it was
Rotterdam
, for example. Rotti told me he really believes in me and he thinks the next year is going to be the year of Lambo, and he wouldn't say it if he wouldn't really believe in it. Which, that helped me. And then my team told me, they let me know that no matter what happens, they're behind me, which also really helped.
For the rest of last year, you know, I didn't have a team for the majority of the year. Just having a team is already really nice, where last year I went to events and I knew I had to at least get round of 32 or better to even make back the money I used to get there. And then just, a lot of different progamers…
Harstem
and
DnS
had some nice words;
Zanster
,
Elazer
, all of those guys.
So pretty much I just kept playing; I always had this one goal that I wanted to make it to BlizzCon. I just wanted to show everyone that thought I was s*** that I'm actually a good player.
During that time I focused a lot on the things that were going wrong in tournaments. Like, as soon as the playing conditions weren't absolutely perfect, I would start playing very poorly so that's what I focused on. One thing that I changed was I stopped using armrests, because at DreamHack tournaments the chairs do not have arm-rests. And then another thing is that I would just set my chair super low, a little bit higher, just change it up a bit.
Could tell us about how you made the decision to become a full-time StarCraft II pro?
I didn't take it too seriously until last year really, but I started out pro-gaming in Heart of the Swarm. My first accomplishment basically a win in the
German EPS
and then shortly after a top eight at
IEM Gamescom 2015
, which back in the day was a really good result.
Before [2017] I wasn't super serious, but I always wanted to perform and always practiced a lot, even next to university. Like I would do as little as possible for university and the rest play StarCraft. It wasn't the easiest decision because I was one year away from finishing school, but I just really loved playing and I really loved competing, and I just realized that I wanted do the thing that I loved the most and I would hate myself if I don't try as hard as possible. And back then I didn't know how much longer StarCraft would be around, so…
Looking at it from the outside, it looks like spending a few months in Korea before WCS Austin was what really helped get your first big result in reaching the RO4. Was it really that straight forward?
Yeah, people keep saying that all the time, but honestly I didn't improve too much from Korea. Before I left I was really, really good—I was doing really well in practice. Then I went to Korea. I didn't change anything about my ZvP because I was very successful on the Korean ladder against Protosses. ZvZ, the Korean Zergs are kinda just playing random builds, so I also don't think that match-up got too much better. The only thing that really got better is that the mechanics improved because I was forced to play everyday because there's not much else to do. I didn't go out as much because I didn't have my friends asking me every Saturday if I want to go out. Just being forced to play I think helps with the mechanics. But honestly, I had the same MMR after a week in Korea as I had when I left.
I didn't improve too much gameplay wise but also one thing that I think helps a lot when you go to Korea is that the other players don't know how your style looks. Because it's hard, it's impossible for them to look up, and they don't play you on ladder all the time. So I that combined with the mechanics I think helped quite a bit.
In that case, what do you think were the most important reasons you did so well at Austin?
I think I just played very smart in the best-of-five stages. I can't really remember the tournament, I think I barely got into the RO16. I was in the losers' match a couple of the time in the group stages. I actually had the most insane group stage #2 group ever with Zanster, Elazer, and Namshar. I thought
'f*** me, I'm going to Korea for two months and now I'm coming to this group and maybe I'm going to lose in group stage two.'
So I was already really nervous there. But I think a big strength that I have in the playoff stages is that I know what my opponents saw so far from me and I had a ton of builds prepared, a ton of builds. And I could just work with what they saw, and then try to counter what they're probably going to respond with. So it just went very well for me there.
You were one of those players who always got a lot of credit from other players but just couldn't show it in tournament games. What was that like?
I think it's insanely hard for the public to see how good players are. For example the best example I can come up with right now is Elazer. He didn't perform in the last two WCS events where he got RO32 twice. But during I think the entirety of this year, Elazer was the 2nd best Zerg player. He just... You know, you choke a couple of times and then everyone all of the sudden thinks you're bad, even though you didn't really get worse. He even got better—Elazer right now is really, really good. He just showed it in the Penthouse Party but it's just something that the people don't see. There's like one or two small things that can go wrong and all of the sudden you're out of the tournament and you don't really get the chance to show how good you are. I think people CAN check ladder ratings or such—ladder ratings aren't really even that important. It's just that if you see someone at a high ladder rank, then at least you can know who's doing decently well. Like that's not the best way to look at it either, it's just hard for the public to know who's good and who's bad.
So sometimes it's just dumb luck?
Yeah, I think there's a lot that just has to do with just being clutch. For example I think Neeb last year was insanely clutch. Usually Elazer was very, very clutch. Sometimes even when he wasn't performing too well in practice he would just come out in a tournament and do some decisive builds and win. I think mostly it's a combination of skill and luck, and just day-of form as well, which can be huge.
Like if I feel super on-point, I do a lot of small stuff that sometimes even win you games. For example I think I'm even more clutch when I'm already winning, and there's some players that on the brink of losing, all of the sudden they start making plays happen. These plays can be very small like sneaking a ling around to get the perfect scout—that kind of stuff can change a game and it's super hard.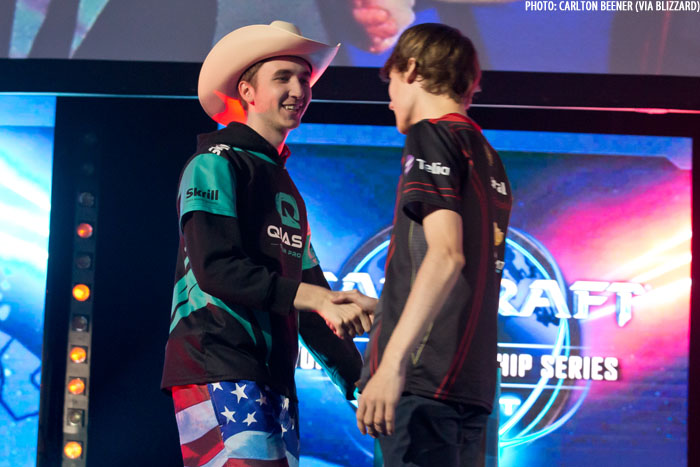 In interviews, it seems like the foreign Zergs are way less afraid of Serral than the Terrans and Protosses. That's odd considering that ZvZ has been his best match-up at times. Why do you think this is?
I actually don't think the Zergs are more confident—I just think we have more top Zergs so it might appear that way. I think Neeb and SpeCial usually are decently confident against Serral, actually. Those are the two best of the other races. Personally I think his ZvZ is his best match-up. It's just that we have so much practice and so much to show against him and we can test out different stuff and there's so many ZvZ builds that you can catch him off guard. It's just hard in a long series.
For this year he kinda had this weakness of ling-bane-muta and weird styles where he wouldn't know exactly what to do because he thinks he's the better player, usually he plays defensive. Which, if you play greedy for example and then go into ling-bane-muta, it's very hard to play against. We have these kind of things which I don't think the other races have. But I think that's not even so much the case, because I think Neeb and SpeCial are also pretty confident. And even uThermal made a tweet where he thought he said he was favored against Serral, but that was quite a long time ago.
You've had some pretty tight series against Serral. Even though he's a top player in the world, you wouldn't feel that terrible facing him at BlizzCon?
Yeah, I would prefer every other Korean Zerg over Serral obviously, but it's definitely doable. Like in the last three WCS series, in Challenger, in Austin, and the one in Montreal—in all three series, in think almost every game, I got ahead. Not in Montreal in the first two games, but in almost every other game I got ahead in the early game. Which is... I just had to close out from that point, you know? In a lot games, I had even a very, very, big lead.
In Challenger
in the first two games, I threw very hard in both games. In Montreal,
I threw the fifth game
. And in
Austin
, in the last two games, I had a really decent shot of beating him. He's very, very good in his multitasking style, but if I get a lead, next time I will know what to do exactly. I will just prepare for the burrow-move Roaches and just play it out from there.
Because for you could see for example, there was this one game,
Zanster vs Serral
, where Zanster, who is—
[laughs]
—a level below Serral, at least, a level or two, and even he could play it out in late game, even from a decently small lead. In ZvZ, there's not many ways to throw a game because you just mine a lot and then as long as you don't fall apart to the burrow movement Roaches you should be fine if you're very far ahead.
Speaking of late-game ZvZ, how were you feeling during that Reynor vs Serral game at Montreal where you were on the verge of being eliminated from BlizzCon?
I mean, that felt like hours for me, to be entirely honest. Like, I was sitting where we played the group stages and I had like ten progamers around me just watching for my reactions. I was just sitting there and I thought 100% that Serral was dead. When
Reynor
got into position to his third base with his Lurkers and Serral started transfusing his Lurker like ten times and just stayed alive... As I realized he was winning, I was obviously getting more and more happy, but I was very, very nervous, and very, very sad at some points because I thought it was 100% over.
After the Roach-Bane attack, it was very hard for me to keep the head up and watch the game. He should have won with this attack—it's Serral that we're talking about, but he played it really terribly. He really should have, he could have just a-moved and went up with the Banelings and he should have won. But he had like Banelings exploding on the Hatchery, he waited way too long. He was indecisive with the attack, it was... yeah. Not Qlash-esque—you know Elazer and me would have just went in there and killed Reynor. So I was going nuts about this. Him not moving up, and then he went up, and he didn't end up killing Reynor. He barely killed anything, and Reynor was in a sick spot, so at point I was so stressed, it's hard to explain.
You actually went up to Serral and talked to him between matches. What did you tell him?
We talked about it before—if he lost a game or two it would help if I went up to the stage. I basically just calmed him down and tried to tell him that he's the better player, then I told him some stuff that I saw Reynor do before on ladder and in tournament games. I just tried to calm him down, that was mainly the thing because he seemed a bit rattled. He told me that he played really terrible, which, to be fair, he even says when he wins the games. But just talking to someone I think helps sometimes.
So it was his idea?
I think he talked with
Namshar
about it, and Namshar asked me if I wanted to do it. So I went and confirmed with Serral if he actually wants this, and he said yeah.
I think Namshar is just his best friend in the scene, I would say? And then… Namshar just asked me because there's so much for me on the line, and I would be very try-hard about this advice, you know? I mean, it was like I was playing the finals myself, there was even more on the line than for Serral.
Do you think you helped?
Well, the tactical advice, I warned him before about one build which Reynor didn't end up doing. Then the other thing I told him was that if Reynor plays two base with a wall at the front, he will never actually go two-base Roach it will always be some ling-speed s***, which ended up being the case. But I'm pretty sure that Serral knew that himself. And I'm not sure if actually just talking to him helped at all, but I think, at least it didn't make it worse, you know?
If Serral isn't the scariest player for you at BlizzCon, then who is? Korean Terrans Maru and TY?
Yeah, those two...
[laughs]
Which is a bit sad because they're both in my group, but at least now I can already be preparing for them. Like if I would play against them later on in the stage, in BO5s, I think those guys would be nearly unbeatable for me. At least Maru, not necessarily TY. But in the group stage, with BO3's where I have like months to prepare, it's… yeah, it's fine.
What did you think when Serral beat Maru at GSL vs. The World and said afterward that he just theorycrafted the match and it went to plan.
I mean, he said he theorycrafts the normal ZvT, but ZvT is pretty straight up—you don't need 200 IQ to figure it out. He has the mechanics and the best multitasking and he focused perfectly on the game, he didn't make mistakes, so that's how he won. Not related to theorycrafting, it's just ZvT is pretty straight up. There's no secrets to it.
How do YOU even prepare in that case?
I mean, I'm currently trying to play as much TvZ custom games as possible, and if Terrans are willing I also play against Archon. That would be my favorite, to just play against Terran Archon. I never played against two Terrans, but usually
souL
and Elazer. Which isn't exactly the same because Elazer doesn't know how to micro perfectly, but it's still a lot harder than playing against just one Terran.
Is it easy to get custom games in the scene lately?
The way I do it with souL is every five games I watch one replay with him and tell him what he did wrong, and that's how I pay him. I know in Korea there are actually paid custom games, but I think here we're like good enough friends that we just help each other out. You know I just ask them as friends not as competitors, if they wanted to help me prepare. Usually they just say yes.
How do you feel about your Global Finals group, besides the 'having to play the two best Terrans in the world' part.
I mean for me I think I'm playing the two best Terrans in the world and maybe the best PvZ player in the world. I think
Neeb
is also the worst draw I could have gotten. So I think this is the—if I had to show you the worst group that was possible for me, this would be the worst group.
Neeb's the best PvZ player?
At least against me because I play very standard usually. He maybe cuts some corners, but usually I don't try to exploit them. We'll see what I do at the actual event, but I've always felt like Neeb was the hardest to play against, for me personally. When I was in Korea I was doing well against every top Protoss player besides Classic, but I barely played against him to be fair.
So you're not worried about Classic and sOs' bringing out random bulls***.
No, I'm usually pretty good against the random strats. Like, I would have loved to have three Korean Protoss in my group instead of this, obviously it's not possible but three Korean Protoss would have been my dream group. Just, Korean Protosses or Zergs are I think easier than Terrans by far.
Of the Koreans, you mean. You'd still rather have Has.
I mean, Has is obviously the dream to just have in your group. I mean, that's like the free walkover but everyone else, yeah. Everyone else from the foreigners is tough, but they're still a bit easier than the Koreans, Neeb, or Serral.
You've told me before that Korean Zergs don't know how to play ZvZ. Could you elaborate on that?
Usually they just do something with a low amount of gasses and then something very decisive, some Roach all-ins, so if you know that, you can just play very defensive. I mean just generally defending everything and scouting everything in ZvZ is hard... But I feel like we've gotten to the point where we can always sneak around a ling and our build orders are good enough that even if we make 10 drones more than our opponent we can still hold it.
And they're still just kinda playing pretty aggressive. Even though lately I've seen some Solar matches against Dark, I think it was, where they actually got into longer games more frequently. Usually it was like in Korea one out of ten games got into a macro game, past just Roach-Ravager. Which, for us foreigners, it goes there way more often than for the Koreans. They just play off lower drone-counts which doesn't make too much sense. Like all the aggressive stuff, it's not optimal in ZvZ.
Who's the favorite to win it all at BlizzCon?
I think Serral is the favorite to win, and then Maru has the second best chances, and then it's about everyone else.
I don't think they have the best chances BY FAR. I think there's a lot of players that can win. I actually don't hate my chances too much, even in my group. For winning the tournament though, I wouldn't give myself too big of a chance
[laughs].
Don't you have to give the Jin Air guys some special credit for their ability to prepare?
Yeah, no, I definitely would have given them credit until I saw Maru decide to just proxy-rax because he felt like it was his best build.
[laughs]
That kinda made me lose all the respect, at least for Maru's preparation.
But yeah, those guys are good for preparing, but I think that's something that foreigners can also do. I think I will do well in those kind of scenarios. We really don't have those anymore. Back when we had the old Challenger system, where it was one BO5, everyone would prepare very specifically. I think we're good at this, too.
And then, just the special thing about BlizzCon is that the foreigners don't really know how the Koreans play, the Koreans don't know how the foreigners play, so there's gonna be a lot of weird games. Like, do you really wanna prepare something if you're a Korean and you think you're that much better? Or do you just play standard? And then the foreigners prepare something very special and maybe catch them off guard.
They also saw Serral winning a tournament, Neeb won a tournament—I don't think they're underestimating us too much anymore.
Any last comments?
Just look out for my games. I might do some special stuff, I might just play standard. But whatever it will be, don't hate too much if it looks terrible, or a bit… Like right now, I'm just preparing as much as possible because this is for me the most important tournament ever, and I WILL try my best you can believe me when I say that. Thanks to my team QLASH for supporting me during all this year. It was an awesome year for me, no matter the outcome of BlizzCon. And I will try my best.
---
You can follow Lambo and Team QLASH on Twitter at @LamboSC2 and @TeamQLASH.