NationWars 2019: Round-of-16
Group B & D Previews
by TheOneAboveU
After two rounds of play in the preliminaries and round-of-24 group stage, we're now down to the final stage of competition before the playoffs. Eight teams will move on from the GSL-style groups in the Ro16, taking one more step toward winning the NationWars 2019 title.
Due to scheduling issues, the groups won't be played in alphabetical order. The Ro16 begins with Group B on November 12th, and then Group D on November 13th.
Ro16 Group B: Toppling Superpowers
USA, Ukraine, South Korea, Netherlands
Match time: Tuesday, Nov 12 5:00pm GMT (GMT+00:00)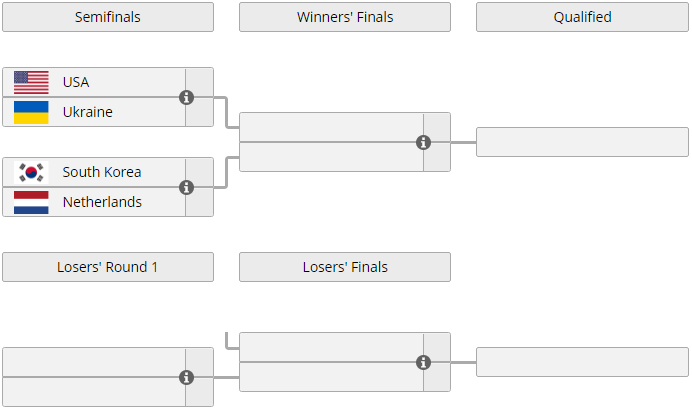 USA vs. Ukraine

USA
:

Future
(5-0) |

Neeb
(2-0) |

MCanning
(1-1)

Ukraine
:

Bly
(4-3) |

Kas
(2-3) |

Hellraiser
(2-3)
NW Match History:
USA 3 - 4 Ukraine (NW 3, Qualifiers)
USA 0 - 4 Ukraine (NW 4, Group Stage)
USA 4 - 3 Ukraine (NW 4, Group Stage, Losers' Final)
Historically, NationWars matches have often coincided with some rather...
interesting
state-of-affairs in the world. In the Ro24, we had China vs. Hong Kong. In the Ro16, we see the United States of America take on Ukraine. Fortunately, there won't be any political backdealing involved in the outcome of this match (or so we hope)—just good old-fashioned StarCraft II.
As we can see in the match-record above, the two nations actually have a bit of history in Nation Wars, with Ukraine leading 2-to-1. Interestingly enough, the Ukrainian team that kicked out the US from NationWars 3 (2015-2016) hasn't changed much since then, with both

Bly
and

Kas
still representing their country nearly four years later. The American squad, on the other hand, has gone through more turnover than a certain president's cabinet, with none of the NW3 players (Nathanias, puCK, State), and only one of NW4 players (Neeb, Nathanias, puCK, JonSnow) remaining on the team.
And this is quite simply the reason why the US should be counted as the massive favorites to win over Ukraine this time around. The Eastern Europeans may have advanced into the Ro16, but their showing so far was one of the least impressive from any team. In the qualifiers, they defeated an inexperienced Spanish squad (and even then, captain Bly slogged through a
bizarre game against the barely known Acqueron
). In the Ro24, they were outclassed by the Chinese, and only narrowly advanced out of their group with a win over Hong Kong. Bly has remained a dangerous player over the years, as anyone laddering on EU might confirm, but Kas' glory days lay a long time in the past.

Hellraiser
—though a very promising new addition to both team Ukraine and the WCS Circuit—hasn't really had a breakout performance yet. While he strengths the Ukraine line-up with solid Protoss play, the team still lacks the power-hitter that's so valuable in a format with both all-kill and revive elements.
So, while the USA historically were pretty much a non-entity in Nation Wars, and did lose to the venerable Ukrainian team several times, that was all in the past. And now, the

Future
has arrived. The Ukrainian scene has stagnated heavily compared to the US, which has steadily churned out players who have been relevant in WCS Circuit play. There is, of course,

Neeb
, who is the only staple of the roster since NW4, and who single-handedly changed the fate of his nation as a punching bag for the big boys. Neeb made America a serious competitor again, and it seems other players have finally heeded his call for help, because this young kid Future seems to be pretty good, from what we've seen so far. His matches against Kelazhur—though not in his prime anymore—were incredibly solid, as were the games against ZAiN and Risky from the United Kingdom. Even

MCanning
, more of a mascot than a competitor in most people's minds, contributed to the victory over Brazil in the Ro24, taking out Erik, one of the better Zerg players in South America. It's an untested and untried roster, and it certainly could use a third player with more competitive credit than MCanning (who certainly brings eyeballs to the matches, though!), but it sure looks like the US is no mere one-man team anymore.
South Korea vs. Netherlands

South Korea
:

soO
(3-1) |

Stats
(3-1) |

INnoVation
(2-0)

Netherlands
:

uThermal
(5-1) |

Harstem
(4-2) |

Ret
(1-2)
Match History:
Netherlands 3 - 5 South Korea (NW 5, Finals)
Group B's second match is a spicy one as well, because we get an early rematch from the previous grand final. The Koreans were able to defend their crown against the Dutch in Nation Wars 5, but the Netherlands are out for revenge—and against a vulnerable looking Korean team, they might just get it.
Dark recently restored the order of the StarCraft world by returning the world championship home to South Korea, but he's never been part of Korea's Nation Wars squad—neither are some other top players such as Maru and Classic/Trap. In many ways, the Koreans has always sent a B-team to this competition, because several A-listers don't bother to sign-up. Still, a Korean B-team is historically still leagues above many other countries' best possible squads, but it's 2019, and honestly the B-team may not cut it anymore nowadays.

INnoVation
is slacking big time since his WESG win earlier in the year and reportedly lacks motivation.

soO
, also, had a peak early in the year with his IEM Katowice win, but likewise fell off towards the end.

Stats
' high point in the year, his Assembly Summer win, also lies back several months now, and he hasn't matched his Serral-beating performance since.
It's funny: this trio represents all the Korean international tournament champions this year aside from BlizzCon, and yet, in a way, it may be one of the weakest teams the country could've sent out. Dropping maps to Australia and Croatia in the Ro24 isn't exactly an upgrade to confidence, though, granted, there have been shakier group stages for the Koreans before (losses to Canada and Mexico come to mind). Honestly, it's going to be a bit of a coin flip with these guys: on their best day, they can sweep any team away with ease. But the combination of overconfidence, poor research of the opposing team, and lag/time-zones could actually see them suffer
another unthinkable upset
. How humiliating would that be, after Dark just restored your honor.
For the Dutch, of course, this situation couldn't be better: revenge for last edition's Grand Finals loss is in their grasp, and should they overcome the Koreans they must surely be the favorites in their next match. But before anyone celebrates prematurely, there are some caveats: both

uThermal
and

Harstem
are among the most vocal pros on social media regarding balance, and if this match is still played on the old patch, a game against soO may well trigger them to lose their mental fortitude (thankfully, soO isn't quite known for his late-game prowess). Also,

Ret
remains a big question mark. The oldschool Zerg won his match in the qualifier and played a pretty crazy map against ShoWTimE, where victory definitely was in his grasp several times, but he also lost to Chilean Zerg LsEbA, which isn't confidence-inducing. If they pick their match-ups well here, though, I think they might have a good shot at sending the Koreans down to the elimination match (again, this wouldn't be a first, as the Koreans have gone down to the elimination match in the last two tournaments), and subsequently beat whoever is coming up from the other match. With uThermal and Harstem they have two of the best players the west has to offer—and Ret, for what it's worth, once also belonged to that group.
Prediction:
South Korea
and
Netherlands
to advance.
Ro16 Group D: Burning the Amazon
Germany, Mexico, China, Brazil
Match time: Wednesday, Nov 13 5:00pm GMT (GMT+00:00)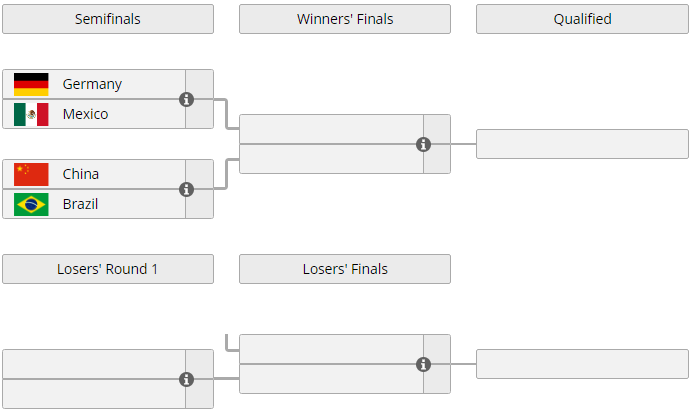 Germany vs. Mexico

Germany
:

ShoWTimE
(3-0) |

Lambo
(3-1) |

HeRoMaRinE
(2-1)

Mexico
:

SpeCial
(5-2, 1 All-kill) |

JimRising
(1-2) |

Cham
(0-2)
NW Match History:
Germany 4-2 Mexico (NW 4, Quarterfinals)
By now, the make-up of Mexico's Nation Wars team is familiar to everybody, as it is one of the more stable rosters of the competition. Reliable ace player

SpeCial
carries a heavy load, with his two Zerg compatriots occasionally chipping in with an upset or surprise contribution. The Germans, likewise, field a familiar looking team, though

Lambo
has replaced TLO as the Zerg component for the first time ever. It signals that Germany's generational change is now complete, with the last of the old guard being replaced.
The German team could really only be stronger if we had the year 2018 instead of 2019, when all of these three players made it into BlizzCon at once, instead of 'only' two—still a huge feat for any country that is not South Korea, and one that Germany has by now achieved multiple times. People have been rightly calling this the strongest German roster of all time, and they are right. This squad combines several top finishes in WCS and a legion of EPS titles, truly representing the best Germany has to offer. And, though they couldn't make a huge impact at the Global Finals this year and advance into the playoffs,

ShoWTimE
and

HeRoMaRinE
definitely made the Koreans fear for their tournament lives, with ShoWTimE nearly edging out eventual champion Dark in a close opening series, and HeRoMaRinE even being able to defeat Classic (though Classic won the rematch). More importantly, perhaps, for this upcoming match, is ShoWTimE's solid victory over SpeCial at the Global Finals—repeating this success will be the key to overcoming the Mexicans. Lambo, known everywhere by now for his polarizing opinions on ZvZ, will likely be able to showcase his expertise in this match as well, as the chances are high that he'll meet one of the Mexican Zerg players in a mirror match. That would ideal for the Germans, at least. A duel between HeRoMaRinE and SpeCial might be pretty even—the German beat the Mexican 4-0 earlier in the year—but historically HeRoMaRinE's TvT has been kind of shaky in big competitions. So the safest way for Germany to deal with SpeCial is probably ShoWTimE's PvT.
What role then, could there be for

Cham
and

JimRising
, SpeCial's trusty sidekicks? It's hard to imagine one. Cham is a frequent sight on the European ladder, and in streams of the German trio the Mexican very often is seen on the other side of the victory screen after pretty one-sided matches, which doesn't bode all too well for him and his team mates. JimRising, despite starting a career as a caster on the side, probably still remains part of the top 5 Latin American players, but should definitely be at the end of the list, behind his team mates. The Mexicans kind of need to hope that this match is played on the old patch and they can pull of some Nydus shenanigans, if they want their Zerg players to have any chance at having impact. On the other hand, SpeCial might well profit from the patch landing earlier, so there's two sides to this. In any case, it's very hard to see Mexico as anything else than the underdogs here—as has often been the case at Nation Wars, and yet they've been quite successful in these tournaments, even making a top 4 appearance last year with an identical line-up (beating Taiwan, South Korea, and Brazil, before being felled by the Netherlands). But the Dutch team that stopped them last year was quite comfortably beaten by this German line-up in the Ro24, and the depth of the German roster is just too great to be easily all-killed by SpeCial. There are too many answers, too many options for Germany against what is pretty much a one-man team. One could say they have a Wall that the Mexicans won't be able to break through.
China vs. Brazil

China
:

iAsonu
(4-0) |

Cyan
(2-0) |

TIME
(2-0)

Brazil
:

Kelazhur
(5-3) |

Erik
(2-2) |

TurkeyDano
(1-2)
NW Match History: No Previous Matches
A bit of an odd duel will be our second match in Group D, as a nation that seemingly always punches well above its true weight in Nation Wars will face a nation that has historically under-performed heavily in this competition. Brazil, always good for a miraculous performance out of nowhere, faces off against China, the sleeping giant.
No other team has achieved a flawless record in the Ro24, so China stands out on this fact alone. Their victories over Hong Kong and Ukraine were absolutely perfect—you really couldn't ask for a better start to the tournament. Does this mean China has finally woken up, and taken the spot that is rightfully theirs as one of the historically best regions in StarCraft 2? It's perhaps too early to tell, but things are certainly looking up. With

TIME
, they finally have an ace player who can really compete with the best men the other nations have to offer—though he's been conspicuously poor in Chinese team leagues compared to his prowess in individual tournaments. But perhaps Nation Wars is a different beast, with national pride on the line. Accompanying TIME are

iAsonu
and

Cyan
, probably the best two representatives of their races from China (assuming that their strength is why the Chinese community voted for them). In the China Team Championship iAsonu made a bit of a reputation for himself as the greatest defender of China, becoming one of the most successful Chinese players against foreigners two seasons in a row, defeating Korean players like Patience and Hurricane. With such a reputation he surely fits perfectly into this roster, and so far he has proved the reputation right, contributing half of the teams' map wins by himself. Cyan also had his small successes in the CTC against foreign players, but it seems he was mostly voted in not for his clout in international competitions (which is still considerable, such as a top 4 at WCG this year), but for his performances in domestic tournaments: he is a staple in the finals of Chinese events with really only TIME, iAsonu, and XiGua able to stand up to him this year. In a way this resembles the German line-up, in that it may well be the very best roster the country has ever sent out to represent it.
And the Brazilians will have a very hard time to resist it. As stated above, they always appear to punch a bit above their true weight, mostly because so far

Kelazhur
has always stepped up to deliver some great performances, and this was true once again in the Ro24 in this tournament, with the Terran winning the deciding ace match against the United Kingdom's RiSky. But even the fact they had to go to an ace match against a largely unknown UK team, a country that is not known for its' great StarCraft players at that, is very telling.

TurkeyDano
has gained much fame from his 'creative aggression' builds, which won him some unexpected victories at a previous Nation Wars tournament. But so far, he sure seems like he could be a one hit wonder, with his builds easily figured out.

Erik
ranks among the top 5 players in Latin America, being up there with Cham and JimRising from Mexico behind Kelazhur and SpeCial, and certainly did some work before at Nation Wars, but again—these miraculous performances seem like one-off scenarios, not happening consistently. And the only consistent part of their roster, Kelazhur, is mainly preoccupied with studying nowadays—but then again, he's said he plays better when he doesn't have the pressure of being a full-time pro. In any case, it seems that Latin America will have two underdogs in this group (though China and Mexico are definitely matched much closer), fighting an all-around uphill battle. Can they overcome the odds?
Prediction: Germany
and
China
to advance.
---
Credits and acknowledgements
Written by:
TheOneAboveU
Editor: Wax
Images: O'Gaming