For the Love of StarCraft: Axiom Esports
Foreword: Last year, I set about to writing an article memorializing TotalBiscuit and his legacy in StarCraft II. In the course of researching and conducting interviews, I found that his story was inextricably tied to that of others. Commentary might be what most StarCraft II fans came to know TotalBiscuit for, but the family created in Axiom Esports was the purest expression of his love for the game. This is a brief version of their tale.
*****
On March 2nd, 2018, Kim "
Ryung
" Dong Won walked on stage at the IEM World Championship in Poland, one of the biggest StarCraft II tournaments of the year. Like many of his fellow competitors, Ryung wore the uniform of a professional team. The stylized letters 'A' and 'X' adorned his sleeve in red and blue, underlined by text that read "Axiom Esports."
Axiom had disbanded three years prior.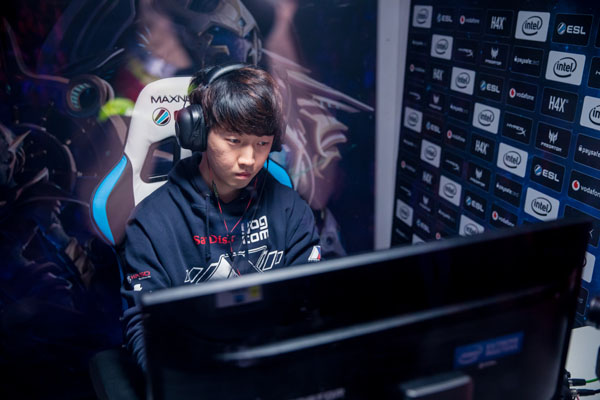 Photo: Bart Oerbekke (via ESL)
The story of
Axiom
begins with another Korean progamer. In July of 2012, Choi "
CranK
" Jae Won parted ways with his previous team of
SlayerS
. A former Brood War benchwarmer who had been lured back to progaming by StarCraft II, Crank's short stint on SlayerS had been unremarkable outside the
spat with ownership
that led to his departure. With a virtually empty tournament resume, Crank chose an unusual strategy to find himself a new team: appealing directly to the international community. What he lacked in English skills he made up with earnestness and charm, and he made the most of
Twitch and community sites
to gain popularity as the Korean pro who broke the 'faceless' stereotype.
With
MLG Raleigh
(a major international event at the time) soon approaching, an idea
popped up on Reddit's /r/StarCraft
. The community had
crowdfunded MarineKing's trip
to an MLG tournament one year prior, so why couldn't they do it for another fan-favorite? The community effort was also noticed by Crank's soon-to-be patrons: Genna and John Bain.
To the internet at large, John "
TotalBiscuit
" Bain was known as an outspoken video games YouTuber with a scathing wit. To the StarCraft II community, he was a bombastic commentator blessed with the gift of gab.
Genna Bain
—though not yet widely known in the SC2 community—was the CEO of Highbrow Studios/CynicalBrit, the company managing the TotalBiscuit content empire.
Within a day of the posting, the wife-husband duo had
offered Crank a personal sponsorship through CynicalBrit
. They would cover the cost of his travel to the event—the StarCraft II community would chip in for the hotel. It was such an out-of-the-blue offer that Crank recalled thinking "it was a scam, absurd that someone would offer support for flight and lodging" at first.
The goal was to give Crank a chance to show his skills to the world so that he might find an international team. Once he was given the opportunity, Crank turned MLG Raleigh into the showcase tournament he needed, wildly outperforming expectations with a top-twelve finish—even defeating two-time major champion TaeJa along the way. Yet, the subsequent offers from professional teams were below expectations, even with Genna acting as his agent.
After looking back on a four hour car ride with Crank and contemplating the state of StarCraft II in Korea, the Bains decided the best option was the most drastic one: Start their own team.
On September 26th, 2012,
Genna Bain announced Axiom Esports
with Crank as the founding member. A Reddit post snowballing into a personal sponsorship, and a sponsorship snowballing into a progaming team? Ridiculous, perhaps, except to those who knew the Bains.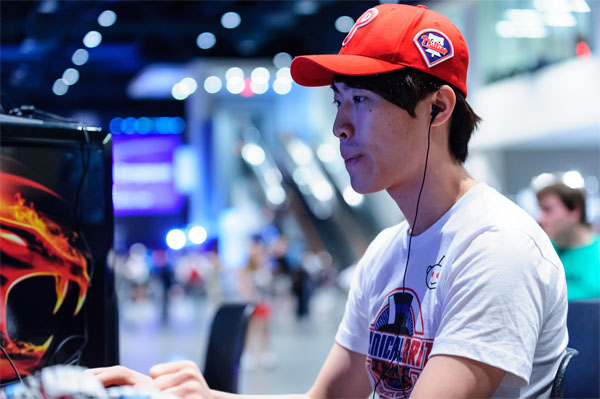 Photo: Kevin "Silverfire" Chang
It's hard to know exactly why the Bains came to become so passionate about competitive StarCraft II and the community around it. In some ways, it was a natural fit—Genna had been a long-time fan of both Western and Korean esports, while TotalBiscuit had been a fan of Command & Conquer and other strategy games. When StarCraft II soared to prominence in 2010 as the game that might reignite esports in the West, it attracted attention from all corners of the gaming world. Yet, even as StarCraft II faded from its 2011-2012 peak, the Bains became even more deeply involved.
Prior to founding Axiom, the first two SHOUTCraft Invitational tournaments had been funded with the ad-revenue from TotalBiscuit's StarCraft II streaming, while CynicalBrit had given a previous
individual sponsorship
to British pro Samayan "BlinG" Kay.
Shaun "Apollo" Clark—once TotalBiscuit's
regular partner
on the commentary desk—had also been helped by the Bains early in his career. Like many aspiring casters in the nascent days of StarCraft II esports, Apollo worked some events for free, for the sake of the opportunity alone. When TotalBiscuit found out, he split his pay with Apollo. On later occasions, Genna would even act as his unofficial agent. "Genna would do the negotiations for John … And then, because we were casting together, she would do the same for me. She would be like, "
'John gets this, and we want the same for [Shaun], too.'
"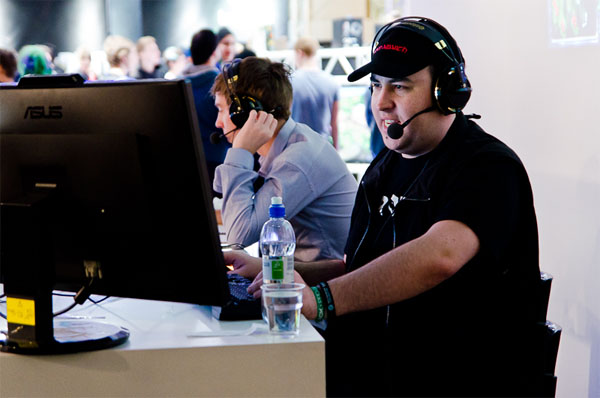 Photo: Jussi Jääskeläinen
In autumn of 2012, Axiom arrived in a pro StarCraft II environment that might look bizarre when we look back from the present. The preponderance of skilled players resided in Korea—that much was the same, if not even more imbalanced than now. But there was also a vibrant third-party (non-Blizzard)
tournament scene
at the time, as well as handful of teams offering livable wages—and they were all in the West.
Marquee Western organizations were still signing top players and flying them around the world to give their sponsors exposure at various tournaments. They could be cold blooded in their pursuit of championship players from Korea—
Evil Geniuses poached TSL ace PuMa
almost immediately after his
NASL
win, while Mousesports
signed
Dear as a champion and
dumped him
months later when he fell out of GSL Code A.
Axiom had different goals. "...I would like the team to serve both TB and my hopes of bettering the state of eSports in Korea." said Genna in the
Reddit thread
about the founding of the team. "At present many Korean SC2 players do not actually receive a salary or receive a small salary that does not really support a stable career."
For TotalBiscuit, it was also about righting an injustice. He commented on
TeamLiquid.net
"...there are Koreans who have a higher skill level and are willing to work harder while not even getting paid a salary … You can be a middling foreigner and get paid a salary, you can be a fantastic Korean and not get paid a salary. How is that fair?"
With Crank acting as player-coach and scout, Axiom set out on the difficult task of filling the roster out with players who needed a team, but also had the potential to deliver good competitive results. As Crank put it, "we were looking for diamonds in the rough." Axiom's content manager and teamhouse manager Olivia "Olimoley" Wong said the approach to scouting was "...they wanted to basically not just grab champions, but they wanted to make champions. If we give them this opportunity ... they can focus just on the game and actually reach their potential."
The team's second signee was Ryung, another ex-SlayerS player who had met the Bains alongside Crank at MLG Raleigh. Besides playing on the legendary Boxer's team, the most he was known for was a single quarterfinal appearance in GSL Code S. When SlayerS folded altogether, Axiom signed the teamless
Miya
, and soon after added
Alicia
and former Complexity player
Heart
to round out its roster of second-chance seekers.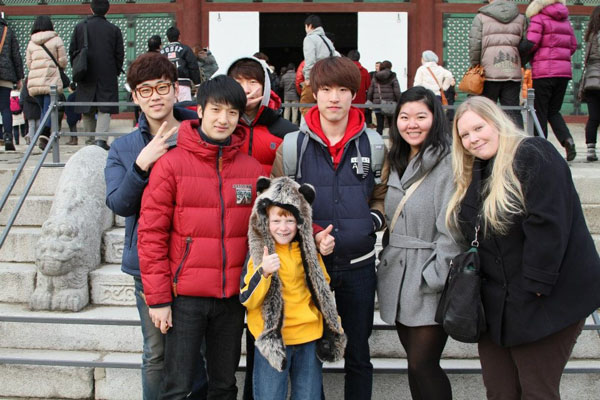 Photo: Axiom Esports
Axiom set the tone for its new signees early on. "We were living together after leaving SlayerS, it wasn't the greatest place, it was kind of small." recalled Ryung. "Genna came to Korea with her son and saw where we were living, the very next day she signed off on a new,
expansive apartment
for us. We weren't players who could expect that kind of treatment…" It wasn't enough to have a teamhouse—a ubiquitous presence in the Korean esports landscape—it really had to be a home.
The first year of Axiom brought mixed success, with the best results being Ryung's top four in GSL Code S while Alicia achieved the same finish at Assembly. Crank and Heart reached the playoffs of the newly formed WCS America tournament once each, though Miya retired without shedding his reputation as a 'practice-only bonjwa.' Still, ownership wouldn't press the players directly to improve their performances. "There were a lot of times when I wasn't getting results, and they could have [pressured] me about that, I could have been looking over my shoulder, but that never happened. ...if I did well, they said 'good job,' and if I did poorly, they told me 'you'll do it next time.'" said Ryung. When Ryung infamous
raged out of his GSL semifinal match
with a hail of "IMBA"'s and was chewed out by both GSL management backstage and the SC2 community online, TotalBiscuit made sure to
stand with his player
.
Year one also saw the compounding stresses from team ownership and personal health issues take their toll on Genna Bain, and in August of 2013, she
stepped down
as owner of Axiom following a
complicated dispute
with TakeTV in the Acer TeamStoryCup tournament. TotalBiscuit took over as Axiom's team owner.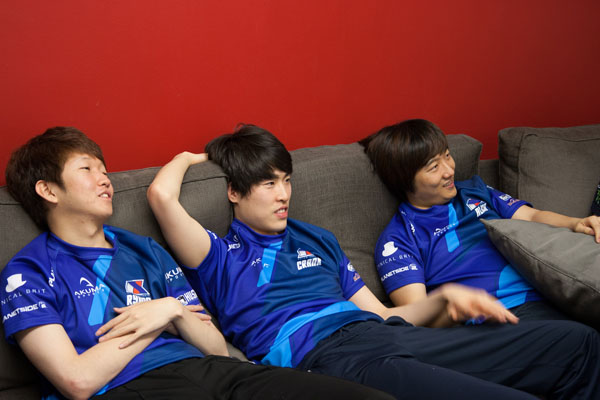 Photo: Richard "R1CH" Stanway
It was not a star-studded roster by any means, but the desire to
win
still surged from within. "I was of the mind that I
had
to lead this team to a championship and prove ourselves." said Crank of
GSTL
, GomTV's team competition. In many ways the GSTL was Korea's secondary team league, overshadowed by the long tradition and legendary teams of the KeSPA Proleague. However, for Axiom, and Crank in particular, it was about proving a point. "It's a team league, so you know there's not much prize money when you split it up … but the biggest thing was to show something, prove to everyone that we could do it."
Axiom partnered with Acer to enter the GSTL as Axiom-Acer, which added Scarlett and MMA to the roster (MMA would effectively become an honorary member of the team. Once an acquisition target, Genna let him stay at the teamhouse for free even after the deal fell through). However, Axiom's first foray into the GSTL in
Season 1
of 2013 seemed to mirror its players' individual success—the team reached the playoffs, only the be smashed by star-studded Incredible Miracle in a 5-0 sweep (ironically, it was the lesser-known Yonghwa who scored the all-kill).
The
next season
, Axiom received some much-welcomed reinforcements.
Impact
(formerly of Woongjin Stars) signed on and filled the Zerg spot left open by Miya. But the biggest impact came from Acer's acquisition of elite Terran INnoVation, giving Axiom-Acer a much needed card at ace. The addition of star power proved significant, as Axiom-Acer dominated the regular season to earn a seeded spot in the playoff finals. However, the strong regular season gave way to disappointment in the first leg of the grand finals, with AZUBU taking a convincing 4-1 victory. Axiom-Acer just barely rallied back in the second leg, with INnoVation closing out a tight 4-3 victory. The 1-1 series tie left the finals to be decided in dramatic fashion in 'super' ace-match: a best of one with everything on the line.
AZUBU sent out SuperNova, while INnoVation took the helm for Axiom-Acer. The AZUBU ace went for one of his specialties—a deadly one-base tank push to take aim at his more orthodox opponent. INnoVation responded by making a decisive move of his own: sending two Medivacs full of Marines at SuperNova to force a chaotic base trade. In a nerve-wracking finish that saw both players go down to under 20 army supply, INnoVation was able to weather SuperNova's desperate, final attack and cinch the championship for Axiom-Acer.
Interviewed after lifting the trophy, Crank thanked Genna and John, who he knew would be watching. Indeed they were, Genna in North Carolina, and John in New York at Red Bull Battlegrounds, staying up for nearly three days straight to watch the finals while also attending to his other great passion of casting StarCraft II matches.
We did it! AxiomAcer are the #GSTL champions!! pic.twitter.com/Zwoa04e5DP

— Axiom eSports (@axiomesports) November 23, 2013
That 2013 GSTL championship—won one year and two months afters Axiom's founding—would end up being the team's only major title. By 2014, Korea's fabled KeSPA teams had completed their conquest of the domestic scene, leaving Proleague left as the only major team competition (TotalBiscuit later said he regretted not pushing harder to get Axiom in). Axiom's members shifted their primary focus to Blizzard's WCS and third-party tournaments held internationally, with the team's support enabling the players to participate in such events. Though no individual titles followed, Axiom's players enjoyed moderate success. Heart finished second place at
WCS America Season 3
, while Impact took second place at his debut international event at
DreamHack Bucharest
.
2015 brought a series of hardships for the organization. StarCraft II esports continued to struggle, and several teams—both Korean and international—had
reduced
their rosters or
disbanded
entirely
over
the
years
. Furthermore, Blizzard made a drastic change to competitive policy in 2015, implementing a
region-lock
that effectively barred the majority of Korean players from Blizzard's WCS Circuit events. Teams like Axiom—those with mid-tier Korean players competing in the nominally WCS "Americas" and "Europe" tournaments—were hit the hardest by the changes, and Axiom's players struggled to perform when they were forced back into the GSL. If the other players weren't being subjected to direct pressure regarding their results, Crank was putting it upon himself. As captain and
de facto
manager of the team, he was in position to understand the relationship between results, sponsor exposure, and the continued existence of Axiom.
The deciding factor would be TotalBiscuit's health. After being initially
diagnosed
with bowel cancer in 2014—things took a turn for the worst in 2015. In October, TotalBiscuit revealed his cancer
had become inoperable
. Simultaneously, Axiom announced it would be
shutting down
. "Unfortunately the environment just isn't fertile anymore for Axiom to survive and even if it were, it is one big financial and time investment that I am going to have to give up in order to focus more on my family life and medical expenses." wrote TotalBiscuit. "Hopefully that doesn't sound like an excuse, I think at this point it is the only responsible course of action."
TotalBiscuit later estimated that he had
spent approximately $250,000 on Axiom
over its three year run. Even with the multiple sponsorships procured during its run, the Bains stated that Axiom was barely a break-even operation. At the very least, it seemed obvious that the opportunity cost of Axiom made it a loss, compared to more lucrative opportunities they might have pursued elsewhere in gaming.
Therein lies one of the most curious paradoxes of Axiom. TotalBiscuit was someone
capable of thinking and speaking
about the StarCraft II esports industry in deeply cynical and realistic terms. As team owners, tournament organizers, and gaming content creators, the Bains were in one of the best positions to realize the dwindling popularity and monetary opportunities available in the StarCraft II scene. While always supportive of Axiom's players, TotalBiscuit did not sugar coat or shy away from the fact that Axiom had performed poorly once Blizzard forcefully returned them to the Korean fold.
Yet, it seemed that all those harsh realities only served to make him double down on his efforts. Crank recalled asking TotalBiscuit on more than one occasion why he persisted with his efforts in StarCraft II, when nearly every one of his other business ventures was more lucrative. The response was always the same: "because I like it." Before his diagnosis, the plan had been for Axiom to reorganize their roster and participate in Proleague in 2016, or otherwise restructure the team to continue operating. The team only ceased operations when the situation became, literally, a matter of life or death.
After Axiom closed, the Bains continued stay involved in StarCraft II, partnering with Blizzard to run the
SHOUTCraft Kings
series of online tournaments, while TotalBiscuit commentated at the 2016 and 2017 WCS Global Finals.
On May 24th, 2018,
TotalBiscuit passed away
at the end of his four year struggle with bowel cancer. He requested his remains be interred inside Axiom's GSTL championship trophy—
his way of not 'losing' the battle with cancer, but going out a champion
.
Always a champion, @Totalbiscuit's remains have been placed inside our GSTL Championship Trophy. His passion for @StarCraft lives on. pic.twitter.com/89LvLhPCP2

— Genna Bain ♡ (@GennaBain) June 1, 2018
A few years ago, I asked INnoVation about Axiom-Acer's GSTL title run. For all his
joy in the moment
, the memory seemed to have faded for the hero of the deciding ace match. He referred to it as a 'tier-2 league' without giving it much thought, and honestly, he was right. I neglected to mention earlier that GSTL Season 2 in 2013 was the smallest and final season of GSTL, with just five of the surviving non-KeSPA teams participating before Proleague took over entirely. For a player who lived at the pinnacle of competitive StarCraft II, perhaps it was understandable that he filed that victory away in his mind as a footnote.
But when I went back to TotalBiscuit's
parting message
from 2015 when Axiom closed its doors, I had to wonder if the real significance of trophies doesn't come from the GG's forced, prize money collected, or the cheers received—but if it instead comes from the people that lift them.
"While we had limited success as a team when it came to results, I feel like we had great success as a family. As a result of Axiom, CranK is getting married. He met Olivia at Lonestar Clash 2, where he finished 3rd under the Axiom banner. Axiom literally changed his life. Ryung, Heart, Alicia and Impact grew so much as people in the years they spent on our team. Both myself and Genna grew to know them as family rather than employees. We will miss them and try our best to provide support should they choose to continue their progaming career. We'll never forget the time we spent with them, through triumph and the heartache of failure.

If the legacy of a team when it finally closes its doors is purely down to its results, then I guess some people would call the project a failure. To me though, the legacy of a team is the times we shared and the memories we created, things that we will never forget. We all revelled in the passion of competition and were proud of the things we created ourselves, from the ground up. Axiom might not be remembered as the best team or the most successful, but I hope it will be remembered as a unique team, born from the passion of a handful of people, that outlasted many others and did things their own way, even if it wasn't the best way. While I might regret some decisions made and paths taken, I will never regret our time together."
*****
Ryung went on to finish top 16 at IEM Katowice 2018, wearing Axiom's uniform and displaying the team's logo in-game. Later that year, I asked him why he chose to represent his old team.
"Now that I'm older and I've played on other teams and been teamless, I've realized that that time was really… I often think to myself 'really, just unconditionally, without asking anything from us, they did THAT much for us.' I thought a lot about it—not just before IEM—just about what I could do for Axiom in the present. One thing was to belatedly wear the uniform, play well at IEM, and even if I wasn't signed to Axiom, I wanted to compete feeling like I was part of Axiom again, and send my heart out to them...

...Actually, I've never told John or Genna this personally. But nearing the end of my gaming career, The biggest thing that makes me think it was a great decision to become a progamer is simply the fact that I got to meet John and Genna. Being supported by John and Genna in itself. I'm so truly thankful to them that I wonder if I'll ever meet people like them again in my life."
---
Acknowledgements and Credits

Writer: Wax

Photos and images: Axiom, Blizzard, Kevin "Silverfire" Chang, Jussi Jääskeläinen, Bart Oerbekke (via ESL), Richard "R1CH" Stanway.

Editing and advising: Olli, TheOneAboveU, Julmust, Plexa