Mexican Zerg pro

Cham stepped into the spotlight at WCS Winter Americas, making a surprise run to notch a 5th place finish in the playoffs. But was it really that big of a surprise? Cham had previously finished #9 in the 2017 WCS Circuit standings before suffering a slump in 2018. TL.net talked with Cham about recovering his form, the mental aspect of StarCraft II competition, and finally beating his regional rival SpeCial.

*This interview has been edited and condensed.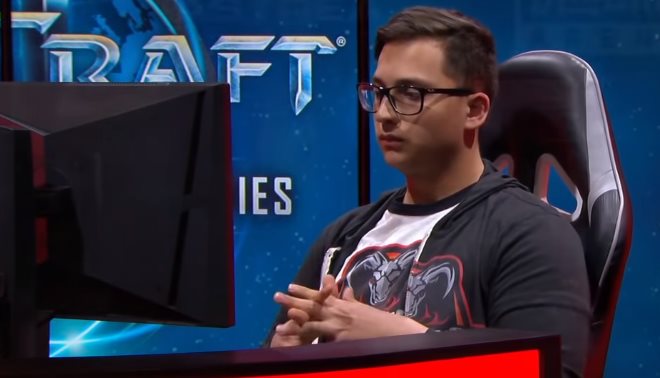 Image: Blizzard
Wax: How did you get into StarCraft, and how did you end up going pro?
Cham: I used to play a lot with my cousin, XBOX games mostly. He used to play StarCraft 1, so when StarCraft 2 came out, he just told me we should play THAT game. I just loved the game. It was like, love at first sight. I was in school at the time in 2010, but I knew about esports. I heard about SlayerS_Boxer, I followed Mvp as well, MMA, all of those players. I was a Terran fan myself—also Zergs—but Terran players I was more of a fan of, even though I was Zerg. But I kind of had the dream right there.
When I became full time, I think it was between 2015 and 2016? That was when I finished my
preparatoria
(high school). So instead of continuing school, I decided to go full time. I just really liked to do this, and I had a dream there. I just felt a lot of passion, when I pictured myself on the big stages, or even winning a championship, or just living the progamer life. So I just went for it. In 2016 I had my first major event where I got top eight, and I saw hope in that. So I've continued doing pro SC2 until today.
How well do you know SpeCial? You're from the same area?
Yeah it's actually the same city. We're friends, we're on good terms—actually his mom helps me out, we help each other out, you know? For example, she helps me in getting visas and stuff, and sometimes—you know Juan is in Korea—so she sometimes gives me a few things to give him [at events]. Unfortunately we have to play at every event like, WESG qualifiers where he beat me, that's why I didn't qualify. And at WCS I beat him, I finally beat him.
Finally beating SpeCial. Was it a big moment for you?
Yeah, of course. I mean after that 2018 I had, which was SO bad... I mean, this was really... It felt really good actually, it felt like I won a tournament. I mean, I knew that I was in good shape and everything, and I know there's all these factors you could bring up like he was tired or something, but still, I think I played a nice game. At least in the decider match, because in the other ones I think I played bad
*laughs*
. Yeah, it felt like a really nice achievement for me, because I got denied by him a lot [in the past].
Was it important to do well at WCS Winter Americas, since it was an 'easier' tournament?
Well, yeah, it was a bit easier. Even though I had to play Kelazhur at first [in the RO32]. But in the round of sixteen, I think beating SpeCial, it makes it a better result. SpeCial is one of the best players, including Europe. If I got top eight by just beating some others, normal caliber players, you could have said it was easier. But I think with my RO16 group, it wasn't easy. I think it was harder than Europe probably, or the same.
Were you confident that you had the skill level to beat SpeCial, and your problems were mostly mental?
Yeah, well, it's all mental. Usually when I play important games, I still get... How to say—it's not nervous, it's just a lot emotions. It's on you to dissipate them correctly, focus better, so I've been working on that. I'm still working on it.
Is that why the WCS playoff match versus MaSa (1-3 loss) went the way it did?
I think the first two games were fine. The reaper game I practiced against it, but okay, he played well, and I had a couple of mistakes—he can can have the game.
The last two games I regret so much because the mental stuff really hurt me. For example, I felt so much pressure, I felt nervous, I felt excited, I felt everything. And there was voice in my head that was talking to me, wanting to get rid of the pressure. So that voice tells me,
'hey, do this push, or do THIS push, or do this...'
Just a lot of random stuff I didn't do in practice because it wants to get rid of pressure that I have at the moment.
The last two games I wasn't able to do the correct builds, so I think that's why he beat me? I'm not saying he's bad or anything—he played well for sure. I felt stronger at the time if I just played macro games, but in the last two games I did really bad stuff. The last one, I went for a roach timing and I NEVER do that, I never do that
*laughs*
. Or like, in the other game I opened 17 pool, even though I had agreed to myself that even if I went to the event, I wasn't going to 17 pool. I wasn't able to be like
"Cham, just calm down. You traveled all the way to play this game, so just play normal and standard, alright?"
2017 went very well for you, getting top eight at two WCS events, but then things went awry in 2018. What happened?

Well, 2017, I had the hype, I was really doing it, but I had some personal issues that I can't go into, going on at the end of 2017. And during all of 2018 I had some personal stuff that made it so I couldn't concentrate or focus on my dreams, so that's why I started to do bad at StarCraft, at keeping my health. Right now I'm just trying to catch-up with diet, going to the gym, trying to focus more. I feel like I am kind of getting in shape at least.
So I think that's the difference between 2017 where I used to have a balanced life, and 2018 when I had some personal issues. Then this year, that was over, you know? I can focus more right now. I can have the balanced life I had before, so that's why I'm doing better I guess.
What's the outlook for 2019?
I think, well 2019 I feel like a better player for sure, inside and outside [the game]. I think I started kinda okay—I started good at WCS Winter but then I lost against MaSa, I felt like I could have done way better. But overall, I think I'm okay. My dream, of course, how I picture myself this year is to at least go to BlizzCon, or qualify. I am rank 9 at the moment, but I can catch up with Challenger, and I just need to keep doing well in WCS, get top eight and stuff. But I think it's going well.
A few veteran players like Nerchio are not playing like before, a few players are playing better, it's all a mix. But, I feel a bit confident that I'm able to prepare. And I have a good seed, I feel like, in Copa America. So I think it comes down to me just practicing. I know it's gonna be hard. I mean, everything can happen, I could get Ro32, but I think I could get top eight [at a WCS Circuit event] if I practice a lot and focus a lot.
What was it like playing in those early 2010's WCS Mexico and WCG events when you were still a young student?
Personally it felt really nice, I remember I was so excited to attend. Just to gain experience, feel the experience of being a professional player. In Mexico, in my area, games, progaming was not really well known at the time. It was like, all of my friends, and even my teachers in school helped me a bit so I didn't get negative grades at school. But yeah, it felt really good in both aspects, social and personal, being a progamer. So I was really happy at the time.
Other people knew that I wanted to do it as a job, but at the time I wasn't the greatest player. So, it was more like,
'oh, it's so cool that you get free travel'
or
'You're going to experience China,'
for example, instead of
'you're going to win money,'
or
'you're going to take the championship.'
It was more of like a tourist thing, I guess?
Any plans to go to Korea?
I want to go to Korea for sure. I'm not sure about GSL—if I go to GSL I won't be able to play Challenger. But maybe like Super Tournament—if it's some special tournament I'd like to. But I have to perform, because if I don't perform, it's kind hard to go there in terms of money. Cause if I don't qualify to the 2nd Kiev event I won't have free travel. For example, after going from Mexico to Kiev, instead of going back to Mexico, I'd just ask to go to Korea. So I have to perform a bit before I can go, still.
Okay, here's our 'traditional' pirate question. Pirates have kidnapped one of your loved ones and are holding them on a boat. Which three people from the SC2 scene do you recruit for your rescue team and why?
I don't know most of the StarCraft people, man. My social stuff on StarCraft is really low. I don't really KNOW them, you know? I don't really have an intimate talk with them or anything, I don't know how they are.
I'll talk you through it. Who's the galaxy-brain?
Well HeroMarine is pretty smart, so he could do that part well.
Who's the muscle if HeroMarine is drawing up the plans?
If HeroMarine is the brains.... everyone in StarCraft isn't that good [at the strength part]. They are all tiny, I can be the muscle, let's go!
Who can be a diversion, a distraction?
It's so tough. I'm thinking about Astrea, but... with his talks, his books are pretty good, he can distract them pretty good I guess?
And who do you want to keep around just for good company?
I can send Namshar, he's a lucky boy. I will pick him just to talk to him while we plan.
Any final comments or shoutouts?
Shoutout to my team, of course.
Chivo
just opened a new shop, check it out at
chivosc.bigcartel.com
. Support us in the offline events, and I'm just pretty happy with them. And, thanks to my family and friends as well for their support. I'm just really happy and excited to do be doing this. StarCraft is a really hard game, but you just gotta do what you love. If I wanted to [make money] I'd just open a business or something, but I do it for the passion.
---
WCS Austin begins on Saturday, Jun 01 9:00pm GMT (GMT+00:00).
See how Cham defeated Special to continue his WCS Americas run!
You can follow Cham and Chivo SC on Twitter at @ChivoCham and @Chivo_SC. You can watch Cham's stream at Twitch.TV/ChamSC2.