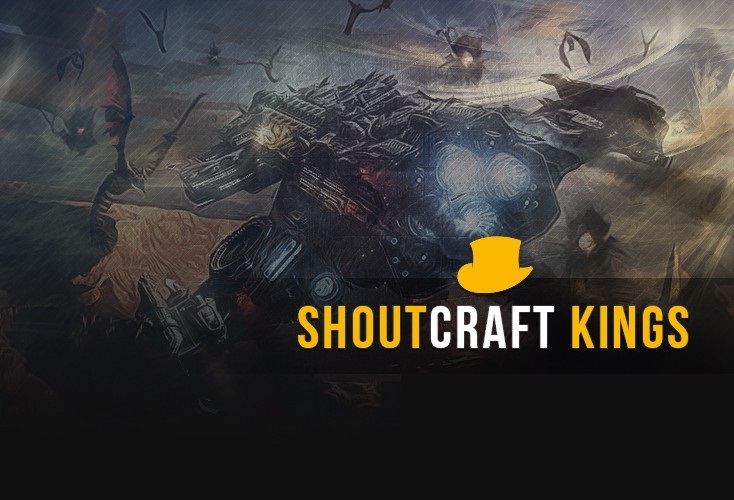 After last month's absence, everyone's favourite Starcraft / WWE hybrid tournament has returned! For those who've been living under a rock for the past year, here's a quick breakdown of what you can expect:
Twenty Bo1 matches in King of the Hill format, featuring 21 top class players from around the world.

Players play for $350 per map win.

A bounty of $25 is accrued by the King for each map win, with the full sidepot going to the player who beats him.

Ready for high class games? Hilarious grudge match picks? Read on for a recap of January's games, as well as a preview of the players that have been announced for Saturday's show so far, as well as a couple that haven't...
SHOUTcraft Kings January - Recap
We've seen SHOUTcraft events separate themselves into two main categories. There are those where one player destroys the competition (e.g. INnoVation and Polt taking 11 wins between them in SHOUTcraft Kings' debut back in July, or ByuN and Nerchio sharing 16 wins in September), and there are those where pretty much everyone wins a match before passing the baton on.
SHOUTcraft Kings January fell squarely into the latter category. A massive 9/20 players managed only a single win, while
ByuL
and
soO
topped the table with four and three wins apiece. Joining them in the rarefied multiple win tier was
Zest
—beating both
INnoVation
and
aLive
with clean blink stalker / colossus play—as well as his surprise conqueror
iAsonu
. Rushing straight to swarm hosts on Daybreak caught Zest off-guard, abusing the 12 o'clock base to rain down hell on the protoss main, before taking out Trap as well with a mass ravager push.
A whole host of previous competitors fell by the wayside. This was definitely a 'famine' month in INnoVation's love/hate affair with the competition, falling to Zest at the first hurdle, and
ByuN
and
Dark
too had to depart without a win following losses to ByuL and soO. INnoVation and ByuN are #1 and #3 on the all-time SHOUTcraft Kings win rankings, with 15 and 11 respectively, but it's notable that after their blistering starts they've both screeched to a halt. INnoVation took 10 wins from his streak across July / August, while ByuN took 8 from September—if they want to stay at the top, it's time for them to perform.
VODs for SHOUTcraft can be found on TB's youtube channel:
Games 1-5
Games 6-10
Games 11-15
Games 16-20

SHOUTcraft Kings March - Preview
The Reigning King — Bunny
As one of the most exciting up-and-comers of early 2017, Bunny's recent decline has been a bit worrying to watch. The long-time CJ Entus B-teamer seemed freed after his team's dissolution in late 2016, and many noted his heavy-duty streaming hours and subsequent surge up the KR ladder. His claim that he was now practicing three times as much as he was in the old teamhouse is either affirmation of his new drive, condemnation of his commitment to the CJ cause, or some display of creative mathematics (pick your own answer), but it's undeniable that he's looked better than ever before.
Having said that, his offline results are still thoroughly unspectacular so far. Tame elimination from the GSL Ro.16 to Maru and sOs was followed by failure to qualify for the SSL Premier, and his latest disappointment in the VSL—smashing Rogue in his opening match, before playing far below par in a rematch that sent him out of the competition. Still, the temptation of the prize pool on offer with his guaranteed SHOUTcraft seed is consolation, and it'll be interesting to see if he can return to his online roots to re-establish his early season form.
The Chinese Hope - iAsonu
Heading into the new-look WCS system of 2015, China had long been fêted as the dark horse of the foreigner Starcraft scene. However, their results were anything but; a long line of quick eliminations and forgettable performances, and as China's leading export, qualifying for Premier on all three occasions, iAsonu was one of the most disappointing of the lot. His inability to make an impact on the foreign LAN scene continued in 2016, with elimination after elimination in the Ro.16 / Ro.32, and yet behind the curtain he was dominating tournament after tournament in China.
In the GPL—China's series of offline SC2 tournaments—iAsonu has two wins, two second places, and a top 4 finish in his five tournaments attended, while he also grabbed his only notable placement against international players with a silver at GPL International 2015, featuring wins against Flash and Lilbow (twice). His rise in this WCS year has been swift—he became the sole foreigner qualifier at IEM Gyeonggi, beating TAiLS, ByuL, Trap, and Bunny in the qualifiers, as well as Solar at the actual LAN event, while his entertaining performance in January's edition of SHOUTcraft Kings, beating Zest and Trap, must have been a big reason behind his invite this time round as well.
The GSL Double Act - Ryung & Stats
If you're looking for a pair of quality invites, then you can hardly do better than a pair of current GSL semifinalists. Ryung comes in as the ultimate sniper; a player who's reshaped his game to compete against more mechanically gifted opponents, while Stats enters as arguably the best player in the world right now, confident and complete in all matchups, against all opponents. While they clearly do have a match of greater importance coming up before SHOUTcraft (hint hint,
go read our GSL preview here
), we all know what a bastard TotalBiscuit is. Rematch?
The Best of the Swarm - Dark
Dark will be fuming. After dominating Korean Starcraft for the entirity of the 2016 WCS year, all he got to show for it was a pile of money, an SSL trophy, and the respect for being the best player of 2016 by a mile (and a cross-finals trophy I guess, if you count those things). Now though, things are ramping up. We've got triple starleagues in Korea, IEMs back on the menu (albeit with no more on the horizon), and the prospect of the GSL Super Tournaments to come too, and yet Dark is faltering for the first time in Legacy.
Two top 4s at IEM and his customary Ro.16 exit from the GSL would be a great return for any other player, but Dark was meant to be different—the fact that we're all taking his goals of a 10 trophy career haul seriously tells you something about our expectations. He looked in great form in Katowice—especially the absolute ease with which he ghosted past Solar and Serral without dropping a map—and it's time for him to get back on the championship wagon. Dark will want his title as Best Player in the World back—what better way to do it than by smashing all his challengers away here?
The Rookie of the Year - aLive
Everybody's favourite terran returns for another attempt at the online circuit. And for those of you who still think I'm being sarcastic in these previews—did you not watch IEM Katowice? Katowice was chock full of brilliant matches and series—INnoVation's clash with Dark in the group stages; Dark's incredible display of ZvZ in the playoffs, Stats' masterclass of late game PvT and PvZ against ByuN and Dark—but for me, the highlight was undoubtedly aLive's return to weekender glory. A clean 5-0 sweep of his group, including both eventual finalists, was followed by a win over one of the best players in the world in INnoVation, and a nail-biting, heart-breaking 2-3 loss to TY in the semifinals.
His titanic 3-2 win over INnoVation was the finest TvT series we've seen in Legacy so far; a reminder of the glory days of the matchup, before widow mine drops and reaper rushes and tankivacs transformed a boxing match into a pub brawl. That final game on Abyssal Reef alone will likely go down as an iron clad nominee for game of the year; a staggering display of what we want harass to be—a surgical dissection of a world class opponent across multiple locations simultaneously—rather than the 'oh look, your doom drop killed me again' surprise that we so often see.
It's not uncommon to see INnoVation tilt, for him to look angry after a defeat or to spend some time processing a loss. It's pretty rare to see him as thoroughly beaten as this though, to the point where it took him dropping to 2 supply to type gg. Very rarely, you'll get a game that you feel summarises a player completely; a game that will be etched in people's memories as their greatest achievement. Curious vs INnoVation on Frost; Losira vs GuMiho on Akilon Flats; Dream vs Life on Overgrowth; Squirtle vs SoulKey on Neo Planet S. With that game, aLive joins the immortals. Try to forget him now.
Time until SHOUTcraft Kings March

Catch SHOUTcraft Kings live at:And be sure to check out the King's Court Talk Show on YouTube for more content for SHOUTcraft Kings.