IEM Season 9
World Championship
Countdown:
Detailed information on
Liquipedia
Back to Katowice: Pole Positions
by TL Writers
The World Championship is the culmination of a year long event that has given us some of the best games of HotS and some of its most memorable storylines. A year is a long time, and memories might need refreshing. Let's take a look at the sixteen players competing and how they got here.
herO - IEM's Champion
Life is the talk of the town. Who could blame them? After all, Life was the 2014 Blizzcon Champion. He followed it up by barely losing to ForGG in the Dreamhack Winter Finals, defeating Maru in a 4-3 nail-biter at IEM Taipei and then barely losing to Dream 4-3 in the SSL semi-finals. Yet if you look closely past Life, you will see two players coming in hot at his heels, ready to knock him off his pedestal if he flinches. Maru represents the Terran race, poised to take his second Korean LAN and a true challenger for the IEM WC title. For the Protoss it is herO, Life's semifinal opponent in GSL and another candidate to take the IEM WC title. And while there are huge names in attendance like Zest, Flash, Rain and TaeJa, the protagonist of IEM is herO.
Every tournament circuit, if it is run long enough, is irrevocably tied to certain pro players. For MLG it was Boxer and the SlayerS team in general. For a tournament series that had such a huge impact on the scene, MLG's crowning moment will forever be that picture of Boxer being the last player practicing in a vacated hall. For Dreamhack it was the Liquid boys and the Swedish mafia. Everyone remembers HerO's victories in the winter season, TaeJa's countless losses to champagne and the heroic runs of players like Thorzain, Naniwa and Sjow. For GSL, it is without a doubt Mvp. After all, only Mvp would dare use a battlecruiser build for a finals and only Mvp could make you believe in 11/11 during a deciding game.
For IEM, their champion is herO. In many ways herO's success parallels IEM's success in the SC2 world. IEM was always a great SC2 tournament circuit but it wasn't until 2014 when IEM not only exceeded MLG and Dreamhack, but became the best SC2 LAN circuit in the world. Coincidentally or not, this came about through 4 successive tournaments, starting from IEM Singapore and ending with Katowice; herO was the champion of the first two and the victim in the last. And IEM could not have asked for a better player to represent them. His games are always crisp, dynamic and exciting. He never seems to go down and is hopelessly optimistic. He has that natural sense of goodwill that makes him easy to cheer for, no matter the opponent. You just can't help but feel a little bit for him each time he loses a critical series to proxy 2 gate. (Fun fact, herO has lost 4 times to proxy 2 gate at critical junctures, costing him approximately $161,415).
Right now, in terms of total gameplay, herO may be the best Protoss player on the planet. Zest has failed to qualify for any Korean LANs; Rain and Stats have both been defeated in GSL/SSL. herO's only real rival among the Protoss race is PartinG, who may be on the verge of taking a coveted GSL title. Most importantly, sOs is nowhere in sight to 2 gate him. herO spent all of 2014 as merely one of the great Protosses, stuck behind Zest's shadow. Now herO has the chance to rise up above his brethren, win IEM and declare his candidacy as the best Protoss.
Cure - The Longest Day
Whenever you hear a caster say something like "This player wants to win so badly, he wants to win way more than his opponent", there is always a slight disconnect. How do you tangibly measure someone's desire to win while he's clicking away inside a booth? Does a player trying to reclaim his past glory really want the trophy more than someone who has spent his entire career trying and failing for one shot? Even an interview can't tell you everything: most players aren't eloquent enough to discuss their desires and ambitions.
But from March 12th-13th, I can say without a doubt that Cure wanted to go to IEM WC more than any other non-qualified player. On March 12th, ESL decided to schedule all three qualifiers within 24 hours and allowed any player from any region to participate. Most players tried to qualify for one. Some players tried to qualify for two. But only one tried to qualify for all three.
His first challenge was the America qualifiers. He beat San, intense, and sOs before losing to his own teammate Terminator. In the Korean qualifier he got eliminated early on by Patience after beating Sorry. This gave him a few hours of respite before he went for the final test, the EU qualifier. And in many ways EU was the toughest qualifier. A huge amount of Koreans and EU players participated for their final shot. Having gone through 2 qualifiers already, Cure was more worn out than his competition and EU players were notorious for dragging games out to hours. Furthermore he was on terrible latency, playing from Korea to the EU server.
It started off well. Cure defeated DRG, Nightend, and Bunny before encountering Hydra in his 20th hour awake. He lost that match 1-3 and was forced to play the consolidation match against Snute, where he won 3-0. What was amazing about this final run wasn't just that he was beating amazing players after hours and hours without rest. It was how he was doing it. By the end of his run-ins, Cure had mentally run out of steam. In critical engagements he was barely microing; in one engagement against Hydra, he literally left click moved his army into banelings before realizing the damage. Against Snute, he had given up entirely on army micro and had just started A-moving. Yet he still eventually won by overwhelming force. He just had too many units to contest with.
It didn't matter that his consciousness was fading or his control was slipping. After years and years of practice with macromanagement, mechanical habits had become second nature and it showed with his final victory of the night. After nearly 24 hours, Cure had finally qualified for this IEM and I can say without a doubt that Cure is one of the most dangerous players that will be attending. He showed he wanted this opportunity more than anything. Cure played in all three qualifiers with 400 ping, with at most 4 hours of sleep, and he will now step onto one of the grandest stages possible.
Bbyong - The Mad Tinker
Any mention of Bbyong unavoidably conjures the impression of something crazy and pattern-defying. A Proleague fan will first think of his absolute domination on Habitation Station with the Gangnam Terran build. Others might remember him as the guy that somehow lost to ABomb at IEM São Paulo. Some might note that Bbyong, alone among the 16 players gathered in Katowice, has never reached the playoffs of a premier tournament.
Calling Bbyong anomalous would be quite the understatement. By winrate, Bbyong was the best performing Terran in Proleague last season; simultaneously, he was a middling Code S Terran with no results to back up the statements made by supportive fans insisting he was one of the best. For most players, it's relatively easy to pinpoint where they are in their careers. Life is riding his second wind, Flash struggles to maintain relevance in a scene that threatens to leave him behind, and soO fights to reach the championship that was meant for him so long ago. When one mentions Bbyong, what is there? Certainly no narrative clarity, no storyline that seems to really ground him in reality. But If I told you Bbyong is currently on a crazy streak, would you believe me? If the answer is yes, would you be
surprised
? The answer to that, most likely, would be no.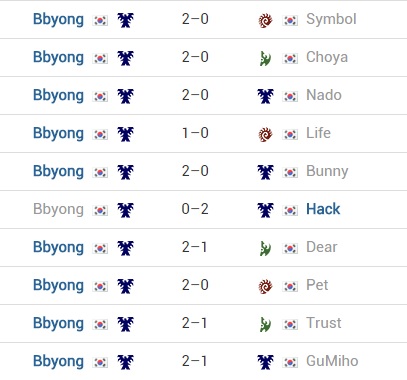 Not pictured: 2-0 First, 2-0 Pigbaby, 2-1 Snute, 3-1 Terminator
This is one of Bbyong's few defining traits. He isn't anonymous enough as to be defined by facelessness, nor high-profile enough for stories to simply swirl into existence around him. He comes to Katowice as neither favorite nor underdog, simply being
there
with no one really being able to recall how. He is the crazy tinker carrying a toolbox of strange tools equipped to kill you in a million different ways, some of them lethal to himself. With Bbyong, you can never really know what is coming—championship or embarrassment—or what your next step should be. With his history he may not be a favorite to lift the trophy in the end, but every player in attendance must pay their respects to the Bbyongjwa. If they do not, they risk being blindsided and promptly eliminated.
That
, more than anything else, is who Bbyong is. The unknowable and wholly erratic threat that lurks on the side stage, always one step beyond your peripheral vision. He stands there ready to strike, every last ounce of strength packed into one unexpected strike.
Solar - Vanguard of the New Generation
Going into 2015, everything was stratified. At the time we all believed that players like Zest, soO, Life and INnoVation were going to dominate 2015. So far, things have not happened according to expectations. Zest has failed to qualify for any Korean LAN, while soO just qualified for the second season of GSL. While INnoVation and Life are running Korea, it is not without a harsh struggle as a new wave of players has washed in. Players that had been practicing and developing their play for years are now finally bearing fruit. Dream, Rogue, Dark and their ilk are now knocking on the door of the top echelon, threatening to tear down the current strata.
At the vanguard of that new wave was Solar. In 2014, he was one of the top 3 Zergs all year round and one of the few that won any premier tournaments. He became the ace of Samsung and was the center piece for their Proleague strategy. However, while players like Dream, Rogue and Dark have finally broken through in 2015, Solar hit his first major snag with the single worst season of any player in Proleague Round 1 (going 0-6).
The true worth of any player is shown after his first taste of failure. For some, failure is nothing more than an obstacle, something easily compartmentalized and ignored; Life and Stephano are notorious for being completely unaffected by losses. Others use failure as a lesson and change their weakness into a strength; Symbol and Bbyong radically redesigned their styles after a loss. For most it is a crushing weight, a permanent stain on their record. The ensuring doubt becomes a chain that drags them down into eternal damnation until their fire is extinguished; Squirtle and TOP's losses to Mvp being the most prominent examples of this.
For Solar it is hard to say exactly how much failure has affected him. He did have an abhorrent streak of Proleague appearances, and it will be hard to forget those. Conversely he made it to another GSL Ro8 and barely missed out on the semifinals. For Solar, IEM WC is a pivotal crossroads. Here, we will see exactly what he does with his recent stumbles. Will he become stronger or will he fall? Will he let the new wave of players pass him by, or will he lead them as they topple the current generation of champions?
Zest - From King Slayer to King Lear
There was a time when it seemed like Zest was the favorite to win everything. During 2014 he earned three premier titles in Korea (a Royal Road run in GSL, the GSL Global Championship, and KeSPA Cup), one premier silver in the IEM circuit, and two semifinal appearances. He won over our hearts for not only being far and away the best Protoss, but the best pro gamer
model
since Bisu.
That was one year ago. In 2015, Zest has done next to diddly squat. A mediocre record in Proleague, which means very little when it comes to predicting his Katowice results, is all he has to his name. Aside from that Zest is the Code B-onjwa, undoubtedly the best player knocked out of GSL qualifier hell...last time, at the hands of TANGTANG no less. That tragedy was in fact a repeat of his Season 1 performance, where he dropped out of both Code A and NSSL qualifiers to players below his usual caliber. The former emperor of the Korean scene has become a bit of a laughingstock.
Despite his numerous titles, Zest does not own "World Champion." No one would argue that 2014 Zest was not capable of winning it; few can argue that based on current form, 2015 Zest deserves to be there at all. His recent PvT showings looked just as vulnerable as they always have, his PvP appears far less impeccable than it used it to be (although Proleague records ought to be taken with a grain of salt), and his recent PvZ remains largely untested. One factor he has working for him is very little study material for his opponents, while conversely having plenty to analyze.
IEM Katowice will be Zest's first international tournament since Blizzcon. His slump extends all the way back to that point, when he lost to Life in the Round of 16. Sure, many of his losses along the way came at the hands of good players. He should not be purely scoffed at for his shortcomings, but he is far from regaining the reputation he once had. Once just very good Protosses in his shadow, herO, PartinG, and Stats are all heading the power struggle left in the vacuum of Zest's demise
TANGTANG is a running joke for his silly username and a handful of hilariously bad (and good) performances. By losing to him in GSL, Zest temporarily eclipsed the Prime Terran as the true fool. It is up to him to weather the storm of ridicule and despair, lest he befall a fate similar to Creator after his astonishing 2012 rise. The former king must take this opportunity to reassert his former dominance and claim not only what was once his dominion, but what was almost in his grasp: the world.
Hydra - In the Left Eye is My Past, in the Right Eye is My Future
There are a lot of great things we can say about the KeSPA training regime. You have staff that take care of all your personal needs, coaches to help analyze and dissect your games and your opponents', teammates to play and talk with. Hours are tightly regimented to be the most effective at making players the best. Yet there are drawbacks to the system. While it works at making most players better, it can crush talent that flourish under radically different conditions (the most notable example is TaeJa). Burnout is common and often irreversible.
While the infrastructure pushes players to their limits, burning twice as bright doesn't mean burning half as long. Sometimes the candle loses integrity long before its true expiration. For every great player there are a dozen broken, condemned to mediocre or nonexistent careers. And even the great players eventually get overwhelmed by the stress and workload. One of the most recent examples is Soulkey. Once rightfully called the best Zerg on earth, he had a mediocre year in 2014 before finally quitting SKT to try to find a new purpose. He eventually found it in TCM where his form has picked up again after nearly choosing retirement.
Hydra spent seven years on a KeSPA team, almost all of it on CJ Entus. In that time he's had a very successful career by most pro standards. He won an MSL, had a permanent spot on the roster for PL, and made two OSL semi-finals. While his switch to SC2 wasn't nearly as successful, he still made Code S twice and reached the semifinals of IEM Singapore and Red Bull Global. Which was why it was surprising when he announced the move to a foreigner team. What reason could he have to abandon an environment that fostered his success? Simply put, he wanted to experience freedom. Having spent 7 years in a KeSPA house, for the first time in Hydra's professional career, he desired to figure out things himself. Now how much to practice, when to eat, where to go, what to do would be choices.
Hydra acclimated quickly. In
an interview with Esports Heaven
, Hydra told proguidic3 he spent time watching his teammates play to understand what the Koreans call "the foreign mindset", The stylistic choices foreigners make in SC2 games. He said there was a sense of freedom in the way foreigners played both inside and out of the game; inspired, he took it and made it his own. He started eating Five Guys Hamburgers, learning and speaking English and most famously getting caught watching Gossip Girl.
Hydra is a player who straddles between the past and the future. Ever since he was young, Hydra's left eye could only see outlines so when it came to games like Starcraft; he was essentially blind in one eye. While it is useless in helping Hydra become a better player it is a constant reminder of who he is and where he came from. In his left eye he carries with him the weight of a veteran, a player who survived and thrived under the Kespa regime. In his right eye he sees the future. He's moved to a foreign land, and now eats foreign food and speaks a foreign language. He is learning how to incorporate what he calls a sense of freedom into his play. With these two disparate experiences, Hydra carries the past and the present toward the future, where he hopefully becomes a champion once again in a new game.
The past two years have not been kind to INnoVation. The addition of an overdue GSL title to his WCS crown places him far above the thronging masses, but it's undeniable that his vast talents have not been met with commensurate success. Some pro gamers play the game for money. Yet others play for glory, the desire to be known as the best. With his return to KeSPA, INnoVation has clearly stated on which side his ambitions lie. But when the dust comes to settle on his career, how will he be remembered?
Released at the head of the KeSPA brigade into the Starcraft 2 scene with MajOr fanfare, INnoVation quickly established himself as the ultimate macro Terran. With the release of HotS came a memorable reign of terror—70%+ win rates in all 3 matchups, an insane statistic regardless of context. That he did it in GSL and Proleague against the very best Koreans makes it a run of form almost without equal. Then, crucially, came the transfer to Acer. His year in the barren wilderness came just as suddenly as his ascent to glory. He wasn't playing badly
per se
—there are many, many excellent matches from that period that testify to his skill. It was more that others had caught up to his tricks, and the fickle wind of the meta had shifted course. Gone was the feeling of inevitability once his parade push hit top gear, gone was his aura of invincibility as roach/bane pushes shattered his tournament dreams time and time again.
So, what now for INnoVation? Once he returned to a KeSPA team, he instantly claimed the GSL title. However, back to back failures at Blizzcon and Hot6ix Cup tempered his success, while his performances this year have mirrored his career in microcosm. Crushing weaker opponents in Proleague was a dandy accomplishment for his resume, but when the heat ramped up in the GSL, he succumbed in the most important series he's played so far in 2015. It seems that he still hasn't learned his lessons. Stats dissected his long-term strategy in the NSSL; he was swept away by Life when his control failed him in the final game; ByuL crushed him in Proleague less than a week ago. It's not just the defeats themselves, it's how he's losing. On such level he still refuses to adapt. Once unbeatable, his TvZ has looked a shadow of its past glory. Leading in the midgame against Life and ByuL, INnoVation misjudged the power of his timings as well as lacked the micro to pull them off. We've grown used to INnoVation dying to every all-in you can imagine, but rarely have we seen him killed on his own terms as boldly as in his past two matches. But don't forget: a mere week after his meltdown against SoulKey in the GSL, he fought his way back to the very top at the WCS Season 1 finals.The robot is made of sterner stuff than some give him credit for. He may be down, but he's not out yet, and he will be aching for revenge.
INnoVation is back at the crossroads now. It is coming up to three years since his Starcraft 2 debut, and yet we are no closer to answering the key question of where INnoVation lies in the great hierarchy of Starcraft 2. Will he dig deep, and ascend to the dizzying heights of Mvp—the unquestioned champion; the king on the throne? Or will he inherit the duty of a King of Marines—forever unfulfilled; an Icarian who flew for one glorious moment too close to the sun? The choice is his. Katowice is upon us, and Life is waiting.
Life - Evolution
Like every animal on God's green earth, Lee Seung Hyun evolves constantly. He adapts to a rapidly transforming environment and develops the abilities necessary to thrive. Few life forms in the world can claim to have reached the top of the food chain twice, but Life once again stands as the apex predator in the jungle of Korean Starcraft.
As evolutionary biology informs us, prey as well as rivals eventually evolve in response to pressure. A predators does not remain unchallenged forever; eventually it will be felled, either by misguided contentment or by the evolution of its rivals. The gazelle runs ever faster to avoid the fangs of its hunter, but the hunter doesn't stand idly by while its prey and rival predators develop abilities that surpass its own. Life certainly has not stood idly by while players everywhere have begun to pick apart his play and develop countermeasures. His loss to Dream was an indication that there are other predators hunting in Life's jungle. but the subsequent victory against INnoVation prove that Life has not grown old yet. In traditional biology, the margins tend to be slimmer. There are more subtle threats that threaten to slay the beast in the real world than there are players capable of beating Life in Starcraft. For every thousand lethally poisonous spiders in the world, there is only one Stats, and for every million natural events that might kill a lion there is only one Bbyong. He is unchallenged on a level that is exceedingly rare in the animal kingdom.
Life's most important traits have always been unpredictability and adaptability. Although he has a preferred style of play he defaults to when possible, he isn't limited by his preference in the way that players like INnoVation are. The preferred 3 hatch opening can easily be replaced by an offensive proxy hatchery if he thinks it will do him good in the long run, just as a 6 pool can be thrown into the mix whenever an obsolete build might be of use. This constant evolution has defined Life through his career, his ups and downs characterized by the deviations in his play. Given this, even Dream's victory against Life seems like a minor hiccup at best. It seems very unlikely that Life will not be one of the last four players standing on the final day of IEM Katowice. After all, the other hunters in the jungle are yet to outrun the apex predator.
There is very little I can say about Life before IEM Katowice that has not already been said twice since the 2015 season kicked into overdrive. All the possible criticisms in lieu of elimination against INnoVation (who also happens to be his first opponent in Katowice) were rendered pointless when the Ling King advanced to the GSL semifinals. One thing is for certain: an IEM World Championship is one of the few trophies Life does not have in his trophy case. The ever-ambitious, confident-bordering-on-cocky youngster will not be interested in waiting another year for his next chance.
Flash - "Eli Eli lema sabachthani?"
Despite qualifying for Katowice due to his victory at Toronto,
Flash
comes into this feeling like anything but a champion. To say that the past few months have been hard on Flash would be an understatement. He has suffered the worst dip in his professional career, failing to qualify for both GSL and NSSL while also displaying buffoonery in Proleague. It was the manner in which he lost that was most worrisome for fans. Flash looked totally lost and outmatched. You might even say he appeared...
mortal
.
Mortal? Slumping? One would never have thought to associate those words with Flash at his apex. How could an opponent of such caliber, work ethic, and insight drop so precipitously? Such is the cold hard reality of our times. Despite all the faith being placed on his shoulders, Flash has yet to transform it into power. He doesn't lack in skill, but it feels like he is missing that special something. His macro does not inspire the same way
Bomber
's does, his micro doesn't awe people like
Maru
's, his mind game games aren't as devious as
TY
's, his multi-tasking not as inspirational as
MMA
and it would almost be an insult to mention him in the same sentence as
Mvp
. And yet, Flash is not a bad player. He won IEM Toronto, he had regularly defeated high caliber players, and he used to be a cornerstone for KT in Proleagues past. But it feels like the weight of expectations, both his and his fans', may have been too much.
For his entire SC2 career Flash has had to live up to his own awe-inspiring legacy. At the end of Brood War Flash had become the face of perfection, his utter domination inspiring awe and terror in his peers. The same sort of success has eluded him in SC2; some argue that the longterm feats of players like Jaedong and iloveoov can never be replicated due to the nature of the sequel. Perhaps it is time for not only us but for Flash himself to face the truth, that he might never be able to live up to the image he crafted and enforced in Brood War. That does not mean he needs to give up playing, but he should unshackle himself from the burden of being a god and accept mortality. Perhaps liberated from the stress of expectation, he may once again reach as far as he once did.
Trap - Overshadowed
Underdog is a word you might use. Dark horse could be another. JinAir
Trap
isn't one of the familiar names seen at these end of the road tournaments. Even when he does show his face, there's always a shroud of doubt hanging over him. He was never mentioned as a potential champion at MLG Anaheim. He was overshadowed by sOs and PartinG at Red Bull Battlegrounds. No one ever expects him to do well, and yet every time he does.
Unknown to most, Trap was on a 16 series winning streak prior to Tuesday's Proleague match. It included impressive results against the likes of Stats (3-0), Rogue (2-0), Curious (2-0), Losira (2-0), and HyuN (2-1). In the last two weeks Trap has ridden that momentum to qualify for IEM Katowice, Code A, and KungFu Cup. He also made his Proleague Round 2 debut with a win over Hurricane and an ace win over Dear. Besides an unfortunate loss to Hack (which he could have easily won at certain points) Trap currently does not know what losing is.
The JinAir Protoss still goes into Poland as a bit of a mystery. Most of his recent games have been either PvP or PvZ, so his PvT has been kept somewhat hidden from Flash. He plays an unique style with a plethora of different DT drops and proxy oracle openings as well as the occasional templar opening. It's hard to know what exactly he'll bring to the table. After his thorough dismantling of Polt at MLG Anaheim, it was rather surprising to see him stumble against Cure at Red Bull Washington. Going from effortlessly beating players like aLive to losing to Hack in a back and forth game makes you wonder if a same situation will arise upon the IEM big stage. Representation-wise, he gets the advantage of having mostly Terrans on his side of the bracket. If the cards play out correctly, I wouldn't be surprised to see a Ro4 finish or higher.
Underdog, long shot, hell Trap's own name could describe his situation going into Katowice. When Aligulac's prediction of Trap winning the whole thing came out, it was met with hostility: "Probably the worst Aligulac prediction I've seen so far" was a common sentiment. The shroud of doubt remains hanging and there are plenty of players here preparing to overshadow him. The stage is set, all that remains is for the trap to be sprung.
FanTaSy - There Is No Next Time
Everything FanTaSy has ever done, everything he has ever achieved has been overshadowed by greater contemporaries. Name the 5 greatest BW Terrans of all time: hint, it goes Flash, Nada, iloveoov, Boxer and then FanTaSy. Even though he was arguably the most skilled Terran player by the end, he was outdone by Jangbi twice in the OSL Finals. In the last Proleague finals, Bisu was chosen over FanTaSy to win the crucial ace match and cement his place in history.They told FanTaSy he would get his chance to shine next time. Next time he would be the ace; next time he would hoist the OSL trophy. Next time he would take up the spotlight, alone and adored.
For FanTaSy, there was never a final shot. When Brood War ended, Proleague and OSL effectively ended as the institutions he was familiar with. FanTaSy moved to SC2, where his career was mediocre in comparison. Unlike Flash and Jaedong, he has never had peak performances to make the fans remember his name. He was never SKT's ace nor its charismatic leader; Rain and PartinG took those roles respectively. And with one year left to go, FanTaSy came to realize he was stuck in a quagmire. He had fought his entire career to become a star. And while he was immensely respected for what he once was, he couldn't let this be the end. He
wouldn't
let this be the end.
Occasionally you can see it in FanTaSy's games, this desperate desire to become a superstar player. He wishes to be the one who makes you cheer for them solely for exciting and dynamic gameplay. The most prominent examples are his games against TRUE. Between the two of them, they have fought some of the greatest/silliest SC2 games ever played. Every time you see FanTaSy fight tooth and nail for every mineral and every worker. For him it is a battle to the death, an implacable will to never surrender. Every once in a while you see that Fantasy in his SC2 games. The brilliance and willpower and defiance rises up and it makes you understand why he was the original Crown Prince.
That frustration led him to quit SKT, the group that had fostered him for 7 years, for one last chance at glory. He went on to join Dead Pixels and threw away everything to change his image, to become the star he had witnessed his teammates become again. For FanTaSy, the time is now. He had Dead Pixels fly him out to Europe for the sole purpose of qualifying for IEM WC, an investment he paid back. Here, in the largest LAN of his SC2 career, the world will be forced to recognize his presence. He must take it and seize it before it goes away from him. Second chances are no longer an option.
Rain - A New Chapter
Three years since his SC2 debut, mYi.
Rain
is still widely regarded as one of the most consistent Protosses in the scene. Last October, Rain parted ways with SK Telecom—the team that had nurtured him since the beginning of his career—to seek more international opportunities with mYinsanity. Sporting the blue and white jersey, Rain dazzled the IEM San Jose crowd with his second place run, his best individual result of 2014. The thought of a reinvigorated Rain training in Korea while traveling to weekend LANs will surely cause many sleepless nights.
The World Championship at Katowice marks Rain's second IEM event of 2015. The mYi Protoss attended IEM Taipei last month and reached the top 8 only to be eliminated by his former teammate,
Soulkey
. A few weeks later, Rain finished last in his GSL Ro16 group, eliminated by
Dream
. Heading into Katowice, Rain will not miss the opportunity to bounce back in front of the international fans whom he loves to play for. His tournament begins against another former SKT teammate, FanTasy. In addition to the new Dead Pixels recruit, there are three other world class Terrans (
Flash
,
Maru
, and
TaeJa
) in Rain's half of the bracket. Rain will need to play his signature airtight defense to have a chance against these guys.
When KeSPA officially switched to SC2, Rain led the initial charge. He was hyped as the best KeSPA player after winning OSL and WCS Asia, someone who would radically change the way Protoss strategy was perceived. Fast forward to 2014 and Rain had become one of the most valuable players in Proleague as well as the ace for SKT. Now he begins a new and exciting chapter of his already successful career. Rain once again finds himself in uncharted waters, but I have no doubt he will continue to impress us as he always has.
Maru - The Master of Shadows
Over the back end of 2013 and the front half of 2014, Maru has shaped his legacy. He's crafted himself a more-than-respectable series of results, perhaps stronger than any terran in korea over the same time frame. Multiple strong runs within korea, including back to back top fours and a royal roading of the legendary OSL. Sure, he lacked a real reign of terror, or even a good showing outside of korea/similarly huge events, but the prince in training was starting to form a kingdom of his very own.
A strange kingdom, born not from the robotic perfection of INnoVation, nor the destructive creativity of Bomber, nor the drop-heavy determination of Polt. Three terrans who rose up just months before Maru, a paragon of sorts within the terran race. Yet, Maru was never destined to be one of these. He was never meant to be a champion who faded away, because he was never meant to be a champion at all. That's why his royal road was so extravagant. Whether by sheer desire or twisted strength, the young terran had done it. He had killed the kings. He had defeated the two best players in the world - INnoVation and Rain - back to back. A masterstroke of planning and macro brutality. He came, he saw, he conquered. And it would never happen the same way again.
When we write about Maru, we tend to call him a prince a lot. The prince of the summit, the prince who would have been king, the Prince that was Promised. We talk about his potential, how he seized the world by storm and made it his own. When we wrote about Maru before Blizzcon 2013, we said that Maru's OSL championship run was an announcement to the starcraft scene -
"Take notice, for my time has come"
However, in doing this, we've made a mistake. Maru is not a prince. He isn't a king-to-be, he isn't an emperor, he isn't the next big thing.
Maru is the Master of Shadows.
WCS Season 2 Finals in a way was Maru's true calling - immediately following his promised victory, it was a failure beyond what anyone would've expected and set him back on his predestined path. Maru's true identity is of one who has lurked in the shadows behind the scene, rarely finding himself in the spotlight. Rather, he's remained an enigma. A player who simply is not meant to be a champion. During his painful Ro4 curse which saw him fall just barely short four different times within a few months, Maru routinely lost to players who were simply consistent enough to overshadow his odd brand of inconsistency. Dear, Soulkey, Jaedong - these were titans, players who towered over Maru in either legacy or sheer power. Yet, where are they now?
Given all of these disappointments, its easy for a player to end up crushed. It's easy to give in to the tide of unsatisfactory results, to let the sea engulf you and slip away to semi-relevance. The reason why Maru is at this IEM is because this doesn't seem to apply to him. He'll always come back. He's been around in the SC2 scene longer than practically anyone, and he's never let his various failures overwhelm him, even when he was barely in GSL through 2010/2011. Even during 2012, where he was the forgotten prodigy amongst a breed of similarly young but far more talented players- TaeJa, Creator and Life -Maru was forever the odd one out. He was simultaneously a player who was never meant to be, and someone who was meant to be something greater but simply never was.
In all of this what-could-have-been speculation, we often lose sight of reality. The truth is that Maru is most likely not going to come out of IEM a champion. His occasional stupidity that births losses such as the one he recently suffered to Dark in Proleague seems to be a hurdle he simply can't get past often enough to get a championship, despite the greatness he so often shows. The micro. The attention to detail. The control that is unlike anyone else in the world.
In Katowice, Maru finds himself pursuing different goal, rather than the championship. He's not looking to hoist the trophy in the air, despite how sweet that moment may be. In Katowice, Maru seeks vengeance. He seeks to prove that he is more than someone to be forgotten, and to at least overcome one of the prodigies that stood over him in 2012. It's been a long career for both Maru and TaeJa, yet they've never played on a big stage. Against the cold weather of Katowice, may the Master of Shadows continue his reign over a perfectly imperfect kingdom. I would like nothing more.
Patience - Anomaly 2: Electric Boogaloo
Like leather sweatpants and putting rims on your Honda Accord, a trend can quickly switch from celebrated to reviled. When Patience burst onto the scene with an inexplicable run at Dreamhack Winter 2013, the surprise was initially welcomed. StarCraft tournaments tend to be repetitive when it comes to top placements, and it was a sight to behold a relative unknown power through that particular lower bracket. Who could've foreseen Patience beating sOs, Polt, MMA and INnoVation on his journey to third place? However, his reliance on 1-2 base strategies stirred up rancor once the event ended; they might have been brilliant choices during the tournament, but they didn't match up to the golden standard of "standard macro play". Detractors derided him as a fluke that got lucky by being overlooked.
Up until last month, they were proven right. Besides winning the 41 Summer Invitational against an admittedly weak field, Patience had been a disappointing presence in 2014. He never degraded into a has-been: in fact, he reached the quarterfinals in 5 premier tournaments over the year. None of those accomplishments earned praise though, as he never went through a gauntlet comparable to Dreamhack Winter. While Patience attained multiple Ro8 placements at Dreamhack Summer, Bucharest, and Stockholm, he managed to avoid all the heavy hitters in those instances. Assembly Winter was a similar affair as he only beat one Korean (Alicia) before losing his Ro8 match. In the two WCS EU seasons he managed to qualify for, he dropped out in the Ro32. The one standout performance was at IEM Cologne, where Patience defeated jjakji, Leenock, and HyuN before being narrowly edged out by Jaedong.
Most of Patience's success in 2014 came in small spurts, tackling smaller tournaments like ESET Masters and ESL Pro Series Germany, and he was conspicuously absent in Korean-stuffed events. Imagine the shock on his teammates' faces (and his own) when he pulled off a repeat of his DH Winter performance in the IEM WC qualifier. The bracket wasn't exactly a nightmare but Patience was a mere afterthought compared to the players he defeated. GuMiho remained the same dangerously unpredictable threat as ever, Cure and soO were still competent roadblocks despite being far from their peaks, and Dark was asserting himself as a true up-and-coming star. Combined with his recent qualification into GSL, this could signal the beginning of a reconnaissance for Patience's career. Or maybe lightning strikes twice and we should steel ourselves for disappointment.
The vast majority of players never get second chances. Once they achieve their peak, they inevitably decline back to the mean. For most, there's a certain and comforting return to the status quo; a fundamentally flawed player like TOP or Inca can sink into obscurity once their main strategies are laid bare.
Dark - The Last Son of SlayerS
The disbandment of SlayerS led to three things. First, it was the beginning of MMA's major slump, one that lasted nearly an year before he picked himself back up. Second, it led to one of the great team league moments of SC2 as YugiOh raged against the world trying to all kill team MVP. Lastly, it led to BoxeR becoming the SKT coach for a little bit. While BoxeR never had a profound impact in that role team he did one notable thing: he took SlayerS_Dark with him.
At the time, no one knew why he chose him out of all the possible team members and recruits. Yet it was telling that BoxeR put that level of faith in Dark. Think upon that for a moment. He is such a huge and respected name in Korea that only one player has ever refused his call when he asked them to join his team i.e. DongRaeGu. And though BoxeR didn't stick around long enough to see the fulfillment of the potential he sensed, his clairvoyance was ultimately rewarded. By the end of 2014, Dark had become a practice training monster. During in-house training he had regularly beat the other players of the team ( an all-star cast consisting of Rain, soO, Classic, PartinG and Soulkey). Even after INnoVation joined, the rankings remained the same; Dark was widely considered by teammates and staff as the best player on SKT. And though INnoVation claims the ace spot for SKT, he publicly named Dark as his greatest rival because he believes the Zerg is better than him. As for Dark himself, he has become the second best performing player for SKT and one of the few players to qualify for both SSL and GSL.
The most dangerous part about Dark's growth is his youth. Only an year older than Life, Dark has an entire career to push himself to new heights. In one of the few interviews he's done, he admitted his goal wasn't just to win one GSL but 10 of them. It is borderline preposterous coming from someone who dropped out of both NSSL and GSL group stage, yet he dared to say it and his skill cannot be denied. After all, he was handpicked by BoxeR and trained by Kespa. All he needs now is experience to glue it together and show the world why he was the last inheritor of Boxer's will.
TaeJa - Permanently Near the End
TaeJa
's retirement announcement following last year's IEM World Championship was a surprising but understandable twist in the Liquid Terran's career. While his recent HomeStory Cup and pre-IEM interviews had provided clues, it wasn't until he dropped two quick, mindless games to StarDust that people began to question his attitude. TaeJa pulled off the reverse sweep and followed that up by defeating Life, but the uninspiring loss to sOs in the winner-take-all tournament had the same effect that the first series almost did.
Although his retirement statement appeared sincere, TaeJa ended up repeating old patterns. Soon afterwards he crushed three summer tournaments in record time, and despite constant promises to retire "soon", he continued to push back the final date indefinitely. BlizzCon promised to be the absolute final tournament for TaeJa, but he briefly mentioned that he would continue in GSL and Proleague. This time he promised he would retire as soon as he could join the military.
Although many people are inclined to believe that TaeJa is not done yet, there are distinct differences between his current state and the constant promises of retirement we've heard in the past year. His previous mentions had a distinct similarity in that he would actively attempt to cap off his career in
some
notable way, whether it was by playing at his absolute best as in Blizzcon, or just by making a few halfhearted attempts somewhere else. That he continued says less about whether he wanted to play and more about whether he simply hadn't finished. There was something missing from his career that nearly a dozen premier titles and countless wins hadn't provided. This time, he neither tried to qualify for GSL nor played in relatively "unimportant" Proleague games.
TaeJa didn't start playing professionally because he had a drive to compete and win. While he did play the game at a fairly high level before turning pro, TaeJa only started taking the game seriously on the advice of his brother and teacher. Although his career had just as many difficulties as any other pro's, a key part of TaeJa fortitude was having his brother as a coach and his supposed final tournament run was dedicated to that bastion of moral support. Now that BlizzCon is long finished TaeJa has made peace with his career, and nothing that happens from this point worries him. TaeJa can now play based on how he feels and while this means he is likely going into IEM in poor form, there could still be a spark left inside him from his brother's encouragement.