Photo Credit: ESL
TaeJa: The Mortal Deity
Don't forget to read about TaeJa's road to blizzcon here.
TaeJa has had arguably the most success in the history of Starcraft 2, with 11 premier tournament wins, more than any other player. He seems to win when no other Terrans can, with such elegance and mystique, carrying the Terran torch for years. It was a slow start for him, only starting to win tournaments mid-way through 2011 with the ESV TaeJa weeklys. A string of good results eventually led him to attend foreign tournaments and TeamLiquid picking him up, being one of the earliest Koreans to be picked up by a foreign team. The summer of 2012 came, and he saw, and he conquered, in dominating fashion nonetheless. Not only was he a titan in the individual leagues, but in team leagues he has earned himself multiple all-kills, and setting the much revered record of 23-3 in the IPL TAC 3. Even in the middle of the broodlord infestor days, he somehow found ways to work around these strategies and earn himself victories. It feels as if there is some sort of godlike aura, some deity influencing his gameplay which allows him to overcome opponent after opponent when no one thought it was possible.
Historically, TaeJa has earned the
highest rating ever
recorded vs Zerg, even surpassing INnoVations unstoppable 4M in early 2013. His play has immense variance, him being capable of opening with a proxy 2 rax or a CC first, moving into a 2 base hellbat or banshee play, or a 4M follow up, and closing out the game with dedicated frontal pressure with the parade push, or endless drops, picking his opponent apart. He may not have the wholesome marine macro of Bomber, the unrelenting micro of MMA, the perfect decision making of Polt, but when you add everything up, TaeJa comes out far ahead than all of his peers in such a magical way that it feels surreal. TaeJa is the all-in-one package of Terran; he can play any style to a tee and make his opponent look silly while doing so.
TaeJa vs Solar G4 on Merry Go Round
Demonstrating his wide variety of builds, TaeJa takes a CC first on 14, having full confidence that his opponent will not be playing with an early pool. His small gamble pays off, establishing his natural uncontested. Meanwhile, Solar opens with his own expansion first, followed by a speed opening. TaeJa scouts this with an SCV, and reacts appropriately with a faster wall off at the natural, and adds on a 2nd gas, indicative of a hellbat play or cloaked banshees. Solar adds on his third base as this game shapes up to be a standard macrofest, and adds on a safety roach warren in case of hellbat play. TaeJa opts for a cloaked banshee play, which is scouted by Solar, who then cancels his roach warren in reaction to the banshees, and TaeJa cancels the cloak in reaction to being scouted by the overlord.
After the mind games play out, TaeJa ends up with a small lead due to him adding his engineering bays after cancelling cloak, while Solar overreacts and builds extra queens and spore crawlers to defend the feigned cloak. This shows TaeJas ability to play any style; he was prepared to play out a hellion/banshee build, and once scouted, effortlessly transition into a full macro build. He lands his third base at the pocket expansion, sets up his infrastructure that can support three bases, and starts the marine parade. Solar on the other hand, being slightly behind from committing to defend banshees, scrambles to set up his defense and launches a small counterattack with a murder of mutalisks. TaeJa being TaeJa, is already prepared with a missile turret in each mineral line and reacts immediately with his SCVs to repair the turrets. At the watchtower, TaeJa sets up his hellbats in the smoke as a trap, baiting the lings into the watchtower area and getting free shots off on them.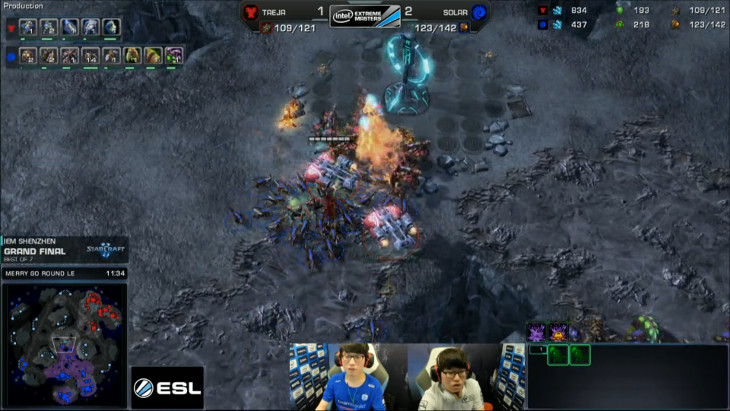 One of many TaeJa's subtle tricks
Eventually TaeJa pushes and breaks Solar, which is then held by money baneling hits, and the game continues on as normally as it should. TaeJa is still ahead on upgrades, by almost a full set, and continues to apply pressure where he can. He finds where Solar has taken his fourth base with a double drop, and starts to harass it. At the same time, Solar sends in a pack of banelings into the third mineral line of TaeJa, hoping to pull ahead in economy. The godlike sense of TaeJa kicks in, and stims his marines in the bunker at his third, while saving his drop at the fourth of Solar that is being battered by mutalisks. Solar follows this up with a bigger baneling morph near the third of TaeJa, but TaeJa senses this happening and deflects it with his army.
Any attempts at counterattacks are useless as Solar flies his mutalisks into a group of mines, at the now established fourth base of TaeJa. Solar is able to salvage something out of this situation by running banelings into marines at the watchtower, but doesn't get enough to hold off the impending push. These events prompts TaeJa to assault the fourth base of Solar. He splits his mines out enough as to not take splash damage from the same baneling, ranks out his bio units, and waits until Solar beats himself trying to trade armies. GG is called, and TaeJa takes a flawless game.
Predictions
On paper, this match up tends to favour soO with his recent success in ZvT. Aside dropping the GSL finals to InnoVation 4-2, he has been playing a solid, safe style, and only showing weakness versus aggressive builds. soO will be looking to take the games into the late game, where his refined macro will take over control and crash endless waves of the swarm into his Terran foe. Even when losing clusters of units to mines, soO pumps out an enormous amount of lings and banelings, backed up by his mechanically superior injects, and is bound to eventually get that inevitable 2nd place finish yet again.
However, TaeJa is TaeJa. Depending on how much TaeJa complains about his health that day, this series could end in a disaster for soO. Even when the odds are stacked against him, TaeJa still has the uncanny ability to win in situations where he just shouldn't. There's an unidentifiable X factor behind the heir apparent, and should it resurface during this series, it will be lights out for soO before he can secure another runner up medal. There are so many subtle tricks that TaeJa does, such as hiding hellbats in the steam, individually microing a siege tank with a medivac to fend off a roach bust, stimming bio units in a bunker to prevent banelings from massacring his mineral line, and focusing down rows of banelings with his marines, the list can go on and on. It's as if there is another set of hands and brains simultaneously playing for him, controlling the same army. Should both players be playing at their best, this series has the potential to be the highest level TvZ ever played, even surpassing the INnoVation vs DongRaeGu series in 2013.