The Greatest Story Never Told, Part 2
duckdeok ended his career the same way he spent most of it: trying to fight his way into the spotlight.
by stuchiu
For
sOs
and
duckdeok,
BlizzCon was a tournament of peculiar parallels. Both were Protoss players with a talent for surprising their opponents off-guard with clever all-ins. Both entered the WCS Global Finals without fanfare or expectations. Both were relegated to the backstage area to play out their first couple of matches on the side-stream.
However, that's where the similarities would end. sOs forced his way onto the main stage and into spotlight, defeating opponent after opponent to win the biggest tournament of the year. duckdeok fought with all of his might and made it to the quarterfinals, but was ultimately eliminated before he could receive the cheers from the audience at Anaheim. For sOs, BlizzCon was a beginning. For duckdeok, it was the end.
A few weeks later, duckdeok would announce his retirement from professional gaming, deciding to return to his studies after having had the best year of his short career.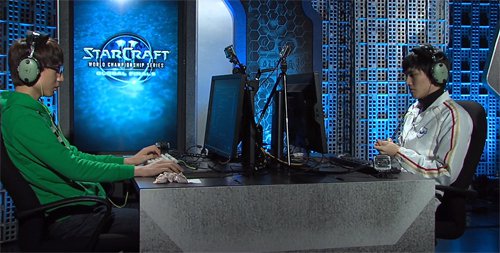 Going into BlizzCon, duckdeok seemed all but doomed. The WCS point system had done its work properly and the #2 seed
INnoVation
was handed a heavily favorable match-up against #15 seed duckdeok in the Ro16. Most of the global finalists pointed to INnoVation as the elephant in the room, the player who was the greatest threat to take home the championship. Even though he had ceased to be totally invincible as he had been at the beginning of HotS, few other players inspired as much fear in their opponents. Terran vs. Terran was his only weakness, and that would not come into play against duckdeok.
duckdeok could only seem like a minnow in comparison. When INnoVation was ruling Korea with an iron fist in WCS Season 1, duckdeok had been struggling to make it into the Premier division in Europe, the weakest WCS region. Though duckdeok would star in a most heartwarming and dramatic tale as he took the WCS EU Season 2 championship, no amount of sentimentality would help him measure up to a player like INnoVation who was considered the best Terran in the world.
It was a monumental mismatch. The fans, the experts, and even the bookies were convinced it would be the most one-sided match of the first round, with even a 3-0 win for INnoVation seeming like a reasonable bet.
But while INnoVation may have been looking ahead to later rounds and how he might overcome his TvT weakness, duckdeok had been preparing for the last games of his career.
The series started out with a bang as duckdeok went on the offensive with three consecutive all-ins. That was good enough to put him ahead 2-1 headed into the fourth game, where duckdeok decided to try a macro game. That ended up going about as well as everyone expected, with INnoVation crushing duckdeok to tie up the series 2-2.
In the
fifth game,
the brilliance of duckdeok's series planning was revealed. The first three games of all-ins had conditioned INnoVation to be cautious. The fourth game told INnoVation that a standard game was still a possibility. But none of that hinted at duckdeok's true trump card in the fifth and final game: an all-out economic gamble. With his tournament life on the line, duckdeok double expanded off one gate.
The gambit paid off spectacularly. INnoVation scanned duckdeok's main and saw nothing, and immediately started fretting about the possibility of one more all-in. Even though INnoVation wasn't tricked for long, the damage had been done. With three bunkers built and two scans wasted to find the non-existent all-in, INnoVation found himself facing a huge economic deficit.
Even playing from behind, INnoVation managed to show his class. Deciding the only course of action was to try to beat duckdeok off two bases, he very nearly brought duckdeok to his knees with his non-stop aggression and drop harassment. However, duckdeok rallied back with fantastic play of his own. Despite losing probes, buildings, and units left and right, he was able to stabilize. The game continued to see-saw back and forth, until duckdeok finally completed his crucial psionic storm research to gain the final edge. Finally having the firepower he needed, duckdeok broke down INnoVation's front door and extracted the final GG.
It was the biggest upset of the tournament, if not one of the biggest upsets of the entire year. INnoVation was the player who had spent all of HotS building his reputation, with every single tournament being part of the build-up to his final coronation at the WCS Global Finals. But the sacrificial lamb ended up fighting back, flipping the script and butting into the story.
There would be little time to celebrate, as no sooner had duckdeok taken out INnoVation than was he forced to climb another mountain. Maru, the rising Terran star and OSL champion, had defeated MC handily in the Ro16 and was ready to take on another Protoss opponent. The
first game
seemed promising for duckdeok, as he challenged Maru to a straight up macro game and very nearly toppled him with Protoss's late game deathball. However, Maru's unit control and constant medivac harassment were just too much for duckdeok to keep up with, and he was eventually forced to surrender the game.
With his very best effort at a macro game resulting in defeat, duckdeok fell back on his trusty all-ins. He took two consecutive maps with blink-stalkers before losing game four on a failed all-in. Once again put in a do-or-die situation, duckdeok opted to go for a different kind of gamble, going for a proxy-oracle build. Sadly for duckdeok, there would be no second miracle. Maru scouted out the proxy, forcing duckdeok to awkwardly adjust into a different all-in. Maru proved to be more than capable on defense, and duckdeok had no choice but the GG out. For the final time, he packed up his keyboard and mouse.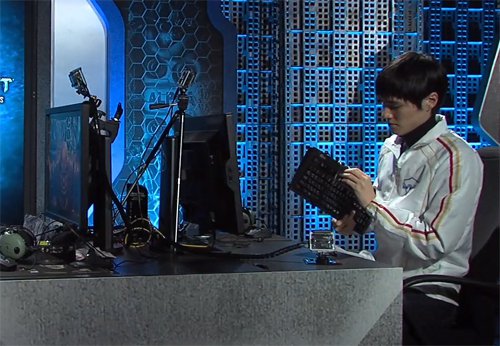 duckdeok's BlizzCon experience was much like that of his entire career in StarCraft 2. In both victory and defeat, he played with a desperate energy that could only come from a player who had spent three years in the shadows, knowing nothing would be given to him for free. At WCS Europe he earned the championship with his skill, while the cheers, applause and the chanting of his name were bought with his own tears. At BlizzCon, there was one more chance to experience all of that glory, but it was not to be. Instead, it all ended for duckdeok in what must have been the most familiar of settings: in a dark room, trying to escape and earn a chance to play in front of the world.
At least for duckdeok, the finale came after he had reached his dream. He had won a championship before it was all over, he had travelled around the globe, and he had played some of the best players in the world and had won. Though not a player to be counted among the greats, he had left his mark and would be remembered.
There is another important achievement in duckdeok's career, though it might not be one he realizes himself. To us, he became the face of the faceless Koreans. The players who practice day and night, knowing that their hard work may never amount to anything, that few will ever even know their names. The best they might hope for is a single moment of recognition, a single day in the sun. As duckdeok showed, that
one moment
can make it all worth it.