Back From the Dead
HomeStory Cup has always been a unique tournament, bringing you zany casting, hilarious banter, and a laid-back setting that can't be found elsewhere. HomeStory Cup VIII will feature something new entirely, with a pair former champions trying to make two very different returns.
From a Fan's Heart
by Christelle
"Congratulations.
You deserve it.
Sorry for the fans.
This game is not for me anymore.
Good bye."
It has been 99 days since Ilyes Satouri typed out those words. They came after a demoralizing loss to Lucifron in the Ro16 of WCS Europe Season 2, the tournament he had declared to be his last. After the series followed an informal, emotional and sentimental post-game interview with Stephano and members of his family who had come to help him with his final goodbyes. As the stream cut out, so did the hope in the hearts of fans around the world. Fans like me. Would StarCraft 2 without
Stephano
really be worth it?
We are romantics. Fanatics. We are the followers of the long-lost pink Swarm.
We've said our goodbyes. We've shed our tears. We've said our prayers.
As we watched this most innovative of Zergs and most successful of foreigners, it was never a secret that retirement was always out there, and never
way
out there. We always knew that his intent was to make as much money as he possibly could off of Star Craft 2 before severing his connections with the world of professional eSports and moving on to continue his studies. All along we knew that the end was coming. Yet in the face of losing this most colorful of personalities in StarCraft, we could not help but hope.
And now, hope has been rewarded. He is back!
A mere 35 hours before the matches of Group F in HomeStory Cup VIII were scheduled to be played, Stephano announced his participation as the final member of the 32 man-tournament. Whether this sudden return is actually the beginning of something more significant or is simply a one-time deal ought not to matter. What we as fans should be taking away from this most casual exhibit of spontaneity is that Stephano is still with us. Where his final in-game words may have seemed as if he would fall off the map completely, he now instills us with new hope that even as a full-time student, he's not ready to disappear just yet.
Of course, there some concerns about the actual in-game performance of Stephano. In the three months since the last professional game played by Stephano, he has been attending university as a full-time student. Even though Stephano was a great player in his prime, he was never a CMStorm_Polt – someone who can work around the demands of being both a student and a progamer through sheer work ethic.
To those worries I say... Worry not! This is not about the return of the most diligent player in competitive gaming. This is the return of one of eSports' most talented naturals. EG.Stephano has said so himself several times that he was never big on practicing and refining his skills through repetition. If there is any player capable of going on a three month hiatus from competitive gaming and come back looking just as good as before, it's Ilyes Satouri.
Of course, it is just as true that if there is any player capable of being acknowledged as one of the truly greats in the world, subsequently retire in a dignified manner, and later make a one-time comeback only to get crushed due to a lack of preparation, it would probably be him as well. Stephano was taking it easy when he won his championships, and he was relaxing all the same when Lucifron sent him into retirement.
At Home Story Cup VIII, we'll get our answers. But no matter the outcome, the important thing is that Stephano is back, if only for a day. What more could we ask for?
mYi.jjakji - The Legend of the Phoenix
by stuchiu
mYi.jjakji's
career has been one of the strangest in StarCraft 2. After spending his first year playing in anonymity, he burst out onto the scene in Code S November 2011 in what was both one of the strangest and most miraculous GSL runs of all time. He barely made it out of the Ro32, with his proxy marauders beating Supernova's proxy marauders in a fluky deciding game. In the next round, he had the fortune of having his four-man group became a three-man group. One of the favorites in the group, SlayerS_Coca, had managed to get disqualified through his insanely stupid involvement in a "match-fixing" scandal. At the time it seemed like he had lucked out like no one had lucked out before. In retrospect, it just gave jjakji the chance to hide his TvZ.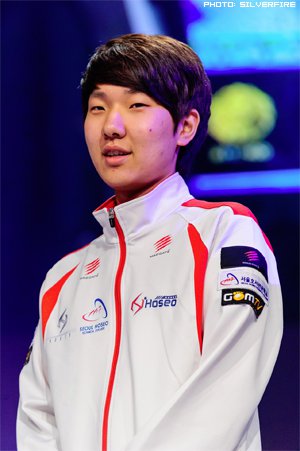 Jjakji proceeded to stomp Puzzle in the quarters, and then barely beat Oz 3-2 in a semi-finals where neither player could say they played their best. He seemed hopelessly out-matched when he drew Leenock in the finals, the FXO Zerg having come up with an extremely impressive victory over Mvp in the semi-finals. Instead, jjakji unveiled his TvZ for the first time in the finals, and it turned out to be absolutely incredible. What was one of the most un-hyped GSL finals of all time instantly became one of the greatest, solely on the quality of play. Jjakji took the GSL championship, 4 - 2.
As if he had expended all his energy on that one incredible run, jjakji burned out and turned into ash. While he still played some great games in the season immediately following (most notably against Parting), he quickly fell off and out of the Code S title picture. He slipped from Champion to Code S, Code S to Code A, and from Code A to Code B.
There are many possible reasons for his fall. NS HoSeo was never the most stable team, always seeming to be teetering on the verge of disbanding. The best players on the team were constantly on the move (Sage) or retiring (Sculp, Seal, Freaky). Was the pressure of being the sole ace of the team too much? Did he suffer from the lack of quality practice partners? Or did he simply get lazy and complacent, as many champions had in the past? Whatever the case, he had an extended stay in Code B/A purgatory, failing to make it back to Code S for over a year after he dropped out. Meanwhile, NSH lost game after game in the GSTL, effectively becoming the free-win team of the eSF.
Curiously enough, the death of NS HoSeo would coincide with the revival of jjakji.
In July of 2013, the tenacious NS HoSeo finally kicked the bucket, passing on the curse of GSTL whipping boys to Prime. jjakji was quickly picked up by European team MyInsanity and guaranteed a shot at WCS Europe in 2014. As if all the burdens of his old life had been lifted and ties to the GomTV studio cut, jjakji started to play well again. In his very last shot at WCS Korea and the GSL, jjakji went on his second best GSL run ever.
Jjakji defeated First twice in the Ro32, and then took out soO and INnoVation in the Ro16 to return to the quarter-finals for the first time since 2011. Though he lost to Maru 3 - 1 in the Ro8, he would score a completely unexpected 2 - 1 victory against SKT's Rain in the placement matches. jjakji even came close to earning a spot at the WCS Season 3 Finals, but had to surrender the fifth place spot in WCS Korea to STX's Trap instead. Throughout his games, jjakji showed a level of play that many thought he was no longer had in him. While he may not have been quite championship level, it was the first time in years that he looked truly
dangerous.
Most of jjakji's story is nothing we haven't seen before. Many players have one amazing run before they fall off completely. Seed, Sniper and Fruitdealer all won GSL championships and have nothing else to show in their careers. Even outside of championship winners, there are plenty of players who go on blazing hot runs one season and are never heard of again.
It's the last two months that make jjakji special. After reaching the peak, too many players find their ambitions and motivation hard to regain, and they become victims in a highly competitive and cutthroat SC2 scene. The losses start adding up and soon they can't help but lose. Each loss is part of a vicious cycle that destroys their will, until they are just a husks playing for no purpose or reason.
But Jjakji is making a comeback. He dared to burn more brightly than anyone else, and was reduced to ashes by his own fire. Will he rise?