Part 2: Unit Design


While my mechanics article suggested that this part would be about macro-mechanics, due to the direction discussion seems to have been leaning, I have decided to address what seems to be the biggest source of controversy in this part: unit design. I will talk about macro-mechanics in the next part.

See Part 1: Mechanics Here

I think it's important to talk about unit design from a more abstract perspective before delving into the Starcraft franchise. For the purposes of this discussion, units will be defined as any object under player control which can interact with objects under another player's control. This eliminates interface elements, static map elements, and resources. A unit's purpose is to provide a conduit through which a player can channel his intentions. The skill at which a player executes these intentions reflects mechanical skill. The goals the player chooses reflect strategic skill. As such, units are a direct reflection of the skill of the player, and form a window into his mind. This is important for spectators and opponents alike to make the emotional connection to the player. This is an essential part of any sport or competition – the 'human element' as it were. So, when we talk about unit design, I think it's important to think about units as conduits for the players.

A unit has dimensions of interaction – that is – ways which it can interact. Let me provide a simple example to illustrate this idea: Take the game pong. There is only one unit each player controls, which is the paddle. The ball and playing field are analogous to the map in Starcraft. There are only 2 dimensions of interaction which the units can move. First, is the position of the unit. Each player can choose where to place the paddle at any given time. Second, is the velocity of the paddle. Each player can decide how fast and in which direction he wants to hit the ball.



Clash of the pong titans.

Now, lets remove one of these dimensions of interaction. Lets take away the velocity component to the paddle. You can now only move the paddle at a fixed rate. We can see that this will greatly affect what you can do in terms of angles imparted on the ball, and therefore the amount of unique game states which can exist. In effect, we have reduced the number of conduits between players, because now they have only one conduit, or dimension of interaction, which they are connected through, the position of the paddles.

We can see the same thing happen in chess, if we remove all pieces but pawns. The game becomes a lot less interesting, and while it is still a game of skill, there aren't nearly enough ways to outclass your opponent, and so the game becomes very stale. Any chess players probably have played the 8 pawn game and know it is completely deterministic and solvable, and therefore quite boring. This example illustrates exactly why we like to have multiple different units. Each unit offers a new dimension of interaction in chess, or sometimes even more than one (think: castling). The complexity of interaction is what allows for an interesting game, since there are many conduits connecting the players, and therefore many places where they can outsmart and outplay each other.



What the heck is going on? This is too complicated I'm playing pong.

However, more units does not necessarily mean more conduits. Imagine replacing the queen's rook with a new piece – the juggernaut. The juggernaut can move through any number of pieces, capturing them all if they are enemy pieces. Would this piece increase or decrease the number of conduits available to the players? At first glance, it sounds pretty cool. I mean, think of all the cool play you can make with this piece? However, it turns out that there is no situation where this piece can be properly used, because white would instantly be able to capture black's juggernaut at the start of the game. In fact, it doesn't matter what piece you replace with the juggernaut, because that always will happen. The juggernaut destroys the game of chess, instead of making it more complex and interesting.



I literally cried laughing at this picture.

There are a lot of games that are full of juggernauts. I think command and conquer is notorious for having juggernauts galore in their games. I distinctly remember trying desperately to play C&C: Tiberian Sun like a competitive game a while back. As it turns out, it's really a race to see who can get multi-missiles first and blow up the command center of the other player with a perfectly placed shot. The game is pretty fun if you just play through the single-player and don't take it seriously, but there is some clearly atrocious unit design. Unfortunately, I think that unit design in Starcraft 2 suffers a bit from this syndrome as well.

So, we've established how units provide dimensions of interaction between players, and how good units add dimensions, which bad units destroy them. I think now we have a good framework with which to look at the units of Starcraft 2. While I could go over every single unit, every building, and every spell, I think that the biggest problems would be lost among the sea of information, and so I will try to focus on what I think are the biggest culprits, and the biggest general design flaws.

A) Micro-reducing abilities

I think this is the single most frustrating aspect to unit design in Starcraft 2. We've all experienced it. You set up for a big battle. You engage, and spells get thrown down everywhere. Things aren't looking so good though, and you sound the drums of retreat. Oh, but what's this? Your entire army is immobile. I guess you might as well eat popcorn and watch the spectacle of explosions and gore that once was your army. It's just so absolutely frustrating to know that you can literally do nothing.

Looking at my framework above, we can see that this scenario occurs when the juggernaut shows up and destroys all other dimensions of interaction. So, what's the juggernaut in this scenario?

1) Sentries and Forcefield:





Forcefield is a really interesting mechanic on paper. I have to credit Blizzard for making it fit into a game at all. However, the way they implemented it in beta was absolutely game-breaking. Many of you remember the days before massive units crushed forcefields. Many of you remember the days when you could trap units literally inside forcefields so they were unable to do anything. Forcefield was so destructive to the game that Blizzard had to patch in fixes for it. However, part of me thinks that they were only buckling to community complaints and didn't realize exactly what fundamental flaws forcefield had which caused it to be a source for complaint in the first place.

Forcefields cannot be interacted with by the opposing player. All you can do is try to avoid them and bait them as best you can, and hope to drain sentry energy through EMP if you're terran. It comes down to, "does he hit good forcefields or not?" There is no dance between the players, where forcefields come down and the opponent micros against them. I've seen (and been in) many games where a forcefield on the ramp literally ends the game, because there is literally nothing the other player can do about it. Force stuck outside your main? Well, you lost the game.



Umad zerg?

So what would be appropriate fixes for forcefields? Obviously we don't want them to be useless, especially early on, because protoss HAS to have them to survive some pressure attacks and allins. One suggestion I remember from beta was giving them finite hp, but no target priority (and perhaps giving them high armor would be good too to make them stronger earlier rather than later). I personally like this idea a lot since it forces micro from the other player, but does not auto-win a fight for the casting player. I'm sure there are other options out there as well.

2) Fungal Growth:



Fungal ALL THE THINGS!

Fungal Growth seems to be the favorite of zergs these days, and with good reason. It's pretty much the only spell zerg has that has any meaningful impact on the game (aside from queen macro abilities). It also is a safe spell, because if used properly it automatically ensures that the opponent can do nothing about it. Fungal's damage component alone is very strong, but the stun is absolutely game-breaking. If zerg ever is winning a fight with infestors in his army, the opponent cannot run. There's literally nothing they can do. I consider it to be pretty much a weaker version of forcefield in terms of micro-reducing power. At least infestors don't have any attack and are T2 units, so there's some opportunity cost for utilizing them.

3) Concussive Shells:




At least they don't come standard on marauders now... Concussive shells are not as dramatically micro-reducing as the two previous abilities. However, they do basically ensure that no army can ever disengage without heavy losses, without the use of some other ability, like blink or forcefield. The one redeeming quality for concussive shells is that it requires active scootnshoot micro from the terran. The reliance on APM-heavy micro does create a significant speed/skill barrier that seems to be a large factor in the skill difference between foreign and Korean terrans. It takes a lot of speed to take full advantage of this ability. I think this is a bit of a lesser evil probably because the game has been so heavily balanced around it now, but from a design perspective, it's rather atrocious.

B) Micro-less units:

These guys are part of the reason people whine about the game taking "no skill" or being "too easy." I'm certainly one to blame at times. But is the complaint legitimate? Looking at the framework, these are units who have only one-dimension of interaction, which is that they exist. Nobody talks about using these units "smarter" or with a different "micro style". They become a macro-level strategic tool, used to inflict blunt-force trauma on your opponent.

1) The Colossus: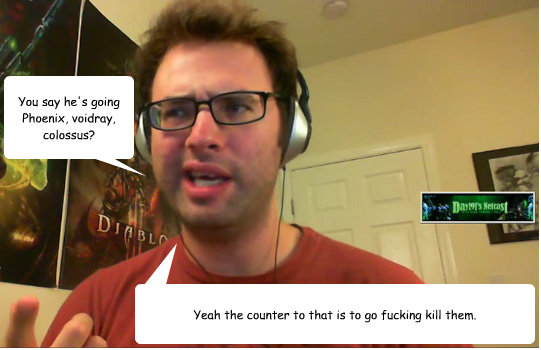 "But Day[9], what if he a-moves?!?!"

I remember seeing the introduction to the colossus by Blizzard, and how they thought of him as a cliff-striding raider, who's mobility was the central feature to the unit. I don't think I've seen anyone even make use of the cliff-striding power of the colossus in months. It's just a big aoe-damage dealing sledgehammer you throw into your ball of doom.

If you look at why this occurs, it's possible to find a few distinct design considerations that contribute:
The colossus is a unit that is extremely expensive. This automatically makes it a unit that is a huge risk early on. As such, it rarely appears in a stage of the game where it is the most powerful as a singular unit.
The colossus is fairly fragile for its cost. While 350 total hp sounds really beefy, it is armored and damage output of units in Starcraft 2 is simply higher than its predecessor. To compare, that's 10 zerglings of hp, and 10 zerglings costs only 250 minerals. For the price, the colossus is very easily killed.
The colossus cannot fight air units at all, but is vulnerable to anti-air.

So what does this mean? Well, the colossus is strongest when it is protected, surrounded by anti-air, and gotten when the cost is not so dramatic that if it dies it's automatic GG. So, you see the midgame mass colossus play.

Now there's nothing inherently wrong with that, but we have to look at the actual strength of the unit:
Siege range, making static defense worthless and punishing any units that come close.
AOE, negating large masses of weaker units
Speed, able to keep up with any other protoss unit

This means that the colossus fits a role that no other protoss unit but the carrier does (siege range), has a powerful aoe which is shared by only 2 units (archon/storm on HT), and fits into any protoss army. Contrast that with the carrier, which is stupidly expensive, single target, and slow. Contrast again with high templar, which are slow, have no attack, limited damage output, and no siege capability. Archons are the only unit that seems to compete with colossi, but the lack of range plus a lack of power vs mechanical units makes them still not quite as desirable.

The colossus simply does everything other protoss units are designed to do, but better, and with fewer drawbacks.

As such, the colossus does not need careful attention to make sure it is maximizing its role. The only thing you have to do is keep it alive, and it kills everything with glee. As such, the burden does not rest on the protoss player to use the colossus well, but the opposing player to counter them well. The colossus does not become a conduit for interaction between players, because the interaction around the unit is very one-sided, where the protoss simply makes them and his opponent has to react to the units' very existence. As such, either colossus work or they don't. There's no battle where you go, "man, that guy had such great colossus control. If he played worse there he'd have lost it."

And of course, colossi can actually lose their attack if they cancel their animation too fast, even though the graphic will play. This means that you're just better off attack-moving and leaving the things alone, cause micro might make them perform worse.

2) The Roach:



What's the counter to roach? More roach.

When the concept for the roach was revealed in alpha, I was very excited. The unit seemed to be the epitome of interesting design. For those of you who didn't know, the roach regenerated hp at an extremely high rate, and as such had very strong attrition power, and was very strong vs non-concentrated fire. Fighting roach required active micro from the opponent to focus down individual roaches, and keeping your roach alive as long as possible and abusing the high regeneration rate to rotate hurt roaches back was especially rewarding. Badly micro'd roach, or badly micro'd units vs roach were both vastly inferior to well micro'd units. This is exactly what makes units interesting.

Then when beta rolled around the roach became just a high hp ranged unit that seemed to require no micro to use. There was no active regeneration until hive tech. It was just a really lackluster unit. Since that time, the active regeneration upgrade simply disappeared, and the burrow and burrow-move mechanics turned out to be insignificant and gimmicky. I'm personally incredibly disappointed in this unit, because Blizzard literally took a great idea and destroyed it.

The roach suffers from a lot of the same issues the colossus does:
-Roach outperform hydralisks as a ranged attacker in almost every circumstance, since they are faster, have nearly double the hp, and cost significantly less.
-Roach are the only zerg unit before ultralisks that can take any sort of AOE punishment at all.

As such, roach supplant a lot of the zerg army in many circumstances (ZvZ and ZvP especially). We really don't see anything in terms of a balanced force between lings, blings, hydra, and roach with infestor and air support. Instead we just see a lot of roach + support. Now, I am not saying that people only use roach. However, when they DO use roach, they don't just add a few roach to another army. The roach is not a unit that adds any new dimension to an army, it simply supplants already existing units, in the sense that any role the roach is filling in an army can also be filled by another unit that zerg has, but likely worse.

3) The Thor:

This unit just screams "DONT MICRO ME." It's slow, with slow responsiveness, clunky attack animations, and really poor targeting. There's only one thing you can do with thors which is focus or cannon really large targets. There is no move/shoot with something that clunky and slow. There's no repositioning such a unit in battle.

It seems like even Blizzard is so disgusted with how horribly this unit turned out that they're scrapping it for HotS, and as such I don't want to dwell on it further.

4) The Phoenix:

Those of you in beta should remember when this unit was given its wonderful shoot-while-moving ability. We all desperately wanted something micro-able, and what does Blizzard do? They introduce one of the goofiest mechanics in Starcraft 2. I'm perfectly okay with the unit itself, and I think graviton lift is a very interesting ability, but the implementation of move-shoot is just so embarrassingly silly and anti-micro that it deserves a mention here. Move-shoot does not mean a unit that automatically shoots while you move it around. That removes the entire decision making process of what do I shoot at?/when do I act to shoot? It's just a bad mechanic.

C) No Zone Control Units



Not that type of zone.

Lastly, we come to the most glaring weakness in Starcraft 2. There is almost no way to hold ground in this game. There are several contributing mechanics that exacerbate this problem (warpgates, no high ground defender's advantage), but the overwhelming ailment is the complete and utter disregard for positional units that Blizzard seems to have adopted for this game.

But why is this such a weakness, according to our framework? Well, the complexity of interaction between units that exist not to kill other units but to control terrain is far greater than units which exist only to blow things up. Simply, the army-level interaction between move-shoot-kill units is very one dimensional. Units smash into each other and the better force wins. However, area control units are much more interesting, because they turn army interaction into a territory control battle. The goal of territory control units is to cut off important routes and gain more map control.

Map control allows other aspects of the game to take over: Macro, harassment, and scouting. More map control yields more bases open for the taking, more routes by which you can harass, and more vision of the map to combat enemy army movements, expansions, and harassment. When armies exist not to kill each other, but to control terrain, the game shifts more towards those three elements, and less away from "who has the better army?" and big deathball fights. Big deathball fights are one-dimensional army-level interaction, whereas map control is multidimensional.

1) Siege Tanks



Too bad I made immortals.

What happened to these guys? It seems like literally every other unit in the game is designed to counter them. We have dragoons with blink, charging zealots, dragoons with some kind of tankrape cannon that evaporates them like it's their job (oh wait it is), marauders, voidrays, phoenix that can lift them up even when sieged (even though I swear they are clamped to the ground), broodlords which cause them to splash each other, and more.

Tanks are just far more of the glass cannon role than they used to be, and because armies are so much faster and higher dps, the window for getting in position and sieging up is extremely small. This makes them just too much of a liability in many cases, especially vs protoss. The designers simply created too many ways to kill tanks for tanks to hold positions by themselves.

2) Banelings, Burrow, and Detection.



Baneling mines are some of the most enjoyable things to do in Starcraft 2. They can be incredibly cost effective vs marines, and are one of the few map control devices that exist. However, they are gimmicky, since a flub leads to them doing nothing, and they cannot be reused, and as such they don't provide true permanent map control.

This brings me to the use of burrow and the unimportance of detection. In Broodwar, the infamous lurker was the powerhouse map control unit for zerg. While many players miss the lurker, I do not suggest bringing the lurker back into Starcraft 2, at least directly. Rather, I think the lurker brought certain key aspects to bear that made it such a phenomenal unit.

The lurker was a purely micro centric unit. It was 100% worthless burrowed in the wrong place, and superbly powerful in the right one. This dichotomy based on position is one of the most essential components of map control-oriented gameplay. The lurker also forced detection, something only the DT and banshee adequately now, leaving zerg in the dust. Burrow banes, burrowed roach, and infestors simply do not force detection, because they are not active threats while burrowed.

The burrow/detection interaction provides a new conduit through which players can interact. Players were scared to move out once lurkers were on the field without great scouting and ready detection, because they could lose their entire army. Even if you move out vs burrow banelings, it's virtually impossible to lose your entire army, because the banes can only kill so many units.


Banelings just can't do that.

What zerg needs is more of an active burrow-based map control mechanism. Fortunately, from the HotS preview, it seems like burrow-banelings will be able to move underground at hive tech. This still is far too late into the game for a detection based map control device. Some way for infestors or roach to be active threats while burrowed would be a major improvement (or moving that proposed baneling upgrade to lair tech) would do wonders for stabilizing zerg map control and making them less reliant on active armies.

3) Static Defense and the Non-Necessity of Siege



Look Ma! No units!

Static defense in Starcraft 2 is extremely weak at actually defending anything. The strength of static defense is supposed to be raw stopping power, in exchange for absolutely no mobility. The idea of static defense is that you sacrifice map control for very cost efficient defense. However, due to the lack of any meaningful map control in Starcraft 2, the opportunity cost for static defense simply isn't very high, and as such, the cost efficiency had to be lowered, to give an incentive to players to make mobile armies and kill each other. That seems to be the direction Blizzard went with in designing this game. There is a huge emphasis on making armies to go kill people, and very little emphasis on actually staying alive.

Naturally, given the weakness of static defense in general, the universal stopping power of defense is much lower than it could be, and that leads to the high level of coinflip losses to allins, because defense is so weak you cannot invest in large amounts of the wrong defense. In addition, since there is little reason to rely on static defense to stay alive, the role of siege units is dramatically reduced, which contributes dramatically to the big deathball army-movement, and one punch victories.

Buffing static defense however has led to stronger cheese (stronger bunkers and stronger cannons, and even spine crawler/queen rushes in beta). This creates a strange situation for us. I think the appropriate response is to make static defense more upgradable, as to avoid the use of strong static defense as cheese early, but without sacrificing stopping power. The planetary fortress is actually a strong example of such defense, and I think it offers a strong incentive towards map control style play, where you don't have to rely on large armies to hold position.

In Conclusion:

Starcraft 2 suffers from unit design that limits meaningful interaction between players. Much of the interaction is one-sided, and as such, the game is less about being the other player than about beating the units themselves. The lack of meaningful map control contributes to a very unstable gameplay, and leads to large-battle centric games. If HotS is to solve these major problems, it needs to implement more micro-able units, which function as distinct and unique conduits with multiple dimensions of interaction between players. Adding more flat units will only further supplant existing units and destabilize the game.