Trying to make this shorter and more concise than usual.

---
Intro
+ Show Spoiler +
This play is adapted from watching HerO's and Killer's stream. Killer does a similar opening but tends to use it as a stargate opener, with his first 150 gas going straight to stargate upon the completion of the core. I've seen HerO use a similar style, but his FFE tends to transition into a 4gate +1 zealot push into the third base which has a massive variety of transitions that gives the protoss a significant amount of options heading into the midgame, something they feel they have not had before. This guide will explore only the latter style.

When players hear or see protoss players have success with warp prisms, they often just try to force a warp prism into their build instead of using a new build that allows us of the full potential of the WP. I see this as a build that does exactly that- you get a robo early up enough while being able to pressure early on and still be able to afford sentries and then even DTs to continue the pressure with drop play.
---
Builds
+ Show Spoiler +
The exact FFE build you will use in a particular game will vary dependent on the map. Here are several different build orders for the various maps (depending upon natural expansion)
With +2 Blink Transition
+ Show Spoiler +
been working on some transitions and i have a nice one to add--
9 py (3 cb on nexus)
14 forge (@100% start +1 weapons)
17 nex
17 gate
17 pylon
17 cannon
18 probe; cb nexus once
19 gas
20 2nd gas
21 core
**3 probes on 1st gas, 2 on the 2nd gas; alternatively, 3 on both and pull one from each when +1 starts**
maintain probes on both nexuses, but don't CB them
~23 zealot (1 CB)
~28 2nd zealot and WG (1 CB zeal; 3 CB WG)
~33 pylon
~34 stalker
~40 3 gates
from here, add an in base pylon then your proxy pylon. the 2z1s will help you secure a proxy pylon if you don't have a probe hidden already.
next, make sure 3 probes on each of your main gases. now add a 3rd gas and a twilight council
~48 1st zealot warpin [4]
**add 4th gas in between 1st and 2nd cycle**
~60 2nd zealot warpin[4] (probe production is maintained through these cycles!! I recommend cb'ing the gates in between rounds. you should have 3-4 available.
if you take the 3rd down, save what zealots you can. you can micro vs lings/slow roaches to some extent. get some more bang for your buck out of those guys. if he holds it with roaches, that's not too bad because he must have delayed his lair more than he would have liked to get roches out. if he held it with lings, O_O
when your WGs come up again get a round of sentries. Your TC will be finishing around now. Use your banked gas to start blink and +2. add 2-3 additional gates. i like to get a robo as well for an obs in case they have blink when you move out. You'll want to CB +2 heavily. It's not entirely necessary to cb blink (+2 is 190s vs the 150s of blink) and you'll want to bank some cb for the push.
**Cut probes at about 50-52. this means:
* * * * * * * *
* * * * * * * *
* * * ?
on each mineral line, 12 on gas total (+1 for mr. proxy probe)
blink and +2 will finish between 11:00 and 11:30. you'll have about 16 stalkers, 4-5 sentries and whatever zealots you managed to salvage from your +1 4g push, and an obs if you opted for one. now go kill!
i'll add a skeleton
http://drop.sc/158976
FFE
+ Show Spoiler +


9 Pylon (scout)
14 Froge
17 Nexus
17 Gateway
17 Cannon
19-20 gases 1 and 2

You'll be able to afford your core at about 21-22 supply. Make sure you get this down as soon as possible.

Add a zealot to hold off the ling run-by if your wall isn't complete or the distance between your choke and the ramp is small.

Begin +1 weapons with your first 100 gas

CB WG research 3-4 times

At about 35 food, your core will be done and you will be able to afford (in terms of time and money) two sentries before WG research is done if you manage CB energy efficiently.

Shortly after, your minerals will begin to accrue. Don't CB your probes too much or you won't be able to afford appropriately timed gateways nor will you be able to afford necessry chronoboost on WG research. At about 40 supply, you will be able to afford 3 gateways. Make sure they go down around the same time for convenience when you are transforming them.

At this point, you should have 1-2 probes hidden some where on his side of the map, or if not at least some where close to the center, unless the zerg scouted flawlessly. You can afford as many proxy pylons as you need to ensure a warp-in, as the rest of your spending will be very gas-intensive, excluding the actual zealots.

Upon the completion of WG research, warp-in as close to the zerg's third as possible (if you scout one with a probe, gun for that location. If you scout no third, add a cannon or 2 and try to probe-scout for a roach or baneling all in and warp in sentries at home instead of zealots afar. For now, we will assume the zerg has a third.

Once you begin the three additional gates, you can add your 2 additional gases and your robo. You will still be able to afford your first zealot warpin for 400 mins and will get a leg up on your tech. Soon thereafter, go ahead and get a twlight council and 1-2 additional gateways. You should make sure you are able to warp-in at least 3 more zealots when your WG cool down is finished to continue rallying to the 3rd base of the zerg.
Nexus first
+ Show Spoiler +

9 Pylon (scout)
17 Nexus
17 forge
17 gateway
17 pylon
18 cannon
18/19 both gases

Use CB prudently; it's easy to run dry on minerals when CB'ing probes while trying to get your gases and core up on time.

If a 7pool is en route, finish your wall and block with probes until your cannon finishes if possible. If it is not possible to wall off in time, start a pylon in your main and warp a cannon into your mineral line. Do not build any additional structures at the natural. We will assume for now that no 7pool is coming.


---
Mid Game Core
+ Show Spoiler +
Grind out the above builds until you reach the point where you have warped in 8 zealots, a robotics and a twilight council until you are comfortable with this style.
You are shooting for a flexible mid game.
At this point, you have enough probes to cut soon and start preparing for a 2 base timing, depending on what it is; you can even cut the 3rd and 4th gas if you are going for an earlier timing, though I recommend using at least 3. You should have about 40 probes at this point.
You have 4 gateways a robotics and a twilight, meanwhile the zerg is forced to make units at this awkward timing. If he is not opening roaches, or gets his roach tech too late, he will only have speedlings, queens, and spine crawlers to defend, so your zealots will be very cost effective as long as you keep them in large enough numbers. So while he is not droning freely, you can easily:
- add sentries, as you will accumulate a sizable gas surplus with 4 gases while makeing zealots. You can use these defensively or aggressively in conjunction with a warp prism
- add more gateways (bring yourself up to 5 or 6 unless your preparing for a GW all-in, in which 7-8 would be more appropriate)
- begin immortal production if you are afraid of roaches
- begin blink research if you are afraid of mutas
- begin a dark shrine
- begin a warp prism
- begin a templar archives for archons or storm/feedback
- begin plans to take a 3rd
You can do any number of these, but if they are in fact opening roaches, it will be quite difficult to take a 3rd until you have enough sentries, immortals and stalkers to hold off a roach spam. Outside of that, you are extremely free to pick your tech route and expansion timing as long as you are scouting for muta or hydra switches.
---
Common Zerg openers/reactions
+ Show Spoiler +
3 Base roach
+ Show Spoiler +
This is considered the standard of the match-up I'd say. The 3rd base will either begin at a very early time once they see you have FFE'd, or at a later, safer time once they have established more saturation. Your success against this style will come from your ability to sneak probes and pylons around the map and from the timing of your opponent's roach warren timing.

Your proxy pylon does not need to be extremely close to the third, but it should be on their side of the map, beyond the towers, at least. Your main goal is to take down the hatchery, so when faced with slow roaches as you are rallying zealots, you should try to focus down the hatchery and ignore the roaches if need be.

If you manage to take down the hatchery, you are in a very good position, but should be wary of taking a greedy 3rd at the risk of roach spam. If your attack falls flat, you can transition into DT drops very easily and very quickly and come back into the game if you can manage to snipe hatcheries/important tech buildings with DT/zealot warp-ins off of six gateways. Taking a 3rd from here will be difficult if you cannot do damage with this, though.
2-3 Base Muta
+ Show Spoiler +
This style is becoming more common in ZvP as I'm sure you know. However, this push will come before mutas are out and the zerg will not have anything to defend outside of lings queens and spine crawlers. You are all but guaranteed a hatchery kill at the 3rd unless they hold it off with pure lings, in which case they will have very few drones afterwards. If they do not take their 3rd, you can pressure the natural because even though he hasn't extended to a 3rd, he still only has lings/queens/crawlers to defend. You really won't be able to differentiate between a muta build or an infestor build at this point, but you can gain that information with an observer or a warp prism while preparing yourself for mutas by warping in additional stalkers at home and researching blink.
2-3 Base Infestor
+ Show Spoiler +
This will play out much like muta play will at the time of the push, but you can harass more freely with WP play after the opening. You can also get high templar out faster than you are used to because of your pressure and relative safety. Once you have established your third, roaches will no longer be very strong against your gas-heavy composition. Try to maintain distance between infestors and your army as possible with forcefields and make sure you have enough aoe to deal with infested terran spam.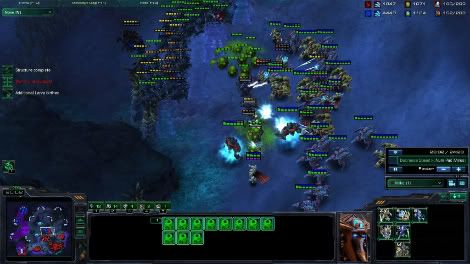 If you are out of forcefields, use storm on roaches since you can't negate their damage entirely.
Immortals are pretty good
2 Base all in, roach or bane
+ Show Spoiler +
Playing blindly, you will always get 2 sentries out before WG finishes. However, you will need to use your probe(s) on the map to sniff out these builds as they are coming to add additional cannons and sentries at home rather than warping in zealots aggressively. As in all FFE situations, your success here will come from your ability to scout effectively. But you are also somewhat safer against these because you finish your WG research and have additional warpgates available much faster.
---
Caveats
+ Show Spoiler +
New Philosophy
+ Show Spoiler +
As always when you are learning a new style, you must adjust to the new options you have in terms of transitions later on. This build gets 2 gases very quickly, and adds the 2nd 2 geysers while you are only spending minerals on attacking units. This means you will have more gas than you are used to because you are not spending as much of it early on making stalkers, more sentries, or quicker tech. It will be awkward trying to spend all of this gas right away; you will find that you can get up to DTs and high templars much quicker than you usually can. Abuse that! You can prepare for DT drop timings or archon/chargelot timings quicker than you are used to, so make sure you capitalize on your gas income as soon as possible. This style relies heavily on harass and splitting up your army, so get used to executing small drops and proxy warp-ins to do chip damage.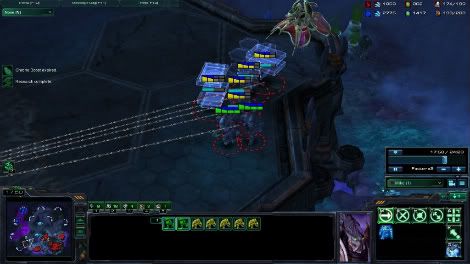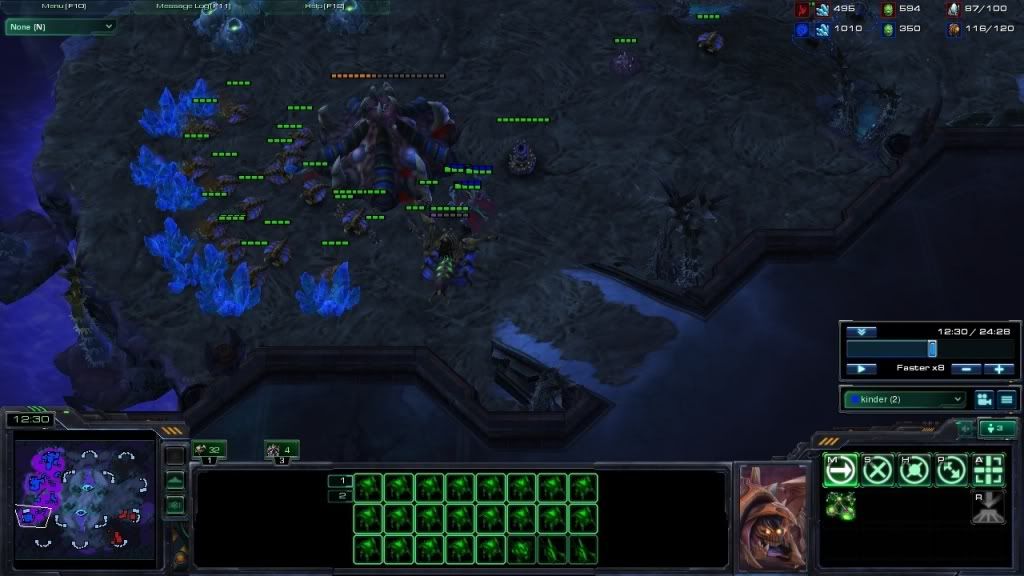 Start getting more comfortable with camera hotkeys; you can more efficiently dump units into a location without having to mousemove/mini map click there.
Probe Sneaking
+ Show Spoiler +
This concept is difficult to explore. HerO will typically have 2 random probes out on the map and will somehow be able to establish convenient proxy pylons to ensure a close warp-in. This will come only with a lot of experience. You will notice your 2nd hidden probe should leave your base right before lings are out on the map. CB'ing your first zealot to deny access to the tower will be pivotal in maintaining the secret identities of your spies, so do as you will with this somewhat expendable zealot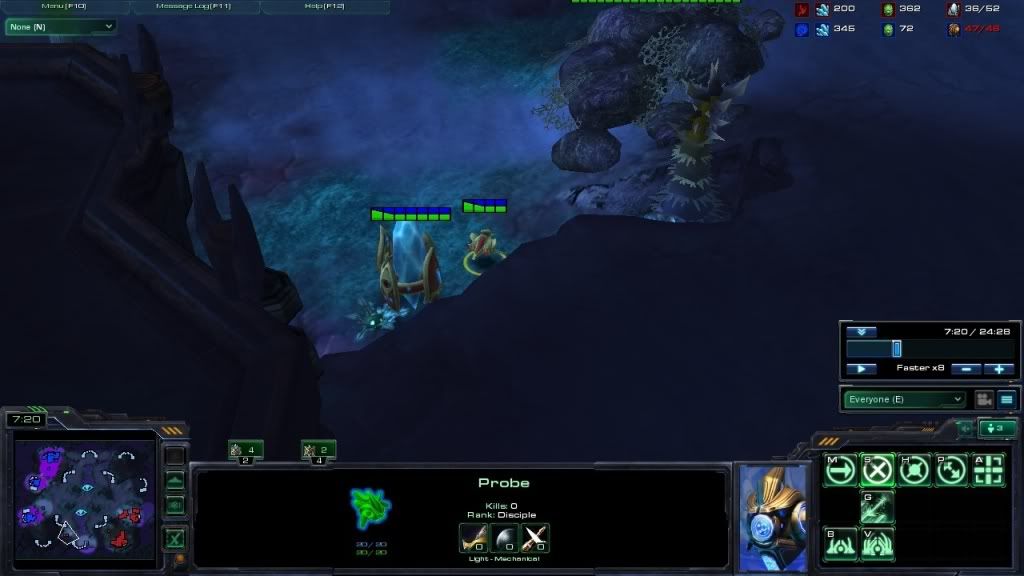 what up bitches
.
---
Late Game Situations
+ Show Spoiler +
Transitioning quite freely into the mid game, you will be making more and more decisions every game which usually result in longer games with more expansions. This style will give you the core infrastructure you need to harass throughout the game, as warp prisms and dark templars are easy to grab from the opener. There is no excuse to not always have a pylon or a warp prism in a favorable location that you can warp in units to harass/cancel expansions effectively. You want the zerg to play as defensively and conservatively as possible if you want to establish additional bases without fear of a straight-forward attack.

Ultras are quite easy to deal with out of this opener, as you are quite gateway heavy and have the ability to warp in high templars for archons and dt/zealot for buffers. As you are not relying on colossus to deal aoe damage, you can also pump out a good deal of immortals since your robo won't be tied up outside of WP/obs production

Broods can be dealt with using stalker/archon/ht/sentry compositions, but void rays can help in late game situations against roach/brood or roach/infestor/brood compositions as well.
---
Conclusion
+ Show Spoiler +
In situations outside of a 2 base all-in from the zerg, this build will get you up to the 8-minute mark when your zealots should be assaulting the third. From there, it is pretty open ended. The 2 additional gateways are not listed explicitly in the build order, but after watching and playing this build many times out, I feel as though getting up to 6 gates is the "next step," whether or not you're trying to take a 3rd early. Having more gateways improves your ability to hold off roach rallies to your 3rd or nat before your stronger tech units kick in, and lacking on GW's will severely hamper your ability to move forward into the mid game with any kind of strength.
---


Replays & Other Resources
+ Show Spoiler +

This section will be updated as always

alejP v frostiZ

In this case, I manage to keep my probe alive and unscouted until the very last second. He was not opening roach and didn't have lings out in time, so I pretty much won immediately.

alejP v ZeNEXMunchlaZ

My probe managed to get an extremely good pylon by the third before it finished, allowing me to get really good warp-ins. DT drops seal the deal.

alejP v kinderZ

My zealot pressure does not kill the hatchery. I probably could have killed it by focusing it down sooner but I was distracted I suppose. I use the WP to take the 3rd between my main and his 4th which goes unscouted; zergs will tend to neglect scouting bases like this for the time being, but as this kind of play becomes more popular, you probably won't be able to get away with this as easily :p

alejP v lynxZ

I didn't get up a good pylon but because my opponent opened up with slower roaches, I was able to force more units and do at least some economic damage. A DT drop follows up to snipe the 3rd hatch as I take my own 3rd and transition into a robust, macro-oriented midgame.

alejP v shortizzZ

This game, my opponent opens up roach but doesn't get enough out in time to stop me from killing his 3rd. I try out a colossus transition and a slightly later 3rd and forgo WP harass, though it could have been very beneficial given the map positions.

http://drop.sc/95530

1 base bling bust on metal. need to see this coming or gg

http://sc2rep.com/replays/download?id=16869

this is vs greedy 3rd with roaches not quite in time.. pretty much ideal for what we're doing. i delay the gases just a tad and it seems to really help with 4g timing

http://sc2rep.com/replays/download?id=16870

inbase proxy hatch that I don't scout until I can see the creep.. no quick 3rd scout, scouted early roach warren

here's one vs 2 base roach aggression! it finally happened!

alejP v mkengynZ

if you scout that he's still mining gas past 2400, get some cannons and a few stalkers to micro. also re rally your nat nexus to your main minerals and send all the probes to mine in your main. i lose a few needlessly. also there was no need to push in after i killed the nat; i got greedy. should have taken my third and teched happily.

Check out HerO's vods. He does this almost every PvZ, if not the stargate build if he cannot secure hidden probes early on

http://www.twitch.tv/liquidhero



Feel free to leave comments/feedback/replays
Thanks for reading
aLeJ