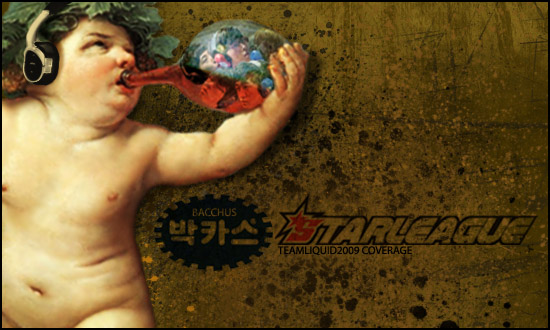 SilverskY and Daigomi are sexy



The Bacchus OSL 2009's topsy-turvy Ro16 now a distant memory (buried below intense SHL, MSL, and PL action), its Ro8 seems almost overdue. Suffer the suspense no longer: the Bacchus OSL 2009's quarterfinal round kicks off this Thursday (July 24) at 18:30 KST, but TL's coverage of it begins now!


---


The Bracket

Feast your eyes on the structure of the Bacchus OSL 2009's elimination stages: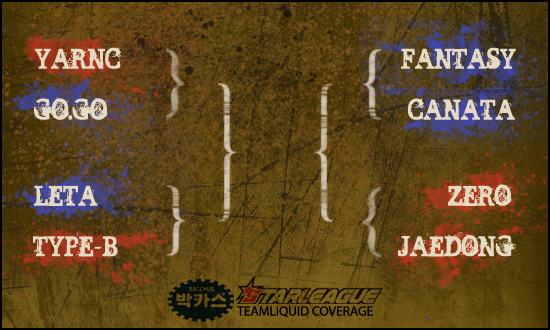 This is a good opportunity to explain precisely how the OSL Ro8's bracket is determined (a topic I'll admit to being fuzzy on prior to writing this article). Eight players advance from the Ro16: one first-place finisher from each group (A, B, C, and D) and one second-place finisher from each group. The Ro8 bracket is then randomly generated subject to the following two constraints:

Each first-place finisher must face a second-place finisher in the Ro8.

Each side of the bracket must contain one player from each group.
This random generation is performed at a live drawing following the Ro16's conclusion. Zeus and Iloveoov conducted the Bacchus OSL 2009's drawing — ironic considering how unfriendly to Hite and T1 this bracket is.



---


Dark Age of Protoss

The Forces of Aiur stood tall in fall 2008: Stork finally claimed his first OSL title, GOM S2's final and the ClubDay MSL's quarterfinals (and final) were all Protoss versus Protoss, and the 6 Dragons ran amok in Proleague. The ClubDay MSL Finals' opening video, hyping Bisu vs. Jangbi, heralded the "Golden Age of Protoss":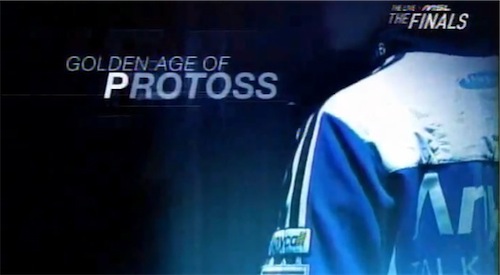 An era past


If the StarCraft season before last was Protoss's Golden Age, this one is its Dark Age. BW's proudest race has fallen far over the first half of 2009, and this OSL's Ro8 is a brutal new low: because none of the Ro16's three Protosses survived his group, the Bacchus OSL 2009 is not only the first "modern OSL" (the first OSL since Daum restored the tournament's original format) without a Protoss quarterfinalist — it's the first without a Protoss semifinalist.

To watch an exclusively Terran and Zerg OSL Ro8 you'd have to take your wayback machine to the 1st ShinHan Bank OSL in spring 2006, when the OSL's elimination stages began with its Ro16 and calling Casy Neo Emperor was not a yet backhanded compliment. Yes, prior to this OSL, Protoss had been a staple of the OnGameNet Starleague's later stages for over three years.

So, what changed? Why have Protoss struggled so mightily in this OSL? Surprisingly, the answer is not floating in its map pool. Unlike the 1st ShinHan Bank OSL's maps, which included balance disasters Rush Hour 3 (8-24 PvT), Sin Pioneer Period (3-9 PvZ), and 815 III (13-22 PvZ), this OSL's maps look fairly balanced in PvX matchups. A Protoss bastion (such as Troy, Katrina, or Medusa) is notably absent, but so is a Protoss graveyard: other than Return of the King's PvT mark (10-16), every OSL map's PvX winrate stands between 40 and 60 percent. Even Holy World, with its wide open naturals, and Outsider, with its gas-happy expansion layout, have proven manageable for Protoss players. Though maps certainly haven't helped the forces of Aiur through this OSL, they cannot be the primary cause of Protoss's absence from this Ro8 — especially because Tosses are also struggling in the MSL.

Rather, the Dark Age of Protoss has a blindingly simple explanation: most of Brood War's top Protoss players have been playing like garbage lately, and they each pulled somewhat tough draws in this OSL. Best faced a Zerg in the Ro36, Kal and Bisu met Zero in his occasional ZvP godmode, Stork fell to Fantasy's sick TvP, and both Jangbi and Free were upset in offlines (while on the verge of painful slumps).

Protoss's poor performance in the Bacchus OSL 2009 is remarkable, but we should be wary of attributing it to anything more significant than a confluence of cold streaks and difficult opponents. 2008's Golden Age has warped our impression of average Protoss success — it was the exception. Aiur's status quo is a unique reliance on just one or two elite players for representation on BW's biggest stages, and thus a unique vulnerability to complete absence from those stages. If not for Bisu, Stork, and Reach, EVER2007, Daum, EVER2005, EVER2004, and SKY 2 would join Bacchus 2009, IOPS, Olympus, and Panasonic as OSLs without a Protoss quarterfinalist. No OnGameNet Starleague Ro8 has been without a Zerg or Terran player.


---


Hite Fight!

Quick, get in touch with the civic minds at WeMade FOX! If Hite's sponsorship of the SPARKYZ wasn't enough to make every young adolescent in Korea a raging alcoholic, this OSL surely is — with the SPARKYZ claiming half its Ro8 berths, OGN will be giving Hite's logo plenty of airtime in the coming weeks.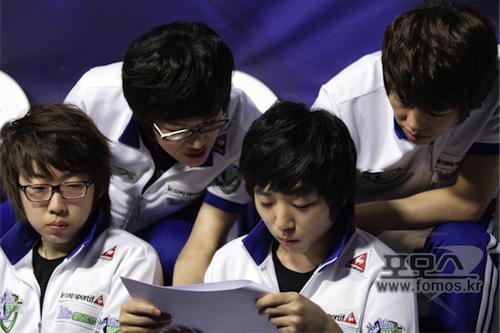 Pictured above are the SPARKYZ's four quarterfinalists, reviewing Hite's master plan for pitching booze to 14-year-old girls their secrets to OSL success:

For Leta: just keep doing what you do best.

For Go.go: do not play Bisu straight up. Remember that BM is the source of your power!

For Type-b: don't practice ZvT — Fantasy will destroy you regardless. Instead, capitalize on your Protoss opponents' weak vZ.

For Yarnc: do not, under any circumstance, practice with your brother! To assure victory over Flash, choose a build that he must build turrets to survive. To have a shot at victory over Jaedong, pray that his grueling schedule has rendered him near-comatose.
---
Quarterfinal A Preview

YellOw[ArnC]
go.go
vs
Career vT:

56-31 (64%)

Career vZ:

10-10 (50%)

Last 10 vT:

8-2

Last 10 vZ:

5-5


While Type-b and Leta can't be overjoyed at drawing a fellow SPARKY in the Ro8, they should at least be relieved to have avoided Yellow[arnc]. In his latest Weekly News Artosis picked Yarnc to win Hite's half of the OSL bracket, and I'm inclined to agree. With no Protoss to stand in his way and his best matchups (ZvT and ZvZ) looking more fearsome than ever, Yarnc is perfectly poised to continue his impressive performance in this OSL.

Yarnc's TvZ combines his brother's flair for strategic plays with impenetrably strong late-game management. Fake Yellow is an all-around master of this matchup, and as such I fully expect him to steamroll poor Go.go — who in this series will be lucky to build a command center at his own mineral-only, nevermind his opponent's natural.

Bottom line:
YellOw[ArnC] 2-0. Go.go's TvZ is simply a cut below Yarnc's ZvT.



---
Quarterfinal B Preview



Though he is by far the most unaccomplished quarterfinalist and even (judging by Proleague lineup appearances) Hite's weakest Ro8 qualifier, Type-b is nevertheless a tough matchup for his teammate Leta. On paper Hite's ace is a prodigious Zerg slayer: he's ridden his wraith-happy TvZ to an 11-4 record against The Swarm this season, and two of those losses came to JD. However, Leta has a history of floundering in the metagame when facing crafty Zergs — see his proxy 8-rax against BW's most notoriously aggressive Zerg (who, naturally, opened 9-pool and hard countered for an easy win) or his most recent BoX series vs. Luxury, where he was completely outwitted in games 3 and 5.

Type-b, like Kwanro and Lux, has a penchant for aggressive, low-econ strategies. If he can avoid straight-up games and instead test Leta's questionable ability to predict and counter unorthodox play, Type-b may be able to capitalize on Leta's ego-shattering failure in PL playoffs to gain an insurmountable mental advantage here.

Bottom Line: 2-0
Leta, barring any trickery from Type-b.


---
Quarterfinal C Preview



StarCraft's bracket gods must have a vendetta with SK Telecom T1. Canata vs. Fantasy makes this the third consecutive OSL with a T1 vs. T1 quarterfinal match, and SKT fans will have to watch it with the bitter taste of Fantasy vs. Bisu's MSL Ro16 series lingering in our mouths (sigh, it's just so tough to root for a team that is consistently successful in Starleagues).

T1's in-house competitive dynamics are now exceedingly complex: Bisu eliminated Fantasy from the MSL, giving him more time to focus on this series than Canata, who after his Day 1 win at the MSL Ro16 said he "gained a lot by watching Fantasy", who must now regret letting Canata look over his shoulder in the T1 practice room. Observing Fantasy's games may have helped Canata cruise past Piano in the MSL, but shouldn't be enough to topple Fantasy himself. Oov's prodigy remains StarCraft's best all-around Terran player, and here he will use his seemingly-innate understanding of the game to assert his position atop T1's Terran hierarchy.

Bottom Line:
fantasy, 2-1. Canata's TvT looks sharper than ever, but he is outmatched (and will be out-practiced) here.


---
Quarterfinal D Preview



I have been eagerly awaiting this matchup ever since Zero's ZvZ impressed me on his Lost Saga MSL semifinal run (2>1 Yarnc in the Ro16, 3>1 Savior in the Ro8). Though Zero's Lost Saga MSL hopes ended with a pitiful 0-3 loss to Luxury and he's currently on a painful string of vZ losses (OversKy, Kwanro, and, on June 22 Jaedong himself), he is still easily capable of challenging the Legend Killer's inhuman ZvZ. More than any other Ro8 qualifier, Zero's potential is tied to his mental condition — and, at eight of his last nine against a host of tough opponents, he is playing with determination, confidence, and flair.

More significantly, though, Jaedong is coming off of an 0-2 defeat in GOM that made his ZvZ look vulnerable for the first time since he fell to July at WCG Korea 2007. Effort simply outplayed JD — even beating him with 9-pool, a build Jaedong said he never loses to in practice. However, Zero is no Effort, and Jaedong's GOM quarters loss is thus an obviously weak basis for doubting his status as the favorite in this series. JD has an uncanny ability to recover quickly from unlikely defeats, and with a Golden Mouse now just eight wins away he is sure to combine that ability with rigorous practice to remain, in Zero's words, "the ultimate boss of ZvZ".

Bottom line:
Jaedong in three, but a surprisingly strong performance from Zero.



---


One More Thing:

GTR has put together a nifty list of OSL and MSL Finals venues (memorize it to whip your buddies at eSports trivia).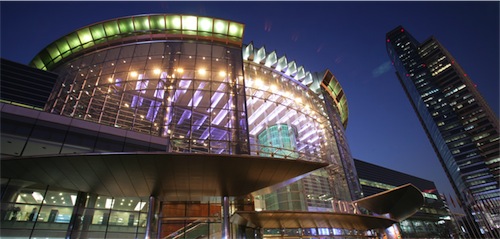 COEX Convention Hall in Seoul, site of the Incruit OSL Finals


As forum-goers and VOD-watchers, it's easy to feel removed from StarCraft as a stadium-packing spectator event. For the average foreign fan, all professional BW matches are framed by YouTube's familiar layout. For Korean SC enthusiasts, however, each match is framed by its particular venue, banners, and fans. These circumstances are often meaningful — for example, Firebathero's victory dip at the 2008 Proleague Grand Final wouldn't have been possible anywhere but the beach, and as "a Pusan man" Fantasy benefited from a friendly crowd at the Batoo OSL Finals.


---
Get hyped: the Bacchus OSL 2009's conclusion will coincide with not only the later stages of GOM S3 and the Avalon MSL, but the long-awaited 08-09 Proleague playoffs. Sorry this writeup was a bit on the longer side (there's plenty to talk about here), and see you in LR threads!

Peace,
JWD