Happy Chinese New Year, everyone! It's the
Year of the Dragon
now and Proleague coverage is back with a vengeance. Did you experience Broodwar withdrawal symptoms this week? We sure did. Our writers were on edge and with no games being played (and having watched
a Kakaru get stasised at least 300 times
) we had to actually
talk
to each other. It was horrible.
Thank goodness PL is back. R2 has been a round of upsets so far, and we for one hope this trend will continue. Though the top four are still the top four, and T8 have gone back to being disappointing, the shakeup at the beginning of the round tilted the standings for a little, and was a good reminder of how volatile the game can be at this level. With the bo5 format now figured out, it will be interesting to see what the top six teams manage in the few weeks we have left. At the moment, they are all within one or two wins of each other. This is good for Brooodwar.
With everything on the line and no one with a clear lead, everyone from KT to Stars will have the playoffs in sight and this, my friends, will result in good games. As the PL coverage team, we can't tell you how many seasons of Proleague we have left. We don't know what KeSPA is up to, and frankly we don't care. We have eight of professional gaming's best before us for the next few weeks, and you can rest assured that we'll be watching every play, every game, every annoying kpop video played by our beloved streamers. We hope you do too.
Catch up on the matches you missed
,
see what lies ahead
, and then join us on the forums and on IRC as we watch the action unfold.
--riptide
Recaps, Round 2 Week 3

By: Kiante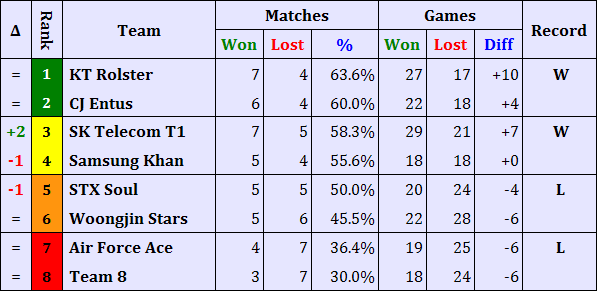 SK Telecom T1
3 - 1 Airforce
ACE
Alone
«
Outlier
»
great
BeSt
«
Ground Zero
»
Kal
Fantasy
«
Sniper Ridge
»
M18M
Bisu
«
Electric Circuit
»
Canata
« Jade »
The first match of the far too short week featured the flagging SKT up against a struggling Ace outfit. Alone saw his first showing in his new jersey as he turned a potential build order disadvantage into a victory over the onetime MSL semi-finalist Great. Kal struck back for ace punishing Best for taking a quick expansion with a strong reaver timing attack despite taking some early losses. Fantasy managed to continue his strong form this season, taking down M18M easily and showcasing the excellent vulture control that makes him such an exciting player to watch. Finally, Bisu took out his old teammate Canata with some excellent arbiter play in a long game on Electric Circuit. All in all, Ace looked simply outclassed with SKT showing why they have been such a strong lineup despite their recent stutters in form.
STX SouL
1 - 3
KT Rolster
Last
«
Jade
»
Action
Dear
«
Sniper Ridge
»
Flash
Bogus
«
Ground Zero
»
Stats
Trap
«
Chain Reaction
»
Wooki
«Electric Circuit »
STX vs KT was hailed as the marquee matchup of the week. The dominant force of last season, KT, sitting atop the crest of the proleague ladder was to be challenged by the newly invigorated STX lineup and the predictions of an upset were numerous. Unfortunately for STX the fairy tale victory was not to be as KT summarily trounced them in four games. Last was the first to fall for STX, falling into the trap of allowing Action to play a hive tech ZvT. While Action's form this season has been mediocre at best, he showed why he was such a force in ZvT in particular last season, with a dominant showing containing Last to three bases ad nauseum until his victory was assured. Dear was the next to go for STX as he was unlucky enough to draw the short straw in the shape of having to play against Flash who's 5 factory push was too much for Dear to handle.
Bogus managed to turn the tables for STX by taking down Stats, easily thwarting what was a strange attempt by Stats to expand towards the Terran main, something that is not particularly effective in most circumstances, including this game. Bogus was even forced to build multiple manner command centers to force Stats to leave the game, while he seemed to be exhibiting symptoms of what can only be described as Fantasy GG timing. STX's good fortune was only short lived as Trap was unable to stop Wooki's fast expansion build on Chain Reaction and gave KT the win, 3-1.
Team Spotlight: SK Telecom T1


The Decline and Fall of the SK Telecom T1 Empire
By: Carnivorous Sheep
History repeats itself, and once again we're seeing the all too familiar drama play out – SK Telecom T1, fielding its usual stellar lineup, falling over and over again to the underdogs.
STX, Woongjin, STX again…game after game, SKT disappoints in the face of adversaries whom many considered lesser and non-threatening. Their only respite comes in the form of their victory over Ace, small consolation considering the fact that it necessitated the fielding of the fabled FBB core just to secure a victory against a team whose role is, more often than not, that of a sparring partner for the less experienced players of the top ranked teams (even here, one of the core trio fell in [un?]spectacular fashion).
History repeats itself with a sickening, almost comic regularity at this point. In both the 2009-10 and the 2010-11 seasons, SK Telecom opens the season at the top of the standings in R1, managing a disgusting 9-0 in round one of the 2010-11 season. In both seasons, their spectacular first round is soon forgotten in the face of a disastrous second round. The beginning of round two of 2009-2010 saw a string of disappointing defeats to supposedly weaker teams. Round two of 2010-2011 saw them drop from first to eighth in ranking. Now we find ourselves in the 2011-2012 season, and the sense of time repeating itself is starting to set in again.
Alongside its innumerable fans, SKT also has its legion of anti-fans, many of who are anticipating SKT's fall to the bottom of the rankings with glee… but for those of you who also remember their history, you'll see the story's only half over.
Despite trials and tribulations in the second round and Winners' League, SKT always, in miraculous fashion, manages to recover. By the end of the season, SKT is never far from the top podium spot.
So the question is, is this year different?
The most positive thing for SKT is the absence of a looming Winners' League round, a traditional area of weakness. Despite flaunting near S-class players in Fantasy, Best, and Bisu, all three lack the commanding consistency needed to dominate Winners' League in the style of Jaedong 2010 or Flash 2011. A solid best-of-five has always been a better display of their capabilities. Another contributing factor was the extensive preparation and map knowledge advantage the SKT coaching squad has possessed over most of the other teams, de-emphasized in Winners' League format.
The absence of an ace match has been a mixed blessing for SKT. I hesitate to say it straight up helps them, because Fantasy and Bisu (and even Best on occasion) have had very clutch ace performances, but only having to face Flash, Bogus, or even the slumping Jaedong once is a huge boon to any team.
Sniper Ridge has been a curious weakness of SKT in this particular season; despite the (statistically) favorable PvT matchup, the SKT BB duo have gone a combined 0-3 on the map, with Bisu's protégée Sun throwing in a PvZ loss to make a 0-4 record for the SKT Protosses. Perhaps Fantasy should be promoted from the occasional sniper choice (har har) to a fulltime position on this map?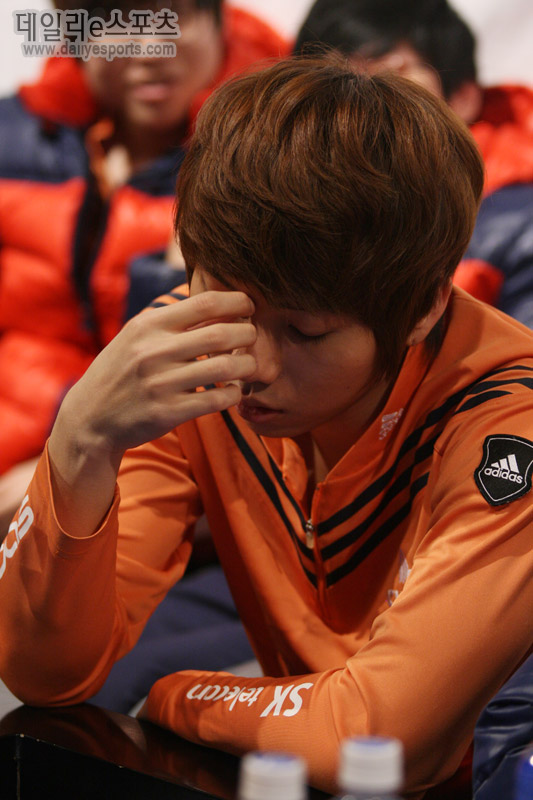 Another potential liability for SKT is Best. Would anyone have believed me if I prophesized, two months ago, that PvZ would be Best's best match-up? Delirium! And yet it is so – Jaedong, Hydra, and Soulkey have all fallen to Best's newfound PvZ prowess on his road to a 5-1 PvZ record (I proudly add that the only loss came from Calm). Conversely, dominance of PvP and PvT, both at one point synonymous with Best, seem to be slipping from his grasp. A boring win over TvP failure Light and a crushing defeat to Last, along with a 0-2 PvP record, leaves one doubting whether Best can ever be good at more than one matchup at a time.
An assorted mix of strengths and weaknesses add to our standard view of SKT as being supported by Fantasy and Bisu, held back by the average Zerg line. What does all this mean? To be honest, I'm not quite sure. Frankly, SKT was, is, and always will be a favorite to win the Proleague. It has been so for years, and so it will remain. In terms of prediction, I will opt for the copout; rabid anti-fans, hold your horses, SKT may not win the whole thing, but I wouldn't bet against them finishing in the top three. SKT fanatics, show some humility. There's still a two-meter exhaust vent available for the resourceful rebel to exploit.
P.S. Personally, I hope they crash and burn. A wild fancy most likely, but hey, one has to have some dreams.
It's that time of the year again. Children run around and extort New Years money from their parents and relatives. Fireworks fill the air and families gather to enjoy traditional dishes and games together. Proleague takes a one week break and nerds all over the world cry from the BW withdrawal. Some of you may have wailed over your tears, "Why, Proleague, why hast thou forsaken me?" But the truth is, progamers just had more important things to do than tend to your entertainment needs. Stork spent the weekend
drinking with free
, Jaedong went on a
date with Jaehoon
, SKT's FBB trio
posed stylishly around the city
, and the CJ Entus players
turned into prettyboys
for an adorable photoshoot. All in all, an eventful week.
On the 23rd, we ushered in the Year of the Dragon. Often considered the luckiest year in the lunar calendar, the Year of the Dragon will hopefully have some great things in store for us. Will Team 8 finally get a sponsor? Will STX continue to be the bane of SKT's existence? Will ACE make it to the playoffs for the first time ever?
Actually, that last one might be quite likely to occur. Although it's pretty
natural that ACE players tend to be part of the older crowd, it's rather interesting to note that this year, the roster contains five players born in the Year of the Dragon (1988). A list of Dragons, by team:
ggaemo (ACE)

firebathero (ACE)

Orion (ACE)

Piano (ACE)

Chavi (ACE)

free (Woongjin)

Stork (Khan)

Violet (KT)
Although we often lauded Team 8 for having a star-studded team, the truth is, the REAL star-studded team of this year... is in fact Airforce ACE. It's no wonder they've so far already performed relatively well this season, pulling some impressive wins over Khan, Stars, and Team 8. Now that almost half the team has received super saiyan juice from the heavens, and with the addition of Kal (the other type of dragon), look to see ACE burning the other teams to a crisp.
Of course, one should not forget or underestimate the other dragons as well. Perhaps this year, Violet will make a swift return and unleash a previously hidden power to bring KT to its 3rd championship. Or maybe we'll watch Stork overcome all opposition to decisively win another
silver
gold. And don't be surprised if you see free stomp his way to the next OSL finals!
Bogus vs Stats


Ground Zero
By: Hyde
With KT leading 2-0, Stats is sent out to end the series. STX sends out Bogus in the hope that he'll shift the momentum onto their side and start a reverse sweep.
The game starts with Bogus spawning at 7 o'clock, Stats at 5 o'clock.
Stats opts for a gate into core, while Bogus goes 1-rax expand. 2 SCVs are sent out soon after to scout potential proxy locations. Bogus proceeds to get two factories and Stats takes his natural, starting up a robotics. Dragoons begin to assault the bunker at the natural and, masked by the distraction, Stats sends out a probe to 3 o'clock to take a third.
Bogus' first tank arrives to provide some relief for the marines inside the bunker. No longer able to apply pressure to the front, Stats retreats his dragoons and acquires three more gateways.
No Vultures allowed
Bogus sends out a few vultures to raid the third, but Stats has blocked the ramp with dragoons; the vultures move onto the natural where they find yet another wall denying them access to Stats' probes.
With his third up and running, Stats warps in a citadel and a stargate. Meanwhile, Bogus constructs a third CC inside his main and moves his forces out to secure his future third at 6.5.
Stats takes a fourth base at 6 o'clock, a dangerous choice given that it's located directly in the path of Bogus' upcoming push. Goons are sent out to clear the minefield left by the vultures he had denied earlier. More gateways are added.
Bogus, adamant about getting some vulture harass done, manages to run Vultures past the natural and into the main. Stats is quick to respond, however, and the damage is negligible.
11 minutes into the game, Bogus moves out just as his +1 upgrade is about to kick in. Vultures run deep into Protoss territory and, with Stats' army slightly out of position, Bogus manages to siege up his tanks within firing range of Stats' fourth.
Stats rushes over to engage, a shuttle hovers over the tanks and zealots drop from the skies. More zealots charge from the North, but Bogus, with his superb vulture micro, manages to protect his tanks. Throughout the encounter, Stats is suffering major losses and retreats after haemorrhaging nearly 50 supply. Bogus' tanks start raining shells on the fourth, setting Stats back to three bases
Battle to save 6 o'clock
An arbiter appears on the battlefield, hiding a small zealot/goon force and cutting off Terran reinforcements. Bogus has a science facility though and a vessel appears in short order. Bogus mobilizes his forces and traps many of Stats' units, forcing Stats to retreat once more.
Pressure is mounting and Stats starts a new expansion at 2 o'clock, this time away from the Terran push. However, an incomplete pylon wall allows vultures to sneak in and destroy the nexus before it finishes warping in.
Stats prepares another attack and his stasis manages to catch a science vessel before the EMP hits. With no high templar in sight, Stats struggles to fight the large Terran force. Another retreat is ordered, with three zealots diverted in a small attempt to harass Bogus' third.
Stats needs another expansion and, for reasons unknown, decides to retake the 6 o'clock.
Bogus on the other hand, looks very composed; with a larger supply and 2/1 upgrades, he moves his legion across the map towards Stats' natural/main. Stats engages in an effort to stop Bogus from advancing. An arbiter arrives to stasis some tanks, and an innocent Kakaru is caught in the crossfire. With more losses sustained, another retreat is ordered as the tanks continue to blow Protoss units into oblivion.
Kakaru! Thanks to Kipsate for the gif
With the 6 o'clock now cut off, Stats starts another Nexus at 2 o'clock. At the 15-minute mark, Bogus has an iron grip on this game and continues pushing towards Stats' natural, taking 6 o'clock for himself along the way.
Stats is now trapped inside his natural and fast running out of breathing room. A Terran force spanning nearly two screens is slowly inching closer, with more units arriving to reinforce, there appears to be no way Stats can break out. Bogus, confident that this game is his, starts to construct a manner CC at Stats' natural. As tanks and vultures begin to flood in, Stats finds himself with no arbiters left and half the supply of his Terran opponent. Stats types out.
Previews, Round 2 Week 4

By: mustaju
Current Proleague Prediction Challenge Progress:
Matches
Predicted
Actual
Gain/Loss
Current
-3
Airforce Ace v SK Telecom T1
1 - 3
1 - 3
+3
KT Rolster v STX Soul
2 - 3
3 - 1
-2
Final
-2
+ Show Spoiler [The Rules] +
If I predict the winner and the result correctly, 3 points
If I predict the winner correctly, and the result is off by 1, 1 point
If I predict the winner correctly and the result is off by 2, 0 points
If I predict the winner wrong, and the result is off by 1, -1 points
If I predict the winner wrong and the result is off by more than one, -2 points.
Saturday, January 28th


Team 8 vs Woongjin Stars
After CJ was defeated by Team 8, many stopped regarding them as an autowin. CJ looked so dominant for so long, that beating them was thought to require something close to a miracle. To make the game even more epic, Team 8 broke out of their seemingly never-ending loss streak. However, I wouldn't celebrate too soon. Team 8 still faces considerable obstacles, in particular their vP matchup. Woongjin, on the other hand, continues their path of ups and downs, defeating SKT one day, losing to STX on the other. The matchup is being complicated by the fact that both teams are extremely dependant on their Zergs, and pretty much every Zerg in Proleague seems to be struggling at the moment. (Notable exception being Effort, but his games were won by smoke and mirrors rather than by looking dominant throughout the game).
Will we see ZvZ-s decide the game, seeing how the first 2 maps seem to be more favorable to Zergs right off the bat. Will we see Sea or Light try to snipe a Zerg on Ground ZerO? Will Free or Jaehoon intercept such a move? Hard to tell until the game itself is seen. However, I'm favoring Team 8, albeit only slightly. Light, although a beast against Zerg and Terran, has shown himself to be incredibly incompetent against Protoss. Zero slumping means that Woongjin has additional pressure on their underwhelming Protoss line. Free and Shy both have underperformed more often than not, and I am inclined to believe that this trend will continue. That isn't to say Jaehoon and Tyson are suddenly dependable, but I'd rank them above the Woongjin Protoss line.
While JD has definitely shown worse games than Soulkey, he's also shown better ones (the game vs. Effort comes to mind.) Killer... hasn't been played enough for me to bash anything specific about him, and Sea, while weak against Protoss, looked pretty good against Hydra. Something tells me he won't be playing Protoss this game, but I could just as well be wrong about that. Am I forgetting Hon_sin? No, but other than great micro, he doesn't look all that impressive, so I figure he won't play. The deciding factor in my mind is Baby, who could be a good matchup against anyone on Woongjin but Soulkey, or fail completely. My money is on him doing well, so in total:
My prediction:
Team 8
3-2 Woongjin Stars
My first reaction to this matchup was a dismissal. It couldn't be good, since I only remembered KT's recent domination and CJ's losses to SKT and Team 8. It's funny how conveniently one can ignore the rout of KHAN and Woongjin over the more high profile matches of the season. All in all, it should be a good match, considering CJ has to fight for the right to
party
remain among the top teams. The main obstacle for CJ is not beating Flash, but overcoming Stats and the rest of KT.
While I trust in the ability of Movie and Leta to get wins, Hydra has performed subnormally, and even the jolly Horang2 shows signs of dreary weakness. To make dethroning the #1 team worse - Crazy-Hydra is on a massive streak, and there's still Wooki and Mind to worry about - both great against CJ's Protoss heavy lineup. As for KT's massive streak, it has to end at some point, but I doubt it will be against CJ. KT at this moment looks frighteningly strong, and while CJ has a better chance than most to end their rampage, it is KT's match to lose.
My prediction:
CJ Entus 1-3
KT Rolster
Sunday, January 29th


Air Force ACE vs. STX SouL
STX and ACE are a peculiar pair, perhaps even opposites. If ACE can be considered a team that could do so much better given their lineup, then STX should be dead last by the very same standards. Reality is, STX was beasting the last games with new names filling in for the slumping oldtimers, while ACE plays some of their strongest players to decent effect, only to blow any chance of victory by playing ex-KHAN zergs for no discernible reason. However, if STX has any weakness, it's their vs. Z. This season has been Protoss season, and STX shines in beating up Protoss left and right with their Terrans Last and Bogus.
Playing lots of Zerg might have had a different result, because Dear's vs. Z is largely untested, Classic blows chunks vs. Z, Modesty hasn't been all that good against Zerg for at least a year, and Last, in his only vs. Z of the season, showed us a shocking lack of gamesense. Maybe I'll have to eat my words later, since Last seemed unprepared to face a Zerg on Jade, but if I were the ACE coach, I'd depend on my Zerg line this game. Ggaemo seems decent against Terran, and while I don't think highly of the rest of ACE's Zergs, the surprise of Chavi or Odin being fielded might cause STX to drop games. Still, bar a botching of STX's top players, STX should come out on top.
My prediction:
Air Force ACE 1-3
STX SouL
Ah, KHAN. You are about as volatile as a BW vs. SC2 discussion. KHAN dominated the first 4 weeks of the season, then lost the next 4 matches either 3-0 or 3-1, then suddenly beat ACE without breaking a sweat. SKT is similar in a way. First they demolished KT and CJ, then they lost to Woongjin and STX. In SKT's defence, they had the most games of any team the last 2 weeks, and they played a lot of great games despite losing in the end. KHAN just rolled over the majority of the time.
Fantasy and Best are very likely to win, and closing it out with SKT's considerable manpower, especially with a rested Bisu and Sun, shouldn't be too hard. KHAN might have some of the finest Bisu killers in the form of Stork, RorO and Shine, but even that might not be enough, especially considering this isn't a starleague. KHAN overall isn't doing all that great. RorO has been benched after some disappointments, the KHAN terrans have been underwhelming, Shine is underplayed, and Brave should take a break so that we could see Grape play again. For these reasons, I say SKT takes it.
My prediction:
Samsung KHAN 1-3
SK Telecom T1
Tuesday, January 31st


CJ Entus vs Woongjin Stars
I might as well write -2 in my prediction score for this match and move on - I have a lot of difficulty assessing the power of these two teams in comparison to one another. Furthermore, the result of this match will definitely be influenced by the matches earlier this week. Still, I am certain we'll see at least 2 great sets. CJ and Woongjin players do come up with crazy builds, which might not lead to an epic macro-war, but some lulz are almost guaranteed. Just tune in and I'm pretty sure you won't regret it, but as for the score... I'll just pick one at random and be done with it.
My prediction:
CJ Entus
3-0 Woongjin Stars
Wednesday, February 1st


Samsung KHAN vs Team 8
The match that closes off the week is a must-win for KHAN. A team which is known for its many powerful Protoss players should be able to demolish Team 8 which has struggled against Protoss all season. It's not just Sea having a bad streak vs. Protoss; JD looks more vulnerable against them than ever before, Baby has never been known for being good versus Protoss, and I am not optimistic about either Jaehoon's or Tyson's chances against Stork or Jangbi. I would be surprised if Team 8 didn't get at least one win out of the match, but I'd be even more surprised if KHAN didn't win this.
My prediction:
Samsung KHAN
3-1 Team 8
Match of the week:
CJ Entus vs. KT Rolster. Of the two giants, who will remain on top of the ladder? Will it be the reigning champion KT or the insanely stacked CJ Entus? The battle for Proleague domination starts anew on Saturday!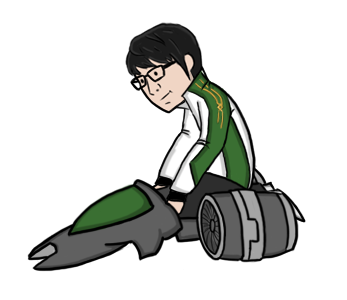 Art by moopie
This Proleague update was brought to you by Team Liquid's SPL 2011-12 R2 coverage team - riptide, HawaiianPig, Kiante, mustaju and SirJolt, with guest writers Carnivorous Sheep, Kiett and Hyde. Special thanks to Pachi for the standings tables and moopie for the Bogus Vulture. See you all next week!
Art by fishuu