GSL Super Tournament - The Finals
By confusedcrib, Fionn, Pokebunny and WaxAngel
Table of contents
brought to you by Snorlax

Results and Reviews
The Inaugural
"Junkka Awards"
And that's it!
You've heard the rumors. But are they true? Is the GSL irrevocably cursed, stricken by the angered Brood War gods to never have a great finals ever?
We think not. Despite what the score, the winner, or the closeness of the games may say, every GSL final has told a great story. And while sometimes they are tales of monumental collapse and blown chances, they are dramatic stories nonetheless. Not to mention what the games imply for the current state of the game.
We believe that the Super Tournament final was no different. There was a great narrative throughout the series, and significant meaning for the eventual winner. And whatever you used to think about TvT, that's all out the window.
And if you don't buy that at all, then you can at least enjoy an amazingly close sC vs DongRaeGu series that
GomTV offered up for free.
Results and Reviews
Undercard: LG Cinema 3d Special League Finals


MVP_DongRaeGu vs
sCfOu
by confusedcribThough it was not well publicized, LG Cinema 3D was sponsoring another tournament at the same time as the GSL Super Tournament. The Special League was an open tournament for anyone who wanted to participate, with a grand prize of 10,000,000 won and a 55" 3D TV. Not surprisingly, many pro-gamers (regardless of Code-A or S status) competed in the tournament. Notably, Super Tournament top finishers like Ryung, MMA, and MKP qualified for the top 16, but were knocked out in the first round by relative unknowns.

As a bonus match, GomTV broadcasted the finals of the Special League prior to the Super Tournament Finals.
Game One: Metalopolis –
4/5
+ Show Spoiler +
DRG > sC
When Elevators Fail
sC opens two barracks. I'm usually hesitant to immediately believe whatever Artosis says, but sC really does have the best two barracks play in Korea.
In fact, I know he's the best at it because he forces DongRaeGu to open gas pool for an extremely fast zergling speed. DongRaeGu gets out initially six zerglings from his hatchery and then is forced to make them non stop. As ling speed finishes, DongRaeGu is able to hold sC's attack, but not before losing a ton of zerglings, drones, and his queen. That two barracks was quite amazing, DongRaeGu went gas pool, pumped constant lings afterwards, brought his queen down, and still barely held sC's pressure.
SC does a smart follow up, double factory and a bunker, which will give him ample defense and a lot of walling buildings if DRG is tempted to baneling bust after a rough start.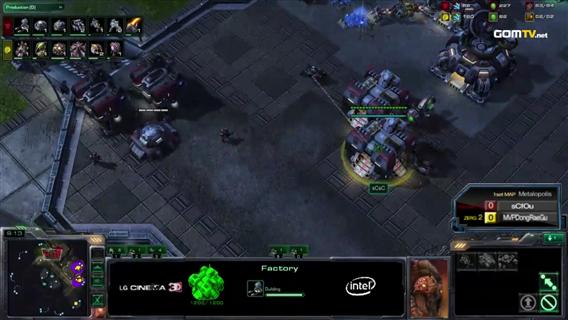 DongRaeGu just decides to grab a fast third base while going roaches. He times this nearly perfectly against sC's blue flame follow-up, powering drones for as long as possible and getting roaches out just in time. Soon, he's ahead in economy in spite of his early game troubles.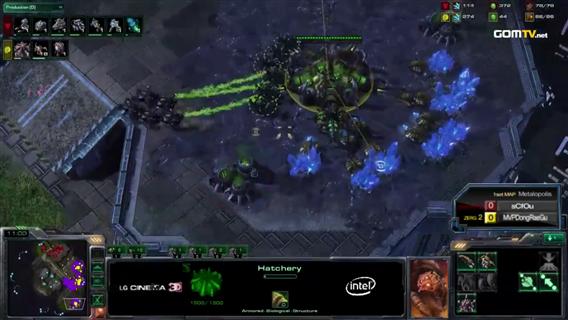 Another important factor to discuss at this point is unit positioning for DongRaeGu. He has roaches to protect his more vulnerable third expansion and then has zerglings both inside his main base and at his natural, so that if the hellions poke over there they can be surrounded to buy time for the roaches to make it back. DongRaeGu managed to block the hellions near perfectly while droning and getting up his macro hatchery.
DongRaeGu is only getting his lair at about the eleven and a half minute mark. The hellions are able to roast a ton of zerglings that are caught out of position, but sC wishes to immediately throw away that victory by running the hellions into DongRaeGu's natural and losing them all, a fairly even trade.
SC moves out with his huge marine tank two base timing, going for an elevator push along the side of DongRaeGu's base - pretty much the standard play for TvZ on Metalopolis
On Metalopolis, getting a third base up for Terran can be pretty difficult, so going for a big two base elevator timing on close-air positions is probably a smart idea, as it is very hard for Zerg to hold. DongRaeGu's macro hatchery is allowing him to get an insane amount of units out at this point though, stockpiling ling/baneling/roach to crush this attack from sC.
It was very difficult for DongRaeGu to get to this point, because economy management against sC is very difficult. All game long sC has been pressuring with first his marines, then his hellions, and now his big marine tank push; but DRG was absolutely fearless in pumping out drones when he knew he could on minimal defenses, and he started pumping troops just in time to hold against sC's attack.
Now comes a very difficult moment for me, trying to break down this attack as it happened for you. First, DongRaeGu manages to get an almost free siege tank with a small ling attack on it, forcing splash damage from the other tanks to kill it faster.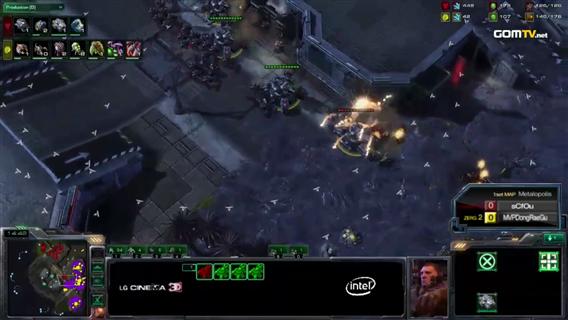 Then, DongRaeGu keeps a small force of two roaches, a few zerglings, and a couple banelings inside his main base to thwart the marine drops up there that sC is bound to be doing.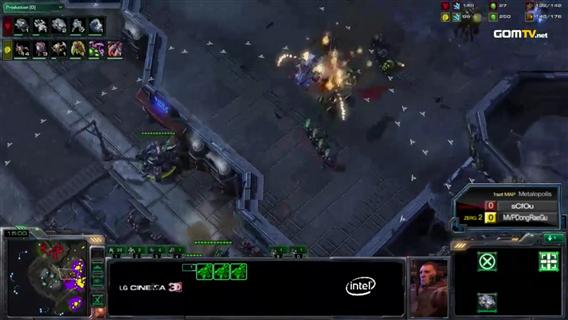 This small unit mix is perfect for denying marines in small numbers, able to stay cost effective even with the tanks on the low ground. What's important to note is that DongRaeGu is just stalling to wait for +1 melee, baneling speed, and roach speed to all finish before attacking. The small unit engagements are just slowing sC down so that all of those upgrades can finish in time for the engagement.
Once all of those upgrades are finished, and DongRaeGu's baneling number is large enough to force the marines far enough back that the tanks can be killed, after which DongRaeGu is able to crush the marines and basically guarantee himself the win. What is important to notice though is what DongRaeGu is producing right after he holds the attack, a spire, two drones, twenty zerglings, and re-hatching his queens. All of this is aimed at immediately punishing the Terran for what he just did. The speedling reinforcements mean that if Terran took a third, DongRaeGu will be able to kill it immediately. The spire is DongRaeGu's taking advantage of holding that attack by teching immediately after he knows that the push is over. My favorite part of DongRaeGu's reconstruction are the two drones, really showing how awesome DongRaeGu is at sneaking in more and more drones whenever he can, not just making them 15 at a time.
sC goes for two drops, but both are easily denied, DongRaeGu left a small force of zerglings and roaches at each of his bases to be able to shut down drops with ease. SC now moves out with a final tank marine push, but DongRaeGu makes another great decision in counter attacking to buy time for the mutalisks to come out. At this point, DongRaeGu is so far ahead in economy that he just gets so many banelings to shut down sC's final desperate push and take the game.
sC:
3/5
DRG:
5/5
What to Learn:
How to shut down the elevator push on Metalopolis.
How to safely take a fast third.
Drone Timings.
How to two rax pressure as Terran.
Stalling for tech as Zerg.
Game Two: Dual Sight –
5/5
+ Show Spoiler +
sC > DRG
It only takes one mistake
Weird things are afoot in sC's base (read: he's not two raxing), when DongRaeGu scouts this he decides to go hatch first. sC does an interesting opener this game, getting his barracks and gas at the standard times and then expanding before building a factory. sC sends out his first marine to scout if there is a Roach Warren, I'm assuming that that way he knows if his delayed reactor hellion expand is going to work out or if he should just get tanks out instead.
Another interesting factor at this point is that DRG is saving larvae, apparently unsure if there will be some sort of delayed attack, or if sC really is teching as the gas suggests. sC decides to heavily commit to the hellions, a fair decision after scouting the lack of a Roach Warren. sC's hellions are largely risk-free, since if he sees roaches at any point he can just leave the reactor on the barracks and go tank instead. However, DRG uses some impeccable control with his zerglings to surround and kill sC's harassing hellions, which completely removes sC's ability to pressure for the time being.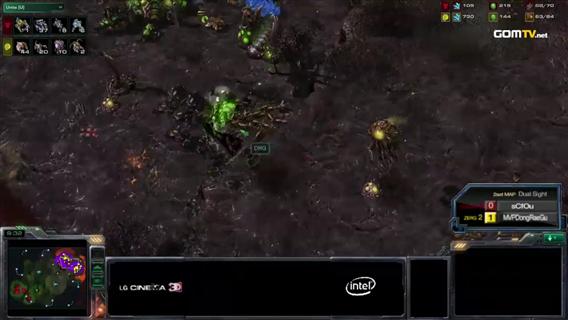 sC swaps his addons and begins the standard marine tank production and gears up for the mid-game. As he was apt to in his famed NesTea series, sC delays his tech to pump out a lot of marine tank off two base, forcing DRG to make a lot of units instead of drones.
DRG manages to use great positioning to crush this attack, using ling muta to kill off all of the marines so that only tanks remain, which we all know mutalisks counter quite well.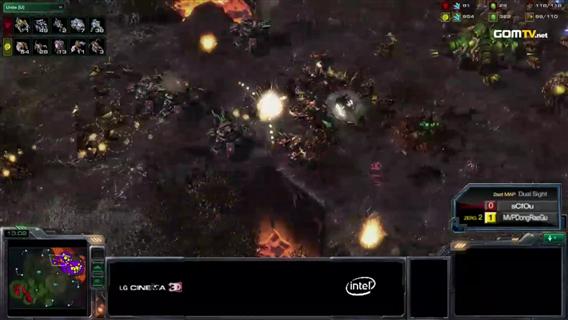 That push from sC was just the beginning though, as he has added on three more barracks in the meantime, allowing him to immediately continue pressuring DRG, forcing him to continue delaying his third base and economy, allowing sC to keep up in worker count with him. DRG tries for a counter attack but sC has so many reinforcements that he is able to hold it with little trouble.
sC's next marine-tank attack looks extremely dangerous, with sC getting all the way to DRG's natural and setting up in a perfectly spread out position. Only a near-perfect engagement with muta-ling-queen saves DRG's hatchery.
Thanks to sC's constant pressure, his third base finishes right as DRG's starts, putting him way ahead economically. SC uses his third base to begin powering extra production and turtle for a little bit to allow himself to stabilize from his constant aggression earlier on. DRG doesn't let us forget how good of a player he is either, capitalizing on this reprieve to finally power out a few rounds of drones and get a 20 worker advantage on sC.
sC has thors when he next attacks, in response to DRG's mutalisk heavy composition. This is really just the perfect army composition for this point in the game, the two thors deny the mutalisks from getting free tank kills while the standard marine tank is a strong back bone. Again he pushes towards that third base of zerg, he is really not comfortable with his opponent having it.
DRG is the master of positioning, again executing a perfect surround to stop what looked like a vastly superior army.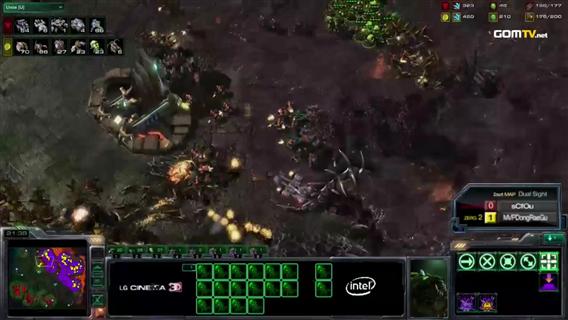 At this point in a TvZ, where all the battles have been one mistake can lose you the entire game, I present to you:
The Mistake: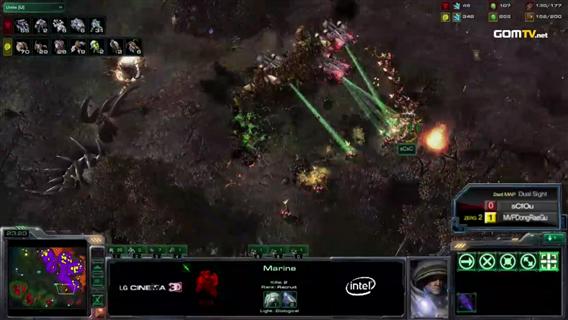 DRG is way overconfident in his infestors and tries to engage with only a few units and two infestors. Infestors are good, but not that good. DRG loses nearly all of his mutas in the blink of an eye trying to engage marine medivac with them, putting him behind in food against his Terran opponent – not where you want to ever be at this point in the game. This also means that DRG has no way to punish sC's just completed fourth base. With so much economy behind him, sC is able to finally just overrun DRG.
DRG:
4/5
sC:
5/5
What to Learn:
A very clever Terran opening.
How to delicately read what your opponent is doing in the early game.
How one mistake can lose you an entire game.
The value of constant aggression as Terran.
Game Three: Tal'Darim Altar LE –
3.5/5
+ Show Spoiler +
sC > DRG
Equal Economy Terran
One of sC's biggest strengths is his ability to play to the fact that his two barracks play is very deadly. SC is able to one barracks fast expand unopposed a result, still forcing the six zergling opener from DongRaeGu as well as a spine crawler.
SC uses his three barracks follow up to take the watch tower. DongRaeGu shows his fear of a mass marine follow up by getting a relatively fast baneling nest. DRG get's his third base up before lair, a more common trend in ZvT now-adays, while sC has assembled a substantial marine force off of his three barracks.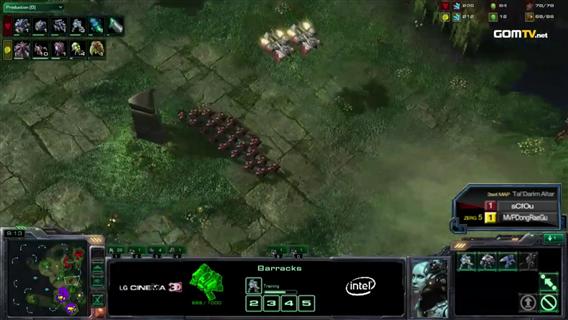 What a neat little timing push this is. We've seen our good friend SlayerS_Boxer go for a similar timing against protoss with two medivacs and a bunch of marines. Basically, sC cuts out the fourth barracks in order to do a similar timing push but with two medivacs instead of extra marines. Another important factor to note is that sC is grabbing his third behind this. This is similar to sC's build from last game, pressuring the opponent while keeping up in economy. I can smell what he's cooking.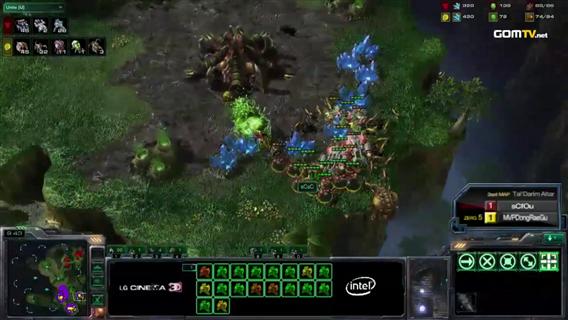 Oh no! Terrible miss micro from DRG who's banelings only kill off about four marines - nowhere near cost effective. DRG loses his third base as a result, and is behind in economy to sC.
Doing a neat two pronged drop is almost enough to let sC snipe out DRG's constructing Spire, but it barely survives as sC decides to push out with a huge marine tank force. What should be a deadly force is easily thwarted though, as sC is caught completely out of position, walking straight into banelings and getting demolished.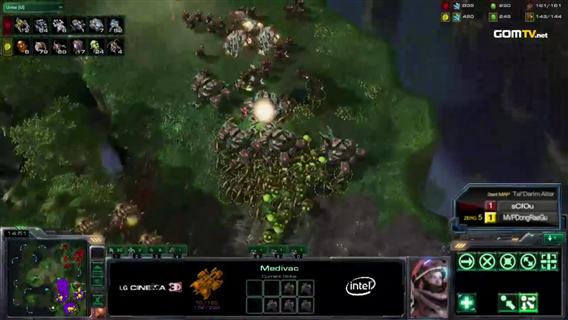 But it's important to remember at this point that DRG only has a small worker lead on sC and still even on bases. sC pushes out to secure a fourth base and DRG throws a lot of units at stopping it, but before he can even remake his army another huge marine tank push is on it's way out the door.
DRG goes for another huge multi pronged engagement, but at this point there are simply too many marines and tanks, the banelings get no hits off, all of the marines survive, forcing DRG to GG.
DRG:
4.5/5 perfect play right up to the end, barely miss manages the final push
sC:
5/5
What to Learn:
Another great opening from sC
How to stay equal base with a Zerg, on one of the largest maps no less
The danger of getting your infestors even 10 seconds too late
How to shut down constant drop harass
Game Four: Crossfire SE -
3.5/5
+ Show Spoiler +
DRG > sC
We're Surrounded
sC goes for the super aggressive two barracks opening, cutting SCVs to get the barracks up faster. DRG manages to hold it perfectly, demonstrating why he goes pool first while performing excellent queen control.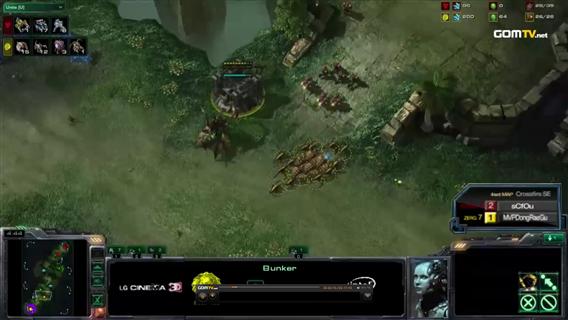 Speed then finishes in time to run down the marines in their retreat, putting DRG ahead of sC. sC follows up with another barracks and begins siege tank production. sC seems to have a tendency to go three barracks with some kind of tech and then move out whenever that tech finishes to go for a small push while securing his third base. DRG is seriously good at getting flanks though, too good. He is able to dominate this push, with the tanks not even able to siege before everything dies.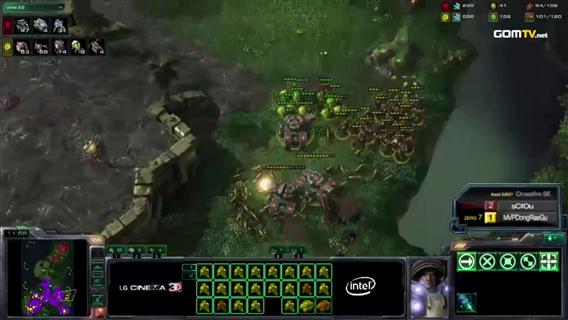 sC has a very cute little wall up
Thanks to that wall, he he is able to delay his death, and his third base is under construction, so there is still hope. sC pushes out with amazing scans to find all of DRG's burrowed banelings. Thanks to his macro hatch, DongRaeGu just has too many units and is able to overwhelm sC's army again. After the engagement, DongRaeGu is able to just counter attack and take the game.
sC:
4/5DRG:
5/5Things to Learn:
The wonderfulness of macro hatches.
How to surround properly.
Delaying mutalisks against a late medivac opponent for even more zerglings and banelings.
Game Five: Terminus SE -
5/5
+ Show Spoiler +
DRG > sC
No Two Base All in For You
sC again opens with two barracks play but makes the smart decision to just cut marines and expand rather than pressure. sC follows up with four barracks, walling in his front and side, anticipating DongRaeGu knocking down his back rocks. DongRaeGu goes for his standard fast baneling nest into a fast third base. The high barracks count makes it appear that sC is going for the same style he went against Nestea, a huge bio push. DRG gets a signature great surround, and is able to kill of the push despite no banelings hitting sC's army.
SC decides that he can't expand, so he adds on two more barracks and two factories, indicating that he'll be going for a two base all in. sC moves cross map with his huge marine marauder tank force.
This battle pretty much ended the game, so I'd like to focus on a few things.
1. DongRaeGu only had a three food lead, twenty of which were drones.
2. No banelings are wasted on marauders
3. The initial tank shots are wasted on zerglings, not focus fired on banelings.
4. All DRG accomplished was killing off the tanks and marauders and then turned around.
So, I just watched a zerg army, twenty food behind its Terran opponent's, without mutalisks, completely roll the Terran push. Can someone explain this to me? My best guess is that the siege tanks were not focusing banelings, but they only got one or two shots off anyways. It is a mystery for me now, and I hope someone can explain what I witnessed, and why Zergs always assume they have to be ahead in food to beat Terran.
DRG:
5/5
sC:
3/5
Overall:
Zerg versus Terran is evolving to become quite the matchup. This whole series showed us how to constantly push and pressure the Zerg without being all-in. It also showed us how to impeccably engage a Terran push, winning battles while even having a food disadvantage.
sC is an amazing Terran at his timing push and game plan, I can always tell what he wanted to do every single game. The main problem with his play came to executing that strategy. He made some major positioning mistakes, and after watching Thorzain vs. July at Dreamhack, I know how a Terran should be slow pushing for maximum efficiency.
The fact of the matter was that DongRaeGu deserved to win the series, considering their macro capabilities were about even, DongRaeGu utilized better tactics than his opponent all game long.
Main Event:
SlayerS_MMA vs
PoltPrime.WE
by WaxAngel and Pokebunny
Game One: Bel'Shir Beach -
2/5
+ Show Spoiler +
Polt > MMA
MMA spawned at the left position while Polt started at the right hand position on Bel'Shir Beach. The build orders diverged slightly, with MMA opening gas first tech, while Polt went for rax-gas. Interestingly, both players opted to go for a fast reactor on their barracks.
It turned out that MMA was going for a build MarineKingPrime had used against him in the semi-finals; a fast marine-hellion elevator with a single medivac. Considering that Polt is MKP's teammate, it seemed a bit strange, but perhaps MMA was trying to play a second layer of mind games ('he wouldn't dare try my own teammates build, would he?'). On the other side, Polt added a quick second barracks with a tech lab for fast stimpack upgrade and marauders.
MMA's build ended up getting completely countered by Polt's, as he elevatored seven marines and four hellions into a base defended by thirteen marines and four marauders. MMA tried to pull out after realizing that Polt had gone heavy infantry, but a moment of medivac mis-micro stranded several crucial marines in Polt's base.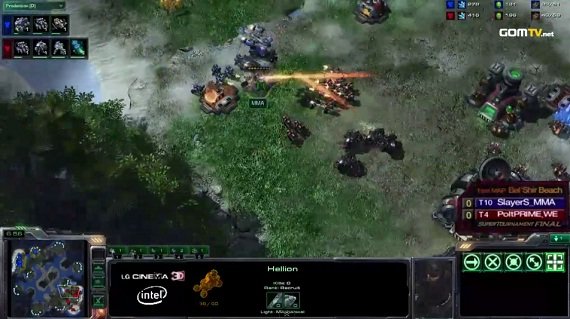 Even worse for MMA, he had blindly followed up his marine-hellion opening with a fast expansion at his natural (not even conservatively inside his main). Though he had built a token bunker for defense, his build had definitely not been made to deal with a situation where his drop failed utterly, and his opponent was following up with large numbers of stimpak upgraded marines and marauders.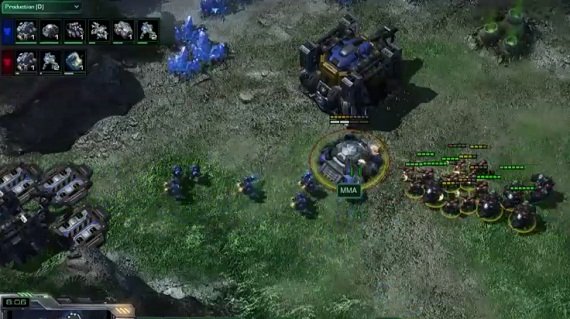 Being at a huge troop deficit from his failed drop and early expansion, there was no way MMA could hold off Polt's two barracks stim attack. Given that it was such an important game, MMA tried to play it out even after sacrificing 20 SCVs to hold off Polt's attack. But as expected, Polt's resource advantage rapidly snowballed out of control, and he finished MMA with a big MMM attack not long after.
MMA:
1/5
Lost the build order fight in one of the worst possible ways. Even so, if he had at least built his second command center inside his main, he might have been able to turtle up at his choke, instead of being forced to fight at his wide open natural.
Polt:
3/5
After selecting a two rax stim rush, Polt didn't actually have to do that much. MMA donated his entire early game army to Polt, and then tried to expand anyway. Polt just had to attack move after that.
Pokebunny's analysis
Game 1 was fairly uneventful, but really showed the importance of metagaming in such a big match. Polt uses a build that is pretty unique - not quite an allin, but a build that is definitely meant to catch MMA by surprise. MMA does a build that is plenty safe and can get a lead against most standard openings with a factory, but the unusual heavy bio and quick stim timing cleans him up.
The drop play was definitely a bit risky from MMA without knowing really what was going on, but the fact is that almost all normal TvT builds would not be able to handle his drop so easily. The wallin of Polt adds to the impression that he has something to hide but needs the early defense - typically a banshee cloak or blue flame opening that MMA's build would be strong against.
Overall, this game was decided by Polt's prediction of MMA's play and how he was easily able to capitalize on the units lost in MMA's drop. He was probably hoping to pick off the medivac as well which would have given him an even larger lead, but it really didn't matter as Polt cleans up most of the units and SCVs of MMA, leaving him to simply defend the banshee and collect his victory.
Game Two: Metalopolis –
4/5
+ Show Spoiler +
Polt > MMA
MMA opened north while Polt started at the south position. Polt did a typical reaper expand build, while MMA went for a nifty [rax-gas-factory-reactor-command center-starport] build.
Polt followed his CC with two more barracks, while his reaper got into MMA's base and saw every important building. Seeing that there would be no ground threat soon, Polt was able to land his second orbital very quickly. As for MMA, he went for fast a banshee without cloak, but lost it to Polt's marines without doing even the slightest bit of damage.
It turned out that Polt was transitioning from his three barracks into a build he had used successfully in the quarter-finals against his teammate Maka: a rush to twenty odd combat shield and stimpak upgraded marines accompanied by two dropships. It had worked splendidly against Maka, who had no sense of urgency whatsoever and got caught without siege mode or any marine upgrades. However, MMA had played his banshee expand build safer than Maka, and had gotten siege mode in time to repel Polt's assault. The end result was that the two players moved into a standard two base vs two base, marine tank medivac mid-game.
In a battle that would later prove pivotal, Polt initiated combat as MMA tried to push out of his base. MMA had the tank numbers on his side, but Polt had more marines. Though there were heavy losses on both sides, Polt made the very favorable trade of swapping marines for tanks.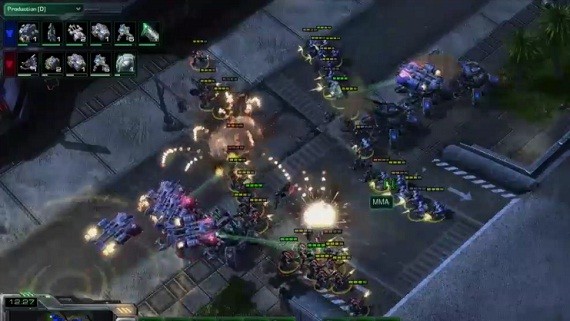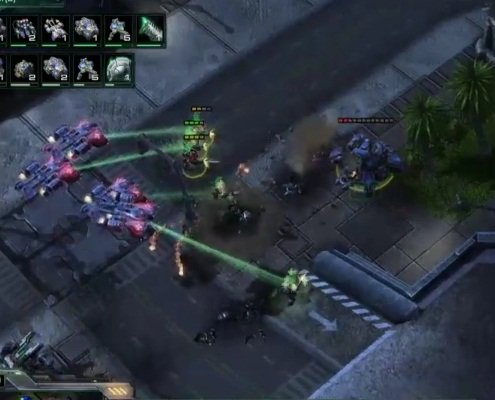 Unseen in these pics is Polt's very fast and impressive marine split.
Only a couple of minutes after, it became very apparent that MMA couldn't afford to lose those crucial tanks. Polt moved his marine force, supported by superior tank numbers, and took up a siege position on the top left natural overlooking MMA's natural. MMA then made the huge mistake of using his floating orbital command center to gain sight of Polt's forces on the high ground. He totally underestimated the firepower of marines and Polt was more than happy to sacrifice some marines to shoot the flying structure down. Though MMA had actually built his third command center slightly before Polt, Polt ended up being the player to take his third base faster.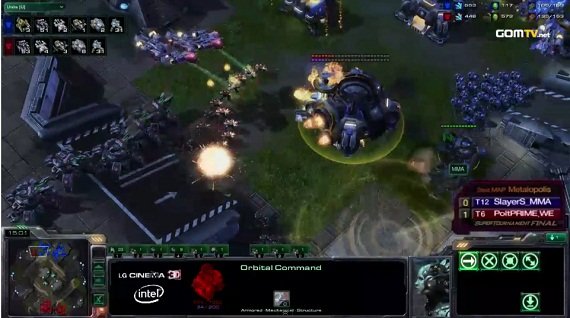 This turn of events instantly forced MMA to switch his plan from defense to offense, as waiting around would only ensure a drawn out macro-death. MMA made his first strong move of the night, taking a large group of marines (leaving his siege tanks to hold his natural) and cut off a huge group of Polt's reinforcements, including five tanks. While this move allowed him to gather his forces and clear out the forces laying siege to his natural, MMA was still behind with two bases against Polt's three.
It really was too little, too late for MMA, and he threw away any last chance of staying in the game by giving away yet ANOTHER orbital command center to Polt's marines due to some very poor positioning. After being forced to sacrifice thirty SCVs while defending a merely medium size attack from Polt, MMA's final desperation card was to float his main CC to his gold natural. When Polt's overwhelming army came rolling in, MMA had to GG out.
MMA:
1.5/5
Extremely sloppy from MMA, losing important units like his first banshee, and later two orbital command centers for no reason.
Polt:
4/5
Played very aggressively once he had MMA on the back foot, and he was well rewarded.
Pokebunny's analysis
Game 2 opens with an interesting lack of scout from MMA, and a relatively late scout for a 4 player map from Polt - Polt clearly just intends to scout the position of his opponent and then use his reaper to gain real information about his opponent's build. A standard reaper expand build also does keep MMA guessing, as it's very possible for Polt to simply research stim and proxy a few barracks for an allin.
Polt chooses to add on the extra barracks over the quick factory, opting to be able to bust MMA's expansion if he is too careless. In theory MMA's opening should have been effective against late starport of Polt, but losing the banshee lost his map control and any chance of gaining an advantage against the slightly faster CC.
A very decisive moment was Polt's engagement outside MMA's natural - they traded armies fairly evenly in value, but thwarting a drop in his natural with no damage taken, and cutting down the higher tank count of MMA made it very easy for Polt to push back. Polt's excellent engagements and tactical maneuvers definitely took MMA by surprise - Polt's constant aggression walked a razor thin line of punishing his opponents mistakes and overextending himself, and a bit more careful play by MMA could have punished him in return.
To MMA, it looked like Polt was preparing to play the standard, defensive TvT where you carefully try to get small advantages, but Polt took those expectations and capitalized on them with excellent micro and tactical decisions.
Game Three: Crossfire SE –
1.5/5
+ Show Spoiler +
Polt > MMA
Starting at the bottom position, Polt figured he might as well do a TvP build and went reactor & tech lab two-rax with fast concussive shells. In the meanwhile, MMA was going fast banshees with fake cloak into blue flame hellions without a bunker. To no one's surprise, Polt's eight marine, two marauder attack caused MMA a fair amount of hurt. MMA managed to fend the attack off with some good banshee micro and defensive SCVs, but lost seven workers in the process. To makes matters even worse for MMA, Polt had quietly taken his gold expansion amidst the chaos.
What should have been a game winning assault for Polt was slightly complicated when he forgot to keep the supply depot up at his wall-in. MMA raced in with three blue-flame hellions, which killed all but three of Polt's SCVs. On the other side of the map, MMA was found himself down to two SCVs after fending off Polt's marine-marauder attack. Though the SCV counts had been equalized, Polt had double orbital command centers and four mules on gold minerals, making the situation laughably bad for MMA.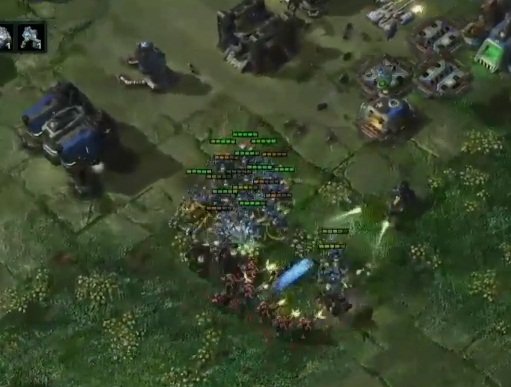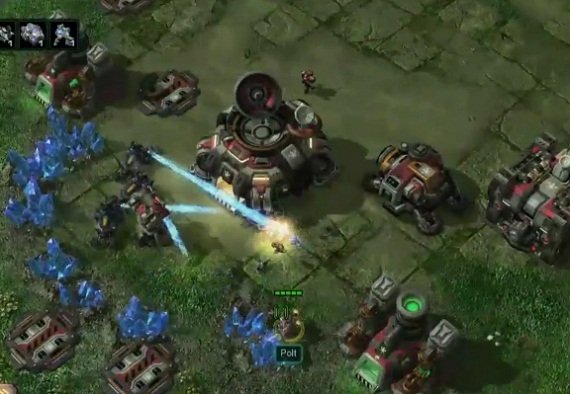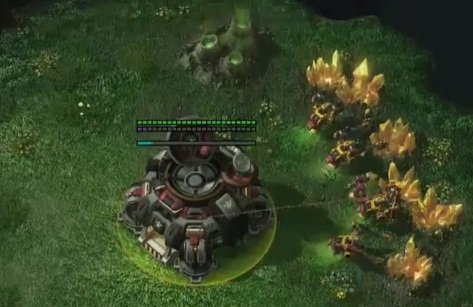 Polt played incredibly wastefully from this point onwards, but with a gold base advantage, he could afford constantly send troops to MMA's main and reset the army counts over and over again. Even several kills collected by MMA's banshee at Polt's gold expansion couldn't significantly dent the lead.
After a few rounds of bashing his head against a wall, Polt finally broke through and received the GG from MMA.
MMA:
2/5
Did all the things he could do to improve his situation, but Polt's gold base advantage was just too much.
Polt:
3/5
The two barracks attack and follow-up gold base were brilliant ideas, but he lacked overall finesse in his play.
Pokebunny's analysis
In Game 3, Polt again uses an aggressive two barracks opening, but this time with concussive shells instead of stim - implying that he plans to hit an earlier timing. MMA again goes for a build that can punish a fast expand while still taking an expansion himself, and this is another beautiful example of Polt capitalizing on the standard TvT metagame without over-committing himself to having to win the game.
MMA thinks he's ahead after after the SCV trade, but in reality, his lack of a second orbital makes him completely allin with his next push. Any unit trades will put MMA severely behind, and even with the banshee at the gold base, he simply can't get the minerals to build a second CC without dying to any attack. Polt's wise use of the trade-efficiency of stim and medivacs allows him to clean up a weakened MMA after some back and forth action.
Game Four: Dual Sight –
3/5
+ Show Spoiler +
Polt > MMA
MMA finally got tired of losing due to having no troops and decided to actually go for a two barracks build. Ghost rush! Polt, for the first time in the series, went for the more economy based build by doing a reaper expand. Amusingly enough, the game ended up playing out almost exactly like another game where MMA ghost-rushed a Prime clan Terran: MMA vs MKP on Crossfire.
During that game, MMA's ghost rush had caught MKP very much off guard. However, MMA had decided to stay around focusing down supply depots and other insignificant buildings instead of making a bee-line towards the SCV line and getting in as much damage as possible. MMA ended up doing the very same thing to Polt, which allowed him to preserve his army at the cost of not actually doing any significant damage. And just like the MKP, Polt rushed to cloaked banshees which he wisely sent directly towards MMA's main instead of wasting them on defense. The result was identical: MMA's SCVs were ravaged by banshees while his own ghost-marine achieved nearly nothing.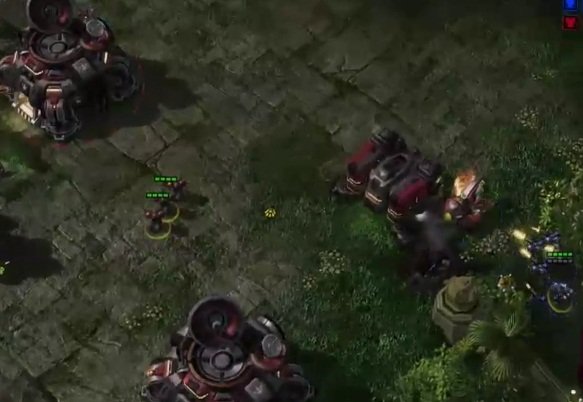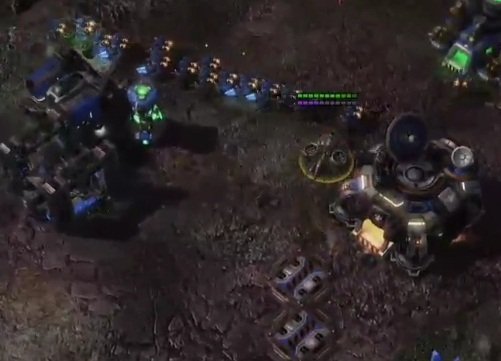 And though MMA took a page out of Polt's book and tried to take a fast gold expansion, Polt showed map-hack like awareness by sending his second banshee directly towards it. With just two banshees, Polt killed a massive amount of marines and SCVs, giving himself an insurmountable advantage. Polt was able to move out with just a handful of marines and tanks and force a lift-off at MMA's gold natural, and then with a follow-up army, collected the championship clinching GG.
MMA:
1/5
Learned nothing from his game against MKP, and made the same mistakes with the same build against MKP's
teammate
.
Polt:
3.5/5
Didn't have to do terribly much, but a win's a win.
Pokebunny's analysis
Game 4 showcases an interesting ghost build that we also saw used similarly against MarineKing. MMA loses in a similar fashion, taking way too much damage from banshees while failing to kill anything significant in his opponents base. He may have had a shot if he moved into the main after taking out the first supply, but honestly pretty much everything went wrong for MMA and ghost play really leaves you weak defensively if you don't do significant damage.
This series was relatively uninteresting from a spectator's standpoint, but I think it hints at how how future TvT series might play out in an interesting manner, especially those involving Polt. Is his TvT for real, mechanically? Will he continue to be one step ahead of his opponents in the mindgames? We'll find out!
Game Five: Terminus SE –
4.5/5
+ Show Spoiler +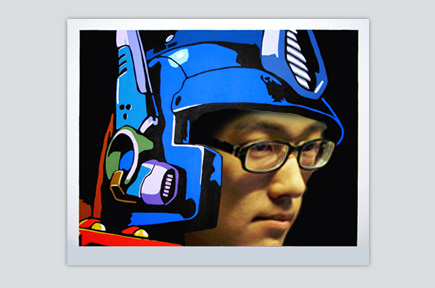 Game Six: Xel'Naga Caverns –
3/5
+ Show Spoiler +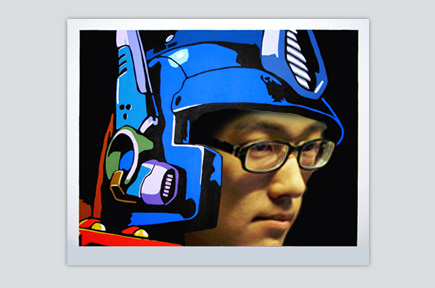 Game Seven: Crevasse –
2/5
+ Show Spoiler +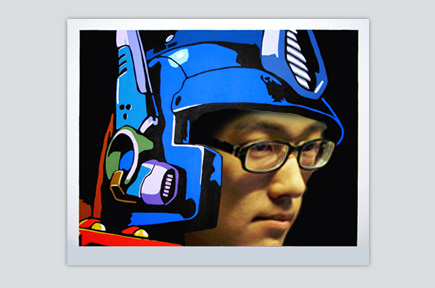 ---
Super Tournament champion interview
by
PlayXP
, translated by Phosgene
The Junkka Awards
by Fionn
So it's all over. After a month of battles, tears, laughter and great moments, the GSL Super Tournament is finished and gone. Have no fear, GSL will be back in less than a week with Code S, Code A and the beginning of the highly anticipated first full season of GSTL, so you won't be without your Tastosis fix for long.
When mulling over what to do for this send off piece to this wonderful tournament, I had lots of ideas. I could give you some of my favorite moments and tell you why they were so awesome. I could have written a 5,000 word article on why TheBest and Choya are planning to take over the world. I even thought about just posting a bunch of MarineKing pictures in a row and seeing if you guys would applaud me for that.
Though, when it came down to it, one idea I had stuck out above all others. Something that I thought would celebrate the good, the bad and the ugly of the tournament that we all witnessed. What better way to send off the Super Tournament than by giving out some awards! Now, what to call them?
The
GOMscars?
Nah, probably would get sued for copyright infringement.
The Archons?
Nope. If I did that, the terrans and zergs would be on my ass for being biased towards protoss.
The Sick Nerd Baller Awards?
Better, but a little too long for my taste (
Editors note: Fionn worrying about brevity? Teeheehee.
). Finally, after hours (or ten minutes) of wracking my brain, I thought up the perfect name for these awards about to be given out.
There is
one man
that has truly represented the spirit of the GSL this past year. Only
one man
who bridged the connection between the Korean and foreign audiences. This man has many interests: giving epic speeches at the end of tournaments; the Yu-Gi-Oh Trading Card Game; trolling the forums day after day; and maybe most importantly, MarineKing's sister.
So without further ado, I present
The Junkka Awards!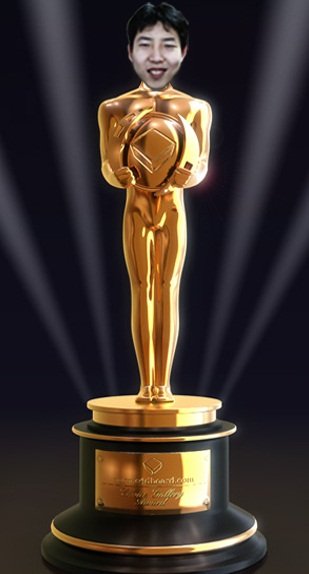 Yeah right, as if copyright infringement actually crossed our minds.

Please don't sue.
Before we get started, I have to warn the winners of these awards that there isn't actually any physical Junkka statue that I can give you. If any awesome TeamLiquid member wants to find their 4th grade Little League trophy, put John's face on it, fly to Korea and give it to one of the winners, you will truly become a hero of the entire community! Even if you don't have a trophy to give them, if you ever see one of the winners, just poke them on the shoulder and congratulate them for being a part of the first class of Junkka winners.
The "Fashion Police" Ugliest Team Uniform Award
Winner: Incredible Miracle

Runner-Up: ZeNex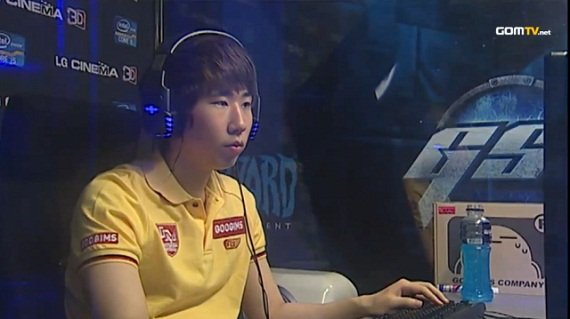 Two-time GSL champion MVP, working his new job as a drive-thru operator at McDonalds
Coming into this tournament, IM had the coolest uniforms in all the land. With the high school varsity football jackets, no one was going to mess with these jock nerds. Then, after getting a new sponsor in Googims, a popular clothing company in Korea, all of that vanished forever. Now, instead of looking like they're going to beat you up for your lunch money, they look like the guys who would be serving you your lunch at McDonalds for minimum wage.
Maybe they'll change to the
black
version of the uniforms? If there is any sanity in the world, then they will. Nestea, the most powerful nerd on the planet, shouldn't look like the guy who's flipping your burgers.
ZeNex? Way too bland for me. Too vanilla. Change to royal purple or forest green. Maybe then people will start noticing you more.
The "I GOT NERD CHILLS, TASTELESS!" Game of the Tournament Award
Winner: Nestea vs. TOP, Game 2 on Crossfire SE

Runners-Up: Nestea vs. Bomber, Game 1 on Tal'Darim Altar; TOP vs. Line, Game 5 on Xel'Naga Caverns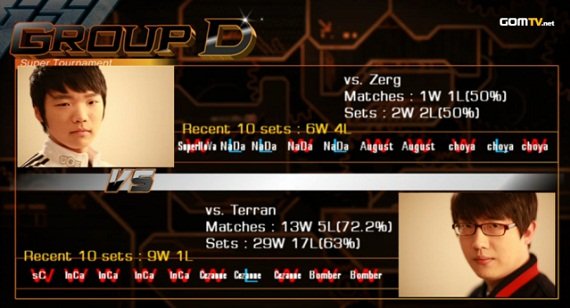 Professor Tea can turn water into wine and marines into green goo.
This was a hard category to narrow down. You had the epic game where Jookto played
Defend the Assimilator
against Anypro. You got to see Bomber and Nestea go one-on-one, with their first game being out of this world exciting. Don't forget about Line vs. TOP, in an epic thirty minute game to decide who went to the semifinals.
But at the end of the day, there was one that stood above all others for me. Nestea's comeback against TOP was simply breathtaking. From his crazy drone making, to his muta harassment, to his perfectly timed baneling land mines, Nestea put on a show for the whole world to see. He didn't win the series when it was all said and done with, but this game showed that Nestea is truly the best player on the face of the Earth.
Go watch it.
Now.
The "Ladies Love It" Hair of the Tournament Award
Winner: FruitDealer

Runners-Up: MarineKing, sC and Choya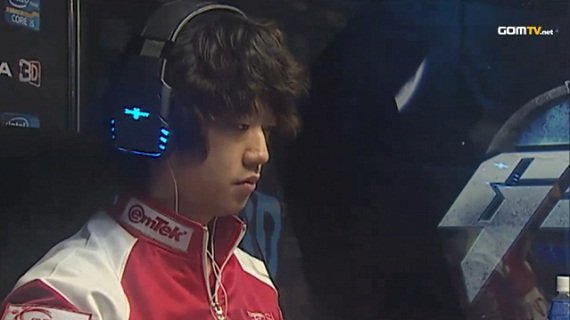 Who cares about winning championships when you have hair like this? Anyone want some fruit, ladies?
Look at that man's hair. Do you want to fight this guy? Do you think you could last ten minutes in a cage with this man? If his fists didn't kill you first, his hair would surely finish you off. FruitDealer might not be putting up the most amazing results lately, but look at that hair! It keeps growing every time we see it, and I don't know if it'll ever stop getting bigger. I wonder what kind of shampoo and conditioner he uses to keep it looking like that?
MarineKing has nice hair, Choya dyed his orange, and SC has red highlights, but those three don't come close to the hair that the Dealer of Fruit wields. Everyone needs to step up their game next tournament and try to take down FruitDealer's hair. I'm afraid if it isn't stopped soon, it might take over the world.
The "FireBatHero" King of Ceremonies Award
Winner: MarineKing

Runners-Up: Bomber and Keen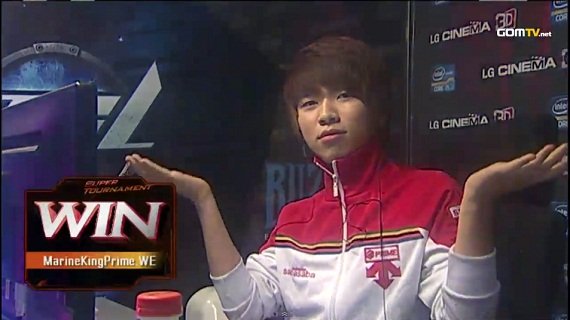 ¯\_(ツ)_/¯
Okay, okay, first off, if you're just getting into Starcraft 2 or never experienced the magic that is FireBatHero in Brood War, please check out these videos
here
and
here
. The man is the king of ceremonies and has truly upped the bar on what a celebration is.
Now, who lived up to FBH's name this tournament? Coming in, I thought it would be easy for Keen to take the award. He idolizes FireBatHero, has shown us some great ceremonies in the past, and was looking to get deep into the tournament. Sadly, his ceremony party was cut short in the second round by Jookto, and we were only left with one lukewarm ceremony that involved a cheerful.
Bomber also showed his ceremony might in his series against Killer, nuking the same base fifty times in a row without killing it. Then, at the end of the game, when victory was already in his grasp, he threw his entire army into a Mothership vortex and enjoyed the ride. Not satisfied with that, he also did so many manner scans that I'm pretty sure half of Korea got seizures from looking directly into them.
But really, the winner of this award was clear as day after the first two rounds. The King of Marines stepped up his game and became the King of Ceremonies in the Super Tournament. Starting off with dancing marines to acting like a kitty cat after winning a game, MarineKing's matches were more interesting to see what ceremony he would pull off next rather than to see if he would actually win.
For me, the two ceremonies that sealed it were the ¯\_(ツ)_/¯ ceremony after beating Ace, and the self-inflicted nuke that he set on his army after being in a gigantic lead against Revival in the Round of 16.
You might have not won the gold you were looking for MarineKing, but at least you entertained us all the way through.
The "Sopia" Most Forgettable Player of the Tournament Award
Winner: ButterflyEffect

Runners-Up: Noblesse, vanvanth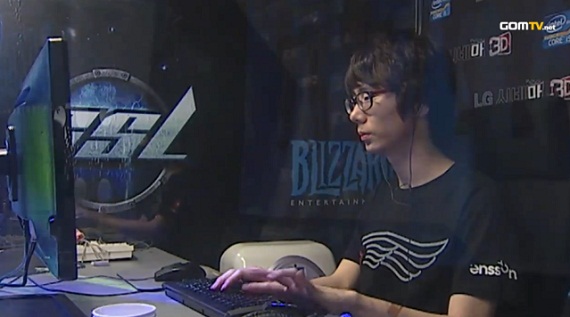 Don't you forget about me, TeamLiquid. Please?
Do you remember Sopia from the first season of the GSL? He's twenty-seven years old, is 0-2 in his GSL career, and lost both games to Ensnare in the first round of the first season. If you already know that, I commend you for your masterful lying.
Now, in the Super Tournament, where there are only supposed to be super competitors, no one can be forgettable, right? ButterflyEffect says that isn't true. Playing in the second match of the entire tournament against Ganzi, ButterFlyEffect showed up without a team, got beat down unmercifully and then sent home to never be seen again. I'm sure some of you remember ButterFlyEffect, but more prominently for the discussion between Artosis and Tasteless, debating if the movie starring Ashton Kutcher was any good.
By the way, it sucked. Sorry, Artosis.
The second and third place winners in this category are Noblesse and vanvanth. Noblesse, for getting stuck in traffic and being the first player in a long time to actually lose a GSL match because of a walkover, and vanvanth for his terrible, boring series that he lost to against Kyrix.
The "Tastosis" Caster of the Tournament Award
Winner: Wolf

Runners-Up: Tastosis, Wolf's Dark Templar Companions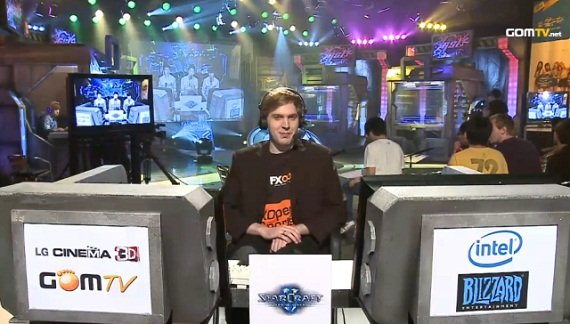 A lone wolf
In any other tournament, an award named after themselves would surely mean victory for the Casting Archon, but this tournament? I have to give it to Wolf. Based alone on the fact that somehow, after casting day after day by himself, he didn't go crazy and attack the audience with a chair.
When Tastosis and Moletrap went back to America, the only caster left remaining in Korea was Wolf. The task set before him was a difficult one. Not only did he have to cast by himself for countless days straight, but he also had to combat the incoming insanity that was looming over him. With imaginary Dark Templar casting buddies and mysterious "producer" voices he could only hear in his head, I'm amazed that Wolf survived the week.
To Wolf, the community thanks you. You really deserve some recognition for the hard work you put into the GSL when everyone else was covering MLG. I hope you continue your great work at GSL and are able to find friends to go eat pizza with after you're done casting.
The "Roar" Song of the Tournament Award
Winner: Sixx A.M - Live Forever

Runners-Up: Bounce - Emphatic, Here Is We - Happily Ever After
This song was your winner until I got hit with a tool and massive lens flare right in the face.
This was actually going to be an entire section where I just talked about how catchy the song Bounce was and how it was head and shoulders above the rest, but then I stumbled upon the newly made music video for it.
You had the award, Emphatic. I wanted to give it to you. I always went "BOUNCE BOUNCE!' when the intro of the Super Tournament started. How could you do this to me? This is a perfect example of a music video ruining a good song. If I never watched that video, the song wouldn't be ruined forever; but sadly it is, and I have no other option but to give the award to Sixx A.M with their song
Live Forever
.
If you can't tell what song it is by just the title, just let me recite these two lines to jog your memory:
Well close your eyes and try to count to seven,
And if we die, I'll meet you up in heaven
Enjoyable song with no awful music video to take away it's award. So congratulations, Sixx A.M, you probably don't even know your song is being used for a Korean Starcraft tournament, but I hope you're happy in winning your first ever Junkka.
The "TheBest" Worst Player of the Tournament Award
Winner: ButterFlyEffect

Runners-Up: LegalMind, JJun, and TheBest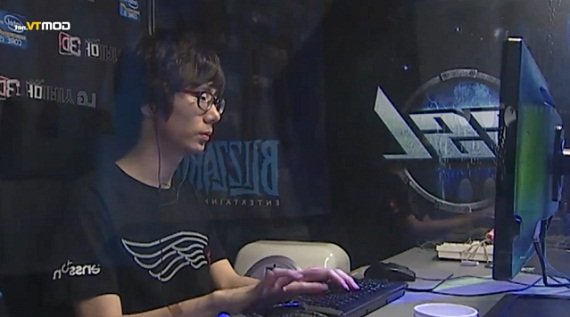 Haha, I told you not to forget me! I'm back!
You know what's worse than having the worst player category named after yourself?
Not even winning the award.
I wanted to give the award to TheBest, but I couldn't. First off, if TheBest was the worst player in the tournament, then JJun must be the worst player in the entire world. JJun actually lost to TheBest, 2-0, when he wasn't even all-inning. He actually lost two somewhat straight up games against TheBest. How is that even possible? It boggles my mind.
Even then, I can't give it to JJun. I have to give it to our most forgettable award winner, ButterFlyEffect. After forgetting about him for the past month, I went back and checked his games against Ganzi. All I can say that is that ButterFlyEffect might have been worse than the movie that shares his name.
Winning the awards for being most forgettable and worst player might not be the type of accomplishments you want, but don't feel too bad for the guy. He isn't on a team anymore, so it isn't like Starcraft is his entire life. I bet ButterFlyEffect has a bright future ahead of him and it'll start now with all these awards he's winning. In five years, we'll hear about a new Korean billionaire who created hologram video games and it'll turn out to be ButterFlyEffect.
Godspeed, Baek Seung Ju.
Godspeed.
The "Code A Season 1" Worst Game of the Tournament Award
Winner: Revival vs. Ensnare, Game 2 on Bel'Shir Beach

Runners-Up: TheBest vs. Min, Game 3 on Crossfire SE; TheBest vs. MarineKing, Game 1, 2 and 3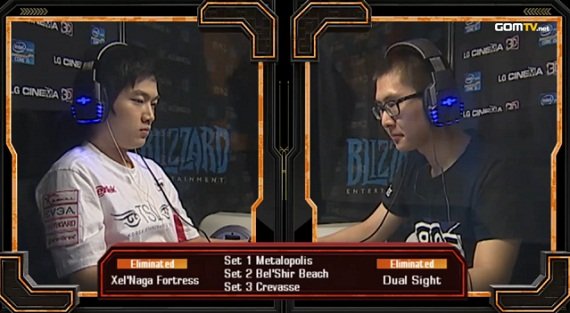 Who would have thought what came next would be so horrific?
Again, TheBest gets the runner-up spot. His game, that he actually won, against Min was some of the worst all-inning I've ever seen, and his games against MarineKing were the worst banshee control I've ever seen, but the award has to go to the match that made the community want to tear their eyes out.
This is the exact opposite of our best match of the tournament. Instead of an epic comeback, with two players playing really well, this was a game where both players tried to give the game away for forty straight minutes.
Here are a few comments that were posted during the Ensnare/Revival game:
On May 26 2011 19:49 skullhoof wrote:
this game is so long but soooo bad. it's torturing me !!!
On May 26 2011 19:50 Sniffy wrote:
neither of these players should go on to the ro32
On May 26 2011 19:50 babylon wrote:
I hope Revival wins. Somehow. Just to save us from a third game.
On May 26 2011 19:52 iXphobos wrote:
Ok, Ensnare is dead.
Wait.
Wow, comeback.
Ok, Revival is dead.
Wait.
Ok, Ensnare is dead.
Wait.
...

WTF is going on?
On May 26 2011 19:55 Caphe wrote:
ok,thats it 2-0 for revival. just GG ensnare, you play terrible

On May 26 2011 19:56 EndOfTime88 wrote:
This game is so fucking painful to watch. T_T

Please save us from a game 3 revival.
Congratulations for making people feel physical pain by watching you play, you two. Hey, but at least you won a Junkka!
The "SK Telecom 1" Team of the Tournament Award
Winner: Prime

Runners-Up: Slayers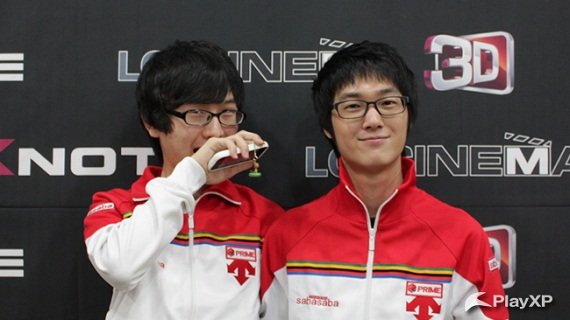 It's prime time for the resurgence of the Bromantic Prime Terran Trio of Maka, Polt, and MarineKing.
This was one of the hardest awards to give out. I had to go back and forth between Prime and Slayers on which team truly owned this tournament. Slayers had the depth this tournament, with every single one of their players getting through the first round except for the Emperor. Alica took out MC, and Ganzi took out MVP. MMA went on a great run to the finals. Ryung also made it into the quarterfinals before getting eliminated by his own teammate and friend MMA.
Prime, on the other hand, had the impressive debut of Creator, the youngest player in the tournament at 14, who almost took out MVP in the first round. Ganzi actually got the job done by knocking out MVP, but Creator impressed a lot of people with how he could combat a champion like MVP in his first big tournament. HongUn and Anypro didn't do as well as expected, but at least HongUn got out of the first round by beating Dreamhack runner-up Moon.
The real difference between these teams was their top players. For Slayers, you had Ryung, Alicia and MMA. For Prime, you had Maka, Polt and MarineKing. Maka took out one of the best terrans in Korea, sC, and only got eliminated when facing the eventual champion, and friend, Polt in the round of sixteen. Ryung, like mentioned before, got taken down by his teammate MMA, so Ryung and Maka basically cancel themselves out.
So now we have Polt and MarineKing versus Alicia and MMA. Polt demolished Alicia. MMA took down MarineKing. Polt, in the finals, destroyed MMA 4-0. This is what sealed the deal for me. If MMA could have taken the final, the award would go to Slayers, but because of how Polt handled it for Prime, gotta give it to them.
Going into this tournament, Prime was considered a one man team. Yeah, Anypro has gotten far a couple of times, but you never see anyone making the case that he's a top protoss. Now, with this tournament, you can see that Prime actually has a lot of depth in their squad. Creator, the 14-year-old, is only going to get better. Maka, who we thought was dead, made a comeback and looked great against sC before falling to Polt in a 2-1 series. HongUn will continue spamming blink stalkers, somehow winning against half his opponents. Anypro will continue to like Homer Simpson. Then you have, right now, two of the top four terrans in the world with Polt and MarineKing. With those two monsters in your line up, they'll be mighty scary come GSTL.
I know a lot of you will give the award to Slayers, and they have a strong case, but Prime's two top players were just a little better than the Slayers' top two players this tournament. Polt, by himself, 7-0'ed their two aces in Alicia and MMA.
The "BitByBit" Artosis' Most Hated Player of the Tournament Award
Winner: TheBest

Runners-Up: Everyone who played Nestea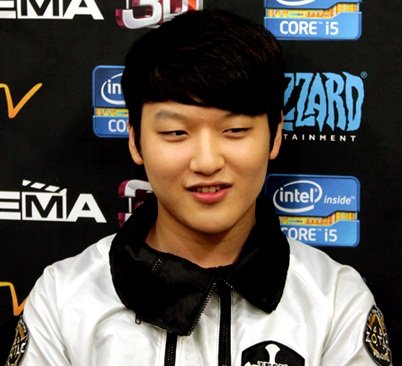 You might hate me, but I made more money this tournament than MC and Idra combined at MLG Columbus.
Here's your award, TheBest. You knew it was coming and here it is. You made us laugh with your terrible banshee control and rage with your ability to somehow beat Tester and Min in back-to-back performances. I still think you and Choya had some sort of plan to take over the world by cheesing every player you faced, but alas, no proof of that ever surfaced. After your terrible performance against MarineKing in the quarterfinals, you filled a void in Artosis' heart that had been empty since BitByBit quit progaming.
TheBest, congratulations, you were the most hated person this tournament, not only by the community, but by Artosis (and Tasteless) as well for the games you showed us. I'm sure, behind your smug smirk, that you're a nice guy and probably cool to hang out with, but I think that your banshee control has gone down in history with BitByBit's SCV all-ins.
For all of you who missed the tournament and hear Tastosis in the future mention "TheBest Banshee Control" when a terran player lets their banshee die in a terrible fashion, just remember
this
is the guy they're referencing.
We'll probably never see you again in Code A or Code S, buddy, but we'll always have the GSTL to hope you get picked in so then we can cheer for you to get destroyed by whoever you may face. Every sport needs a villain, and you are ours. Thank you, TheBest, for all the laughter you have given us through the past month.
The "Lee Young Ho" Player of the Tournament Award
Winner: Polt

Runners-Up: MMA, MarineKing, TOP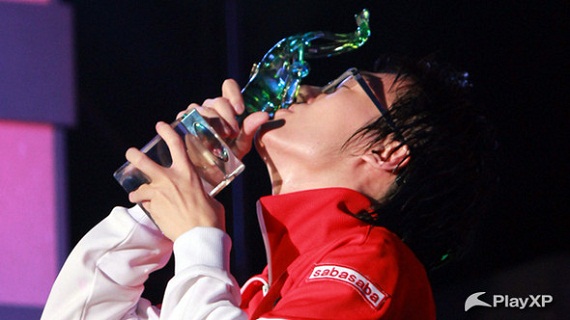 You might think he's imagining the trophy is his girlfriend, but he's actually thinking of MarineKing.
The final award to give out and who else could it go to but the champion? People didn't think he would win. Most of the members on this site thought he was going to get smashed in the finals. Even after winning the tournament, a lot of people still don't think he is champion material.
But you know what? I don't think Polt would want any of that to change. He's always been the underdog. As I've said in previous articles, the hate fuels him. He doesn't tilt. He's confident, calm, and knows what to do in every situation. He showed that he could beat top players in every single race this tournament. He proved to us, even on the brink of elimination, he can fight it off and win with a cool demeanor.
MMA, MarineKing and TOP all had wonderful tournaments. MMA had to battle jet lag in between going to MLG (which he won) and team killing his teammate Ganzi. MarineKing ravaged everyone who was put in front of him, and looked to do the same to MMA, before losing three straight in the semifinals. TOP was the closest to knocking out Polt all tournament long; he had him beat in the fourth game of their semifinal series before Polt made a genius timing attack to turn the tides of battle. You also can't forget that TOP also was the one to knock out Nestea. So all in all, those three players had a great tournament, but they aren't the ones who ended up kissing the trophy in front of a thousand people.
Now that Polt is champion, what's next?
Time to defend that title against the likes of MC, MVP, Nestea and MarineKing in GSL July. Polt might have come out of left field to win the title this tournament, but now? Everyone is gunning for the man named
OptimusPrime
.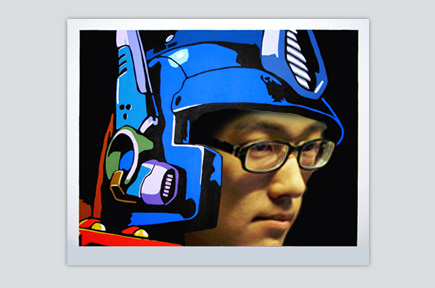 Primebots, roll out!
So until next time, TeamLiquid,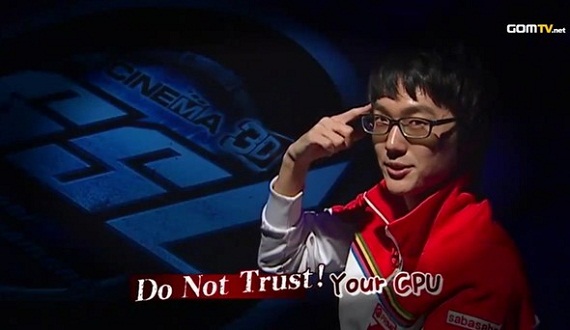 Yes John, we used the least flattering picture of you we could find.