Pictures from playxp & FOMOS.
Note: TeamLiquid is covering the GSL as a news organization. We do not sponsor the GSL.
---
GSL March Code A and Code S RecapsBy Tree.hugger, Palookieblue, Divinek Kinky, & Xxio



As we prepare for what is looking to be the greatest finals in StarCraft 2 history, one should not forget the crazy season of upsets and triumphs that preceded it. July and MC's paths to the finals were packed with great games, as were Huk and Alicia's runs in Code A. It's been some weeks since GSL March began and I know there is more than one hidden gem you missed along the way, or have since forgotten. Read on; catch up on what you missed or re-experience this season's best games - and don't forget to tune into the finals this weekend!



---
Links and Resources:
---
Code A
Round of 16
By Palookieblue and Tree.hugger
2.5
ST_Virus
<
2
-
0
>
GanZI
+ Show Spoiler [Recap] +
4.0
ZeNEXCoCa
<
0
-
2
>
LeenockfOu
+ Show Spoiler [Recap] +
4.0
TLAF-Liquid`HuK
<
2
-
1
>
TSL_RevivaL
-
Foreigner Special
3.5
IM.LosirA
<
2
-
0
>
ST_August
+ Show Spoiler [Recap] +
2.0
TSL_Rain
<
2
-
0
>
ZeNEXJJUN
+ Show Spoiler [Recap] +
4.0
SlayerS_Alicia
<
2
-
0
>
MVPNoblesse
+ Show Spoiler [Recap] +
2.0
TSL_aLive
<
1
-
2
>
oGsSuperNoVa
+ Show Spoiler [Joint Recap] +
2.0
TSL_Killer
<
2
-
1
>
Slayers_M
+ Show Spoiler [Joint Recap] +
Round of 8
By Tree.hugger, Palookieblue, and Kinky
2.0
oGsSuperNoVa
<
2
-
0
>
TSL_Killer
+ Show Spoiler [Recap] +
2.5
IM.Losira
<
2
-
0
>
TLAF-Liquid'HuK
+ Show Spoiler [Recap] +
1.5
ST_Virus
<
0
-
2
>
LeenockfOu
+ Show Spoiler [Recap] +
2.5
TSL_Rain
<
0
-
2
>
SlayerS_Alicia
+ Show Spoiler [Recap] +
Semifinals
By Kinky and Palookieblue
3.5
SlayerS_Alicia
<
0
-
2
>
oGsSuperNova
+ Show Spoiler [Recap] +
2.5
IM.Losira
<
2
-
0
>
LeenockfOu
+ Show Spoiler [Recap] +
Finals
By Kinky
2.5 Set 1:
IM.Losira
<
Crevasse
>
oGsSuperNoVa
1.5 Set 2:
IM.Losira
<
Xel'Naga Caverns
>
oGsSuperNoVa
3.5 Set 3:
IM.Losira
<
Crossfire SE
>
oGsSuperNoVa
1.0 Set 4:
IM.Losira
<
Metalopolis
>
oGsSuperNoVa
3.0 Set 5:
IM.Losira
<
Tal'Darim Altar
>
oGsSuperNoVa
4.5 Set 6:
IM.Losira
<
Terminus RE
>
oGsSuperNoVa
4.0 Set 7:
IM.Losira
<
Crevasse
>
oGsSuperNoVa
+ Show Spoiler [Recap] +
Code S
Round of 16
By Kinky and Divinek
3.5
oGsMC
<
2
-
0
>
ZeNEXByun
1.5
Liquid`Jinro
<
1
-
2
>
HongUnPrime.WE
3.5
ST_July
<
2
-
1
>
TSL_Clide
3.5
CheckPrime.WE
<
0
-
2
>
oGsNaDa
+ Show Spoiler [Recap] +
Fanboys rejoice, as this day was full of some of the biggest names in the GSL. With every player in these series having made a name for themselves, this day was bound to yield some good games.
To start the day off, former GSL champion MC played against last season's Code A runner-up, Byun on Terminus RE. Though MC missed the timing for some pressure against Byun's FE, he followed it up with a double expand of his own which allowed his economic advantage to snowball easily in the ensuing macro game. In the following game, both players take early expansion and MC defends Byun's early stim pressure with amazing forcefields. Using this as a springboard to take a third base, MC's resulting economic advantage, again, dominates Byun. Forcefields never allowed Byun's army to properly engage or retreat, and MC rolls over another Terran with ease. These two games were extremely one-sided and reinforced the "MCvT" adage that many have come to use to describe MC's skill in the matchup.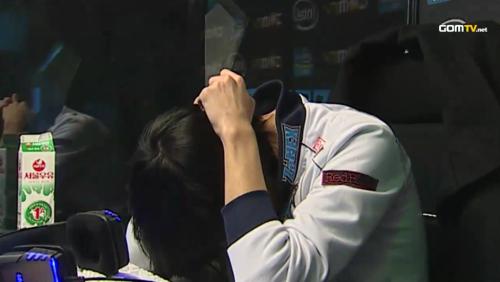 "I feel so helpless..."
Jinro's games have already been recapped
here
, so I'll offer my two cents on them. The first two sets were extremely underwhelming, since they were practically build order losses which resulted in short one-sided games. As a fan, it was painful for me to watch Jinro play the third set as it demonstrated so much inexperience, something that Jinro isn't usually known for. To put it into perspective, it was like watching a chicken walking with its head cut off, Jinro being the headless chicken and phoenixes being the blade that severed his hopes of winning the game. There were many times when you could tell that Jinro didn't know what to do with his army, as he pokes around the map without accomplishing much. The first battle at HongUn's third decided the game since HongUn just had so much army retention, and his economic lead won the game from thereon out. Sadly enough, this meant that the fans wouldn't be able to see a MC vs Jinro rematch for a third season in a row.
After just beating MVP 2-0 in the group stages, July was matched against the well-known Clide on Xel'Naga Caverns. This begged the question of whether or not Clide has been able to demystify July's unique style of "hyper-aggression", and game one definitely answered no to that. With banelings aplenty and roachling to follow along, July overwhelmed Clide's natural with exploding bunkers all around. Game two ended up being a showcase of July's constant aggression, repeatedly trying to break Clide's fortified natural. After failing to do so in multiple attempts and realizing the position he was in, the series continued onto game three. July finally decided to play the more popular style of macro zerg, and he proved that he isn't just a one-trick pony, utilizing great mutalisk harass that eventually won him the game.
The following clash between ex-WC3 pro and ex-BW pro proved to be slightly entertaining. Unfortunately for Check, he spawned close to NaDa on Shakuras Plateau, every zerg's nightmare. NaDa followed his 2 barracks FE with dropship stim harass, and once he had a sizable army of marines and tanks, he pushed through the backdoor path. This spelled gg for Check, who wasn't able to hold off the constant reinforcements streaming from NaDa's base. Following up on Crossfire, Check opened up by letting two hellions into his main, which is never a good thing for zerg in the early game. After roasting a respectable number of drones and lings, NaDa knows he has a timing for a one-base attack and goes for marines/tanks/banshees. With a small number of roaches and a handful of speedlings, Check is able to kill off the first wave NaDa's ground army, but the following wave proves to be too much, and NaDa takes the match 2-0 in seemingly easy victories.
+ Show Spoiler [Player Grades] +
MC
-
A-
Byun
-
B
Byun didn't play badly persay, but everything he did was completely shut down by MC. Not once in his games was he able to grab even the slightest advantage against MC, and his reaction after losing game two just screamed out helplessness against the mighty MC.
Jinro
-
C+
HongUn
-
B
It's hard to take too much out of these games as they were so one-sided. At most, both players were average, with the third game being slightly disappointing from Jinro to say the least. Nothing special here, folks.
July
-
A-
Clide
-
B-
July's aggression was able to net him an easy win in the first game, but it was his over-aggression that ended up losing him the second one. Playing a safer, more macro-oriented style in the third game, he was able to roll over Clide as if he was a second-rate Terran. Clide wasn't able to impress, at all, against the god of war.
Check
-
C+
NaDa
-
B+
Similar to MC vs Byun, NaDa just completely outplayed Check and Check wasn't able to deliver. A silly mistake of letting two hellions into his base in game two wrecked his economy. NaDa's gameplan in both games were solid, and his knowledge of timings made his 2-0 victory look like a walk in the park.
4.0
NSH.San
<
2
-
1
>
oGsTheWinD
1.5
TSL_TricKsteR
<
1
-
2
>
sCfOu
2.0
oGsEnsnare
<
0
-
2
>
FOXLyn
2.5
anyproPrime.WE
<
2
-
0
>
ZeNEXKyrix
+ Show Spoiler [Recap] +
Fortunately, or unfortunately, the first series of the day also happened to easily be the best series of the day. This series ended up being a lot closer than I could have ever imagined. Going into this, it seemed that unless some strange rush, or cheese worked out for him, TheWind was going to get rolled over by San's. Even though the score might at first indicate that's what happened in the game he managed to win, those numbers alone don't give the image nearly enough justice. I'll admit the series got off to a shaky start with TheWind failing a nydus opening and then just getting rolled over by a massive stalker force. But this seemed to kick start something deep down inside of him, causing him to show us he wasn't just going to let this Sans guy walk all over him just because of hype; he was going to have to earn it.

Game 2 showed TheWind opening up his skill set in both the strategical and mechanical departments. After holding off San's initial 6 gate timing push, the winds of change really did start to blow. Supplemented by great harass, and amazing multi tasking TheWind was able to build up an incredible economy while always keep his opponent on the back foot. If it wasn't a drop in the main, it was mutas flying behind the third. San wasn't one to go down without a fight, seeing as he was expected to win this series. Despite constant pressure attempts, and severals stabs at DT aided assassinations, TheWind just would not budge. He didnt care, he was going to win this. TheWind continued to flood out units, and attack from every angle. Pulling his opponent exactly where he wanted him, and how he wanted him there. Eventually his brood lords came out and San realized this game was a lost cause.

I believe in game 3 both players came to a sudden realization, TheWind knew he could win this series and cause an upset. While San realized that this zerg could actually beat him, but that he wasn't just going to be beat, it was going to take much for than previously for him to lose. Despite this intense build up, the initial phases of this game start out pretty passively. That is until San decides to show off some of his phoenix play. These speed demons pay for themselves taking the lives of many a poor zerg miner. TheWind even hurts his own position further through faults of his own, getting a massive corrupter count to deal with phoenixes and colossi, only to lose a large portion to unexpected blink stalkers. For some reason, again, TheWind did not care about any of this. He could lose units, throw things away, one would think this would weaken his position but then he lets loose. He pulled San's main army all the way towards his 3rd by setting up defenses, and right when the army is as far away as it willf get, TheWind drops into San's main and starts tearing everything up. The damage to the main base alone is already massive by the time San's army comes back, but in his haste he leaves his colossi out of position. TheWind swoops in with his corrupter force and picks them off handily before retreating.

With this colossus empty army, TheWind strikes at San's remaining bases with his swarm of forces. He manages to take out two nexus before San pushes him back with voidrays. The voidrays clean up the broods, and the roaches...and they just keep going and going. San's voidrays remain unopposed for so long that by the time TheWind responds to them it's too late. San blasts through the few remaining forces. Based off this one mistake of TheWind, San just barely claws out the series.

Amazing series, if you really want to check out anything from this match day please I implore you watch this one! My attempt at a brief summary does not do it justice. I'm not claiming it was the best series ever, but it was refreshing compared to a lot of series recently.

As for everything else...eh. Lyn and Ensare showed us a confusing series with Lyn playing confusingly, but solid, while ensare managed mistake after mistake.

Anypro and Kyrix had solid games, they just weren't that interesting. Anypro showed us he's very consistent, well disciplined, has his timings down, and understands the game well. Kyrix showed us that he can make a lot of units but has very little idea what to do with them.

Tester,tester,tester. The guy probably didn't deserve quite the level of bashing that he got, but this series was certainly not one to be expected in the ro16 for code S. The matches displayed that Tester was either very off his game for that day, or that his decision making has gone way down hill. In both of the games he lost his decisions made little sense, attacking into a bunker wall when he could have went around through the debris. Or horribly failing an attack into an opponent that should have had less than him. The remaining game was sC failing an all in. Fairly uninspiring series, just not at the level I was hoping for. It wasn't even entertaining in the hilariously fail kind of way, just the kind that gives off a confusing and disappointing kind of response.

+ Show Spoiler [Player Grades] +
San
-
A-
TheWinD
-
A-
Both of these guys played great. I was especially happy with TheWind's play, if not for his botched game 1, his overall rating could have been a little higher. Beating an opponent that played so well naturally deserves its own praise. San played well but I feel he could still do better.
TricKsteR
C
sC
B-
...Tester? sC did a good job of winning games based on the fact that his opponent made egregious errors, even trying for a cute free win in one game.
Ensnare
-
C+
Lyn
-
B
Ensnare and tester can certainly be compared on this match day. They're both players who we've seen play a lot better, who were making mistakes and errors in judgement that shouldnt happen with people of their calibre. Lyn on the other hand played extremely solid, his play may have seemed a bit strange at moments but he didn't really have any major flaws. Just a shame his opponent made the games too easy for him.
anypro
-
B+
Kyrix
-
B-
If anypro had faced a stronger opponent his grade would have been higher, and I'm sure he could have still managed to beat a strong opponent. Everything about this guy was solid in his games. I do believe if Kyrix had focused on making better decisions with his units, his talented macro could have taken the series for him.
Round of 8
By Kinky and Divinek
2.0
oGsMC
<
3
-
0
>
HongUnPrime.WE
+ Show Spoiler [Recap] +
In this Ro8 match, the Kratos Protoss seeked vengeance from the one who took out his best friend Jinro, HongUnPrime. PvP is notoriously known to be dominated by the infamous 4gate build, and these games attest to that. MC did a standard 4gate in the first game while HongUn teched to a twilight council after the first gateway. As you can expect, this doesn't work out for HongUn at all, who was getting a dark shrine while MC's first wave of units warped into his main.
"Please don't 4gate please don't 4gate... damn..."
This time around on Xel'Naga Caverns, MC opened 3gate blink stalkers while HongUn went 3gate robo. MC's first attack didn't work out well as immortals rip through stalkers even with blink, but MC decided to snipe off all the immortals at the cost almost his whole army. MC attempted a light contain on HongUn, which was easily broken once HongUn's first colossus came out. HongUn tried to go for an attack but MC abuses his stalker's mobility and countered, easily sniping off a colossus and a robo, and runs away. A funny situation occured where HongUn just gave up his base to MC and goes for a base trade. The ensuing few minutes of dodging each other's army resulted in one of the closest games in GSL history.
Down to the last Pylon.
Once again, MC decided to 4gate again on Termins RE and HongUn, again, decided to be a rebel with 3gate blink. A repeat of game 1 occurred where MC's first wave of unit hit before HongUn got his tech up, and it became an easy 3-0 for MC.
Not again...
oGsMC
-
B+
HongUnPrime.WE
-
C-
In a PvP series, there aren't many factors to take into account aside from how well the players execute their build and how well the players micro. MC did both of those solidly whereas HongUn failed in both regards. His builds didn't account for the most common build in the PvP metagame, and in both games 1 and 3, it seemed as if he was just praying that MC wouldn't do it.
4.0
sanZenith
<
3
-
1
>
sCfOu
+ Show Spoiler [Recap] +
Protoss hero San took on sC, who hasn't made the biggest name for himself yet, in this Ro8 match. Both players spawned close positions on Metalopolis and both faked a fast expansion build. sC did a 3rax bio opening and San took a hidden expo at 6 while teching to DT's. Still on 1base, sC sends a group of units to take out the expansion and succeeds because San was too slow to react.
The game continued into the lategame with MMM vs HT, which is never a good position for terran to be in. San took control of the right side of the map, denying sC an easy third base. sC attempted to take the high-ground third between their bases, but San is keen on this and tried to deny it and failed. San ended up giving up control of the left side of the map, and was content on rebuilding his tech on the right. While sC was still on 2 mining bases, San was already on his way to 5 bases. With lots of money in the bank but no time, San tries to rebuild his army while sacrificing his expansions.
You wouldn't be able to tell the spawning points by looking at the minimap.
San's game plan was really interesting in this game, deciding to constantly expand away from the terran and making the most of his warpgate tech to abuse mobility. Though he didn't execute it greatly, he did manage to eke out a win due to sC's mistakes.
The series continued onto a game on Scrap Station, with San opening a fast nexus. sC floated a factory to San's base to make a hellion while bunker rushing the nexus at the natural. The bunker rush was held off but cloaked banshees came in to kill some probes. Luckily, San's build accounted for this and the damage is minimized.
"I do this to Zerg all the time!"
sC gets his expansion up much later and is blindly making vikings while San is going for templar tech. San is allowed an easy third base because sC's tech and economy is so behind. sC realized the position he was in and attempts to apply pressure, but with good forcefields and constantly warping in storms, San denied any possible way of sC coming back into the game.
San opened up a similar build to the first game, getting quick DT's while getting an expansion up. sC is keen on this opening, though, and forced a cancel on the nexus with early bio pressure while getting an expansion up with turrets to defend. With the theoretical advantage, sC attacks into San's natural but good forcefields allowed San to come out ahead easily.
None shall pass.
The structure of Terminus RE allowed the game continue into the lategame, and this time around sC finally realizes that he needs ghosts earlier to counteract HT. It became a battle of cat-and-mouse as sC went around the map trying to deny San's expansions. sC does a good job of coming ahead in each battle, and San does a good job of leaving his HT in the middle of nowhere. With sC constantly killing nexuses all over the map, he was able to secure his advantage and win his first game of the series.
Both players opt for an early expansion with some pressure, sC with stim and San with a void ray. They turned around after meeting each other in the middle to go home and play it safe. Once again, the game progressed to the lategame with MMM+ghosts against HT tech. San did a really good job of abusing warpgates to harass sC's expansions. The game boiled down to 1.5 bases of San against one of sC's bases, which was constantly being harassed. With about a 30 worker lead on sC, San was easily able to amass a bigger army and wipe out what remained of sC's hopes of winning.
"Do you have a mining permit here?"
SanZenith
-
B+
sCfOu
-
B-
San's style of PvT is interesting, in that he opts for HT over colossus tech, and for good reason. He's really on top of using his HT to the best of their ability, but carelessly loses them too. sC slowly learned this throughout the series, as he realized he needed ghosts earlier and earlier in his army composition. As a fellow terran player, it hurt me to watch sC play because he very rarely, if at all, dodged storms in the middle of key battles. His play also feels largely uncreative and very boring, if you will.
4.5
ST_July
<
3
-
2
>
oGsNada
+ Show Spoiler [Recap] +
Game 1 begins on Crossfire, where we get to see the beginning of a developing trend for our terran. Nada opens with some early marine pressure supported by a bunker. July who is more than experienced with this, defends with little worry. He continues this rock solid defense by allowing no entrance to the drop attempts by Nada. In order to follow up this pressure, Nada goes for a marine, tank push. However, he becomes too overzealous with his aggression, instead of strategically leap frogging his tanks Nada pushes them all to the front. July noticing this as well as a late siege, dismantles the push by the terran. Carrying the momentum from the break out, July steam rolls into Nada's main. This makes game 1 look a little easy for The God of War.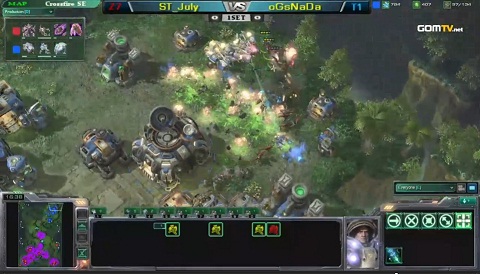 Strike.
We're then taken to game 2 on Terminus RE. Nada tries again for some early marine pressure with a bunker rush, but july shows us he hasn't lost the ability to stop this from bw. Picking off marines with great zergling micro, july breaks this contain making it look easy. He then transitions into banelings, and busts Nada's natural ending the game immediately.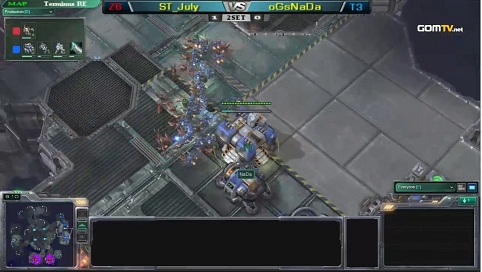 SCVs aren't that good against zerglings in SC2
Completely against the wall, Nada has to begin making his stand on Metalopolis. Nada decides that since it didn't work last time, that he wouldn't go with another bunker rush this game, that and the maps a little long for that. July chooses a very fast 3rd base while Nada goes 3 rax 2 fact, making many hellion indeed. Nada's early pressure is strong, killing its share of lings, banes, and drones. But July's 3 bases help him quickly rebound from this.
July keeps his usual low drone count, managing to bust through Nada's pushes and crushing the terran bases. With a large economy Nada manages to keep holding on. July decides to throw everything away into Nada's natural instead of taking out a naked expansion, making his critical mistake in this game. Despite the awesome muta harass, and constant pressure at lair tech, Nada manages to make and micro his strong composition well. This ends up winning him the game.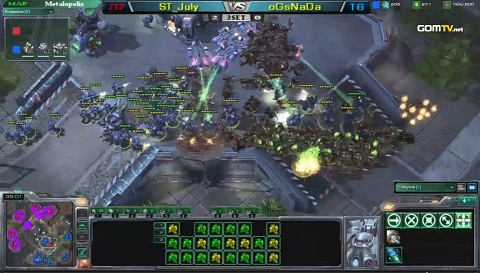 Far too much defense
On the comeback trail Nada takes the next step on Crevasse. Yet again Nada tries some early bunker pressure, and yet again July denies it. Though with more difficulty than previous.
July tries to counter again with a bane ling bust( a lot of reoccurring themes so far), but he chose the wrong building. A depot instead of tech lab made all the difference in allowing nada to hold on by the skin of is teeth. After that stim and medivacs added that extra fortification in holding on from this well-known July pressure.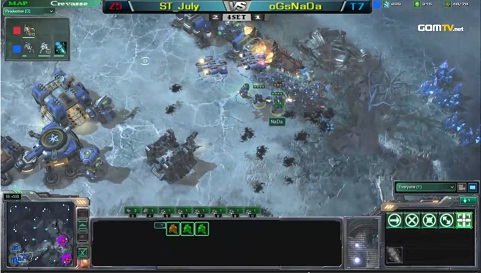 So close...
This is it. It's come down to game 5 on Xel'Naga caverns, with Nada showing the possibility to make the best come back of the tournament. To no large surprise Nada opens again with a bunker rushs, July doesn't even need to comment on how he deals with these by now.
A common theme from this series prevailed in this game; Nada sieging late, and July counter attacking at every opportunity. For a changeup July picks up a better economy, and doing what he does best with mutas. This insanely mobile destruction force, chips away at Nada until there is nothing left, and July holds on to win one of the best series of the tournament.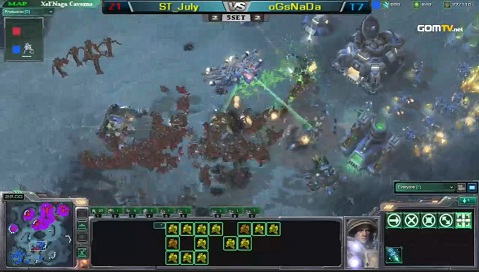 July shows us that not only arrows can black out the sky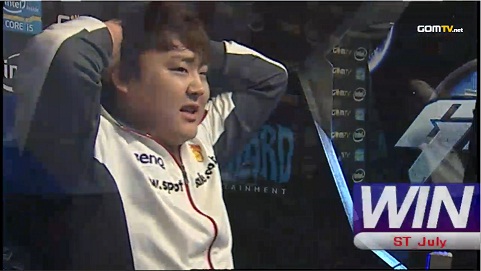 ST_July
-
A
oGsNada
-
A-
It's July and Nada, and it went to 5 games.
2.0
FOXLyn
<
1
-
3
>
anyproPrime.WE
+ Show Spoiler [Recap] +
We start the series off on Shakuras Plateau. Anypro scouts a tech lab, with Lyn opening fast concussive shell he heeds the advice of Tasteless and quickly goes void ray. This put Lyn into a situation that was entirely his fault for not scouting. His reaper came into the base and missed the starport by inches. Instead of using this reaper in the base for scouting out everything he could, Lyn thought it might be better to try for a probe kill or two. He found out the hard way that this was the inferior decision.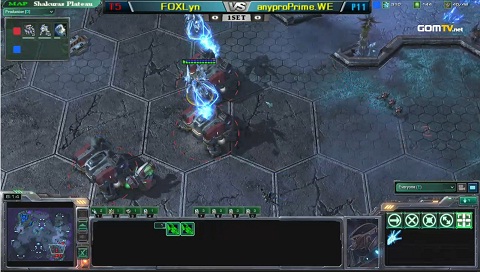 Uh oh?
Moving on to Xel'Naga Caverns, Lyn opens a similar way this game. Anypro changes it up by defending some early pressure crushing Lyn's initial force. In this case two can play at that game, Lyn defends Anypro's counter pressure extremely well, picking off sentries and back stabbing with marines. Lyn ended up playing a very solid game. Anypro's micro left something to be desired; the dreaded one hotkey syndrome, causing zealots to get stuck, and templars to clump beautifully for emps. All of this resulted in a Lyn win.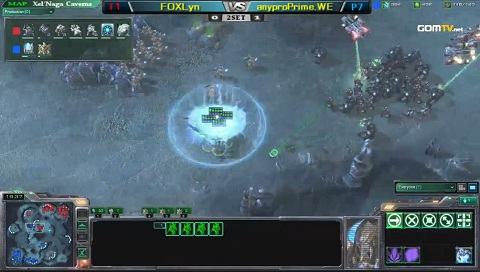 Psyonic poof
Rebounding back to an even series, the match up takes itself to TalDarim Altar. Lyn again shows a similar build from the previous games, while Anypro again decides to mix it up. He fakes a double gas opening, cancelling one after Lyn's scout leaves the base. Transitioning from this into a warp gate rush, and with Lyn having no information he is left completely unprepared for the ensuing pressure and Anypro takes this game in a quick fashion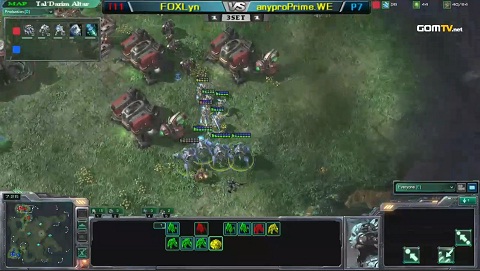 Something feels off
With Anypro taking the series lead, the next game beings on Terminus RE. Despite Lyn initially wanting us to believe otherwise, he does in fact opt for the same build yet again. Anypro decides to show us a standard game, opening with an expansion into colossus. Lyn however gets far too greedy trying to take a quick third along with dual teching. Anypro does as "any pro" would do…just attacks into his opponent who shows the weakness of his greed.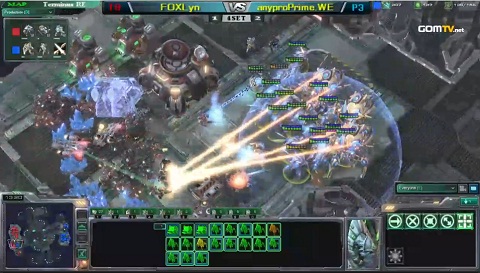 Can I come in?
FOXLyn
-
C+
With only one solid game in the entire series, Lyn got completely out classed here
anyproPrime.WE
-
B+
To negate Lyn, Anypro only had one significantly sloppy game, making the rest look far too easy
Semifinals
By Divinek
2.5
ST_July
<
3
-
1
>
anyproPrime.WE
+ Show Spoiler [Recap] +
"Scrap" Station seems a fitting name for the first game of this match. July starts this series off showing us that he is just as capable of being a cerebral assassin as a god of war. 6 pool. What more is there to say? I can't imagine Anypro would be expecting a 6 pool in game 1, and that's exactly why July did it. Setting the stage for the rest of the match; the pressure is on.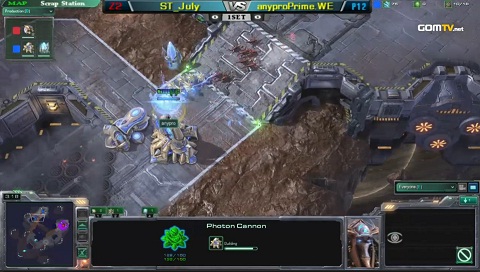 Uninvited guests
So quickly onto Crossfire it's difficult to recall what the previous map was. Anypro opens with phoenix, while July opens with a suicide march for his initial forces, feigning some pseudo pressure. While the phoenixes do a lot of economic damage, the roaches counter with some of their own. Anypro goes for a semi-suicide into the third of July, sacrificing some units to take it out before blinking away with what he has left. Unfortunately, 10 minutes into this game July has doubled the supply of Anypro, and only needs to hit the A key at this point.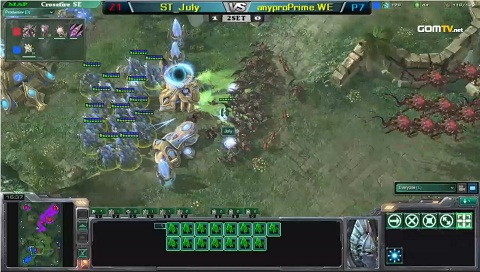 Twice as much is four times half
Game 3 on Tal'Darm Altar shows us the only semblance of a real macro game in this series. Anypro begins with a fast expand, and July answers with a quick third. Anypro proxies a stargate hoping to stifle the spread of the swarm, but ends up supply blocked severely impacting the timing of his build. Failing this build against a 3 base zerg puts Anypro into a sad place, not a happy place. After this supply block Anypro decides it's time to turn on the macro. With a strong death ball, he took advantages of July's poor unit composition that failed to adapt to what Anypro was doing. Having far too many useless air units, including the myriad of overlords lost in the big clash; it was impossible for July to stand up any sort of fresh army while Anypro ran over him.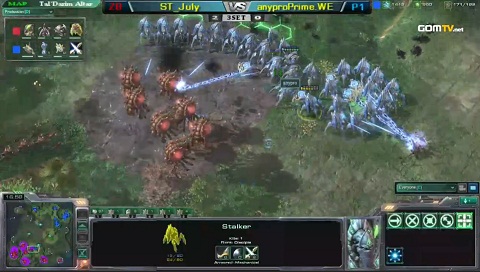 You may require additional overlords
July isn't happy, and he wants to show it here on Xel'Naga Caverns. Anypro starts off risky with a fast expand despite the somewhat short distances and wide surface area of the naturals here. July punishes this by doing a zergling run by and inflicting massive damage, eventually morphing some of these into banelings and blowing up Anypro's mineral line. After this it becomes only a matter of time. July does that voodoo that he does so well. With a non-stop assault comprised of roaches and mutas, July slams away at Anypro until overwhelming him.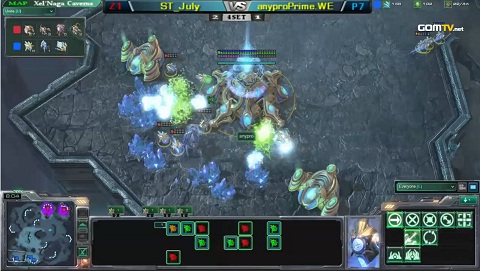 Spare?
ST_July
-
B+
The interactions of this series were very similar to that of MC and San. July looked strong in all of the games he won, but not quite in his top shape.
anyproPrime.WE
-
B-
Disappointingly for Anypro, July walked all over him in this series. From the 6 pool, to the doubled supply he's just not at the level of July yet.
3.0
oGsMC
<
3-1
>
SanZenith
+ Show Spoiler [Recap] +
These two protoss begin on Xel'Naga Caverns.This was an extremely unfortunate game from San. MC executed his cannon rush extremely well because he's MC. But San made some terrible decisions; not blocking his ramp to prevent the probe from building in his base, focusing a useless pylon even though the cannons in his base were powered from the low ground. It looks like he'd almost never faced this build, or he panicked. Funny game from MC, funny in a sad way from San.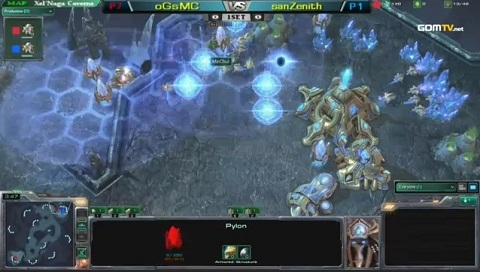 Pylons can be quite vicious when threatened
Hopefully forgetting the last game, San wants to start anew on Crossfire. Despite holding off MC's early pressure and coming out with the advantage, MC simply retorted with a strong timing attack. He hit San right after he got a bit too greedy putting his expansion up faster. And MC's unit composition was much better because of his zealot mix. San instead took too many risks going expand, thermal lance, and stalkers trying to cover all his risky bases and paying for it.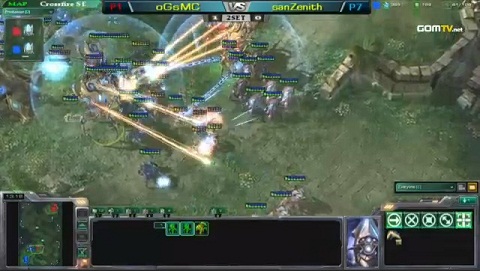 Where's your stuff man?
At this point on Shakuras Plateau San is hoping for anything but a clean sweep. San holds off another strange attempt by MC to beat 4 gate with 4 gate. MC again tries for a timing attack, but San covers the right precautions this time. He executes a beautiful forcefield to split off some of MC's army, which also delays for thermal lance. San manages to finish the upgrade in time and win the battle.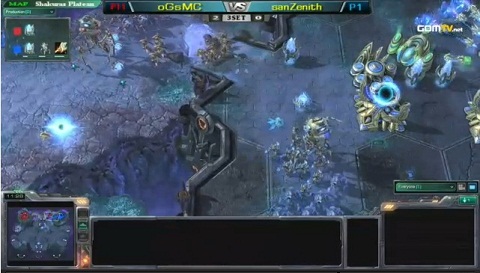 No running all the way home this time
With each player showing they are capable of winning a game in this series, the next game features Metalopolis. This game really showed us that San's decision making still needs a little work despite all the way he's come. Trying to get revenge on MC for game 1, San goes for a forge build aiming to cannon rush. However after his first cannon he chooses to build a pylon instead of a cannon and this made all the difference in the rush. Allowing MC to have enough time to get his cannons up and defend. But san hadn't lost at this point, MC went for counter pressure in hopes of using his tech lead. San was just one cannon short of being able to hold this off, assuming just a little too much into his defensive capabilities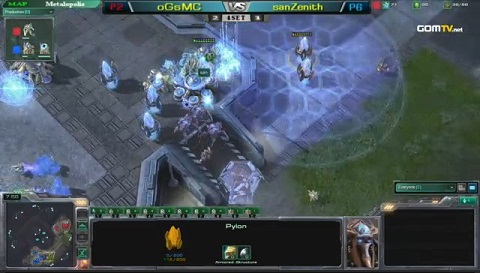 No one gets in, or out
oGsMC
-
B+
He's solid, and he's MC. However this series didn't look like much of a challenge for him, and yet he still made some strange decisions like twice trying to combat 4 warp gate with 4 warp gate giving san unneccesary advantages
SanZenith
-
B-

Besides the game he won, San just didn't look that great this series. It was likely in part to playing such a strong opponent, but also some of his decision making was just not up to par. 
---

Next: GSL March 2011 Finals Preview

Thanks for reading. Keep an eye out for our GSL March Final's Preview of the epic clash between oGsMC and Startale_July, coming soon!