---
By flamewheel, Milkis, swanized, tree.hugger and Mustaju

Have I ever told you guys how much I hate this little box? It's the last thing I write for any news post. Anyway, I was half-thinking about putting the original title as "Confusion [and] Consternation [and] Constipation". Seriously, this is getting ridiculous. Skyhigh keeps getting schooled in TvT. Bogus is dominating , but not as hard as ACE is. Trolluary keeps sending random Ace picks when she should send the Dino. I pretty much gave up on liquibet (not that I tried very hard anyway) and just kind of started letting coin flips decide. Why's the world gone mad?

In this week's Proleague news post, we have the usual and more--Game of the Week, Team Report Cards, Previews, an opinion article, and a piece on team Aces. Think of it as a [late] holiday present to you, the readers.

As this round draws to an end, there's still a little bit left to be decided. While the players and coaches might be getting tired, the holiday season should bring them a bit of cheer. Practice on, progamers, practice on!

Brood War for life.



All around me are familiar faces
Worn out places, worn out faces
Bright and early for the daily races
Going nowhere, going nowhere...




Results and Recap for Round 2, Week 4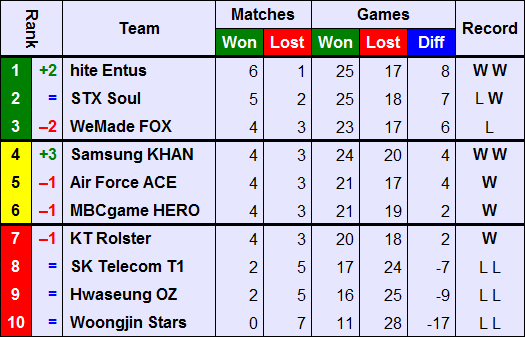 Results for Week 4. Check out the full R&S thread here.
I don't even know how to comprehend all of this anymore. I'll just let you readers decide for yourself. ACE? What. Woongjin 0-7? SouL and Hite dominating...
It's too much for my mind.
---

Since I totally jacked the intended game of the week (
jyj vs
ggaemo) by writing a Battle Report of my own, I forced swanized to settle for second prize. Hah! Well, this game is also pretty sick. One of teamliquid's favorites, firebathero, goes head-to-head with SK Telecom T1's n.Die_SoO. Oh, and if you want to read the
jyj vs ggaemo game, check it out here. Shameless plug is shameless! Anyway, read on.

Wait one more small thing. tree.hugger is threatening me by telling me that if I redact this poem in here he'll "call in the ice giants."



"Stopping by Aztec on a Snowy Evening"

I have practiced long and paid my dues
To take an advantage I should not lose.
I must be careful, maintain my control
To take this match to the end that I choose.

Very recently I've been on a roll
And I've badly wanted to reach my goal;
To win, to be sent out another day,
To take my parents out to eat in Seoul.

I know they would enjoy seeing me play.
For the proof that hard work truly does pay.
They know full well how much I've labored here
Just waiting for a break to go my way.

Close game, but his gg is almost here.
I just need to make sure the skies are clear.
And to my marines, keep my vessels near,
And to my marines, keep my vessels near.
Probert Frost
Game of the Week: firebathero vs SoO
By swanized
After a shaky start of R2 for SKT, partly due to Fantasy's Proleague fails and Best's cold, SKT opened up this set against Air Force ACE with a dominating performance, taking a quick 2-0 lead. ACE's only hopes to avoid the near hopeless void of the 0-3 deficit lies within one man's hands.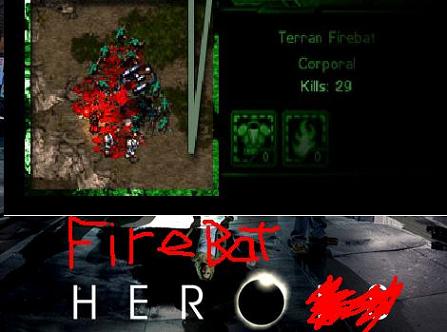 The game kicks off on
Circuit Breaker
, a map statistically zerg-favoured, FBH spawns at the top right main while SoO spawns diagonally at the bottom right main. SoO opens up with a 12 hatch and transitions toward 3 hatch muta, while FBH goes for a normal 1 rax FE with a very fast E-bay, suggesting a timing attack. He however adds on 2 barracks at a rather awkward timing, not really suggesting a sunken break considering SoO's spire already started morphing. The attack upgrade finishes for FBH just as the mutalisks arrive at his natural, meanwhile SoO takes his 3rd at the bottom left main. SoO's mutas fail to do any damage while FBH is happy to macro a large MnM ball with his 4 barracks. SoO tries to set up a lurker contain at FBH's bridges but FBH swings a MnM control group around the pod, forcing SoO to pull his lurkers to prevent being surrounded. FBH adds on another starport, transitioning into his brand new build, the
SK Terran
3-star no ground air force lieutenant-General build. FBH starts moving down the map toward SoO's 3rd. However, FBH's forces are halted by SoO's lurker near the bridge. Both sides contemplate their adversary like seasoned fighters waiting for a rookie to make a mistake. Tired of waiting, FBH's marauding forces pull back and seek out other prey. SoO's mutas are caught by an irridiate that goes unnoticed for a few seconds, badly damaging the 9 mutas that survived up to this point. Said mutas are quickly finished off as SoO tries, and fails, a muta/ling backstab at FBH's natural. Meanwhile, SoO takes his second natural. Defilers finally come out for SoO while FBH bounces around in the middle of the map, desperately seeking a crack in SoO's armor. FBH takes his mineral only, and sprints his MnMnF groups all around the map and starts pressuring SoO's bases. One of the groups bravely runs up the pod near the 6 o'clock base but is hit by a huge plague.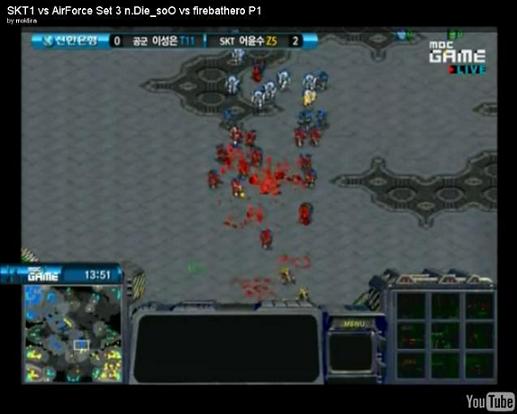 A large plague stops FBH's aggression.
FBH is nevertheless baller enough to charge the zerglings and kill the defiler with minimal losses. Using his total map control, FBH expands to a fourth base. Like thunder SoO charges through the bridge by his 4th expansion but is halted by FBH's marines. FBH even manages to sneak a few Firebats and marines through the pod and reaches he 6 o'clock where SoO is trying to expand. He is, however, met by 3 lurkers that make short work of his forces. FBH moves up the pod by SoO's natural with a huge bioball and tries to assault the 6 o'clock again. The attack is brilliantly defended by SoO who manages to cut off the Ball before most of FBH's forces manage to reach his 5th base. FBH adds on a 3rd starport confirming his intention to go Pure
SK Terran
3-star no ground air force lieutenant-General build. Meanwhile FBH moved his Bioball toward the bottom left and moves up the pod, again threatening at the 6 o'clock. This time SoO's reinforcements don't reach the 6 o'clock in time and the hatchery goes down.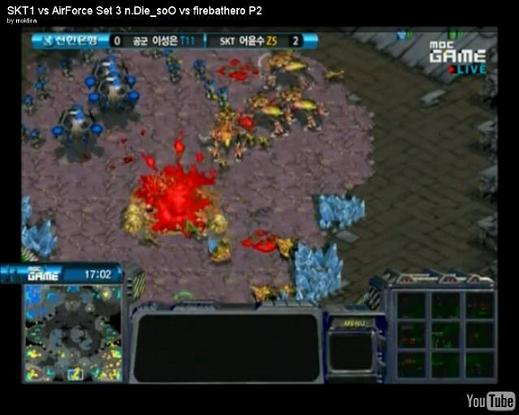 A little too late.
Nevertheless, Ultraling finishes FBH's forces. FBH blocks a zergling run-by attempt, gathers his forces once more and runs down the map toward the bottom left again. However, he is sandwiched between SoO's ultraling, and all his forces die quickly. Most of SoO's ultras are irraditated though, and are subsequently slaughtered by FBH's reinforcing marines. SoO has now destroyed the firm control FBH's bionic troops have had all over the map and launches his forces in an all-out assault at FBH's bases. The army collide in the middle of the map, dark swarms harmonically land on FBH's forces, leading to an easy kill for SoO. The 3-star no ground air force lieutenant-General build is however paying off as FBH masses an impressive vessel cloud.
The 3-star no ground air force lieutenant-General build's power!
SoO attacks FBH's 4th base with ultraling but most of the ultras are irradiated and FBH quickly finishes them off. Meanwhile, SoO takes a 6th base at the 3 o'clock. A few vessels intercept an ultraling force from SoO and irradiate most of the ultralisks, though SoO manages to scourge 2 vessels. FBH tries a sick move and charge through SoO's forces with 6 marines to snipe a defiler but SoO saves it with a nicely timed swarm. SoO takes a 7th gas at the top right main but suddenly a river of Medic, marines and vessels move across the map and assault the 3 o'clock, easily stopped by SoO's ultralings, FBH nevertheless moves up the ramp of the top right main and dances around with SoO's forces at this area. FBH nicely snipes the nydus but SoO manages to drive off the attacking forces. However, with SoO so focused defending the top right the whole crowd can finally understand the unfathomable depth of FBH's moves. Having focused SoO at the top right, FBH managed to sneak a whole control group of MnM toward the 6 o'clock. SoO pulling all his forces nevertheless beautifully defends the attack.However, this was only another move on FBH's chess board. Another diversion to open up a path toward FBH's true objective, the 3 o'clock base. Like the chessmaster moves his pawns, FBH moves his soldiers toward the now undefended 3 o'clock and terminates it with extreme prejudice.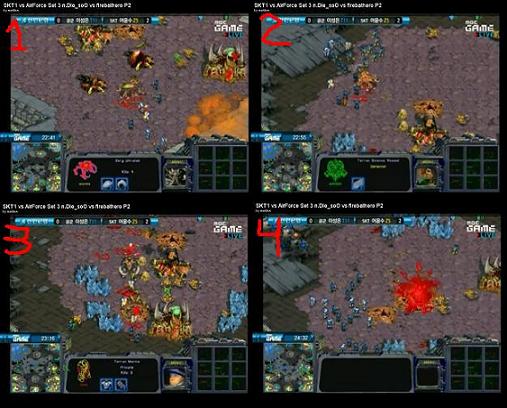 1.
Your puny assault is repelled!
2.
What the...
3.
Saved!
4.
Whoops...
SoO moves his forces at the 3 o'clock to defeat FBH invading forces, a logical response that was already anticipated by FBH, while SoO's forces move toward the 3 o'clock FBH runs down the map with another group of MnM, toward the now undefended 6 o'clock. However, FBH shows a rare lack of focus and diverts his troops from attacking the base and making them run up toward the natural instead, losing his timing window and letting SoO reinforce. FBH loses focus once again and suicides 4 vessels at SoO's natural, showing how fragile of a build
(pure)SK Terran
3-star no ground air force lieutenant-General build really is. SoO is however once again caught by a MnM group crossing the map and hitting the 6 o'clock once again. Another furious charge at the 6 o'clock, another clutch defense as ultralings swarm from every side and defend the 6 o'clock once again.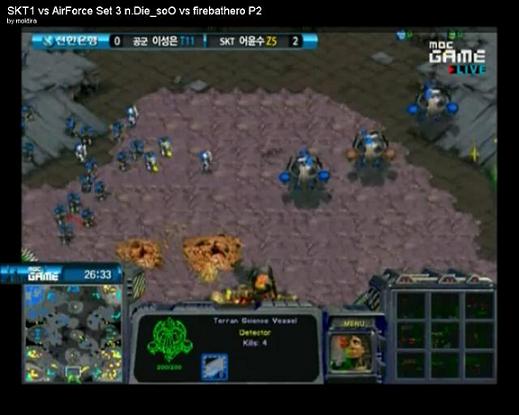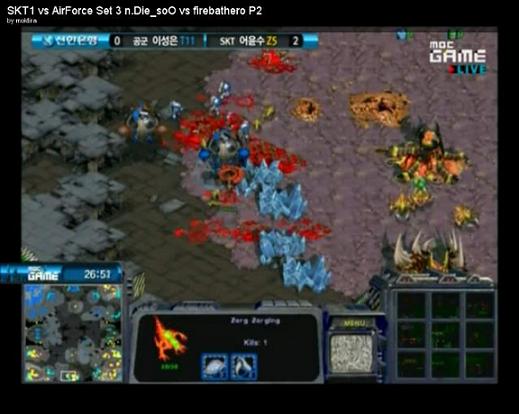 Yet another clutch defense.
FBH however moves outs with a small Marine force toward the top right main while moving down the map with a large MnM force. The attack at the top right is barely defended by SoO but the retreating marines catch a drone transfer and terminate the poor workers. Meanwhile the majority of FBH's forces start knocking at the bottom left natural and a vessel erases 7 or so drones at the 6 o'clock. FBH breaches the bottom left and with his large force and runs down toward the 6 o'clock, finally destroying it too, he then reinforces his troops at the top right base. following beats the maestro directs his orchestra, following beats FirebatHero directs his forces against SoO's last expansions 1..2...3...4, leaving only an heartbroken SoO in his stead, mesmerized by FBH's symphony.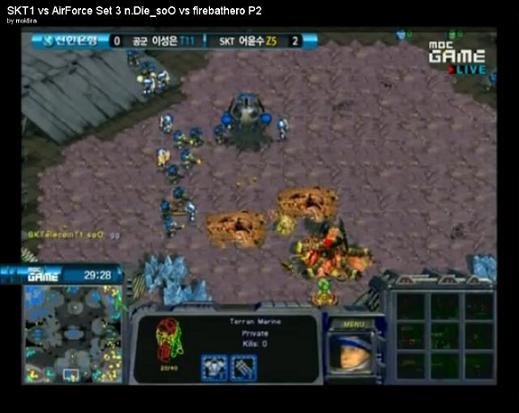 GEE...GEE~
---

Last season I remembered we had an article about how the teams were faring because of their Aces. Now, this time around we've got the same thing for you. Deep from the region of spam (see: Live Report threads), we've dragged Mustaju to the front page to give you the statistically-backed up thoughts about the few, the proud, the Marines Aces.



From Pillars to Killers: The Story of the Aces
By Mustaju

Few things excite a Proleague fan more than an Ace Match. The team Ace is usually the most popular player in the lineup, and some would even say that the Ace defines his team as a whole (à la Jaedong OZ/KT Flash). One of the biggest gripes of the Bo7 format has been that we see these matches less frequently. Stork vs. Bisu and Jaedong vs. Flash were way more likely in a Bo5 format, and now we have to settle for watching our Aces have longer winstreaks and for seeing new talent emerge. But have you ever wondered how severe the drop in frequency was and how the teams Aces have performed thus far? Of course you have, otherwise I doubt any of you would be reading this.

In a Bo5 system, Ace matches were pretty much a given. I'll be using Rounds 1&2 of Proleague 2009-2010 and 2010-2011 to illustrate the drop in frequency. Rounds 1&2 2009 saw 132 Proleague matches played, out of which 53 ended up in an Ace match. This is a 40.1% chance to see the best players of the teams duking it out, almost 1 in every two games. Out of the 84 matches played in PL in the rounds one and two of 2010, only 23 have gone to Ace. The 27.4% frequency is made a bit worse by maps that have been deemed as too Protoss favored, which further restricts the possibility of a hyped Ace match. Some teams should attempt to never let the game get to Ace anyway, though. Here's a summary of the team Ace performances.
Air Force ACE:
The only team that hasn't played a single Ace match yet. Their name can be officially called into question, but seeing how they perform recently, they might not even need Ace matches any more.
Hite Entus:
Hite fields the best Ace by far this season, as far as results go, and his name is Hydra. Hydra is 3-0 in Ace Matches, defeating Free, Jaedong, and Kal, hogging all the spotlight from the other Entus players except for Leta, who demolished ZerO in his single Ace appearance up to date. Hite is pretty hard to snipe, since Protosses have to be afraid of Horang2, Zergs of Hydra and Leta, and Skyhigh is still a huge threat to any Terran (though he seems to slump a bit now). There's also the threat of Snow, who is performing well again in PvT and PvP. This strong Ace performance is quite likely a reason why they are close to taking the lead position from SKT.
Hwaseung OZ:
Hwaseung has wisely only played Jaedong in all of their 5 Ace Matches but the sad thing is, he only won 2 of them--and those were against Modesty and Piano. His three losses come from Hydra, ZerO (which is terrible for reasons stated later), and Stork. Somewhere along the way in PL, the Tyrant has dropped the ball, and Hwaseung will suffer even worse if he keeps up his over-aggressive play in Ace matches.
KT Rolster:
Suprisingly (or not as much, as OSL/MSL viewers might gigglingly point out), Flash and Stats have been sent out an equal amount of times for Ace matches, and they share the same winrate! Both of them are currently 1-1 in Ace matches, which must be very disappointing for KT fans who thought they had an autowin button at their disposal. As KT regains momentum, Ace matches will become the deciding point once more, and Flash needs to show whether he can shake off his Ace match curse once and for all.
MBCGame HERO:
MBC has shown some variety in their Ace match choices, and it's usually ended well. Good thing for MBC too, since they are heavily relying on Ace Matches. Light has a perfect record of 2-0, Sea is 2-1, and Tyson bested Stats on Central Plains for his Ace Match debut as well. Even Jaehoon got some play as the Ace, but he lost against his good friend Stork, which the latter expressed regret about soon after. However, when Light or Sea should slump, things start looking grim for MBC, because they have a very limited lineup to propel them to the Ace match.
Samsung KHAN:
Sometimes more of the old is better, and Samsung coach January should have learned that lesson by now. Disappointing Daniel and other Stork fans all over the world, the Birdtoss has only been sent out 2 times (winning both of them) for Ace matches, but mostly watching others take his place from the sidelines. Unfortunately, all of his replacements have lost thus far. Jangbi, Turn, and Great all went 0-1 in January's attempts to play some mindgames with the opposing team, while Stork might have been a much better choice. Then again, I might not know what I'm talking about, since Jangbi and Great seem to be resurging a little. There might be subtle genius at work, but this seems to be wishful thinking on my behalf.
SK Telecom T1:
SKT is rather hot in Ace games, as they've won 5 out of their 6 games thus far, against no easy opponents. Fantasy triumphed over both Baby and ZerO, and BeSt brought about the first upset of the year, defeating Flash handily, and toppling Sea after he recovered from his sickness. Bisu, the third SKT Ace is only slightly behind the other two due to his loss to Kal that certain Bisu fans still rage about. As of now, the team has fallen on hard times, which might mean that the Aces (especially Bisu) need to prove themselves some more times, but SKT certainly doesn't need to be afraid when they go to the Ace Match. (well, except maybe if they encounter Shine there).
STX SouL:
I was honestly surprised how few Ace matches STX has played, since I remembered most games being a lot closer than they actually were. A fan's memory is a weird thing, so let's dish out the statistics again: Kal has definitely been STX's first choice for Ace, and he repayed his trust with a win over Bisu and Great, but also stumbling while trying to extinguish Hydras rising star. Weirdly, Calm and Bogus have not been played in the final set, and the single anomaly in STX's Ace choices is Modesty, who failed to snipe Jaedong. Unlike KHAN, STX should consider changing their Ace choice from time to time to make themselves less snipable, especially since both Bogus and Calm are slowly gaining momentum. Kal shouldn't need to burn himself out, since he will probably go far in OSL and he has one hell of a group to prepare for in MSL, which might be too much for his tendency to crack under pressure.
WeMade FOX:
WeMade FOX hasn't been doing well in Ace matches. Theoretically WeMade should be as hard to snipe as SKT or Hite with great players such as Pure, Baby, Roro and Shine in their lineup, but they have lost all 3 of their Ace matches this season. Admittedly, Fantasy and Sea were on a really hot streak when they gutted Baby and Pure, but Baby's loss against Stats felt enormously off. 0-3 might just be unlucky, but it might also mean that the WeMade Aces just don't have the nerves they need to consistently play to the best of their ability. Pure plays horribly from time to time, and Baby can suddenly throw away a huge advantage. Even though it wasn't an Ace match, his game against Shuttle is proof of this statement. The best solution to this is probably playing Shine, since he tends to win before the opponent can even think about pressuring him. Unless said opponent is his bladder.
Woongjin Stars:
Rumors of a Woongjin Ace match curse were wildly circulating during last season, but due to the impressive winstreak of Stars in Round 1, some fans dismissed the existence of such a thing altogether. After all, Jaedong had been defeated in an Ace match by Zero, whose ZvZ was considered his only weak point at the time! The sad truth is, Woongjin is still horrible in Ace Matches, and possibly worse than ever before, and they play more Ace matches than any other team. Out of the 8(!) Ace Matches Woongjin has played this season, they've won a single one against Jaedong. ZerO, the only one with a win, is 1-5, and seemingly more and more depressed after every single match. Neo.G_Soulkey was crushed by Bisu, and Free's humiliating loss against Hydra showed the severity of his current slump. The last Woongjin Ace was not Really but Piano, in the possibly most questionable Ace match choice this PL. This has definitely helped create the situation Woongjin is in right now, not having won a single game this round, and it's doubtable they will. On the other hand, other teams are not performing well either, so Stars might be able to recapture some of their earlier sparks and hopefully regain some much needed confidence. Playing Really in Ace matches might help.
In summary
:
Teams that do well in Ace matches: Hite, SKT, and MBC
Teams that do poorly in Ace matches: Hwaseung OZ, WeMade FOX, Woongjin Stars
Editor's Note: Teams that don't need Ace matches: AIR FORCE ACE!
I'd like to thank Lightwip for helping me fix some factual mistakes that slipped in due to sleep deprivation and KasPra for selflessly making me all those epic banners and graphics you see in the LR threads.
---
Flash?

Flash?

Flash?!
Aura of Dominance
By swanized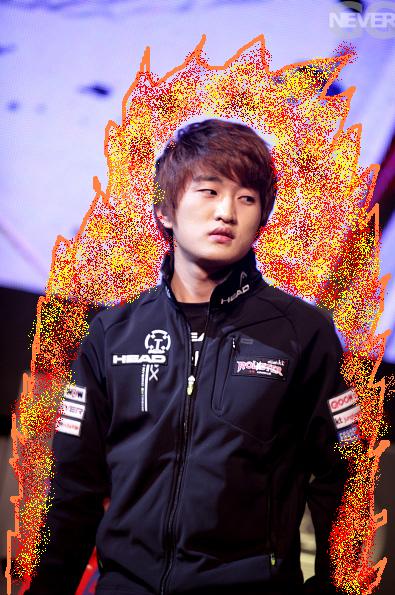 Author's depiction of Flash's aura.
"Good teams find ways to win" goes the popular hockey proverb. The good hockey team nearly always win even when totally outclassed by a weaker opponent. The good hockey team may win with a fluky goal or a solid power play because that is the mark of a good team, to win even games they weren't supposed to, through opportunism, perhaps luck at time. Last year's New Jersey devils are a good example of a good team, always sticking to their defensive system and with the excellent Martin Brodeur in the nets, earning a lead against the devils was an incredibly difficult task. Even when down a goal, the devils usually tied the game if the opponent gave them even one, only one single scoring chance. However, there was a final factor that ensured the devil's victory. When one goal ahead against the favored team, hands start freezing on the sticks, the defense suddenly slows down, worried about making a mistake that lets the other team tie the game, unaware that they are digging their own grave. Unable to handle the pressure of their lead, the underdog suddenly starts making dumb defensive mistakes and sloppy offensive plays that the stronger team is quick to exploit.
Why am I talking about hockey in a Starcraft news post? Because Flash is a good team, Flash is an opportunist player with near flawless endgame and incredible mechanics. When holding a lead against flash, players suddenly start making all kind of sloppy mistakes, unable to defend Flash's harassment, sloppily losing battles all over the place, the weaker player starts to panic and Flash gets back into the game where his superior endgame and mechanics finish his opponent off. The simple fact of holding a lead against Flash is often the underdog's demise when playing such a strong player. His hands freeze over the keyboard and his play becomes panicked and sloppy. Watching Really's play earlier this month against Flash clearly demonstrates that. Really having gained an immense advantage through dropships and wraiths harassment suddenly started freezing as soon as mid-game came around, afraid to throw his lead, he stopped any offensive move and harassments he was making and suddenly stopped doing anything out of fear of making a mistake. Flash quickly capitalized on his opponents sloppy play with a drop and won the game easily. Calm, Roro, Really and countless others have fallen for this trap, gaining an immense advantage only to vomit on their lead and let Flash comeback through passiveness and sloppy play.
Truth is that Flash has been dominating Brood War for such a long time now that players entering the booth against him feel more like a condemned man walking toward the guillotine then a challenger. Hyuk's winner interview from the OSL show how confident he was of beating Flash in the first place.
You're a mile behind Flash in your head-to-head record.
▲Coming to this game, I had absolutely no expectations of myself. (haha) If you asked 10 people how I would do, all 10 would have said I'd lose. But I bore an it-doesn't-matter mentality, and that may have been my lone advantage.
Flash's aura of dominance has been a major part in many of his victories this season. Flash simply exhales this aura of invincibility that is making him look unbeatable to his weaker opponents. As you all know, Flash has made the last six individual leagues finals and won four out of those. However, Flash's aura took a beating last week. With his teammate's and his own OSL run on the line, hyuk forgot all about Flash's aura of dominance and delivered him a crushing blow. one that coupled with sSak's and classic's exploit, rivals Savior's 0-3 loss to Bisu, a blow so phenomenal that it is unknown how Flash's play will react, and more importantly, how Flash's opponents will react to the dismantlement of his aura of dominance. Are they going to go on throwing their leads and losing or are they going to finally stop fearing Flash and take every opportunity to win? Is Flash going to rebound like Jaedong after the 2008-2009 proleague finals or is he going to roll over and die like savior back in 2007?
Watch closely, watch closely for Winner's League is imminent, and this is the perfect opportunity for Flash to rebuild his whole aura. One or two clutch all-kills and his opponents will go back to fearing him like they used to. A few early losses though and Flash could quickly fall into a devastating, possibly career wrecking slump.
This is a threshold in Flash's career, is he going to fall into oblivion or soar and fly high toward an even greater glory? Only time will tell…
---

Professor Milkis is back with his meterstick, and he's going to be laying the smackdown on a few more proteams. How's your team faring? Should there be educational reform? If you don't know, read on. You may be biased one way or another, but I'm all about comment inflation these days.



Team Report Cards
By Milkis
Samsung KHAN
Stork: A
Yes, Stork gets an A. I believe that he's been a consistent performer for Khan throughout the years, but his skill seems to not have rusted as he managed to climb back onto the top. He did have a shaky start this year with some games just making me wonder if Stork knows how to play anymore, but he managed to recover from that terrible loss to Violet and came back and showed a strong showing since then, showing that he's indeed, consistant as he has been in the past.
JangBi: C-
This season has proven beyond a doubt that Jangbi simply does not have what he used to have anymore. Yes, he did get some good storms against Zero, but that's simply not enough to win games and be a productive force into your team. Is it just a slump, meaning that I'm being too harsh? Perhaps, but I don't see Jangbi being a positive addition to Samsung anytime soon.
TurN: B
Luckily for Khan, two new players rose up to the challenge in order to make their lineup capable. Turn is one of them, turning some heads, but in the end, nothing that much special and only one notable win over Fantasy. Of course, if Khan performs well at all in this season, it'll be because of Turn.
Brave: B
Brave is the other player that rose to the challenge for Khan this year, however, he had the misfortune of being a Protoss player, which doesn't give any more diversity to the team. Regardless, he's been perfomring strongly, as not surprised from a team that has Stork in it. But in the end, we'll see if this is just a lucky streak or something more solid in the long run, but for now, Brave looks pretty good.
great: B-
January seems to put a lot of faith in great, as I've seen him actually be picked over Stork for ace matches it looks like. Yet great is nothing more than an average Zerg -- no notable matches, no notable wins, just plain average. I've seen nothing special for him, so I'll just give him what I consider to be the "average" score -- a B-.
Unrated:
Grape,
Reality, Windy,
Sharp,
Odin,
Juni
Samsung got extremely lucky this year with two of its newer players being able to stand up and take matters into their own hands. With a reliable ace in Stork, they'll be able to perform decently this year if Turn and Brave can keep up their streak. The racial diversity also seems to have an issue, as they only seem to have a solid Protoss line and a potentially decent Terran player and an average Zerg player. I will put them at a C+ as I feel Samsung has too much counting on inexperienced players -- and that may end up being a huge gamble. Once they prove to be nothing but hot air, that'll be the end of Khan's chances.
The Verdict: C+
Hwaseung OZ
Jaedong: A+
Need I to say anything? Jaedong is still Jaedong -- a player second only to Flash.
HiyA: C
Sometime between last season and this season, something major seemed to have happened that makes me think Hiya forgot how to play Starcraft. I don't know if it's the maps or he's too busy having fun and not practicing, but honestly Hiya has been nothing but undependable as a player this season. 2 - 12 is absolutely not acceptable but I'm still not giving he anything lower than a C -- because somewhere down there is a Magikarp waiting to evolve. And when that happens, he'll start destroying things.
PerfectMan: C-
Hasn't won a game since the first 4 games this season. Is this a surprise? I guess Hwaseung Protoss is still a Hwaseung Protoss after all.
BackHo: C-
I don't know what else I can say about Hwaseung Protoss. At least there hasn't been any game that specifically highlights how bad he can be... Although I'll probably be proven wrong soon.
Killer: C+
It's kind of funny how Killer actually gets to watch over Jaedong's shoulder and watch Jaedong play all these matches yet he still has zero sense of timing on how to finish the game. This seems to be a consistent pattern in Hwaseung players -- maybe Jaedong just beats them all too quickly. Maybe he just watches Jaedong play and doesn't practice -- in wihch case his record could actually be considered impressive just on the account of Jaedong.
Princess: B-
Definitely played some of the more amusing matches recently but he still has a long way to go. But there's only so much I can say about how bad Hwaseung has been this season.
Unrated:
Anytime,
sos/
sHy,
Sonkwon,
Dear,
SkY,
Speed
As a Jaedong fan, I'm extremely disappointed in Hwaseung's players, as they just seem unable to help Jaedong out. Thankfully Jaedong has monstrous mental strength but in the end how long can he last? He's been cracking at ace games recently and no other players have been able to support Jaedong. How many 4-1s can I remember this year, and how many 3-1s do I remember last year? Hwaseung is one sorry excuse for a team, and they definitely need to consider picking up some new players. At least Anytime looks like he's playing well.
The Verdict: F
Air Force ACE
Think of it as a copout answer, but I'll be honest and short -- I have no idea how to rate a team such as Ace. Players seem to go through massive transformations as they enter Ace, many players either catching a second wind or just slumping away into nothing due to the harsher schedules.
It doesn't help that dynamics of Ace has changed tremendously this year with many new Progamers entering Ace and many progamers leaving Ace. If I'm to say that I'm able to rate Airforce Ace to any degree of accuracy I'd be lying -- because honestly, I would have no good way of being able to rate them.
And thus, they will remain unrated.
But they're still ballers.
Editor's Note: I'd give ACE a B/B+ for their ridiculous R2 play.
STX SouL
Kal: A-
Posted some good results and performances, and there has definitely been games where he has showed us why he is called the "Acrobat" and "The Red Shuttle" -- but in the end he tends to drop games every once in a while that keeps him from continually drive up momentum, unlike Stork and Bisu who manages to go on hot streaks that allow them to give off a certain sense of force.
Shuttle: B
No longer the PvP bonjwa he once was, he's looking for a new map to play. He still seems solid in the PvP department however, and past that I'm not too sure what to expect from him.
Bogus: B+
Did you guys know Bogus has a 10-4 record? I didn't know either.
Editor's Note: I did, and I've watched his games and had my anti-team destroyed by him. That's why he gets his B+.!
He seems to have accomplish this right under our eyes -- although to be fair, his only notable wins are over Stats and Skyhigh. Sadly, since he flew under my radar too, I don't have that much to say about him

Calm: B
Once the Ace of STX, now often considered a laughing stock. He was slumping so hard that he was the one who was rumored to have a girlfriend. He seems to be shaping into form recently, however. Maybe he broke up with his girlfriend?
Modesty: B-
Some unlucky showings in Prolague (Jaedong, Flash, Leta? I'd call that unlucky), but he definitely shined in the most recent OSL. He finally seemed to have learned how to play other matchups, being able to beat Protosses and Terrans. With still an impressive ZvZ, I believe considering him average is the safest option for him.
CuteAngel: C
You want to know why FrOzean isn't performing? It's because STX isn't slumping. As STX begins to start returning to normal, FrOzean returns to his normal place -- losing when the team is doing well, although he'll likely man up when the team starts doing badly.
Unrated:
CreationToss,
Trap,
Last,
ToSsGirL,
Ych,
hero,
Classic
After their major slump after losing Hwasin, STX finally seems to be recovering albeit slowly. If Calm is actually back and recovering into his former self, then we can expect STX to have a great run this Proleague season. Bogus and Shuttle seem to be decent cards, although I'm still not too sure what to think of them -- one seems to just be in a hot streak and I have little clue how the other will perform outside of PvP. Time will tell, however.
The Verdict: B
---

So the week's half-over already. Whoops my bad. Anyway, for the last few matches of Round 2 tree.hugger's given his nature-loving thoughts on how they'll turn on. Read, read, read!



Week 5 Previews
By tree.hugger

Monday - 19:30 KST (OGN)

The chimera that is

Hite Entus has largely been treading water so far, but lately they've turned in a series of gutty performances, and have spoken glowingly in interviews of their new camaraderie. That's frightening for their opponents, who this week happen to be the leaky ship that is

KT Rolster. Is KT recovering? Are they faltering? Are they doing a little bit of both? Nobody seems to know, but last week they edged SKT and trampled Stars behind the strong play of their protoss line. That's the key here again. It's well understood that if KT's protoss players win, so do the team. Hentus is stout but not brilliant against protoss, and so this match looms as an important benchmark in their path to respectability.
The other match is

Airforce ACE vs

Samsung KHAN on MBC at 18:00.
Tuesday - 18:00 KST (MBC)

SKT suffered three tough defeats in the last weeks against their archrivals, Khan, and Ace, but they can redeem themselves by kicking around league footballs

Hwaseung Oz here in the late match. Of course, there's the added sub-plot of the potential Jaedong v. Bisu/Fantasy match-ups, which we can only hope occurs. But this match ought to be entertaining no matter what, as SKT's young lines are starting to do some damage, and Oz's young lines (minus Princess, of course) are starting to wriggle and die, like the goldfish you brought home from the school fair. Of course, if SKT loses this, then the slump vultures will start circling like they did last round for KT.
The other match is

STX Soul vs

Woongjin Stars on OGN at 13:00.
Harem says...

5:50:08 PM oh PL post is missing the most important thing off all
5:50:14 PM pointing out that Killer is 13-3 vs T1's current roster :V
Wednesday - 13:00 KST (MBC)

Wemade are finding their footing here in Round 2. Always a team of 'good' players, the emergence of a serious ace in Shine seems almost too good to be true, but if it holds, this team figures to be a threat down the stretch. Some love is also clearly due to the much maligned [image loading] Samsung KHAN, who found a winning strategy last week by playing basically everyone on their team except for JangBi. Are Brave, Grape, Juni, and TurN the wave of the future? Hopefully. Are they reliable? Of course not. But with a positive week showcasing things to come, Khan comes into this series with some tangible momentum. That's perfect for their young talent, and it'll be fun to see how far they can get against FOX. The other match is

Hite Entus vs

MBC* on OGN also at 13:00.
* Who got the short end of the stick in this write-up, and for good reason; they've been absolutely awful.
---
The weather outside is frightful, and inside I don't even have a fire, so screw the delightful. Since I've got nowhere to go (snowed in), let it snow, let it snow, let it snowPL post go, PL post go, PL post go! Another amazing update brought to you by the 2010-2011 Proleague coverage team of flamewheel, Milkis, swanized, and tree.hugger. Special appearance by LR man Mustaju, who is not actually an Elbonian. Graphics by alffla.