banner by pachi, screenshots from GOMTV GSL season 3
"Iron Man"
GSL3 Finals Recap, Interview, and Season Awards


There was little surprise that at the end of the night, oGsMC would be the one standing with the trophy in his hand. Concluding yet another and most likely our most exciting season yet, the GSL trophy sits tightly in the hands of another ex-BW pro. While his victory was perhaps not as symbolic as FruitDealer's earlier victory, oGsMC brings to the table a whole new element. A rather outspoken individual, oGsMC has never been afraid to speak (or dance) his mind. His pragmatic play has always been praised by his peers, but it was nerves and the lack of high-profile exposure that stifle his progress. But now, that's all put behind him. Here, we see a new oGsMC, not MBC Suicide Toss. As confident as he is skilled, MC won convincingly through times where Protoss outcries for justice is abundant. Even from the tiniest things as 2 minute Artosis interviews, it is clear that MC no longer has restraints on his play (nor his English skills). Entering the season, he promptly declared that this was his season. Nothing was gonna stop him, because he had it all figured out. There was no need for hammer time. Every second of this GSL was Jang Min Chul time.


---
Links and Resources:
---



P1 Game 1 - Delta Quadrant T7
+ Show Spoiler [Show Recap] +

We kick off our finals series with crossed positions on Delta Quadrant. Rain walls in and quickly drops a factory after his barracks, leading us to believe that it's a possible 1/1/1 opening. MC shows no sign of irregularity until that SCV scout has been taken care of, and promptly drops a stargate. A void ray is being summoned as a proxy pylon warps in stalkers in front of Rain's base. Rain's double reactored barracks constantly pump out marines with siege tank in production. The VR picks off the reactor from Rain's wall and MC makes full use of his VR to harass and keeps Rain inside his base. MC expands behind the backdoor rocks while slowly build up his robotics tech. Rain confidently pushes out with his heavy marine/tank force, looking to contain MC inside his own base.

Rain does not expand behind his push, and slowly bunker his way up MC's ramp. MC mass produces immortals and phoenixes in order to counter the heavy fortified tank line. MC looks poised to break out several times, but patiently hold back until he can assure that he can break down Rain's iron wall. The phoenixes cut off all reinforcing troops for Rain, and MC is slowly gaining an army advantage. At 112-82, MC rushes out with his phoenixes, lifting up all the tanks and immortals lead the charge down the ramp. The damage from immortals evaporate the bunkers and with his tanks lifted in the air, Rain has to depend on his marines to take care of the rest. While being extremely cost efficient with his units, Rain could not overcome the massive amount of units that was thrown at him and the contain is broken. Rain pulls back for a brief moment to regroup, and once again pushes out, this time with a handful of SCVs to soak the damage. MC's two bases allowed him to macro up a beefy force and intercepts Rain at the center watchtower, and Rain has no choice but to give in. [16:56]
- Rain devised a clever trap in order to seal in MC, but perhaps it was not the best map to do so. MC was not shaken at all however, waiting and stalling until the contain was merely an inconvinience in his path down the ramp.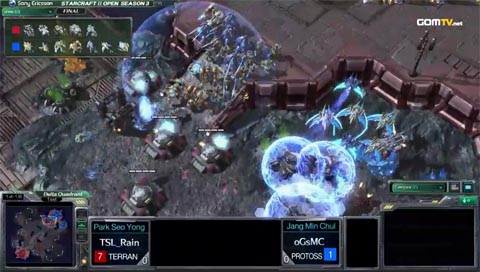 Prison Break.


P12 Game 2 - Lost Temple T2
+ Show Spoiler [Show Recap] +

Both Rain and MC opt to go for similar openings to game 1. MC once again utilizes the efficienty of VR against early Terran units to slowly pick apart Rain's wall-in. After dealing enough damage without suffering any sort of damage, MC pulls back and build up a barrage of tech off of one base. The observer peers into Rain's base, giving MC vital pieces of information. MC continues to tech up, this time a dark shrine is also on the agenda. While Rain is the first to begin his CC, MC sneaks out a probe for a hidden expansion at the 9 o'clock main. MC warps in DTs via a warp prism inside Rain's main, forcing SCVs to scramble for dear life. Fortunately for Rain, a raven was seconds from finishing and Rain was able to avoid a SCV massacre.

MC nonchalantly drops a nexus at his natural while Rain looks to push in and stop what he thinks is MC's first expansion. Rain throws down a PDD prematurely and with MC pulling back his forces, the PDD was ultimately worthless. With tank support from the back, Rain's marines walk up the ramp unharmed and MC is forced to pull back and wait for a more opportune moment to engage. The raven gets picked apart by MC and as each individual DT slashes his way over to Rain, a scan was forced, effectively weakening Rain's economy. A surprised SCV spots out the 9 o'clock expansion and Rain soon realized his lead was not as gargantuous as he had hoped. MC's first engage cuts down Rain's army, and a second wave soon overran the tanks at the back, forcing Rain to retreat. DT harass forces Rain's SCV to dance between mineral patches from the natural and the main.

Rain prepares an octo drop to shut down 9 o'clock, but as hard as he could spam T, stim pack was nowhere to be found. MC begins HT+storm research, but Rain grabs an advantageous position at MC's Xel'Naga tower. With his tanks, Rain bunker pushes his way into MC's natural, inch by inch. With his front locked down, MC could not warp in enough units to save his 9 o'clock, and it falls to a handful of MMM forces. MC uses the mobility of warp prisms to harass Rain's base, as Rain is pulling and rallying all his units to MC's natural to strengthen his offensive siege. Instead of taking the gold, Rain chooses the float his CC to the island, hoping it would go undetected. MC's attacks compel Rain to pull back most of his marines to defend. MC, knowing that the front's defenses have been weakened, busts out with his immortal/zealot army, sustaining minimal losses while dealing a huge blow to Rain's food count.

MC takes his own island and while the food count is looking to be in Rain's favor, a large chunk of his food is devoted to SCVs. Rain attempts a cute drop in the main, but picks off almost nothing as MC reacted extremely quickly. More warp prism play denies Rain the island, and a huge storm at Rain's gold racks up 10 kills for a high templar atop the ledge. More warp prism harass in Rain's base from MC, but Rain pushes forward instead, hoping to end the game. A beautiful EMP at the Xel'Naga tower soaks up almost every single unit's shield for MC. However, Rain overextends himself and recklessly attack into MC, with his forces obliterated from a still powerful Protoss army. Looking back at Rain's gold, a dark templar relaxes his blade with another 20 kills, stifling Rain's economy altogether. A small drop denies MC his fourth base, but it was simply delaying the inevitable. With his massive colossus/templar ball, MC has no trouble a-moving in to Rain's front and take a dominant 2-0 lead in the series. [39:57]
- MC abused the mobility of warp prism to punish Rain's attempt to contain him. While Rain made great strides in his bunker push strategies, but there were major mistakes in other aspects that cost him the game. Action was played out all over the map.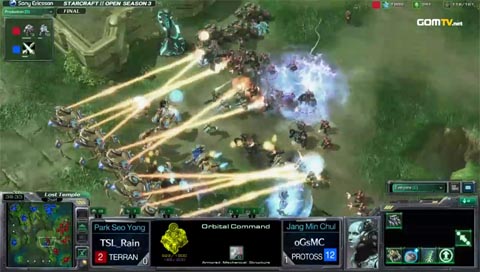 Colossus cleans up.


P1 Game 3 - Xel'Naga Caverns T7
+ Show Spoiler [Show Recap] +

Rain breaks away from his trend of walls and chooses not to on Xel'Naga Caverns. The scouting probe catches a glimpse of Rain constructing a barracks before it is chased out. Little does MC know that Rain immediately cancels the barracks as the probe exits, and a factory is brought up in its place. MC drops two additional gates before expanding, and Rain indecisively settles for cloaked banshees. As the banshee makes its way over to MC's base, a robotics facility is still nowhere to be found. Rather than retaining the typical role of probe hunter, Rain goes after MC's sentries, picking off a total of six in the process before cloak dissipates. Banshees continutally harass MC's probe line, and Rain safely expands behind it.

MC quickly techs up to colossus while Rain's stim/combat shield timing push is on the way. MC's army is extremely zealot heavy and a sprinkle of stalkers to take out the banshees. The banshees with PDD support was able to snipe out the first colossus and weaken the second, but the stalkers soon took care of the aerial threat. MC barely manages to survive the assault and with colossus micro cleans up the rest of Rain's attacking force. MC looks for an offensive opportunity with his army, but the food count favors Rain by a considerable margin. MC engages at Rain's gold expansion. The SCVs soak up the first few firey laser beams from the colossi and the vikings have free reign to open fire. With no colossus left and his zealots being funneled into the choke, MC relenquishes game 3, giving Rain the hope he needs to climb back into the series. [18:13]
- Extremely clever play by Rain to trick MC. MC got a bit ahead of himself foregoing detection, and if it were not for his splendid unit battle control, the game would've ended much sooner.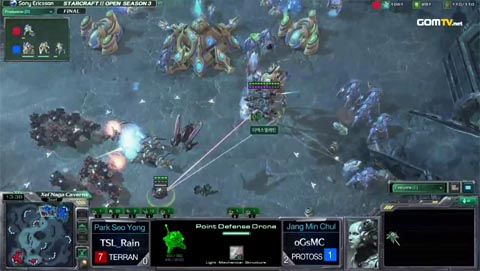 Banshees hunt down colossus with minimal resistance.


P7 Game 4 - Steppes of War T1
+ Show Spoiler [Show Recap] +

Before Tasteless can even finish his whimsical introductions, MC pulls a trick pylon on 7 on the close distanced map, Steppes of War. With a gateway to folllow, Rain catches the pylon warping in on the low ground as his SCV marches out to scout. Rain continue with a standard TvP opening, grabbing the gas before dropping a bunker, which in turn costs him the early orbital command. The zealot pops out before the bunker is finished and goes to work on the SCVs. A small victory for Rain as he picks off the probe. After his second marine, Rain throws down the tech lab and makes a marauder, but at this point he has lost all too many SCVs. MC puts the nail on the coffin with a stalker, leaving Rain with no units other than 3 SCVs, and a deep hole to climb out of if he wishes to end the night as GSL3 champion. [5:57]
- Simple cheese by MC, perhaps not the best response by Rain. The gas had limited benefit to Rain's defense, and his simcity was highly questionable.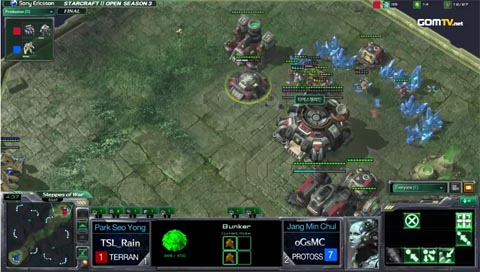 Rain had a hard time microing his SCVs away from the deadly psi blades.


P5 Game 5 - Jungle Basin T11
+ Show Spoiler [Show Recap] +

Rain creates a rather unique wall at his ramp, leaving several empty gaps that will hopefully be filled with subsequent buildings. Rain's facrory begins churning out hellions, with the infernal pre-ignitor upgrade being researched simultaneously. Meanwhile back at the Protoss's base, MC hides three additional gates in his natural, with the infamous 4gate on the way. MC force fields the bunker in order to deny any repairing shaninagans and breaks through the first bunker with ease. Rain drops off two hellions at MC's base and begins working on the probe line. The four gate was too much for Rain to hold as he loses every single unit to MC with a handful of gateway units leftover. The hellions deal an absurd amount of damage themselves, but there was nothing left that Rain could do. MC is our GSL3 champion. [8:34]
- A rather anti-climatic end to the series, while almost every single worker unit was killed, MC was always ahead in the base race.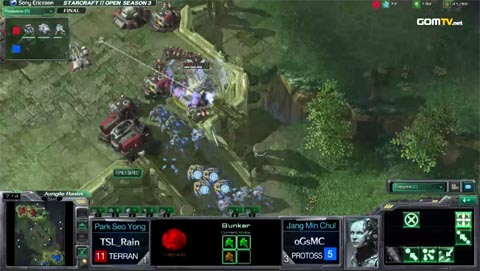 Force fields decrease the longetivity of bunkers.


Player Grades
+ Show Spoiler [Show Player Grades] +
oGsMC -
A
While it is easy to call out mistakes and mishaps from an omniscient point of view, MC showed solid play in regards to his execution with four different builds. Relying more on stargate/templar play, MC looked for a more speedily approach to reinforce his army, rather than a cost effective but slower robo play.
TSL_Rain -
B-
Showed improvement in adjusting to MC's play while continuing what he practiced from game 1 to game 2. Tricky play got him a win to claw back into the series. A strong detriment to his play is apparent in game 2, as his decision making can be quite spotty at times. Game 4 had quite a psychological impact on his play, and game 5's toss of the coin sealed his fate.
---
TL Interviews GSL3 Champion oGsMC
By Hot_Bid and Waxangel, special thanks to Liquid`Ret
Protoss are scary.
Congratulations on winning the GSL3! How did you feel after Rain GG'd in Game 5?
Feels very nice, but Rain is cheese man. I wanted a macro game. The finals games were very easy, and only second game is good game. The others are not worthy of final match games.
At this point Ret interrupts to talk about Huk wanting to play frisbee every day, and Min Chul kindly reminds him that an interview is going on. "Hey Jos. Shut up. You good manner."
What did you and your teammates do to celebrate? What are you going to do with the prize money?
We went out for drinks and Korean BBQ with the team. After the PlayXP tournament is over, I am going to celebrate more, but there are lots of tournaments so I will have to spend most of my time practicing.
For the prize money, I will give some to my mother, spend some to the team, and the rest will be "invested" in myself

Were you worried at all during the match with TSL_Rain?
I was extremely nervous during the first game. But after I won that game, I knew for sure that Rain was not a Terran on a level that could beat me. This calmed my nerves down and everything came easily after that.
You are the first Protoss player to win GSL. Many Protoss players on our forums are inspired by your victory. Do you have anything to say to foreign Protoss players?
I believe in my skill above anyone, be it Protoss, Terran, or Zerg, and I proved it with these results. I hope Protoss players can be inspired by my play and play well themselves.
Our forum really likes your English quotes, like "Marauder die die." Do you have some words for your "foreigner" fans?
In a Korean interview earlier today I thanked my "another Korean fans" (non-Korean fans) for their cheers. As for English quotes, I think next season I will have something prepared each game.
This was your team's first GSL win. Is the team happy? As the team is more successful you will have to play each other more in tournaments, like when you played against Jinro in the semifinals.
At the house it's a general celebratory mood, a little more happy than usual. Team kills are things you can't avoid, so the winning player just has to make sure to keep giving good performances.
You are friendly with many of the Liquid` players. How do you feel about them in the house? Are the oGs guys used to them by now? Tell us some stories about living with them.
We don't mind them at all, and because they all have unique personalities, it's great to joke around and have fun in general.
Tell us their secrets.
Hayder can't eat meat and he has a girly voice. Huk is a psycho. Jonathan is a normal nice guy who works hard. Jos loves the women and is good at lying.
That is interesting. Are Jos and the other Liquid` guys successful with Korean girls?
I haven't met any girls with Haypro or Huk, but when I've been with Jonathan and Jos, it looks like girls are interested but most of them quit because they can't speak English well enough, so I have to take the role of interpreter.
Are you going to create an account on TeamLiquid to speak to your international fans?
My English isn't that great so it's tough right now. I plan to improve my English so I can post next year.
What is your prediction for Code S and Code A groups, especially for your teammates?
Everyone on the team is a good player, and if they have a little luck they'll make it to the Round of 8.
Any last words of thanks for your practice partners or fans?
TheStc and Hyperdub helped me a lot, especially want to give a big thanks to TheStc. I'd like to thank the foreign fans for their incredible attention, and it would be awesome if a lot of pretty female fans came to watch when I compete in foreign tournaments in the future.
Just kidding. I hope everyone comes and cheers me on. Thank you.
---



GSL Season 3 Awards



The "Bonjwa" Award for Best Player
oGsMC won the dang thing okay.

The "Pokju" Award for Worst Player
BitByBitPrime.WE leads our candidate polls by a landslide. If we had a most unsuccessful cheese attempts award, he'd win it too.

The "Giyom" Award for Best Non-Korean Player
Our gorilla Terran Liquid`Jinro rampaged his way to the semifinals, smashing records set by foreigners from the last two seasons.

The "Flash" Award for Last Second Lifeguard Save
HongunPrime's simcity against FruitDealer could possibly be a modern architect wonder of the world.

The "Effort" Award for Biggest Upset
TSL_Rain rocked Liquibet and SC2 altogether as he squeezes by IMNesTea in the quarterfinals.

The "Bisu" Award for Best Single Play
Utilizing the Void Ray to its full potential, oGsMC tore apart MarineKingPrime.WE on Lost Temple.

The "BackHo" Award for Biggest Failure Play
If you don't see any SCVs mining at a base, it's probably BitByBitPrime playing. If you don't see any SCVs left on the map after a huge battle, it's still probably BitByBitPrime playing.

The "Boxer" Award for Most Creative Play
TSL_GuineaPig experimental play wow'ed us with the strengths of the Protoss arsenal.

The "Yellow[ArnC]" Award for Crazy Zerg
TSL_FruitDealer caught Zerg adrenaline rush for a round as he aggressively tried to end the game with plays that would make DIMAGA envious.

The "Firebathero" Award for Best Ceremony
oGsMC, the Master of Ceremonies with his Huk support hoodie, finger wags, and fearlessly confident post-game interviews. What else is left to say ?

The "Jaedong Hugs His Mom" Award for Best Tournament Moment
While foreign fans jumped in rile excitement as Jinro v. Choya game 5 went down to the wire, it would be a crime to overlook the triumphant success of oGsMC as he leads the sons of Aiur to their first GSL win.


---

Next: GSL off-season + GSL4

The downtime between seasons of GSL can often be frustrating and irritating for us fans. With that, Team Liquid aims to shorten that time (at least in your mind) by throwing more articles at you ! Look forward to our Code S | Code A group previews, exclusive interviews with your favorites, and our nostalgic look back at SC2 in 2010 as a whole ! We wish you a merry christmas~

Thanks for reading!