---

By flamewheel, Harem, Milkis, and Xxio

Lately, the Brood War scene has been in a state of chaos. Up is down, down is up. The impossible becomes possible and the possible somehow impossible. Flash loses TvT, Jaedong loses ZvZ, Ace 4-0's yet another team while Woongjin looks like a giant punching bag. Of course, none of that compares to finding out the strangest thing of all. Perfectman isn't actually perfect. Who knew?

While recent results may confuse spectators, it shows just how competitive BW is nowadays. BW has never been more exciting than it is right now to follow. Anything can and does happen. Nothing stagnates and perceptions keep evolving. These upheavals show that truly any team could end up in Gwangali. This is what being a BW fan is all about.

So much has happened recently that would make anyone's head turn. Despite that, we are here to guide you through the murkiness and make sense of what has happened in the PL world lately. First, we'll take it easy and just recap the results of the past few weeks.



Results and Recap for Round 2, Weeks 2 and 3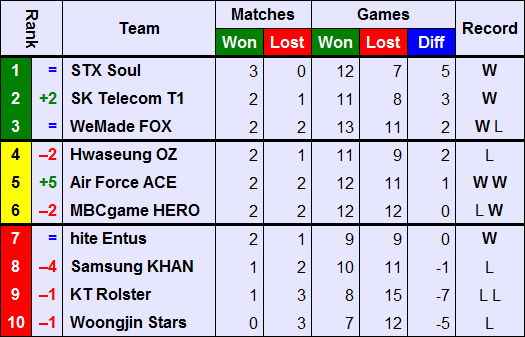 Results for Week 2.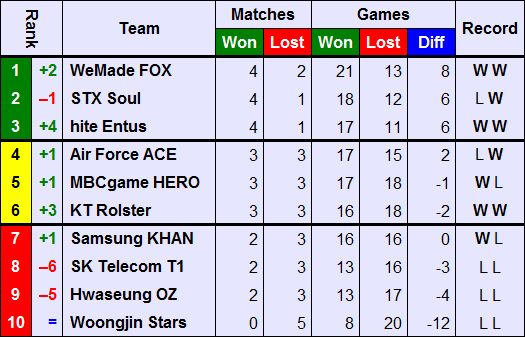 Results for Week 3.
Definitely a crazy two weeks. Something I scrounged up on notepad in a minute will tell you better than me talking for a paragraph.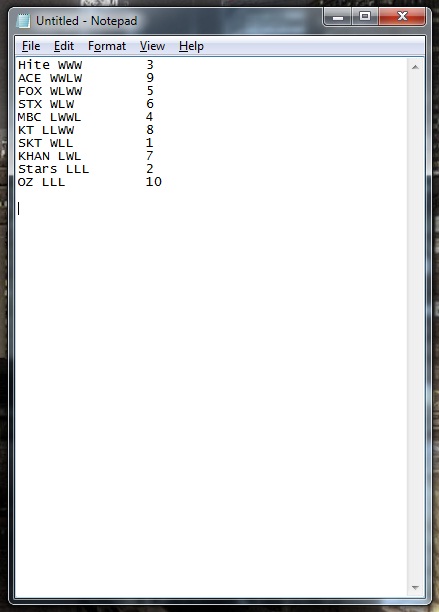 How the teams did weeks 2 and 3 and their rank at the end of R1.
In short, there's not too much correlation between how the teams were Round 1 and how they did for weeks 2 and 3 of Round 2. Following Week 1, it's getting hard to predict anything anymore. Go ACE!
---

As usual, some games are better than others. We here at the Proleague team take time to sift through all the games played in order to find which ones are the best! Actually, sometimes we just randomly choose one. Either way, we generally make good choices, right? This week we have the awesome Xxio here to help with one of our battle reports!



Games of the Weeks
By flamewheel and Xxio

Given that we've had two weeks now without a PL news post, it's only fair that there are two games to be written about, right? Let's get started then: GotW for Week 2 is Princess vs Horang2, and then there's an "upgraded" version for Week 3 in Action vs Bisu.
---
Week 2: Princess vs Horang2
By flamewheel
In the sixth set of OZ vs Hite,
Questionable Sexuality
and
Tony the Tiger
face off on Benzene. This is a very nerve-wracking game for OZ, as they are down 2-3 , and need this win to go to Ace. I would be making a damsel in distress joke here, but I'll save it for later.
Princess, in white, spawns at the the top right position, while Horang2, in orange, warps in across the map at bottom left. Horang2 opens forge-Nexus after seeing Princess' overpool-expand build, knowing he will be safe from the two zerglings that Princess decides to make. From the start, we can see that Princess wanted to make this a long, macro game, and Horang2 knows this as well when the still-scouting probe sees the morphing lair and the third hatch at 4:30.
With still only one cannon, Horang2 takes his natural gas and starts teching, while Princess starts his spire and den, placing two more hatcheries in the process.
Horang2's scouting corsair nets one kill and is safely away before scourge spawns, but as the scourge scout Horang2's base, Princess knows that Horang2 is going sair-DT.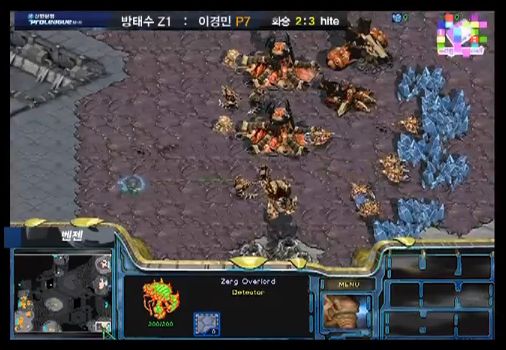 Denied?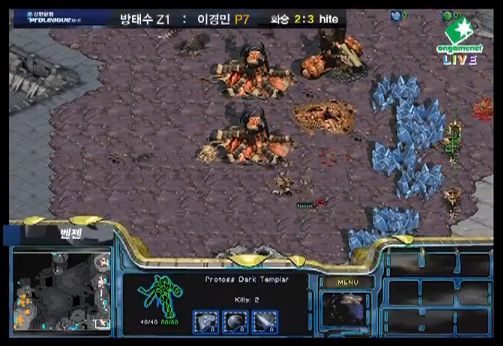 Nope!
However, the corsairs soon arrive to kill the one overlord at Princess' third, allowing DTs and zealots to assault the third. However, the corsairs are forced to retreat after being blown up by scourge, so the next overlord that finishes morphing is able to provide vision of the dark templar. However, Horang2 keeps up the attack, but with good micro Princess is able to repel the dark templar/speedlot force. Having slain a good number of drones, Horang2 finally stops the assault and continues macroing, and Princess gets lurkers and techs to Hive.
A new corsair fleet scouts Princess' morphing fourth at 3, but pull back after losing yet another of their members to scourge. Princess brings two lurkers to the high ground above Horang2's natural and starts wailing on the generator, but at the same time Horang2 decides it's time for yet another speedlot incursion against Princess' third. With only a single lurker and a sunken to work against, Horang2 is able to take out the main hatch at the third before his zealots (and two templar) are wiped out by reinforcing zerg forces.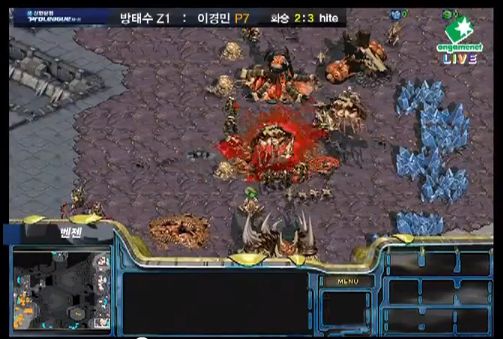 Snipe! Though really it's not that bad since Princess still has an off-center hatch to work with.
Meanwhile at home, Horang2 has managed to kill off the two random lurkers and has started his third. As he sends a small zealot and high templar force to assault 3:00, he is met with an unexpected windfall.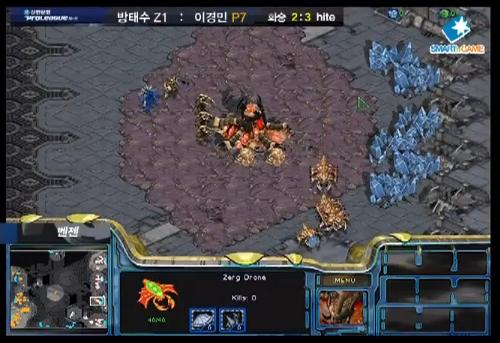 Guess what happens next?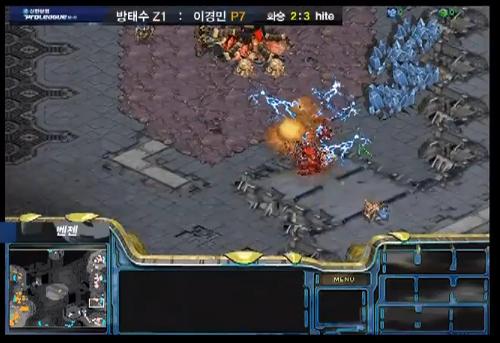 If you guessed drone massacre you are correct!
All of Princess' drones returning to the third are mauled by lightning, though the hatch at 3 is saved by a wave of zerglings, though Horang2 continues to not have much success with his corsairs. Having not achieved critical corsair mass, Horang2 is forced to run whenever scourge appear, so Princess is able to keep his overlords alive and the corsair count manageable.
Princess starts his defiler mound and decides to waste some forces, so he sends his zerglings to Horang2's third in what seems to be an attempt to snipe the nexus, but Horang2 is able to hold them off using the power of phase disruptors. Horang2 decides to go for a drop, and moves out his now-critical number of corsairs supporting a shuttle, but then decides to surround himself with scourge.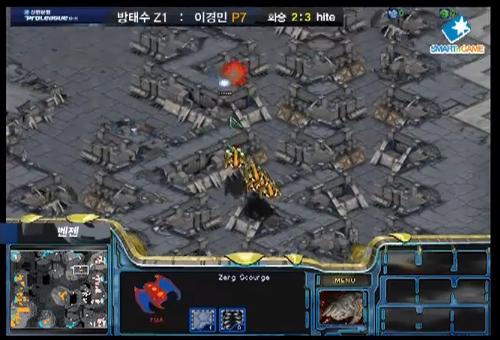 I approve of this.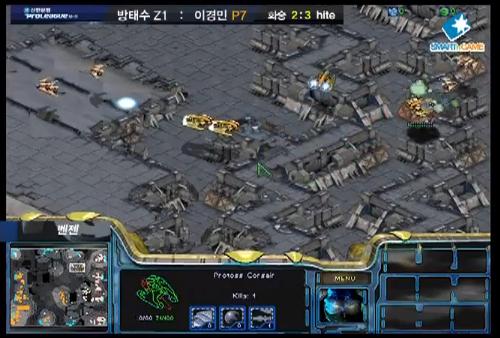 I don't approve of this.
Lesson to learn: splittling your corsairs is not a good idea, and is a far worse one when you run into a scourge field.
Horang2 does manage to drop two dark templar into Princess' main, and they are able to take out the spire before overlords arrive. Meanwhile, dark swarms and well-placed lurkers are able to keep the Protoss ball at bay and whittle at its numbers, though in all this mayhem Horang2 evens the base count by taking his fourth at 7:00.
While Princess masses his forces around 3:00, Horang2 goes for a storm drop at the natural and then the main, slaughtering almost all the drones at the two bases for the cost of two high templar and a shuttle. Quite a good trade, if you'd ask me. Feeling happy with himself, Horang2 decides to take a fifth at the top left, and then makes a unit that almost always indicates a good PvZ.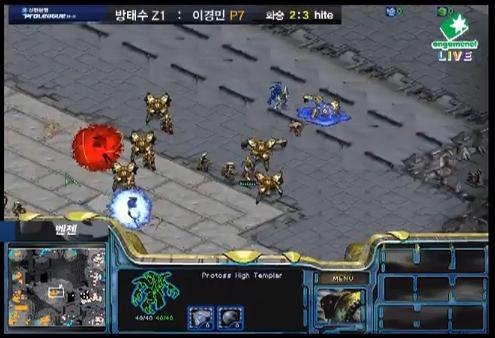 Dark Archon!
Princess at this point is behind on bases, which is never a good sign in ZvP, but he does manage to get a huge plague off on Horang2's army while starting his fifth.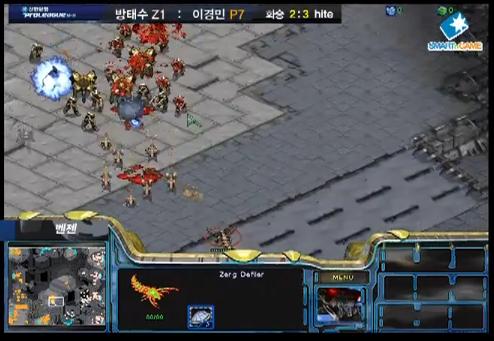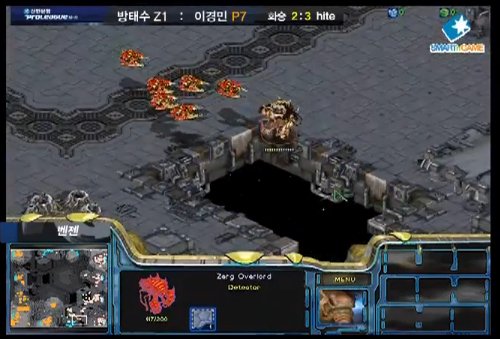 What does one say besides "PLAGUUUU" at this point?
However, at this point a dark templar is assaulting the morphing fifth! And all the overlords have been picked off by corsairs! What is an intrepid young zerg to do at this point?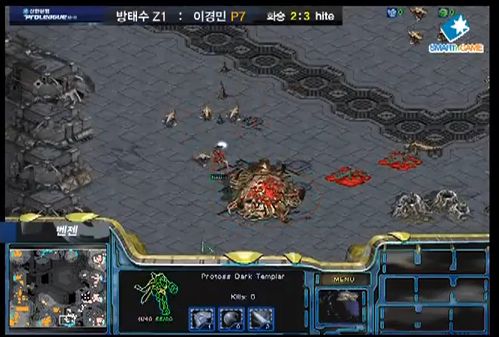 PLAGUUUUU solves all your problems, apparently (even if you do hit your own hatch as well).
Seriously, Princess would be dead by now if it weren't for his great plagues. About 15 seconds after he saves his hatchery from the DT, he manages to get yet another massive plague off on the death ball. With his weakened forces, Horang2 knows he cannot attack without being destroyed by the zerg forces, so both sides continue to macro hard.
Meanwhile, Princess fails at attacking 7:00 by sending his zerglings in without swarm support (even though the defiler was right there?) and apparently Horang2 does another successful storm drop at the natural but loses all his corsairs. I think at this point, Horang2 has lost about 20 or so Corsairs. He doesn't care though, and takes his sixth base, fully staking his claim on his half of the map.
Princess has something in his mind that he has to take down 7:00, he has to he has to. However, he can't without swarm, and this time loses lurkers along with zerglings to Horang2's zealot/cannon defense.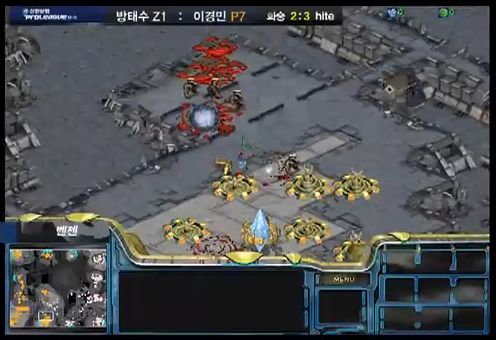 Crackling, cracklings everynowhere.
PRincess finally decides to swarm at 7, but not before killing the zealots, meaning his pure hydra army cannot run up the ramp. As zerglings finally arrive to kill the zealots, Horang2 drops in a pair of reavers.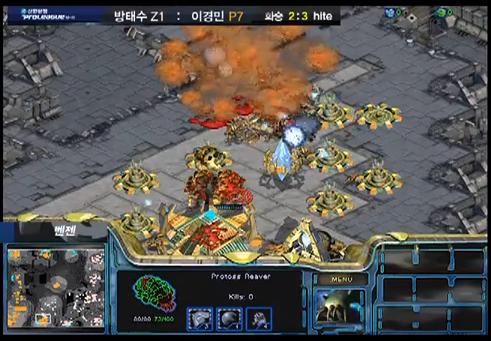 A nightmare for Zerg to break.
Like everything Horang2 owns, these reavers become plagued.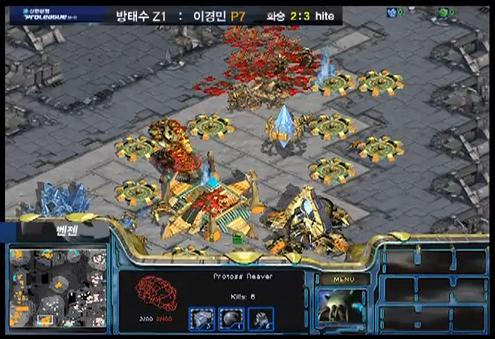 Dead hydralisks and blushing reavers.
At the cost of probably 30 hydras, three or four control groups of zerglings, and a couple lurkers, Princess has taken down... one cannon.
At this point, Princess should have been dead long ago. Protoss owns over half the map, has not been harassed, and still has a death ball. Luckily for Princess, the massive plagues on the still zealot-heavy army has made Horang2 very wary of assaulting zerg bases.
As Horang2 ponders over whether or not to take the 1:00 base, Princess finally amounts a successful attack, taking out 7:00 and claiming it as his own. At this point, Horang2 has a lot of blue balls (archons!) under his control, and decides to kill something. However, even with Reaver/archon he is unable to make progress toward Princess' bases through staunch hydra/lurker/ling with swarm support.
Princess keeps landing great plagues, but is unable to kill the army.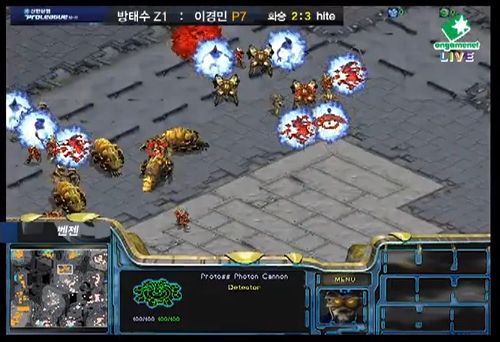 Even if it's all plagued, how are you supposed to kill this as Zerg...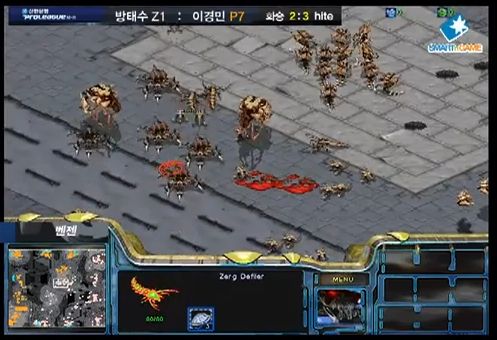 Especially when this comprises the majority of your standing army?
Protoss is very cost-efficient at this point, and Horang2 is very content to just sit there and storm everything while continuing to make more archons and reavers. However, he leaves his reavers alone for a short bit and a few of them are picked off by hydralisks before the archons return.
High templar are seriously too cost-efficient lategame.
Luckily, Princess still has about 5k in the bank (bad macro?) and that means this game will keep going on for a while.
For the next five minutes, the middle is the focus for both players, with Horang2 just sitting there and Princess throwing small waves of units at his massive archon/reaver army. One wonders what would have happened had both players tried to, you know, harass?
Supplementing his army, Horang2 decides to build cannons in the middle! Haven't seen that in a while. However, attrition is starting to take its toll! With the observers scourged, Princess is able to take the high ground with his lurkers!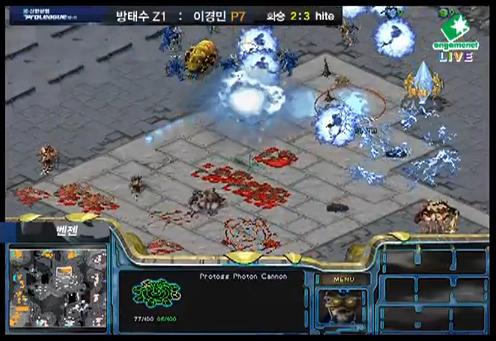 This is such a weird screenshot for so many different reasons.
With Horang2's army contained at 1:00, Princess is able to go from the middle to assault the 11:00 base, taking it out and taking the few minerals that remain for himself. He then proceeds to destroy the mined-out top right.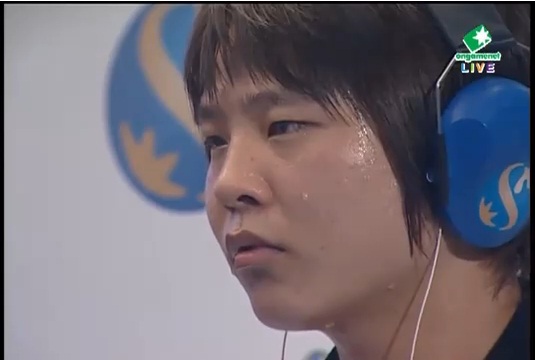 Tigertoss sweats.
After a few more minutes, pretty much both players are broke, though Princess has the standing army. After a minute or two of unsuccessful harassment, Horang2 GGs after losing a lot of high templar to lurkers.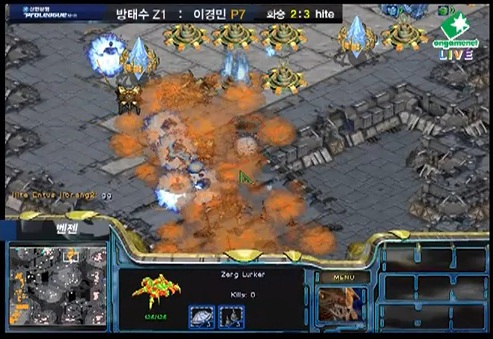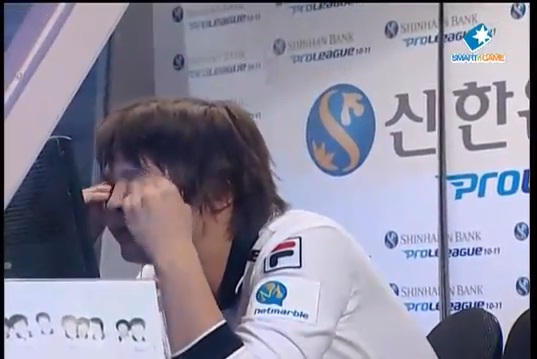 In Soviet Russia, Damsel distresses you!
Not the highest-level game skill-wise, but a very tense one indeed. Princess' great plagues kept him in the game, but I do think Horang2 could have forced the win much earlier if he had harassed more instead of just running his death ball back and forth.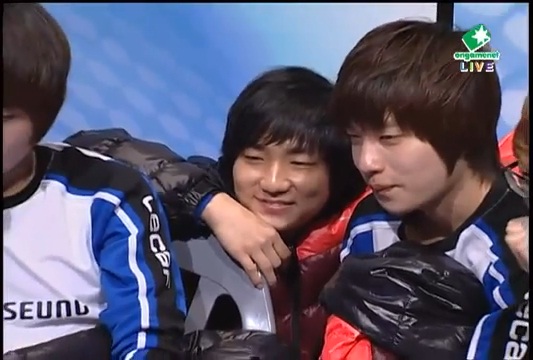 Happy Jaedong is happy.
---
Week 3: Action vs Bisu
By Xxio
Action versus Bisu was the first game of the first match between SK Telecom T1 and KT Rolster in Round 2 of the SPL. In Round 1 SKT had gone 9-0; KT Rolster 3-6, barely ahead of Air Force ACE. The rival teams had only played once before, in the first game of Round 1. SKT had won 4-3, their victory over last season's champions the perfect way to start anew.
Round 2 had only just begun when SKT and KT met again, but already SKT had a losing record. Entering their booths, Action and Bisu would have had not only their rivalry in mind but a desire to get their team, and themselves, back on the right track. For KT, this would be to at least gain a respectful position in the rankings, and for SKT, to not let a huge lead slip from their grasp.
Bisu was been confident. Besides his games against Shine in the OSL, he hadn't lost a PvZ since the beginning of August. For Action, his Round 1 had been quite awful, his performance surely not living up to his, or KT's expectations when they drafted him. Coming off a stellar 2009-2010 as a potential Zerg powerhouse, this was definitely not how Action wanted to make a name for himself on his new team. On the other hand, Bisu seemed to be reclaiming some of his old self, his 10-0 Round 1 perhaps the beginning of a rise out of mediocrity.
On Icarus, Action and Bisu spawned in cross positions.
Action opened hatch first; Bisu went forge first followed by a nexus at the natural, then gateway to tighten the choke. Right after Bisu threw down his gateway, Action took his third – before any zerglings were on the map. With nothing stopping him, Bisu got a full scout on Action's base and caught the exact lair timing. Action's lair started just before Bisu's second nexus and first assimilator finished warping in.
With 1 zealot and 1 cannon Bisu built a stargate, then a citadel as he scouted Action's 3rd. Bisu's first corsair scouted everything going on Action's bases, and with leg speed finished, he moved out on the map with a handful of zealots and started a templar archives. Action's mutalisks turned the zealots back, but as soon as his first archon entered the field Bisu bee-lined straight for Action's natural, leaving 1 archon and his corsairs back home to defend. 6 gateways reinforced Bisu's army with more zealots and another archon, but rather than attack, Bisu was content with maintaining map control as he took a third base. Action immediately spotted it with his mutalisks and Bisu chased them off with his corsairs, killing a couple, but losing far more corsairs when the scourge finally caught up.
Action, his economy so far undamaged, began to take his fourth and moved out to take map control with an army of hydralisks, lurkers, and zerglings. Not about to be lurker contained, Bisu engaged and backed off from the lurkers over and over, keeping Action at bay while waiting for his first observer to finish. Once the observer joined his forces Bisu chopped through Action's army with storms and dragoons, pushing the Zerg all the way back to his natural.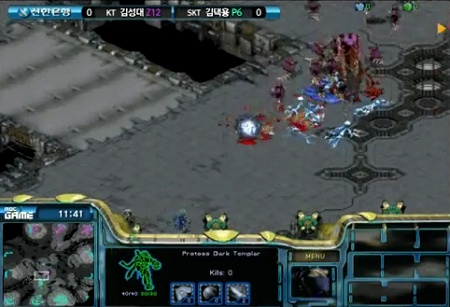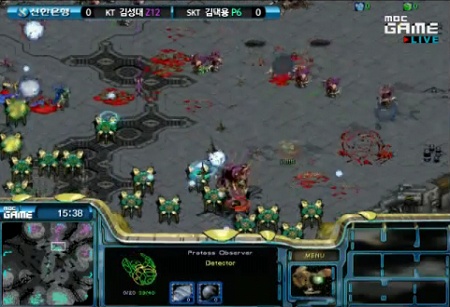 Storm imba.
However, the skirmishes in the middle of the map had taken their toll on the expensive Protoss army. Left with a group a dragoons, Bisu had to back off from Action's mass of zerglings and hydralisks. While this was happening, 2 zealots were killing drones and stopping mining at Action's 4th.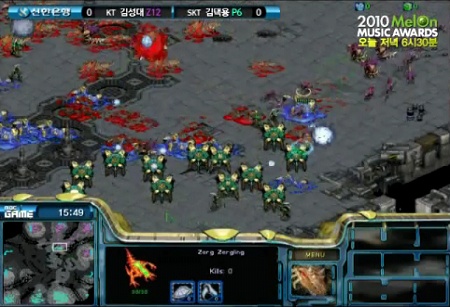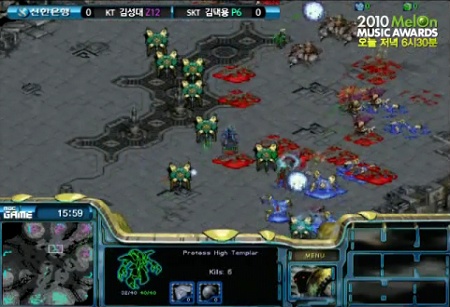 When templar run empty, Dragoons have to retreat.
The battle for map control kept swinging back and forth. Action's hydralisk army began a counteroffensive, but as Bisu's reinforcements arrived, the Zerg halted his attack and let Bisu retreat back to his side of the map in peace. As Action began his defiler den, Bisu moved out once again with a dragoon, high templar based army. Mutalisks sniped high templar on their trek to Action's base but enough were left to storm all of Action's hydralisks. There were not enough, however, for the second wave of Zerg units and Action once again succeeded in holding Bisu off, buying time for dark swarm.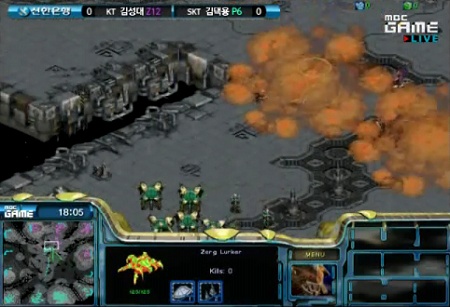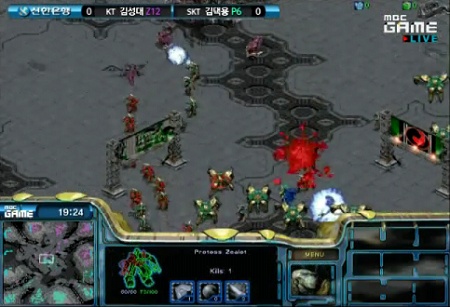 Defilers are useful.
His natural mined out, Bisu took a 4th and kept his army mobile by poking around the outskirts of Action's bases. Defilers first came into play when Bisu moved up to the middle of the map. Two dark swarms blocked Bisu's huge army from advancing further, then, as Bisu repositioned his army, two huge plagues caught most of his zealots and a few dragoons, immediately making Bisu turn his units around.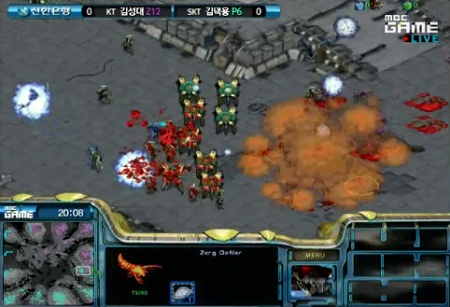 Plague?
Action began positioning for a 5th base at the natural of his 4th. Preventing this, of course, was Bisu's top priority. He pressured the base but another amazing plague and sparse, but highly efficient dark swarms kept him from breaking in and Bisu left before he could be flanked. Action caught him on his retreat path, and while storms shredded Action's initial units, the next wave was enough to break the Protoss army.
Action ended up taking a 5th in the opposite corner from Bisu's 4th. Bisu shifted his army composition from heavy dragoons to mass zealots and began the long march across the map to take it out. He was harassed every step of the way, then finally, weakened by plagues and behind by +2 attack, broken. The scraps of Bisu's army fell back and met up with the next round of gateway units, but there was nowhere for them to go. It seemed every 30 seconds a plague would catch half of Bisu's units, and every time he took a step wave after wave of Zerg would move in to stop him. Trapped and about to be overrun, Bisu typed out.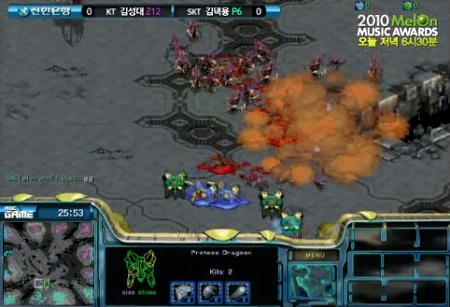 Gee Gee.
---

Milkis originally wanted this PL news post to be titled "Controversy", in order to better highlight the rivalry between SK Telecom T1 and KT Rolster. While I didn't agree (and that's why the title is still "Upheaval", he told me that after reading this article I would want to agree with him. What do you think? Below is something on everybody's favorite Gorilla Terran (sorry Jinro oov still keeps the name), iloveoov.



Proud Rivals
By Milkis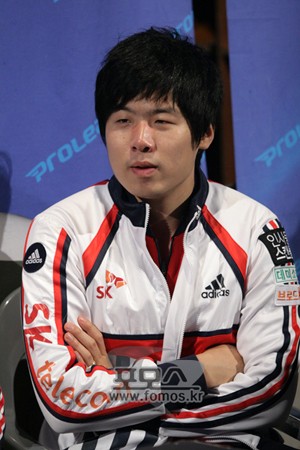 One thing
iloveoov
does well is create hype. He has said many controversial remarks in the past that he had to explain himself in many occasions. But as as iloveoov says these things, they have always managed to create hype for the games at hand.
He struck again earlier this week via Cyworld. He posted the Proleague Team Standings -- and highlighted the fact that SKT was 1st while KT was dead last. He then giggled about it, posting the image of the standings. His act soon spread amongst the eSports fans in Korea, and KT's coach
H.O.T-Forever
even went out of his way to respond to the statement.
"Beat us. Remember, however, that if you lose to the team you've mocked, we will repay the humiliation by a factor of ten. So you better win."
The hype going into the SKT vs KT game was intense -- enough to attract the second most viewers in Korean cable television [and 4th overall]. The heated statements and the historic rivalry attracted many people to watch the games that day, and we had one entertaining day of games -- as the core of SKT was defeated by the hands of KT's well prepared players. In fact, the game between Best and Flash brough about one of the most one sided but yet entertaining TvPs of all time -- allowing Flash to redeem himself after his previous defeat against Best.
The matches ended in KT's favor, and
H.O.T-Forever
presented iloveoov with a gift -- 100 acorns, the currency used in Cyworld. "Just stick to Cyworld", the message seemed to say, and SKT's coaches were rendered speechless. iloveoov cleanly admitted defeat. He admitted that "KT played well", and said that "We will see you in Round 3" on his Cyworld.
But of course karma had it that Flash would experience something very similar to iloveoov a few days later -- but that's another story.
---

Following last time's smashing success, here's Professor Milkis at the end of the semester with yet another two teams to hand grades out to. Did your team make the metaphorical cut? Read on and find out.



Team Report Cards
By Milkis
WeMade FOX
Midas: B
One trait of a good engine is its ability to continue to perform years down the line. In this respect, Midas does not fail his nickname, the "Masterpiece Engine". Midas still shows that he can perform, judging by his Proleague and Individual league performances. Unlike many of the old timers who eventually failed to keep up, Midas showed quality and consistency over time -- so consistent in fact, he will always bunker rush when near, and expand when he is far away.
Pure: B-
Pure seems to be a very streaky player. At times he seems to go through monstrous streaks where he plays like he's an A level player, this is counteracted by the time where he just... fails. Inconsistency in a big name player is something that always hurts, and so it's not surprising that Pure gets a relatively poor grade compared to his actual potential.
LuCifer: C-
For someone who bears the same name as Flash, Lucifer seems to be on the opposite spectrum when it comes to capabilities of a progamer. Maybe if Lucifer switched to Terran, he'll be able to destroy everyone simply on the basis of his name.
Major: C
For the games he did play, he actually does seem to be able to at least perform. However, he does not seem to get enough opportunities. However, it's kinda exciting to see him in the potential 4 terran lineup WeMade can always pull off.
Mind: C+
For someone who was so promising, he seems to be just plain mediocre. There's not much to say about him past that, although he should make more maniacal faces during games. Can some more MBC Protosses gas steal him?
BaBy: B+
Baby is yet another player who is recovering from a terrible losing streak. Baby however seems to be learning new tools from Midas -- from his triple bunkers to proxy Factories. Of course, once you get to a macro game, any player will be hard pressed to beat Baby, as Baby has the best multitasking out of all the progamers. While Baby is trying hard to lose his image of going 14cc every game, it will be a while before we actually realize if Baby has actually learned.
RorO: B+
Did you know that WeMade Fox Zergs have the most number of wins? It's an amusing thought, considering Woongjin in theory has a better Zerg lineup and Jaedong Oz well, has Jaedong. Roro seems to have gotten quite unlucky with his matchups, with four of his six losses coming from Flash, Jaedong, and Bisu. But to the average progamer, Roro is a player to be feared.
Shine: A-
While everyone always remembers Shine only for his ability to make Bisu look awkward, Shine is actually a much better player than most people give him credit for. He has always had very good control and game sense, something that shows in his Jaedong-esque ZvZ record. His ZvP is solid and it isn't always as all-in as every one makes them to be -- it's almost as if people believe you can only beat Bisu only by going "all-in". Please.
Unrated:
herO[jOin],
Sacsri
WeMade definitely needs a more consistent Protoss, and a player that they can actually depend on in ace matches. While Baby is showing potential, he's still a bit inconsistent, and Roro is not quite at the level to beat the other team's aces (meanwhile, I don't remember Shine ever coming out for the ace match).
The Verdict: B+
Hite Entus
Leta: A-
Leta finally seems to be recovering from his minor slump and finally playing like he has joined the six figure salary club. It's not just his partiality towards Wraiths, but his quick decision making often makes him stand out.
Horang2: B
Horang2 is known for his "strategic play" that often gains him the edge in most of games. But I must admit I don't see much from him past that thanks to Central Plains making PvPs so hard to judge. He does get results, so we will find out if being able to play nearly every game for Hite last half of last season has given him more substance to lean on.
Snow: B+
B+ may be too high, but given the potential he showed the beginning of this season and end of last season, I don't think it's too high. But coming off of his extreme hype from last season, a lot of his games have been questionable -- from his control to his decision making against players like Flash. It could just be that he hasn't thought of any bonjwa smashing strategies on the new maps, so we'll wait and see.
Movie: C
Movie is the definition of a player that was a bubble. Honestly, I have no idea how he even got to OSL finals at this rate, considering since then he has just not been performing. Thankfully, him playing less meant that commentators made less movie puns, which makes all the Korean listeners happy anyway!
sKyHigh: C+
I remember reading an interview saying Skyhigh is actually good at all of his matchups. Of course, coaches do have a nice way of packaging players. But the reality of it is that Skyhigh simply can't perform outside of TvTs. Without Coach Cho's sniping abilities, and him actually dropping a few TvTs to randoms, he will need to rely on learning a lot more from Leta before he will be considered competent and reliable.
HoGiL: C+
Not sure how he managed to beat Zero, but it's going to count for something. He became at least recognizable this season thanks because he somehow managed to qualify for both leagues (although he will likely drop out of both), we'll see how far he can go, since I don't think he has much potential.
Hydra: B
Something a lot of people missed because they were hating on Shine is Hydra's rather impressive streak where he beat Jaedong, free, and Kal -- all in the last two weeks, not to mention his 10-2 record since his OSL matches. He seems rather promising as a player, and we'll see if he can continue his rather awesome momentum.
Unrated:
Nbs,
BByong,
Orion,
SonGDuri,
Where
Hite is called the race of snipers, with each Protoss player excelling at a specific matchup. They finally seemed to get a solid Zerg in Hydra, and they have a solid Terran card in Leta. Considering Terran is easily the strongest race, they even have Skyhigh who is pretty much the best TvT player who has ever existed. With all of this however, they seem rather unstable overall as their performance will depend a lot on the matchups they are able to get.
The Verdict: B
---

Who's missed the zergling? I have! Even though Week 4 has already started, we've got previews for the remaining games right here for you, brought to you by Harem Scarem.



Week 4 Previews
By Harem

Sunday - 13:00 KST (OGN)

Woongjin players seem ready to kill themselves (and their fans) out of depression. Their play lately has just been so disappointing to watch. However, if there is any time for them to pick up a win then it's now when they play

KT. It's also not quite ro8 time in starleagues yet so it's much more likely to see awesome Zero and not sadbutcuteohgodhelooksdepressedijustwanttopinchhischeeksandgivehimahug Zero. Also with recent MSL results, we might even see a repeat of when Piano allkilled KT and watch him crush Flash yet again??? The other match is

Ace vs

T1 at 13:00.
Monday - 18:00 KST (MBC)
Does

STX really have the soul and desire to beat

Wemade or will they instead be outfoxed? Cheep may try to eat me for this but I'll just use logic that he understands. Wemade has terrans. STX has zergs. Terran imba. The other game is

Oz vs

MBC at 19:30.
Tuesday - 19:30 KST (OGN)

Hite has really picked up the pace lately and if

Stars continues their recent pace then Hite will most likely win. Despite that, the potential for awesome games remains high. Free really needs to get out his slump if Stars has any chance of victory though. He even pulled an Idra when he played Hydra last time. Seriously, what. The other game is

Samsung vs

T1 at 18:00.
---
Another PL news update brought to you by the 2010-11 TL Proleague coverage team. swanized and tree.hugger are taking a break at this time, but flamewheel, Harem, and Milkis are still around. Special thanks to Xxio for writing the GotW Week 3 battle report, and alffla's back with graphics!