BoxeR
vs.
NesTea

Set 1:

Shakuras Plateau

Set 2:

Lost Temple

Set 3:

Scrap Station

Set 4:

Jungle Basin

Set 5:

Steppes of War

Set 6:

Xel'Naga Caverns

Set 7:

Metalopolis




"Legend"
Finals Preview


No one saw it coming. Among the favorites to take home the title, neither BoxeR nor NesTea stood out as likely candidates. But here they are, staring at the most coveted prize in Starcraft II land, and a shot at ₩100,000,000. Although there can only be one winner at the end on Saturday, both of them have earned a place in the hearts of millions of fans.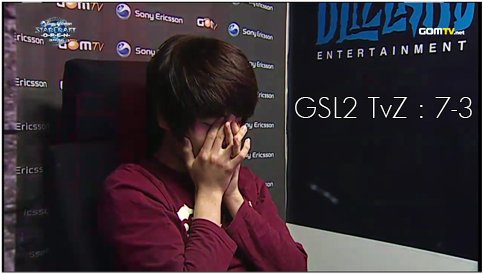 Don't cry, make more marines.
BoxeR (Clare), aka 이정훈 (Lee Jung Hoon), looked shaky and unpolished at the end of his ro64 matches. Frowned upon by the masses for his imposterous ID, BoxeR's superhero story turned around when he demolished FruitDealer, last season's champion. Dubbed the "Super Rookie", BoxeR's magnetic personality slowly won fans over, but that was not BoxeR's goal. BoxeR had a point to prove. He wanted to prove that his ladder ranking was no fluke. He wanted to prove that marines can be the answer to banelings. He wanted to prove that he was worthy of the name, BoxeR.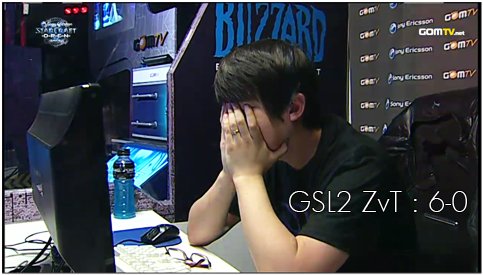 Sigh, I just beat the Emperor.
NesTea (ZergBong), aka 임재덕 (Lim Jae Duk), was another side to the Cinderella story. His triumphant return to progaming overshadowed his long forgotten past as a BW progamer. Age didn't seem to matter to NesTea, as his skills have not forsaken him. Flying under the radar, NesTea won games after games and was trudging along. Even the Emperor could not stop NesTea. Now a mere four wins away from the height of his career, NesTea is ready to take it all.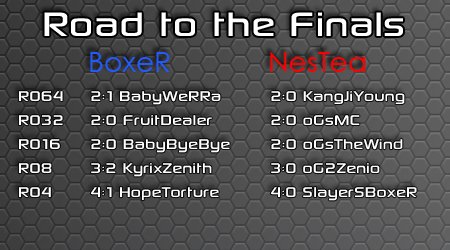 It is not a mere coincidence that both of our finalists have a strong background in BW. While the new age of SC2 brought us many new faces, it is undeniable that the skills from our famed predecessor have transfered over quite smoothly. BoxeR and NesTea are no stangers to one another, as they are aligned in the same division and less than 50 points seperate the two atop their ladder. While NesTea's impressive 13 game winning streak awed spectators and statisticians alike, BoxeR's resume includes wins from both of last season's finalists, BW Pro SangHo, and a brain orgasmic series against KyrixZenith. BoxeR now stands at the door of greatness: to avenge his fallen hero and carry on the name. In his way stands a mammoth wall of Zerg resistance, as NesTea is eager to finish his GSL run undefeated and justify his SC2 comeback.


---
Links and Resources:
---
"Overthrown"
Semifinals Recap
"FoxeR the Environmentalist"
BoxeR < 4-1 >
HopeTorture -

Game 1 @ Delta Quadrant + Show Spoiler [Show Recap] +

HopeTorture begins his second refinery as soon as his orbital command finishes, which works greatly in favor of BoxeR, who foregos his gas altogether for a semi-proxy barracks at his own natural. As his SCV caught a glimpse of incoming marines, HopeTorture was too late in making a bunker at the top of his ramp and the first wave of marines are now at his door. HopeTorture pulls six SCVs in order to push BoxeR's three marines + SCV back, but his own two marines died before he could successfully surround. BoxeR's stutterstep marine micro allows him to evade any marine death while killing SCVs. BoxeR takes out the bunker and makes quick work of HopeTorture's SCVs and lone hellion. HopeTorture taps out in under six minutes into the game.
- Simple gameplan, great execution by BoxeR. The hellion arrived late, and perhaps a marauder would have been better out of that barracks as well for HopeTorture.

Game 2 @ Lost Temple + Show Spoiler [Show Recap] +

BoxeR starts his second command center on 16 food, once again postponing his first gas. HopeTorture sends a scouting reaper and sees the expansion, and slightly delay his banshee cloak. As HopeTorture's first banshee arrives at BoxeR's natural, marines with stim eventually picks it off, losing a few marines in the process. At the other end, BoxeR sent out a sprinkle of marines in order to delay HopeTorture's expansion. BoxeR abuses the ledge at HopeTorture's natural with 2 medivacs full of units, but did little damage and was forced to retreat. BoxeR miscalculates the army size difference and decides to drop his units in a frontal engagement at the natural rather than in the main. The battle goes in favor of HopeTorture, and he rearms for a counterattack. HopeTorture's siege tanks slowly creeps up to BoxeR's natural, as he's forced to pull SCVs to defend. However, BoxeR's third base at the gold provides him with a rather invigoration economy, enabling him to macro up a hefty amount of bio from his six barracks. BoxeR denies HopeTorture a third, and pushes into the natural. A 50 food difference proves too much for HopeTorture to hold, and BoxeR takes set 2.
- BoxeR's crass decision to go in for the kill only delayed the outcome for a few minutes. The banshees did inconsiderable amount of damage, and HopeTorture was behind for nearly the entirety of the game.

Game 3 @ Xel'Naga Caverns + Show Spoiler [Show Recap] +

HopeTorture proxies a starport at the 11 o'clock base, lessening the time it takes for his banshee to begin wrecking havoc on BoxeR's expansion. BoxeR attempts to break into HopeTorture's main with pure marines, but a bunker with tank support denies BoxeR any access. Back at the main, HopeTorture's harassing banshees total up to over 30 kills. BoxeR makes another futile effort to push up HopeTorture's ramp, and the counter attack with siege tanks makes mincemeat of BoxeR's marines.
- BoxeR greedily tries to further delay gas from his FE strategy in order to gain a quicker economical lead, but it proves to be disastrous.

Game 4 @ Steppes of War + Show Spoiler [Show Recap] +

Not making the same mistake, BoxeR immediately grabs the two gas in his main after scanning a probable incoming banshee. HopeTorture adds on an additonal factory and barracks from his 1/1/1 opening, looking to end the game from his one base play. BoxeR cleverly spreads out his marine across the map, looking to intercept any cloakless banshees coming from HopeTorture. BoxeR's practice paid off as he was able to correctly guess the pathing that HopeTorture would take to get to his base. The banshee gets picked off and as combat shield finishes, BoxeR brings along a handful of SCV for his timing push. BoxeR easily crushes HopeTorture's marine/tank army at the natural's ramp and secures a 3-1 lead.
- BoxeR getting an earlier stim and HopeTorture deviating from his usual cloak banshee harass just both goes in favor for BoxeR and his aggresive Terran play.

Game 5 @ Blistering Sands + Show Spoiler [Show Recap] +

Both players open completely standard for once, opting to grab that second gas before their respective factories are even half way from completing. No surprise from HopeTorture as his starport starts producing a banshee with cloak, while BoxeR pushes out with his first siege tank and a couple of marines. BoxeR's starport rallies a medivac with reinforcement to the back door of HopeTorture. HopeTorture defends with marines and two banshees, but the medivac support enables the marines to live through more than two banshee attacks. The banshees get picked off after a second scan landed, and HopeTorTure is forced to pull all his SCVs to defend. BoxeR brings HopeTorture down to 9 SCVs before he is forced to retreat. BoxeR regroups and once again tries to end the game, slowly dwindling down HopeTorture's forces bit by bit. However, a sneaky banshee is back at BoxeR's base demolishing the mineral line. While BoxeR is apathetic to losing all his SCVs, HopeTorTure ultimately taps out as his food is reduced to a single SCV.
- BoxeR with another vicious timing push to end the game. HopeTorture's defense was sub-par. Although his late match antics kept him in the game for a bit longer, it almost seemed desperate as all his hopes were dashed from the very first push.

Player Grades + Show Spoiler [Show Player Grades] +
BoxeR -
A-
A pinch off of a perfect TvT series. Mixed things up to exploit HopeTorture's rigid banshee build. His various timing pushes had one thing in common: onslaught.
HopeTorture -
C
Produced a rather disheartening performance. He was unable to adapt to BoxeR's unpredictable play, and his build was figured out completely. Needed for variance and creativity in his build order, cannot simply rely on his polished mechanics to win a tough series.
"It's raining men."
---
"The Emperor's Last Stand"
SlayerSBoxeR < 0-4 >
NesTea -

Game 1 @ Delta Quadrant + Show Spoiler [Show Recap] +

SlayerSBoxeR walls up below his ramp in an offensive position, dropping a second barracks for early 2 rax pressure. NesTea does not begin his second hatchery and instead builds a roach warren and continuing with one base play. BoxeR, seeing an empty natural, intelligently grabs the gas and tech up, preparing for a massive incoming attack. NesTea, knowing the inevitable marauders to counter his roaches, erects a baneling nest and invest heavily in both banelings and zergling speed. BoxeR reinforces with two more barracks, and while having a superior economy, BoxeR's army looks crippling small compared to NesTea's. NesTea moves in as BoxeR tries to strengthen his defenses and the banelings takes down the bunker and the rest of NesTea's forces clean up.
- Perhaps the posibility of close positions scared NesTea into one base play, but it worked out beautifully and BoxeR's early marine pressure was blindly countered.

Game 2 @ Metalopolis + Show Spoiler [Show Recap] +

BoxeR does not utilize the close air distance to his advantage and instead pressures NesTea's early expansion with a reaper + bunker rush. A bit of mismicro almost cost BoxeR the reaper, and he is forced to call off his early aggresion. Seeing that BoxeR now has pulled back and expanded, NesTea wisely drops his third hatchery. NesTea tests BoxeR's expansion with banelings, but all he manages to take out is two bunkers at the cost of nearly 30 food worth of banelings and zerglings. BoxeR sends out four blue flame hellions and does a substantial amount of damage to NesTea's mineral line. NesTea quickly replenishes his drone count from three hatcheries with queens and now his mutas have hatched. BoxeR hides an expansion at the 12 o'clock main while pushing out with his mech-heavy army. Ignoring the fact that NesTea's mutalisks are decimating his mineral line, BoxeR proceeds to 'elevator' his units into NesTea's main, but his army is trampled in the face of the innumerable amount of roaches. NesTea's food is now double that of BoxeR, but he has not yet scouted BoxeR's hidden expansion. Once scouted, NesTea is unable to take down the expansion with pure mutalisks. BoxeR desperately pushes out with what's left of his army, and the Zerg swarm overwhelms him in raw number and he is forced to gg.
- NesTea responded well to BoxeR's bunker rush and early expand, and kept a macro lead all throughout the game. BoxeR's elevator idea was promising, but the sheer number of units just overpowered him.

Game 3 @ Scrap Station + Show Spoiler [Show Recap] +

NesTea begins the game by actively seeking out the proxy barracks as he sees nothing in the main when his overlord arrived. Just barely missing the barracks on the low ground, NesTea still goes hatch first at his expansion. Luckily for NesTea, his overlord passes by at the exact monent the barracks is lifted onto the high ground next to his natural. Bringing his drones to defend, NesTea thwarts the marine threat and quickly sends his zerglings to an undefended Terran main. BoxeR puts together a barracks wall at his ramp but the building SCV gets picked off and the zerglings are then free to annihilate the SCV line. BoxeR stabilizes after losing half of his SCVs. Pushing out with his last marines, BoxeR is met with twice the amount of speedlings and NesTea takes a commanding 3-0 lead in the series.
- BoxeR's proxy barracks is discovered by a miracle overlord, nullifying BoxeR's rush and prompting NesTea to do a swift counterattack. Concrete decision-making by NesTea.

Game 4 @ Blistering Sands + Show Spoiler [Show Recap] +

Once again NesTea finds the hidden barracks from BoxeR, this time behind BoxeR's own backdoor rocks. BoxeR is determined to see his two barracks pressure work out just once, and begins rallying towards NesTea's natural. The bunker does go up this time for BoxeR but NesTea was able to surround and pick off a few marines. Zerglings soon start pouring out and BoxeR is forced to retreat. The retreat route is long and winding on Blistering Sands, as BoxeR loses more marines treading back to his base. Walling in with two barracks, BoxeR expands behind them. NesTea starts nibbling away at the backdoor rocks, with BoxeR having no clue of what's happening. BoxeR once more pushes out with pure marines, looking to deal any damage he can. Given the long travel distance, NesTea renders the push useless and finish up taking down the rocks. BoxeR's recon marine notices too late and zerglings speed through to both mineral lines and deal a considerable amount of damage. NesTea quickly morphs some banelings to try and put the nail on the coffin, but his indecisiveness weakened the banelings' potential devastation. BoxeR scans and see how late NesTea's lair is, and another trademark BoxeR marine/tank attack is heading towards NesTea's base. While BoxeR spreads his marines brilliantly, the mere food difference is too much to handle as NesTea comes out on top of the engagement. As NesTea prepares his third at the gold expo, BoxeR swiftly denies the morphing hatchery with an octodrop. BoxeR eagerly tries to maximize the damage of his dropship, but in turn losing the medivac and all of its units. Knowing he cannot let that third base get up and running, BoxeR attempts to get into position at the bottom right Xel'Naga towers. The creep has already spread this far and NesTea wastes no time to engage before BoxeR could prepare adequately. The banelings on creep move at a speed unfathomable and despire BoxeR's remarkable marine micro, once again BoxeR is left without an army. The attack at both fronts is too much to handle and as Zerg units come streaming in, BoxeR types out.
- BoxeR could not seem to grab an advantage by any means. NesTea's ability to judge and respond to each specific scenario in the game helped him stay one step ahead of BoxeR.

Player Grades + Show Spoiler [Show Player Grades] +
SlayerSBoxeR -
C+
Micro and aggresiveness is definitely still running through BoxeR's veins. His two barracks pressure did not work out in any of the four games, yet it seemed he was adamant about following through.
NesTea -
A-
NesTea's decision making shines, with his micro/macro ability not too far behind. The middle child between Fruit Dealer's passivity and Kyrix's hyper aggresion, a mix and match provided NesTea with a dominating performance over the Emperor.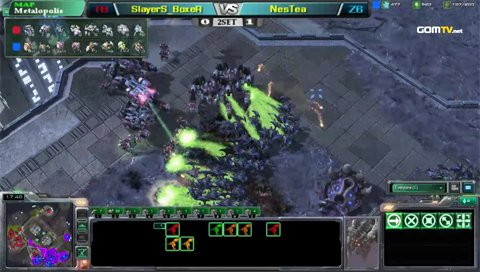 Acidic saliva for everyone.
---

Next: Finals Recap and GSL Season 2 Awards

Follow us as we continue our coverage of the GSL. Next part in the series will cover the games of the final to be held on Saturday, our seasonal awards included.

Thanks for reading!