Awesome banner thanks to Kennigit


And We're Off!
About three weeks ago Teamliquid received an invitation to attend Blizzard's exclusive press conference that took place on April 19th. Day[9] and I had the honor to represent our favorite website! Last year, Blizzard Entertainment revealed a lot of the multiplayer aspects of the game. However, with the beta now fully underway and beta keys being given out left and right, this year's press conference focused on the single player campaign. Now I know that the majority of TL's userbase cares a lot more about multiplayer balance and issues than the campaign, but I think that you'll be pleasantly surprised with our review of the current single player build. I will also state that I have no interest in lore, so I will not be discussing any of that in this article.

For those who don't know, Day[9] and I both attend the same school so we were very fortunate that our carpool situation was so convenient!


| | |
| --- | --- |
| Wearing my winged horse shirt! | Day[9] driving |

We departed from USC at around 8:30AM. After making a couple wrong turns we finally reached our destination, Blizzard HQ, in just a short one-hour drive. We were both decked out in our nerd gear, with me repping TL wearing the Teamliquid winged horse shirt and Day[9] in his awesome Macro-Micro yin-yang shirt. Upon our arrival, the Blizzard security guard told us to "make a left, then you'll see the orc statue and the door will be to the left". When the security guard uses an orc as a landmark, you know that you've arrived at the right place.

We walked into the lobby area and after filling out our NDAs, we started mingling with other representatives from other websites, such as Shacknews and Gamasutra. It was definitely nice to meet and chat with some people who are very dedicated to ESPORTS. All the Blizzard employees were extremely nice and went way out of their way to make us feel welcome—really an awesome group of people.

They soon shuffled us into the auditorium (with very plush seats, I might add), where we had an informal Q&A session with Dustin Browder, followed by a brief demonstration of the single player mode.



http://www.youtube.com/watch?v=1AJz7Oiluj4



Informal Q&A Session Recap
The following is a compilation of notes I took during this informal session as we waited for the single player demonstration to load up.

Beta tournaments: He said that he found them exciting because they didn't really expect any tourneys since it was "just beta". They are seeing strategies that they didn't predict during internal testing. The balance team is excited for current situation in beta. They will be dealing with the queen rush in the next patch [author's note: not sure what was meant by this]. They also want more diversity in the ZvZ matchup.

MBS and smartcasting: Hardcore players are happy with the amount of skill required to play the game at a high level. They haven't been hearing many negatives about it. The backlash isn't as severe as what they had anticipated.

Releasing a patch that doesn't nerf protoss: Patches have different aims. Sometimes they're based on balancing race matchups, but oftentimes not. For example, the ZvZ matchup was stale because they were only making 3 units. The reasons for the patch are that statistically speaking, protoss is winning a lot. ZvT and ZvP have only 1% win-loss differential. However PvT is at around a 55% win rate. The matchmaking system does its best to match players with their own skill level, but the data isn't necessarily reliable. One flaw he pointed out was that one player may be more significantly more skilled than another but they may end up going 50-50 against each other because of the racial imbalances.

KR vs US vs EU: In Korea, Zerg needs to be nerfed because Zerg is so dominant. For EU/US, Zerg needs to be buffed. At this point, due to limited sample size, nobody knows for sure what races are the most powerful.

Playing on different gateways: Blizzard is not planning on allowing players to play on different server upon release, so things will be the same as they are in beta right now.

Entry Barrier (How new players join the competitive scene): Solo play campaign is the starting experience. Then they will graduate to either play versus the AI or challenge mode. Hopefully after that, they will go online and play co-op with friends. Next they can then play 3v3, 4v4. Ideally, they play 1v1 based on their prior experiences. However in the beta none of these discussed features exist. Beta is not meant to be a demo, it's intended to be a test of 1v1 and 2v2 balance, so it isn't really good for casuals.

Lurker removal: It conflicted with other units already in the game: roaches, infestors, banelings. The lurker was originally pushed to tier 3. However at tier 3, detection was plentiful so they felt like the unit didn't have a specific enough of a role.

UI/Hotkey adjustments: They are not planning on having a fully customizable UI but they will have customized hotkeys. For advanced players, they can even open a textfile and edit each individual hotkey.

Balancing time and resources: Dustin Browder spends equal amounts of time on balance and other things. In terms of money spent, he wasn't sure of the exact breakdown. They are still working on solo campaign and also working on the AI.

Spellcasters: Pretty confident about their current state except for infestors. He wishes that queen has better tension with spell choice (ie MULE vs scan with the orbital command). He is happy about ghosts and their current role.

Unit Balance: They don't want to mess with too many things because the metagame changes all the time even without patches (think of the SC1 metagame transitions over time).

Hunter-seeker missile: They are going to lower the technology requirement from fusion core down to just the tech lab, but this means that they will also bring down its power, too.

Single player and multiplayer data/balance is separate: Unit statistics such as rate of fire and HP may be different. There are also upgrades in solo mode that would be impossible to implement in multiplayer. He stressed that the solo player campaign does not train you for multiplayer.

Community feedback: Yes, it is definitely being heard and used. From the community's perspective, it seems like they aren't listening because it takes ~2 weeks to get stuff implemented, but they are definitely reading and looking at what the community says.

Single Player Overview



http://www.youtube.com/watch?v=IcKvrEgSlhY


Single player basics: After each single player mission you return back to the story mode origin, which will change throughout the game. You can customize force before going into battle. You can unlock different units (such as the medic and firebat) by playing missions. You can make technology purchases (for example, the combat shields for marines). Each unit has a cheaper basic upgrade and then a much more expensive higher upgrade.

Mercenaries: Extremely high-end version of units that you already own. You can use each mercenary once or twice each mission, depending on what mercenary it is. When you purchase them in-game, they immediately arrive at the battle scene via drop pod.

Research: Missions have bonus missions (for instance, kill a brutalisk or find hidden Zerg DNA on the map) that gives you research points. There are checkpoints at 5, 10, 15, 20, and 25 research points. At each checkpoint you have 2 choices of what you can research. Once you research it, it's final. You cannot go back and change it.

TV news reports: Based on your actions in the game, there will be TV news reports that update the situation happening in the Starcraft 2 world. Very cool feature.

Gameplay: Each mission is its own special gameplay mechanic. They don't want each one to be the same "jump in and kill the computer AI" mission. Each mission will be very distinct from each other.


After Dustin Browder's presentation, the majority of the rest of the day was spent playing the single player campaign and the new challenge mode. We headed up to the 3rd floor where they had 2 rooms set up with computers for the press and fansites to play!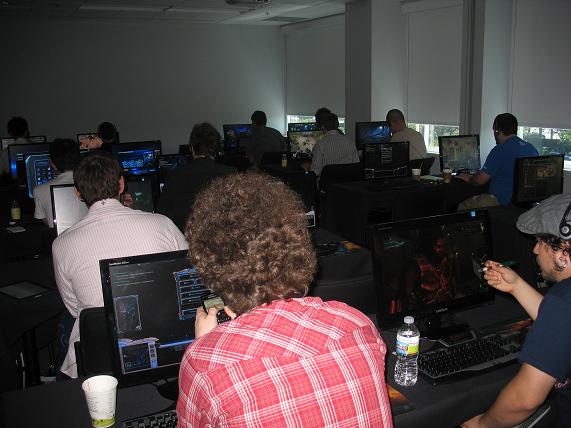 Lots of nerds playing SC2



Single Player Mode
Day[9] and I split up the single player mode. I explored the different customizations, mercenaries, and the new challenge mode. Day[9] tried some of the campaign missions, and I wrote down his opinions and impressions of the game as he was playing.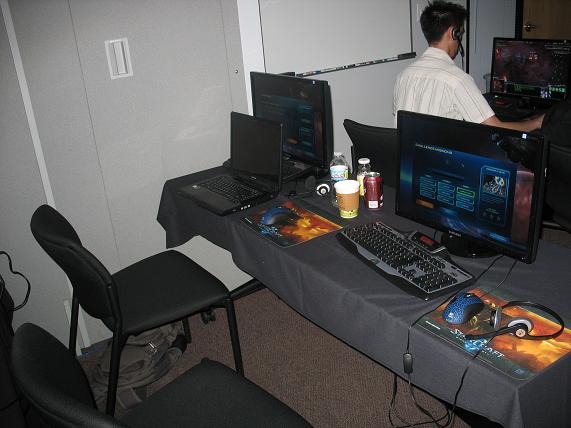 Our workstation: note the variety of complimentary drinks



Customizations
The single player interface is much different from that of SC1 or Battle.net. There are four different locations you can visit between missions. The environments are interactive. When you click on different characters and structures they react and talk with you, almost like how it would be in an RPG.

Bridge: This is where you can select the planet and mission you will play

Armory: You can purchase upgrades for your units and buildings. Level 1 is cheap, Level 2 is much more costly.

For example:
Bunker:
Level 1: Projectile accelerator (increase range by 1)
Level 2: Neo-steel bunker (increase number of bunker slots by 2)
Missile turret:
Level 1: Titanium Housing (increase missile turret health by 75)
Level 2: Hellstorm Batteries (additional volley of projectiles with each attack)

Units: All of the following have 2 unique upgrades each
Infantry: Marine, Medic, Firebat, Marauder, and Reaper
Vehicles: Hellion and Diamondback

Cantina: You can buy mercenaries here
3 types were unlocked: war pigs, devil dogs, hammer securities. There were also some mystery locked mercenaries. Mercenaries are upgraded or elite versions of units you already have, such as marauders.





Laboratory: Research technology
You get to research extra technology each time you collect a certain number of research points for completing extra missions within levels. For example, when you have 15 points you can choose between scv-less refineries or double-pumping command centers. Your choice is final, and cannot be reversed.





Research new technological improvements at the Laboratory

[

1680x1050

]



Challenge Mode
Challenge mode is basically a set of single player UMS maps made by Blizzard and they test specific skill sets in SC2. In the current build, there are three different missions for three different difficulty levels to give us a total of nine.

Basic: Teaches you general knowledge of unit counters and army composition
Tactical Command: Send the right Terran counter units. Protect three supply depots from waves.
Path of Ascension: Send the right Protoss counter units. Protect three pylons from enemy waves.
For the Swarm: Send the right Zerg counter units. Protect three spires from enemy waves.

Advanced: Focuses on micro tips and increasing multitasking
Covert Ops: You have a small force of terran specialists (like ghosts) and you kill as many units as possible in a given time frame.
Psionic Assault: Protoss version of above with high templars and sentries, except you have no time limit. You just beat as many waves of units as you can.
Infestation: Zerg version with roaches and infestors. Destroy as much of enemy base as you came before time runs out.

Expert: Training for multiplayer
Harbinger of Death: PvT, you can only use hotkeys and have to kill as many units as possible before time runs out.
Opening Gambit: TvZ, build up a strong econ and large army while fighting off early attacks. Aim is to optimize build order.
Rush defense: TvZ/P. Learn how to fight off rushes as a Terran.

There were only two missions ready to play in this build: Psionic Assault and Harbinger of Death. There are three achievement levels, Bronze, Silver, and Gold. These achievements were based on the number of kills you managed to get.

Psionic Assault was really difficult at first and I died just around the Bronze level. Then I realized that SC2 had smartcast and I was able to almost reach Gold on my second attempt. The waves come from various directions and as you get further and further into the game, the waves start coming in more frequently and eventually simultaneously from the different ramps.

Harbinger of Death was challenging due to the time limit. If there was no time limit, it would have been an extremely easy mission to finish. I forgot that you could only use hotkeys for this challenge, so I lost my carriers right away since I didn't make interceptors (I had clicked on the "make interceptor" picture). On my 2nd attempt it was much easier. I wasn't able to kill all the units but I made significant improvements from my first go-around.


Single Player Campaign
We played two different campaign missions, one each from two different worlds: Bel'Shir and Xil. We decided to try the campaign with the difficulty level on "Brutal" mode, which was the hardest. Day[9] played the campaigns while I sat next to him writing down observations as well as transcribing some things that he said as he played.

Bel'Shir: Welcome to the Jungle
There are 2 main goals for this mission:
1) Collect terrazine gas located around the map.
2) Prevent Protoss from sealing 7 altars
And 1 bonus goal:
3) Find Protoss relics


Fight off the Protoss as you collect terrazine gas
[
1680x1050
]



Prevent Protoss from sealing the altars

[

1680x1050

]



-Before Day[9] started the mission, he bought all the unit upgrades first. These upgrades are permanent, so you don't have to buy them every time you start a new mission.
-Latency on single player is significantly lower than on Battle.net so it's very easy to control units.
-Scouts are just as bad against ground as in SC1.
-In the original single player, none of the missions were challenging in any regard, but this is very challenging.
-The computer AI target fires.
-Day[9] was playing extremely aggressively, but there appears to be no repercussions for that at all.
-Low on money relatively quickly, had to expand.
-Calling in mercenaries is necessary, they have very inflated stats relative to other units.
-Day[9] just lost to scouts in single player TvP! (lol)

Xil: The Dig
There are 3 objectives in this mission:
1) Recover the laser drill
2) Destroy the Xel'Naga temple door
3) The laser drill must survive

In this mission the main idea is to defend your Terran base as you destroy the Protoss Xel'Naga temple door with your laser drill.



...with this

[

1680x1050

]



You initially start with a drop pod worth of units. The unit statistics are different from the multiplayer version (different HP values, etc). You have to defeat small groups of units along the way. The campaign guides you very nicely in a tutorial-type fashion. After you beat the original few units they smoothly transition into you taking over a base. You have this laser drill (33 damage) that needs to kill the Xel'Naga temple door which has 100,000 HP. Your base has 2 entrances and Protoss will keep attacking you. On "Brutal" mode the computer is actually quite good. Day[9] would be having a tough time fighting them off if he didn't have that laser which will also help defend the base. Even with the help of the laser he is barely able to hold them off.

There is a new Terran unit that is not in multiplayer mode: the Diamondback. It's an armored mechanical unit that comes out of the factory. It does 20 damage with a +20 vs armored bonus. It can move while shooting.

Both missions so far have this "rush rush gogogo" feel to it. It's a very fast and frantic feel. Day[9] is impressed because he feels like he actually has to really try and focus to beat the mission.

Day[9] eventually loses again, but he thinks that the campaigns are awesome. To quote him directly, "it's like impressively fun." We decide to try this mission again.

It's difficult to see the enemy in the minimap due to the colors.
In a classic version of this type of map you'd expect to be able to win by just making a bunch of defensive structures but with this level it isn't possible (which is a very good thing).

Playing it a second time makes the mission significantly easier since he knows what he's doing. It seems like he's winning without too much difficulty this time. The mission takes a very long time to complete because the Xel'Naga temple door has so much HP. I think he has played this mission for about 15 minutes and it still has 17,000 out of 100,000 HP remaining. Oh sad face, the game just crashed with only 10,000 HP remaining. The game has a nice autosave function where you can restore up to a certain point.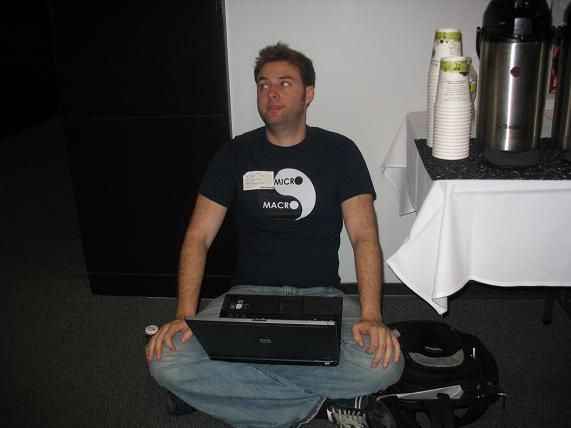 Day[9] taking a break from SC2 to work on his presentation



Lunch Time!
Sometime during the single-player testing, it was lunch time. Yay for delicious Mexican food! During the lunch break we were able to chat with Karune, as well as several other awesome Blizzard staff members such as Kenny (community team), Dan and Simeon (B.net 2.0). We're always happy to be able to strengthen our relationships with the Blizzard staff. Also, they loved our SC2ProMod. In fact, they liked it so much that it was emailed to the entire SC2 staff at Blizzard.

For the rest of the day we experimented a little bit more with the single player modes, but for the most part we chatted with Blizzard staff members, and we also prepared for the fansite Q&A session with Dustin Browder and Chris Sigaty. Unfortunately, we weren't able to ask all the questions we wanted since there were other sites there asking questions about things like lore… But not to worry, we definitely managed to learn a few key things about SC2! So without further ado, here's what we learned during the Q&A session.


Fansite Q&A Session Recap
Description of their balance process: Ideas could be based on forum posts, replays, Battle.net statistics etc. Basically the entire process is a lot of trial and error.

18+ rating in Korea: Not sure what's going on with that. They are looking up what happened and how to fix it.

High ground mechanic: They like how it is now. According to Dustin Browder, it gives a clear advantage at first and then it eventually disappears.

Implementation of F-keys: F1-4 will hero hotkeys for single player missions and the inevitable DotA clone. "~" will be for voice chat. F5-F8 are to be implemented as screen locations in Patch 9. It may be possible to customize and remap these hotkeys in the future.

Server isolation and its effect on the growth of ESPORTS: It will be definitely something that will be look at in the future, but at the moment there are no plans to allow people to access different servers with the same key due to lag and latency issues.

The "you are being revealed" mechanic: It is being fixed at the moment. The new plan is when you lose your last central building, only you will get a 30 second countdown to build a new central building. If you do not build one in 30 seconds, only then will it be revealed to your opponent. Also, if you make a central building again past the 30 second mark, your opponent will lose their vision of all your buildings. The 30 seconds is the current number, but based on testing it may move up to 60 seconds. Also, in the future this may end up being a toggleable option for tournament mode.

Group/online replay watching: Group replay watching is not expected to be implemented at launch. However subsequent patches are aimed to be like WoW, where the patches are significant modifications, not just minor balance tweaks. You will be able to create "groups". A Group is a concept of gathering users with similar interests together, such as mapmaking. It will be in a future patch or expansion but it won't be in the next content patch. For clans and other things there is no predicted date of release for this feature although they will look into it.

Hiding "match history" data: All professional sports are based on studying tape of the opponent. So no, they are not planning on hiding match history data. Once the tournament patch is added it'll be easy to figure out who the best of the best are (professional league). If a player wanted to hide their match history, they would need to make another account and play.

Identifiers: Still not sure of the final answer on whether or not they will keep it. The idea was that if someone wanted a very common name such as "Darth Vader", this would enable them to do so. However due to confusion, this is still up for change. They don't know what direction they will take but they do acknowledge that this is a problem.

Overall ladder rankings: The tournament system will rank only the very top end players, but definitely not all platinum players.

Foreign font support for Battle.net: They will look into getting font support for the different versions.
Replay speed (fast vs faster) and its effects on game statistics like APM: They actually were not aware of this problem but Dustin took note of it and will work to fix it right away.

As the Q&A session concluded we realized that it was time return to reality and go home.

The Aftermath
The adventure didn't end there for Day[9] and myself. Day[9] really needed to get back to school because he had to present his final oral presentation in his night class. As we got into the car in the parking lot, we realized that we were extremely low on gas. We drove around for a long time trying find a gas station, even asking the car next to us as we were stopped at a red light. He pointed us in the right direction and we were so happy to see the Shell gas station. We turned so that we can be in a position to get into the parking lot…and we realize that we're now on the on-ramp to get onto I-5. FMOL. Anyway after a few more minutes of nervousness and car beginning to lose power we finally manage to fill up the car with a full tank of very much needed gasoline.

Unfortunately for us, I-5 is the worst freeway in the world to be stuck on during rush hour traffic (fellow SoCal residents will agree with me here) and it took us much longer to get back to campus than to get to Blizzard. Not only that, but President Barack Obama was at our school so half the roads around our campus were blocked off and we were stuck on the off-ramp about a half mile away from campus for about 30 minutes due to the diverted traffic.

Luckily for us, it all ended up well as Day[9] destroyed his oral presentation thanks to his public speaking practice through his show the Day[9].tv Daily!

And with that we wrap up our coverage of Teamliquid's visit to Blizzard HQ 2010! We hope you enjoyed it!

-LosingID8 and Day[9]


---