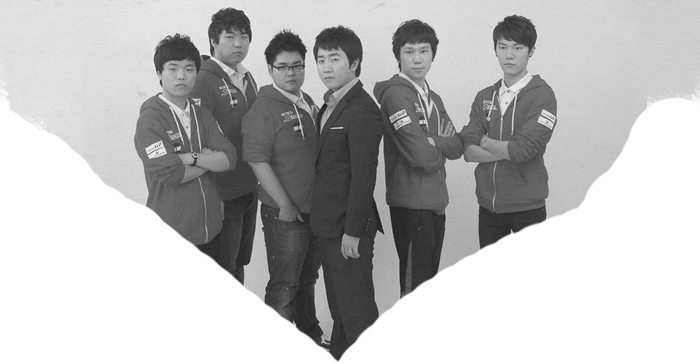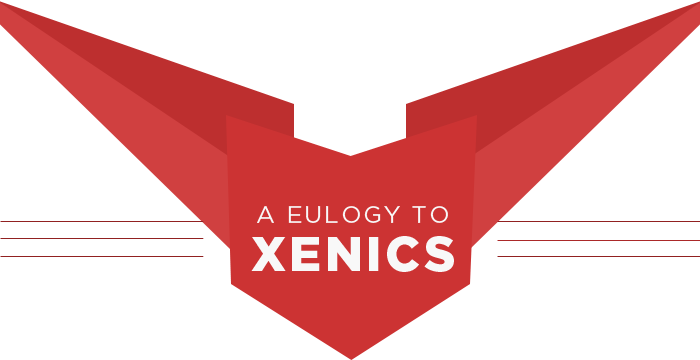 What do Impact, Swift, CoCo, Ohq, and Piccaboo all have in common? On top of being talented Korean players, they all began their careers on a team named Xenics. And they're not the only ones, either. Daydream, Arrow, Chei, Bang, H0R0, and many other professional players at one point or another managed to find themselves on Xenics, infamous for being the farm team of Korea.
However, just looking at Xenics as merely a team that picked up promising rookies is ignoring their long and storied history in OGN Champions. They participated in six of the eight original tournament seasons, making the bracket stage multiple times. However, after multiple seasons of mediocrity, their luck has recently completely run out. They are not playing in Challengers Summer 2015 after losing their match to enter Champions to Prime in a devastating 1-2 loss. The team's future is uncertain, as no new roster has yet been announced. Xenics may be no more, but here is a remembrance for a team that has a special place in the hearts of fans of Korean League of Legends.
Hyped Beginnings
Xenics was initially known as Xenics Storm, a hyped roster assembled by Brood War Zerg legend YellOw. The veteran esports player acted as coach to a talented roster consisting of May, H0R0, ManyReason, SBS, and Impact. Impact and H0R0 were just the first of many former Xenics players who are more famous for later success on other, more famous, teams. The team did very well in the debut season of Champions in Spring 2012, beating the North American titan Counter Logic Gaming in their group and taking the pre-season favorite Maximum Impact Gaming Frost to a full five games. They eventually finished in third place, a fantastic result for their debut season. H0R0 left to make Tempest, a second team formed under the same management and with YellOw also as the head coach. He was replaced by Nolja, a talented jungler once on the CLG roster, particularly known for his Lee Sin.
Their summer season was not as stellar as their starting season. Despite SBS and Impact being possibly the best bot lane in the region and the sheer talent on the rest of team, they unfortunately drew Spring Champions Azubu Blaze as their quarterfinal opponent. They were crushed in a 2-0 defeat, and left the season with many questions on their shoulders. A few weeks later, they lost 3-0 to NaJin Sword in the Korean Regionals, losing their potential spot at worlds. Unfortunately for Xenics, this was the most their team ever accomplished, as results only went further downhill. The team was hyped to be an underdog contender to the giants of Azubu and NaJin, but did not quite reached their potential.
Decline and Fall
Impact left the team for Tempest, and Storm picked up former Incredible Miracle mid laner Cornsalad. Manyreason, formerly a mid laner, switched to the support position to give Cornsalad his preferred role. Cornsalad was famous for being one of the most unpredictable and talented mid laners in Korea, with a gigantic champion pool. They began the Winter Season with a series of 1-1 splits against Azubu Frost, KT Rolster A, and NaJin Shield. Unfortunately, the management and the roster had disagreements that could not be resolved, and Xenics dropped their sponsorship of Storm only a few weeks into the new season. Tempest, the old sister team, replaced the old Xenics roster as the new Xenics Storm. Tempest contained H0R0 and Impact, now back on Storm, along with LOAD in top, Angel in mid, and Legend as AD carry. The old Xenics Storm renamed to Team OP, and they finished the rest of the season without a win, finishing dead last in their group. They eventually lost, ironically, to none other than Xenics Storm in NLB, losing 2-0 2-0 for a ninth place finish. Xenics, meanwhile, went on to lose in the quarterfinals of NLB to CJ Entus.
Xenics and Team OP paired up for OGN Club Masters with their new roster. Daydream and CoCo entered the jungle and mid lane roles respectively, while comet became the new support and Impact returned to the top lane. Meanwhile, ManyReason returned to the mid lane while May and Nolja left Team OP. The team made a surprising run to the finals, somehow edging out NaJin e-mFire in their group and beating CJ Entus 3-2 in the semifinals before falling 2-3 to the MVP combined roster. Unfortunately for Xenics, their star player Impact was recruited by SKT T1 for their second team. He would follow the earlier path of H0R0, who left for Reapered's new team that eventually became SKT T1 #1. This would cripple the up-and-coming Storm. Despite acquiring former KT Rolster B Top Laner Ragan as a capable replacement, the team was unable to qualify for Champions Spring 2013 - the first time the team missed out on Champions since their formation.
Summer marked the return of Xenics to Champions, but this time they brought two new rosters into Champions. Xenics Blast, formed by ManyReason, contained Stark and Quality in the top and jungle, while Bang, formerly of NaJin Shield, partnered with Boink, who later was known as Chei. Meanwhile, Arrow replaced Irean on Storm as the new ADC. Both teams were unfortunately drawn into the same group of Champions. In the same group were defending champions MVP Ozone and Eat Sleep Game, the former SKT T1 #1 roster which later was picked up by Jin Air to become the Jin Air Falcons. In this difficult group, both were eliminated early. Although both teams played fairly well, they were unable to win important matches and failed to make it to the bracket stage for the third straight tournament.
The Last Wild Team of Champions
The offseason saw many changes for the Xenics organization, and most of them didn't look good. Blast lost one of its best members as Bang, following the footsteps of Impact and H0R0, was also recruited by SKT T1 for their reformed first team S, while Stark and Quality left the team. Boink was now joined by Ohq in the bottom lane, while Ripper and Pinch came in as new members. Meanwhile, Ragan retired from competitive play and Daydream was recruited by CJ Entus Blaze. Storm's new roster came with the additions of GimGoon in top, Swift in the jungle, and Piccaboo in support. Unfortunately, in the Champions Winter Qualifiers, the two teams drew each other in the final offline preliminaries, prompting a teamkill to determine which of the two teams would return to Champions. Storm, led by a dominating CoCo, won in an easy 2-0, making their return to Champions once again.
Drawing one of the easier groups in Champions Winter, with struggling titan CJ Frost and both of the relatively weak Jin Air teams, Xenics nevertheless came in as the underdog. In an incredible feat, Xenics managed to finish at the top of their group. For the first time in many seasons, Xenics Storm had made it to the bracket stage of Champions. Unfortunately, their run ended prematurely, dropping 1-3 in the quarterfinals to a rejuvenated NaJin White Shield. Their qualification to the quarterfinals marked the last time a non-KeSPa team would make it to the bracket stage of Champions. Focusing more on raw aggression with support Piccaboo's roams and led by the talent of Coco, their reckless style was an outlier in the more cautious metagame of the Korean scene. They were truly the last of their kind, the KT Arrows coming close to their style but never being quite as fight-happy as Xenics Storm was.
Unfortunately, that promising Xenics team, like all Xenics rosters with talent in the past, fell apart due to offers from KeSPa teams with more money and resources. CoCo and Swift found themselves on the starting lineup of CJ Frost; Arrow, funnily enough, joined the KT Arrows; and Piccaboo and GimGoon joined as substitutes for Samsung Blue. With a completely new roster, centered around Blast's former bot lane of Ohq and Ink with Ren, Vin and Alvingo rounding out the rest of the roster, Storm went into the next season of qualifiers on a shaky foot. They only barely managed to qualify for the next season of Champions after going through a wildcard match after losing in their group. The team did not fare well in Champions either, losing all six of their matches.
The tragedy only continued from there, as the team lost Ohq and Ink, who were their best players, to NaJin Black Sword and the Jin Air Stealths respectively. Their completely new roster had Expect, SSUN, Nexus, Clann, and Road, most of whom were formerly on amateur team Midas FIO. This team failed to qualify to Champions, losing to an empowered IM 2 and MKZ, formed by ex-IM members. Xenics entered the offseason of 2014 on a down, unsure of their future direction.
The Dream That Fell Apart
After Blast effectively disbanded with the departures of Ohq and Ink, Xenics was left with only a single roster for a period of time. With all the struggles that team was facing, there wasn't much room to breathe for the team after dismal results in two consecutive seasons. However, in the offseason, Xenics quietly made another team, known as Xenics Modslook, that started to make quite a stir in the challenger scene. The team consisted of Sky, Drizzle, Raphael, Nika and Road. Sky and Raphael in particular, the two solo laners, stood out for being quite talented at their role. The team had skill and displayed the ability to adapt well. With the Korean limitations of teams to a single roster, Xenics dropped Storm completely and took their Modslook team as their starting roster into the qualifiers for Champions Spring 2015.
Xenics started off the qualifiers looking very strong. They played long-time struggling Incredible Miracle and the brand new HUYA Tigers, splitting 1-1. The only game they had left to play was against the winless Prime, who were easily the weakest team in the group. There wasn't much hope for Prime to take a win off of Xenics, and they were out regardless of the result. However, in an incredible upset, Prime managed to win their match against Xenics, eliminating Xenics from Champions Spring in the process. The team once again fell apart, with Sky joining Jin Air while Raphael and Drizzle went to China on Energy Pacemaker. Tragedy once again struck the Xenics organization, and this time they looked dead for sure.
Xenics's first challenger series was a disaster, with a completely new roster consisting of KaKaRott, Shaft, candy, luNar, and TML. After getting knocked out in the very first round by amateurs OverWM, Xenics had their backs against the wall. However, they managed to take their vengeance in the second Challenger Series, beating OverWM convincingly in their first match and following it up with a run all the way to the finals from the Winners Bracket. However, they dropped the finals 0-3 to Winners, in a rematch of the Winners Bracket final. Gankzero, the famed Solo Queue ADC on Winners, solo carried off the back of his fearsome Jinx, and Xenics was forced to settle for second.
Despite all of this, Xenics was still considered the strongest challenger team by both Samsung and IM, who were relegated to the promotion tournament after dismal regular season performances. They were the last team to be picked of the four challenger teams, ending up in a group with Prime and Samsung. They fought Samsung in a closely contested match but ultimately faltered, losing two close games for a 0-2 result. They faced a weak-looking Prime for the last spot in Champions Summer 2015. For the second time in a row, Prime was the only team standing in front of Xenics and a chance to be a part of the premier circuit in Korea. There, they fought hard but lost to Prime again in a soul-crushing 1-2 loss, guaranteeing that Xenics, for the first time, had failed to qualify for the premier circuit of Champions for an entire season. Their roster has all left the team, and seeing as they aren't in Challengers this split, that loss may have been the last of a series of tragedies that finally broke Xenics.
Xenics will have a bizarre place in history for Korean League of Legends. They were one of the original teams, and used to be among the best. As time went on, they were gradually relegated to farm team until, finally, it all fell apart. Xenics may be forgotten relatively soon, but the talented former members of the team will keep their legacy alive, as a small team that had all the right ingredients for success but ultimately could not stand up to the demands of the bigger, better teams.
If you enjoyed this retrospective on Xenics and love League of Legends as much as all of us, be sure to register on LiquidLegends.net and keep up-to-date with the discussion on our forums!