Many thanks to alffla for this awesome banner
Map of the Swarm
By: konadora
---


Over the past one month, we have seen many amazing games on the new maps, filled with great comebacks and mind games. But among the new maps, there is one that has sprouted a lot of controversy on par with DMZ and Demon's Forest, which even prompted a thread to be started on discussing how to balance Battle Royal, as well as a debate thread of the map.


---

What is Battle Royal?

Battle Royal is one of the four new maps used in Round 4 of the Shinhan Bank Proleague 08-09, and it is largely based on a concept similar to Raid Assault II and map mechanics based on Troy and Arkanoid.

Making use of the neutral buildings and the assimilators play a key role in deciding the outcome of the matches taking place on this map, and this was proven many times during the period when Troy and Arkanoid was used. Destroying one assimilator allows small/medium units such as workers and Hydralisks to get through, and destroying both gives only Ghosts that privilege.
Upon destroying the assimilator(s), the players have two options : Destroy the other neutral buildings (Xel'Naga Temple and Psi Disruptor) and make a big turn to reach the opponent, or simply fly across.

The air-to-air distance is around 1 minute 30 seconds, slightly shorter than the distance between the two starting points in Raid Assault and Raid Assault II. And that is of course, the obvious choice for any player. Who would want to go a long distance and give enough time for his opponent to set up his defense?

On paper, it seems to be a balanced map, with the gameplay going roughly like this: Early aggressive attacks and rushes, followed by the destruction of the assimilators while expanding and teching, and ending with heavy, intense, large-scale battles occurring outside the center region, as the players compete for expansions.

But the past month's games played on this map has proven anything but. There have been 8 non ZvZs played on this map, and the closest game that can be said to have turned out the way the map makers desired it to be would be ACE's Oversky against KTF's Flash. Why is this the case?


---
What makes maps so controversial?
---


The professional Starcraft scene never stagnates because of the large map pool that is constantly changed with each passing season. From the birth of e-Sports, more than 150 maps (excluding maps with different versions) have been used in the course of nearly 10 years. That is almost 1 new map every month. This means that how the players of each race adapt to and plan their strategy is ever-changing and evolving. But there are just a few that is simply incapable of adjusting to, be it for technical issues such as Demon's Forest, balance issues on maps such as DMZ. These maps do not live long, but the controversy that they leave behind is anything but.


---
---


Demon's Forest is known to be one of the two maps to be replaced half-way during a league, along with DMZ. It's main reason was an AI bug that occurs in the 'forest' area, which raised issues of whether the map should or should not be allowed to be continued to be used. In the end, it was replaced with the map 'Fantasy II'.

The main issue was that bugs occurred, such as vultures glitching when planting mines, if they even could. Lurkers and archons stacked, and fat units started going haywire. Due to various complaints from the teams, the map was eventually replaced from the Round of 8 onwards.


---
---


This last-minute job done by KeSPA after being inspired by a few foreign maps using neutral spells proved to be a disaster. A map meant for 2v2 teamplay, SCV rushes took place almost every single game, and games barely lasted 10 minutes. Teams started sending out players to play as two Terrans, even if it wasn't the player's main race, such as when TheZerg played Terran on this map. Eventually, this map filled with nothing but cheese disappeared into oblivion.


---



So what made Battle Royal have a ridiculous TvZ 0-7 score, PvZ 0-1 score, and 28 ZvZs played on it? Each game, I will highlight the key points that benefited the winner, and further dragged the loser down into the pit of death.


---
---
http://www.youtube.com/watch?v=fKQEj1AH_eI&fmt=18
+ Show Spoiler +
This is the only PvZ that took place so far. Tempest has played brilliantly on this map, and I shall take a step-by-step analysis on his ingenious strategy.

Tempest sends out his 5th probe at 1:35. Sending a probe at this timing helps escape detection by the opponent's overlord. At 2:09, he builds a pylon at the choke between the natural and the main. How did the Zerg not scout this? Tempest made use of the fact that the air-to-air distance between the mains is very short, and because of this, the Zerg player would not send a drone to do additional scouting, for he would rather gain even the slightest economic advantage. He has an overlord, it can do all the scouting he wants.

Except Tempest was already set to wall off the choke.

RorO manages to see Tempest's forge and pylon nearly 30 seconds later, when the forge is halfway done. And this was not because RorO intended to scout. He intended to expand. Had he gone 12pool instead, RorO would have had a serious time trying to win the game, for a Zerg on one gas is nothing but food for any opponent.

RorO pulls out a few more drones to attempt to destroy the forge, and Tempest completely seals RorO off by building a gateway on top of the forge, forcing the Zerg to play with just one-gas. Note that at 3:14, RorO only has 3 drones mining minerals, spawning pool isn't complete, and mining gas is but a dream for our Zerg player. Now, of course, Tempest could not have not predicted that RorO will send out so many drones to destroy the wall-in. His first gateway placement was brilliant, leaving space so that even if the first gateway was to be destroyed, he would be able to build another gateway and still wall-in his Zerg opponent, which is shown at 3:25.

The plan will then be as follows: Zerg will go one-gas tech, and he will go for mutalisks to make full use of the short distance between the bases, and Tempest will just have to build cannons and corsairs, fend off the mutalisks, expand and will emerge victorious.

Except RorO didn't go according to how Tempest planned the game to be.

RorO, still scouting Tempest's main, sees through this plan, and opts for hydralisks, knowing that Tempest will prepare for mutalisks only, and will spend less resources fortifying his wall-in. RorO capitalised on that, and punished Tempest swiftly with just a handful of hydralisks, taking the game.

So what went wrong with Tempest's strategy?

The wall-in was a double edged sword. He walls-in the Zerg, so the Zerg player is unable to get his nat and his second gas. Good for Protoss, bad for Zerg. But it is also because of the wall-in that the Protoss couldn't scout which tech RorO was opting for. Tempest would only be able to scout RorO's main after he gets his first corsair, for which he will need to get a few more pylons, a running assimilator, a cybernetics core and finally a stargate.

But take a look at 4:09. Tempest gets his first pylon in his main almost 2 minutes 30 seconds after the game has started, and the assimilator and the cyberntics core are nowhere to be seen. Tempest sacrificed his tech for economic advantage, while RorO was forced to sacrifice his economic advantage for tech. And of course, Tech > Economy. Even more beneficial towards our Zerg player was that all along, RorO's overlord was in Tempest's main, watching his every move for another 2 more minutes, until he finally pulls out his overlord when the stargate starts blinking and a cannon starts warping his Tempest's main.

Basically, RorO was playing with free maphack.

As for Tempest, he knew that RorO only had four choices, Mutalisks, Hydralisks, Drop or breaking the wall-in using sunkens. Hence, he did a good job in building additional cannons at the wall. But he was unsure of RorO's tech, and his economy could not keep up with building cannons at both the wall-in and his main, which meant that either one would definitely have to suffer.

RorO made use of this, and chose the lesser-preferred Hydralisk tech while completely forgoing Lair tech. Simply put, it was an all-in. And his all-in paid off, and minutes later, the wall-in was destroyed, and like how the Germans rushed to embrace each other at the fall of the Berlin Wall, the hydralisks moved one after another with unstoppable speed, obliterating anything that stood in their path, and went straight for the finishing blow.

So what could have Tempest done? He couldn't risk his main, nor could he forget about his wall.

He needed to make use of the map's mechanics. If RorO went hydralisks, then of course, he would walk the hydralisks through the assimilators to Tempest's main. Tempest, in my opinion, should have anticipated this and completely sealed off the two assimilators at RorO's natural. This would, should RorO go for ground-based units, have bought enough time for Tempest to switch tech, lay a few cannons at his own natural and proceed to win the game. After all, RorO completely crossed out the Lair tech option. By doing this, he can still wall in his opponent, while not sacrificing his main's defenses, and scout his opponent's tech at the same time. Note that by the time Tempest saw the hydralisks, it was already too late for him to destroy both assimilators.

PvZ on Battle Royal seems to be a viable match up, but no one has perfected the timing yet. In time to come however, the warriors of Adun will learn to adapt to this battlefield in which the Swarm - for now - reign supreme.


---
Key Point(s):
---
- Fast overlord scout imba.
---
Second non-ZvZ:
sAviOr
(CJ Entus) vs
firebathero
(Samsung Khan)
---
http://www.youtube.com/watch?v=OgAPmHpuOC0&fmt=18
+ Show Spoiler +
As much as I would like to rant about how sAviOr is getting back in form/raped firebathero/bonjwa again, I will focus more on firebathero's mistakes.
The game starts off pretty standard, firebathero walling in and going mech, while goes 9 overpool. Here, we can once again see the clear early advantage that the Zerg has over any other races, as sAviOr scouts the refinery and proceeds to adjust accordingly.
firebathero's first mistake starts when firebathero lifts his barracks at 3:43. He has definitely seen sAviOr's zerglings, yet he floats his barracks and uses it to scout sAviOr's main. Going mech means you are prone to early rushes and attacks, that you are sacrificing early defenses for stronger mid-late game army and hence wall-in was
vital
for firebathero to even have a chance to survive until the mid game.
I shall quote day[9]'s article on
The Terran Revolutionist
.
On October 18 2008 10:13 Day[9] wrote:
Fantasy concocted a brilliant opening which enabled him to mech on seemingly un-mechable maps by preventing typical zerg responses. The (rough) opening is as follows:

1) Wall in and gas on 12
2) Build a factory ASAP
.
.
.
Early game advantages:
-Negates ling allins (vultures+mines+wallin)
-Gives the opportunity to harass w/ initial vulture
-Gets a relatively fast expansion that's quite safe
etc.
firebathero lifting his barracks cost him dearly - he lost an scv, provided additional scouting opportunity for sAviOr using his lings (his overlord was pulled back because of the marines) and gave firebathero unnecessary pressure.
firebathero's yet another mistake was losing his scouting SCV way too early. On such a map like Battle Royal and Medusa, where there is no ramps to take advantage of higher ground for easier defense, it is important to know which tech your opponent is choosing. By the time firebathero's scouting barracks reached sAviOr's main at around 5:05, it was already too late. His assimilator was destroyed, which rendered his vultures completely useless. firebathero tried desperately to not let his vultures go to waste, trying to glitch his vultures over the vespene geysers many times, but to no avail.
firebathero's list of mistakes does not end there. He foolishly builds his command center at the natural, instead of playing safe and building it in his main. This eventually led to the destruction of his command center - his symbol of hope, vanished.
But what if firebathero did not make such mistakes? What if he had walled? What if he had built his command center in his main?
The outcome might have been different. One big disadvantage of mech is that it is slow and late in tech. Savior knew that, and he abused it heavily, by attacking aggressively right from the start with the right combination of units. He saw marines, he sent Zerglings. He saw vultures, he sent hydralisks. He then finished it off with mutalisks, and sealed victory with lurkers, making use of the fact that mech play means delaying scan.
Even if firebathero had walled, Savior would have pressured with hydralisks accordingly, and that would result in two ways - continued repair of supply/barracks while losing SCVs and get a tank, or breaking through the wall-in. If he managed to defend the wall, he still might have had a chance by massing turrets to cover up for the lack of goliaths, and get siege tanks to defend from ground attacks, while building simcity at the choke near the assimilators.
As long as firebathero defended well against mutalisks and did not lose his command center, he still had that fighting chance, for what is there to be afraid of two gas mutalisks when you are on the same base count? Zerg getting the outer expos would mean easy vulture harassments as they run everywhere, killing any drone alive. Zerg getting the center expo would mean that he needs to prepare well for mid game goliath-tank push, and should the Zerg fail to do so, it would mean GG.
---
Key Point(s):
---
- Play safe; The Zerg can see your every move. One mistake will cost you the game.- Keep in check whether your assimilators are being destroyed if you are going for a ground unit based army.
Also, the following is a well-written and slightly over-passionate summary of the game by riptide.
+ Show Spoiler +
On April 23 2009 13:21 riptide wrote:
It is difficult not to root for Ma Jae Yoon. As a zerg myself, sAviOr's style of play has always been close to my heart. Maurader of multitudes, and master of the mutalisk, The Maestro dominated progaming for many a season before succumbing to The Revolutionist, who took him out 3 - 0 in the GOMTV MSL Season 1.
Now, I'm not one of those rabid sAviOr fans who calls bonjwa the moment he wins a game. No, as much as I'd like to see him destroy everyone in 2009, I realise that the Starcraft arena he reigned has changed much during his fall from glory.
This morning, however, while catching up on my weekly vods, I came across his Proleague game vs FireBatHero, one of the few gamers I dislike with a passion. There are those who say, of course, that some bad manner is a part of the game, and that it makes for good Starcraft. I vehemently disagree. Savior, The Maestro, was the greatest player on the planet for nearly two years, and even during his reign of fire, was always humble, and benevolent. In fact, the [gm] tag at the end of his name stands as testament to his reputation in Starcraft circles.
Having been crotchdanced at many a time, and sporting a disasterous 3 - 8 record vs FireBatHero, it's difficult to imagine what was going in The Maestro's head as he sat down to play the match opener against the Samsung KHAN terran. sAviOr had not won a game against him since 2006, and therefore was not only battling FireBatHero, but in essence, was challenging his own gaming history.
Firstly, let's get to the game, played on the
controversial
new map
Battle Royal
.
+ Show Spoiler [VOD] +
In this opening set, saViOr begins with his patented 9pool opening, and we see FireBatHero grab an early gas. It appears that some mech is on the way. A hatchery goes down at sAvior's nat, and the Terran puts down his factory. Despite being unable to deny scouting, two early lings delay the factory slightly, and the game begins to feel like a sAviOr game of old. Lings take down an assimilator, and very wisely retreat as FireBatHero's first vulture arrives at the now half sized choke. Despite several tries, however, it appears that the Samsung KHAN Terran does not have Boxer-esque vulture control, and that he will not, in fact, make the jump.
FireBatHero demonstrating how not to do a vulture jump.
A CC goes down at the Terran nat, a questionable decision, especially since mutalisks were on the way, and perhaps the call that cost FireBatHero the game.
Meanwhile, Ma Jae Yoon makes an appearance with two hydralisks and a few lings, and FireBatHero very wisely retreats with his motor bikes. A marine gets sniped by a hydra, and MJY loses a ling or two to vulture fire. Of course, it is the Terran who is on the back foot for now. Destroying the SCV that was constructing the Command Center, sAviOr turns his attention to the few vultures and SCVs that have congregated in front of FireBatHero's main.
The amount of harassment he manages here, with just two hydras and four lings is impressive, and if anything, made me recall the days of old when every ling of sAviOr's seemed to be microed individually.
FBH, once again pushes out with two vultures and resumes constructing his Command Center. Of course, two vultures soon become 0.2 vultures, and then it's one hydra vs two SCVs. Meanwhile, the Maestro's spire is down, and it is evident that death is near. Turrets go down in the Terran base, and a lone goliath stands around, gazing nervously at the sky.
The mutas hatch, and as they make their way across the map, my pulse begins to rise. Are these the invincible sAviOr mutalisks we remember? Are they those same horrors of the sky that were feared by Terrans for so many years?
The little guy who used to spin inside this destroyed turret says YES.
Just before this untimely death, several scourge arrive at the Terran natural, and I, like many others I'm sure, was confused.
sAviOr playing ZvP?
No Starport was down, and there was no reason why sAviOr would need scourge. Of course, that's the reason he's The Maestro, and I'm a D noob on ICCUP. As the harrassment at FireBatHero's natural continues, the Terran lifts his Command Center and begins floating it back into his main. Of course, the scourge meet it on its way there, and one last hit from the mutas puts FireBatHero back 400 minerals, a significant loss as he heads into the midgame.
Meanwhile, the Terran seems to have grown tired of his tech, and floats his ebay straight into hydra - muta country, and somewhere in his mineral line SCVs begin to mutter about bad upper management.
FireBatHero, here deciding that he had made enough turrets anyway.
Meanwhile, sAviOr's mutas slowly edge their way into FireBatHero's main, and seem content with sitting in the middle of a goliath and two turrets.
sAviOr's patented invincilisks™ make a triumphant return.
Having denied an expansion, sAviOr performs a brief tactical retreat, and secures another base, bringing in his mutalisks from time to time to harrass FireBatHero's undefended mineral line. Two hydras take down the remaining assimilator, and Terran is forced to find a different way out of his base. Despite now having a sizable goliath force, sAviOr uses his air mobility to harrass on multiple fronts, and bags a few more SCVs in the process.
Finally, FireBatHero moves out and sAviOr rushes to sink down at his expansion. Destroying the neutral building, FireBatHero moves up to the Zerg expansion, and with sunkens still morphing, and mutas mostly neutralised by a flurry of goliath missiles, the future of the zerg expo looks bleak.
The Maestro, of course, stayed positive, and using his invincilisks™,
turned this,
into this.
Lurkers morph, burrow, grab a coffee, check their email, and make a few forum posts. The expo is now well defended. The mutalisks, of course, have unresolved childhood issues, and are a little more aggressive, proceeding to chase down and beat the pulp out of two of the the three remaining goliaths.
FireBatHero types out, sAviOr celebrates.
Having crushed FireBatHero, Ma Jae Yoon performs a ceremony. -_-
This was just one Proleague game, and in the long run really doesn't say much about either player. At their next encounter, either could win, and the odds are, for now, still stacked high in the Terran's favour. Of course, what I'd like to draw your attention to here is the difference we see between these two players, both in victory, and in defeat.
If you can meet with Triumph and Disaster
And treat those two impostors just the same;
[...]
Yours is the Earth and everything that's in it,
And - which is more - you'll be a Man, my son!
- Rudyard Kipling, If
So, Lee Sung Eun, remember this - you can win some games, and do many a crotch dance. The fact remains, however, that when all is said and done, and history of Broodwar is written, the name Ma Jae Yoon will be written in gold, and yours, I'm afraid will barely be remembered. This isn't broadway, and drama aside, results are what matters. You are a decent player, no doubt, but in posterity you will rarely be mentioned in the same breath as Ma Jae Yoon, for he is a true master of the Starcraft universe.
Remember, young Terran, that in battling royalty, you are only grasping at the ankles of a Broodwar giant who was, is, and always will be, more than you can ever aspire to be. Above all, remember that wins and losses aside, this is a game that revolves around respect, humility, and grace. It is my hope that you learn this in the days and years to come.
Ma Jae Yoon, you sir, are a gentleman and a scholar, and win or lose, I will always root for you. Not only because of your mad mutalisk control or your beautiful ling harrassment, but because you, above all other players, truly embody the spirit of Broodwar.
GG sAviOr. GG.
---
---
http://www.youtube.com/watch?v=_pRbcJlqEu0&fmt=18
+ Show Spoiler +
Baby and Upmagic chose to go two starport wraiths, but how they got there was different.
Both start off similarly, using a small handful of units to completely shut themselves in, preventing any possible Zergling/Hydralisk attack, although for Baby, it did not go so smoothly when Baby was momentarily put in the 'danger zone' after losing his marines and vulture that were destroying the assimilators.
But the problem starts here. If the Terran player is shutting himself in, it sends a signal to the Zerg player screaming either, "I am going to shut myself in and fast expand, so that you won't be able to harass me early game!" or "I am going to shut myself in and fast tech, so that you won't be able to harass me early game!".
But why?
Let's say the Terran is going for 3 barracks 'spitfire rush'. By shutting himself him, the Terran player will still have to destroy
4 neutral buildings
(2 Xel'Naga temple and 2 Psi Disruptors) before reaching the Zerg player. That itself takes up a lot of time, and the Zerg player's floating overlord will give enough info for the Zerg player to prepare his defenses. And because he is going for the spitfire rush, dropship is out of the question.
Then what if the Terran goes marine/medic while climbing fast tech?
The walls surrounding the center region and the main pose a problem. The overlord can continue to fly around its perimeters, and keep in check whether the Terran is expanding or not without fear of being shot down by marines and of course, without the Terran knowing at all.
Once the Zerg checks for expansion and gas, which can be scouted while the Terran player's barracks is being built, the build in which the Terran is going for is very obvious.
---
The 2 Starport Wraith with Cloak build
---
We have seen 2 starport wraiths being used many times against Zergs, and one of the masters of wraith micro against Zerg is Lomo. He impressed us many times by sniping down overlords, taking down clusters of mutalisks and killing drones with one unified beam of laser - all with unsurpassed wraith micro. But those were on maps such as Colosseum, not a short air-to-air distance map like Battle Royal.
http://www.youtube.com/watch?v=9yE6IDDSilc&fmt=18
Lomo's TvZ Wraith micro
What allowed this build to succeed on all maps except Battle Royal and Raid Assault II?
The answer once again lies in the early overlord scout. For this build to work, the Terran needs to go gas and barracks at the same time, and the overlord will be able to scout this much, much faster than on any other map. Wraiths work very well if the opponent is unprepared, but fall like flies when they run into a few hydralisks or even a single spore colony.
---
Now back into Baby's game. Unlike Upmagic, he sacrificed expansion for fast tech. And it was a build that almost worked too, but only if ZerO had not gone for hydralisks. As I mentioned earlier, wraiths versus hydralisks is like sending an untrained, unarmed soldier into a battle. They barely do damage, and they die too easily.
Take a look at Lomo's game once again. Only upon discovering the wraiths did his opponent, Kwanro start building a hydralisk den. That gave Lomo more than enough time for him to do sufficient damage.
So what is the problem here? Shutting yourself in by destroying assimilators sends obvious signals, yet that is probably the only thing you can do to be safe early game.
The problem lies once again in the fact that the Zerg is able to scout early game. The Zerg is already so prepared, you will wish you had not gone for wraiths. And wraiths are horrible units against mutalisks. Very horrible. The Zerg player, if he had predicted such a build, would already have started upgrading his overlord speed, so cloaking would be useless. But without cloak, wraiths are nothing but flies against the might of mutalisks.
In Lomo's game above, Kwanro had no idea he was going for 2 starport wraiths, and hence went spire first. He did not get overlord speed, and he did not have spore colonies already built. Hydralisks spawned one by one which, with good wraith micro, can be killed in just two hits. Drones died in one hit. Kwanro wasn't able to go all mutalisks, he went both hydralisks and mutalisks. But by then, Lomo had reached the number of wraiths required for him to two-shot-kill mutalisks, hydralisks and mutalisks, and was able to continuously snipe drones both in Kwanro's main and expo.
As for Baby, despite ZerO being so prepared with hydralisks, spore colonies and overlords stationed everywhere, he had no choice but to continue producing wraiths, for it was too much waste of resources to start switching tech, and switching tech at that point of time would mean vulnerability to mutalisks. In the end, Baby finally switches to bionic, but by that point of time, it was already too late, for ZerO had already gotten lurkers and a critical mass of mutalisks.
With comparison to Lomo's game, Baby could not 1) Switch to marine/medic early, for he had no expansion and had destroyed his assimilators and 2) do enough damage as ZerO was already prepared.
There have been more great games featuring 2 star wraiths, such as the recent Leta vs TheZerg for Bacchus OSL, and Baby vs Modesty in GOM. The difference in the maps resulted in a huge difference in the effectiveness of the builds.
---
Key Point(s):
---
- Wraiths suck if the Zerg player is already prepared.
---
Fourth non-ZvZ:
UpMaGiC
(eSTRO) vs
YellOw[ArnC]
(Hite Sparkyz)
---
http://www.youtube.com/watch?v=eqcE-xrKbTo&fmt=18
+ Show Spoiler +
This game was pretty close, except UpMagic didn't know one thing that made him lose the game.

Wraiths suck against Mass Mutalisks if they can be seen.

Upmagic goes for a fast expand while walling himself in by destroying the assimilators. Smart choice, similar to how Fantasy played Mech by walling-in, as this would mean Fake Yellow can't do Zergling all-ins or attacks early in the game. He then turrets up, gets two Starport and... he goes cloaked wraiths.

Now, Battle Royal is a map which I have mentioned repeatedly that has extremely close air-to-air distance. Which means two things - 1) The Zerg opponent can basically scout Terran's main the entire game using overlords and mutalisks/scourges later on, and 2) Overlords are pretty damn close to the main.

This means two things, 1) the mutalisks can check what build the opponent is going for and 2) if he knows that the Terran is going 2 starport cloaked wraiths, he'll get overlord speed ASAP, as well as spreading the overlords everywhere near his mutalisks and in his main.

At the point of time where Fake Yellow had mutas out and starts harassing Upmagic's main, Upmagic is just starting his wraiths construction and cloak upgrade. By the time Upmagic has enough cloaked wraiths, Fake Yellow's overlord speed is already done. Which renders the wraiths useless, and causes Upmagic to lose the expansion, which was the key to winning the game.

Upmagic starts getting Valkyries later on, but by then it is already too late. Overlord speed is done, Fake Yellow already has more than a dozen Mutalisks, and has expanded in two different expansions, while Upmagic is still on one-base.


---
Key Point(s):
---
- Don't go for the build if your opponent has already scouted it halfway. Or if you insist on using your build, turtle like mad by massing turrets everywhere.
---
---
http://www.youtube.com/watch?v=LivXTCiY1g8&fmt=18
+ Show Spoiler +
This is probably the closest the players got to playing the way the map makers intended it to be.
In this game, Flash does what he does best - turtling. He goes fast expand, while killing an overlord with his marines produced from his proxy barracks. He defends easily by using the small choke at the assimilators when the Zerglings started attacking, and then destroying them after the danger was gone.
Oversky went for hydralisks, possibly to quickly chase away to floating scouting barracks, and then went spire. Flash, seeing this, starts getting Siege Tanks first then gets goliaths. He follows up with 5 speed-upgraded vultures, but he makes a slight mistake here. After doing some harassment at the mineral line of Oversky's expansion, he proceeds to engage with Oversky's hydralisks instead of going for drones at the nat, main or the 1 expo (although he did not scout this at that point of time). He should have just moved the vultures into Oversky's main after a quick scan, which could have dealt a ton of damage and possibly allowed him to have won the game.
Oversky, in the meantime, deals damage to his opponent's mineral line as well with just two lurkers and an overlord, making good use of the fact that going mecha means late scan/detectors. This deals quite a lot of economic damage as Flash stops mining from his mineral expansion for quite some time. If only Flash had built turrets there, be it for detector purpose or for mutalisks, then the damage would have been significantly reduced, and he would have been able to mine minerals for an additional 40 seconds.
Flash then decides to attack with a reasonable mech army, consisting of 13 goliaths, 3 marines and 2 tanks. The size was reasonable, but the army combination was not. Flash knew that Oversky was getting mass hydralisks, so he should have either 1) push slowly while getting more tanks or 2) get vultures and plant spider mines everywhere, just like in a TvP push.
The battle which cost Flash the game
As you can see, there were just way too many hydralisks for only two tanks to handle, and Flash's army was also badly positioned, positioned so that it will be easy to flank and swallow it whole.
Flash follows up by getting another mineral-only expansion, and proceeds to push via the center of the map. This is, however, easily fended off with a few lurkers, zerglings and dark swarm. Flash then proceeds to do 4 goliath drop at Oversky's main, but for what purpose, it remains unknown, as 4 goliaths can hardly do economic or building damage quickly, such as a vulture drop killing all drones or tank drops destroying buildings. Vulture harassment is rendered useless as Oversky places sunkens at all his expansions.
Flash's mechanics were good, but his build choice of going mechanic has a fatal flaw - it is a slow, big, bulky blob. Battle Royal's map design is such that the expansions (excluding the center one) cannot be destroyed en route to the opponent's main, unless you go one big round around the center of the map. This gives an opening for the Zerg opponent to quickly send units through the center of the map while the Terran's mech army is somewhere far away. This means only two things - Risk your main and expansion while destroying the Zerg's expansions, or ignore the expansions and risk getting run over by a rich 4-gas zerg. Flash chose the former, and in the end, he was steamrolled by the never ending stream of units.
---
Key Point(s):
---
- Good battle positioning is important.
---
---
http://www.youtube.com/watch?v=4ug2XzS7osA&fmt=18
+ Show Spoiler +

This game starts off with Nada destroying his own assimilators and getting a fast command center. He then techs up, massing turrets, valkyries and marine medic army. He then defends well against muta harassment, but at this point of time, Great already had 4 gas running, with 2 gas being at the center of the map. Nada, near the 11th minute mark, attempts to deal some damage at the center expo, but fails miserably with mutalisks and scourges simply devouring Nada's entire army whole.

Nada actually played very well, but here, the map's design comes into place once again. Nada, by shutting himself in, prevents himself from quickly getting across and destroying the opponent's center expo. This gives great all the time and freedom he can get to run the center expo without any sunkens at all. Why didn't great get the other expos outside the center region? Nada had a vulture running around, and great knew that if he got the outer expos, it was prone to vulture/marine medic harassment. Hence, he got the only expo that Nada will take a long time to reach.

Nada played cleverly here, using dropship to completely ignore the neutral buildings and get direct access to the center expo. However, he should have dropped like 2~3 more times, and he could definitely have won the game. Not doing so cost him half a dozen marines and all his valkyries, allowing great's mutalisks to reign freely.


---
Key Point(s):
---
- Patience is of virtue.
---
---
http://www.youtube.com/watch?v=xpBM7C_tGNM&fmt=18
+ Show Spoiler +
Ganzi goes for a horrible build, not even 2 starport but 1 starport cloaked wraiths, with mass turrets, At least 2 starport can somewhat hold up against mass muta + speed overlords with great micro, but 1 starport does hardly enough damage as it takes too long to reach the critical number of wraiths required to 1 hit KO overlords and mutalisks. In the end, the game becomes the same as what happened to Baby and Upmagic, instead faster and humiliated even further with a proxy hatchery and sunkens.
This is a game Ganzi will probably never forget for the rest of his life.
---
Key Point(s):
---
- Use strong builds on a disadvantageous map, not a sloppy, unstable one.
---
---
http://www.youtube.com/watch?v=ZZv1FSZuKPg&fmt=18
+ Show Spoiler +

This game was really bad, careless mistake on Upmagic's part. The assimilators, being neutral buildings, require the players to manually attack the assimilators. Hence, when Hyun sent lings to attack, he should have quickly changed the target, which he failed. Losing all his marines and assimilator not destroyed, hydras and zerglings flowed into Upmagic's base, killing him off before he was able to do anything.

We've seen this mistake happen many times, most recently in Kwanro vs Hyuk, where Hyuk was attacking the Psi Disruptor and lost all 5 zerglings so helplessly because he didn't change the target to Kwanro's zerglings.

Basically, players need to pay attention to their units and minimap.


---
Key Point(s):
---
- Pay attention to your units, especially if you've commanded them to manually target a neutral unit.
---
The difference between Battle Royal and Raid Assault (both versions)
---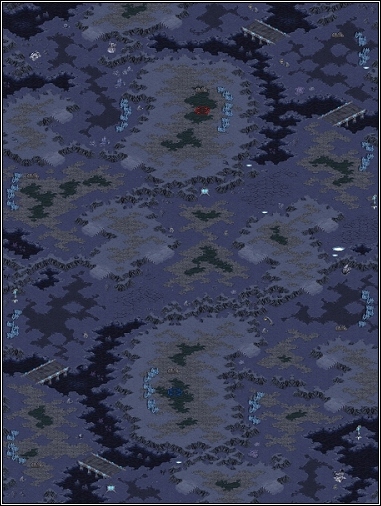 There seems to be a lot of similarity between Battle Royal and Raid Assault (both versions), but why is it that Terrans were able to play on-pair with Zergs on Raid Assault while completely failing to do so on Battle Royal? Hence, I decided to personally take some measurements, and with a few experiments, these were my results.



Battle Royal: 1 minute 25 seconds (air-to-air, using overlord), 35 seconds (land distance via assimilator path, using drone), 50 seconds (land distance through path created by the destruction of neutral buildings, using SCV, time taken to destroy neutral buildings not counted), 60 seconds ~ 240 seconds to destroy Xel'naga temple (depends on the units used to destroy the temple)

Raid Assault II: 1 minute 28 seconds (air-to-air, using overlord), 49 seconds (land distance, using drone)



Distance wise, it is almost the same, so what with this score?



Current Map Stats:

Battle Royal:
TvZ : 0 - 7
ZvP : 1 - 0
PvT : 0 - 0

28 ZvZs, 0 TvTs, 0 PvPs

Raid Assault (both versions)
TvZ : 24 - 25
ZvP : 10 - 7
PvT : 9 - 4

36 ZvZs, 8 TvTs, 2 PvPs



Comparing the two map's designs, there are a few key differences, mainly regarding the terrain layout.

First, Raid Assault had ramps, especially at important areas such as near the natural expansion and en route to the opponent's base. This means that the Terran player can create a choke at these points with just a tank or two and a handful of marine and medics, which the Zerg player will definitely not break in Lair tech without suffering heavy casualty.

Second, the distance in Battle Royal can be altered. Zerg has the luxury of having 6 zerglings, while the Terran has 1 or 2 marines at the same time. This means Zerg can immediately go on the offense and pressure Terran, and slowly destroy Terran's own assimilators, followed by his own if necessary. This completely breaks the timing for the Terran to push with marine medic, and given how strong the neutral buildings are and the number of them needed to be destroyed in order to get into the Zerg's base, early marine medic push is totally removed from the builds that the Terran can use on this map.

Lastly, Zerg can easily get a second gas, and safely too. Raid Assault's gas expo was very viable to harassment, being surrounded by 2 cliffs (the front and the back), where chokes can be created with tanks, bunkers and turrets. This often led to the Zergs opting for 2 hatch lurker ling, as lurker ling was the best counter to Terran's fast marine medic tank push on Raid Assault.

With all these factors, one can definitely see that Battle Royal leans in favor of the Zerg player.


---
So, what could the other races do on this map?

Up until now, besides Flash, I have not seen any other Terran players making the good use of the minerals. By mining out the minerals, the Terran does not need to waste time destroying the neutral buildings, and can push with much, much faster speed. What I foresee, if this map is to remain in the Proleague, is Terrans going marine/medic/tank push with dozen SCVs to mine out the minerals instead of destroying the neutral buildings and doing a timing rush.

However, there are 4x 24 mineral patches that the Terran has to mine, and the Zerg can easily deny the Terran from mining by placing sunkens at the right distance. A small tweak might help balance out this map - changing the mineral fields from 24 minerals to stacked, 0-minerals. This means that the Terran's push combined with SCVs will not require the SCVs to return the mineral chunks, and can quickly mine through the map.

Builds as revolutionary as Silver's ground-shattering play on Monty Hall or great's proxy hatchery to sunken/lurker/spore contain are needed to claim victory on this map. Not some 2 fact turtle Terran style, but a completely different one. Maybe a 4 rax lift from base to outside the center, and using SCVs to mine out the opponent's minerals and doing a 1 base timing rush. The issue of the Zerg's capability to scout early still remains at hand, but with time, players will need to figure out ways to overcome such disadvantages, and finally plant their flag on this map only stained with the bloods of the Dominian.

As for the Protoss, we have yet to see a proper standard game being played here, as the only PvZ occurred on this map involved a cheesy contain. I think that self-contain to corsair/reaver will be extremely viable here. We can only wait and see if there will be any more Protoss appearances on this map.

As what the commentators said during Ganzi vs TheZerg -
"Don't send out a non-Zerg on Battle Royal. Just don't. Unless you've prepared something real revolutionary."


---
Final words
---

I was inspired to write this article after seeing how much this map had potential, yet was going in a direction totally unexpected. I enjoyed writing this article, and I would like to say the following:

I'd like to thank all TL members who helped me with this article - GTR and riptide for their insights and advice, as well as alffla for the amazingly well-done banner, despite the fact that I did not ask him at all.

I would also like to thank the TL staff for making my stay in TL a very enjoyable one, and I hope this will continue in the future.

Last but not least, I would like to thank all members of TL who have supported the translation staff through thick and thin. Without you, I might not be here today and this 5000th post would not have been possible if not for all the fun I've had here.

Once again, thank you everyone! Hope you enjoyed the read.