"For human beings, the desires never end. My role model is my teammate and friend, Flash. I want to grab at least somewhere around six championships just like him."
---

Profile Next Matches

Name: Joo Sung Wook (주성욱) Friday, Oct 26 6:00pm GMT (GMT+00:00)
Birthday: July 11, 1992 vs.
HeRoMaRinE (2018 WCS Global Finals)
Country:
South Korea [unparsable timestamp format]
Race:
Protoss
Team: Scythe Esports


---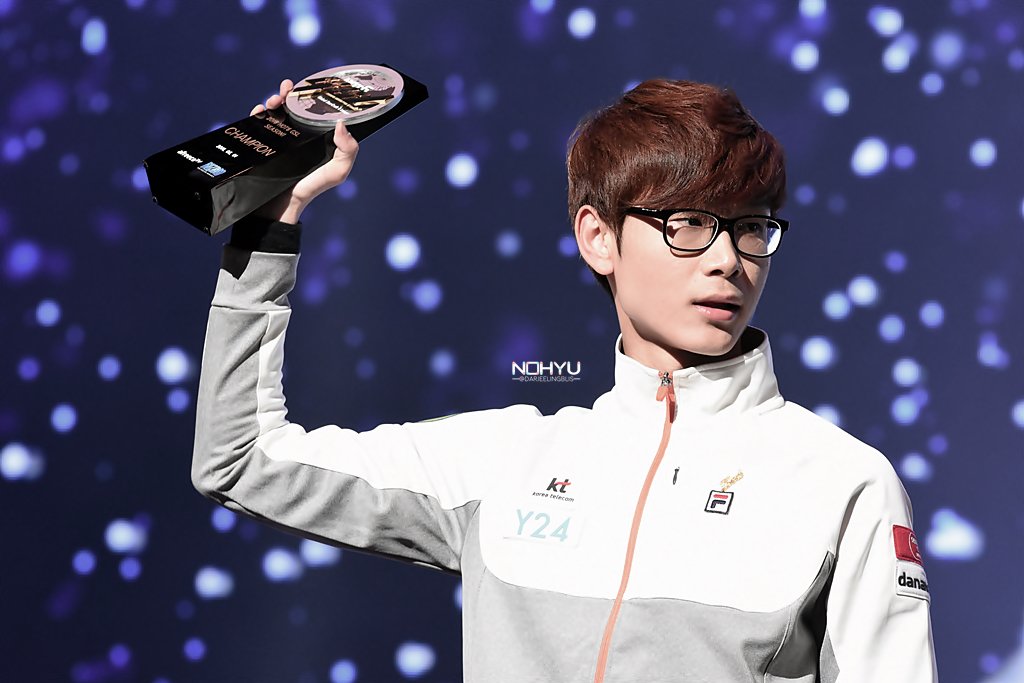 Zest after winning his 2nd GSL season, Mvp be afraid because Zest is best!
---

Zest announced his arrival at the very top of SCII with one of the most impressive feats in Proleague, all-killing SKT's strongest lineup -
Rain,
Soulkey,
soO,
PartinG - in the 2014 Round 1 Finals. It was a first showing with the same dominance Zest employed over all of Korea for the remainder of 2014.

He left his opponents no time to breathe and adjust. After his Proleague win, Zest went on to take home the first GSL season of 2014 after a killer run.
Trap,
Leenock,
Soulkey,
Dear,
sOs,
Rain and
soO couldn't stop him as Zest first made his way through one of the strongest groups in GSL history, then took down the two best PvPers of their time and finally overcame the man who would go on to appear in two more GSL finals.

A second GSL title followed immediately, as Zest continued to reign over Korea. A third Korean title in KeSPA Cup finally cemented his place as the best PvPer in the world, a title he has yet to let go of. That championship also meant that Zest tied Mvp's record of three Korean titles in one year, an astounding feat in an environment with fewer tournaments. By the end of the year, nobody had any doubts about who the best player in the world was. Zest had reached at least the quarterfinals of every tournament he had entered all year, bar BlizzCon, where he narrowly lost to eventual champion Life.

He painted a strong picture of a player seeking perfection that year. With perfectly refined and mapped out builds and strategy, Zest conquered the strongest tournaments in the world. Not afraid to use the same strategies on certain maps almost every game - down to even his pylon and building placement - Zest's style of play was quite obvious. He was better than everyone else, and it was on them to throw a wrench in his gears. That showed especially in his PvP, where his builds and finesse were studied but never quite replicated by others even at the very top. At the end of 2014, Zest had put together a year that was dominant as only few before.

2015 began as a year of disappointment for Zest. A steep fall from grace saw him fail to qualify for either of the Korean individual leagues and shaky performances in Proleague raised questions. Nevertheless, Zest again showed his championship calibre by winning the stacked World Championship of IEM's Season IX in Katowice. His success elevated from there on, with Zest reaching at quarterfinals of each GSL and Starleague season he participated in. In Season 4 of Proleague that year, he finished off the competition with a perfect 11-0 score, winning the round for KT with an ace match win over
DRG in the playoffs, before characteristically taking down SKT in the finals with three kills. Zest had finally found his way back among the best.

2016 and Legacy of the Void brought about changes to the entire game, but only seemed to make Zest stronger. His style has not changed, but seems even more perfect than before. An absurd 18-1 run through the first GSL season of the year easily catapulted him into the finals to face
TY in an all KT affair. On his way to the top, Zest crushed
Maru,
Journey,
TaeJa twice,
Cure,
soO and
Dear, losing only a single map to Journey in the process. An absurd PvT win percentage around 97% shows just how dominant Zest is in the matchup. But 85% in PvP and 60% PvZ show that he is certainly powerful in the other two matchups as well. Zest entered the finals with an overall 82% win record in 2016, an astounding feat at the highest level of StarCraft II.

---
Achievements
2018 Global StarCraft II League Season 2
2016 Global StarCraft II League Season 1
IEM Season IX World Championship
IeSF 2014 World Championship
Kespa Cup
IEM Season IX Toronto
2014 Proleague with KT Rolster
SanDisk SHOUTcraft Invitational
GSL Global Championship
2014 Global StarCraft II League Season 1
(ROYAL ROADER BABY!!)
Allkill of SK Telecom T1 (2014 Proleague R1 Playoffs)

Allkill of STX Soul (2012–2013 Proleague R2)

---
---

Vods

2014 KeSPA Cup

Ro16 (September 11, 2014) Semifinals (September 13, 2014)
vs.
Pigbaby
,
,
vs.
Classic
,
,
,


Ro8 (September 12, 2014) Grand Finals (September 14, 2014)
vs.
sOs
,
,
,
,
vs.
herO
,
,
,
,




2014 Global StarCraft II League Season 1

Ro32 (February 7, 2014) Semifinals (March 26, 2014)
vs.
Trap
,
,
vs.
Rain
,
,
,
,
,


vs.
Leenock
,


Ro16 (March 6, 2014) Grand Finals (April 5, 2014)
vs.
Maru
,
,
vs.
soO
,
,
,
,
,
,


vs.
Soulkey
,
,


Ro8 (March 19, 2014)
vs.
sOs
,
,
+ Show Spoiler [older vods] +
2014 Proleague:February 11, 2014
vs.
Rain
on
DF Yeonsu
vs.
Soulkey
on
Crux Bel'Shir Vestige SE
vs.
soO
on
The King Sejong Station
vs.
PartinG
on
Star Station
---
those arms...Nada would be proud!
---

Interviews/Articles

NEW: Stats and Zest and Their Road to BlizzCon, the Dream Stage
Road to BlizzCon 2018
IEM Pyeongchange 2018 More than a game
WCS 2016 Signature Series: Zest
Road to Blizzcon 2016
Zest: The Last Titan
Interview 2016 gsl season 1 grand finals winner
stuchiu's greatest players of all time list
After winning IEM WC
Teamliquid Awards
Hot6ixCup Ro8 winners
Interview after Hot6ix Cup 2014 Ro16
WCS Global Finals: Zest's Genius
Road to BlizzCon #16 - KT.Zest
Power Rank September 2014
Zest after winning Kespa Cup
KT Rolster Zest wins GSL by ESGN
2014 GSL Season 2 Code S Ro32 Groups Winners
Artosis about Zest's PvP Part 1 & Part 2
2014 GSL Season 1 Grand Finals Winner
2014 GSL Season 1 Code S Ro4 Winners
2014 GSL Season 1 Code S Ro8 Winners
2014 GSL Season 1 Code S Ro16 Groups Winners
2014 GSL Season 1 Code S Ro32 Groups Winners

---
Regarding Zest:

I hate him because he all killed my then-favorite PL team and proceeded to beat Soulkey, Dear, sOs, RAIN, and soO to win a GSL. I hate him because I like SKT and do not like the whole KT thing. I hate him because he came out of nowhere, won a gsl, another tournament, and continued to be good while beating EVERY person I root for. He beats Rain 3-0 in gsl, reverse sweeps sOs and beats herO in Kespa cup,

But what I really hate about him is that in doing all this, he looks amazing. Like, I feel like he stole all the soul and essence of Rain, the first player I liked and still one of my favorites, and used it to elevate himself to a god. He plays like a real champion, and it scares me how damn smart his plays are. He's a killer and I sometimes have trouble denying him of his victories in my mind, because he plays that well. Every time I want to see him lose, he wins and it makes me angry. That's why I hate Zest.

Also he's extremely handsome and it pisses me off.
Funny little "rant" by KingofdaHipHop and now for more love some pictures of Zest :D
---
Pics/Fanart
+ Show Spoiler +
by dravernor
fangirls love him <3
by dravernor
Zest with Carmac after winning IEM!
---
Everyone knows....KT best KT!
---
Members
+ Show Spoiler +
The_Red_Viper
Dheeraj19
The_Templar
Gamlet
hidetoaizen
Yorkie
Lazzi
silvana
11cc
Kasaraki
neckgripper
neptunusfisk
vinegarsteve
neoghaleon55
Cacique
The Harem King
BollWecK
OtherWorld
ukiya2004
boxerfred
lidary
Makro
KtJ
LukeSC2
EndlessViolence
Tosster
HellHound
[16thSq] Kuro
kyomezzo
c7vil
NinjaToss
ShiroUtsuRi
Salteador Neo
Dastansc2
Lil_nooblet
vik7
Taari
MiniFotToss
Sakat
Sholip
NaMeK17
Dumbledore
Chidoriiiii
BeaTeR
Seedfan
Philipp