Photo Credit: ESL
Zest:

Don't forget to read about Zest's road to blizzcon here.
Zest is a genius. Let's just get that out of the way from the start. His play shows brilliance shown by no other Protoss player, period. His playstyle is normal, standard Protoss, but with incredibly good reads and adjustments that nobody else can manage to do. The transitions he performs are outrageously smart, and he knows when to take risks and when not to. Does he have excellent mechanics? You're darn right he does, some of the best of any Protoss player period, and possibly the best. Zest was the king this year, and for good reason. His PvP is approaching legendary status, and his PvZ winrate is identical to his PVP winrate.
His play often resembles Rain's safe openers, but Zest takes it further. Unlike Rain who almost always plays safe beyond reason, Zest is willing to take small calculated risks to gain small advantages. He plays very safe and solid, but not overly so. This is enabled by his almost unbelievable ability to make accurate reads off of almost no information. His solid style makes it difficult to all-in him, his late game play is so strong that nobody wants to play against him then, and he's willing to pressure and all-in if someone is being greedy. These traits combined make his opponents respect him and want to play safe as well, but that's exactly how Zest wants it: simply because there aren't really any other players who can consistently beat him in long games.
Zest vs soO Game 1
Zest spawns in the top right and soO in the bottom right on Nimbus. soO, knowing that Zest sometimes cannon rushes and sometimes opts for a very greedy nexus into gate, opens with a pool first. Zest has a wide variety of openers, and fortunately chooses the best possible build, a nexus first forge expand. The game proceeds as normal, with soO taking a gasless 3rd base and Zest going straight to stargate. soO spots the stargate very quickly, and shows significant respect for Zest by building 2 spore crawlers in each base. Zest opts for phoenix and begins clearing overlords off the map. His phoenix are able to do a little bit of damage to the drone lines, but not much.
Zest adds on a robotics facility and bay before taking a third base: a somewhat late third base, knowing that an earlier third is risky with the amount of zerglings soO might make. He adds on a twilight council while building colossi, and soO takes his fourth very quickly after spotting the third. Zest builds a warp prism to allow for some harass while adding cannons to help defend his bases: he isn't taking any chances. His phoenix are constantly active searching for overlords and overseers. soO adds on some infestors, to help him limit the harass potential of the phoenix and to assist his melee unit composition. Blink begins and more gateways are added, while soO builds his greater spire and ultralisk cavern (very quickly, around 13 minutes). Zest sees these immediately, which can be confusing, but Zest knows it has to be ultralisks. There haven't been any roaches or hydralisks built, and Zest has seen the 1/1 upgrades on the zerglings, as well as the infestors. It could technically be brood lords, but this is unlikely. Vipers don't make any sense given the lack of anti-air and his phoenix patrolling the sky, and there has to be some kind of meat unit to go with vipers anyway.
Zest's response to the duo tech is brilliant. He knows there has to be ultralisks made given the ling/infestor composition, so he adds on another forge, a fleet beacon, another robotics facility, and a dark shrine. The fleet beacon will allow him to construct a few tempests to pre-empt brood lords and limit tech switching, and the extra robotics facility will let him build up a large immortal count quickly. He harasses with the warp prism to keep soO busy while building immortals and getting his additional upgrades rolling, and adds on more stargates and a mothership for the cloaking field. He adds on an oracle for revelation: a move so few Protoss do but one that ensures he will not be caught out of position and permits him to use his tempests to their fullest potential. Zest knows that ultralisks are a unit that work best in open field and flanks, and are excellent at breaking armies out of position, so he constructs a building wall of gateways, pylons, and cannons at the main location between all of his bases. Zest also adds on the phoenix range upgrade to deal with a potential mutalisk switch, a move that is becoming more and more likely the more soO banks and stays on ultra/ling/infestor. soO wants to try for a bust, knowing he has to use his army soon or it will be entirely useless, so he sets up a flank. Zest is wise to that move, and pushes the southerly portion away rapidly before committing to engaging the more northern portion. soO takes heavy losses due to his lack of coordination in his forces, and has to retreat.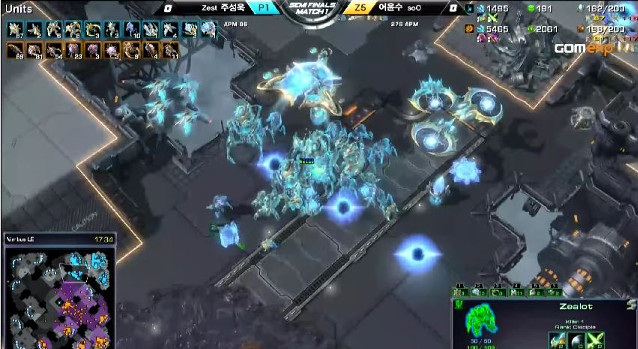 That right there is the power of Protoss
/
Pushing that attack back secures Zest room to take his fourth base. soO sees Zest's army away from the building wall, and knows that even though he can't win the engagement, that it's his best chance to trade. He commits to a heavy attack up a ramp with his army, using fungal to pin the protoss units while his ultralisks go to work. Zest destroys the army of soO, along with the extra queens soO had been building all game, but loses a good chunk of his ground forces. Most of Zest's immortals died in that attack, so soO opts to reload on more ultralisks and more zerglings to try and hold a counter attack. Zest's army finds itself in a strong position and takes out a base of soO's along with a number of additional ultralisks without major losses. soO's injects are extraordinary however, and he is able to flood with lings and a few more ultras, forcing a recall. From here, Zest has a huge lead: the army counts are a little low for both players, but soO lost a lot of drones. Despite having a huge gas bank, he does not have enough mineral income.
From here, Zest adds on additional immortals to deal with soO's standing ultralisk forces, but knows a tech switch has to happen, so he adds on archons, which function as a sort of catch all unit. Both players are passive for a short while, needing time to rebuild their forces, and not wanting to risk a bad engagement. Zest's upgrades at this point are incredible: he has not been neglecting shield upgrades and has several air upgrades as well. Templar archives are added to finally complete the ground tech for Zest, and he prepares his army for a final engagement while taking a fifth base and walling it with buildings and dark templar.
soO has little choice at this point: Zest has a ton of immortals and some tempests and high templar, making any hive tech more or less useless. It's much too late to switch into a roach/hydra composition, as he has no ranged attack upgrades whatsoever, so he is forced into a muta switch. Zest still has 4 of the original 5 phoenix he built this game, alive despite having been used constantly. soO makes 30+ mutalisks and attempts to bust the fifth of Zest with lings to force the army over, while sending his mutas with a few corrupters into Zest's natural. Zest immediately begins producing phoenix out of his multiple stargates, and begins fighting with his existing phoenix. Fortunately, his foresight in researching range for them a while ago is coming into play along with his air weapons upgrades, and he is able to constantly whittle down the count.
Zest immediately sends his ground army across map to base trade, knowing that his composition of immortals (11 of them!), archons, colossi, tempests, mothership and stalkers cannot be touched by the zergling and ultralisk composition of soO. soO has to full basetrade Zest while losing mutalisks to phoenix, or pull back and engage, which he cannot win with the phoenix chasing him. He opts to pull the mutas back and try to catch Zest off-guard, but has to wait for the positioning to favor him, and suffers tremendous damage. He manages to catch Zest without his phoenix nearby with a mutalisk and corrupter army, but Zest simply recalls. Zest uses this time to increase his phoenix count, and then makes the final push. soO sends the mutas in to base trade again, but his ground forces cannot even delay Zest's ground forces, and Zest can defend with only phoenix. soO opts for the full base trade, sending his ground units to attack Zest's base as well, but Zest's army has a lot more damage output, and Zest has a lot more buildings left, all of which are more spread out. soO drops down to less than half of Zest's supply, and is forced to tap out.
Predictions
Undoubtedly this was the year of Zest. His excellent execution, decision making, reactions and ability to plan for his opponents makes him the best protoss player in the world, and quite likely the best player in the world of any race. It's not a question of whether he has the skills to win this tournament, it's a question as to whether he'll show up in shape after his travels. He has shown time and time again that he is an absolute monster, and his opponents are forced to respect his play.
If Zest has one weakness, it's the confusion he sometimes shows when the games get wonky. He sometimes loses games when his opponent opts to do something entirely unexpected and strange, and force the game into a weird game state. Even when he has the advantage in those situations, Zest sometimes isn't perfectly clear on what to do, and spends a little too much time being indecisive. Despite that weakness, Zest will come prepared. Zest will come ready. Zest will come to destroy his opponents, and win this WCS global final. Life had best come ready to show his absolute best, because anything less will not even give Zest pause.