Lots of credit to Gaxton who started this excellent fan club during the TSL3, and to Roberi who kept it updated beautifully for a long time.
Welcome to the fanclub of Marcus "ThorZaIN" Eklöf, a renowned and celebrated Swedish terran player.
His gaming career started with being an accomplished Warcraft 3 progamer, playing human. In Starcraft 2, ThorZaIN became the first SC2 champion of the Team Liquid Starleague, earning many fans here on TL. Since then, Marcus has earned our respect by giving good showings at major tournaments, notably in Korea during the GSTL. ThorZaIN uses a characteristic safe, methodical and precise gamestyle.
Liquipedia:
http://wiki.teamliquid.net/starcraft2/ThorZaIN
TLPD:
ThorZaIN
Team:
Evil Geniuses
EU Ladder Rank:
ThorZaIN
Facebook:
http://www.facebook.com/ThorZaIN
Twitter:
http://twitter.com/#!/EGThorZaIN
Nicknames:
Spoon Killer Terran (Ginosaji Terran), Master Jane, Boa Constrictor Terran
+ Show Spoiler [Spoon Killer Terran Explained] +
ThorZaIN is called The Spoon Terran because he often takes a long while to finish his opponents off, just like it would take a long while to kill someone by tapping him/her with a spoon. ThorZaIN's games, mostly his TvZs, often revolves around him gradually wearing the other player down by chipping away at his economy bit by bit.
This video
is highly related and describes Spoon Killing.
+ Show Spoiler [Master Jane Explained] +
The nickname Master Jane comes from ThorZaIN's appearance in the 2011 GSL Code A - August. He fought SlayerS_YugiOh under the name mouzThorZaIN. Since Korean doesn't have the "th" sound, the Korean casters hilariously mispronounced mouzThorZaIN as MasterJane. If anyone has a GSL pass and wants to help by getting an audio bit of the whole thing, the link to the VOD is
HERE
.
Results:
1st

TSL3
3rd

EU Battle.net Invitational
4th

IPL 2
2nd

Dreamhack Valencia Invitational
4th

NASL 2
3rd

The Gathering
1st

Dreamhack Open: Stockholm
1st

E-Sports SM Finals
1st

WCS: Sweden
Upcoming Events:
The

North American Star League
continue on in its 4th season, and ThorZaIN is competing in

Division 4
. Having defeated Hwangsin 2-1 in Week 1, ThorZaIN has a tough Week 3 and 4, dropping series to ViBE and TargA. He'll have a week long break, and will be looking to get back on form against his toughest opponent yet, TvT master Ryung on October the 13th.
Online ThorZaIN is competing in the

Ritmix RSL
.
Having placed 2nd in a tough group (including a win over MarineKingPrime) ThorZaIN is playing RIGHT NOW against Mana in the losers bracket.
Team Leagues:
ThorZaIN will be representing Evil Geniuses on home turf in the

Evil Geniuses Master's Cup Season VII
.
Watch out for ThorZaIN in season 1 of the

IGN Pro Team League
, where he'll be sure to take a starring role in Evil Geniuses' fight for the title in the Premier League. Tonight (October the 2nd) EG play against old allies SlayerS. Make sure to tune in.
ThorZaIN is fighting for Evil Geniuses in

ESEA Season 5
.
+ Show Spoiler +
ThorZaIN in the booth vs. TSLPolt, the finals of Dreamhack Eizo Open 2012. Thanks to Dreamhack for the picture. Album
here.
Your winner of Dreamhack Eizo Open 2012. Thanks to Dreamhack for the picture. Album
here.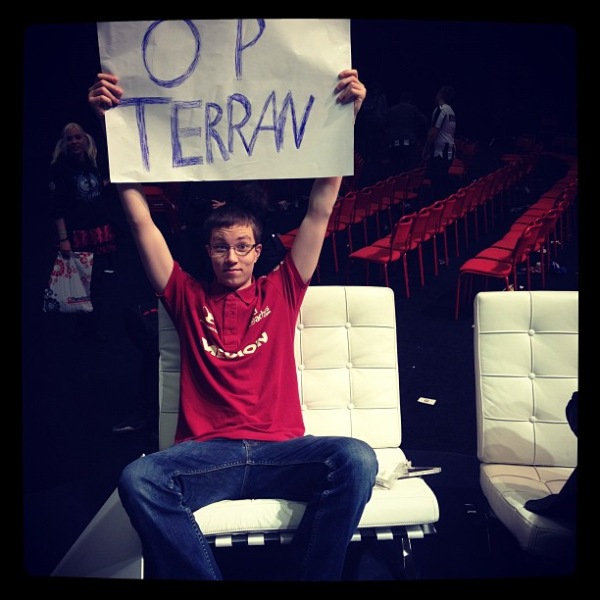 ThorZaIN is your Dreamhack Eizo Open 2012 champion! Terran ain't OP, ThorZaIN's OP!
Our man at MLG Columbus. Thanks TL for the picture!
ThorZaIN practicing at MLG Winter Arena. Thanks TL (Waxangel?) for the picture.
ThorZaIN is persuading Sheth to lose in their match at MLG Winter Arena. Thanks MLG for the picture.
T-ZaIN at HomeStory Cup IV, playing against Socke. Image shamelessly stolen from Fragster.
Best entrance ever?
Video here!
Thanks to
Silverfire
for the picture.
Meditating on his win vs. DeMuslim or MorroW at the NASL2 Finals? Thanks to
ESFI World
for the picture.
Feeling good at DH Winter 2011.
Yeah, that ThorZaIN guy is pretty good. 3-0 in his group at DHW11.
Part of team Mousesports at ESWC. They won the team competition convincingly there. From the left: MouzMaNa, MouzThorZaIN and MouzHasuObs!
In the booths at the IPL3!
At the IPL3: Origins. From left: ThorZaIN, SlayerSRyung, SlayerSSleep, SlayerSMMA, SlayerSBoxeR
ThorZaIN with his good friend, SlayerSMMA
At the IPL3: Origins
At the IPL3: Origins!
ThorZaIN arrives to Atlantic City and IPL3. Here giving his autograph to SlayerSJessica
Welcomed by CoLCatZ!
Saying hi to CoLTrimaster and CoLMinigun!
ThorZaIN at Dreamhack Valencia Invitational!
From the SlayerS photo album on Facebook. Aptly named
Late Night Dinner w/ ThorZaIN
. On this picture, Ganzi and Ryung are asking Marcus 'ThorZaIN' Eklöf questions about SC2.
From
Late Night Dinner w/ ThorZaIN
. MMA explaining the Korean food for ThorZaIN.
From
Late Night Dinner w/ ThorZaIN
. Ryung was SHOCKED that ThorZaIN didn't have any problems eating Korean red pepper, which is said to be very spicy.
ThorZaIN at a football match between SlayerS and a oGs/GOMTV/fOu Mix.
ThorZaIN's going away party with SlayerS
Celebrating BoxeR's birthday!
Chilling with some SlayerS boys. MMA to the left, Ryung to the right
Maybe i should add the TSL coach to the list of fans?
Mr ThorZaIN practicing at the Home Story Cup 3
Chilling with SaSe at HSC3. Cup may or may not contain an alcoholic beverage
HSC3 group spectating oGsMC. I wonder what IdrA is laughing at?
TSL3 afterparty
TSL3 afterparty
ThorZaIN in his early progaming days
+ Show Spoiler +
843 Fans

`dunedain
-FooFighter-
(Spiff)
3 Lions
4tre55
57 Corvette
251
A_Bandersnatch
acgFork
AdriftSC
Adventurekid
AgentV
agh39
ahbon
AIKfans87r
akatama
Alabasern
alexpnd
Allied
Allor
Amphiiiiby
anatem
andycz
Anomaly_
AnotherEon
Ansinjunger
AnxiousHippo
AnYvia
Apendix
Arcanian
Archile
ArYeS
AsBan
Asturas
Athenesc2
aTnClouD
atomicwedgie
AudionovA
Austen
awol
AxionSteel
AysiktiriX
Ayush_SCtoss
Azera
azndude3194
Azuroz
Azzur
b0urne420
baeric
Bagi
Baltor
Bamm
bananaman533
Bandreus
Banj0
BansheeDK
Barburas
Bartuc
BatesC
Bazinga
BeasTsHok
BeBst
BenBuford
Benjef
berr0n!
bg451
Biggiex
BilltownRunner
Bio0rMech
Black Gun
Bjoernzor
blae000
blackwolf
BLCabeldank
BleaK_
bmml
bnan
Bogeyman
Bomber.
Bombmk
Bomkia
Boundz(DarKo)
BreaK
BreakeR.
Britten
BthreeN
bubl100500
Buddhalol
buncool
Burning
Butterz
Bwall
Caliber
Cano
Captain Mayhem
carebear91
Carpo
cFAssassin
CGolden
ch1ppr
ChaseR
checo
Chibrithor
Chill
Chill (Yes. Chill is such a big fan, he signed up twice)
Chillax
chimchim
Chizeron
Chris1097
ChromeBallz
ciaNo
Clicker
ClockToweR
Coal
CoB-Vince
Cokefreak
Composure
ComusLoM
Congster
Conreik
CoR
Corsica
CosmicHippo
CPTBadAss
Crankenstein
crocodile
CrucialSC
Cryllic
CryMeaRiveR.749
Crystal368
Cube
DaBoxX
Dac
DailYLeet
dala
danakaz
DaNom
Dark.Pyro
DarkJackalX
DarkPlasmaBall
Dark supplydepo
Darkthur
darthcaesar
Darthozzan
DaveyJones
David Dark
Dayvx
Day[9]
Dazz3
dBdHellRider
Deamer
decaf
Deep.inside
deepfield1
DennizR
DerBeefman
DeSam
Dexington
dezi
dgwow
dib
dicius
DieterEilts
Dimon87
DiscoUnicorn
Dissonance23
dj.ricecakes
Djagulingu
dodelol
Doodlerapid
DOOMy0
Doriboi
Dreamer.T
DrHonken
drinking
Dronk
DrPhilOfdOOm
dstryr
DuBlooNz
dudeman001
Dudevico
dukethegold
durza
DVRandom
DyEnasTy
Dymeter
DySeNTeN
e1sturm
Earll
Eckman
ed21x
edde
EiNiS
eipxen
ElectricWizard
Elgear
elhonko
Elpy
Elvedeta
emythrel
EnSky
Enwrit
epicdoom
Eppa!
Erik.TheRed
eqez
Essentia
Evangelist
EventHorizoN
eXeElNino
eXplod3
ExSaint
EyeOfSkadi
Fabozi
Faerie
fail.Skalman
Farthu
fatum
Fatze
Fe4rless
FeelTHeBluEZ
Feito
FenneK
FILM
FireFish
FirmTofu
Flowne
flutsh
flyingcows
ForlornHope
Fortissimo
FrankWalls
freddyy
freezaa
Frequencyy
Frostydanger_Frost
frozenclaw
FroZeNN
frucisky
Fuoeh
Fus
fuzzy_panda
gamecrazy
gammAwolfa
Gann1
Gardel
Garm
Garnet
gaston116
Gauje
gawkbasher
Gaxton
Geisterbraeu
GhandiEAGLE
GLiscor
gnm
Goashtkn
GoatSwarm
Godstorm
Goibon
Gokey
Golgotha
Goliath-sc
Gotmog
Grape
greggy
Griff1371
grobo
grush57
gulshngill
gun.slinger
Haegr9599
hagga
hahaimhenry
HallBregg
hammarfOu
Hamzilla
Happystreet
HardCorey
Hargol
Harmonized
HarryKC
HarryKlein
Hassybaby
Hellie
HelloxD
Helluva
helvete
Hertingen
HesitatioN
hidiliho
hifriend
Himbeer
Hirnfrost
Holgerius
HolyArrow
hootsushi
Horp
horsepire
How2getMaster
Hren
HuKPOWA
huler
Huskermat
Hydrox911
Hypz
Hyren
IAmSpooner
Icemind
iG.Zeep
iGrok
Il1idan
IMABUNNEH
iNcontroL
Inertia_EU
Inkarnate
Insomni7
insufficient
Intricate1
InvincibleRice
Irave
iref
ironpiggy
itsmeOrchiD
JagerGard (x2)
Jakalo
Janar
jaydee81
JesusOurSaviour
jimbob615
JingleHell
Jintetsu
Jisall
JL_GG
Joestar
Joestar
johlar
JokerFace
Joona
Jtom
jud315
Kaal
Kahuna.
Kahzaar
Kakan
Kalpman
Kaoriyu
Karakaxe
Kashll
Kashll
KazKamasa
Kazzabiss
kefif
Keiji
Kiichol
KiLL_ORdeR
kineticSYN
Kinsal
Kira__
Kitina
Kiwiandapple
KlaraFall
Klosetmonkey
KnacKlol
knekten
knf
Knuppe
kollin
Kolpen
korendir
KovuTalli
Krallman
Krallman
kristoffer2510
Krunked
KryptoStorm
kubiks
Kyuki
K_Dilkington
L3g3nd_
L4hlborg
LaBelle24
lagbzz
laoji
laroche_05
Larryx
LaughingTulkas
Lavalamp908
LEEKsc
LGOE
Licmyobelisk
Like
LinYu)Fury
Liquid`Jinro
lisward
LittLeD
Liuwi
Lizarb
LoCaD
Loooui
LordofAscension
Lost923
Lothim
Lovin
Lowell
LunArMerlin
Lylat
maf
MahanS
MajorityofOne
MaKfejA
Maliris
Mambo
MaNa
ManBearPigNL
MangoTango
manicshock
marxgarza
Mataza
matthewfoulkes
Mawi
maximuspita
Mayor
Maytrows
MaYuu
MCDayC
mdma-_-
Mechwarrior
Megakenny
Megelrov
meowmasta
merlin101
Messie
MetalLobster
MetalMarine
metope
MGN
MHT
michielbrands
mijagi182
Millicant
MintBerryCrunch
Mirdini
mmorrow401
Mob
Modesttoss
moNsi
monx
mortiii
Moshiz
Moxi
Moxika
MrBoysen
MrBurns
MrCon
mrhh
MrKefka
MRMultiBryn
MrSweetNess
Msrobinson
Munk-E
murphs
MurtiBing
Mutality
mycro
MyXoMoPBL
N3rV[Green]
Naeroon
nagachicken
Nagumo
Najda
Nakama
nam nam
Nazgral
Necro)Phagist(
nekuodah
NeThZOR
Neurologist
Newbistic
NeWeNiyaLord
nGBeast
niCe.sKY
Nifel
Night Eyes
Nightshake
nimbus99
NinjaNitrate
Nineteen_
ninjakingcola
niteblaze
niteReloaded
NiteWatch
NiTroSc2
noballss
Nocteo
Noelani
NonConGuy
NOOBALOPSE
noobinator
nooboon
NoobSh1t
Nosforit
NowLookHere
NoZyneighbor
nucLeaRTV
NuclearWINtr
nukkuj
Nyctophobia
Oakstream
objeCt
obsKura
oGm`REM
Oh.Canada
Oken
Okiya
OminouS
OneBk
OnFiRe888
opterown
p1cKLes
Pandinus
Paragus
Parcellus
parkin
Particle_
Peak123
PenguinWithNuke
Penke
phanto
Phays
Phearlock
phisku
Phyrigian
piemo18
Pilesos
Pingoo
PiQLiQ
PizzaParty
Plague1503
Plutonik
poboxy
PodBlake
Polar_Nada
postlapsaria
Pr0spect
PrAeToR.FeNiX
PraeTV
Predguin
PrivateHermitas
proofy
Proswizzle
proxima_
Psychobabas
pufulete
Pulimuli
pulvret
Qaux
Qkombur
QTIP.
quRax
QurtStarcraft
radiumz0rz
RaE21
ragelin
Rain.cz
Raiznhell
Raktavijan
ramask2
rave[wcr]
Raysalis
Razakel
RBKeys
ReacH.
ReachTheSky
RealGehlon
ReaperX
Reapher
reDDevil7
RedKnight83
rednax
renks
Riotbot
Riskr
Ritos753
Roberi
Rocno
Roe
Rorra
rUiNati0n
Ruyzan
s15sLiDER
S.O.L.I.D.
Saakon
SabreUK
Sacro
sail
Sameno
Samura1Jack
Sarang
Satyric
Savern101
Sc1pio
sc2lime
sCFade
schmeebs
Schmoooopy
Schnake
Scipaeus121212
Sclerosis
scriptor
Scvhero
sDaLi
Sega92
Selka82
Semtext
senty
Senx
seoulsun
Seranetho
sereniity
Serentil
Serinox
Sernyl
Sgany
SgtDK
SgtPepper
shadowstrike
Shady
Shalaiyn
shawty
sheepduck
Shichibukai
Shika
ShivaN
ShoCkeyy
Shootemup.
Sigh
Sigi
Sigvard
Sillyjan
SilverPotato
SilverWolfe
singo
Singularity
SIS7G
Sithril
Skank
Skat
skipdog172
Skrita
Skvid
Slangen
slyderturtle
snorlax
SOAmessy
Solaris.playgu
Soleron
Sooji
Sorkoas
speccaN
Spoke
Sporadic44
Sprog
Sprout
Squarewalker
stalife
StarcraftNerd1547
StarVe
StatorFlux
Stephano - BIG BIG fan
StevoH
StimSC2
stipe145
strexer
Stringy
Suirantes
SungamE
sunturion
SunTzuEU
SuperaddE
Swedenlord
Sworn
SyDe
Sylverin
Taawus
tabbott26
Tablespoon
Tabula`Rasa
Taege
taoito
Targma
Tartiflette
Tarschi
Tasaio
TaylorGangOrDie
tdt
Techno
teekesselchen
tehplank
Telcontar
Tengil
Tennet
Teoita
Teusa
tfickes08
ThatOneGuy.
TheAntZ
TheAwesomeAll
TheCtd400
theEpsilon
The Final Boss
thehitman
TheHova
TheLast
TheOneAboveU
Theovide
TheSublime
the zomgie
Thezzphai
thoradycus
ThorZainWeTrust
Tibson
ticktack
toBe
tonning
TopPower
Towni
TR
Travis
Trawler
Treadmill
treekiller
Tribune
tripfiend
TripleOSeven
Trouler
trwkling
TsoBadGuy
tuestresfat
tuffems
Tumor
Twinmold
TyZoo
ULTRAmarine
unkn0wn71
Uquu
Urielnam
ValM
Valckrie
Valkola
Veasel
VeganWrath
Vento7
Vinx
virpi
Vod.kaholic
Volband
vx70GTOJudgexv
Walls
warchips
Warillions
WArped
Waterflow
Weavel
weeA
Weemoed
Weezing
weiliem
Weson
Wetty
Whiplash
Whitebeard
WhiteBuddha
Whitewing
wildtype
Witten
WizardMcMuffin
WizardofGGG
WOBbit
Wockets
Woj
Wolfshy
Wolverick
woob
woobsauce
Woople
Wrath 2.1
Wtfux
Wuntvor
Xacez
Xaeldaren
Xardean
Xenogears
XenoX101
XiGua
Xirroh
xjoehammerx
Xkalibert
xlnt
Xoronius
xsksc
Xtal
Xzilend
X RELIC X
Yama93
Yamulo
Yarbleck
Ydriel
yeahsc2
yellu
YoiChiBow
yoshi245
youngminii
Young Terran
Zaphid
zasta
Zaxon
Zazzles
ZealotKiller
Zeburial
Zeiryuu
zende
zeox
Zerlax
ZeroCartin
ZessiM
Zertoxo
ZeVi
Zihua
Zion9
Zodiak
Zoku
ZOMGitsTHEEND
ZooMForYou
Zorgaz
Zozo
zul
Zynar
ZzZBored
[UoN]Sentinel
`dunedain
RuiBarbO
MirageTaN
MantiZzl
MmMechFalon
Jtom
krait0n
ArcadePlus

+ Show Spoiler +
Yeah, ThorZaIN wins Dreamhack Eizo Open 2012! Cred to Reddit user "OtGEvO"!
Swedish eSports site Rakaka honores ThorZaIN's win! Translation for "Svårt? Nä

" is "Difficult? Naah

"
iNcontroL suggested a new nickname for ThorZaIN: Shovel Terran. Cred to TL user and fan "DailYLeet"!
FlashZaIN! Thanks to Gizzco on Reddit. Check Videos and Picture sections for related content.
Yup, back in Europe! Crad to Ludwigvan
Spoon Killer Terran! Cred to Stipulation
According to drcatellino, this is how ThorZaIN's opponents' nightmares look like
Spoon>Thor's Hammer? Made by NLBrowncoat
ThorZaIN wins against Liquid´HerO in the Dreamhack Valencia Invitational. Image by Drey
+ Show Spoiler +

When he joined Evil Geniuses, this video was released.


ThorZaIN wins Dreamhack Eizo Open 2012!! Watch this awesome moment!


Thorzain's road to victory (Dreamhack Eizo Open 2012 crowd reactions)


ThorZaIN sprinting to his 3rd/4th place game at the NASL2 Offline Finals!!


Barcraft at an O'Learys in Stockholm when ThorZaIN takes out HerO


Highlights from his run to the TSL3 finals


NASL Application/Introduction






Unburrowed: Episode 10


+ Show Spoiler +
+ Show Spoiler +
Here's a great site to take a look at if you want casts with ThorZaIN in them. This is a great way to check for his games by YouTube casters and tournaments. The big tourneys will be added below the line. Thanks to Moxika for the tip and check out the site.
ThorZaIN's games
Mousesports' games
---
EG Master's Cup
is going again! I will add all of ThorZaIN's games in this spoiler
This team league started in early March
+ Show Spoiler +
Round 1: Mousesports vs. SlayerS
Games vs. Crank, highly recommended!
+ Show Spoiler +

Game 4 with ThorZaIN vs. Alicia


Game 1 with ThorZaIN vs. Crank (Part 1)


Game 1 with ThorZaIN vs. Crank (Part 2)


¨
Round 2: Mousesports vs. Vile
+ Show Spoiler +

Game 1 with ThorZaIN vs. ChAnCe


IPL Fight Club
This awesome series of bo9's continues with ThorZaIN vs. Liquid´HerO! Very close games!
Games played on the 19th of February
+ Show Spoiler +

Game 1:


Game 2:


Game 3:


Game 4:


Game 5:


Game 6:


Game 7:


Game 8:


MLG's Winter Arena
was a success for those that payed for the PPV.
Luckily we all get to relive the games as VODs!
+ Show Spoiler +
IPL Team Arena Challenge 2
has kicked off.
Here, I will add ThorZaIN's games only. If you want to see the rest of the series, there are links in the description of the YouTube video on... YouTube...
This team league ended in late February for Mousesports
+ Show Spoiler +
Round 1: Mousesports vs. Quantic Gaming
+ Show Spoiler +

Game 4 with ThorZaIN vs. Destiny


Game 5 with ThorZaIN vs. Agh


Game 6 with ThorZaIN vs. NaNiwa


Game 7 with ThorZaIN vs. SaSe


Round 2: Mousesports vs. oGs
+ Show Spoiler +

Game 5 with ThorZaIN vs. oGsVINES


Round 3: Mousesports vs. Team Empire
+ Show Spoiler +

Game 2 with ThorZaIN vs. Aristeo


Game 3 with ThorZaIN vs. Beastyqt


NASL Team League
is underway!
I will add all of T-ZaIN's games here. If you want to see the other games of the series - check the description of the video at YouTube.
This team league ended in mid March.
+ Show Spoiler +
Round 1: Mousesports vs Rox.Kis
+ Show Spoiler +

Game 2 with ThorZaIN vs. Slivko (z)


Round 2: Mousesports vs. Team Liquid
+ Show Spoiler +

Game 4 with ThorZaIN vs. Liquid´HerO


Ace match game 1 with ThorZaIN vs. Liquid´Ret


Ace match game 2 with ThorZaIN vs. Liquid´Ret


Ace match game 3 with ThorZaIN vs. Liquid´Ret


Round 3: Mousesports vs. Team Empire
+ Show Spoiler +

Game 2 with ThorZaIN vs. Aristeo


Round 4: Mousesports vs Evil Geniuses
+ Show Spoiler +

Game 2 with ThorZaIN vs. IdrA


Round 5: Mousesports vs. FXO
+ Show Spoiler +

Game 2 with ThorZaIN vs. asd [T]


Round 6: Mousesports vs. ReIGN
+ Show Spoiler +

Game 4 with ThorZaIN vs. KiWiKaKi


Round 7: Mousesports vs. Quantic Gaming
+ Show Spoiler +

Game 1 with ThorZaIN vs. theognis


Semi finals vs. Team Empire
+ Show Spoiler +
SHOUTcraft Invitational #4
ThorZaIN gets second place in the fourth edition of this tournament.
Here are all of his games, some of them amazing, some not.
15th of January 2012
+ Show Spoiler +
So ThorZaIN all-kills QuanticIM as they send terran after terran. Go watch this series from the IPL TAC.
20th of December 2011
+ Show Spoiler +
Husky casted the finals of the Dreamhack Valencia Invitational. Oh, you forgot about that one? That's the totally epic series with ThorZaIN vs. DongRaeGu. The one with incredibly tense battles. With the incredibly muta versus marine fig- you know what? Just watch.
+ Show Spoiler +

Game 1 - Shakuras Plateau


Game 2 - Tal'darim Altar


Game 3 - Terminus


Game 4 - Antiga Shipyard


Game 5 - Metalopolis


Archive
+ Show Spoiler +
Feel free to suggest more games!
Please link new pictures, cheerfuls, videos that you want added to the OP and I will take care of it. You are, of course, very welcome to
PM me
if you have any new ideas or suggestions!
+ Show Spoiler +

[b]