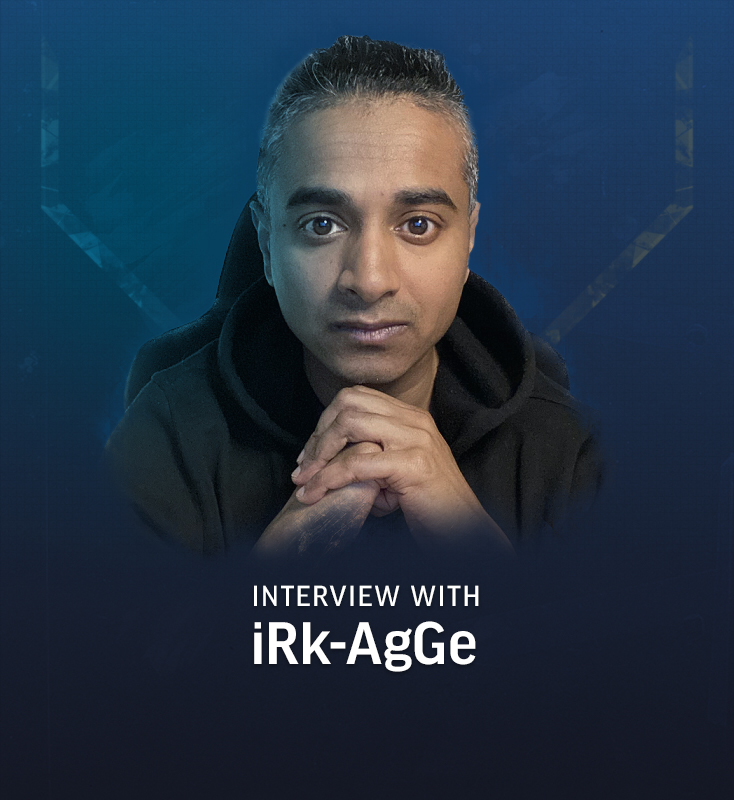 Clan iRk- has been a powerhouse in the community through the years of StarCraft:Remastered. Under iRk-AgGe's leadership they've shown impressive consistency, and I dare say many clan leaders have felt the frustrations when trying to compete with AgGe's vacuuming of the player pool. Like it or not, he's been a formidable leader, and figure in the community. But the Wheel weaves as the Wheel wills, and here we are seeing a titan fade into the shadows.
Starting with what we all really want to know - how did you feel when Qikz freed the Dödel?
AgGe:
Hahaha well since I know alot of my pals from clan red was very upset with their logo being censored in STPL I truly felt sorry for them. The logo has history and some of reds greatest moments came under it. Buuuut at the same time, penis as a logo in a sponsored league? Why not! ❤️
Has iRk's logo always had the moose antlers, or was that something you made (or had made?) after reviving the your clan?
AgGe:
No actually from the beginning our first logo had just 3 eggheads with wierd looking eyes that me and a friend made. It was a GIF so the eyes were rolling on one head. I tried to remake that one, but it just didnt fit with the 20th century. 😄
So I had an idea, I gave it to iRk-Han and from that he created the logo with the antlers.
The old and the new.
It turned out great! Unless my guess is wrong, Han joined maybe half a year after iRk was revived in the wake of Remastered? Who were part of iRk's revival? And how did you build the clan the first year or two - "to do"-list, plans, things you wanted to get sorted first?
AgGe:
Yeah HaN joined in 2018 at some point I think. Wow it's almost 6 years since the release of remastered, crazy!
Now let's see if an old man can remember. When we all quit SC back in 2007 I created a facebook group with all iRk members, and we all stayed in touch during the years and played other games from now and then. It was great seeing everyone grow up, getting families and kids and so on. So when SC:rem announcement came out i immediately posted in the group that it would be fun to go online and play some again. We were a bunch of old irks playing, mostly just 3on3 hunters for fun, then I came in contact with some other old Swedish players. Some that I knew from when I captained Swe-B and during my short time as sub captain from Swe-A. And some that I just remembered from Brood war swe-1 and Brood war Nor-1. Then ofcourse TuFFeR is a childhood friend and he played for iRk in vanilla from 2004-2007 maybe. But the first people I recruited was iRk-elka, iRk-aGOny, iRk-MwK, iRk-o_O, iRk-JerryK97, iRk-Stylish, iRk-Cackster. and eventually my old friend iRk-Naugrim. So we had a solid base for the BWCL test season and RTL. Then when Nb disbanded I recruited Whistler, Favorit, Kame along with Arcneon from SK and free agent OyA, Erling and Oystein. When SK eventually disbanded as well Dewalt asked to join us, last piece of the puzzle for my A-team. Now the only thing missing was a S-ranked 2on2 team, Naugrim was playing his ass off with Favorit and MwK in 2on2, but I decided we needed a real boost to be able to keep up with SouL. So first we got tokyoa, then we managed to convince Kenzy to join us, and with him on the team I got a hold of Marwin and our 2on2 teams was perfected. With all these players in the roster I felt like we needed to build a second team so while managing the A-team I started building a B-team for the new players that didnt get game time in the A-team and the oldschool players that wanted to play cws but didnt want to compete on top level.
My aim with all my clans, teams, work employees, soccer teams, is to always be present. Some might say I spoil my players with doing everything for them, even waking them up for cw's, tournaments, leagues, showmatches. But I am a control freak, and my philosophy has always been to help out with as much administration as possible so my players can focus on playing. I try to build up a family like environment that everyone feels safe in, might sound cheezy but thats how I need it to be, or maybe how I want my own feeling of the team/clan to be. That gets me motivated and keeps me going. Might be only me living in that family like bubble, but I hope at least some of my players felt a bit of tingle during our time together. 🙂

So to sum it up: Get a solid base of active and friendly players, decide in wich direction you want the team to go (you want to be the best? aim for the stars!). Recruit, but dont recruit just to recruit, recruit players that you feel like they would fit in with the rest. Make a webpage (back then, now we have discord and all other channels so no need for that anymore) and keep updating it regularly so people keep visiting, that will make players want to join your team. And finally, just be active, as a leader, as a captain, as a player and as a person. I always get to know my players in person. I want to know how their IRL lifes are going, when their birthdays are, if they have kids, girlfriends/boyfriends/wifes. what makes them happy and what makes them sad. And if they need to talk they need to have that trust that they can come to me even if many see this as just a game, I also see them all as humans and friends, not just a nickname with my tag.

You've formed a formidable organization over the years! And no such organization can run properly without the help of other admins. How do you approach appointing admins? Do you have certain standard training you go through with them, or do you let them learn as it goes and stand by just in case?
AgGe:
As I mentioned before, im somewhat of a control freak, wich means I have a really hard time letting something go 100%. So I've stoo by my captains and co-leaders as much as possible for as long as possible. But we've nurtured alot of great admins, captains and leaders within iRk. I always look for players that want to invest time in the clan, and that are active. But also have an eye for talent so I can give them the responsibility of recruiting players for their team. I think CPL is a great place to look for new players as well, that want to help out. Im soon 40, and alot of players are between 30-40. But there are also alot of young players that just loves starcraft, and you want them to become the future leaders, organizers, admins, top level players, so I always felt a responsibility in recruiting young player and help them grow as individuals but also as community people.
So, in a way, you're an old man looking for young boys on the Internet?
AgGe:
Hahahaha Yeah exactly.. Guilty! 😂
Have you always been driven and motivated, or has there been any low points/days which have been worse to get through?
AgGe:
Of course you always have some kind of down periods and low points. But then you remember the good days are always 100x more common. But usually summer is a low point, alot of players go inactive and you never know who will be back for the fall and so on. So the last couple of rounds of leagues if they last into mid july, are a real pain in the ass to get full lineups. I think most clanleaders have the same issue with the summer period, but then again it's normal. Then comes august and when summer is over most players comes back again. 🙂
iRk- is unique in that it is the only clan to have been in every single season playoffs for both BWCL (14 seasons) and STPL (5 seasons). In BWCL you've even reached every single Grand Finals. Are there any rivalries or "friend clans" that have stood out more than others? Has it all been good fun, or has any bad blood occurred?
AgGe:
Yeah pretty amazing considering we were a SC Original clan and never competed on SC Brood war before SC:rem unlike the other clans in Div-A. I also never allowed any mercenaries, or any double teaming. We had one korean based player in iRk since SC:Rem, and that was Cubic who played for us for one season before he decided to join WHITE without telling me, so when I got the information he was kicked out of the team. Apart from that all our playerrs have been mostly EU based, and some from NA / SA.

Our biggest rivals since remastered came out (during my time) was SouL, at least in BWCL. Competing with SouL in STPL was just impossible with their semi pro korean roster. But with Bo1 anything can happen and we were close sometimes. Same with our games vs WHITE in STPL. BWCL was always more even games since koreans living in korea arent allowed. In Div-A it's always been a very strong top 5 with SouL, iRk, NaS, ash, and dM-. Being part of the core of clanleaders also gave me pretty good connection with red. and ReV. And I would consider red and ReV to have been our friendly clans mostly due to my great relationship with incomplete.ReV and RedWarrior until you guys decided to step down. But eventho SouL has been our biggest rivals, me and fuji has always had a friendly connection, he's a good guy and great professional, was very sad to see him go inactive. Apart from that I dont think there has been any bad bloods with the other clans. I had a bit of a fallout with ash.Blacksun for a while when I was looking to strengthen our team (disrespectful of me, lesson learned) with the rise of Cwt, and ofcourse with Cwt after they convinced Dewalt to switch clans. But apart from that there havent been any other issues with any clans that I can remember.
So aside from donating to a prize pool for internal tournaments, you've never paid anyone to play for you? Other than f.ex. prizes, of course.
What happened with you and ash.Blacksun? And did you and Fujikura discuss any of your clashes (f.ex. line up strategies), or was it more a general mutual respect? Can't say I've befriended Fujikura, but I very much agree with your assesment that he's very professional and tidy, and I've had great respect for him and his leadership.
AgGe:
I can honestly say that from the beginning I did not pay anyone in iRk. I donated to my inhouse tournaments (quite alot when I didnt have a family to support). But at one point to keep up with the competition from various clans I did use an income from a small side business I ran to sponsor the A-team players in iRk. Investing in starcraft has always felt right, since it's been part of my life for almost three decades. Giving my players a small amount to be able to buy new hardware, vpns or bribe their girlfriends to be able to play was just me giving back. Alltho I didnt pay anyone without certain demands and not without results. So they needed to perform in order to be eligible for a payout. I know Fuji did the same in SouL, and we discussed it from now and then. But when the pandemic hit and I had a family to support I had to stop the payouts. I needed the extra income for the baby. The players stayed on tho and they still play so I'm confident that the payments werent the major part in them still playing in iRk every week.
Now I donate to the prize-pool of in-house tournaments whenever iRk hosts one.
I tried to recruit Kwark and octzerg to iRk and that didnt fly well (wich is totally understandable) with Blacksun. And I am still truly sorry for that scenario. It was unprofessional of me and not a mistake I ever made again. Octzerg and Kwark showed great loyalty towards ash tho and both gave me a straight "no" when asked to switch clan.
Me and Fuji had good communication during our years as rivals, it was a mutual respect I think. We did discuss some things but never the lineups. Those were always mind games and always tricky. He actually managed to get Bonyth Vs Madinho in 9 out of 10 cws and Maddi always hated to go up against him. 😅
iRk-Naugrim facing iRk-spx in an in-house tournament.
Kudos to Octzerg and Kwark! And impressive line up planning from Fujikura!

You state that you haven't paid anyone in iRk, but then follow up by explaining how you paid some of your members - aren't you contradicting yourself? I agree that donating to tournament prize pools is a different thing, though.
AgGe:
I think u misread. I said that I didn't pay anyone in iRk from the beginning. The first two years was no payments at all. I decided to start giving a dollar for a cw win from BWCL season 50 and STPL season 3, and that was basically a team decision from the beginning. We split the STPL prize between players in order of games played and winrate, a percentage of the prize was going back to the whole team, but since i donated most of the money for in-house tournaments from my own pockets I just let those prize money sit in my paypal account. Then before STPL season 3 I came up with the idea that we could use that money for monthly payouts if they won their games in clanwars of BWCL and STPL. Then when that salary was all used up after season 50 I decided to keep investing in the players from my own extra business. It was either that or use the money for booze at the clubs, felt like my players had more use of that than my liver. 🙂
Ah, I thought you meant you had never paid any of them, but now it makes sense! Other than running iRk, you've also contributed as admin in other events. How has it been cooperating with/working under other admins in the community?
AgGe:
It has been great, frustrating at some points, but mostly great. I think it's important that clanleaders gets involved in the different leagues/tournaments. We manage the majority of players and knows them best. Also gives us the chance and ability to help organize playdays. Most official games are played during the weekends, and there are alot. For example BSL, CPL, BWCL, STPL DPTL, NASL, and all the SA tournament/leagues along with inhouse tournaments, nationwars, and showgames. I myself got involved to be able to influence the mayor leagues and tournaments. That way I had a chance to be able to field my strongest lineups in clanwars and my players could still be able to play their individual events. I could help out with preplay and postponents both within the clanleagues and individual tournaments within the rule frame of each event. Gave me that extra control as clanleader to visualize my players playing schedule.
What's been frustrating?
AgGe:
Mostly that you want people to see your point of view, but at the same time you cant see others point of view. And everyone has their agenda. So it can at times be difficult to be both clanleader and admin/organizer, because the roles might collide with each other. 🙂
All frustrations and all the good times are however nearing its end. To specify, are you resigning or retiring from your responsibilities? Is this the end for AgGe, or are you hoping to come back to StarCraft one day?
AgGe:
All things has to come to and end at some point. ❤️
I transfered most of my non-iRk admin responsibilities last summer to iRk-Camodaz and iRk-Supperman.
I have worked on my retirement as leader of iRk- since 2021 when I first told Camodaz that I was retiring and he wished for him to take my place when the time comes. Last summer I just felt like the time had come, and I talked to Camodaz, he accepted but after a couple of weeks he had to resign. Luckily I had allready nurtured Supperman into D-team captain, C-team leader, B-team leader so he was always in my head if Camodaz would decline my offer. And he has been a breath of fresh air ever since appointed as head of iRk-!

So is this the end for me? Yeah, I've retired from most of my responsibilities with iRk, I work in the shadows helping Supperman whenever he needs my advice or help. I took charge of the LL-team in iRk this BWCL season while at the same time teaching iRk-Hexe about leadership and administrating the team, so for the last couple of weeks he has been in charge, so at the end of the season he will take over as C-team leader. And that will it for me.

I will most likely keep playing a bit, as long as SC:Rem is functioning, pop in for a CW game here and there as a player whenever a sub is needed. Might be casting whenever I have time. But apart from that I will just sit back, relax, observe and at the same time process and remember how fantastic the last 26 years have been, and at all the great memories I've had with SC and especially all generations of iRk that has come and gone - with the highlight of the last 6 years since SC:rem was released.
Q: Are there any memories in particular that are extra dear to you?
AgGe:
oh, there are alot of them!
Some from the SC vanilla days. Like when we beat GG- (old school clan) in a vanilla clanwar 9 x 1on1s 3 x 2on2s, or when iRk-Sharp beat Clawson[pG] 3-2 in Grand finals of the vanilla league UGT. Coming second in our first BWCL season in SC:Rem. beating [WHITE] in our first STPL game (I've known WHITE clan my whole life ever since I use to hangaround their channel and op hyo- on US West) and the rise of iRk-OyAji. Our first BWCL first place trophy vs KDV, and our first place trophy in STPL season 5 with (me in the lineup vs SCTV). and finally my last BWCL season as clanleader when we beat the emerging new powerhousee Cwt in the grand finals. If i'm to go through all the games that has been impressive and that I will never forget it would take all year, but to name a handful: iRk-arCNeoN vs SouL)T(Ultra and iRk-OyAji vs Stay[WHITE], iRk-JerryK97 vs NW.Bonyth in STPL s1, iRk-Dewalt vs vT.Bishop and vT.Yangachi in STPL s3 QF. Looking back at our results and placements it fills my heart with infinite pride and joy. iRk should definitely be considered as one of the most decorated foreign BW team since SC:rem came out, with 5-9-0 (first place-second place-third to sixth place) in BWCL, most first place trophys and the only clan to have been in every final. I think SouL ended on 4-2-0.
iRk-iMbA defeating Stay[WHITE] in Match 4 of their CW, leading to iRk- winning 3-1.
Quite a lot to look back on! What will you spend your days doing henceforth?
AgGe:
Well, Diablo 4 is being released in June, and until then I'll just chill with some 3on3BGH, Diablo Immortal or Hearthstone. Just enjoy playing without any responsibilities. Looking forward to the next SC LAN in Stockholm in mid may tho. Gonna be fun even though we wont be as many as in the previous gatherings. But its always nice to gather up and play for a weekend together 🙂
Sounds quite nice! We're nearing the end of the interview. Are there any subjects we haven't discussed that you'd like to address? If not, any final shoutouts?
AgGe:
I think we covered most of the subjects, right? I'd like to make a shoutout to all my fellow iRks, from the ones back in 1999 to the ones that is fighting under the iRk flag now! I love you all like brothers and sisters, you have made me so proud during all the years. Hope you all stay active and support the new leaders and captains. Special shoutout to Supperman, keep up the great work with iRk, and I'm always just a discord pm away if I'm needed! ❤️ Also I'd like to make a shoutout to all the active clanleaders out there, you are all very important to the community so make sure to make your mark on SC and stay involved! And to all the awesome organizers like ZZZero, LML, Baal and the BWCL staff, y2kid, Dada, Airn, Qikz, Deathfate, tQ, Rusbrain, casters like Nyoken, ViR, Olipatrick, lovesnow, not_lemon, and so many others, and like everyone else putting their spare time and investing so much into the SC community, you are all priceless, invaluable. I hope you all can keep up the motivation and also start nurtering more admins/casters/organizers so we can keep this great game alive for many more years to come! ❤️
&nbsp
&nbsp
---
&nbsp
Interviewer:Incomplete[ReV]
Graphics: v1