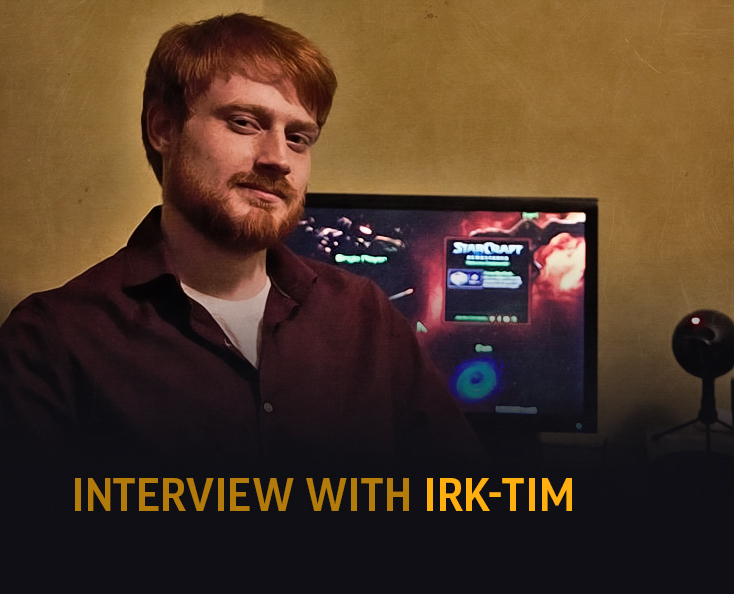 Meet Tim, the new kid in town. His plucky Protoss exploits in the foreign Brood War scene as the first up-and-comer in years has drawn some attention. With his unassuming smile and down-to-earth nature, his sunny disposition brightens up the future prospects of new players entering the foreign BW scene. Read the TL exclusive interview now on what it's like getting into BW in this day and age and more about the humble peculiarities of Tim.
---
Hey Tim, can you give us a brief introduction?
Hello everyone! A brief introduction: My name is Tim. I'm from the US (East coast) and I'm 22 years old. I was first introduced to StarCraft around 2002, but being only 6 years old or so at the time, my only interaction with it was vs AI and the campaign—both with cheats, of course. I did not even know online multiplayer existed at this point, and it wasn't until SC2 was released that I learned that there was a professional scene for these games.

I played a fair amount of SC2 at a pretty casual level from 2010-2015, and toward the end of that period, I began to watch the professional tournaments and also learned about Day9. I watched hundreds of Day9s SC2 videos over 2014-2015, and that really got me interested in the competitive aspect of the game. However, once Legacy of the Void released, I started to lose interest in SC2 for reasons unknown. The game just did not appeal to me anymore.

Later on at the start of 2017, I decided to go back and watch Day9's Brood War content since I had never really bothered with it before, and I just really enjoyed watching his Day9 Daily series. This actually motivated me to start playing on ICCUP briefly, and then, quite conveniently, SC:R's release announcement came in March of that year right after I had gotten into playing the game competitively. For the record, I was hovering solidly in D for the 40 or so games I had on ICCUP before the announcement. Ever since then, I've been very enthusiastic about playing SC:BW and my own improvement.
Thank you for taking the time to do this interview with TL.net. What do you currently do and what are your goals for the future?
I recently graduated college and am currently looking for a job as a software developer. Goals for the future...I have a stable career that allows me time to pursue my hobbies and do some traveling.
Do you play any other inferior games?
Haha yes, on occasion. I enjoy Civilization V, XCOM, and the Dark Souls series, to name a few.
Why Protoss?
I think they have the most interesting of all the races, and they have fun units. I also like the aesthetic of Protoss. They're just all around neat.
Favorite and most hated matchup to play? To watch?
I think PvZ is my favorite matchup to play and watch because it's so dynamic. It's not necessarily my best matchup because the multitasking required for high level PvZ is so difficult, but it's very enjoyable nonetheless. Most hated...I hate playing TvT past about 6 minutes into the game. That's about as far as I've been willing to figure out in that matchup. As far as watching goes, I really can't say there's any matchup I dislike watching, at least at the pro level. Although if I had to choose, I would say, again, TvT. I think excellent micro is the most fun thing to watch at pro level, and TvT often focuses much more on the grand scale of large army movements and macro than it does on cool micro tricks.
Who is your current favorite player, and who's your favorite player from the KeSPA era?
My current favorite player to watch is Snow, without question. The things that he manages to pull off with his unit control are honestly astounding sometimes, and he leverages his micro ability to allow for some interesting builds that you don't see out of other Protoss players. Snow vs Soulkey on Whiteout this past ASL comes to mind.

I never watched any events live from the KeSPA era, but my favorite player from that era is Bisu. Watching Bisu play PvZ in particular was one of the things that inspired me to stick with Protoss while I was struggling hard vs Zerg in my early days.
Favorite match of all time?
My favorite match of all time actually doesn't even involve Protoss. FlaSh vs Effort ASL6 finals was easily the most exhilarating series I've ever watched, and I stayed up to watch it live as well to add to the excitement. The absolute genius strategies and tactics that Effort prepared for that series were crazy! My favorite game from the series was Game 4: Effort's 2 base Hive timing on Neo Sylphid. That was unexpected and very well executed.
You're touted as being one of the fastest risers in terms of StarCraft talent in the community with incredible work ethic. Where do you get this motivation from and do you have this attitude with other things in life?
Well, to be honest, I have at least twice as much motivation for improving at StarCraft than I do for anything else at the moment. I'm motivated mostly by my desire to learn and solve problems, and also my enjoyment of competition. I do generally tend to excel at whatever I am passionate about—or maybe I am just passionate about things I happen to be good at?—and I think that has a lot to do with my love for learning and my curious nature.
Who helped you the most to improve and get to where you are today? Any current coaches that you have or do you mostly just bounce ideas off of other players and get their opinion?
There are dozens of people that have helped me tremendously to get to where I'm at today, I couldn't even list them all, but if I had to pick one player that helped me the most, it would have to be SuGo, who was one of my CPL3 coaches. Currently, I wouldn't consider anyone to be my coach, as I feel I have the skills and tools at my disposal to improve my play steadily mostly on my own for now. Of course, I don't claim to have all the answers, and I still discuss ideas with other players regularly as well.
You're an inspiration to a lot of the lower level players considering your swift rise in the ranks. Did you expect to have the impact you have now when you first started to play competitively?
No, not at all. I kept mostly to myself for the first year or so that I played, and was not really very active in any of the Discord servers or on the TL.net forums. When I found out that I was being mentioned in conversations in the Foreign Brood War server, I was quite surprised at first. At the time, I was pretty satisfied with my own rate of improvement, but I had no idea that other people were taking note of me. That was really quite flattering to discover, and it gave me some extra motivation to prove myself.
Do you plan on attempting to qualify for BSL next season?
Of course! After losing narrowly in the Ro8 for choboleague last season, I'd like to come back and hopefully win it next season, or perhaps even qualify for gosuleague.
What are you short and long-term goals in the competitive StarCraft scene?
For the short term, my goal is to reach S rank on ladder. I've come quite close to this goal during this ladder season already (30 points away!), so I am pretty confident I can get there soon. A concrete longer-term goal of mine would be to qualify for BSL proleague. This may take me another year or so at my current rate of progress, but I am confident that I can eventually get there.
You have a very cheeky PvT build where you go double proxy robo and make nonstop shuttle/reaver. Where did the inspiration from the build come from, and will we ever see pros copy it for tournaments?
Haha I figured you might ask about this. I came up with this build idea after playing many games using the 21 nex opener that is my go-to in PvT and noticing that when Terran players scout a 21 nex or similar macro oriented opener, they often times will build very few, if any, turrets around their bases. So I came up with proxying 2 robo's as a potential way to exploit this. One proxied robo that late in the opening stages of the game just isn't that threatening, so I decided to try getting 2 so that I can come in immediately with 2 reavers, and 2 more reavers every production cycle. So far I've found it to be hugely effective at completely destabilizing people, and it's quite unexpected for me to do this out of 21 nex, which is what makes it so potent.

However, my testing for this idea has not been very extensive yet. I'm eager to try it out against some higher caliber players and see how they react to it. Will we ever see it in professional play? I doubt it, but who knows? Can I make a video guide on it? Sure.
What would be your message to all the new players who are looking to improve? Any inspirational words?
Be active in the community! Find people around your level to train with, find some people above your level too that can give you advice and help you when you get lost or confused. Sign up for events like CPL as well! Most importantly though, if you want to improve quickly, having a positive attitude and setting attainable goals for yourself is super helpful. In my experience from coaching people these past few months, the ones that improve the most are NOT always the talented ones. It's mostly the ones that have a good mindset and determination to better themselves that really see great improvement.
What are some obstacles for a new player getting into Brood War from your experience?
I think one of the big things that make people reconsider after trying out the game for the first time is the unavoidable feeling that EVERYONE else is miles better than you, and the crushing reality is that if you are brand new to the game then that is probably not far from the truth. A game that has been around for so long and that has such a high skill ceiling and dedicated player base makes it a challenging arena to enter if you don't have a good mindset coming into it. You will have to start from the bottom and climb your way up.
Occasionally you'll see players say they're committed to learning the game shortly before quitting. What do you think made the difference for you to continue playing compared to those starry-eyed beginners?
Yeah, I've seen that happen as well. I think what helped me most was positive outlook and placing an emphasis on learning over winning. If you see every one of your losses as a strike against your self-worth, you will burn out VERY quickly. I have to thank Day9 for consistently reminding me in his tutorial videos that mentality is important, and this applies to anything you choose to pursue in life.
What do you think it will take to get newer players interested in Brood War?
I think a huge source of potential new players could come from StarCraft 2. For some reason, the communities for BW and SC2 are quite isolated from each other, and I think that hurts both games. Obviously, there are several differences that make playing either game a very distinct experience from the other, but both games attract similar types of people! They're both very well fleshed out, competitive, 1v1 oriented RTS games that dominate the genre together, just with different focus points. Any time I see people in Twitch chat for a large tournament like KSL and they say something elitist about why BW is superior to SC2 or vice versa, it makes me sad. We should be embracing and welcoming people that enjoy similar games to ours to encourage them to come see what BW is all about, instead of dismissing them as having made an "inferior" choice.
Thoughts on the general community/vibe as a new player?
When I first started 2 years ago, the impression I got was that people were generally indifferent to newcomers. This didn't bother me personally, as I enjoyed learning on my own and wasn't SO new to the game that I needed guidance just to understand what was happening. Right now however, I think there are tons of opportunities, way more than when I started, for new players to get involved in events catered towards them, and there are several communities that openly welcome new players and offer them a place to find others around their skill level and to compete and learn together.
Is there potential to grow the scene further? What more do you think can Blizzard/the community do in this regard?
Of course there is. Obviously, we aren't going to see some massive surge of a million plus new people, but I have personally noticed a steady stream of newcomers, and if we can just make sure they are welcome and appreciated, I think over time the community will grow pretty steadily.

As for Blizzard's role in this, I already think that they are doing some good things towards this end. For example, running KSL and sponsoring BSL these past two seasons is a great contribution from them. Personally, I wish that Blizzard would dedicate slightly more resources to the development team. As wonderful as the current team is (huge appreciation for how they are handling community feedback!), rolling out updates takes a very long time because of how small the team is, and taking a long time to fix some of the minor technical bugs in the game and the servers can be a big turnoff to players, new and old alike.
Bigfan wanted me to ask you this: who is your favorite BW staffer?
Hmmmm, hard to pick one since they all do great work for the community on this site. I'll have to go with Ty2. I enjoyed reading his articles about the players and matchups for last season of BSL, and I respect him a lot as a player as well.
Do you have any plans to start streaming on Twitch in the future, and if so, can we give you a plug for it so people can preemptively follow you?
I do actually already stream sometimes, although quite rarely. Recently I've been getting into casting more community events and such, and I might start streaming gameplay more often too, but no real solid plans for that at the moment. If you'd like to follow me, here's a
link to my stream
.
Any last words you want to give to your fans, friends, and the community?
There are several people I want to thank that have helped me get to where I'm at today that I didn't already mention. First, shoutout to all of my teammates and friends in my clan, iRk, and in my CPL season 3 team as well. Another shoutout to Jaeyun; a few months ago he sat down and grinded out what must have been over 50 games with me over the course of a couple weeks—which was amazing high level practice—and he also offered me lots of valuable advice. But I think most importantly, I want to thank all of the people who continue to organize tournaments and community events! You have made this a thoroughly enjoyable experience for me. Also, of course, thank you to the TL.net staff for interviewing me!
---
Interview:
FlashFTW
Graphics:
v1
Editor/Formatting:
EsportsJohn