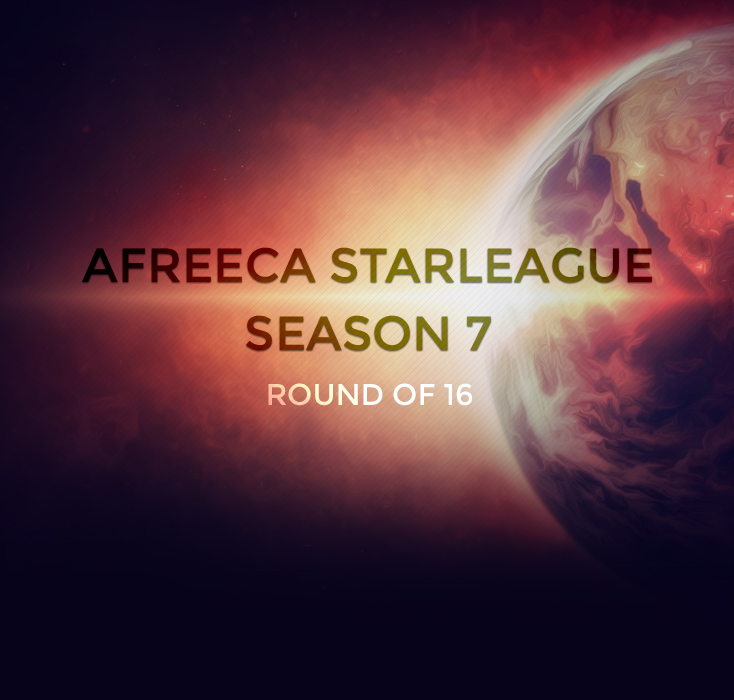 We hope everyone had a good Lunar New Year, but we're back with even more Brood War action in the ASL! If you missed the last two groups of the Ro24,
Frudgey
has got you covered again with more highlights!
This week sports both the best and worst groups of the Ro16. Group B is no doubt the group of death in this tournament whereas Group A champions two excellent players and two mediocre players. However, as much as we like to make predictions and stand by them, let's remember that this tournament hasn't quite gone the way we expected thus far.
Maps like Whiteout and Block Chain have severely thrown results one way or another due to specialized strategies and racial imbalances. That said, Block Chain as the decider match in the Ro16 is especially difficult for many players who would have rather just sit that map out. Expect some surprises, some upsets, and maybe a few unexpected champions. If the ASL Season 7 has shown us anything so far, it's that anything can happen!
Group A is set to start in !
Table of Contents

Two Good, Two Bad
Group A has a decisive split in the middle: effort and Horang2, our tournament powerhouses, and GuemChi and PianO, returning to the offline stage for the first time in years. To make matters worse, the starting map Whiteout erases what glimmers of hope remain for our two underdogs.
EffOrt vs
GuemChi on Whiteout
GuemChi's chances of entering the Ro8 is a long way off. First up is last season's finalist, effort. He is the only Zerg to beat Flash in a Bo5 in the last 7 years not only once, but twice. Ready to defend his title, effort is bound to hit the ground running on the most Zerg favored map, Whiteout. Clocking in at an astounding 59% win rate for Zergs in ZvP, Effort couldn't ask for a better map to start off his ASL run. Considering this is also GuemChi's worst matchup, he'll need more than a miracle to save himself.
Noting effort's penchant for mechanically intensive tactical play, Whiteout is a gold mine. The vision-blocked forests are Zerg territory designed to be littered with lurkers, spotting overlords, and clouds of scourge to snipe observers. They also act as cover for potential ambushes, backstabs, and overlord drops. Needless to say, effort will have a field day putting out whatever in his arsenal that he pleases.
GuemChi's rusted form hurts his chances. His mediocre corsair control and DT harass is too unrefined to pierce effort's solid game sense and composure. Fortunately for GuemChi, the major caveat to effort's performance is his competitive personality, or lack thereof. He's been known to avoid practicing and play team and UMS games. Needless to say, this is not finals form effort. Whether he's motivated to put in much effort or replicate his finals run of the previous season is also subject to his whims. At any rate, effort is likely to win...but don't count GuemChi out.
Horang2 vs
PianO on Whiteout
If people thought Whiteout was imbalanced for Protoss, Terran has to hang on for dear life. In a parallel story to effort vs GuemChi, returning ex-pro PianO must overcome the map's staggeringly low 40% TvP win rate and fierce opponent, Horang2.
Fierce isn't exactly the first word that comes to mind, but offline Horang2 has shown a different track record. While he's a lower tier ex-pro, he understands his strengths and standing to his opponent. He prepares impressively despite bland mechanics and pulls through wins with sound strategy and decision making. That's how he almost defeated Last 2-3 in the KSL and dashed past Rush and Nada in the Ro24.
For PianO, just like GuemChi, he's playing in his worst matchup on the worst map possible. That said, PianO has been on a competitive streak in the past month. Coming out of a peaceful retirement of team games, Piano has been playing sponsored games again. His efforts thus far have placed him at #10. However, most of those wins are from Zergs and amateur Protosses. How he'll fare against a mid-tier toss like Horang2 is less clear. Still, he is very much motivated and prepared to win.
For this match, I expect some ambitious dropship or hyper-aggressive token play by PianO. While a premature adaptation to Whiteout, that may be PianO's only option, lest he take a stroll through the forests of perpetual scans. Still, PianO's underdog momentum from the Ro24 will likely stop short at Horang2.
Winners Match:
Horang2 vs
EffOrt on Neo Sylphid
PvZ is known the matchup kryptonite for many Protosses, but Horang2 actually takes special exception for being absolutely god awful at it. Even his usual preparation won't save him from the deep abyss of ZvP. effort will take the win, supported by the plentiful and sprawling bases of Neo Sylphid. Expect another flash-in-the-pan 2-base heavy play as seen vs Larva that quickly transitions into a loss.
Losers Match:
GuemChi vs
PianO on Neo Sylphid
In an underdog vs underdog match, GuemChi vs PianO will be our most desperately fought and tense match of Group A. I suspect either player will start off the game with a bang. A play in line with fast DT, reaver, center gate, or (less likely) PianO going 2-factory. GuemChi's signature bulldog style could also be showcased here.
Either way, I give GuemChi the slight upper hand. PianO showed a blaring weakness in his game vs Action after nearly throwing the game away to stop lurkers, and against an even-keel player like GuemChi, that won't cut it. PianO's luck, charm, and spirit will be running out in his second step in the Ro16.
Final Match:
GuemChi vs
Horang2 on Block Chain
In the final match, GuemChi is up against the Tigertoss himself. In Horang2's progaming days, he played PvP in nearly half of all of his games as a PvP sniper in Proleague. GuemChi's lack of understanding, game sense, and composure make him easy prey. The map Block Chain will make Horang2's solid early game, positioning, and reaver harass all the more threatening. By the end of the match, expect GuemChi's sprint to the Ro8 to be cut short by a veritable mauling from Horang2.
Predictions:
effort > GuemChi // Whiteout
Horang2 > PianO // Whiteout
effort > Horang2 // Neo Sylphid
GuemChi > PianO // Neo Sylphid
Horang2 > GuemChi // Block Chain
EffOrt and
Horang2 advance to the Ro8!

Redemption, Glory, Comeback, and the Underdog
Group B is a whirling storm of three of the league's most dangerous players: Soulkey, Last, and Snow. In its midst, tumbleweed Calm, must tumble out of harm's way and into second place.
This specific group is fascinating for its many high-level players as well as the rich, storied legacies behind them. The roads the players pave threaten to come to a crossroads, which altogether paint a much more significant picture behind the upcoming matches.
The story behind our most troubled competitor as of late, Last, comes first. He was a commonplace trailblazer in the online sponsored game rankings—a champion online, but an early exit offline. That is, until he finally got his first big break beating Jaedong 4-0 to claim the KSL1 finals. Afterwards, he continued his hard-fought efforts of tirelessly practicing day and night, and more recently, enduring the relentless criticism of Korean netizens and irate Jaedong fans.
One heartbreaking fall after another followed. First, he lost to Rain in the WCS BlizzCon Showmatch, then came behind effort in the ASL, before finally losing to Soulkey 0-4 in the KSL2 semifinals. In the end, Last's hopes crashing down. His hardworking lifestyle, sacrificing the comfort of constant streaming and sponsored games, ultimately bore few fruits. Later he revealed his all-too-commonplace wrist issues.
Since his days of hardship, Last has been streaming regularly again, but is the flame of competition still burning as fiercely? He'll have to answer to Soulkey, who is in many ways his successor and mirror image. Like him, Soulkey is a StarCraft talent, who after many years of mediocrity, finally gained success by winning KSL2.
Will history repeat itself again, or will Soulkey reverse the tides of fate? In doing so, he may have to put the last nail into Last's coffin. ASL7 will be a defining moment for Soulkey to not fall to the champion's curse, and be written off as a one-champion story. Meanwhile, across the aisle is someone who was incredibly close to winning his own gold.
ASL5 runner-up Snow makes his return to the offline stage. He was absent from the previous ASL and both KSLs to everyone's surprise. After defeating Flash, albeit on an imbalanced map pool, no one could have expected the sudden fade to black. For Snow, this will be his return to form or his final yelp to ever make it past the Ro16. Regardless, whether he is a top-tier competitor is tested by the strongest the ASL has to offer.
Last but not least, who could forget Calm. Poked at by his peers, it's obvious he's not nearly as good as he was before. What he had to say in the Ro24 differed. While losing to favorite Rain, he beat Where in his forte matchup ZvZ twice. However, he can't rely on his ZvZ to carry him through this group. We will definitely see him tested to his limits this time around.
Last vs
Calm on Whiteout
Calm must not only defeat the best Terran player in the league, but also overcome the first ASL map in years to nearly eclipse Fighting Spirit's abysmal 36% ZvT win rate. On top of that, Calm is also the worst ZvT player in the Ro16 with a 30.5% ZvT win rate the past two months. How will Calm turn the tables when all odds are stacked against him?
On the surface this is another clean wash-out by a far superior Terran. However, Last isn't in shape, and Calm displayed great composure and crisis control in his Ro24 matches. That said, I expect a specialized strategy. There are plenty of moves that have pushed aside map imbalance and changed the focus to the early game. A play along the lines of Modesty's 2-hatch lurker or Shine's hydra-guardian strategy are examples.
As for how stable both players are, I'd reason both are capable of large blunders—Last moreso. It's been so long since I've seen a capable Last that I feel he will continue his losing streak to even a lower-tier player like Calm. I can also easily see Calm making his own big mistakes. Strangely, against better players, especially when he does a more unique play, Calm appears to keep his cool well enough, and at least better than Last at his worst. I give the overall slight edge to Calm for the win.
Soulkey vs
Snow on Whiteout
Today's performance will mark whether Snow fades into the background again or meets the expectations raised of him when he beat Flash in ASL5. As fate would have it, Snow will have to repeat the same feat of having to defeat the arguably best player in the tournament.
I doubt Snow will pull the same trick from his sleeve that he pulled against Action. We'll likely see a play more in line with his usual, steady macro-oriented play or perhaps a twist on the reaver-drop play. I'd bargain that we'll see a 2-stargate play as the perfect stylized play for this match. On some other level, Soulkey might anticipate the reaver play and opt for some air carapace opener that gets its head flipped on by corsairs.
Most likely though we're going to see your common run-of-the-mill macro game. Snow's late game play doesn't encourage a fierce, fast paced brand of play. And as per usual, the many sprawled out bases will support Soulkey into overwhelming Snow in the late game. Unless a Soulkey-esque blunder of losing all of his drones to a DT is made, Soulkey will be your victor.
Winners Match:
Calm vs
Soulkey on Neo Sylphid
Calm has never particularly impressed as either a strong micro-player, or even mind-game player. While consistent, the notes he does hit are always below-average, and I expect no different on Neo Sylphid where Soulkey will enter the Ro8.
Losers Match:
Snow vs
Last on Neo Sylphid
In the few tourneys Last competed in, he's shown a penchant for sharp timing attacks. Perhaps we'll see yet another to attack Snow during a vulnerable phase where he waits for reavers. We've seen an attack done by Flash time and time again just when reavers are out and dragoons are few that has crippled Snow before.
In any case, moves that undercut Snow's usual reaver wizardry and playmaking moves will be key to toppling the Protoss. If Snow is allowed to go on the attack, I foresee Last booking a quick exit from ASL7. I don't think this will be Last's exit to make though, and I see Snow's mediocre macro to bear little weight to Last's resilience and solid production of his own in the longer game. Last, just barely, will take the win.
Final Match:
Last vs
Calm on Block Chain
Despite the appearances on TV, Block Chain is actually Terran favored according to online rankings with a 57.4% win rate. Calm's less-than-stellar mutalisk control and mediocre dropship defense are large targets for Last to shoot for. The tipping point will be all about Calm managing to stabilize in the mid game and simultaneously denying Last's bases. In any case, I expect Last to take the clean victory from Calm to meet Soulkey in the Ro8.
Predictions:
Calm > Last // Whiteout
Soulkey > Snow // Whiteout
Soulkey > Calm // Neo Sylphid
Last > Snow // Neo Sylphid
Last > Calm // Block Chain
Last and
Soulkey advance to the Ro8!
---