BW is a beloved game that has stood the test of time. With each year, the players improved their skills greatly, and strategies evolved owing to the sheer depth of the game. Notable players who made a mark on the scene such as Boxer, Nada and Reach were recognized for their talent and hard work. As the years rolled on, TBLS emerged, and the fans were treated to LeeSang battles thanks to Flash and Jaedong, with game quality reaching its foreseeable peak. It was the good times until the matchfixing scandal reared its ugly head, with the professional scene ending in 2012. While some players left for the military or transitioned to the sequel, others stuck around to help rebuild the BW scene. Slowly, but surely, the scene rose from the ashes, much like a phoenix. Reborn and re-energized, the meta evolved further as more players returned.

The environment may have changed with the revival, but there was one factor that remained mostly unchanged for the last 17 years. That was balance, and foremost, its perception. Throughout the history of BW, the topic of balance came up many times whenever a certain race was dominating. Seeing as BW's balance rests on a needle tip, this was quite understandable. Even more so, when most players are bias towards the race they play, and will join the chorus when their favourite player loses to a race that they deem imbalanced. As it stands, one topic that has always dominated balance talks and spawned many vocal critics over the years is that of Tesagi. The idea that Terran is imbalanced at the top levels. These discussions were always had whenever a Terran player had lots of success, be it during the early days during Boxer's time or later when Flash was dominating in both the KeSPA and post-KeSPA era.

Is there some truth to these claims? Does Tesagi really exist? If not, is it possible that these claims only surfaced due to the performance of Flash? This article, which is part editorial and part factual, aims to explore the topic of Tesagi and its prevalence in the post-KeSPA era while giving a nod to the racial differences that exist in BW.
&nbsp
&nbsp
&nbsp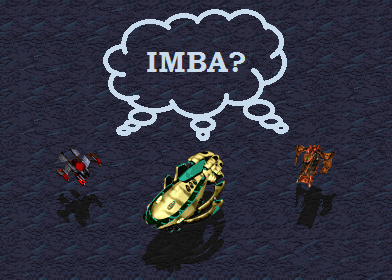 Coming off the heels of Warcraft II which was lambasted by critics for its mostly symmetric design, Starcraft was designed to be a totally asymmetric RTS experience featuring three races that shared only key concepts in common. The expansion, Brood War, ended up adding several units for each race as well as making important modifications to the game. The development team ended up releasing patch 1.08, the last balance patch back in 2001, where each race had several important changes made to some of their core units.
Suffice to say, such a design by definition throws the topic of perfect balance out the window. How can perfect balance be achieved when all three races are that unique in structure? To illustrate this, let's take a look at the starting unit, the worker. A Terran SCV is bulkier than its counterparts, and is able to repair yet it's a melee unit and gets occupied building a structure. This means that a Terran player will temporary lose a mining worker when building a structure, and this worker is totally exposed to tickles from pesky probes or drones. Essentially, this almost guarantees that a Terran player will pull a second SCV to defend the building SCV.
However, their bulkiness adds another factor if a player was trying a cheesy strategy or just using them to block for their marines during defensive maneuvers. Likewise, probes and drones are unique in the fact that they can both regenerate a part or all of their hp in due time, have a short range and on top of that are either consumed in the process of making a building or can place one down and return to mining immediately. If you consider the above carefully, and keep in mind that these are the basic units that are vital to the game's flow, you'd realize that this simple look already reveals a huge difference in the way that each race functions. Did I mention that there are some minor mining differences between the workers as well? I'm sure some of our cool mapmakers can point those out.
SCVs are, but one of the many complaints that surface whenever Tesagi is brought up. But why not dig even deeper? How about the fact that aside from SCVs and firebats, all Terran units have range? What about tanks that have the highest range in the game, or vultures placing mini-nukes around the map? What about Science Vessels that are able to irradiate freely from the air? Even wraiths can seem overpowered in the hands of a skilled 2 port master such as Leta. How about Zerg and their lurkers where 2 of them can defend a ramp extremely well? What about stacked mutalisks that can decimate a turret line with several precise clicks or defilers which are the bane of many SK Terran players due to dark swarm and plague, two spells that are disastrous to bio players? Did I mention cracklings and their insane dps at taking down structures?
What about Protoss, and their reavers which when controlled well, have taken down even Flash? What about storm, which despite having the ability to damage friendly units, is extremely potent? Anyone forgot about dark templars, and how they've won games for pros over and over again? What about arbiters and the ability to recall into bases or on top of armies? Carriers in large numbers become almost an autowin if they are handled properly by the Protoss player, and even more so, depending on the map used. The point is pretty simple, and something that's been repeated before by some players. That each race is different, and each race has its own overpowered units. Units that only through human interaction, aka fantastic control, can excel beyond their intended design, helping to bring the game to another level.
One of my favourite BW quotes is that BW is a game where you throw a bunch of OP units at each other over and over. It's because in a nutshell, this is what the game is, and while it's true that it's difficult to determine just how well balanced the game is overall, the current group of competitive players that are playing the game day in and out have learned to rise above the challenge provided. Humans are not perfect, and we'll never see a perfect BW game, but that's also precisely why the game is considered to be as balanced as possible, and why the more skilled player will always come out as the winner in an encounter.
In order to get a good sense of how balance is faring, we'll take a look at two different things: starleague standings, and winrates, in Korean tournaments. For starleague standings, we'll find out which race came out on top and grabbed first place in this era, looking individually at the Sonic and Afreeca era for starters. Inclusion criteria is offline tournaments with a minimum of 8 competitors and a prizepool of 7,000,000 won. For the winrates, we'll focus on offline and online tournaments from 2012 to 2018, starting with SSL7 and include all special events and showmatches.
For the purpose of this analysis, 50% is the ideal winrate. However, in this era, many factors such as a player's motivation, condition, lifestyle, and others can affect the winrate drastically considering the lack of team houses, necessities of streaming etc... Therefore, a balanced matchup will have a winrate of 50±5% in order to account for these factors. Let's dive in!
Starleague Standings
The scene was extremely blessed with a lot of tournaments in the post-KeSPA era which was composed of both the Sonic and Afreeca era. In the Sonic era, notable offline tournaments included the SonicTV BJ Starleague (SSL) Season 7, 8, 9, 10 and 11, GomTV Classic, Kongdoo Starleague, and VANT36.5 National Starleague. In the Afreeca era, we were treated to 6 iterations of ASL, SSL Classic, WEGL as well as Blizzard's KSL 1 and 2. That's a total of 18 different tournaments spread over ~6 years.
So, which race stood on top during each era and overall?
Sonic Era:
Zerg was the most prosperous race during this era with 3 separate Zergs taking 4 first place finishes. This includes Killer's back to back SSL championships, hero's SSL11 3-0 win over Bisu, and EffOrt's VANT 3-1 win over Bisu. Terrans had most of their success during the end of 2014/beginning of 2015 when both SSL10 and the Kongdoo SL ran simultaneously. SSL10 had Terrans in the top 4 with sSak taking the win over Last while Mind surprised many as he won Kongdoo SL beating Kwanro 4-1. Let's not forget GOM Classic where Hiya took first place over Sea. Finally, Protoss only had a single champion with Bisu winning SSL9 over hero in a close 3-2 series, and securing 2 second place finishes in SSL11 and VANT to effectively carry the race.
Afreeca Era:
The Zerg and Terran race were tied for first place with each race claiming 4 championships while the Protoss race trailed behind winning only 2 of them. However, there was a bit less diversity, and more repeat champions in comparison to the Sonic era. For Terran, Flash carried the banner in 2017 winning 3 back to back ASLs by beating Sea, Shine and hero, 3-1, 3-0, and 3-1 respectively. Last finally won his first championship in 2018 beating Jaedong 4-0 in KSL. For Zerg, EffOrt won SSL Classic over free, and recently beat Flash and his 1-1-1, 3-2 in ASL6 while Soulkey won WEGL crushing Last, Flash and Larva then recently claimed KSL2 over Sharp with a 4-1 score. For Protoss, Shuttle took their first ASL championship beating Sharp in the finals while Rain won ASL5 over Snow. Of interest is the lack of diversity in unique Terran players that ended up on the podium with Flash, Last, Sharp and Sea being the only ones.
Overall:
If we consider both eras, the Zerg race is slightly ahead, however, one can call it close to a draw between the Terran and Zerg race while the Protoss race ended up dead last with a total of 3 championships compared to the 7 and 8 of Terran and Zerg respectively. A list of the champions from each race is shown below:
Zerg:

EffOrt (x3)

Killer (x2)

Soulkey (x2)

hero
Terran:

Flash (x3)

Last

Hiya

sSak

Mind
Protoss:

Bisu

Rain

Shuttle
Offline Winrates
Tournaments are extremely important for a healthy scene, especially offline ones where the players are able to meet their fans and see their support firsthand. This can be a strong motivator for some, allowing them to practice hard and in turn, they can showcase their true skills. A lot of smaller offline events and showmatches were included in this analysis to provide a more complete picture on how each race was performing. The graph below shows the winrates from 2012 to 2018: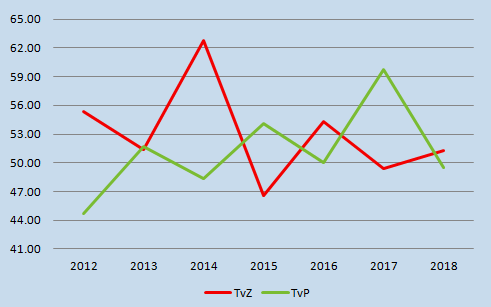 Looking at the winrates overall, there were quite a bit of fluctuations over the years. The TvZ winrate reached its highest peak in 2014 while the highest peak for TvP occurred in 2017. Aside from 2015 and 2017 where the TvP winrate eclipsed the TvZ winrate by quite a bit, the TvZ winrate was almost always higher whether by several percentile or more. This may be due to the nature of the matchup, and the fact that more Terrans seem to enjoy some success there in comparison to TvP, where even players like Last have went on record saying that the matchup is quite difficult.
"Traditionally, Protoss is strong against Terran so even I have difficulty in the matchup."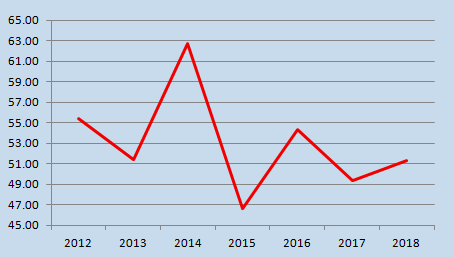 For TvZ, the average winrate over the years came out to ~53%. The highest peak was ~63% in 2014 while the lowest trough was ~47% in 2015. The winrate was mostly below 55%, starting from 2012 and going all the way to 2018. The peak and trough were interesting to see, and even more so considering that it seemed to suggest that the Terran race had a nice high before hitting rock bottom the next year.
The peak in 2014 can be explained by Terrans performing outstandingly in special events such as the GomTV WeMakePrice Classic Season 4, and the HungryApp Esports League Special Matches. For instance, Sea and Hiya decimated the competition in GomTV Classic while Terrans took first place in 4 out of 5 matches in the HungryApp Esports League, besting a lot of Zergs on the way. I decided to investigate further, and took a more detailed look at the map pools used in both tournaments. The map pool was Terran-favoured overall with maps such as Fighting Spirit, Python, and Grand Line SE, making an appearance. Add on the fact that the Terran players who participated were performing at their peak at this time, and the increase doesn't seem all that unreasonable. If those two events are removed, the winrate drops by ~11.5% to ~51.5% which is a decent winrate.
The trough in 2015 was much more surprising to see considering that the Terran race had some of their best moments in 2015 when they won both SSL10 and the Kongdoo Starleague. SSL10 had Terrans take the top 4 spots with sSak emerging victorious, while Mind beat Kwanro in the Kongdoo SL finals. A close look at the winrate for the various events during that year reveals that while Terrans did well in SSL10, Kongdoo SL and the beginning of VANT, they performed terribly in SSL11 with a winrate of ~33% (7-14 record) which brought down their overall 2015 winrate.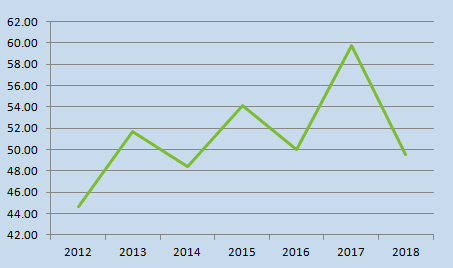 For TvP, the average winrate over the years came out to ~51%. The highest peak was ~60% in 2017 while the lowest point was ~45% in 2012. The winrate was usually below 54% aside from the previously noted exception. It looked like the Terran race was doing better as the years went by, ending up with a yoyo effect whereby they'll do great one year then worst the next though the winrate would still be higher than the previous trough etc... This trend was broken with 2018 being worse than 2016. The peak at 2017 was a bit odd considering that it seemed that the Terran race was struggling against Protoss during this period of time. Of course, the decrease by ~10% in the following year was just as mystifying as well.
2012 was a bit rough to explain, since the map pools used were fairly well balanced or lacked a large enough sample size to indicate imbalance, however some Protoss players such as Sky and Perfectman stacked up a lot of wins vs Terran players during SSL7 which skewed results in the Protoss' favour. As for 2017, it was a combination of several things. Most notably Terran players performing well in ASL2 (anyone forgot Bisu's meltdown vs Sea?), and the fact that Terran players swept the majority of special events during this period going 11-2 with Flash's help. For 2018, despite doing really well in ASL6 and average in KSL2, Terran players went 14-25 in ASL5 and KSL1 which ended up lowering their winrate overall. It also didn't help that the map pool in ASL5 favoured Protoss as well as the fact that several Protoss players were hitting their stride during these tournaments.
Final Verdict:
There was nothing spectacular about either the TvZ or TvP winrate in the post-KeSPA era when all offline tournaments and events were considered. Aside from the peaks that were explained earlier, the yearly and average winrates for both matchups were within several percentile of 50% for the majority of time. Going off the earlier definition, these results are a mark of truly good balance!
Online Winrates
While some players can perform better offline, some players are unable to show their true skills due to the intense pressure that they feel performing infront of an audience. This was routinely discussed during the KeSPA era when team houses existed, and other players spoke highly of a player on their team despite that player never making a mark in any tournaments offline. While playing online might not completely remove the pressure, you are at least in a familiar environment, thus logically, you should be able to play at your best.
The data used for this analysis was taken from TLPD, LP, and manually collected from many video channels and websites in order to provide the most complete set of data possible within current limitations. Almost 200 events were considered and 3700+ games were included. The graph below shows the winrates from 2012 to 2018:
A spider with a broken leg? That was my first impression despite the lack of more legs. A look at the graph shows an interesting trend in TvZ that will be expanded on shortly. As usual, the TvZ winrate was almost always higher than TvP, except for 2015. On the other hand, the TvP winrate was more stable, fluctuating ever so slightly early on with the Terran race surviving until 2017 where the winrate dropped off significantly.
For TvZ, the average winrate over the years came out to ~57%. The highest point was ~61% in 2012 while the lowest trough was ~51% in 2015. In the early years, the winrate was above 55%, but it started to fluctuate going above and below it once we hit 2015 till 2018. What's interesting here is the shape of the graph. If 2015 wasn't such a low point, the winrate would look like it's decreasing over the years till 2017, then there would be an increase till we hit ~60% in 2018.
There are some reasonable explanations for what we see here. During the early days of the post-KeSPA era, ex-pros started coming back with every SSL, and a lot of Zerg participants, whether they be amateurs or expros, had weak or just barely passable ZvT. In other words, when facing competent TvZers, they crumbled. This is reflected quite a bit in the winrate of 2012 for instance. A year where the Terran race absolutely clobbered the Zerg in SSL6/6.5, going 46-13 in the predecessors of SSL7. If we remove SSL6/6.5 from the pool, the winrate drops ~4% to ~57% which while is still high, is a bit more reasonable when other factors are considered.
What we end up seeing here is a result of the earlier days, where competition was still ruthless, but a lot of Zergs really needed to work on their skills to keep up. Not to mention that earlier on, a lot of tournaments were using more familiar maps that were being played on fish. Map pools that were more Terran-favoured containing maps such as Fighting Spirit were used, thus it became a double whammy from either perspective. There was one other factor that was just barely touched on that can explain the high winrate from 2013-2014. The idea that some of the players were hitting their peaks at that time. After all, for some of these players, they had to make a living streaming their games and competing in as many tournaments as possible.

Those who were not around or as cognizant of the scene at the time probably don't remember the days of players like Sea really dominating the scene. Yes, I'm talking about
Yum Bo Sung
. He may be an entertainer now, with BW being distant in his mind, but when Sea first came to the scene, and really got into the groove of things, he quickly became known as the king of online tournaments, placing on the podium for many tournaments in 2013 and 2014. Even in 2015, he placed well in 6 different online tournaments. How strong was Sea? A lot of older members might recall a period of time where he made 5 straight SRT finals, and he won all of them beating Killer who was considered the best Zerg at the time. Looking at his TvZ
stats
from 2013-2014, they sat at 68-33, or 67% which is ludicrous. Other players that had fearsome TvZs were sSak, Hiya, Mind, and PianO who was doing 12-13 hour practice sessions at the time. The point being that several notable players can make a large effect, especially when they had the skills to do so.
As the years went by, there were less online tournaments available for the pros as SSL took hold with its prestige and ability to play offline infront of the fans. Furthermore, some organizers left for the military or faced backlash such as LoveTV for their inability to deliver, which caused them to move away from the scene. Between this, and the arrival of stronger Zerg players who could play ZvT pretty well, the Zerg race fought back to even things out at ~50% in 2015. There was a bit of an increase in 2016 to ~58%, but that can be explained by Terrans performing really well in 41 Starleague Season 4 and KCM events. Things evened out in 2017 until we hit 2018, where the winrate once again rose to ~60% due to Terrans outperforming Zergs heavily in Moo Proleague 2 and KCM events.
For TvP, the average winrate over the years came out to ~50%. The highest peak was ~54% in 2015 while the lowest point was ~41% in 2018. In comparison to TvZ, the winrate was always lower than 55%. From 2012 to 2016, there were pretty small variations in the winrate where it hovered between 50% and ~54%, which is a good sign overall. However, the winrate took a nosedive once we hit 2017 and never recovered. This drop was unprecedented, and an investigation into the winrate drop was undertaken. It turns out that the drop was due to Terrans underperforming in two tournaments that were running at the time, Ajae League Season 2, and KCM events.
The Ajae League season 2 had strong PvT players such as Jangbi, Stork and free while some of the Terrans such as PianO struggle in TvP. In KCM events, Protoss players dominated more so than usual, and with the two factors combined, the scales tipped in favour of Protoss. Of course, the winrate was ~44% in 2017 which is still close to the boundaries that we set earlier. In 2018, the winrate dropped to its lowest record, ~41% which is definitely a concern. Once again, this was due to two tournaments. This time it was the DanJJING Star League Season 3, and KCM events where even though Flash helped rescue the race from an even worse record in the latter, it was not enough to counterbalance everything. This leads to the question, what will the new year bring for online TvP? Can the Terran race recover as more prominent Terrans quarrel with injuries or leave for the military?
Final Verdict:
In TvZ, the winrate was above 55% in the first couple of years, however, those years aren't a good indicator of imbalance since many players were still coming back, and the skill level varied wildly. In the last couple of years, the winrate bounced greatly, going above and below 55%. If Tesagi does indeed exist, there should be some consistency where the winrate would always be above 55%. Alas, that is not what the data shows. As for TvP, the numbers were below the target, thus a sign that there is no Tesagi. The extremely low winrate in 2018 is of concern though, and depending on its movement in 2019, an argument could be made about whether Terran is actually UP in online TvP.
When discussing the results earlier, I made several references to Flash. I'm going to coin the term, the Flash Effect here and the name gives you the gist of it. When Flash returned to the scene in 2016, his return was a huge boon for the Terran race. He helped move the meta along, refining builds such as the 5 rax +1 and the 1-1-1 while he showed fantastic gameplay and made decisions that were far beyond that of even the best Terrans at the time.
"All Terrans have become so much stronger since Flash started streaming. They just think differently when playing PvT now. Last/AlphaGo was strong before Flash came to Afreeca, but he's even stronger now." - Shuttle
His performance also helped increase the winrates substantially in some cases. This begs the question, what was his effect? While it's difficult to measure the effect of the meta changes, aside from the fact that more Terrans have started to use the refined 5 rax +1 and his 1-1-1, we are able to take a closer look at the winrates, and how they changed due to Flash. Keep in mind that Flash only started participating in ASL1 after around a month of practice.
The graph below shows the TvZ winrate with and without Flash in offline tournaments, including special events: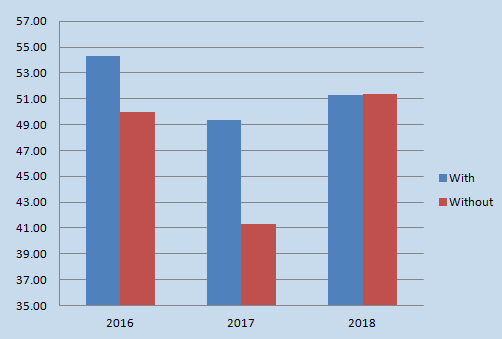 Flash played only several matches of TvZ in 2016, and won all 3 of them. Considering that only 35 TvZ games were played offline the whole year, this made a difference of ~4% bringing down the winrate from ~54% to ~50%. Still, 2016 was the year Flash was building himself up, seeing as he was eliminated by Last 3-0 in the quarterfinals of ASL1, and it wouldn't be until the start of ASL2, and 2017 when Flash really shows up what he's made of.
2017 was no doubt Flash's best year where he showed us a glimpse of his God form. He had quite the impact in the scene, reaching 3 straight back to back ASL finals, and winning them all to grab the 3-3-3. He went undefeated in series against Zerg players in tournaments that allowed preparation such as ASL, but for weekend-type tournaments, he lost to Soulkey in WEGL, and dropped the finals in Seoul Cup to EffOrt. For BO1 games, he dropped a single one to EffOrt in Seoul Cup, and to Soulkey in the final match in the Afreeca Team Battle. Otherwise, Flash has pretty much beaten all kinds of Zergs including, but not limited to Jaedong, Soulkey, Shine, hero, and EffOrt. He faced a lot of Zergs in 2017, playing a total of 31 games against the race, and ended up with a ~61% winrate. If his stats are considered, TvZ plummets ~8%, down to ~41% from ~49%.
Now, you're probably thinking: 8% is large, but I would've expected more from Flash. What if I told you that I found something else that's interesting. A deeper analysis was done that compared Flash's winrate in preparation tournaments such as ASL to weekend-type tournaments such as WEGL. In preparation tournaments, the Terran race had a 57% winrate with Flash having a 75% winrate against Zergs. Once his stats were removed, the winrate dipped to 45%, a ~12% drop. On the other hand, when only weekend-type tournaments were considered, the Terran race had a 36% winrate with Flash having a 36% winrate against Zergs (11 games). Though the sample size isn't as large as one would like, this does seem to partially confirm that Flash performs much better in tournaments where he could prepare, aka there was a week in between matches, rather than a day or two, if even.
2018 was less of a successful year for Flash as he was eliminated from ASL5 and ASL6 while he missed both KSL and KSL2, latter being for wrist injuries it seems. He beat Shine and Jaedong in ASL5 and ASL6 respectively, but he lost the ASL6 finals, 2-3 to an in-form EffOrt. The winrate didn't change at all when everything was considered. Taking everything into account, and looking at the winrate with and without Flash, the TvZ winrate was dangerously low in 2017 while it was within reasonable limits in 2016 and 2018. Having said that, this analysis seems to suggest that Flash played a large role in making the Terran race seem overpowered in 2017 if we go solely off winrates, and it was only through his domination of the competition that the winrate was elevated, no, boosted to a level where one believes that there may be a balance issue.
Now it's time to take a look at the offline TvP winrate with and without Flash's contribution: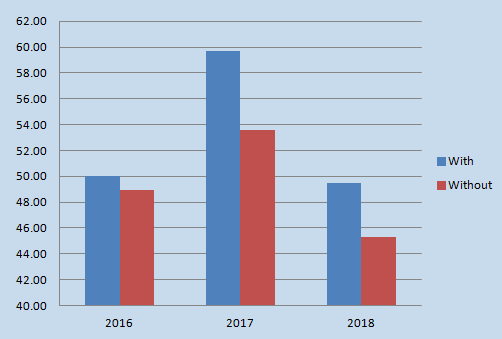 Unlike TvZ where Flash played a large role in the meta game, Flash's TvP meta changes were less notable in comparison. He played a single game in 2016 against Movie in ASL2 which he won, but not much else which had a negligible effect overall.
In 2017, his effect was also felt in TvP, but to a lesser degree than in TvZ. He ended up winning 2 series against GuemChi, and Bisu while he dropped a single game to Tyson during the Afreeca Team Battle. He won several series against other Protoss in special events such as Seoul Cup and WEGL and ended his year with an offline winrate of ~81% (13-3). The winrate dropped ~6% from ~60% to ~54%. If we once again consider preparation tournaments, the Terran winrate is 56% with Flash having a winrate of ~75% (8 games). Once his stats are removed, the winrate drops to ~52%, nothing major. On the other hand, when only weekend-type tournaments were considered, the Terran race had a 68% winrate with Flash having ~88% winrate (8 games) which lowers the overall winrate to ~57%, an 11% drop. Even though we are dealing with a really small sample size, it's interesting to see that Flash's TvP wasn't as affected as his TvZ regardless of which type of tournament he played in.
2018 wasn't as impactful with Flash winning several series against players such as Mini and Shuttle to end with a respectable 10-3 record. Seeing as the winrate was sitting at ~50%, it would drop to ~45% once his stats are factored in. Once again, we see that Flash's winrate had a profound enough effect on the overall TvP winrate pushing it to levels where one would argue about imbalance, but without his stats, the winrates are around 50±5%.
Had Flash decided, and was able to participate in KSL1/2, we may have seen a greater impact in either TvZ or TvP considering the format of these tournaments. Alas, he didn't, and this limited his overall effect in both matchups in 2018. With Flash out of ASL7 due to wrist injuries, and his military service looming on the horizon, it remains to be seen how the winrates will change once he leaves the scene again, and if the other Terrans will work harder to make up for the loss of such a legendary Terran, and an icon.
Before we conclude, let's take some time to appreciate the beauty of BW TvZ and TvP. What follows is a very small collection of TvZ and TvP vods that were hand picked from the last 6+ years of the post-KeSPA era. They are presented in no particular order, and were chosen based on their merit. Enjoy!
SSL9
SSL11
KDSL
ASL3
VANT
SSL11
ASL4
SSL10
ASL6
KSL2
SSL10
SSL11
ASL5
ASL3
ASL2
SSL11
ASL5
ASL4
ASL6
KSL2
The results have been presented and enough information has been provided to reach a conclusion on this Tesagi debate. When it came to starleague standings, Terran and Zerg were essentially neck in neck in terms of top finishes while Protoss trailed behind. When it came to winrates, some differences were observed between offline and online tournaments. However, offline results take precedence over online ones because in offline tournaments, the environment is more controlled, thus less confounding factors at play. After all, for all we know, maybe one player had their cat run by their feet which temporarily distracted them during a vital engagement, or they have a noisy neighbour which affected their gameplay while competing in an online tournament.
Regardless, all in all, the results showed an ideal winrate of 50±5% in both types of tournaments. Taking everything into consideration, I hereby declare that Tesagi does not exist in this era!
Writer:
BigFan
Graphics:
v1
Photo Credits:
Blizzard
Sources:
TLPD, Liquipedia
Special Thanks:
TheNewEra for helping with data gathering, EsportsJohn and 2Pacalypse- for feedback