To keep trying and to never give up despite the bleak outlook. To continue putting in the effort for the fans, and to know instinctively that your day is yet to come. The day that you hoist up that trophy, a symbol of your hard work and years of dedication to your craft. That's the mindset of a true champion, someone who has the heart of a lion, and who will eventually announce his arrival with a loud roar.
When Last arrived back to the scene in 2014, he had nothing to his name. No asterisk that spoke of past BW glory or achievements during his time on STX SouL as a TvT specialist in the KeSPA era. Nothing to indicate that he will ever rise to the top, or become one of the best Terrans aside from several notable proleague wins against top Terrans such as Fantasy and Baby. He was starting anew, with only his fans there to show their support. However, Last was not deterred by this...
He decided to make us dream!
He decided to show us that he is a force to be reckoned with.
That he is here to stay, and to slay the competition!
His first tournament was the coveted SonicTV BJ Starleague 10, SSL10 which was a tournament that started towards the end of 2014 and had built up massive amounts of hype after its predecessor was extremely successful. SSL10 was also going to be aired on OGN, the channel responsible for OSL during BW's heyday. The start of a new chapter, this was Last's chance to announce his return, and throw his name into the hat as one of the upcoming Terrans. A chance to make it big, and draw in more fans by showing that he can tangle with the best.
While he did suffer two losses to Kwanro and the black magician, GuemChi, on Sin Peaks of Baekdu (GuemChi went for forge FE in PvT!), Last was relentless in his best matchup at the time, TvT. He grabbed our attention, and never let it go, pulling off flashy moves that revealed his great understanding of the matchup. In dominating fashion, Last quickly shut out players such as Hiya, Mind and Mong pulling off both early game shenanigans such as bunker rushes, and late game plays, including winning all split map scenarios in style.
His TvT was pure art, a style of play that few could match at the time. By the time he reached the finals, Last was extremely confident in his skills, believing that he would take the finals and continue his flawless TvT record. This was quite evident in his interview with TeamLiquid at the time:
"The reason I love TvT is that, unlike in other match-ups, TvT is a fierce battle of wits and mind games, and I am confident in these... It'll be a Terran one way or another in the finals, so I don't care who comes."
Only, his first heartbreak was yet to come as his challenger was none other than sSak, one of the crowned princes from the defunc SKT T1. The finals had sparks, fireworks, the whole shebang. For one night, we were treated lavishly with vulture wars, doom drops, and both aggressive early game, and late game BC-infused scenarios. It was all out war, and anyone's game. It was the stuff of dreams, but it was not for one player.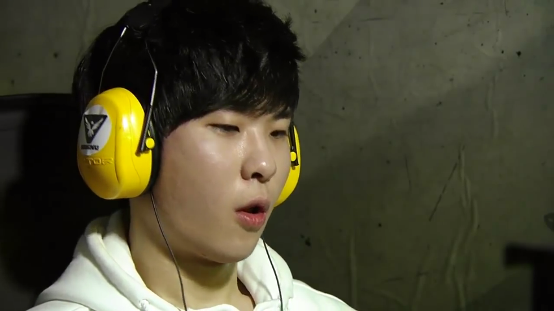 That player was Last...
He had reached the finals stage right after arriving back to the scene, but sSak would not let him have his moment of glory. No, despite being down 1-2 and facing defeat, sSak rallied and fought back, taking it to the deciding game on Sin Peaks of Baekdu where he delivered the final blow. The defeat was certainly crushing, but this was just the beginning. Reaching the finals of SSL after returning meant that Last had what it takes to be the best. He just needed that extra bit, that extra umph to become a champion, and he'll surely win next time!
Alas, this was far removed from reality...
In SSL11, Last, much like sSak, fell to the OSL curse, losing in the Ro16 to Killer, then to ZerO's queens in a long drawn out macro game on Circuit Breaker where Last tried a mech switch. It was a setback, but nothing that the young Terran can't handle. With SSL folding, VANT took center stage in the second half of 2015. While his performance there was slightly better with a quarterfinals exit to Bisu, it was still a complete 3-0 defeat at the hands of the eventual finalist who utilized macro openings such as 12 nexus on his way to the finals. Considered the best Terran at the time, Last tried his hardest to meet all expectations, but he always managed to stray from the target.
Things finally seemed to be going his way in ASL1 in mid 2016. This was going to be his tournament, and there was never a better time to go all out as Last defeated Mong, BeSt, and hero before taking out Flash 3-0 to advance to the semifinals. It was going even better than expected with a flawless 6-0 record against top-tier competition, and nothing can top defeating the greatest BW player of all time.
Last could likely see the finals stage, and all it would take was to get past Shuttle, a former STX teammate. Shuttle had other plans though as he dismantled Last 3-1, and would eventually win the first ASL for himself. While Last kept the title of best Terran, this was no doubt another heartbreak.
And with that, it felt like Last's fire was slowly dying. The blaze that he's nurtured for years was slowly becoming colder, a bit more lifeless, and this felt evident by his early exit from ASL2 in the Ro16 towards the end of 2016. Losses to both Bisu's dark templars on Benzene, and hero's late game on Circuit Breaker meant that the Terran was pushed back even further from his initial goal. He'll have to wait some more time before trying his luck again.
In an era where offline results were of great importance, both for exposure for his stream, and their prestige, Last was in a worse position than even he could've anticipated given his form just months prior. All the while, some other Terrans were starting to make headway into the later stages of ASL, and for certain Terrans, aka Flash, that meant winning ASL2 and becoming the first Terran ASL champion.
Was Last destined to be left behind?
Is this all the fire he can muster?
Will he truly make the finals again?
A quick dig into his overall winrate, from several months prior to his ASL1 run until the start of ASL3, revealed that Last was infact still doing quite well for himself. His overall winrate during this period sat at 71%, with wins over many notable players such as Bisu, ZerO, Rain, Mind etc.. This was a testament to his growing skills, but a deeper dig unearthed something even more bewildering than that, his insane TvT winrate which sat at ~95%.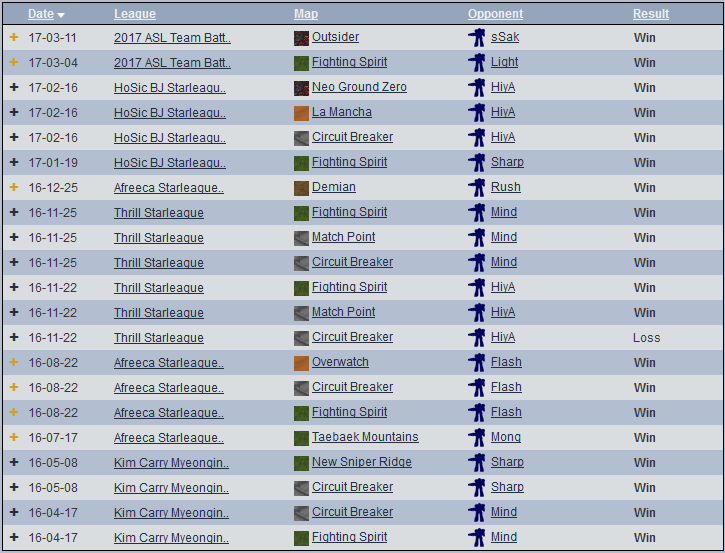 Last had a single loss from a total of 21 games, spanning close to a year. This included both offline and online tournaments, and was something that was completely unrivaled at the time by any other Terran. So while Last may not have been advancing as far as he certainly wants offline, he was still performing well the majority of the time, despite initial appearances. Maybe he just kept hitting a patch of bad luck offline?
In ASL3, Last put some of our doubts to rest as he dispatched all foolish Zergs that stood in his way to the quarterfinals. His victims included HyuN, Larva, hero and Jaedong, all strong Zergs that had different styles of play. It may not have been a complete sweep with a single loss to sSak, but he was back in the quarterfinals again, and was facing his greatest challenge in Flash. It was time to repeat his ASL1 feat, to beat Flash, and signal his intentions again for everyone to see. To be the champion, and to reign supreme. This was a confident Last, one who was starting to excel, and had the statistics to prove it.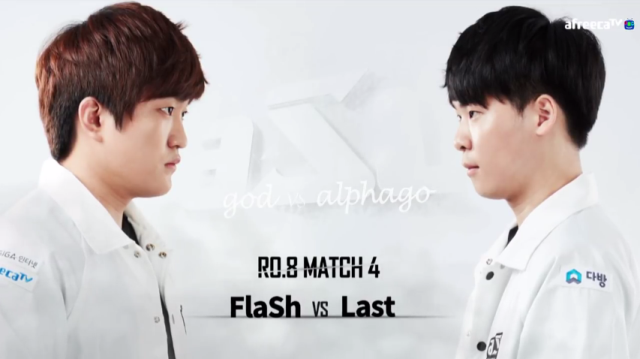 However, reality can be cruel at times...
Going into the series, Last had a chance considering their last encounter, but Flash was different though having won ASL2 earlier that year, and was looking more in-form than he previously had. Wanting to get revenge for ASL1, Flash beat Last one-sidedly on Camelot, Outsider, and Andromeda. Last went into the series with plans for all 3 games, and Flash came out swinging destroying whatever Last threw at him with ease, always being several steps ahead. It couldn't have gone any worse with Last being eliminated by a vulture drop on Andromeda of all maps!
"If you play 10 games a day with Flash, you forget how to win a game." - HoeJJa
Almost as if by cue, or maybe it was due to the Flash curse, Last started to crumble in offline tournaments. His mindset potentially shattered, he had extremely early exits for someone of his caliber. Despite being known as a beast in sponmatches, and aptly named AlphaGo by Sea for his methodical style of play, it looked like he could no longer cut it, failing to make it anywhere near his highest finish. Instead, he kept getting eliminated in the Ro24.
In ASL4, he lost to sSak's drops on Crossing Field, while in the final match, he lost to the dinotoss, Stork on Fighting Spirit. A surprising defeat that neither Last or Stork could believe had happened when the dust settled. After all, how many times has a Protoss player come back from having their expansion and third destroyed? ASL5 wasn't much different, though one could argue that the new maps severely crippled him as Last is someone who prepares builds, and needs to practice them sufficiently to pull them off. He lost the first game on the island map Sparkle to Miso while his elimination was at the hands of Snow who used a ballsy strategy, a proxy robo right outside his natural on Gladiator.
It was another pitiful end in an ASL for a great player who had slowly earned the title of a choker in the community. With the way things were, it seemed like Last would never set foot on that finals stage again, let alone even make it anywhere close. After all, he's been trying for several years now, and he just hit rock bottom in the latest tournaments. However, yet again, things are not always as they seem as a quick glance at his overall winrate for 2017 shows that it sat at ~64%, slightly up from 2016. His sponmatch results further exemplified his great performance:
Even though Last was not doing well offline, he was still maintaining a pretty decent winrate in sponmatches until July 2018. Looking at his separate winrates, his TvT was still his best matchup, ending at ~83% though that was due to a small sample size of 6 games. His TvP finished at ~72% with a sample size of 60 games where he slayed a lot of Protoss players. Finally, his TvZ finished at ~77% with a sample size of 13 games, with him having defeated EffOrt, Jaedong, hero, and Soulkey.
If we ignore the random spikes which were usually the result of a small sample size, we come to the conclusion that his average winrate was slowly rising, going from ~60% in September 2017 to ~73% in July 2018 which is about 2 months after ASL5 ended. In other words, despite his bad results offline, Last was still honing his skills as a player, and was making steady progress.
Another unit of measurement that helps shed light on his progress as a player was his ELO: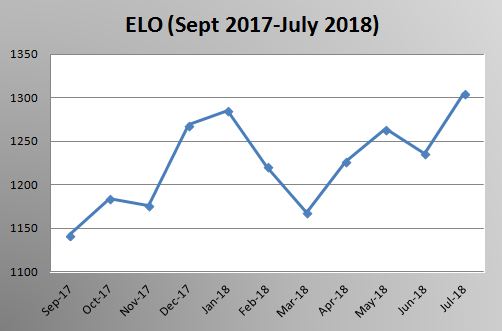 Last's ELO was clearly rising, and has risen quite a bit since September 2017 where it sat at 1142.5. He had a dip to 1168.3 in March 2018, but otherwise, the increase was self-evident. By the time July 2018 came around, his ELO exceeded 1300, up to 1304.5. The only other player that exceeded this ELO was Flash at 1357.3. Clearly, he still ranked quite well among the competition.
This leads to the usual question: what was the cause of his poor form in offline tournaments?
Some reasons were stated earlier, and it's anyone's guess as to why Last kept failing to go far despite have a stellar form in general. His losses were mere setbacks, and all the figures presented show that Last has improved dramatically since his arrival back in 2014. So long as he can maintain a positive mindset in future tournaments, and prepare properly for his games, only a few players can challenge him at his peak.
With Blizzard's Korea Starleague season 1, KSL, starting in July 2018, Last had another shot to try and beat his demons of the past. To accomplish a goal, and achieve what his heart truly desired. His first series against Mini was one of great disappointment though. Mini showed great decisions, had fantastic micro, and solid macro all around while Last floundered around even when he had some good opportunities in their series. The writing was on the wall, Last was going to be eliminated once again from the get-go...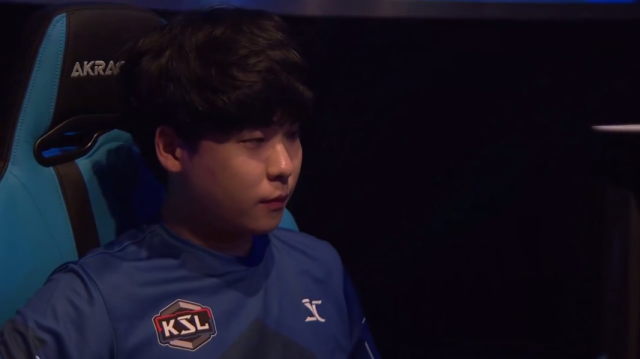 Instead, a miracle happened!
It was Last's magic all over again!
The player who captivated us in the past was back!
It seems that Last had finally decided that enough was enough. With his stream shut off, and his wrists working properly again, he dedicated his time to preparing for KSL in earnest, deciding that now was the time to strike. His mind was made up, this was going to be his tournament. The tournament that will wipe away all those tears, all those frustrations, and all those regrets. This will be the tournament that will kick start his legacy.
While his income from sponmatches was cut drastically with the amount of games he played in August and September plummeting to a mere 17 games each from a previous average of 146, his dedication paid off in dividends. Facing his next opponent, the crafty Movie, Last won their encounter in a close 3-2 series to stave off elimination, and got another chance to face Mini. Their second encounter went in a totally different direction as Last managed to exact revenge, a 3-1 win with solid games to advance to the quarterfinals where Horang2, who somehow advanced in first place from a group of Mind, BeSt and Stork, awaited his arrival.
In another close back and forth series, Last beat Horang2, 3-2 to advance to the semifinals where he would met the ZvT specialist, Soulkey. A player who had become known for his iron defense, Soulkey was going to be a rough opponent due to his deep understanding of the ZvT matchup. Alas, Last prepared quite diligently for Soulkey, and utilizing the 1-1-1/2 to its utmost potential, he slayed him 4-2 in a series that saw Soulkey try all sorts of aggressive plays to knock Last off his tightrope balancing act. It was a series that greatly highlighted Last's improvements as a player, and his proficiency in the 1-1-1/2 meta.
With this latest win, Last was finally back to the finals stage that he had dreamed off for years. The atmosphere was electric as Last was about to face off against his final opponent, Jaedong. The tyrant was playing at his best, having come off dismantling Rain, 4-0 and was making a major run for the title after all these years. The stage was all set for him to defeat Last, and bring it home for his fans. Only, it was Last's time to be in the spotlight.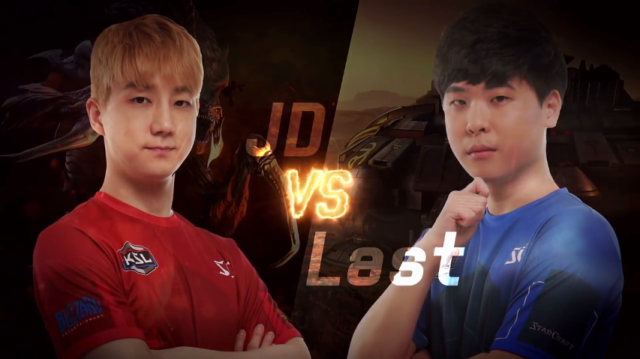 In front of the audience, their showdown commenced. The first game on Blue Storm saw Last's contain broken, and his forces in retreat as Jaedong went on the offensive, but it was then that Last made a brilliant move by camping the high ground outside Jaedong's third, punishing Jaedong's lurker move-out to grab a nail biting first game. With the first game his, Last continued his relentless aggression, going for an expansion first on Polaris Rhapsody, and busting Jaedong's third right before his sunkens finished to secure a quick win.
A third game on Fighting Spirit saw Last opt for Flash's 1-1-1, and hold on against Jaedong's mutalisks, and frontal hydraling aggression which came close to killing him. Even more impressive was a split second decision by Last to destroy his own spider mine as it almost ravaged 2 tanks that were vital to his defense. The last game took place on Circuit Breaker where Last decided to go for the 1-1-1 again. By this point, Jaedong had already crashed mentally, but he still fought valiantly. In the end, Last prevailed, killing both the army and the third to take down the Tyrant, 4-0!
This result surprised many as Last was considered good, potentially great, but to defeat Jaedong
that
badly?
A dream came true that day!
A championship claimed at last!
And what a better way than to beat a legendary Zerg!
As Last celebrated his first championship, his work was not done as ASL6 had started mere days before the KSL finals. Hot off his KSL win, and performing at his peak, Last made short work of the competition, defeating Calm and Soulkey in the Ro24, then BeSt twice in the Ro16 to advance in second place. In the quarterfinals, he faced Sharp who he defeated mostly one-sidely, but his run to the finals was stopped in a close 2-3 series by an in-form EffOrt who went on to win ASL6. In the end, Last ended up beating Shuttle, 3-0 to take third place.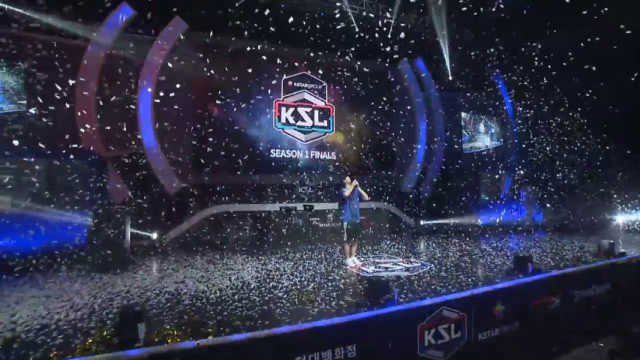 With these achievements, Last secured himself the title of second best Terran, having had his best performance to date. So long as he maintains his form for upcoming tournaments, there's no telling just how far he can go, and what he can accomplish. With Flash leaving for the military in due time, it'll be up to Last to lead the Terran race, and you can bet on Last doing a fantastic job!
Kim Sung Hyun fighting!
---
Writer: BigFan
Graphics: v1
Thanks to: 2Pacalypse- for feedback
Photo Credits: Afreeca, Blizzard
Data: TLPD, Sponbang, Liquipedia