The Ro24 concluded on a high note due to the combination of really prominent players as well as dynamic games played on both Gold Rush and Crossing Field. In one case, we even got to see corsair vs ghost action! Hard to believe that with everything on the line, player are still trying to develop new strategies in order to counter what are becoming common strategies on these new maps. In the end, some fan favourites such as Jaedong and Rain made the final cut and got to participate in the group selection ceremony. For more details, please read our Group D and F recaps by Ty2 and Group E by Bigfan.

The group selection ceremony was pretty relaxed and had a fantastic atmosphere. A chance to see players joke around amongst themselves and try to set up groups of death as usual. This time around, sSak was pretty silent compared to last season and it was Mong who was tried hard to persuade others. Another somewhat common theme seemed to revolve around scaring Jaedong as several players reached for his name despite having no intentions to go up against the Tyrant. The ceremony closed off with Rain, Mong and Larva all trying to provide Flash with their thoughts regarding his all important switch! In the end, power of friendship rained supreme and Rain who stated that he loves Flash won!

The first group of the Ro16 features Flash, Killer, Mong and Sharp while Group B is an all zerg group consisting of Shine, Larva, EffOrt and hero. FlaShFTW and Ty2 previewed groups A and B respectively, so make sure to give them a quick read to see who they think will advance to the Ro8. Now, make sure to grab that popcorn and tune into Group A set to start in !
Table of contents
Group D for Dong
The stage is set with
Jaedong
catching the eye first. Jaedong stands the most confidently poised, emanating a tense air of competitiveness.
Sharp
on the other hand has a relaxed demeanor, speaking with politeness and modesty. He stands out with his silver colored pants among the trend of dark jeans. Across to the right, you can feel the anticipation in
Mini
as a rookie who's barely gotten a taste of the big stage of competition. In a second chance since last season, the opportunity to change his fate for redemption is at his fingertips.
HiyA
, the whimsical streamer feels the most surreal sitting alongside the big names of the scene only shortly after playing again.
Beginning with Sharp, he remarks the cumbersome playstyle of Mini, nicknamed the Pervert Protoss. He glows softly with confidence, commenting about his adequate practice, self assured he should advance.
Next is Mini, who as a newcomer was surprised to be eliminated as soon as the Ro24 last season. For tonight, in eagerness, he's practiced diligently to avoid another repeat. Whether the viewers will get to witness his unorthodox play will strangely depend on how warmed up his hands are. Not focused on necessarily winning or losing, he only hopes to progress to the final match.
The interview shifts to Jaedong setting a new tone. With a simple greeting alone, he draws forth the excited applause and cheers of several fans in the crowd. The name of Jaedong holds a great weight as expectations are set high for him in the electric air tonight. Brushing off his Ro16 loss in the previous season, he states first of all, his goal is to become the champion.
Hiya on the opposite end makes strong statements about Jaedong's fading skill: "he was a better player in the older days, but not in the modern days". A spark of confidence is displayed with Hiya's fighting words that beating Jaedong is doable. Ending in an ominous note of discouragement however, he remarks that he met Jaedong by chance in the morning on ladder. Afterwards, Hiya simply says that he lost a lot of confidence without going into any further detail.
Mini vs. Sharp:
On the map,
Gold Rush
, Sharp spawns at 9 o'clock and Protoss Pervert Mini spawns at 5 o'clock. Mini opens 1 g cyber core expand into reaver drop. Sharp opens a defensive FD, making only 4 instead of an aggressive 6 marines. A brief and intense skirmish results in the loss of 2 marines and a badly damaged Dragoon. Soon after, Sharp in preparation for the shuttle has already gone for an early wraith. The reaver harass is mitigated as Mini expands to the far semi-island base.
After a transient calm and the hands of Mini warmed up, he moves two shuttles alarmingly above Sharp's natural base before retreating. Sharp not to take a backseat returns the favor with his own dropship to Mini's semi-island base which is fended off.
Suddenly, Mini moves in through Sharp's mineral-only third in a daring beeline to Sharp's main. Dropping two reavers amidst a swarm of SCV's, Sharp pulls workers while losing a small handful. Meanwhile, Mini takes a gradual lead macroing off of the back of his successful aggression.
A second double drop is less successful with reavers dying to mines and Shuttles unable to exit, stopped by turrets. However, Mini still possesses the lead, but the gap closes as Sharp becomes maxed.
Finally, the dreaded terran push commences. Mini having the far greater bank in the suspenseful buildup must take efficient engagements. A mediocre engagement in the middle of the map leaves Sharp having middle map control, taking out Mini's center base expansion.
Trying to push back, a failed recall followed by charges of protoss units into Terran's siege line leaves Mini alive but at a disadvantage.
Mini in a second stroke of offense shuts down a center base to the bottom left and later does a recall that falls flat. Mini's cutoff 12 o'clock base is laid to waste by Terran as Mini's options run out. In a final charge of desperation to the top right mineral-only base, the last of Mini's army evaporates. Defeat is an inevitability as Mini's forces lay scattered and his bases in ruins.
Jaedong vs. Hiya:
The Tyrant, Jaedong spawns in the bottom right of
Gold Rush
and Hiya, the magikarp spawns at 9 o'clock. Jaedong opens 3 hatch mutalisk, making his 3rd hatchery in the semi-island base adjacent to Hiya's main. Hiya opens an aggressive 1 rax FE into 2 rax academy
Tensions already run high in a race for the third. Hiya begins firing on his main base eggs as Jaedong urgently works to claw down the eggs between his natural and third.
Hiya now cracking the final egg to Jaedong's third unknowingly hatches Jaedong's next move. Jaedong makes a calculated Zergling backstab at Hiya's main while sunkens morph at his third. Hiya hurriedly moves his far-out-of-position marines to his natural. In another aggressive move to Jaedong's natural, he's greeted by another line of sunkens and mutas already hatched and ready for the prowl.
The flock of death, Jaedong's mutalisks carefully pick off Hiya's marine force. Keeping Hiya in his base, he buys time for lurkers that appear in time for Hiya's marine force just entering his 3rd. Hiya then kills an assimilator to cut off access to his main. Meanwhile, Jaedong's mutalisks pick off an engineering bay before Hiya's critical first upgrade finishes.
Hiya on the counter offensive does a double drop that partially unloads before both are scourged. The remaining marines are cleaned up by a mutalisk and lurker force. Hiya's second double drop manages to shut down Jaedong's 4th base at the 3 o'clock.
After a mostly uneventful midgame comes the climax. From the depths of Hiya's base launches the next attack that will force Jaedong to make the game deciding move.
And in spectacular fashion, Jaedong predicts and completely shuts down the quadruple drop before it even has a chance to take off.
Jaedong's counter drop lays waste to all of Hiya's supply depots.
Jaedong attacks Hiya's mineral only 3rd once again, drops the main base, and the destruction of plagued vessels grabs Jaedong the win in utter domination.
Jaedong vs. Sharp:
Jaedong spawns on the left on
Crossing Field
and Sharp on the right. The early game antics are aplenty with Sharp going 8 rax, planning to intercept the scouting overlord. Luckily, Jaedong's game senses are tingling, sending out an early drone that scouts the 8 rax.
Next, Sharp's first 4 marines manage to make their way behind Jaedong's natural as Sharp techs to a quick factory and starport. A two vulture runby is promptly stopped by Jaedong with a drone drill.
Jaedong counterattacks with a quick overlord speed and hydraling attack. The attack is barely held off by Sharp with spider mines, a siege tank, and a timely bunker. Jaedong's fake muta followup forces turrets out of Sharp when in fact Jaedong is going for a fast Queen's Nest.
Meanwhile, Sharp transitions into bio, pushing out. Sharp's push kills Jaedong's just finished fourth, but is eventually cleaned up by Jaedong's army. Sharp transitions again into mech, rising to double Jaedong's supply as a drop delays Jaedong further.
A surprise muta transition evens the supply count as Jaedong picks off goliaths as they're in small numbers. Then, Jaedong rallying the remainder of his forces attacks the top right base of Terran. Unfortunately, the attack pales in the face of the siege tank line. From there, Jaedong plays from far behind. Eventually, Sharp's next big push spells Jaedong's doom.
Mini vs. Hiya:
Mini spawns on the right and Hiya is at the left. Immediately, the protoss works his way closely with a proxy gate. The zealot aggression does impressive damage killing off several SCV due to the mediocre control of Hiya.
Next, Hiya makes a vulture attempting to kill Mini's probes, even making a supply depot at the ramp to block off Mini's ramp wall. However, Mini adds enough pylons to finish the wall while his two dragoons attack Hiya with a late tank. Eventually, he is pushed back. Hiya's next siege tank pushout is delayed by Mini's backstab, going all the way to Hiya's backdoor expansion.
Meanwhile, Mini's reaver is en route to Hiya's main base. Skirting along the very left of Hiya's base, Mini avoids any turrets, killing off a few tanks and workers. Already Mini is double Hiya's supply.
Mini going for the death blow drops his two shuttles filled with two reavers and four zealots, backed up by a control group of dragoons. Hiya's four sieged tank defense is laid to waste as Mini claims a swift victory. Finally, Mini bursts open the doors to the long awaited final match he's been waiting for.
Jaedong vs. Mini:
On
Fighting Spirit
, Jaedong spawns in the top right and Mini the Pervert Protoss spawns in the bottom right. Mini scouts Jaedong first and takes the opportunity to block the hatchery. Jaedong takes the opportunity to make six lings while Mini's probe runs away to survive.
Undetected by Mini, Jaedong's first six lings arrive at Mini's natural just as the cannon warps in. Certain death has befallen Mini in the most anticlimactic game decided in the first 3 minutes. The game is truly sad for Mini as Jaedong's advantages compound.
In an early mutaling bust of the natural, Jaedong gains a significant advantage. Not even waiting to raze the natural, Jaedong goes into the main base destroying Mini's last line of defense. Mini relents however, staying in the game with less than a control group of probes while Jaedong has three times his supply. The hydras enter to finish the deal as Mini finally accepts his defeat.
Sharp
and
Jaedong
advanced to the Ro16!
It Was All Mong
Group E featured the Pig Terran
Mong
, macro beast
Best
,
Rain
and
Ample
. Considering that both BeSt and Rain were experts at PvT, many doubted the ability of either Mong or Ample to advance, however, Mong proved us all wrong by trouncing both protoss players in solid macro games while Ample didn't fare as well against his own opposition. He decided to opt for a game full of harass in his first game against BeSt on
Gold Rush
. Opening with a bunker rush which failed, he went for a mini marine/vulture attack which was deflected by BeSt who saw an opportunity to bulldog Ample. The end result was a victory for BeSt who went on to face Mong in the winners' match.
Mong in his own first game against Rain, also on Gold Rush, went for the usual FD but was caught offguard by dark templars. However, using well-placed mines, he managed to minimize the damage and still expand at the same time that Rain was. From there, Rain tried to pressure and had an opportunity to do some good damage when Mong ventured onto the map with several vultures/tanks, however, his solid defense and micro allowed him to survive to continue fighting. The game went into the macro game where each player tried to harass the other. Mong had some solid drops and defended a recall extremely well while maintaining a four base economy. Continued solid defense, good decisions and harass as well as seizing a presented opportunity when Rain attacked a sieged position allowed him to steamroll Rain.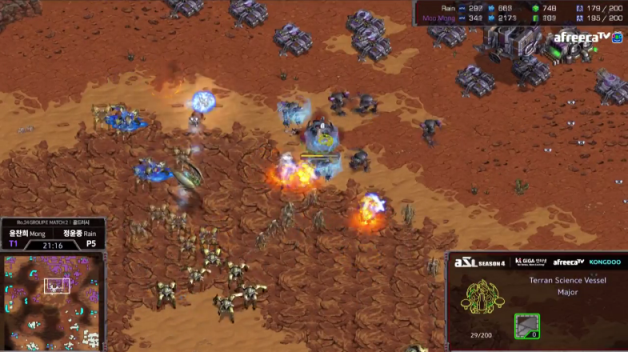 Don't...
The winners' match took place on
Crossing Field
. Mong took a large eco lead early on as his small army of 8 vulture/7 marine/3 tank/2 SCVs massacred most of BeSt's army and got a portion of his economy. Undaunted, BeSt macroed like a mad man, even grabbing a fourth and fifth base then using reavers and a reaver/carrier combo to cause some chaos in Mong's base. He took some good engagements, however, it was not meant to be as Mong himself grabbed a fourth, added more goliaths to his army and made some great maneuvering decisions and snipes to grab quite the thriller. The game was a testament to Mong's solid decisions and BeSt's beastly macro.
The losers' match between Rain and Ample on this same map was also quite the game. Let's just say that if you've never seen corsairs vs ghosts, you should do yourself a favour and watch this game! Ample went for ghosts hoping to lockdown Rain's carriers but Rain ended up getting corsairs and d-webbing instead. I won't say much because this game should be watched. At the end, despite Ample's efforts, Rain emerged victorious and met BeSt in the final match.
When Corsairs Strike!
The final match was played on
Fighting Spirit
between the two ex-SKT T1 teammates. BeSt decided to go for 1 gate reaver while Rain opted for an expansion followed by adding more gates to go up to three. Unfortunately for BeSt, tonight was not his night. Rain managed to sneak in a probe and scouted the robo then took a great engagement shortly after through stellar micro. With the higher gate count and stronger army, Rain went for the jugular, denying BeSt's expansion and walking up his ramp to snipe the first reaver and his remaining army to advance in second place.
The 'O Shit' Moment
Mong
and
Rain
advance to the Ro16!
I Need a Hero
The stage for group F was set with
hero
,
Snow
,
firebathero
, and
Shuttle
; players of rich histories new and old. Hero's glory days were marked by his 3-0 victory over
Bisu
in SSL 11. With the competition only mounting with the return of
Flash
,
Jaedong
, and
EffOrt
, can hero show he can still compete with the best? FBH narrowly qualified only to meet the two best TvP'ers, Shuttle and Snow. He represents an old flame of Brood War that may be long past its prime. Shuttle, the man who's been making a name for himself tearing up KCM Legend Matches is waiting to return to glory since his ASL Season 1 win. Snow of the latest generation of pros couldn't flourish as a player from the sudden decline of the KeSPA scene. He returns to make a mark long overdue. His well known weakness against zergs may continue to hold him back though.
The players are seated as the interview begins with the lighthearted Shuttle who wears his usual friendly grin. Shuttle mentions he only played well in autumn when ASL S1 was held. Alluding to the Legend of the Fall, Shuttle is positive he'll win the championship as autumn has arrived once again fortuitously.
Next is Firebathero, beloved Ajae and master of ceremonies, who hasn't lost his audacious touch. Unafraid of his group, planning to make Shuttle look bad tonight, and already aiming to win the gold is overconfidence too overwhelming to hear even from firebathero. He promises a winners ceremony if he gets even a single win much to the cheers of the crowd.
In heavy contrast, hero, the Zerg who's fallen in a slump makes reserved comments while shifting his right leg around constantly. He's not confident but feels like he has the chance to defeat Shuttle who he lost to recently in a recent KCM Legend Match.
The last interviewed player, Snow, with a forward thinking mindset is undaunted by his losing record vs. hero. As confident as he is though, he still respects the skills of his opponents, saying even a single mistake can mean defeat. Asked if there's a player he fears playing against, he cheekily responds with himself and that he'd like to face Shuttle.
In the opening game, Firebathero vs. Shuttle on
Gold Rush
, FBH spawns in the 12 o'clock and Shuttle in the 5 o'clock. FBH opens 1 rax FE while Shuttle opens an aggressive 2 zealot and dragoon opener. Shuttle gains an early lead slipping in two zealots into FBH's main. Shuttle's prolonged dragoon siege of the bunker caused by the delayed factory is capitalized on by a 2 base reaver drop. However, a quickly made wraith shuts down the reaver harass. A retaliatory two dropship harass is fended off by Shuttle. An overall uneventful midgame with both players continuing to build up as FBH takes the mineral-only third.
Suddenly, the next battle is initiated by Shuttle, directly attacking FBH's front line with a two shuttle offense.
Not held off completely, Shuttle keeps the pressure on with a devastating storm drop followed by another brief attack. Continuing to dictate the pace of the game, Shuttle climbs to a mountainous lead as Firebathero sits at an eighty supply deficit.
Attempting to hit back, Firebathero attempts a double drop at a semi-island base that does minimal damage.
The end grows near as Shuttle becomes an unsuppressable, ever-growing economic juggernaut. FBH's last stand ends in utter defeat as sheer quantity crushes his paltry forces.
In the second game, hero vs. Snow, Snow spawns in the 12 o'clock and Hero in the 5 o'clock. Snow does 1 gate FE and hero opts for overpool. A botched 3 zealot engagement gives hero an opening to counterattack. Out of position zealots give hero's speedlings an entrance to wreak havoc in Snow's mineral line. Losing upwards of eight probes, Snow is set at a painfully slow start. Defeat an inevitability, Hero's followup 5 hatch hydra wraps the game up nicely.
The winners' match between hero and Shuttle has an upbeat start on
Crossing Field
. Hero spawns at the left while Shuttle spawns at the right. A proxy 2 gate looks to abuse hero's predictable economic 12 Hatch. Shuttle reserves his 3 zealots waiting to attack at the last possible moment. The alarming appearance of three zealots at his natural springs hero into action, making two sunkens in his main base. Hero attempts a ling backstab, abandoning his already completed natural. The backstab does little damage as Shuttle expands.
As a result, hero is set on the backfoot for the entirety of the game. Fending off a seven zealot attack, hero produces several lings that delay him further. Hero bearing the brunt of the zealot attack falters in the face of the 2 stargate corsairs. Becoming unbearably supply blocked, Shuttle's followup zealots seals hero's fate. Shuttle advances 2-0!
Next, in the most one sided match possibly is FBH vs. Snow. Snow spawns on the left and FBH on the right.
The surprise force is flung onto FBH's third, but he holds miraculously with an scv surround repair on the bunker. However, Snow's dragoons re-enter the scene as FBH loses his bunker, breaking his feeble defences. Pushed to his main base natural, FBH also makes turrets in preparation for DT's. Firebathero's last embers of hope are mercilessly extinguished by the unrelenting avalanche of Protoss units. Bombarded fiercely with wave after wave, FBH finally concedes the match with his ramp broken.
In the last game, hero and Snow face each other once again on
Fighting Spirit
. Hero spawns at bottom right and Snow in the bottom left. Opening 1 gate FE versus overpool, both players have mediocre micro. Eventually, hero finally picks off Snow's first few zealots as the game evens out. Snow, now on the defensive, cautious of the first game's series of events, is left in the dark. Hero, lurking in the dark hatches a sinister 3 hatch hydra rush. Hero makes several hydras with range and no speed for an even quicker attack followed by speedlings.
Making their debut appearance at Snow's natural, Snow is caught by surprise with only two cannons. Losing his cannons, and his once mighty zealot force whittled down by reinforcing lings, Snow concedes in a game that rivals the last in shortness.
hero
and
Shuttle
advance to the Ro16!
A Tango With God
Flash
makes his return to the ASL4 with yet another hilarious Round of 16 group ceremony, involving classic
Jaedong
WTF faces, politics off the charts by
Mong
, and some cheeky baiting by
Larva
that was not taken by God. When the dust settled, FlaSh emerged with a scrappy group in tow, featuring Killer, Sharp, and Mong (who he traded in for Rain). While the group is much more difficult than his last season's group (all mediocre Zergs), he should still enjoy a pretty comfortable ride to bracket play while the rest duke it out for a 2nd place finish.
Game 1: FlaSh <
Crossing Field
> Killer
FlaSh's TvZ no longer looks completely unstoppable, as Zergs have begun to slightly figure out the nuances that can be exploited. Still, Killer's ZvT does not look like the caliber of a Zerg that would be able to abuse the weaknesses. Traditionally his weakest matchup both in the KeSPA and post-KeSPA era, Killer has not seen a great ZvT playstyle that has given him success against strong Terrans. Crossing Field doesn't make it any better, as FlaSh has a myriad of strategies that can be well executed on it, with the best looking like the 3 rax academy into double starports. Zerg will have a very difficult time attempting to establish anything past his initial 3 bases and the longer the game goes, the more advantage that Terrans will get.
FlaSh > Killer
Game 2: Mong < Crossing Field > Sharp
The battle of underrated Terrans (boy do we have a lot of them in this tournament huh?), Mong vs Sharp is sure to be a grindy slug fest. But there's a slight difference, with Mong being more solid in the other matchups of TvZ/P, while Sharp is better in the mirror match. I would say that Mong is still the one that is surging better than Sharp right now, but looking back at previous tournaments, typically Mong does not fare too well against most Terrans while Sharp does decently. We can recall when Sharp made his deep ASL1 run with a string of TvTs to get to the finals. It will be a close and tough fight, but I think with the map so bad for drop play (just stack a bunch of turrets in your main and backdoor natural), Sharp's more mobile goliath style will reign supreme.
Sharp > Mong
Winner's Match: FlaSh < Gold Rush > Sharp
Ironically, FlaSh's TvT is his statistically worst matchup right now, with both of his others above 75% while TvT is at 68%. And if there's a time for someone to upset FlaSh, it would be on this map. He doesn't look quite as comfortable on this map as the others. Still, I don't think Sharp will have the TvT prowess to play against FlaSh. He's still the God we know, still has the insane TvT talent that got him his 22 game win streak, and still can beat up on someone like Last 3-0. Realistically, Sharp will have to resort to some kind of a doom drop into FlaSh's production line and be able to withstand the counter defense.
FlaSh > Sharp
Loser's Match: Killer < Gold Rush > Mong
Never sleep on Mong's TvZ. Ever. We can recall when Mong upset Soulkey in the ASL3 groups on Camelot right after Soulkey upset FlaSh in the ATB Finals. And while Gold Rush is a very good map for Zerg, I don't think that it will sway the pace of the game. Mong's TvZ is still very solid and Killer's drop defense is not up to par to deal with SK Terran style, especially when that's what we'll definitely be seeing from our Terran friend. Still, the early game will be difficult for Mong, as we've seen Zergs place their 3rd hatch at one of the gas bases and threaten ling backstabs if Terran opts for an aggressive marine push to attack it. But once he can push through that, he should be safe and sailing through the rest of the game.
Mong > Killer
Final Match: Sharp <
Fighting Spirit
> Mong
We've seen Sharp's insane TvT on this map against the likes of Sea. His mobile army should thrive on a more open map like Fighting Spirit, but he still needs to prepare adequate defenses to halt his opponent's drop attempts. Expect yet another scrappy game where Sharp can edge out the win over Mong.
Sharp > Mong
Flash
and
Sharp
to advance to the Round of 8!
Zergs! They're Everywhere!
Introduction
I chose to write the group B ro16 preview prior to the group selection ceremony. I never knew how cruel fate could truly be before I opened the ASL S4 liquipedia article and scrolled down to see this abomination - a group with all zergs. Being a hardcore Zerg fan seeing brethren forced to fight one another, this breaks my heart to no end. At least there's a guarantee that 2 zergs will enter the bracket stage.
What else is certain though is Group B will be one of the most scrappiest groups in the Ro16. Each player will be primed to the fullest extent with ZvZ practice. The players will prove on stage which zergs are the worthiest of moving to the round of 8. What will unfold will be a blood bath won by dogged determination and the most intense of razor thin margins.
To begin, ZvZ is a matchup misperceived by many as a matchup of coinflips. In the first place, what makes ZvZ a difficult matchup to consistently win is how volatile the matchup is. Advantages can be lost in a matter of seconds with a few scourge hits or badly microed ling battles in mere seconds. What is required is tension to subtlety which Jaedong excelled in in the prime of his Kespa career with a staggering 85% winrate bteween January 2008 and June 2009.
Additionally, for the ASL's prior, Zergs such as
hero
and
Larva
could avoid their past ZvZ weakness almost entirely. With the decline of Zergs in previous tournaments, ZvZ was an endangered matchup. To see 7 Zergs in the round of 16 now is a profound sight. However, hero and Larva's decent ZvZ today makes their past records irrelevant.
Their trials began with the fateful group selection ceremony. Contrary to what people would expect of the old hero and Larva, they only spoke with true progaming confidence. Their faith in themselves was not unexpected with Larva's blind McGregor ego. Hero while modest still had a pleasantly surprising confidence.
Group B's innocent beginnings first developed when Larva obliged
Shine
's request to meet a Zerg or Protoss. Larva boasted that he'd claim victory in 10 minutes in true McGregor fashion. The group only mounted from there when he picked
EffOrt
, a player he's had some success against in online games. EffOrt then chose
hero
who accepted EffOrt's offer to join group B to complete the four zerg seal. All Zergs expressed their satisfaction of the group, none showing the least bit of timidity or fear. In the high stakes group B with so many players eager and hungry for the spotlight to prove themselves, no weakness can be shown in the ruthless world of competition.
Statistics
In the following section, an evaluation of recent ZvZ records in September will be done.
Most prominently, Larva has appeared to improve his game since a subpar 39.3% winrate in June. Although he did play against the finest Zergs; taking games off of
Jaedong
and EffOrt, he surprisingly lost 0:3 vs. hero.
Sept. Record: 3:1 vs.
Soulkey
, 2:0 vs.
Killer
, 3:1 vs. EffOrt, and 7:10 vs.
MisO
.
EffOrt has a similar winrate of 56%.
Sept. Record: 2:0 vs. hero, 1:3 vs. Larva, 2:0 vs. Killer, 5:2 vs.
ggaemo
, who is subpar at ZvZ, 1:0 vs. Jaedong, and 6:4 vs. Miso.
Hero, with the next lowest winrate of 53.3% is also doing decently.
Sept. Record: 4:4 vs. Jaedong, 0:2 vs. EffOrt and 2:0 vs.
Action
Shine has a 52.4% winrate. Overall, the record doesn't reveal much as Shine hasn't played any prominent players.
Sept. Record: 3:4 vs. Action, 6:3 vs.
Hyuk
and 2:3 vs. Miso
The records of sponsored matches doesn't completely elucidate how the players will perform on the live stage. In the two most notable ZvZ comebacks in the past year, hero was in both of them as the victim. First, he lost against Soulkey in the SSL Classic Season 1, and then against Jaedong in ASL Season 3. If hero can do the first part of gaining an advantage, but withhold the second part, he's sure to win.
As for Shine, he's been laying low the past month, possibly waiting until the big stage to show off his flair. During his KeSPA days, he was well known for a 14 game win streak record in ZvZ. Can he show a flash of his past brilliance? Despite Shine's minimal showings this month, Larva acknowledged Shine's skill, saying he doesn't know how he's so good in ZvZ.
In the group selection ceremony, EffOrt said Larva chose him probably because of his online success. However, EffOrt said he'll show Larva that offline matches will be much different.
All three players have been slightly over 50%, which is probably a given with the matchup's difficulty to be consistent. Overall nothing conclusive can be drawn from the players in terms of clear advantage from record alone. Looking at the individual players though, EffOrt and Shine have more subtle nuance and technical plays in the other two matchups. That doesn't translate as clearly to a significant gap in their ZvZ winrate compared to Larva and hero though. Regardless, the edge should be given to Shine and EffOrt even by the slightest differences.
ZvZ Map Strategy
Given the unique ZvZ only group, a ZvZ map analysis is appropriate.
Crossing Field
will consist of a turtle style into muta midgame. With a backdoor expansion, a ramp to the main, and long rush distances, 12 hatch is favored and aggressive builds are discouraged. However, a Zerg could decide to go for a 5/6 pool sunken rush in the hopes the other will 12 hatch. Zergs could also be too greedy or too aggressive. By over or underestimating the defensiveness of the map's features, a hectic early game can ensue. For the most part, a Zerg player's muta control will dictate the victor.
For
Gold Rush
, the semi-island bases create two major expansion choices that have great strategical implications. Players can either expand to a natural or a semi-island. If taking the semi-island, the Zerg will abuse the defensive ramp, make only drones from the expansion, and tech quickly to mutas. If a player decides to expand to the natural, they'll do that to catch a semi-island expander off guard specifically. By making use of lings from both the main and natural, a timing attack can deal great damage. The other Zerg can only rely on one hatchery worth of lings and a sunken colony.
Predictions
Shine even though a strategical mastermind still has to deal with the fiercely tenacious Larva who has a lot more to prove in tournament showings. Also, despite being low-profile in September, Shine has been practicing in optimistic anticipation of his games. He's gained a renewed sense of what it means to be a progamer since his second place finish. To add to his aura of mystique, even Larva McGregor in all of his audacity still respected Shine's ZvZ skill. Moreover, Larva has a reputation for being poor in offline matches. Conclusively, I have to give Shine the advantage.
Shine > Larva
Hero's been known to make silly mistakes and his recent live performances haven't been exceptionally notable. With mostly one-sided or mediocre performances, as much as his fans want to see him climb out of a slump, hero is just not at the same level. For a matchup that's all about executing every last detail to perfection, EffOrt has him beat. Maybe, just maybe if he is crazy enough to do a 5 pool sunken rush, he can win.
EffOrt < Hero
On Gold Rush, Shine's love for adapting to new maps like
Outsider
will compliment his strategic inventiveness. That could be entirely undercut though by a mass ling attack or Hero finding the spirit in himself to play solidly as he's done before. Hero will likely lose, but people can believe in miracles.
Shine < Hero
Both EffOrt and Larva have had such brief moments in the spotlight considering their skill level. EffOrt has been down and about since his VANT36.5 finals win over
Bisu
, but has had a brief resurgence winning the SSL Classic finals over
free
. As much as Larva's McGregor ego is a little too much, the passionate aura that radiates from his sunglasses feels just right.
EffOrt < Larva
The story of one of the best Zergs never seeing his time in the spotlight or the story of the underdog who made his way to the finals only to never make another comeback story - which is more tragic? As much as both are heart wrenching, the finalist curse may do Shine in to let Larva advance.
Larva > Shine
hero
and
Larva
to advance to the Ro8!
---