The second part of the much awaited tournament is upon us. The next three groups of round of 24 contain some of the best players who have played this game, if not
the
best. Yes, both Flash and Jaedong are playing in what could only be described as the ultimate showdown of ultimate destiny. This is Flash's second ASL, and seeing as he had an unfortunate early exit in the last ASL, it's guaranteed that he's looking to do better this time and cement his place as the best player who has played this game.
If Flash and Jaedong are not enough to pique your interest, then you might be pleased to know that other players playing in the Ro24 are no slouches themselves. Movie, Soulkey, BeSt, hero, Mind are just some of the names that will make sure to give their best and prove themselves to the ever stronger BW community. You don't want to miss this, so be sure to join us in watching Flash playing in the group D only
away. Groups E and F are taking place on December 12th and 13th respectively, at the same time.
Read on for a recap of the previous three groups that have been played last week written by c3rberUs and BigFan. After that, you might check out our previews for the second part of Ro24, written by FlaShFTW and BLinD-RawR.
Group A
Match #1:
Bisu
<
Benzene
>
Larva
Match #2:
GuemChi
<
Benzene
>
Ample
Winners' Match:
Bisu
<
Circuit Breaker
>
Ample
Losers' Match:
GuemChi
<
Circuit Breaker
>
Larva
Final Match:
GuemChi
<
Eye of the Storm
>
Ample
It's been quite a while since I've really touched on the deep concepts of SC but with another (thankfully) season ongoing, duty has called again. So I'll try to shake off the rust and get this recap going.
So, let's begin with a fun fact; this is the third time consecutive time these two have met in a major offline league group stage since SSL 11. ASL proper opened with a dominant opening from Bisu who netted some early drone kills and harassed the hell out of Larva's overlords. Despite Larva's over 80% practice winrate (thanks classicyellow83) on Benzene, it didn't appear like it was his as he was forced into staying on three bases while Bisu got to three bases with no problem. Larva knew that he needed to shake things up and pushed across the map to take out Bisu's mineral only expo. It didn't work out with the bridges serving as funnels to blades and psi storms. Then things got really ugly when he got his spire sniped by a lone DT and finally collapsed to a strong midgame zeal-goon-storm push.
GuemChi vs Ample started with spice; a proxy gate, gas steal. Despite Ample's initial success at kiting, the number of zealots soon equaled the marine count and it became very dangerous. After a tedious scramble, Ample managed to stabilize but now he had to deal with dragoons. He pushed out with seven marines and three tanks against seven dragoons. GuemChi stood his ground and was able to snipe two tanks. With a reaver in the works, it was only a matter of time before Ample would roll over. However, under the cover of the black mist, Ample was able to sneak two vultures, two, vital vultures past GuemChi's forward dragoons. These two sniped several probes and most importantly, crashed the reaver's welcome party which turned the game completely on its head. GuemChi suddenly had no cards left to play which forced him to leave with GG.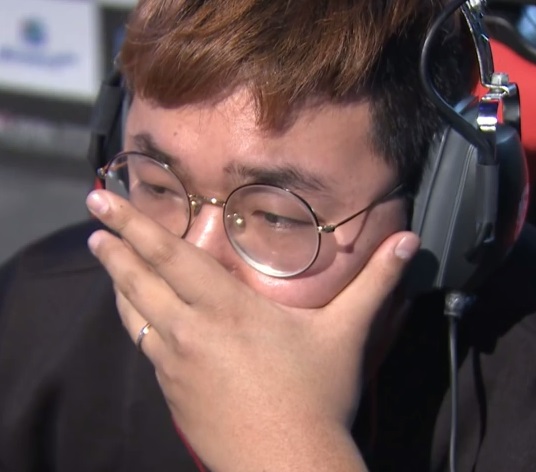 Even OMEKIM's eyes couldn't bear the horror
Bisu said sometime before the winner's match that he's intent on finishing this early to have a drink with FlaSh and Sea. Bisu must have watched the last match and thought he could do that opening better. Based on the lack of exploding reavers, I'd say he did. After that, it was a standard CB build for both players where they take the mineral only and top/bottom expos in quick succession. Then suddenly, without prior notice, Bisu sent his entire army across CB's bottleneck bridges and set fire on everything Ample owned. This is usually the part where I explain how Bisu knew the right timing and the right place to attack. But there are also times where mortals like me see something supernatural and refer to the age old term "starsense". With that said, Bisu owned, Ample got trampled on and Bisu managed to not keep FlaSh and Sea waiting

The loser's match was pretty much the same as Bisu versus Larva minus, well... Bisu of course. The game opened much more quietly with the first zealot harassment happening much later than Bisu's 1-zealot drone raids. However, that didn't mean that GuemChi's pre-leg zealot raids were no less effective. He went for Larva's third, crushed the meager zergling presence and delayed mining for a good amount of time. By the time Larva forced him out, GuemChi had already moved on to the next part of the plan; the rarely seen 2-stargate corsair. The sairs quickly increased in number and stamped their authority by blowing up everything in the sky. Soon the game became out of reach for Larva who simply lacked the power to resist a +1 speed zealot attack.
The final match saw Ample and GuemChi meeting again. GuemChi threw down a forward gate while Ample threw down a barracks and a CC. These two events conspired to create a heated struggle to set up a bunker and get some marines inside. The struggle ended and Ample kept the dragoons off of his lawn. But GuemChi probably wanted some revenge for the reaver that never had a chance. He went for basically the same build and even brought a few more friends; another reaver and a zealot-filled shuttle. As those units appeared into the game, the aggression escalated. First was a fly-by on Ample's natural then double reavers wreaked havoc at the main. Despite the presence of two goliaths, units were getting picked off one by one but at an alarming pace. Then GuemChi let the flood gates open and busted Ample's base wide open. With the flood not settling down, Ample took two scans and confirmed that it was time to GG.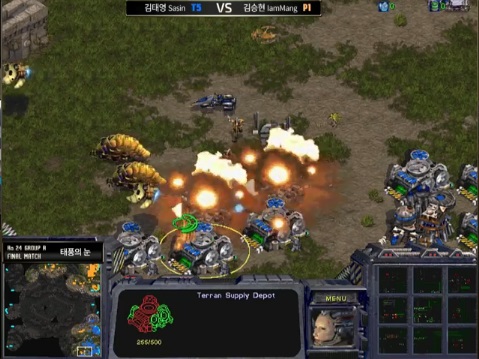 Double reavers in action
Group B
Match #1:
Light
<
Benzene
>
EffOrt
Match #2:
Rain
<
Benzene
>
force[Name]
Winners' Match:
Rain
<
Circuit Breaker
>
EffOrt
Losers' Match:
force[Name]
<
Circuit Breaker
>
Light
Final Match:
EffOrt
<
Eye of the Storm
>
Light
Rain
and
Light
advance to Ro16.
Group B contained three juggernauts in EffOrt, Light and Rain and an amateur, force[Name] who rounded out the group. In the first game on
Benzene
, Light opted for 2 port wraith while EffOrt opened with 2 hatch muta. The wraiths did some damage early on, killing some drones and constantly evaded capture using smart maneuvers. After establishing his expansion, it seemed like Light was in control until EffOrt decided to go for a frontal assault (gif) and moved three slow OLs across the map to Light's expansion. With the all powerful vision granted, he managed to assault the expansion head on with his remaining mutalisks forcing Light to retreat into his main for a final unsuccessful stand.
The second game of the group featured Rain against Force[Name], also on
Benzene
. There's not much to say about this game other than Rain completely outclassed Force[name]. After opening nexus first against Force[name]'s pool first opening, Rain kept being aggressive with his early zealots then eventually his speedlots, dark templars and a speedlot+archon army. Force[name] lost lots of drones through the constant aggression and had to tap out after his main hatchery at third went down.
In the winners' match, we were treated to the best ASL game of the Ro24 so far. EffOrt went up against Rain on
Circuit Breaker
in a heavily contested macro-oriented game. After opening up with a cannon rush that resulted in the production of several sunkens and countless zerglings (no lost hatchery) Rain settled down for a bit before dialing up the aggression. He constantly kept EffOrt on the defense with a lot of runbys, frontal assaults and later on, storm and reaver drops when EffOrt was being starved for resources. Both players had the same base count for the later portions of the game and had pretty impeccable micro, especially Rain who was not afraid to take risks and push EffOrt to his limits. By the end, Rain managed to take out EffOrt's last mining base and lots of drones causing EffOrt to tap out and for Rain to advance in first place.
Exceptionally done!
In the losers' match between Light and Force[Name] on
Circuit Breaker
, Force[name] was once again outplayed. Light, a TvZ specialist opened up with 1 rax FE to the 3 hatch muta of Force[name]. He established map control early on and kept this up throughout most of the game with a rather large mnm army and mines at crucial positions. Feeling pressured, Force[name] was not able to engage and easily lost his third despite his emergency sunkens. Without a third, Force[name] tried to prevent Light from grabbing his own third and tried to pressure him but between the drops, erasers and frontal pressure, Force[name] conceded.
The final match of the group was a rematch between Light and EffOrt on
Eye of the Storm
. Light opened with a cc first while EffOrt went for 3 hatch muta. After defending against some minor zergling aggression, Light went up to three factories, researched +1 armor and eventually added a fourth factory and an ebay. As he gathered up a sizable goliath army, EffOrt used his mutalisks to delay the move out and tried to gather up his own sizable hydra army (added queens later on too). He eventually lost his third to some goliaths who snuck out earlier and tried attacking Light's expansion with no success. Light eventually moved out, made it all the way to EffOrt's expansion, sieged up and forced EffOrt to engage before his queens were ready to cast 'spawn broodlings'. EffOrt tried desperately to hold on but reinforcements from Light sealed his fate.
Group C
Match #1:
Rush
<
Benzene
>
Stork
Match #2:
free
<
Benzene
>
MisO
Winners' Match:
free
<
Circuit Breaker
>
Stork
Losers' Match:
Rush
<
Circuit Breaker
>
MisO
Final Match:
Rush
<
Eye of the Storm
>
free
When I heard that Stork was going to participate in the second season of ASL and that he was going to stream his games, I was seriously taken aback by how impossible that statement
was
. You guys probably know back then when it appeared that Stork hated the BW streaming community. It seemed so far off to imagine him in that booth again playing that game with '90s graphics. But now it's real and he's even reunited in competition with an old clanmate and fellow dragon.
When Benzene was in professional usage, Stork was one of the few progamers I remember who really abused the long rush distance of the map. He put down a nexus after pylon and was kind enough to give Rush a pylon of his own. Rush, like his namesake went for a post-factory bunker rush that was calmly put down by the Supreme Commander.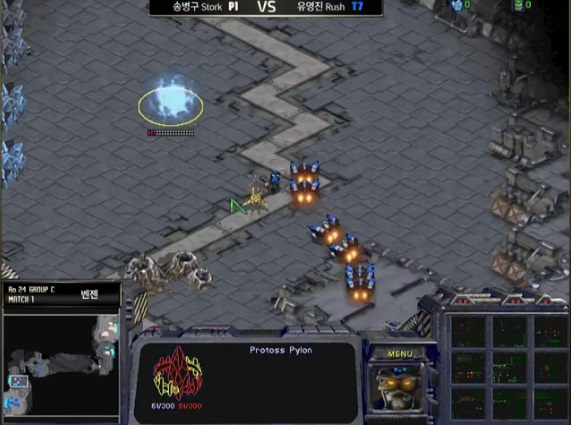 Photo of said pylon
The game continued afterwards with standard play with harassment maneuvers and counter-harassment except for the fact that ten minutes into the game, Rush still did not have a comsat. This proved to be critical as the camera panned to show several stargates warping in. Rush struggled the whole game after the disastrous, ill-advised bunker rush and the pylon block delayed everything. He simply didn't have the strength to challenge the carrier fleet and the encroaching protoss expos.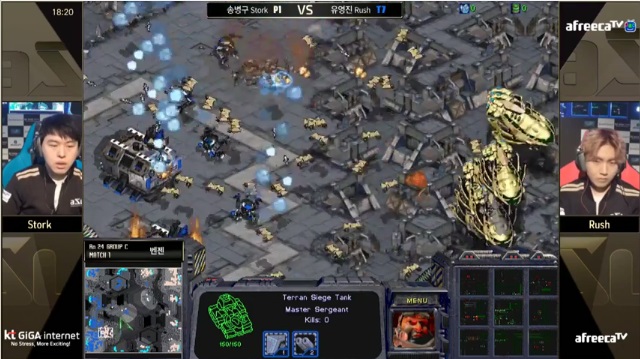 Stork. BW. Stork winning. 2016.
Free versus MisO was basically a clinic on how to do modern professional-style PvZ. Early game zealot harassment? Check. Be effective with your corsairs? Check. Deal lots of damage with your first major push? Check. Expand behind the aforementioned push? Check. Kill or cripple the opponent with the next push? Check. Free did many things well in this game and even the map helped him when his DT drop came into play as MisO's drones got lost due to pathing issues.
The winners' match was the meeting of dragons. A hyped matchup back in the day and should be now. However, the game itself was less than entertaining. I don't want to pretend that this match was an exciting and tense duel. It was a build order win. Stork had a shuttle reaver, Free had an obs and a reaver (shield battery also appeared so yay.) Obs can't pick up reavers and that was the game. On the other hand, Stork, despite just getting back to the game advanced with a perfect record.
The losers' match was a cross position ZvT on Circuit Breaker. After the standard early game, MisO's mutas and lings danced around the bio force that crossed the double bridges picking off stragglers. During the course of this dance, MisO was able to get around twice and got an opening to attack Rush's main. The second time became a death knell as he over-committed and lost much of the force he was using to deter pushes to the third. Consequently, Rush took advantage. After sniping the third, Rush continued to check everything MisO did and just outplayed him.
Having defeated MisO, Rush was slotted into a match with Free on Eye of the Storm. Eye of the Storm has so far been a hotbed for forward gateway pressure due to the main and natural being on the same level. Free however was content with light pressure to delay the factory a bit. After a quiet midgame transition, Rush smartly used the close spawns to his advantage and pushed the tempo. On two bases with five factories, he claimed the ground just before Free's front door. Rush knew that Free was still at two bases and that he had to hold on. After managing to just hold on, he denied a recall attempt which forced Free's hand, to throw everything at the terran wall. Free has done miracle pushes into heavily fortified mech positions in the past but Rush had none of that. After holding on, he pursued his opponent back to his natural and shut him down. Well played Rush.
They didn't have a chance
Group D: Return of the Terminator
Group D will headline one of the favorites in this tournament, God himself,
Flash
. He'll be joined by some underlings like
Movie
(2nd to FlaSh in OSL),
Soulkey
(beat FlaSh in his last Brood War proleague game), and
Terror
(Afreeca personality). Let's dive into this preview!
Game 1:
Flash
vs
Terror
on
Benzene
FlaSh's TvZ is still the scariest TvZ in the history of Brood War. After yet another fine tuning of his matchup, FlaSh perfected both the +1 5 Rax as well as the mech-transition. While he hasn't played many tournament games yet, FlaSh has been cruising in the sponmatches online, continuously being in the top 3 each month. His November stats showed him at 57.8%, but playing against the toughest Zergs in EffOrt, hero, ZerO, and Soulkey. In the KeSPA days, FlaSh was still at 72% TvZ. His opponent, Terror, has apparently been practicing quite a bit again as he managed to qualify for this tournament. On the other hand, Terror hasn't been in any tournaments for the past 2 years so he will definitely be faced with pressure from all sides. FlaSh's return to the ASL should be a clean win.
Flash
>
Terror
Game 2:
Movie
vs
Soulkey
on
Benzene
Movie was known as the boy who almost royal-roaded the OSL… until he ran into FlaSh in the finals then lost to a bunker rush because he 12 nexused. Ever since, Movie has been a relatively low-class A teamer and hasn't been able to really make any noise in the scene. He's been pretty quiet in the post-KeSPA era as well, but has a surprising +50% in all matchups. However, he hasn't played in any tournaments since March so that definitely plays into his mentality. Soulkey on the other hand, has returned from SC2 and like Rain, looks poised to continue his streak into the BW scene. We saw what Rain could do with just a few months of practice, so I'm expecting the same out of Soulkey. Soulkey had a very impressive 66% ZvP in the KeSPA days and was known for his fantastic play right next to ZerO on Woongjin Stars. We'll definitely watch closely to this matchup but I think that Soulkey should be able to take it.
Soulkey
>
Movie
Game 3:
Flash
vs
Soulkey
on
Circuit Breaker
I'm not gonna lie, I think if there's an upset match, it's going to be this one. Soulkey actually has FlaSh's number, being the only Zerg in the month of November to have a winning record against the Terminator himself. He beat him 5-3 in the series and maybe he's found the way to stop FlaSh's fantastic mech switch. This will be the game of the day so definitely look out. I bet FlaSh is still steaming from Soulkey beating him in his last game with some dumb 9pool speed build on Gladiator, or at least, I know I'm still steaming from that game. Hopefully FlaSh is angry and smashes Soulkey in this game, but by trends and statistics, this is a tough one to call. I'll give it to FlaSh for a few reasons: 1) Even though Soulkey has a winning record against FlaSh, those are sponmatches and not televised off-line matches. FlaSh is known not to choke in tournaments very often while Soulkey on the other hand has only ever made it to a Round of 8 in his career. 2) FlaSh's old TvZ record at 72% is far more impressive than Soulkey's 54% ZvT, 3) Circuit Breaker is a pretty hard map for Zergs in ZvT because of the double chokes that Terran can mine up in the mech switch, and mineral-only bases generally favor Terran as well, and 4) I'm a huge FlaSh fanboy plus:
Will we see this again?
Flash
>
Soulkey
(but very close)
Game 4:
Movie
vs
Terror
on
Circuit Breaker
Like I said before, Movie is known for his PvZ and against a player like Terror, I don't expect too much trouble in this one. Terror only has a 45% ZvP win-rate and he's lost to a lot worse Protoss than an ex-pro in Movie. Movie should take this game pretty easily.
Movie
>
Terror
Game 5:
Movie
vs
Soulkey
/
Flash
on Eye of the Storm
The classic rematch. Honestly I would love Soulkey to upset FlaSh so FlaSh could play Movie, but then as we've seen with literally every group so far, the underdog always wins in the last set so I'd be scared of Movie upsetting FlaSh, especially when EotS was the map that Movie actually beat FlaSh on in their OSL bout. I would expect FlaSh to take the game over Movie anyways since FlaSh has had a decent amount of success against Protoss so far (77.8% in the month of November) so we'll move on to my actual predicted match. Again, everything I've said before stands between Movie and Soulkey. However, it's also interesting to note that EotS is not a good map for Protoss to take a 3rd base. All the 3rds are far away and the side gas bases are difficult to take. I definitely think that Benzene is a way better map for Protoss than EotS and that will definitely punish Movie in this final map if they play straight up. Knowing this, I hope Soulkey can deflect any cheese from Movie, including the unusually popular double Stargate Corsair play we've seen this tournament, which Movie has shown many times in his career as well. With an even better map for ZvP, I still think Soulkey will beat Movie.
Flash
/
Soulkey
>
Movie
Flash
and
Soulkey
advance to the Round of 16!
Group E: The Tyrant is back!
Here it is, the long awaited return of The Tyrant, Lee Jae Dong! He is here to save the zerg race from extinction in this ASL against the likes of
Mong
, the once called Afreeca Flash,
Best
the macro machine and fresher face
Hint
.
Expectations are high for Jaedong especially since he's been pretty publicly playing on the fish server all year under the guises of jiko and 424 and his run so far on fish ladder has been well documented even before his first official stream. Now with the switch official and the show match mode turned off, it's time to see the real death stare from Jaedong as he tears this group to shreds with his ZvP and ZvT skills, both more than a match for his opponents when considering recent victories over players such as Light, Mind and Shuttle.
BeSt has had a tough road last ASL. His PvZ these days has been returning to its original Doh state, which is a cause for concern especially if he has to go up against the Tyrant. The same could be stated about his other 2 matchups. Both his PvT and PvP are pretty impeccable with his solid macro play and decision making.
Mong is in a pretty interesting situation. For one thing, with the recent string of returns, his own star power has decreased quite a bit. Coupled with that is the fact that his skills have diminished due to lack of practice because he is running his own business alongside his streaming. While he is definitely a cut above Hint, he's very likely to fall short against Jaedong and BeSt who have been practicing hardcore for this season.
Here's a Hint, Hint has a tough group, no two ways about that. His history seems to indicate that he will often qualify for a tournament then fall off after being knocked out in the first round with less than stellar performance. While it's unlikely that he might prove me wrong, he does however have the element of surprise on his side.
Jaedong and
Best
to advance
Group F: The Hero We Need Right Now
The title of Group F is so aptly named due to our extreme shortage of good Zergs, or at least, Zergs that can actually make it out of groups (I'm looking at you Larva and EffOrt).
hero
is one of the last hopes for the Zerg race and there will be a lot of pressure on him to make it out of our last Round of 24 group. Joining him are old faces,
Mind
and
Iris
, as well as a rookie,
By.Maru
.
Game 1:
hero
vs
Mind
on
Benzene
Mind is still a god at TvZ, boasting an incredible 74% winrate in the matchup. He's one of the masterminds of the matchup and understands nearly ever facet of this matchup. Hero on the other hand, had a brilliant run last year where he won 12 straight, but has since calmed down. He now sits at a near 50% winrate, being 96-100 in the matchup, and even managed to square up against FlaSh, 7-7, in the November sponmatches. But against a specialist like Mind, I don't think he stands a chance.
Mind
>
hero
Game 2:
Iris
vs
By.Maru
on
Benzene
Iris, the Berserker, plays against a new face in the scene, By.Maru. It will be interesting to see what Maru can pull off, and no doubt there will probably be some Liquibetters out there who will throw Maru's name into their prediction to try to style on the rest of the field, but I doubt Maru will see any hope of advancing, especially against solid players in this group. Iris hasn't played in a tournament since last year so it will be interesting to see how he does. Based upon how comfortable his win is against Maru, I see him either posing a threat in the winners match, or a dud.
Iris
>
Maru
Game 3:
Mind
vs
Iris
on
Circuit Breaker
Mind's TvT is actually pretty abysmal, sitting at a lowly 37.5%, but most of his losses are due to being in a field of Terrans who are extremely good at TvT. Namely, his overall record against someone like Last is 3-13, against Sharp he is 1-5, against Mong he's 3-6, so take his TvT winrate with a grain of salt. However, Mind is regularly able to defeat lower level TvT players. Also, because this is Mind we're talking about who almost always makes it to the Ro16 and also tends to make it out of groups, I can see him making it out of this group due to his group clutch factor. (Albeit the last time I wrote that, he got eliminated in the Ro16 last ASL heh.)
Mind
>
Iris
Game 4:
hero
vs
By.Maru
on
Circuit Breaker
Hero is a ZvP specialist. His win-rate is 71%. He is playing a rookie. I don't think anything else needs to be said here.
hero
>
Maru
Game 5:
Iris
vs
hero
on Eye of the Storm
While we can note that hero's ZvT isn't the best, I think his 50% winrate will be enough to overcome Iris in this matchup. Iris is slower, he's older, and he's definitely out of practice compared to a hero who's been in almost every tournament. Also, hero's bulk of his ZvT losses are to Mind, who's a TvZ specialist, and Sea who's also very good at TvZ. Against weaker TvZ players like Mong, he is 21-12 against him. I feel that Iris shouldn't be that much better than Mong, if at all better, in the TvZ matchup, so I'm giving this to hero. Also because I'm a hero fanboy. Heh.
hero
>
Iris
Mind
and
hero
to advance to the Round of 16!
Writers:
FlaShFTW, BLinD-RawR, c3rberUs and BigFan
Graphics:
v1
Editors:
BigFan
Photo Credits:
Liquipedia and DailyEsports