Map making is an important part in Brood War balance. Be it cool map features like mineral walls or lurker egg blocks, or just plain and simple standard maps, they always played a role in how each race played out a map. However, one map stood head and shoulders above the rest in terms of balance, and has been featured in nearly every league and tournament since its debut. It is no doubt this map is
Fighting Spirit
.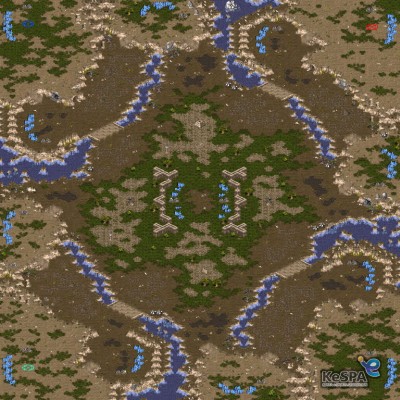 Since the map first came out, there was nothing but praise for the map. A map that all three races felt was beneficial to their playstyles. A standard natural, relatively close and easy third, and a wide open center with a few walls. It is no question why this map led the way for future map designs and changed the very definition of standard map making in Brood War. Maps like
Jade
,
Sniper Ridge
,
La Mancha
, and
Icarus
all share that classic similar safe third.
Fighting Spirit
Recently, Fighting Spirit has been eliminated from the map pool in

SSL11
, after about 5 ½ years leading tournament map pools. However, the community welcomed the change, saying it was a breath of fresh air and that the map had its weak points and flaws. Therefore, we must dive in to the truth behind Fighting Spirit and maps that follow its lead.
Hypothesis #1: The map balance is wrong.
In the current post-KeSPA era, the map has had very a skewed balance towards Terran with Zerg and Protoss getting the short end of the stick.
Fighting Spirit
So why is this? Why was the KeSPA era stat line so evenly balanced while in the current era it's so unbalanced? The map itself did not change during the transition so statistics should remain the same. Some may suggest that with more time, the pros are able to abuse every small advantage they could, and Terran players ultimately came out on top. However, I am very skeptical. This argument suggests that both players and coaches could not solve the map in its reign of over 5 years, which seems extremely doubtful, even laughable.
But is it? If we look at similar map statistics using the maps I listed above that use a similar safe third and optional third due to spawn imbalance, would we find a trend? Here are the stats for each map:
(Sniper Ridge and Jade both had slight remakes, so I will be combining their games played to formulate a better conclusion)
Fighting Spirit and Similars: KeSPA Era
Looking at each individual map, each map does show some blatant imbalances. Sniper Ridge favors Terran, Jade favors Protoss, Icarus favors Zerg, and La Mancha is equal for all races, but skewed towards each imbalanced matchup (T>Z>P>T). Jade and Sniper Ridge both have relatively small sample sizes to pull from, especially with Jade in the TvZ matchup. So to help with those lacking in sample size, let's pull up the post-KeSPA stats:
Fighting Spirit and Similars: KeSPA and post-KeSPA
(Icarus not included since only 4 games were played on it).
If we look at this much more prominent stat line, you'll notice every map is skewed towards the standard imbalance. So while no map distinctively favors one race, they are all imbalanced towards the same matchups. (Perhaps another article about why there is race imbalance another time).
Perhaps we should look at different maps that are much different that Fighting Spirit. Introducing
Match Point
,
Blue Storm
, and
Neo Electric Circuit
.
Fighting Spirit vs Non-similars: post-KeSPA Era
But is Fighting Spirit entirely balanced? In a discussion with kogeT, he mentions a few minor aspects of the map that add up to give Terran a favorable advantage.
There are no cliffs for muta micro or lurker abuse.

It enables easy map splitting late game which favors Terran.

The middle expansion inherently favors tanks and Terran.

Main mineral lines are protected by the boundaries of the map (in the corners).

Simcity/building placement concept enables a safe natural (maybe a little too safe).
Here's my response to this. While these features are definitely worth noting, there are some flaws to this theory. Map splitting rarely comes into play, as much TvZ games end well before the map splits. However, it is noted that with tanks, map splitting becomes incredibly advantageous for Terran:
Continuing on, the middle expansion almost never comes up in TvZ games, but more commonly comes up in TvT games. Therefore, this is a non-factor. The main mineral lines being protected by the map does hinder mutalisk harass; however, most maps have adopted the corner base layout for years now, so this is also relatively unconvincing. Building placement structures have existed for a while, but it should be noted that the chokes of naturals have gotten noticeably smaller and smaller. This hinders the ability for zergling run-bys and surrounds.
HiyA vs Larva on FS is one example
A sad day for zerglings
However, I still believe these things in total do not put Zerg players at such a disadvantage to warrant the 64% win rate we see on FS. Maybe something closer to 55% would be more reasonable, but the current win rate still stands to be a little more exaggerated. But let's say they did, and that Fighting Spirit really is a Terran favored map against Zerg for the above reasons. Why did Terran players not dominate during the KeSPA-era then? 51.6% is near even, so there is no evidence that these map imbalances played a role then.
Ultimately, there is no clear evidence that Fighting Spirit is imbalanced due to map design. While koget brings up potential ideas for why Fighting Spirit is Terran favored, the current extreme win rate we see is far from what they should be. Which brings me to my second theory...
Hypothesis #2: Player quality has changed.
If we look back to the KeSPA era, each race had their fair share of S and A class players.
Flash and [FanTaSy led the charge for Terran while a horde of A teamers followed them: Leta, BaBy (TY), Light, Bogus (INnoVation), Sea, Mind, Reality, HiyA. (10)

For Zerg, their leaders came in force, behind ZerO, Soulkey, EffOrt, and Jaedong. Behind them were Shine, soO, Calm, Killer, RorO, Kwanro, and Hydra. (11)

So in terms of player quality, each race had their fair share of players to hold the torch and pull their own weight. So how about now?
Above all, Terran players have dominated. And it's no surprise. The Terran have been making up over 50% of top8s consistently (Kongdoo Starz League only featured 2 Terran in the top8 most likely due to the lack of sSak and Last).
Zerg, while in numbers, have failed to ultimately impress and display their true potential. Big names like ZerO, EffOrt, Killer, Kwanro, and hero have shown up, but while quality Zerg players are close to that of Terran, they still do not stand a chance against them. (5)

In the top 10 Elo ranks alone, Terran players often make up half of the slots with only 1 Protoss in the top (Bisu). In fact, ZerO and especially Killer, may be ranked too high considering their current performances.
So given all of this data and evidence, does this really demonstrate that player quality affects map statistics like Fighting Spirit? While I was previously an advocate of this hypothesis, the more research I conducted, the more I realize that this is simply not the case as much as it seems. If Terran power was really the reason for Fighting Spirit's imbalance, then every other map would also show similar statistics, if not completely mirrored. But as we have seen before, the maps have shown relatively stable matchup statistics aside from the natural race imbalance. So what can the reason be? Let's delve deeper into why Fighting Spirit shows these imbalances.
Zerg and Terran Win-rates on Fighting Spirit
Using the 7 Terran and 5 Zerg I previously listed, I took the data from the TvZ matchups on Fighting Spirit and this is what I came up with. Astonishingly, Terran have an almost 72% win rate, numbers so high that they cannot be fathomable in Starcraft terms. Zerg players on the other hand, have a dismal 44% win rate. However, skeptics of these statistics may say I picked 7 Terran who are notoriously good at TvZ, and 5 Zerg who are notoriously bad at ZvT. But did I? You might be surprised at the data.
ZerO, hero, and Kwanro all have about 45% vT win rates, while Killer and EffOrt have above 50%. In total, their combined win rate is 209-245, or a bit above 46%. So they see a -2% drop in win rate on Fighting Spirit, but this isn't very conducive of firm evidence. But the Terran data was extremely surprising and caught me off guard. The Terran group only has a win rate of 256-214 combines, or 54.5%. Their Fighting Spirit win rate is a +17% increase compared to their average, which means if you remove Fighting Spirit from the map pool, Terran actually only have a 144-170 win rate, or 45.9%, against Zerg. This translates to nearly +26% in win rate between Fighting Spirit and other maps, representing a dramatic 44% difference. This measure, by itself, reveals to us the underlying reason why Fighting Spirit has such an obscene win rate. Terran have simply figured out Zerg on this map, while Zerg players have been unable to cope with it.
Conclusion
Ultimately, Fighting Spirit's current massive Terran favored disparity can be answered through one simple answer, Terran players perform and prepare so much for this map compared to any other map in the current map pool. When there is a 44% difference in win rates for the top Terran players between FS and other maps, it means three possible things.
That Terran players just prepare so much better than Zerg players for this specific map.

That there are features that inherently favor Terran in the TvZ matchup. However, there is no evidence to this measure, since Terran players go basically even with Zerg on every other similar map as Fighting Spirit, leaving no conclusive data to support this theory.

The other maps in the map pool are imbalanced in favor of Zerg, which is why these Terran players have a hard time dealing with them. This claim is also not well supported, since once again, there is little proof of map imbalances with the rest of the map pool.
One thing I look forward to in the coming SSL and other tournaments that remove Fighting Spirit, will Terran players still reign supreme over Zerg? Considering their 45.9% win rate on every other map, Terran seem to still be confused with the rest of the map pool. Will they adapt quickly enough, or will Terran finally be brought down to normal levels? All of this will be revealed to us at the conclusion of SSL 11.