Well that's it folks, time to pack up and go home. Movie's run to a record third consecutive SRT win is gone, Killer has finally lost a map in ZvZ, the dream is dead.

Wait? A TvZ final? The best TvZ player on Afreeca? A two time SSL champion? Oh alright fine, we'll have one last series.

With most of the boring record talk now out of the way, the SSL team is here to bring you one more bit of news about Sonic's latest ranking tournament. KristofferAG does his thing in the recap section, talking us through the two great semi-finals that took place last night. Following that a preview of our grand final, and with only one prediction to make, this time I at least has a 50/50 shot.

Join us tonight at 9PM KST as SOSPA's new top two battle it out in Brood War's hallmark match-up.



Round of 4 Recap
With the randomizing of the semis, we ended up with what shouldn't be, another mirror matchup, ZvZ, between Killer and by.hero. Then again, the alternative was a ZvT against Sea, which chances are he wouldn't make it out. But that is no longer relevant, he was to face the Little Jaedong, Killer and his unstoppable ZvZ, in a Bo5 for one of the spots in the finals of the 14th SRT.
Already on Match Point Killer proved he was not taking this lightly. His early ling aggression was fairly easily defended with only lings and Drones, but it was the follow-up swelling of Zerglings from Killer that would catch hero by surprise, annihilating him as he was in the middle of teching to Mutalisks. So, game 1 went in Killer's favor.
On Match Point, both players went for Mutalisk builds. Well, I say that, but both players made Zerglings to put on pressure, hero getting a full scout with his. To make hero pay, Killer made about 30 lings, once again, and charged into hero's natural. This time there was a Sunken in time, which bought hero just enough time to get his Mutalisks out. Killer had gone Scourge first, which seems to be his favored style. There were some Mutalisk skirmishes, and while hero's air army was busy fighting Killer's air army, zerglings from Killer went into hero's main. Quick 2-0 for Killer.
And once again Killer has the chance of a clean sweep, as the players were ferried over to Neo Medusa. Killer got his initial overlord scout right and instantly saw hero's speedling build. In response, he made a handful Zerglings of his own to defend, relying on his micro, while teching up to a very fast Lair. Though he did defend the initial wave, he wasn't prepared for the following taskforce, which killed off all his Zerglings and made it into the main. In spite of a sunken morphing in, half of Killer's Drones were killed off. It all relied on Killer's scourges making it to hero's base before his Mutalisks popped. They didn't, and Killer instantly called it, knowing he couldn't claw his way back in.
So hero's proven that Killer is not the unstoppable force after all. On Fighting Spirit both players went for early expansions followed by pool and gas, before quickly moving into Lair and, you guessed it, Spire. There was no aggression from either side till the Mutalisks popped, and the initial battle was an even trade. Soon enough Killer wanted to go on the offensive, bringing his Zerglings along to tank the damage. There were good Scourge hits on both sides, but for some reason Killer left his Zerglings too far behind to tank any glaive bounces, ending with him losing his entire Mutalisk army. When hero arrived in Killer's natural a few minutes later there was nothing to be done, and hero tied up the series 2-2.
Guess the outcome. I couldn't.
With both players on the brink of elimination, we moved on to New Wind and Cloud, where Killer went hatch first followed by a pool and gas, while hero went the opposite way, ending with the hatchery. Both players quickly went into Lair after a few Zerglings, with hero managing to snipe a single Drone for a single Zergling. There was a lot of posturing after this, with neither player wanting to attack and make an accidental mistake. It would take a couple minutes before hero saw fit to charge in, and in the massive air battle that ensued, Killer came out on top. By a whole lot. The gg would be called after a short minute, making Killer our first finalist!
We're gonna get real for a moment here. No-one expected our (mine, at least) favorite Terran to make it to the finals of the SRT. There was some chance if he'd been allowed to meet hero in the semis, but with his history of bad TvP and Movie's, his opponent in the semis, scary PvT, there was little chance of him advancing. Or so we thought.
The naysayers were shut up already in set 1. Movie's pressure with his initial units was easily handled with zero losses. Sea's pressure with his first tank and vulture pretty much cleaned out the entire army of Movie, and the widow mines allowed him to siege up Movie's natural, and kill a bunch of Probes in the process. It was only when the Scarab arrived that a sliver of hope appeared for Movie, as he was able to grab a dozen SCVs before being forced to return home. His natural, however, did go down. Sea's following mech push was too much, and the underdog took game one.
Movie shows us how not to use Carriers. (They're under Sonic's face, if you had trouble spotting them.)
On Match Point, Movie went for a 1gate expand, to which Sea responded with a bunker rush, not committing completely to the cheese as he built an expansion behind it. There waws a Shuttle made, but not much was done with it nor its Reaver, before Sea suddenly had Movie's natural sieged up. Movie tried to take out Sea's third, but already the siege tanks and Vultures were ready to defend. Movie was able to kill off the small army Sea had outside of his natural, and went for a double drop into Sea's main. Which failed horribly, as he lost all but his dropships, dropping his Reaver on top of mines. Sea once again sieged up Movie's natural, and while denying mining there he sent his Vultures to kill off the Probes in Movie's third. Out of nowhere came three Carriers from Movie, which pushed Sea back. The Carriers went for Sea's fourth, but by the time they got there, a squadron of Goliaths were ready to shut it down. Movie managed to get his Carriers trapped in a corner, losing all of them. While this was going on, Sea destroyed Movie's third. GG was soon called.
I know, it blows my mind as well, but by now Sea is up 2-0 against Movie, one of the absolute favorites to win this SRT, you know, along with Killer. Bring on Neo Medusa, and potentially our last game. Sea proxies a single Barracks in the middle of the map and sends out a few SCVs, managing to get up a Bunker that's out of reach from anything important to Movie. Movie quickly places down a Shield Battery, and Sea gg's out. Anticlimatic much? Either way, it means Movie is back in the game.
So, we're back on Fighting Spirit, and both players gear up for a macro game, with Movie sending out his first goons to pressure Sea. It works to some extent, killing off Sea's Marines and first Vulture as well as one tank, but the expansion finishes, Sea gets his siege mode, and Movie is forced back, with some losses of his own. Feeling safe, Movie goes for a greedy quick third base, which he instantly regrets once it finishes. Sea takes it out uncontested. Obviously, Movie tries to take a new third south of his main, while Sea floats his CC out to the 6 o'clock. Movie tries to deny it with a Shuttle dropping on Sea's tanks, but his entire army dies with only minor losses for Sea. The obvious move for Movie is to go for DTs, which he does, and he's even able to kill a tank with it before it's scanned and killed. Then his five-goon army gets killed as Sea charges across the map with a terrifying mech army, which forces our former SRT champion out of the game. Yes, Sea just won, very convincingly I might add, 3-1 over Movie.
Grand Final Preview
With the series that was supposed to be his greatest test passing almost without issue, Sea ought to be looking forward to a finals series which will be played in his strongest match-up. Elsewhere, Killer just scraped through to his second SRT final, in the process losing his first two ZvZ sets of 2013. With Movie's SRT dominance having been so unceremoniously ended by Sea in the last round, this final is beginning to look like a match-up between the two best players in the SOSPA scene.
During the TvZ bonanza that made up the final stages of SSL8, there was a sense that Sea may have been the Terran most well equipped to finally overcome Killer, who in the end barely broke a sweat defeating sSak and HiyA with a 6-1 aggregate score. Sea's win record in TvZ, currently standing at 77%, is among the highest single match-up win-rate of any player in SOSPA competition, higher even than Killer's exceptional 76% win-rate in ZvZ and occurring in a much larger number of games. While it's unlikely that anyone who has watched Sea play, either in his Afreeca or professional careers would feel particularly enlightened when being told that he's good at TvZ, the ease with which he's been able to carve through every Zerg in the SOSPA scene, even Killer in unofficial matches, is actually remarkable.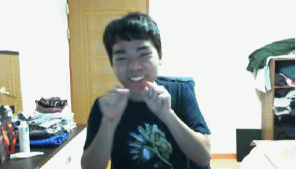 I will take any excuse to use this gif.
Killer is probably the only player around right now who can make the final of a tournament and still have some people (including this writer) regarding his performance as relatively unimpressive. While he has at least reached the most basic of expectations by beating hero in the semi-final, Killer has not really looked quite as sharp or, perhaps, interested in this tournament as he was in the SSL. Regardless, Killer's talent remains unquestionable and while he won't have the benefit of an offline setting, something which always seems to work in his favour, the former OZ Zerg is relatively well positioned to take his second SRT win, a little less than a year after his SOSPA tournament debut.
Going into the series, Sea's win earlier in the tournament, along with this generally strong record against Killer in the past, would seem to give him the edge in this final. However following his recent demolition of two of Afreeca's best TvZ players in SSL8, Killer at the very least will expect to keep the series close. As the newly crowned number two on the SOSPA Elo rankings, Sea now has a chance to complete his return to form against the best opposition possible.
Sea
3 - 2 Killer