Translated this article interviewing the commentator Um Jae Gyung who has been commentating ever since the BroodWar scene started. He now commentates for Ongamenet, but he started in Tooniverse. He is one of the most influential figures in the BW scene and one of the people who care the most about eSports.

I'm not really good at translating so forgive me for some of the errors in grammar and in translating. I also posted this in the "SCBW in Korea: Headlines" thread but was advised to make a new thread about it (Thanks).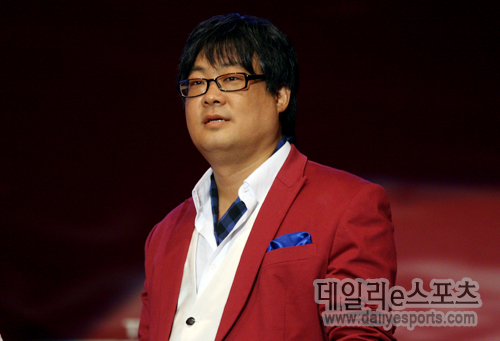 Commentator Um Jae Gyung has given some advice regarding the apparent danger esports (BW) is in.
Commentator Um, in a telephone interview with DES on the 29th said "Instead of looking at the scene negatively because of the apparent danger it is in and blaming others for it, we should try harder to make a more fun league, and a more fun esports for the future."
4 days ago, Commentator Um posed this on Twitter "The eSports scene started with nothing." He tweeted "Depressing news is all over the eSports scene but I don't worry too much. That choice is in the buyers, aka tha fans so there's no reason to blame anyone" He said as he started to talk about the early days of eSports
Um started commentating even before Ongamenet was created in a kid's cartoon channel named tooniverse that was brodcasting starcraft leagues. "There were no game channels at first. We just took a ping-pong table that was rolling around somewhere inside the tooniverse company building and put a black cloth over it to use for stage setup and had a very small prize pool. It was just for fun, a small, weird event" He reminisced.
So he explained that the current situation is not a danger through comparing. "In the eyes of a person who started with 0 won, I don't want to even say cheer up to the people who are depressed and saying it's dead from the scene falling from 10,000,000 won (T/N: $10,000 aprox.) to 9,000,000 won ($T/N $9,000 aprox.)" He tweeted.
In the telephone interview with DailyESports, Um explained "A team may disband because of many reasons from the sponsors. The important things are the coaching staff and the players that make up a game team. These guys are able to be players thanks to the system that allows them to be absorbed into other teams easily like the Estro situation."
If there is a disappointing point, it is the fact that one of the sponsors that is pulling away from their teams is the gaming cable channel MBCGame. "It is important culturally and industrially to have cable channels broadcast gaming content. The broadcast is a power mechanism as we are able to showcase our player's games to more places and people, therefore hardcore fans, people interested in the content and the people around them are able to take interest in it."
He also analysed the reason danger has appeared to us. One of the reasons that game teams lost their attractiveness to sponsors is because of the match-fixing with the illegal betting sites, and the other is the dispute between Kespa and Blizzard Ent about the broadcasting rights. The clean image that sponsors wanted was destroyed by the match-fixing in the world of competition and the disputes were taken all the way to court so the chances for synergy (T/N Not sure about my translations here) was reduced.
Commentator Um confessed his wishes to see leagues and eSports programs that people want to see. When Starcraft leagues were first being made, "Nobody predicted that the industry would grow, but it achieved a dream bigger than a dream (T/N: That's how he said it). He said, "When you talk of success in most industries, especially content-based industries, success is not just capturing the niche, hardcore fans but it has to have the ability to attract people that are just passing by."
It was possible for sponsors to create teams because there were not only fans that watched, but because that scene had the ability to attract people who watched occasionally. Creating more leagues and more content is important, but it's crucial to care about the quality of the games, history between players, and to create contents that give viewers a sense of enjoyment while watching.
Commentator Um says "I would be lying if I said I'm not disappointed about the sponsors pulling away from their game teams, but isn't it better than the times when we would have tournaments on top of a ping pong table with a black cloth on it? When danger is upon us, we need to analyse why carefullly and then we need to use this as a chance to capture that eyes of mainstream viewers."
[DailyeSports Reporter Nam Yoon Sung thenam@dailyesports.com]
From:
http://esports.dailygame.co.kr/news/read.php?id=49364