Banner by SilverskY
by Ver and Waxangel
---
This week's content
brought to you by Snorlax.



As much as I'd love to believe you're all here because you enjoy reading our battle reports, analysis, and overall content — and as much as you guys would love to give the OSL team that impression — we all know the real reason you're here.

Kwark's prediction
+ Show Spoiler +

Well, I'll be honest, I think Stork is going to win this. And not just because I think Fantasy is overrated and gave a shameful display in the semis (although that is undoubtably true) but because Stork is #1 PR right now and deserves it. Right now Stork is the best player in the world bar none. His play is a fusion of the strongest aspects of every Protoss player. He combines his own macro and reaver play (the best in the world) with the legendary pushbreaking ability of Jangbi, the harass of Bisu, the micro of Free and somehow avoids the spontaneous suicide of Kal. His builds are clever, ambitious and exploitative and he has the control to get the most out of it. Time and time again we've seen Stork use reavers to do the impossible and hold off pushes when he should have lost. If Fantasy lets Stork play the game Stork wants to, and Stork is pretty good at imposing his will on the game, he's going to lose. And lose badly. As we saw last week, Fantasy is awful. As we've seen all season Stork is amazing. From this I'm going to go with a 3-0 Stork win.



So, do an Englishman's tears taste of yummy, unfathomable sadness? Is 2010's Côtes du Protoss a fine vintage whine? Unfortunately, we can't present you with the answer. Unable to overcome the shock, Kwark immediately fell into a coma after the finals concluded. Though we patiently awaited his recovery for weeks, he showed no sign of improvement. And then, a few days ago, he simply disappeared from his bed like a wraith in the night. In his place, I found a note that had the words "Sorry, get Ver to write it" hastily scribbled upon it (when I turned it over, it said "Fantasy still sucks" on the back).

So despite this sudden break in continuity, and the glaring lack of a much hoped for schadenfreude factor, we still have a great writer on board for the Bacchus 2010 finals report.



Final: Stork vs Fantasy




banner by a176




Quick Results



+ Show Spoiler [Results and VODs] +

- Thanks to flamewheel for formatting.


---
Battle Reports and Analysis


by Ver


+ Show Spoiler [Game One - Gladiator] +

Fantasy @ 5 opened up a bizarre and suboptimal rax cc that involved getting gas before command center. Why he did this specific version is unknown, but he must have had some reason for it. Stork @ 2 in response showed the exact opening he used against Hiya: 1 gateway double expand into reaver. The early game played out essentially standard for these unique openings except Stork got to show off his trademark judgment by sniping an ever so slightly exposed tank early on. Fantasy predicted Stork's fast reaver and grabbed charon boosted goliaths and academy off of 1 factory, later transitioning into a 5 factory heavy vulture composition with extremely early vessels and EMP. Stork on the other hand added a few more gateways and observers after the reaver, then quite audaciously, took a hidden fourth off of 4 gateways! Such a bold move is by no means safe or standard play and Stork deserves recognition for it.

The main trouble for Stork was that he was in the dark about Fantasy's plans. His shuttle and observers kept getting sniped the moment they entered Fantasy's base, so Stork really had no idea what he was up against. He most likely assumed that Fantasy was doing some kind of Flash-esque 2-3 factory with a fast third command center given the rapid goliaths, academy, light drop harass, and vessel. Under such an assumption, Stork's extraordinarily early fourth made complete sense as Fantasy could not punish it. However because Fantasy was actually doing a delayed 5 factory build, Fantasy could have easily punished Stork's quick fourth — but he did not spot it! Quite ironic that the modern master of hidden expansions got one pulled over him. In fact, he caught Stork's probe going to the 7 main and probably assumed that Stork was going to expand there instead!

Both players' choices made the game quite interesting strategically. Stork made a correct judgment on incorrect information, got well ahead, and decided to go carriers with templars, a very solid choice given the positions and map. Fantasy, on the other hand, did not have the right information and thus did not make the right choices, but his active vulture use and subsequent map control negated Stork's fourth considerably, albeit indirectly. He was simply content to play for position and double expand, a very rare move that we don't really see anymore.

Despite Stork's momentary position of weakness, he still felt confident enough maneuvering around and trying to expose Fantasy's army. He did catch it at a good moment in the southwest middle area, sniping a few units before having to retreat, and seriously weakening Fantasy's overall force. This encounter seemed to bolster Stork's confidence, and he quickly ran back around to cut Fantasy off from his new high ground expansion. This time Stork's sense deserted him, as after a bit of skirmishing he decided to fight. For a moment it seemed that Stork might just win, but two EMPs spelled the difference between victory and defeat as Stork lost crucial storms. His army was mostly flattened, and the stragglers that ran over to the high ground expansion were shortly cleaned up as well.

Once Fantasy crushed Stork's army, the rest of the game was really just a formality. Stork did not have the units to defend from Fantasy's follow up push and did not yet have the carrier count to really make an impact. Stork had accomplished miracles with carriers before, but Fantasy's secure position over Stork's natural isolated his carriers from receiving gateway unit support. Carriers alone are not enough to win a game; they need to be coupled with some kind of ground army, preferably goon/templar. Stork's desperate dt harassment was the right move, but he simply didn't have enough other cards to play to make the DTs effective. At that point, all Fantasy needed to do was keep forcing Stork to defend his bases so he didn't have enough time to raze any of his expansions with carriers. As long as Fantasy kept Stork on the defensive, he had a won game, and he did just that.

Stork made some excellent decisions overall. His expansion timing couldn't have been better; even though he was denied of information, he still correctly judged that he could take 4 bases against fantasy's 2 at such early timings and safely tech for carriers with templars. He then made a beautiful snipe of part of Fantasy's army in the middle, substantially weakening it. These decisions plus the map put him in a very favorable overall position, however, he threw away those leads first by losing his initial shuttle and later incorrectly committing to a battle.

Losing the initial shuttle allowed Fantasy to take control of the map with vultures much earlier than he should have, as Stork couldn't enforce a contain as easily. Therefore, Stork was unable to safely transfer probes to his 9 o' clock expansion until far later than he would have liked, and he also employed his trademark 'goons die to mines' strategy. Despite these setbacks, he was still in an absolutely fine position until he threw away his army.

Stork's decision to fight at that critical moment wasn't necessarily a bad one: by luring Fantasy out of position and engaging to the west of the Terran natural, Stork was able to seize a critical area that led to Fantasy's third gas while the Terran army was not fully set. If the battle had gone as Stork imagined, they would have traded armies and Fantasy would have been left without the crucial tank backbone to fight Carrier/Goon/Templar. The critical factors that Stork did not judge correctly were the EMPs and upgrades. A 2 base Terran does not typically have multiple Vessels with EMPs saved nor does it have +2 attack at that particular timing, and a Flash-type build would not have the army strength to actually win that fight.

Fantasy's bizarre build, however, had all of those normally unattainable qualities that allowed him to win that fight decisively. Stork misjudged the situation and made an ordinarily solid move that proved fatal under the circumstances. His carriers were a fine choice given his advantage and the map, but he needed to make choices in harmony with his tech path and he did not.

Fantasy's only mistake was his poor first engagement in the southwest area of the center. He hurried too much and didn't take the time to keep his position secure at all costs, an action inconsistent with the rest of his play. Overall Fantasy's build relied on some very thin margins and not making any mistakes. His extremely unorthodox transitions and information denial were aimed at confusing Stork and getting him to make incorrect decisions. Had Stork not thrown away his ground army so inefficiently, an interesting game would have developed where Fantasy would have to defend his isolated plateau expansion at 4 and somehow secure more expansions, most likely by forcing repeated engagements, while Stork needed to keep Fantasy occupied until he could take enough expansions to cement his dominance.

Rating:

Fantasy - 9.5/10
Stork - 8/10



+ Show Spoiler [Game Two - Aztec] +

I played against Sea in RO16 and Hiya in RO8, I already mastered the counter to Rax-FE, which is 1-gate->reaver->double expo. I had thought that there was no way for Fantasy to counter my opening, so I decided to go with this in yesterday's games. However, I realized during the match, Fantasy had a much better preparation, and he had a lot of different follow-ups. I played completely into his hands.

-Stork

Fantasy @5 opened up with the more standard rax cc after second depot. Upon seeing this, Stork @ 12 again went with 1 gate double expand reaver. Despite his game 1 loss, Stork had no reason to change his build order. He had been in a very good position until he committed to a very poor attack and threw away the game. While Fantasy's opening in the previous game kept Stork uncertain and produced a reasonable, though odd equality, Stork's 1 gate double expand reaver had in no way been directly countered. On a map where Fantasy could not focus on position and double expand like on Gladiator, Stork was absolutely justified in trying to use his trump card once more.

The only notable deviation of the early game was Fantasy double scouting at a late timing, intending to use the second SCV to hide behind Stork's inevitable goon contain and confirm exactly what he was doing. Hopefully we see more of these kinds of moves in the future, because it really is a reliable way to get crucial information. Stork somehow seemed to predict this action and stuffed a goon on the ramp to his natural, intercepting the scv and keeping Fantasy in the dark.

Even though he couldn't confirm Stork's opening, Fantasy still went ahead with his prepared build order. And like so many Fantasy series games, he got a straight up build order win versus Stork's own superb build. By opening rax cc 2 factory followed with a starport into 5 factory, Fantasy aimed at shutting down Stork's reaver harassment and killing him with an immediate timing push. A scv found the incoming shuttle, Fantasy killed it with a wraith, and all that was left was to go through the motions. Fantasy walked out, set up in front of Stork's third and gradually pushed in. A few minutes later he had killed the third and set up a DMZ in front of Stork's natural. With no way to break out and Fantasy far ahead economically, Stork typed out.

The shuttle and reaver meant everything to Stork's build. With them, Fantasy would be pinned in his base long enough for Stork's economy advantage to kick in

as it occurred against Hiya

. Both Fantasy and Hiya went for a 5 fact, but Hiya tried to defend the harass the normal way with turret/tanks aiming to hit with a strong tank support once he was safe from the reaver. On the other hand, Fantasy geared for a quicker timing attack only possible without the reaver as a threat. By the time Hiya could safely move out, his push was a lost cause. That is the difference Fantasy's simple but skillful alteration made. Without the shuttle, Stork had nothing to stop Fantasy from killing him in the very narrow timing window when he would be vulnerable. Just compare the supplies when each Terran pushed out: Hiya 78 | Stork 102 ; Fantasy 71 | Stork 74.

Stork didn't do anything wrong this game and he did most things right, particularly his denial of Fantasy's hidden scout. His loss was effectively decided from the moment the game started. Perhaps he could have made more of a game of it by holding back his goons and engaging Fantasy closer to his third and catching him unsieged below the ramp, but he simply didn't have the unit count to really win a fight until Fantasy's position was too secure. Fantasy of course, essentially played a perfect game. The only unique aspect was his patience in pushing very slowly and making absolutely sure Stork had no chance to catch him unsieged and get back in the game.

Rating:

Fantasy - 10/10

Stork - 9/10



+ Show Spoiler [Game Three - Pathfinder] +

I was worried because I have been defeated before even when I had a 2-0 lead. The coaching team told me not to think about winning at all before starting the match, but I couldn't stop myself from thinking about winning. So, I tried to mind control myself to get rid of thoughts of winning, and fortunately, I was able to set my mind straight right before the start of match 3.

-Fantasy

Fantasy @8 seized the momentum of his wins and didn't take the risk of guessing how Stork @4 would react after seeing another Rax CC. Instead, Fantasy kept the initiative by going for the rather rare, though underrated, dropship FD. Stork was content to do a normal 1 gate expand while taking a risk in teching to robo off of 1 gateway.

Fantasy's first drop was a great success, catching Stork completely off-guard and without goons in the proper locations. This small victory was all Fantasy needed to take a small advantage and run with it. The tank-vulture-marine elevator into the Protoss main did significant damage while drawing most of Storks' army into the main. This opened a window for Fantasy to pick up his tank and drop it at the natural while newly produced vultures came in by ground for even more disruption. Next, Fantasy gave time for his econ to kick in by sniping Stork's exterior buildings from outside his main, including a poorly placed observatory! Observers are the key unit for Protoss to shut down harass, and even delaying one or two at crucial timings can and did provide big dividends. Fantasy followed up with another small victory by tank dropping the back of Stork's natural, hurting Stork's econ even further, before being forced to run.

Here, a peculiar situation developed: Fantasy's dropship was being hounded by Protoss units, and losing it with two tanks would stall his momentum and give Stork a huge breathing window. Thus the hunt was on: Stork vs. the dropship, and surprisingly enough, the dropship won! Stork tried to corner it first in the top right, but he didn't have enough dragoons there. Fantasy then managed to escape into the middle while covering with vultures, but was ambushed by Stork's exceedingly late goons coming from the bottom of the map. Yet still, through Fantasy's great use of terrain, the dropship still

did not die

. The bizarre chase was culminated by Fantasy fleeing into Stork's main, elevating some more vultures in. Stork suddenly had nothing to defend his main because everything was out chasing the single dropship! This attack did serious damage to Stork's economy and weakened his exposed stargate. Because Stork was teching to arbiters and staying on 2 base, he could not afford to lose any tech or suffer extra economic damage. Stork's only consolation was that finally, finally, he sniped that rascally dropship! But that was a small consolation, for Fantasy's shenanigans had bought him enough time to finish his third and start his fourth before Stork had even begun his 3rd. The point of assured economic defeat was looming for Stork. He tried to punish Fantasy's exposed third, but Fantasy's enormous unit superiority prevented any real damage or loss of position.

At this point, all Fantasy had to do was slowly push Stork's natural. With nearly 4 bases to 2 and all the early damage that had been dealt, Stork simply had no way to defend against the push. Instead, Fantasy tried to get cute and started to elevator into Stork's main while securing the middle. Dedicated Terran elevator strategies are normally a waste of time, and this was no exception. Stork's 10 minute late shuttle made a stunning debut, dropping zealots on every tank that entered the main and substantially reducing Fantasy's punch. But still Fantasy persisted, ferrying more and more units to get killed by rampaging parachute zealots. Around this point, Stork simply fell apart. As long as he kept his dragoons in a defensive position in his main and 3rd while continually zealot bombing any tank drops, Stork could stall long enough to get a fifth base up and start recalling. While offering many opportunities for harassment, Pathfinder is a difficult TvP map in the late game. Not only is the main totally exposed to recalls and the various expansions slow to reach with tanks, but Terran simply can't take more than 4, at most 5 bases while Protoss gets to grab the extra main and natural. Despite his precarious position, Stork still had that possibility.

However, it was not to be. Stork threw away his entire army trying to break Fantasy's well set up position at just the moment when half a dozen vultures burst into his third base, killing every probe and another group was killing off his main. Stork knew these attacks were coming and did nothing about it, indicating that he misjudged the situation and felt the game was essentially a lost cause at that point. With vultures in his main, third, and a drop coming down at Stork's fourth, Fantasy cemented his domination by smashing Stork's "army" at his natural, forcing the GG.

In a heavily harass focused game like this, the ability of the Protoss to reverse the momentum of the game comes from their ability to block or delay at least one attempt. Specifically, sniping a dropship or trapping a group of vultures. Heavy harassment only works versus players as good as Stork if you can do something to knock them off-balance initially and never let them recover. But once that initial disruption occurs, the Terran can keep pouring on the pressure and force the Protoss to react one step too late. Against someone as good at harassing as Fantasy, Stork could not simply be content to react. He would need to take risks by proactively trying to anticipate and preemptively shut down one wave instead of just reacting. Stork did not actively try to do this, essentially preventing a comeback.

Stork's play this game wasn't as good as the previous two. His only serious errors were the poor placement of his buildings and his suicidal attack into Fantasy's low ground elevator setup, but he did not create any kind of opportunity where he could reverse the tide. In particular, he took far too long to get a shuttle out to stop the initial tank sniping of exterior pylons and the natural probes, and seemed to be lacking on observers the entire game. He made the correct decision to stay on 2 base and tech to arbiters so he didn't overextend himself, but with all the gas he saved up, he could have made good use of dark templars to distract Fantasy from his aggression momentarily and disrupt mining or building expansions, or even have built a second stargate. All Stork needed to do to get back into the game was one recall in the exposed main combined with attacks on the hard to defend Terran expansions. However, it seemed he didn't really have a plan for victory and could do nothing more than react to Fantasy's attacks.

Fantasy did a superb job of finding weaknesses and continuously keeping Stork one step behind. He could have ended the game far earlier than he did by simply attacking Stork in quite an enormous window instead of expending far too many units and time trying to kill Stork's stargate. Had Stork played essentially perfectly at the end, Fantasy could have been in trouble and should never have given him even that possibility.

I actually wanted to talk about yesterday's G3. I had thought of this type of play during practice, but Fantasy played well above my expectations. Even though I constantly scouted with observers, but by the time I defended his attack, I already realized I was too far behind. Fantasy won because he prepared meticulously for it; even though it's a very regretful experience for me, but I feel that I had matured a lot through this.

-Stork

Rating:

Fantasy - 9.5/10

Stork - 6/10



+ Show Spoiler [Game Four - Icarus] +

+ Show Spoiler [Game Five - Gladiator] +

+ Show Spoiler [The Big Picture] +

Overall this series consisted of Fantasy playing incredibly while Stork played solidly but not spectacularly. No, there wasn't any choking, nor did Stork play below his normal level until perhaps the end of game 3. Stork played consistently well, but Fantasy played that much better.

So where did Stork go wrong? To analyze that we must go to well before the final back to his ro16 and ro8 games against Sea and Hiya, where Stork first unveiled his new build against rax cc and mercilessly crushed the helpless Terrans. Had Stork saved that until the finals, Fantasy would have gotten thwomped and forced to either abandon rax cc or keep losing. However, would Stork have even advanced this far without that build? That's not an easy question to answer, and it's unfair to fault him for revealing a build too early.

Essentially, Stork gambled that Fantasy and his team would not be able to construct a proper counter to his new build. It wasn't a bad gamble at all. Stork's opening was the first Protoss build that gave a very strong edge against rax cc openings and revolutions don't happen overnight. The shocking part is not that Stork used the same build twice, but that Fantasy and T1 figured out how to beat it decisively and in two different ways in such a short time.

What this series showed is that you absolutely have to bring something unexpected to the table to win against such a strong series player. No matter how good a build is, if it is known the T1 Terran team can dissect it within a week or so! Stork used the unexpected quite well in his Incruit games and it was a major factor in his success. In game 1, he faked gas steal while actually proxy gating, something Fantasy was clearly not prepared for and lost very easily to. Then in game 2, he went with an economic DT drop that caused Fantasy to mistime his follow up attack. Lastly, in game 5 he was able to gas steal and get away with some major risks because of the fear implanted by the prior proxy gate.

Stork's flaw this time was simply putting too much faith in his ace build that was already revealed. But it is not easy to blame him for that. He can't control if Fantasy rax cc's or not, only react, and if he went with a more standard build Fantasy could have easily gotten an advantage due to the strength of rax cc openings. Cheese is almost out of the question against rax cc openings anymore due to the extraordinarily strong economic base. However, Stork should certainly have considered some kind of dt opening or 12 nexus for game three instead of going with another 1 gate nexus.

On Fantasy's part, we were shown yet again just how well his series are planned out. Instead of trying to dodge Stork's ace build against rax cc by opening factory expansion, Fantasy met Stork head on. By doing so, he narrowed down the possible responses Stork would make: it is ludicrous to suggest that Stork might not have used his trump just on the off chance Fantasy figured out a counter in a week or so. Furthermore, the order Fantasy did his builds is also very important. If he did his game 2 wraith timing attack build in game 1, Stork would definitely not have done 1 gate reaver double expand again and Fantasy would have lost the chance to use his game 1 build. However, by using the goliath build in game 1 Fantasy gained parity but did not make Stork think that he had anything better that would crush 1 gate double expand reaver. It was only after the complete build order loss in game 2 that Stork must have received a sizable shock and been forced to consider alternatives.

Then, after crushing it twice, Fantasy didn't give Stork any opportunity for reversing the momentum like he gave Jaedong in Batoo. During that series, after winning with a new dominant build and a mind game based off of his initial win, he played a defensive mech on Chupung Ryeong, and let Jaedong regain momentum with a surprise hydra/muta all in. This time around, Fantasy seized the initiative from the start in game 3 with a surprise dropship FD and didn't look back. Stork was in the passenger's seat the entire series and never had a chance to control anything.



Winner Interview - by Selith


---




Fantasy's Path


by Ver

The increasing number of retired progamers coming back as coaches has radically evolved the progaming scene. The Bonjwas and champions of yesteryear were almost completely on their own. They devised their own strategies, training schedules, and managed their own condition. Now there is a dedicated coach, not just a team manager, but often a race specific coach who can provide enormous assistance in improving and maintaining each player. Among the most well-known race coaches are Sync and Hery for KTFlash, Kingdom for T1 Protosses, and of course, iloveoov with the T1 Terrans. When one thinks of Fantasy, one cannot help but think of iloveoov as well. They have been intertwined from the very beginning, when oov said upon taking the job:



I told all the terrans on the team that I want to train a winner, and make terran an important part of the team again. If there are no prospects, then I'll have to find some new ones. Right now, Fantasy has the most potential. His strength is that he absorbs things very quickly, but his weakness is that he is too introverted. But we can change that.



Just 8 months after this statement, Fantasy suddenly made the finals after a previously nonexistent career for the past 2-3 years piggybacking off of oov's revolutionary new TvZ strategy. How could Fantasy not be linked to oov after that?

Fantasy's road to becoming a champion is perhaps the most unique out of all because of his connection with oov, and to a lesser extent, Boxer. Nobody else has been coached by even one, let alone two legends. It's worth examining Fantasy's career to see how it was shaped by the coaching and how he grew to the point where he could win a gold. It's been three years in the making since oov took over, and around five since Fantasy first became a progamer. Let's look at how he reached this point.

After trashing GGPlay with oov's mech revolution, Fantasy went on to meet a very scary Stork in the finals. Stork took to an early 2-0 lead with a disguised proxy gate and a fast expanding DT drop, while Fantasy equalized with stellar reaver defense and a cleverly prepared build for a very difficult map. Then in the fated game 5, the Silver Surfer decided to 1 gate double expand after gas stealing. Fantasy mades the correct move with a fast academy and scouted Stork perfectly. And what did he do to counter? A 6 factory very late timing attack. The worst possible decision and effectively an assured loss. Fantasy made a game out of it with a hidden expansion that lasted the entire game, but the outcomes of each fight were dictated by pure economics. Fantasy had game-winning information and turned it into a sure loss entirely on his own. That was the start of his curse.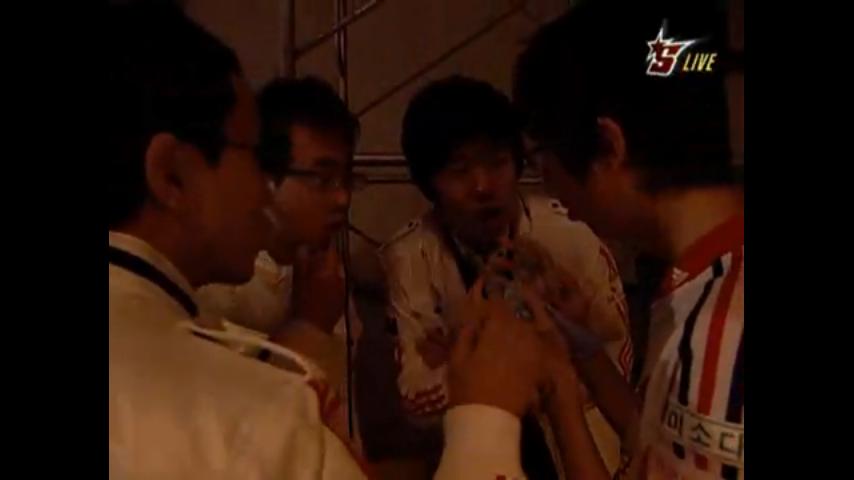 The Fantasy committee confers after a loss



Fantasy immediately made the following OSL semis, beating the MSL champion Luxury with another oov build in the quarters. Yet without oov or any other coach's direct help, Fantasy 3-0'd Bisu at his best. The highlight of the series was Fantasy's stunning game 2 build where he kept Bisu on the backfoot all game, reacting to transition after transition, all while keeping a hidden expansion. Within one year, Fantasy had already internalized many advanced concepts that he had been taught and showed that could create excellent builds on his own. He was no longer dependent on iloveoov or anyone to win.

Now fast forward to the Batoo OSL Finals against Jaedong. This time around, Fantasy took it to Jaedong straight off the bat with oov's build he used against Luxury and a very intelligent mindgame based on that build, gaining a quick 2-0. Jaedong equalized with a clever all-in against mech and then a successful defense of 2 port wraith. But again, Fantasy threw away game 5. He scouted Jaedong's 2 hatch mutas and tried to take advantage of this knowledge by doing the vulture drop into expansion and valkyries that he beat GGPlay with. In other words, a 100% build order loss. He had all the tools he needed to gain victory with the vulture and wraith into siege tank bio attack that he crushed Jaedong with in the first game. But instead, he did a slightly altered Fantasy build against the one absolute counter to it, which he knew Jaedong was doing. At the apex of a well-played, even series by both players, he literally just handed Jaedong the title. Just like at Incruit, Jaedong didn't win that series. Fantasy lost it.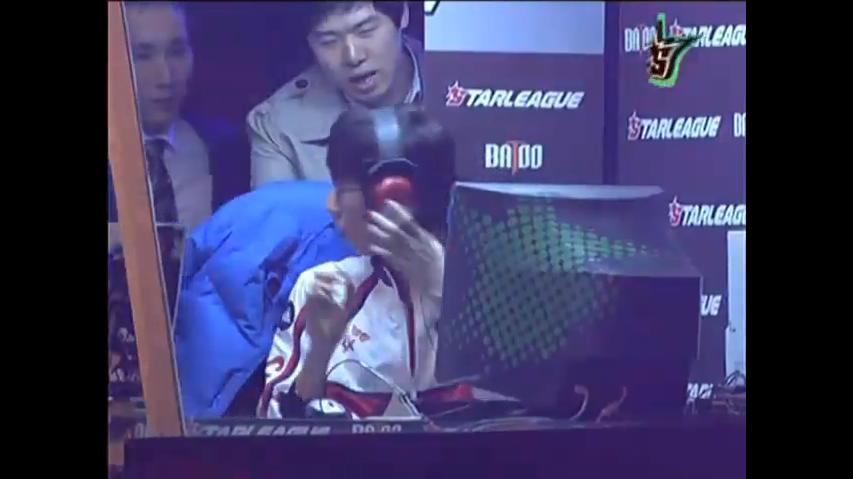 The source of Fantasy's success, his failures, or both?



Whatever Fantasy's flaws may have been, he was not one to be put off by losing so painfully. He promptly rebounded once again and crushed Jaedong twice in the proleague grand finals to secure T1's victory. And soon enough, he met Jaedong in the semis of the Bacchus '09 OSL.Fantasy took game 1 with an exceptionally well thought out build that blew Jaedong away. Then, in game 2, a similar situation occurred of fast hive versus a heavy tank push. What does Fantasy do? Forget to reinforce his army. At the crucial engagement, he fought with 50% of his army against the entirety of Jaedong's with his rally point just seconds away. After such a blunder, he lost control of the game and floundered around for another 15 minutes before tapping out. In the next game, Fantasy's stalwart defense thwarted a 4 pool from Jaedong and managed to get his defenses up in time. With his vulture, and a certain victory, all Fantasy had to do was not die for a few more seconds. Instead, he fell asleep at the keyboard and lets Jaedong run in with desperation zerglings and kill his bunker that he could so easily have defended. Another game thrown away. Then in game 4, he makes the wrong kind of wall and dies to 9 pool speedling because his units get trapped on the wrong side of the wall, and he bungles the subsequent defense in every way possible. The impact of these pathetic losses must have hit Fantasy hard, for it was a long time before he returned to form again.





Not from the same day but surely a similar reaction occurred.



Why did those series turn out that way? Three times in very important series against some of the best players of this generation, Fantasy put himself in an excellent position and tossed away the games almost entirely of his own accord. In every series Fantasy won his games with amazing builds, superb preparation, and clever mindgames, while he lost in the ability to react in the booth and not fall apart. All signs pointed to either him being too reliant on his coaches, or simply not having the internal skills a champion needs.

His 3-0 of Bisu and the 2-0 of Jaedong in the proleague finals both stand in opposition to the above examples. However, in the first case, he was playing against a teammate, a less-stressful situation than normal, and perhaps more importantly, he didn't have a coach's help to rely upon. In the proleague finals he was playing for his team and not just himself, but he still almost blundered away the Outsider game and was only saved because Jaedong made similar errors and Fantasy's strategy was that much better.

All of T1's Terrans received a huge boost when oov took over. Canata is perhaps the biggest example, for after half a dozen years of complete mediocrity highlighted by never making it beyond the round of 16, he suddenly made the MSL quarterfinals and came within inches of knocking out Jaedong at his peak. Fantasy, the best of them, is clearly no puppet, but at the same time, the enormous influence the coaching has made on him is undeniable. He has won so many series where he used very clear oov-made or oov-inspired builds and mindgames that were the trademark of oov's career. However, all of that assistance might have come at a price.

The question that must be asked is did the influence of being coached by oov and others limit Fantasy's growth, or did the coaches simply made an almost champion out of a nobody, but couldn't give him that final push? It's almost impossible to ascertain the truth here, but it is something worth pondering. How helpful can a coach really be?

Regardless, Fantasy was not done by a long shot and made that question pointless to ask. He has incredible long term stamina and the ability to rebound from anything. After a long interval of mediocrity and short flashes of brilliance, last MSL, Fantasy proved Flash mortal. Flash did end up winning by the barest of margins, but Fantasy proved that he could go toe to toe with the best player of the era and not choke. Yes, he did get build order advantages almost every game, but still, he didn't throw anything away. He finally got beat by someone playing better, not by himself. It was a complete rebirth, and proof that his gold this season is no fluke.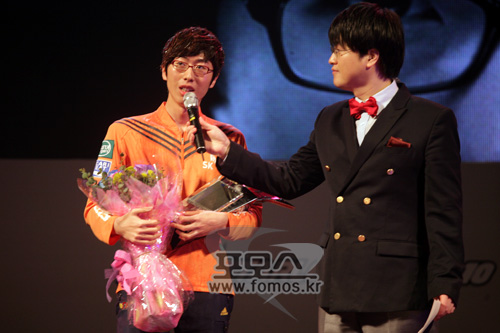 Fantasy has come such a long way and has proved his ability beyond all doubt



This season Fantasy started off looking very strong, despite a surprising group stage loss to Modesty, and he knocked out the surprisingly sound Hyuk in the RO8 with well-planned out ideas. The series against Calm was a mixed bag. He still made horrific unforced blunders in game one against Calm, however, he did not fall apart like he did against Jaedong when Calm 4 pooled twice in a row. When compared against the very similar Batoo semifinals against Jaedong, Fantasy had clearly grown. And now, Fantasy has convincingly trumped over his oldest demon on the most important stage while making very few errors, none of them serious. He still has his old strengths and yes, was helped considerably by the coaching team still, but now, he also has the internal ability and mindset of a winner. If I had to bet on a player who could rival Flash's dominance now, it would without question be Fantasy. He is the current man to beat and really deserves this gold. Whether Fantasy continues to slump in proleague or not nobody can predict, but regardless, he is still the scariest starleague opponent beyond the group stages.



I'm at my best condition right now. After having won a Starleague, I feel like I could do anything, and the game itself should be even more fun to play than before.




---




Aftermath



by WaxAngel

Now that the dust has settled, we must try to make sense of the events of the past few months and try to understand their significance. Most importantly, where does this leave Fantasy?

There's an short, simple answer to that: He has become Stork.

Key race player for his team? Check. Top two player at his race? Check. Unbalanced matchup skills? Check. Overall Starcraft superstar? Check. Mostly symbolic OSL championship after two years of mining silver? Check.

Wait, what? Mostly symbolic? No, I'm not trying to slither out of giving Fantasy his due. Allow me a moment to explain.

In another key similarity with Stork, Fantasy didn't need an OSL championship to prove to us that he was pretty damn good. Three years of kicking ass was proof enough. The championship mystique and kong-line stuff makes for compelling narratives, but let's be honest here, the OSL is not a very rigorous test of skill.

Compare it to any major soccer league (guaranteed to play every competitor twice), the NBA (82 regular season games and best of seven, four round tournament), or Tennis major (ridiculously deep, almost endless tournament structure). There is considerably more luck involved in winning an OSL or MSL. But hey, it's all we've got.

I'm not at all saying this one was a fluke, empty, or meaningless. We learned that Fantasy's peak TvP is best-in-the-world level, again confirmed that his Bo5 preparation is top notch, and maybe we can say he won a psychological victory for himself as well. But mostly, it was just late delivery of Fantasy's due goods.

Now, back to Fantasy's aviomorphosis (I went to a Korean high school, excuse my Latin).

Being Stork is a pretty sweet gig. There's a comfortable salary, time spent leisurely playing World of Warcraft, immense popularity, and now and then you can start caring about Starcraft again and challenge for a championship. With at least a year of top level play left in you, you're already a lock to be one of the best players your race ever had.

On the down side, there's the years of stagnation, walking in place while the world moves by you.

Hmm... Maybe this birdfication goes back further than I imagined. After the Incruit 2008 final, it wasn't just Stork who showed zero improvement the following two years; Fantasy time seemed to stop for Fantasy as well. Has Stork been clandestinely molding Fantasy as his heir all along?

Dammit Stork, you can't go around stealing other people's children! And Fantasy, snap out of it! You're already the heir to a better legacy than Stork's. Don't you remember you're supposed to be the next Boxer, the next iloveoov?

Now, Fantasy may have spent the last two years yearning for a championship, chasing it like a scarab pursues a probe in a crowded base (Tangent: I think this expression should enter the standard English vocabulary. There's really no better way to phrase a clumsy, bumbling, ineffective, yet admirably single-minded pursuit that everyone hopes will succeed. Kind of like my effort to get this OSL report out). That's Stork-think, and it needs to stop, for him to progress further.

Over 50 combined OSLs and MSLs attest to the fact that championships are a function of greatness, not the other way around. Proof? Oh, I don't know, Casy, Luxury, Calm, Mind, ForGG… Accordingly, Fantasy's forebears weren't awesome because they won seven championships, they won seven championships because they were awesome.

Boxer and oov were so damn good fanboys could only comprehend their awesomeness by conjuring up a ridiculously inconsistent mythos around them. Hopefully, with that elusive title in hand, Fantasy can remember that though he is champion caliber, there exists a level above it.

"Congratulations Fantasy, you finally did it!"

Forget that — that's so pedestrian.

Let's go with this: Congratulations Fantasy, you've taken the first step towards fulfilling your destiny.


photo by Park Woon Sung of Daily e-Sports