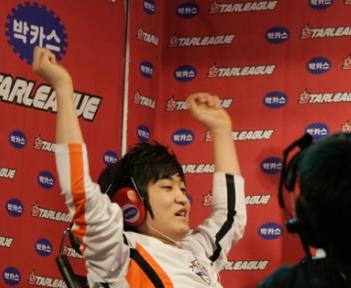 It felt weird without a banner so I googled a pic of Flash. Look at him! So triumphant!



Stat pieces always begin with a question. When you're me its often triggered by beer, but usually they begin with a question. This time the question came to me while watching OSL finals. In the fifth game Flash opened with a fast command center, and as he was getting overrun with lings I thought this is silly, doesn't Flash always lose when he does this?

I specifically remember a time when there were a lot of posts to the effect of "Flash does silly nonstandard things too often in TvZ". Apparently that same sentiment was common in the KT house, because last fall he began to open 1 rax cc every game and it was the beginning of his prolonged streak of complete TvZ dominance.

Regardless, the game finished and I forgot about it, choosing to spend time searching the forums for angry fans instead of pondering life's great mysteries (why do hot dog buns come in packs of 8 while the hot dogs come in packs of 10?). The next day it hovered in the back of my mind while I underwent a multi-hour battle with Golden Tee. I toyed with the idea of hand collecting the stats of how often he won one of his TvZ games with a double cc opening, and like any good statistician, decided it was too much work.

Then that crazy little monster did it again, only a few days later. This time was different, as not only did he use it three times in a row, but he crushed his opponent every time. As if that wasn't enough, "his opponent" wasn't just some guy, but Jaedong. He crushed Jaedong on his way to fame, fortune, glory, a cool trophy, and the envy of a million 14 year old girls. How does it make you feel to know Justin Beiber shares a fanbase as the orchestrator of a zerg genocide?

Anyway, bricks were ready, mortor being laid. Destiny. My hand was forced. Five paragraphs later here I am, saying "I made a chart and here are some numbers". Its okay because the actual chart takes about 3 seconds to digest all the possible info you look for in a thread like this.

The first step was looking at Flash's games. He has 173 TvZs in our database, but 14 of those are unusable (mostly prelims, one or two games I couldn't dig up online) so effectively 159 total. I then watched all of them long enough see what his first non-depot building was, and made a note for the games that opened with a 14CC. Here are the charts. They are pie charts, and are damn fine.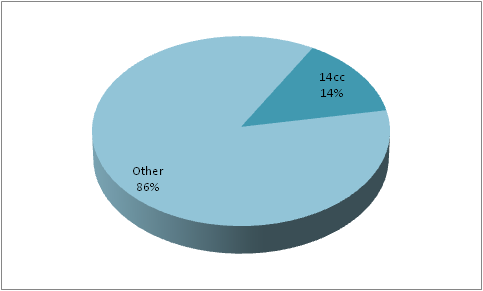 See that 3d effect? This is next gen tech.



This is the overall breakdown of how many times he used an early CC over other builds (22 instances found!). It would be pretty cool to actually break this down further into what percentage of play his 1 rax CC is vs 2 rax vs forward bunker type things, but I didn't think of it at the time. For those wondering, if you take out the MSL series vs Jaedong it drops to 12% which still seems like a signifigant chunk.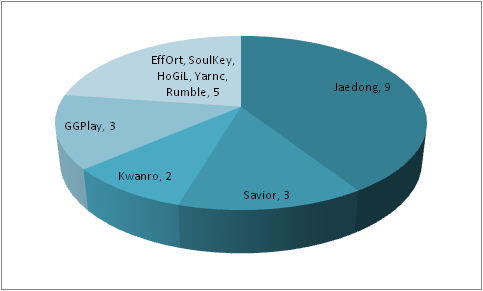 Rumble, we hardly knew ye.



This is the breakdown of what players he did it against. Unsurprisingly he does it more against people he has played a lot, generally during a longer series. Interestingly, he is 0-3 against GGPlay using fast cc (all during the same Bo5). He is 6-3 against Jaedong, 2-1 against Savior, and 2-0 against Kwanro. Of the people he has tried it against once, he has beaten them all except EffOrt.



No pie, just data.



Another note to consider are the maps, if you look at the list of games (below) you see its far more common on 4 player maps, and as well his record is far better on bigger maps. Not surprising, but its nice to have actual data that backs the things people seem to "just know". This the most fascinating cross section of the data to me, and in retrospect I wish I had gotten the numbers for how often it happens using the maps as a constant instead of a player. It seems likely that they are the single biggest factor.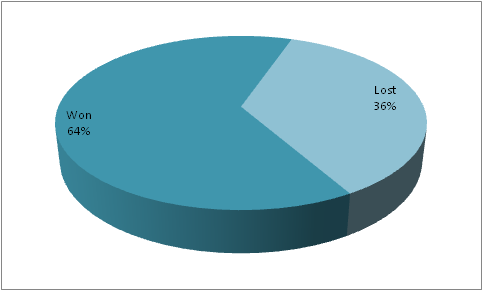 This is also a chart of things that look like pacman



At 14 wins and 8 loses, he has a pretty solid history with the opener. Even if you choose to not include the series vs Jaedong, 11-8 is still pretty respectable with a build that carries more than just some risk.

In summary, Flash most certainly does not 'always lose when he does this'. My original question answered, now is the time to move on to more important things (why doesn't Donald Duck wear pants?).

Its awesome that the first super hyped TvZ finals ended in just a few minutes with 3 straight bunker rushes, and what will be remembered as one of the last super hyped starleague finishes ended with 3 fast command centers. That statement alone sums up a nearly a decade of serious Brood War strategy development.

+ Show Spoiler [Credits] +