It's finally here!
---
Lomo + Jaedong Best Friends Note Part 1!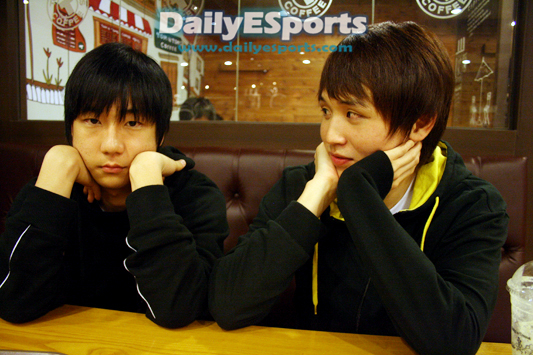 The third best friends note is with
Jaedong and
Lomo from Hwaseung OZ. These two are probably the best friends in e-sports. They even went on a vacation together.

Because of the Daily e-Sports "ABC Talk" there has been a bad rumor about them going around. Some people mistook the statement "They keep each others' pictures next to them on their bed as they sleep" referred to Lomo and Jaedong. They had to state in another interview that it wasn't them.

This best friends note started because of that. We wanted to stop the misunderstanding that we started. However, because the news that we were going to have a best friends note with Jaedong and Lomo was released during their vacation to Canada, it created even more rumors.

That's why we put "No matter what you think of, it will be something worse" on the preview. The two players didn't comfort or cover each other. We thought about not releasing this interview because of the trash talk between each other.

Nevertheless, there is no doubt that they are best friends. It's not what people have imagined it to be like, but they definitely care for each other.

When we arrived at the coffee shop, Lomo told me that I should do something else for a minute. The reason was that Jaedong takes very long time choosing what to get every time he goes to a coffee shop or a restaurant. After a long time, Jaedong decided on what to get.

◆How did we become friends?
DES= It's nice to meet you two in a best friends note interview.

Jaedong= I read
UpMaGiC and
Leta's (Link), but I never thought Lomo and I would be doing it.
Lomo= I knew this would happen (laughs). I thought we would be doing an interview together (laughs).

DES= How did you two become friends?

Jaedomg= How we became friends..?
Lomo= I don't think there was a specific event.

(Thinks for a while)

Jaedong= Hmm... We thought alike. For example, after eating dinner in a restaurant, some people eat candies and some people drink coffee. Back then, only Lomo and I drank coffee after dinner. We were about the same age and we thought alike too.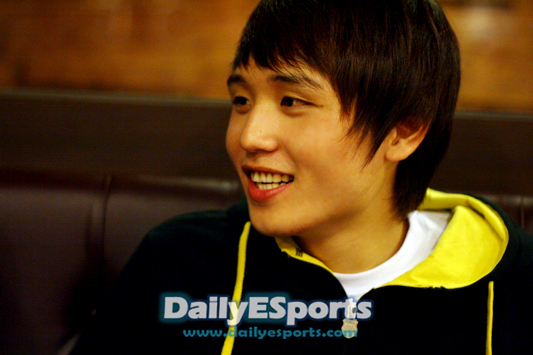 Lomo= We also had similar sense of humor. Whenever I made a joke, nobody laughed except Jaedong. The other teammates would say "How is that funny?" while we laughed.

Jaedong= We both like making up new words. I can't think of one right now, but if I make a word to fit the situation, only Lomo laughs (laughs).

Lomo= I didn't know having similar sense of humor could help making friends (laughs).

Jaedong= You mean we became friends because of something silly like that?

Lomo= I want to give a better reason.. but I can't think of any.

Jaedong= We can't make up something, that would be a lie. I really don't think there was any specific reason why we became friends. I think we'll just have to wrap this up!

Lomo= I still think something is missing...

◆Dirty Lomo, Clean Jaedong?
DES= Since it feels like the whole day would go by trying to figure out how you two became friends, why don't you tell me about your personalities?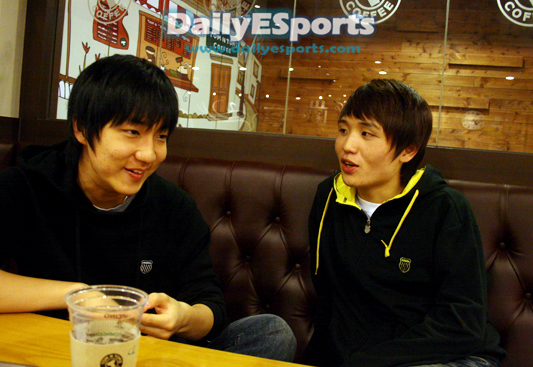 Jaedong= Most people think Lomo is sensitive, but he's actually very dirty. I'm more sensitive than he is. Everywhere Lomo passes by, there are cups and dirty clothes.

Lomo= If you say it like that my image looks bad! Besides, it's not like you're clean.

Jaedong= What. At least I don't leave my room dirty.

Lomo= But you just take everything dirty and put it in another room..

Jaedong= ...

Lomo= So it's not really "cleaning" (laughs). He doesn't like it when things are messy, but he doesn't clean it up. He just moves everything dirty to another room. It's not like I'm dirty and Jaedong is clean.

Jaedong= Trying to make me look bad to save yourself.. I'm not that clean but I don't like it when things are dirty. It also makes me feel dirty. That's why I feel dirty whenever I look at Lomo. I yelled at him a couple of times, but he never cleans up.

Lomo= We are complete opposites when it comes to this. I don't know how we became friends.

Jaedong= Anyway, I hope Lomo cleans up after himself. There's nothing bad about being clean.

◆Friendship Tested
DES= I'm sure you have something you don't like about each other even though you two are such great friends.

Jaedong= Of course. Lomo uses my makeup and doesn't close the lid. I hate it when people use my stuff and don't put them back where they belong. Some products go bad easily when you leave it open but he keeps doing it no matter how many times I tell him.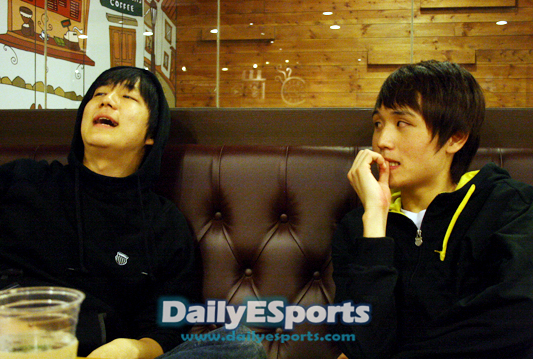 Lomo= I try to fix it but I can't (laughs). Men often forget to close the lid.

Jaedong= Men....

Lomo= You're a man too!

Jaedong= At least I know to put things back where they are supposed to be.

Lomo= I'm revealing this for the first time here, but Jaedong has a hobby of collecting makeups. If you look in his closet, there are a lot of makeups. I sometimes use them.

DES= Jaedong, is this true?

Jaedong= It's true. For some reason, I don't like using one product for a long time. I keep wanting to change to something new (laughs). Thats why I buy makeups whenever I hear that one is good. Fans give me a lot too. I think Lomo is just jealous that he doesn't have them.

Lomo= There's so many yet he notices when even a small one is missing. He yells at me whenever I misplace something (laughs).

Jaedong= Lomo always finds the ones that I hide for safekeeping and uses it before I do. And then he doesn't even put it back. Is it that hard to put things back where you got them from?

Lomo= Fine. I'll put them back from now on, okay?

◆What's yours is mine!
DES= Does Lomo take anything besides makeups?
Jaedong= Don't even start. He takes clothes, wax, hair spray, and anything else I have. He uses my things as if they were his. He doesn't even ask if he can use them.

Lomo= It's normal to share things when we live together.

Jaedong= It's still too much. You just take them without asking!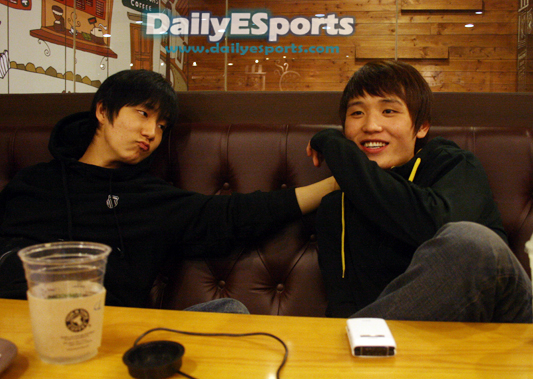 Lomo= You take my stuff too!

Jaedong= But you take way more than I do. It's that you don't buy that many things so I can't take them.

Lomo= I found my cologne open just the other day.. I think it was Jaedong's way of taking revenge.

Jaedong= Yeah that was me (laughs).

Lomo= It didn't really make me angry though (laughs).

Jaedong= Since Lomo uses so many of my things, I'm not going to hesitate from using his things either from now on. What's his is mine now. Mine? Of course they're still mine (laughs).

Lomo= That's so unfair!


---


TO BE CONTINUED IN PART 2

Pictures and interview by Sora Lee: sora@dailysports.com

Note from Daily e-Sports: You must use a link when taking this article. If you copy the article itself it is copyright infringement. Please keep that in mind. (So I'm not gonna paste the original article here.)

Source: Daily e-Sports