The Pitchfork Preserver
Express
Twitter At The Speed Of Print
Special Edition
Proleague and GSTL to be absorbed into Acer TeamStory Cup following shameful MLG Spring performance
News at a Glance
· MLG to hold first annual progamer handshake seminar
· NSH agree to trade Tassadar to Prime for ByuN's puppy and pack of cigarettes
· INnoVation enjoys weekend off by staring at blank wall for 15 straight hours
· Stream viewer not sure if Axeltoss is making a joke or really fucking hates his co-caster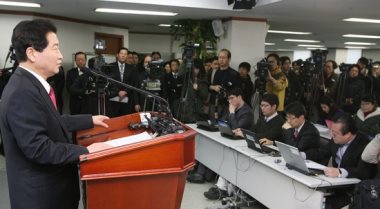 Following a dismal MLG Spring Championship performance where none of their players managed to reach the final four, Korean esports organizations KeSPA and eSF announced that Proleague and GSTL would immediately cease operations. "After eSF and KeSPA players suffered unspeakable humiliation at the hands of progamers from international teams at MLG Spring, we have decided that we cannot put the future of Korean eSports in peril by continuing to invest in the extremely uncompetitive and fruitless GSTL and Proleague tournaments." read a rare joint-statement from the two leading organizations in Korean StarCraft.
In a move long predicted by many industry experts, the ailing organizations also announced that they would request their member teams be merged into the Acer TeamStory Cup, the premier team competition in the international StarCraft II scene. When contacted for comment, ATC commissioner Dennis "Take" Gehlen seemed supportive of the move.
"The ATC is more than happy to include teams from diverse regions, even if those regions aren't especially competitive in international competition. KeSPA and eSF have many exciting teams with great potential like SK Telecom T1, whose multiple Proleague titles show that they could be ready to compete in the big leagues now. Of course, we can't just have a dozen Koreans teams suddenly competing alongside the likes of Mousesports and Axiom, so we would have to hold a qualifier to see which teams deserve to join ATC Season II."
STX Soul's Dear, sixth place finisher and highest placing KeSPA player at MLG Anaheim also reacted positively upon hearing the news. "It's really hard for a foreigner to beat a Swedish player, so I expected to lose to NaNiwa. But when I lost to a fellow foreigner in Polt, who managed to become extremely good in America despite being a part-time student, I knew that I had hit the limits of Korean training. Even though it's just online, competing against international teams in the ATC should help me improve a lot more than just playing other Koreans in Proleague" said the Protoss player, who had been a key player for STX Soul's playoff campaign. "Who knows, maybe I'll even get a chance to play against Team Property's SjoW in an ace match one day. A guy can dream, can't he?"
Pitchfork Preserver EXPRESS brought to you by salle, stuchiu and WaxAngel.